There are so many things a new mom needs, wants, or wishes she had. Half the time she might not even realize how much something could be helpful, and that is one of the reasons I love putting together gift baskets for new mommies.
Not only can I tailor each new mom gift basket to each friend, but I can give some of the things I couldn't live without when I had my own children, as well as a few things to help make her life just a little bit easier, more comfortable, or less exhausting.
Because as a new mom after delivery we need all the help we can get!
Best Gift Baskets for New Moms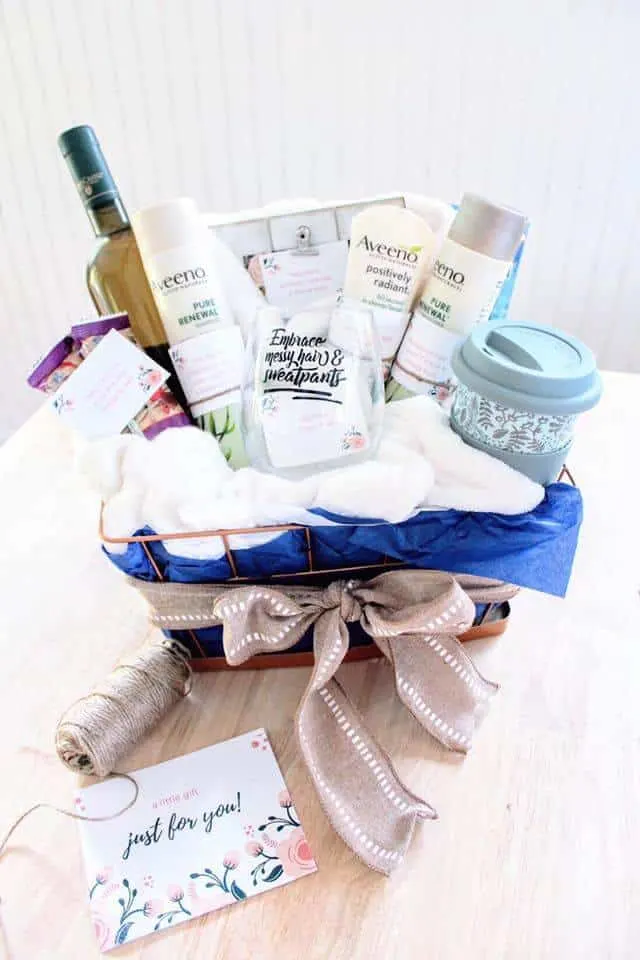 What do you get a new mom for herself?
A new mom gift box or survival kit is the perfect gift for an expecting mom and will make a great present to give during the baby shower, at the hospital, or when you visit a new baby at home.
The gift baskets typically provide a lot of items that mom and baby will use and while it may not seem like a big deal, these gifts can come in pretty handy. It is also important for mom to take care of herself too, so throwing in some items just for mom is always a great idea.
Items such as postpartum care and comfort items, snacks, water (or wine) bottles, PJs, and other things to help simplify life with a newborn are always great ideas.
Whether you are looking to make the new mom a handmade gift basket, or purchase one, these are some of the best gift baskets to help new moms.
DIY New Mom Gift Baskets + Premade Favorites
The Best DIY New Mom Gift Baskets
From DIY to self care, baby essentials and treats just for moms, these gift basket ideas for new moms are the perfect gift to give her after delivery or at a baby shower.
Mommin ain't easy, so this basket is designed just for her! From luxurious (and affordable) products to a bit of fun and sass, this basket is made complete with free printable gift tags.
You can even just print them out to use for any of the other baskets listed as well!
Photo Credit: ourcraftymom.com
This new mommy survival kit is perfect for new moms. It contains a candle, socks, chocolate, bath and body items and more to help mom relax and do a little something for herself.
Photo Credit: www.brepea.com
Perfect for both mom and baby, this easy to put together gift basket has items included that both will be able to use. You can customize the box to include mom's favorite things too!
Photo Credit: dressesanddinosaurs.com
Another great gift basket idea, this DIY new mom kit includes items that mom can use to take care of herself as well as her new bundle of joy that's just arrived.
Photo Credit: www.therisingspoon.com
With items for new mom included in this DIY gift basket, you'll be sure that mom has everything she needs to care of herself.
Photo Credit: www.makingmanzanita.com
Letting mom get some relaxing bath time in can be extremely helpful for new moms, this gift basket is created for just that.
Photo Credit: www.ashleybrookenicholas.com
This fun basket includes lot of goodies for mom including sweets, pajamas, candy, and other gifts that will let mom spoil herself.
Premade Gift Baskets You Can Buy for Moms
Sometimes you just don't have the time (or desire) to make a basket. And that's totally ok!
Here are some great gift baskets for moms that you can buy and have shipped either to you (for giving it in person) or straight to their door!
Another great basket with items that mom can use for herself. The basket includes premium soap, body butter and a fun coffee cup that she can use and keep forever.
If you are looking for the ultimate gift for new moms, this fun gift box has everything mom needs including a new book, socks and other fun items to help her relax.
This gift box is perfect for those who want organic items just for babies. Water wipes, diaper balm, baby booties and shampoo are just a few items included in the gift box.
A great gift box just for moms and is perfect to give during the baby shower, this box includes a handbag, coffee cup, candle, fun socks and more to help spoil mom.
Photo Credit: bumpboxes.com
If you are looking for a prebaby new mom gift, this Bump Box is perfect and includes items every mom can use.
Photo Credit: www.getrael.com
This basket includes items that are designed to help support moms through the weeks before and after giving birth. The care kit includes natural, chemical-free feminine products for the new mom.
Photo Credit: sunflowermotherhood.com
A great gift idea for new moms, this recovery gift basket is all about helping mom heal well and relieve discomfort after the baby is born.
Check out these other posts filled with gift inspiration for moms!