From personal time and support gifts, to helpful products for her newly changed life, and items that allow mom to sit back and enjoy her bundle of joy, these are some of the best gifts for new moms after birth, and beyond!
New moms have so much on their plate once the baby is born, and are completely overwhelmed with new responsibilities. So showing love and support by giving your favorite new mom a gift is one of the nicest things you can do.
You could definitely create a fun gift basket for a new mom like this self-care one, or you can give something handmade or store bought. Really there are so many things that helpful that she would love!
If you are looking to go the new mom gift basket route, we rounded up our favorite new mommy care packages here for you to check out. There are options for both gifting giving in person and ones for delivery.
Some items were sent to us for editorial review.
Best Gifts for New Moms After Birth
Any of these would be a sweet gift to give!
A coffee maker can be an extremely helpful gift for new moms.
This Ninja Programmable Coffee Maker is a 12-cup programmable coffee maker with both Classic and Rich settings, depending on what strength of coffee you want.
You can brew in small batches (1-4 cups) or large batches (a full carafe).
There's also a feature to delay brew so mom can time her coffee at just the right time, but if you don't use that feature, the coffee maker does have a warming plate that will keep the coffee hot for up to 4 hours.
A beautiful necklace that sums up the bond between mother and baby with a quote from Winnie the Pooh that says "Sometimes the littlest things take up the most room in your heart."
It's a beautiful way to express the love between a mother and a child.
Baby may have their own sippy cup but now mom can have one too!
And while it may look like it is just for wine (hey, you can use it for that) it is actually great for day-to-day.
As a vacuum insulated tumbler, beverages will stay hot or cold for as long as possible. It's perfect for mom's coffee, juice or tea and holds up to 12 oz.
It also comes with a lid that makes it a bit easier to drink while around kids, since it is so hard to drink normally without spilling thanks to squiggly little limbs!
Having a nice camera around for quick an easy snap of those little ones can be a blessing for moms.
You never want to miss any special moments, so you want a camera that's easy to work with and travel-friendly.
The Canon PowerShot is small enough to fit in a purse, has smart auto settings based on the shooting situations, technology to reduce the effect of camera shake and various screen modes.
A stylish wood grain finished essential oil diffuser that can be used to release a fragrance to soothe and relax on those busy days.
Just fill the diffuser with drops of your favorite essential oil to get all the healthy benefits.
The diffuser doubles as a nightlight with 15 different light modes that you can either set to a fixed color or cycle through all of the colors.
Photo Credit: earthhero.com
Moon Valley Organics brings moms a way to nourish their skin with this Vanilla Lemon Organic Lotion Bar.
It's a concentrated lotion bar and made with organic ingredients like beeswax and safflower oil that seals in moisture.
This would be a great addition to new mommy gift basket, like this basket to help mom pamper herself!
Having a smart watch can be extremely helpful for new moms if they have an active lifestyle, or use their phone for pretty much everything.
The watch allows you to keep track of your steps, heart rate, and more, but can be used for so much more.
A smart watch can also connect to a smartphone to allow to screen calls and read texts when trapped under a sleeping baby.
Mom can set a vibrating alarm for when it is time to give medicines, while nursing, or for reminders for other tasks that can be forgotten in the newborn fog.
A timer is helpful for determining how long feeds are, and while she likely doesn't want to know, they typically have a sleep tracker as well (so she has proof when she says she is getting zero sleep!)
Photo Credit: www.anjieandash.com
We know this bag was created by a mom, without a doubt. Diaper bags are great, but there are so many times when either a big bag just is too cumbersome to carry, like around the playground or popping into a store.
Not only can this crossbody bag fits diaper changing essentials, but it the one thing most similar styled bags don't: bottle pockets! Perfect for a baby's bottle, and mom's or siblings' water bottles. Genius!
We also love that it gives a lightweight option for mamas after giving birth!
Nail polish is a great gift idea for a baby shower, hospital present or post-partum gift, especially when added into a little care basket. SOPHi polish is perfect for moms to be and new moms because they are safe and non-toxic, and being chemical-free means mom doesn't have to worry when around her little bundle of joy!
What are other postpartum gifts or ways to help a mom who just had a baby?
Gifts definitely do not have to be material. There are many different ways you can support a new mom or new parents after delivery. Here are a few that are often universally appreciated!
Drop Off Food (or send gift cards)
Prepare some meals that can be stored in the freezer and easily baked by this new mom in her home.
Homemade freezer meals are a healthier option to buying pre-packaged meals and help your new mom friend out by providing her with an easy way to serve her family food without the added time involved in food preparation and meal planning.
Or make a goodie bag of healthy snacks! Get inspiration from these healthy snack ideas for breastfeeding moms.
Of course, coffee is always welcome too! Stop by your favorite coffee shop on the way to visit and bring her a mid-day boost (just check to see if she is running on decaf or half-caff these days as many moms reduce their caffeine intake while breastfeeding.
Not close by or can't cook? Send gift cards for UberEats, GrubHub, HelloFresh, Blue Apron, or a favorite place to eat.
Help Clean
Call your new mom friend up and let her know that you're coming over to help clean her home. Don't ask, because she'll probably tell you that she's got this under control.
Reserve an hour per week to head over to that new mom's house and bring your all-natural household cleaners. Help by cleaning and doing regular household chores each week to keep this new mom more relaxed.
Offer to Babysit
New moms don't get enough sleep so I'm betting if you offer to babysit the newborn and other children for this new mom, she'll agree.
You don't have to take the children over to your home, you can sit at your friend's house and let her get some sleep while you keep her kid fed and entertained.
Helping a new mom out is a great way to show the value of community, neighbors helping neighbors, and friends helping friends.
Offer an Ear to Listen
Give her space to talk, vent, or just get her mixed up feeling out. Lend a non-judgemental ear and let her talk about how things are really going for her, and what she is struggling with.
Don't offer advice unless she asks for it, or ask her if she wants any ideas. New moms sometimes need to just know that other people care about what they are personally going through, and not just how the baby is doing.
If you are a parent yourself, let her know she is not alone and tell stories about how you went through similar things.
Validate her feelings above all else. New moms don't need people to solve all their problems for them, they just want to feel heard and appreciated sometimes.
Last thoughts on new mom gift ideas
There are many great gifts you could give a new mom, whether you are looking to spend your time, or your money. The most important thing is that you are giving a gift that is thoughtful of her needs, wants, and new stage of life.
Take some time to really think about the new mama, and what she could really use to feel appreciated, or supported. If you aren't sure, just ask!
Be sure to pin this for when you need it later!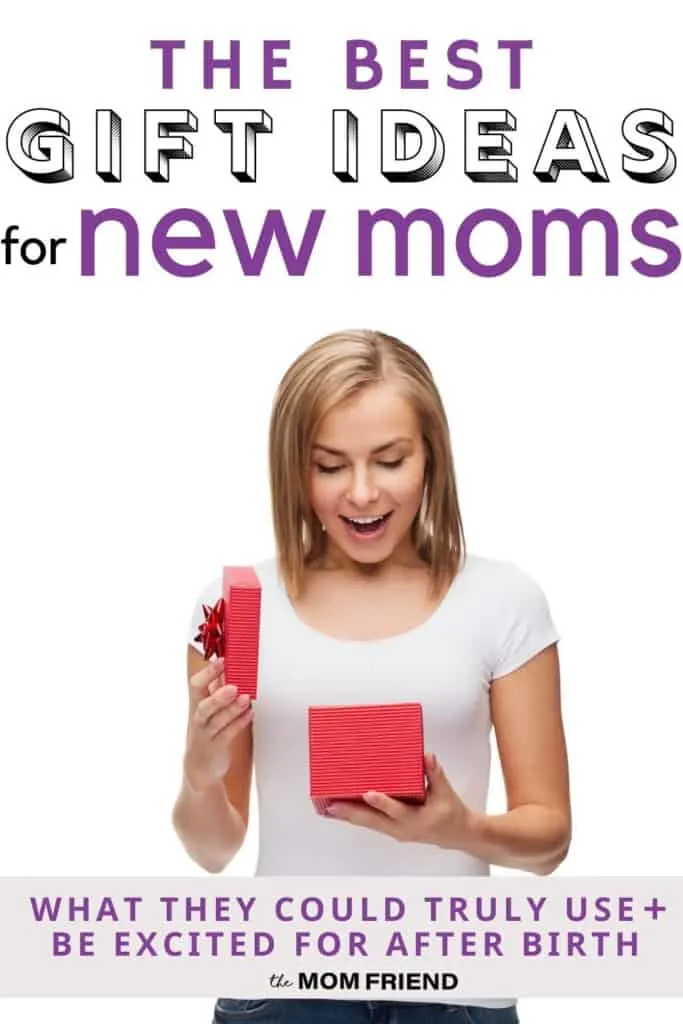 Check out these other trending posts: