If you thought pregnancy cravings were bad, boy you are in for a treat when it comes to breastfeeding cravings. It can be a constant battle trying to satisfy those never-ending food cravings as a new mom.
Yes, it may be tempting to indulge on greasy pizza, fried food, and ice cream. I know I have been there, so I put together a list of my favorite healthy breastfeeding snacks.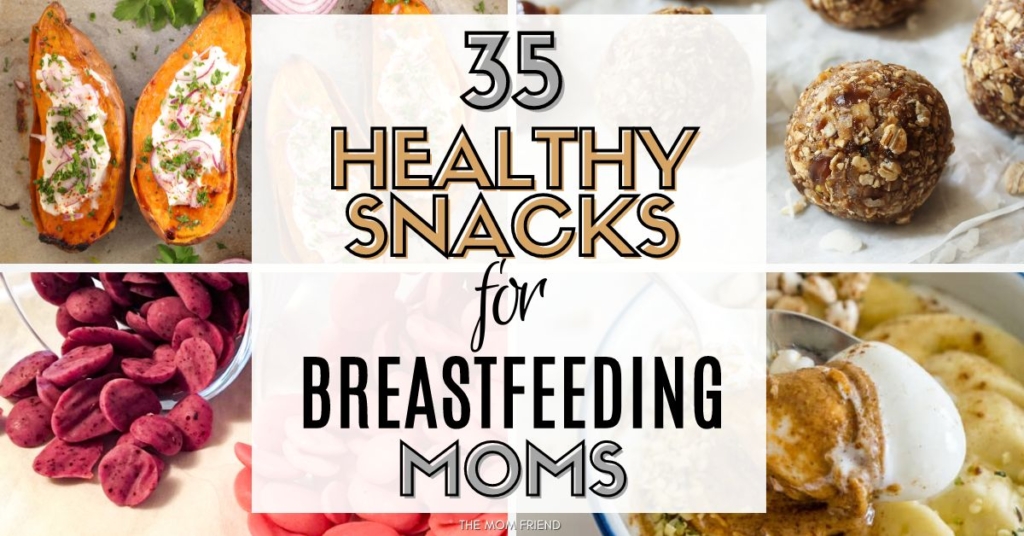 These snacks will be sure to keep you fueled and energized for those long days (and most importantly nights) of feeding. And better yet, they will keep baby satisfied as well. Because chances are if mom isn't eating right, baby isn't either. And we want to provide our little ones with the best nutrients as they are doing most of their growing in the first year. These are also great snack options for the rest of the family as well!
This list is also a grab-and-go list or a very little preparation list. Because we all know, as new moms, most of our time is spent feeding our little one. It may be hard to get a hot home cooked meal prepared, and if we do, there is no doubt our little one is starving right when we sit down to eat. So, I thought this no prep (and minimal prep) snack list would make things a little easier on you, mom.
Dieting is not recommended while breastfeeding as you need to make sure you are compensating for those calories that baby takes. Although, breastfeeding is a great way to encourage weight loss for many moms, and on top of that, eating healthy snacks is a great way to help you reach your goal!
Swap out those chips and sweets for the list of healthy breastfeeding snacks below!
RELATED: 5 Ways to Simplify Life With a New Baby
Healthy snacks for breastfeeding moms
1. Fruits and berries
Fruits are one of the best choices for snacks for anyone, but especially for new moms. They're nutritious, delicious, hydrating, and typically easy to eat with one hand.
Apples, bananas, peaches, grapes, blueberries, strawberries, require no prep and can be eaten with one hand while you tend to your baby. Other fruits, such as watermelon, cantaloupe, mangoes, pineapple are all super delicious but require you do do some chopping in advance.
2. Veggies
Of course, veggies are next on the list. It might be hard to get a healthy homecooked meal on the table if you have a newborn baby, but luckily there are many veggies you can snack on throughout the day.
Baby carrots, sliced cucumbers, grape or cherry tomatoes, chopped celery, sliced bell peppers are all great snack foods. Some people don't mind raw broccoli or cauliflower, especially if you have a good healthy dip, such as hummus or a Greek yogurt veggie dip. Just watch out for broccoli and cauliflower if your baby is gassy and is having a hard time when you eat veggies like that.
You can even snack on spinach—I like to wrap a slice of deli meat around a bunch of leaves of baby spinach. A few small "bundles" of these (eaten standing up by the kitchen counter, true mom style) and I get a whole cup of spinach in without having to cook a veggie or clean up ANY dishes!
3. Dried fruit
If you are more of a sweet snacker, try dried fruit. Just be careful for the sugar content and measure out your portions.
4. Mixed nuts
One of my all time favorite snacks and a great way to get in those healthy fats and protein. Almonds are a must!
RELATED: Lactation Brownies
5. No-bake lactation bites
A great way to boost your milk supply. Try my lactation bites recipe to get you started. I also recommend eating them frozen for a treat!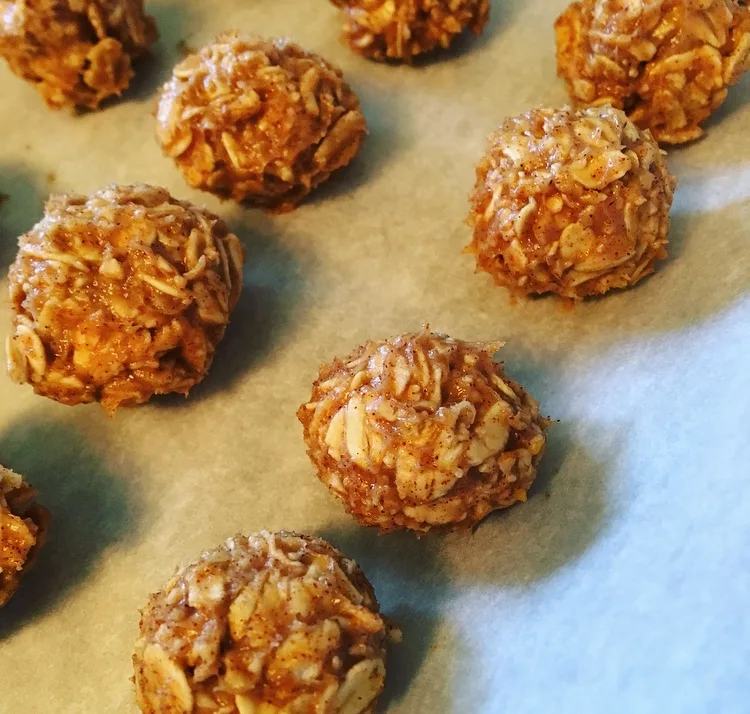 6. Tuna
Get that protein in! Just mix with light mayo and put it on bread with a slice of avocado. Or for a healthier version, skip the bread and do a lettuce wrap. Just watch the mercury, opt for canned chunk lite tuna, which has less mercury that white albacore tuna.
RELATED: 20 Ways to Save Money with a New Baby
7. Oatmeal
A great source of iron and fiber. And better yet, it helps boost your milk supply. Spice it up by adding honey, berries, dark chocolate, peanut butter, etc. Meal prep overnight oats to have it ready to eat for the next couple of days. Here's a favorite mango oatmeal recipe.
8. Hummus
Chickpeas are great for milk supply! Hummus is also a great source of protein and fats. Eat with crackers, carrots, celery, peppers, cucumbers etc.
9. Cheese sticks
A super quick way to get some protein and fat in, which will satisfy you better than carb snacks. Cheese sticks, cheese slices, or those little baby bel cheese are all great options you can eat in a minute with one hand while holding baby in the other!
10. Lactation smoothie
Smoothies are one of my favorite breakfast and midday snacks. They are great as you can add whatever ingredients you choose: chia seeds, fruits, spinach, honey, peanut butter, oats, almond milk, yogurt, etc. Try this strawberry-banana lactation smoothie to get you started!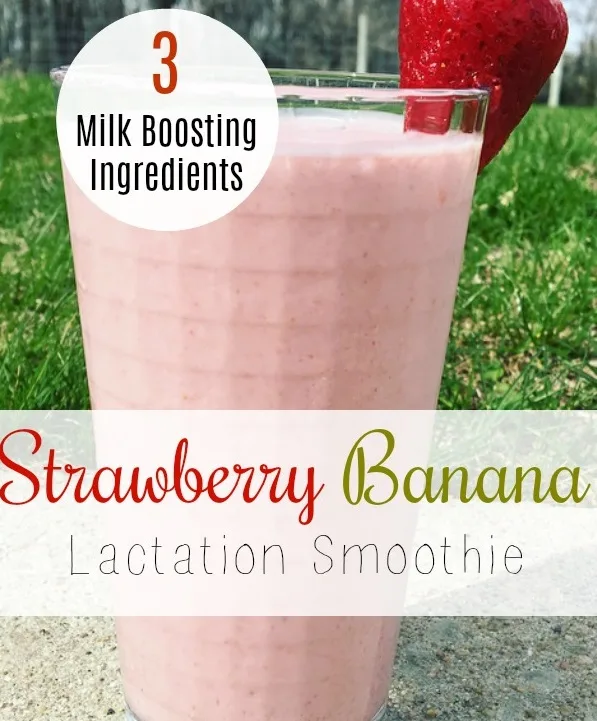 RELATED: Freezer Meals for New Moms
11. Greek yogurt
High in protein and the probiotics are great for your digestion. Add honey, granola, or fruit to make it a real treat.
12. Cottage cheese
Cottage cheese is having a moment, and I love this high protein snack! It can be eaten on its own, plopped on top of a salad for a savory snack, or topped with honey or sweet toppings for a treat.
Not into the curds?? Try whipping cottage cheese and making these nutritious whipped cottage cheese bowls with almond butter and bananas, or this pumpkin spice whipped cottage cheese for an amazing treat.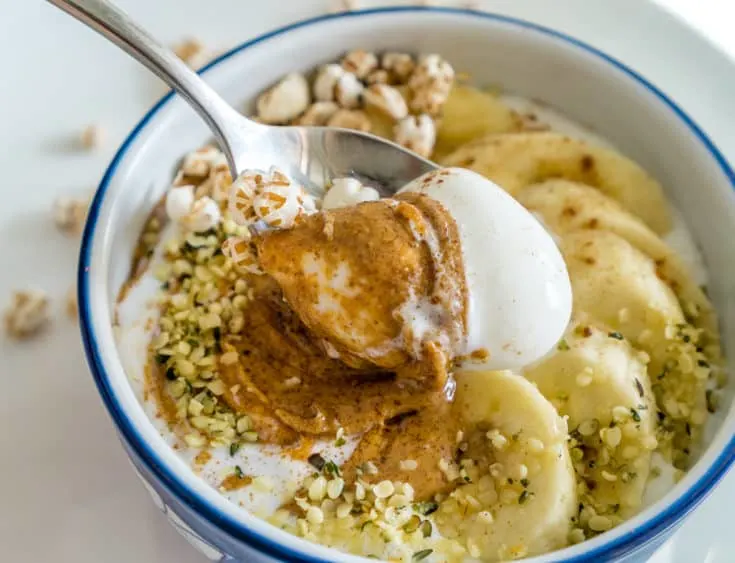 13. Simple diced salad
You might not have time to whip up 3 course meals, but this simple salad is a great way to get your veggies in without them being too bland or boring. Mix together diced tomatoes, cucumbers, avocados, red onions drizzled in olive oil, seasoned with salt, pepper, and a squeeze of lemon juice.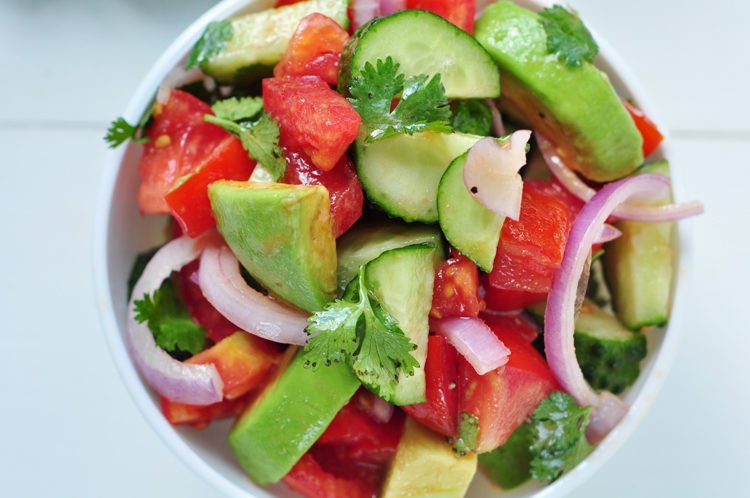 14. Pistachios
Pistachios are a great snack if you need to sit, chill, and let some time pass while baby naps on you. The shells are fun to crack and the pistachios themselves are nutritious and so tasty!
15. Luna bars
Luna bars are not loaded with sugar and artificial sweeteners like most other granola and snack bars. They use minimal ingredients and are sweetened with dates. I prefer to buy them in bulk from Amazon, as they can become pricey through your local store.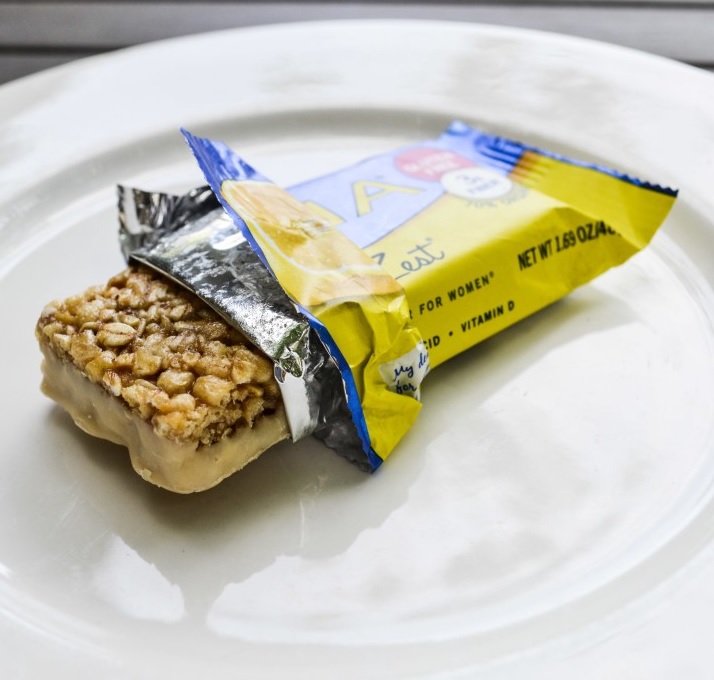 16. Avocado and egg toast
Toast some whole wheat bread, smash some avocado on it, season with salt, pepper, a squeeze of lemon juice, and add a fried or sliced hard-boiled egg on top. Add more salt, pepper, and enjoy! There are so many ways to expand on this by adding nuts, tomatoes, cucumbers, feta cheese, everything bagel seasoning, etc.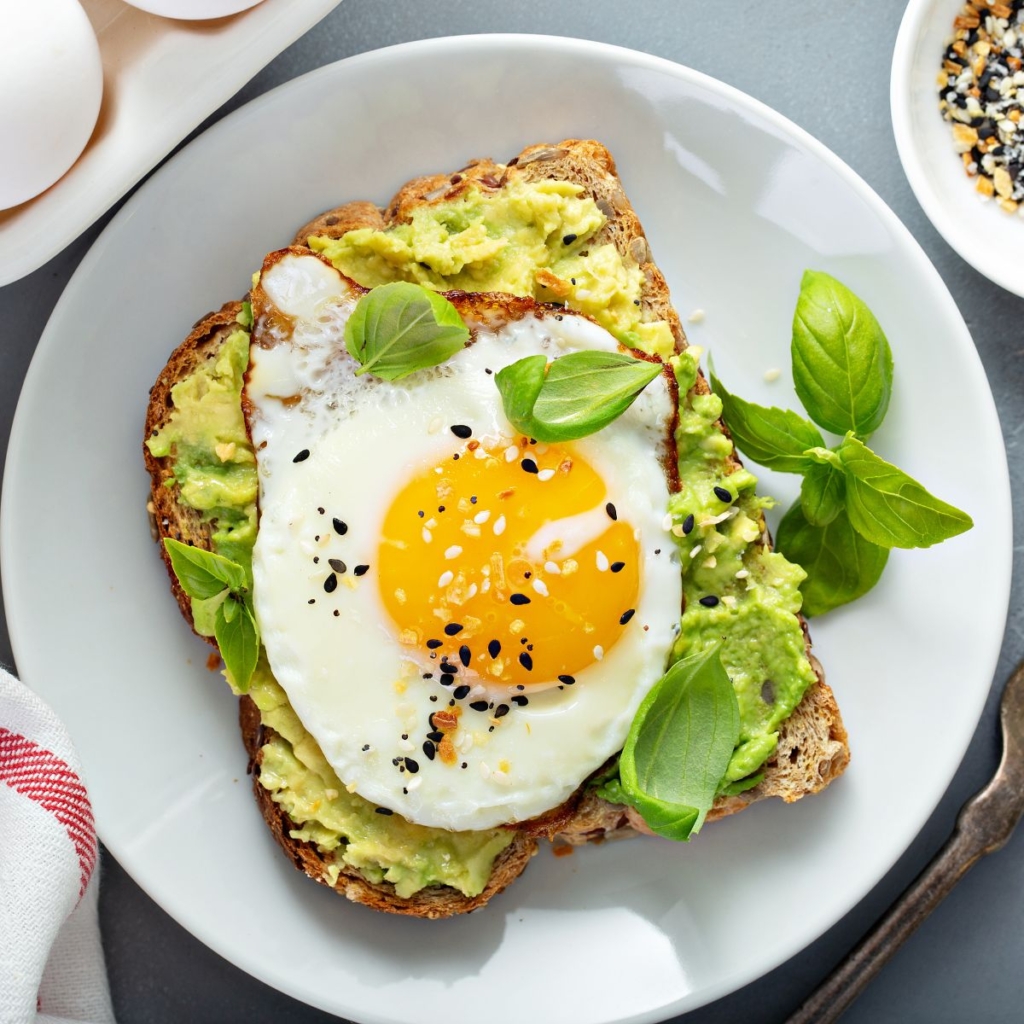 17. Hard boiled eggs
Does avocado toast feel like more than you can handle while sleep deprived with a newborn baby? Just hard boil a few eggs and keep them in the fridge for a super quick snack.
18. Mini charcuterie board – meat, cheese, crackers, olives
Treat yourself to a fancy-looking charcuterie board by selecting a few favorite meats and cheeses, and add your favorite crackers, olives, nuts, fresh or dried fruit. 2 minutes to put together and easy and delicious to eat!
19. Spinach, berry, and feta salad
That's all you need for a delicious salad! Berries add an awesome sweet juiciness that works really well with baby spinach. Add an oil and vinaigrette dressing and walnuts for the perfect touch.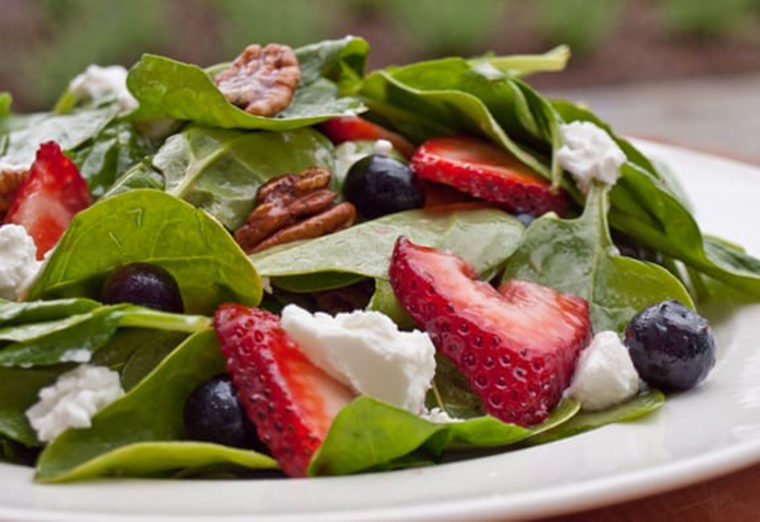 20. Edamame
High in protein and fiber, and easy to prepare. Budget-friendly, too! Keep a bag or two of frozen edamame in your freezer!
21. Dark chocolate
Dark chocolate is a great way to satisfy your sweets cravings. Get the dark chocolate that is low in sugar and has at least 70% cocoa solids.
22. Popcorn
Popcorn is a GREAT whole grain snack! Try to find popcorn that is not overly buttered, or make your own using a popcorn maker and season with your favorite popcorn salts!
23. Pinwheels
Use hummus as the base and fill with veggies, deli meats, and cheese. Or try these black bean veggie pinwheels. They're great to prep ahead of time for instant snacks and lunches!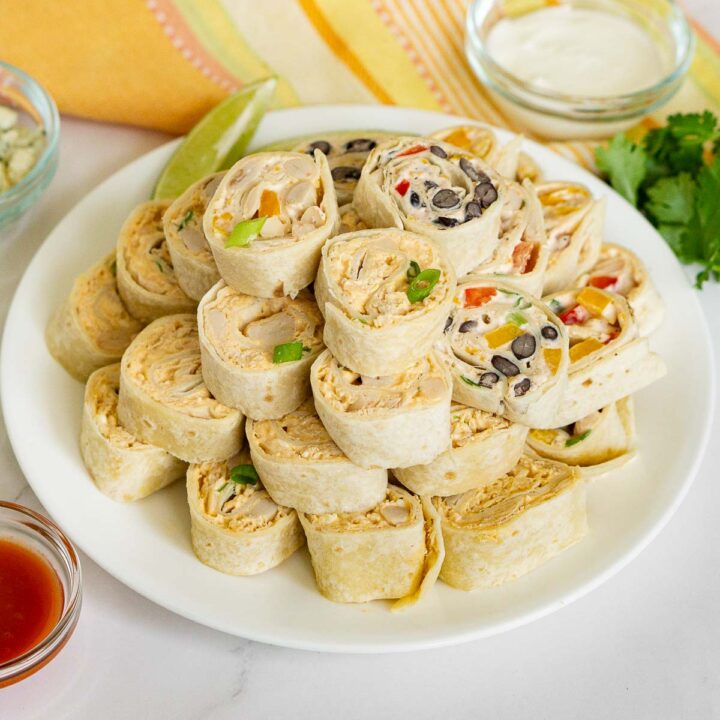 24. Bagel with cream cheese
Toast a whole wheat bagel and you have a super satisfying snack or breakfast in just 2 minutes.
25. Peanut butter and celery
It sounds like such an odd flavor combination, but it's surprisingly good together!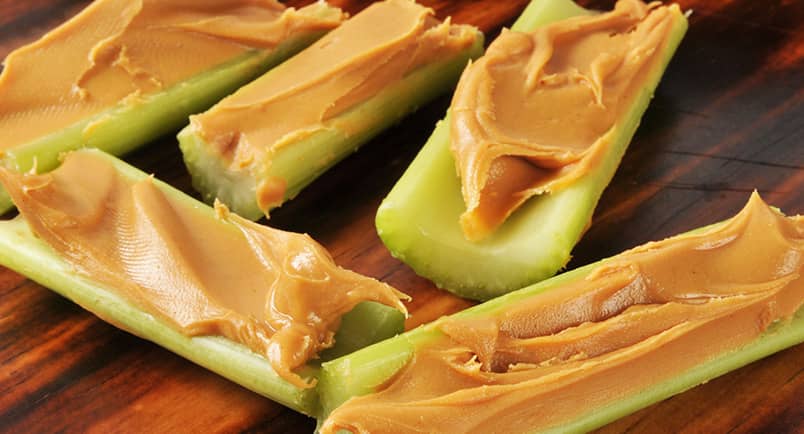 26. Apple with peanut butter
Or my favorite, banana with peanut butter. Easy, filling, delicious. Avoiding nuts? Use sun butter.
27. Sweet potato with goat cheese
If you don't want to take the time to bake, just poke a sweet potato with a fork and microwave for approximately 7 minutes (or until fully cooked). Slice in half, smear with goat cheese, and add other toppings such as red onion, herbs, cottage cheese, tomatoes, etc.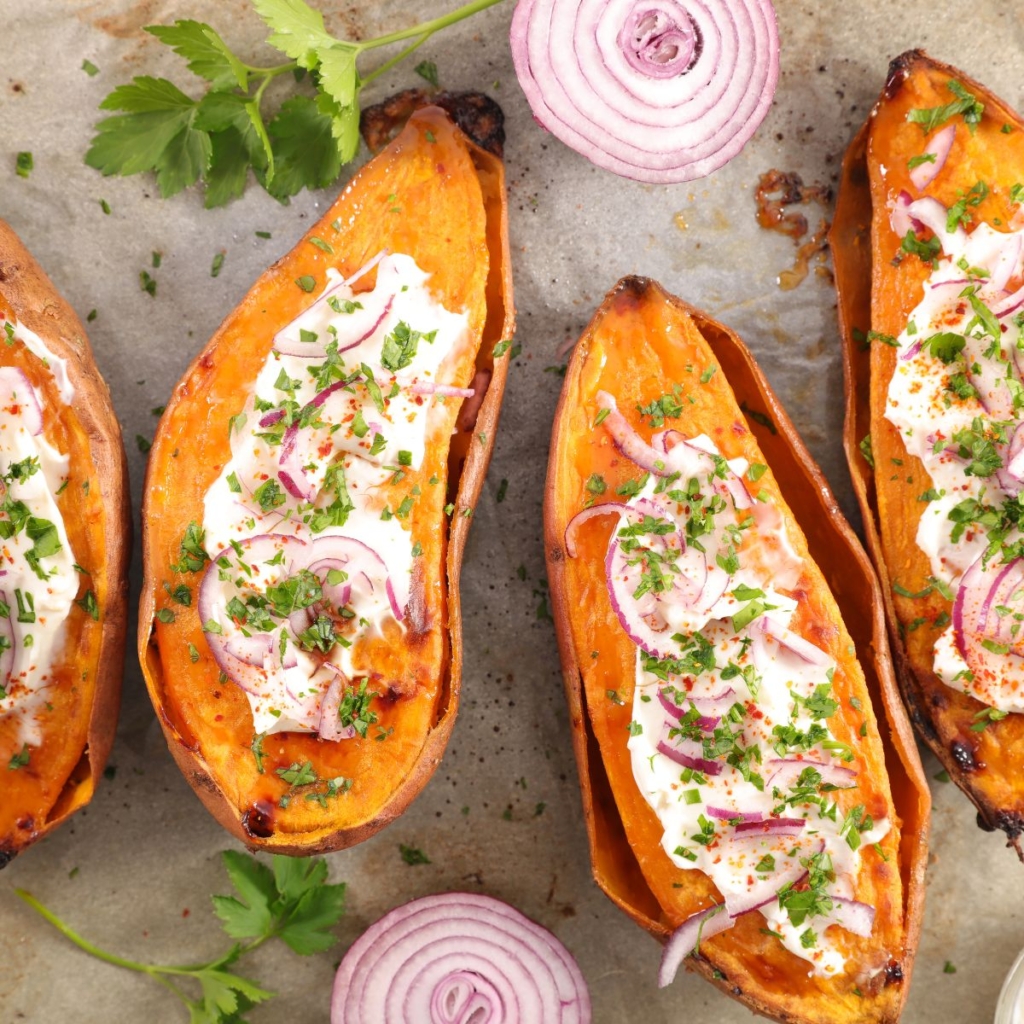 28. Trail mix
Another great snack option that has both nuts and dried fruit to really keep you full and satisfying and give you that salty+sweet deliciousness. So easy to eat with one hand!
29. Veggie chips
If you REALLY have a craving for chips, opt for a healthier version and try veggie chips instead. Dip in some hummus to add some nutrition.
RELATED: Gift Ideas for New Moms
30. Cucumbers with cream cheese
Love the crunch and refreshing flavor of the cucumbers.
31. Caprese skewers – mozzarella balls, tomatoes, and basil
I LOVE this snack and it's actually a big hit at family holidays as well! Drizzle with olive oil and balsamic vinegar.
32. Sliced tomatoes with crumbled feta
Similar to the snack above. Feta adds a great saltiness to season the tomatoes. Serve on its own or make an open faced tomato sandwich with toasted whole wheat bread and a smear of mayo. Basil also makes for a great topping.
33. Frozen yogurt melts
The perfect snack for those hot summer days. An even greater snack for those teething babies! Find the recipe for frozen yogurt melts.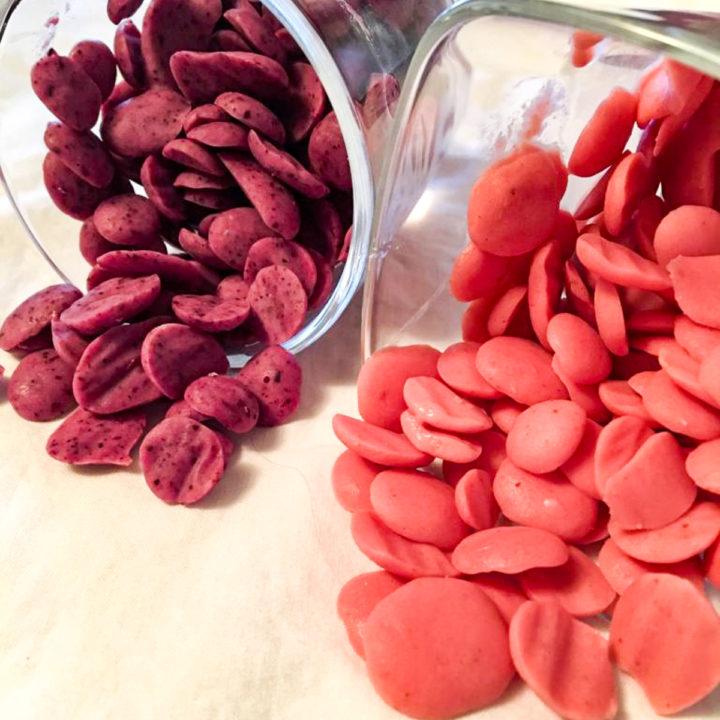 34. Rotisserie chicken
This is so so helpful to have on hand for quick meals, quick chicken salads, and high protein snacks. A membership to Costco, BJ's, or Sam's Club is worth it even if you're only grabbing your rotisserie chicken there!
35. Fluids
This one is so important. You need to make sure you are getting enough fluids in every day to help with milk production. Go ahead and add fruit, mint leaves, etc, to flavor your water! I love this water bottle as it has a fruit infuser and has an ounce marker to keep me on track throughout the day.
So there you have it! I hope this list gives you some great ideas for what to snack on as a new mom who is breastfeeding (or even if you're not!).
Don't forget to SAVE this article on Pinterest so you can come back to it whenever you need new snack ideas!