One of the best ways to prepare for a new baby is to have a freezer stocked with ready-to-eat meals. Here are 50 Freezer Meals for New Moms – everything from breakfast freezer meals to healthy lunches and hearty casseroles.
Whether you're a new mom preparing for the new arrival, or looking for freezer meals to bring to a new mom, you're going to want to check out these make-ahead postpartum freezer meals!
Related article: Thoughtful Gifts For New Moms After Birth
I have lots of meal prep tips below, but if you just want to get to the recipes, you can use the table of contents:
Healthy meals for new moms – not just casseroles
Casseroles are an amazing food idea to bring to new moms, but us mamas can't live on casseroles alone, can we?? This list has freezer-friendly breakfast ideas, snacks that can be made ahead and frozen (so that new moms can have healthy snacks instead of reaching for chips!), as well as freezer lunches, dinners, and casseroles.
There's a good mix of healthy and comfort-food recipes, a mix of dairy-free and cheesy recipes, as well as some vegan and lighter options for new moms.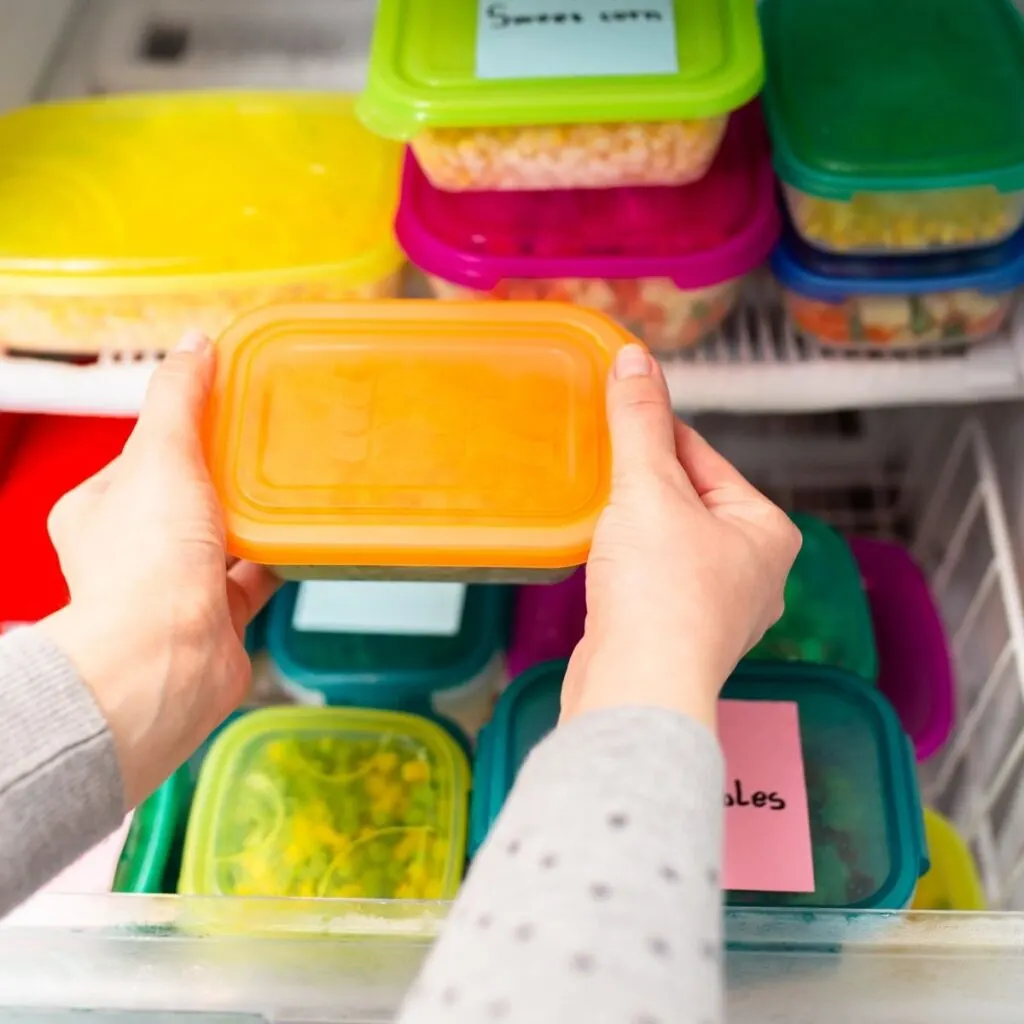 Related article: Best New Mom Gift Baskets
Helpful tips for getting started with meal prep
Tip #1: The most important tip is to LABEL, LABEL, LABEL! Use a permanent marker to write directly on the freezer bag, or get labels such as these to label your food. Here's what to write on the food label when freezing food:
Recipe name. Kind of obvious, but sometimes I think "oh I know what this is, no need to label it" and then everything looks the same when frozen, and a month later I have no idea what's what.
Date frozen, or a "use by" date.
Cooking instructions or thawing instructions. This is the most important tip so you don't have to go try to find the original recipe to figure out how to thaw or cook the frozen food. For example, I would do a simple: "Cooked. Bake from frozen at 350F for 30 minutes" or "Raw. Thaw overnight. Dump in Instant Pot and cook at 20 minutes. Natural release."
Tip #2: Another really helpful tip is to divide the freezer into separate sections, if you can. For example on the top shelf you can place frozen cooked food that can be reheated from frozen and/or has to be thawed overnight. On the bottom shelf you can put raw prepared ingredients for dump-and-start recipes. This way you know where to look depending on whether you're looking for a meal for tomorrow's dinner, or need a hands-off dinner on the table in 30 minutes.
Tip #3: Ask your family and friends to help. Seriously. When a well-meaning friend asks what they can help with, just send them the link to this blog post and tell them to pick a recipe to bring over.
Related article: When It is OK To Say No As A New Mom
Tip #4: And finally, don't get overwhelmed. You don't have to freezer prep 50 meals like a freezer-prepper madwoman! Start with one meal. See how it goes. Then try another next week.
You can even do this after the baby comes. Many of these recipes are simple dump-and-start recipes. Just double the batch, have some for dinner, and freeze some for next week. Voila! Meal prep is done!
Related article: Brilliant Gifts For New Parents After Birth
Must-have tools for freezer meal prep
→ Get a few different sizes of disposable aluminum baking pans. Rectangular ones are great for casseroles and pasta bakes, while round ones are great for quiches and tater tot casseroles. This set has a nice variety of sizes, and this is a great set of the typical 9×13 inch pans. Here are round ones perfect for quiches and pies. And don't forget foil and plastic wrap! The reasons you want aluminum baking pans are: (1) no risk of breaking them in your sleep-deprived state, (2) no risk of cracking your nice casserole dishes when going from freezer to oven, and (3) you don't want to have all our nice dishes in the freezer, in case you need one later!
→ Get a few different size freezer-safe storage bags and containers. Quart-size freezer bags are great for dividing cooked food into 1-2 serving portions for freezing. Gallon-sized bags are great for those dump-and-start recipes where you prep all the ingredients, freeze them, and then cook them later in a slow cooker or an Instant Pot.
→ Get quart-sized and pint-sized soup containers, if you plan on meal prepping soups! This is a great variety set that is BPA-free. Or try this silicone freezer tray for freezing soup in portions.
→ Get a slow cooker and and Instant Pot, if you don't have one already. Such life savers for meal prep and busy mom life! You can have dinner ready in 20 minutes thanks to the Instant Pot, and you can cook meat FROM FROZEN in an Instant Pot – perfect for those days when you forget to take the meat out to thaw.
→ Parchment paper is great for freezing pancakes so they don't stick to each other.
→ Get a chest freezer / deep freezer if you have the space and budget. We ended up getting one to store breast milk, and it was also such a life saver for meal prep! It might seem expensive, but think about how much money you will save not ordering takeout if you can meal prep before baby arrives and have a deep freezer full of meals ready to heat up and enjoy.
50 Freezer Meals for New Moms
Was this list of meals helpful?? Save it for later on Pinterest, and share it with a friend!