Looking for gifts for new parents? How nice of you! New parents usually get the raw end of the deal at Christmas. Chances are that most of their gifts will actually be things for the new baby.
Any parents know that as soon as you have kids, Christmas becomes all about them. Everybody loves newborns and it's easy to forget that the parents need a little bit of looking after too.
Christmas is the perfect opportunity to show them you understand but these would make great gifts all year round!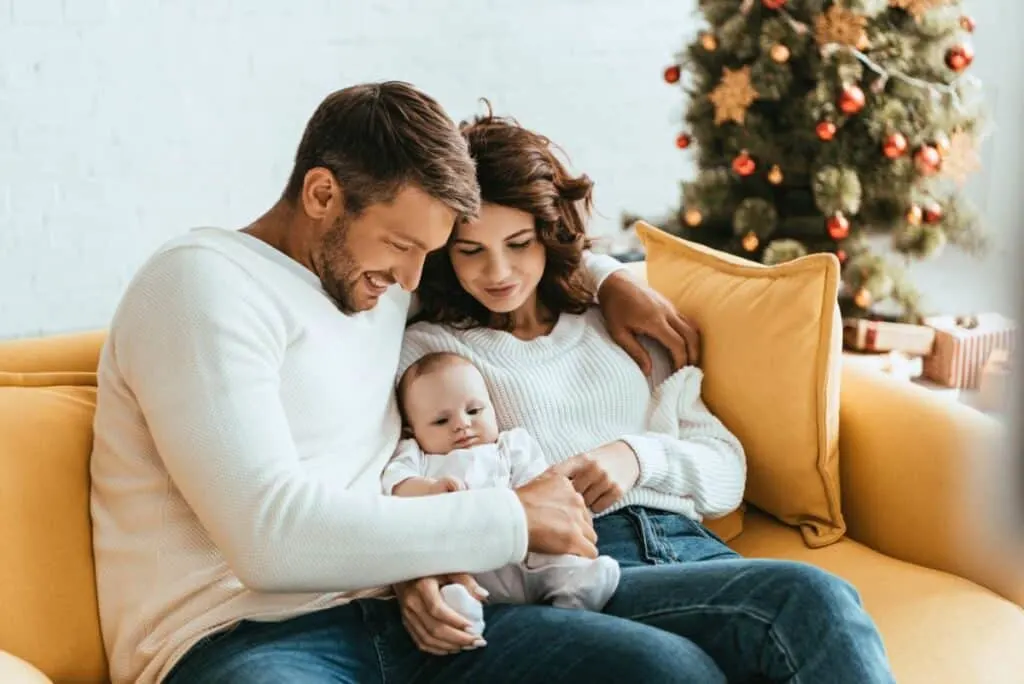 Don't be that friend who gifts another baby blanket to add to the giant pile they already have. Instead, use these great ideas to find a super thoughtful gift that is actually for them.
Great Christmas Gifts for New Parents
This post contains affiliate links. As an Amazon Associate and participant of other affiliate programs, I earn from qualifying purchases.
If you think Amazon Prime is just a free delivery service from Amazon you couldn't be more wrong!
An Amazon prime membership also lets you stream thousands of movies and tv shows as well as having access to their huge music library. Chances are those new parents you know are in a blur of baby feeding and not sleeping so if they're up anyway at least they'll have something to watch!
But imagine how handy that free next day delivery service will be when your new parent friend realizes they're down to the last pack of diapers and they can't bear to load the baby in the car.
Amazon prime really would make an amazingly thoughtful gift!
One thing all new parents have to get used to is coping with a lot less sleep! If they don't already have a coffee machine, they're certainly going to need one.
Enter you, best friend in the whole world, riding in to save the day with caffeine!
Decent espresso machines don't even need to cost the earth and this great option.
One thing that suddenly gets a lot harder to do, when you have a baby, is cook. It's so difficult to find enough time to put the baby down and make a healthy meal from scratch.
An instant pot makes dinner time so much easier. Just throw everything in the pot, set and forget!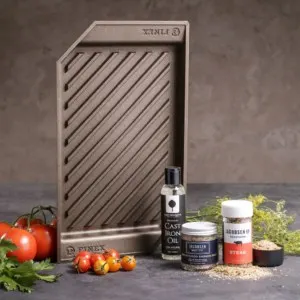 You can't predict the weather (or when you will need all hands on deck with a new baby), so bring the outdoors inside with this Indoor Grilling Kit. Man Crate's Grill Master Crate ensures the chef has all the gear he needs to grill indoors with a Cast Iron Maintenance Set, a Finex Lean Grill Pan, and Jacobsen seasonings made with the highest quality ingredients and spices!
One thing new parents will always be grateful for? Snacks! Anything they can eat one handed is a complete blessing. This awesome snack subscription box will send them a whole heap of healthy alternatives every month. It makes a great alternative to having to load the baby in the car and roam the grocery store aisles.
In all of the hustle and bustle of growing, birthing and generally keeping a baby alive, it's easy to let some special moments pass too quickly. This memory book and keepsake box means parents will be able to look back and remember every single milestone.
An aromatherapy diffuser is a great gift for the whole family. This one doesn't heat up so it's safe to be in the baby's room but it's also great for helping stressed and anxious parents unwind.
There is even an amazing "baby powder" essential oil blend that will help soothe baby to sleep.
If you want to buy a gift that will make caring for a baby, a good quality baby is the best present you could possibly give new parents this Christmas.
The Manduca is made from organic breathable cotton and the back, front and side positions mean it's incredible at keeping mum and dads hands free to do other things.
When you have a baby it can suddenly feel like there is way too much information in your brain and losing important things like keys can be a regular battle. The tile pro makes a great gift if you want to give something useful and practical in everyday life. Just attach it to an item and if it gets lost it will make a sound so you can find it quickly and easily.
Everybody wants to buy new parents the "fun" gift or the "unique" gift but something that is very rarely given is diapers. They are likely to be one of the biggest expenses for new parents, yet people don't seem to think of gifting them.
Give the gift of plenty of diaper changes and you will be saving your parent friends a ton of money.
Ok, so this one is more for mom. Whilst we all love gazing into our newborns' little eyes while they feed, it sure can drag on a bit! Give the gift of a kindle fire and new moms will have something to do whilst baby feeds instead of just staring into oblivion.
Check out these other great gift ideas: