There are so many great ideas out there for Christmas gifts, and whether you stick to a 4 gift Christmas (where everyone receives something they WANT, NEED, will WEAR, and to READ), or are just browsing for ideas, this gift guide will help find special presents for the babies in your life!
I enjoy making sure, no matter how many presents my daughter gets, that she gets at least one in each of those four categories. It makes me feel good to give her different things, and helps me know that she won't end up with just a bunch of toys (though that is bound to still happen)!
Use these ideas below build a complete Christmas list, round out your shopping, or even find gifts for others!
This post contains affiliate links. Some items were sent for consideration for inclusion in this gift guide, but I have only included items I and other moms actually love!
Best Christmas Gifts for Babies (Newborn to 1 year)
WANT:
Rattles provide for constant entertainment, sensory stimulation and are great for practicing grasping/holding.

With lights, sounds and movement, the NogginStik is a great developmental toy that is lots of fun as well!
Great for rolling, throwing or playing hide and seek, textured balls that provide sensory stimulation like this one or these are especially fun.
Sassy Developmental Bumpy Ball

| Soft Toys |
From mouthing to cuddling, babies love soft toys like these favorites:
Snuggle Teether Giraffe or Elephant– our giraffe went everywhere in the car with us the first year!
Soft Blocks like Baby Einstein Explore & Discover Soft Blocks are so much fun!
These have been our favorite squeeze blocks and they are easy to wipe clean!

Multi-purpose soft toys like the Lamaze Captain Calamari are great value. There is a whole line of animals to choose from too. Mom Tip: I attached Captain Calamari with these links to her swing or exersaucer, so I didn't have to keep picking it back up when it was thrown!
| Sensory Items |
Babies love the excitement as they experience new things, moms love the developmental properties of sensory toys.
This water mat will make tummy time more enjoyable
Engaging play mats such as this one do too!
| Musical items |
The Baby Einstein Take Along Tunes is a must have for babies (with over 9,000 reviews on Amazon!); musical toys like the 4 Piece Baby Band or a soothing musical crib toy help munchkins become Mozarts.
NEED:
Christmas is a great time to "gift" baby some necessary baby gear that is still needed!
| Carriers |
Consider things baby will love: a great baby carrier like a Baby K'Tan or a Lillebaby (check out my reviews here and here).
| Sleep Sack |
A cozy wearable blanket is a great gift and helps baby—and mom—sleep well (the Baby DeeDee Sleep Nest is a great deal, and though pricier, the Woolino Merino Wool Sleep Sack can be worn all 4 seasons and lasts til age 2).
Baby DeeDee Sleep Nest
Woolino Merino Wool Sleep Sack
| Play Gear |
Of course, something to keep them occupied and entertained, like a jumperoo, exersaucer or an activity center (this one grows with your child!) will be a family favorite!
Fisher-Price Rainforest Jumperoo
Evenflo Exersaucer
Skip Hop Explore & More Activity Center
| Feeding |
As your baby grows, their mealtime will definitely change! Use the holidays to help prepare with great feeding items like the EZPZ Mini Mat (perfect for highchairs or travel), sippy cups, or a highchair that will help them join the family at the table. Be sure to check out the last item too- it's brand new and will be a lifesaver for parents!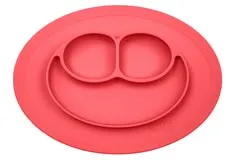 Munchkin Click Lock Bite Proof Trainer Cups
Feedings are a major source of stress for many new parents. Is the milk or formula the right temperature, how much did the baby actually eat, are they getting enough nutrition?—These are all questions that fuel anxiety.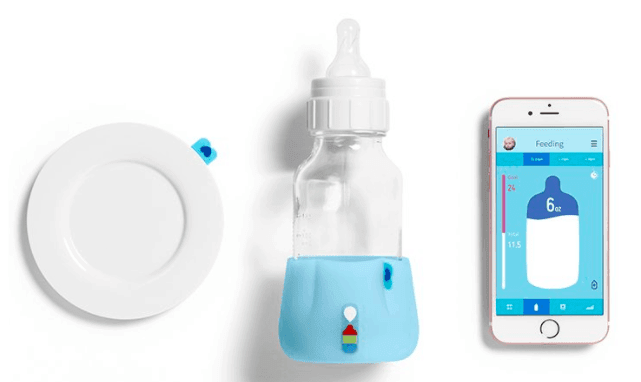 The innovative BlueSmart mia is a great new feeding tracking system that helps alleviate those worries. The smart silicone sleeve wraps around any bottle and has many great functions such as a timer (for feedings and milk expiration), a temperature sensor to ensure it isn't too hot or cold, and motion sensor to get an optimal feeding angle.
It all syncs with a smartphone app making tracking feeding amounts and data easy! This would be a great gift for new parents.
| Extra necessities to keep baby happy |
Interactive playmats, the very best pacifier, and stylish & practical bandana bibs also make great gifts that are sure to keep both baby and mom content!
Fisher-Price Kick & Play Piano Mat
WEAR:
Whether you go cute, practical, or a combination of both, these are some of the tops items to gift to baby.
| Pajamas|
A baby can never have enough PJs in my opinion, especially during winter when no one wants to change out of toasty pjs! These Holiday Footed PJs are too adorable, and I love the pattern on these organic zippered pajamas.
Simple Joys by Carter's 2-pack
| Baby Basics + Outfit Sets |
Similar to PJs, good quality baby basic apparel is essential for the first year. I'm loving Gerber's new collection of baby basics, and the affordable options from the ONESIES brand as well.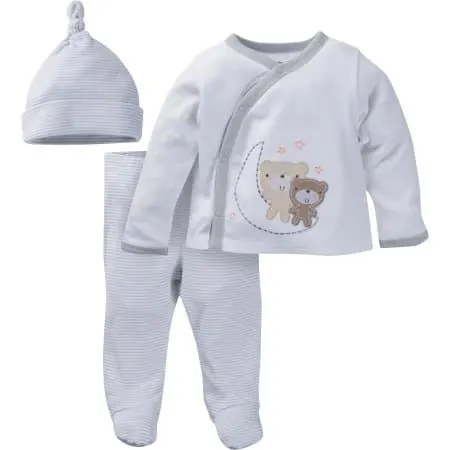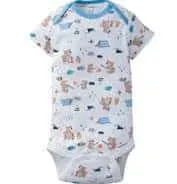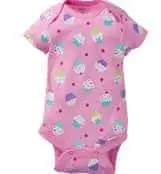 And who can resist adorable outfits for gift-giving? This girl's set with puffy vest or this boy's suspender set are some of my favorites right now.
Suspender Button Up set
| Shoes & Accessories |
Keeping baby warm is vital, so giving warm and cozy gifts just make sense! To keep little feet warm in the first year, I love moccasins or soft soled elasticized shoes. My daughter lived in these ones and we had multiple pairs of these. A good winter hat (bonus if it is super adorable like this one) plus warm booties are other must-haves for winter.
Freshly Picked Moccasins
Robeez soft soled shoes (lots of styles!)
READ:
Black/White Books, Soft books, Board books are all great for different reasons. The Black/White books help early visual development, and soft books are great for tactile interest. Here are some of our favorites for the first year.
Moo, Baa, Lalala (one of Charlie's all-time favorites!)
Your Baby's First Word will be DADA by Jimmy Fallon

So there you have it—over 40 of the best gifts for babies! What would you add to this list?