We really love muffins around here—we eat them most days for breakfast on-the-go or for a snack. So we rounded up over 60 of the best muffin recipes that the whole family will love—I even think they would work great as baby muffins too!
When it comes to figuring out things that would work well for baby led weaning, muffins are pretty close to the top of my list.
There are so many ways you can modify a regular recipe to make it work for your baby's needs as well. I especially like to make mini muffins because they are the perfect size for a baby or toddler to hold onto.
It is so easy to create tasty muffins for babies—they can literally be made with a few ingredients or even leftover baby food—and you can make them with almost any type of food to help introduce new flavors and textures.
Like take these Cinnamon Apple Muffins for example—they are made with just 3 ingredients and are perfect for little fingers to grab and munch on.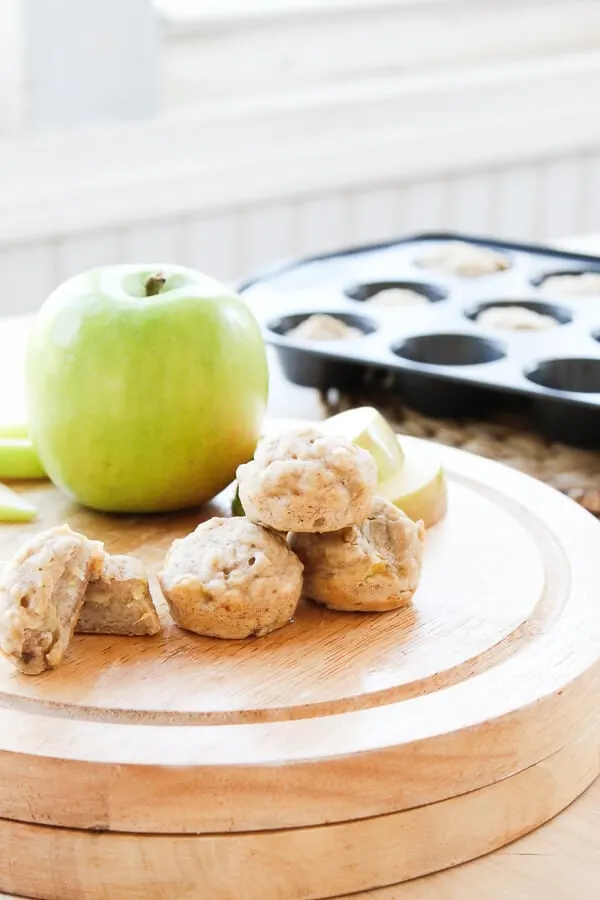 Allergy tips
You can also find egg-free, dairy-free or gluten-free versions, or do a simple substitute for practically any recipe you find online!
One of my favorite tricks is to use a really ripe banana instead of eggs. The banana helps bind everything together.
As always, check with your pediatrician when introducing new foods and ingredients, especially ones that are common allergens, such as eggs, nuts, etc.
Freezing muffins
Muffins are also a great freezer food—just make up a batch of them and stick them in a ziploc bag. Grab a few at a time to defrost and you have food on hand when you need it most. They make the perfect quick breakfast for toddlers—and parents too!
Related: Simple Snacks for Toddlers (that are both Healthy and Yummy!)
The other things I love is that they are such an easy cooking project for cooking/baking with toddlers. Our son loves to help cook and has been making muffins with me since he was around 18 months. Just dump, stir and scoop!
Because we are so obsessed with them, I gathered up some of the best muffin recipes online so they are easily accessible in one place. Just pin this post and refer back to it whenever you are in the mood for a tasty treat!
These are basic muffin recipes—not all are designed exclusively for babies. But since my kids eat whatever the adults each here (for the most part) this is a good starting point for me to adjust the recipes as I see fit to make sure they are healthy for my kids.
Here we go!
Baby Muffins for Baby Led Weaning and Hungry Toddlers
Click to head straight to the recipe for these great muffins!
Just to reiterate: the reality is, any muffins can be for babies or used for baby led weaning. Make them as they are, or change up the ingredients (like cut the sugar out if it is there) for a more healthy baby muffin if they seem too sweet.
*Remember, honey should not be given to babies under a year old, even if it's cooked! Choose other sweeteners, such as agave or maple syrup instead.
Take some inspiration from these muffin recipes to create a new eating experience for your baby led weaning journey or to take for an easy on-the-go snack for preschoolers (or for yourself) too.
Remember to pin this to your favorite breakfast or baby led weaning Pinterest board to save for later!