Whether you are a first-time mom, new to nursing, or just looking for breastfeeding tips & tricks to make things easier, these insanely helpful ideas & hacks will make breastfeeding & pumping a little easier, especially for beginners or those looking for some support with challenges, sore nipples, questions, or not sure what to expect!
Breastfeeding can be such an amazing experience—but that doesn't mean it isn't also difficult, uncomfortable and totally different from anything you've tried to learn before! So today I'm sharing some tips to make breastfeeding easier—these breastfeeding hacks are game-changers in making the journey a little smoother.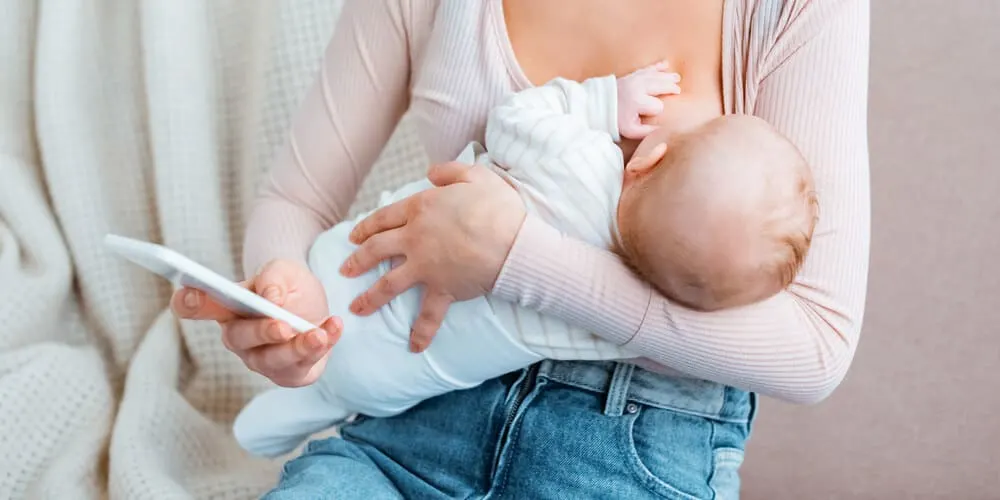 When I was pregnant with my first—and during those long first few weeks as a new mom—I spent a lot of time on Pinterest and breastfeeding groups searching for advice on breastfeeding.
I wanted to do everything possible to be able to breastfeed, and just like no two pregnancies or babies are alike, neither are breastfeeding journeys.
I feel lucky to have been able to have nursed Charlie for 17 months (you can read about how the last time we nursed felt as a first time mom here) and am at 10 months with Ensley.
And over the course of those 27 months, I have picked up quite a few hacks for breastfeeding—as well as products and accessories that make life a little easier!
My Top Breastfeeding Hacks & Tips for New Moms!
Take a Breastfeeding Course
One thing I have learned over the past few years as a mom is that no matter how much information is out there for free, sometimes it is easier and better use of my time to find all of the information in one place.
Milkology is an amazing course for breastfeeding moms that covers everything you need to know in one place.

It has easy to follow videos with great visuals and practical how-tos for everything that might come up.
At only $27 it is such a good investment to help get your breastfeeding journey off on the right foot – much cheaper than a lactation consultant! And if you are going to be pumping at work after your leave, Stacey also has an inexpensive course for that too, as well as one for Exclusive Pumpers!
Looking for something that talks specifically about Breastfeeding Twins? Check out Twiniversity's Online Breastfeeding Twins Course!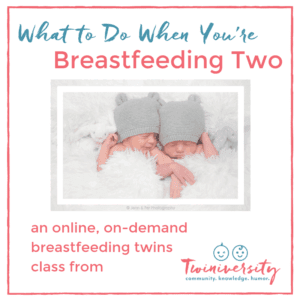 It is geared specifically for twin mamas and mamas-to-be to answer all of the questions and unique challenges that nursing twins might bring up! You can find out more information here.
Buy a Multi-Function HOT/COLD Pack for Relief
I've experienced my share of clogged ducts, low milk supply and even two rounds of Mastitis, and tried regular ice packs and heating pads for relief during my first season of breastfeeding.
I found out about Lansinoh Therapearl packs after I weaned the first time, but made a mental note to order them for my second. They are so helpful and I love that they can be used hot or cold for engorgement, discomfort and to increase milk flow.
During the first few weeks especially I typically heated them up in the microwave before nursing to encourage let down and increase flow, and then used a cold one after to bring some relief for sore nipples.
They also work great for getting those pesky "nobs" that form inside the breast worked out.
Stock on apparel and use accessories to make breastfeeding easier
There are so many great options out there clothing wise to make nursing easier. Here are a few of my favorite tips!
Use a hair type on your wrist to remind which side you last nursed on—you want to start on the other side for the next session. There are lots of apps that can be used too if that is more your style!
Get non-padded nursing tanks to wear under regular clothes—I basically wear one of these every day. They are great for doing the two-shirt method (lift up the top, pull or unhook the bottom tank down) except you don't have to unhook this tank as you can just separate the two sections.
And they make pumping easy (if you use an easy on pumping bra like this one) because you don't have to have your entire stomach exposed.
Infinity scarves make the perfect breastfeeding cover. I used lightweight infinity scarves pretty much exclusively with my first.
I love that you can keep them on when not in use and how you always have a cover handy if you want one! They also work great for covering up a baby sleeping in your arms too.
High waisted leggings are ideal for nursing, especially after delivery. Another great way to stay a little more covered up when lifting a shirt for access!
Nursing sleep bras or padded nursing tanks make sleeping much more comfortable, especially the first few months, and make nursing easy at all hours of the night.
I love how soft and comfortable this one is from Kindred Bravely—their padded tanks are super comfy too! I had it in my hospital bag and pretty much lived it in for weeks!
Set up nursing zones (and keep them stocked!)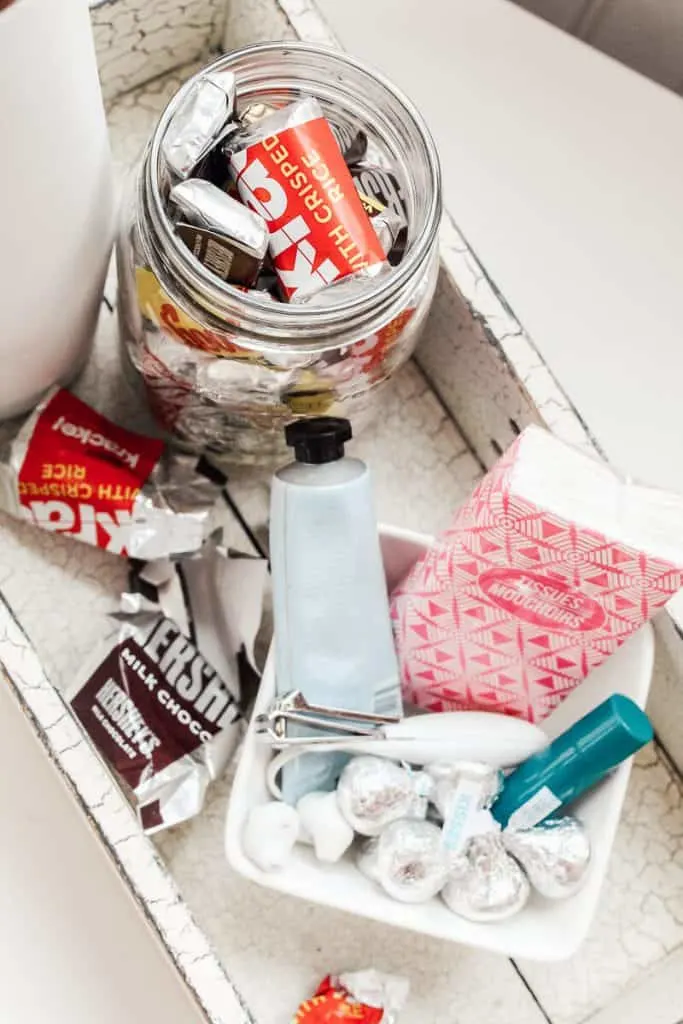 Each nursing session—especially with a newborn— can last up to 45 min (or more) in the beginning until babies become more efficient at removing milk from the breast.
Multiply that by one session every 2-3 hours, and it is a lot of downtime! No wonder moms feel like they can't get anything done—much of the day is consumed in the actual task of feeding!
To help those sessions run smoothly, keep a nursing basket handy in multiple spots around the house. The worst part of settling down to breastfeed is when you finally get the baby latched and started and realize you forgot your water, phone, charger, snacks, etc.
By having a little basket next to the normal spots where you nurse (or where you pump) then you can cut down on some of that agony or having to get up-and-down. Grab a pack of extra long phone chargers—you'll love them for the hospital too.
Use a water cup with lid and straw. While water bottles are great and a necessity for going anywhere, at home an oversized straw cup is so much easier to drink from with a baby and while nursing. Anything that only requires one hand is gold in my book as a new mom!
You could get a nice one like this or just buy a few cheap ones—to be honest, I pretty much just use a cheap one at home most of the time and it gets the job done just fine!
RELATED: Easy Lactation Brownies
Breastfeeding Tips: Getting comfortable and getting positioned
Breastfeeding is such a big learning curve—for both a baby and for you! While some may instantly latch and never have an issue, the reality is most new moms are going to struggle with something in breastfeeding.
Having and tapping into a support network, lactation consultant or group, and having patience is important. Here are a few tips that generally help too!
Use a Boppy or another positioning pillow at the start. There is a LOT of fumbling around trying to figure out just how to feed a baby. Add to that the 45 minutes it can take, repeated over and over, and it is exhausting.
A nursing pillow helps take the load off our arms and helps get the baby into the right position.
Other great options are the My Brest Friend pillow, or for something less space-consuming, an arm pillow like this is another good one.
I liked having my arm pillow around for feeds as Ellie got bigger, and it was especially great since I had a toddler also in my lap usually too, meaning a regular Boppy wouldn't always fit.
Try different holds, and bring baby to breast, rather than the other way around. The football hold—for example—ended up being a favorite with Charlie and was especially useful for combatting plugged ducts as I could point her chin different directions.
If your newborn is too sleepy to eat effectively, try changing their diaper, unzip or undo clothing, tickle their feet or use a wipe along their face or feet to wake them.
Learning to nurse in a carrier is really helpful too, as it allows you to get more done and nurse while out in public or on the go without impacting plans too much.
If they fall asleep while nursing in there then it transitions to easy nap time!
When you start to notice your baby is getting easily distracted and nursing sessions are getting frustrating (likely around 5 months) try wearing a teething necklace.
They are the perfect length for babies to grab and look at while nursing, and it helps bring them back to the task at hand.
I used teething necklaces with both of my girls and they saved me hours of frustration. Just be sure to get one that isn't too long or else they will try to put it in their mouths!
Related: What it is like after done weaning
Tips for Saving, Storing and Using Breastmilk
Pumping tips and hacks deserve a post all their own, but here are a few tips that every mama should know about.
Build a stash without pumping. Yup. That is is actually possible using awesome products like Milk Savers and the Haakaa. Both are designed to catch extra milk that might otherwise be wasted as it soaks into nursing pads.
Using a Haakaa on the opposite side is something I wish I had started long ago. It allows you to collect all the milk from a let down on one boob while you nurse your baby on the other. Genius!
I used it with Ellie and definitely was able to store extra. There are quite a few mamas in the breastfeeding groups I'm apart of who actually saved up over 200 ounces before heading to go back to work—without actually pumping at all—just using the Haakaa.
If you are using a haakaa, another tip is to keep a mug nearby to keep it upright after you detach it. Nothing worse than spilled milk, and the mug keeps everything in its place.
Haaka also makes a stopper for the bottle and a new suction cup bottom, however, I find the mug easy to store and carry everything back into the kitchen anyway.
If you are wanting to get the most milk out of a pumping session while still breastfeeding, pump after the first feed of the day in the morning. That is when most moms are the fullest and pumping then will result in more milk than after nursing at other parts of the day.
I pumped in the morning every day when trying to build my stash for work, and I always had more then than at other points.
Speaking of building a stash and using it—make sterilizing easier by using these bags. Have a few on hand and you can sterilize all your bottles and pump parts in a few minutes.
When you are out and about, bring a Thermos or Yeti cup full of hot water that you can pop a bottle into to warm up.
You will always have hot water on hand and can easily warm up a bottle when you need it since they make huge water cups/bottles that can fit full-size bottles inside!
These are just a few of the things I have found most useful for breastfeeding.
Remember, every breastfeeding journey is unique, and it is ok if you have decided not to, or are unable to continue. What is important is that you do what is best for you (and your mental health) and for baby!
Do you have a hack you swear by that should be added to this list? Let me know in the comments below!
Other Breastfeeding products to try:
Looking for more inspiration? Check out these reader favorites:
And be sure to follow and like The Mom Friend on Pinterest, Facebook and Instagram for more baby essentials, ideas, and tips for surviving motherhood! I love connecting with moms and figuring out this crazy journey out together!
Pin it!