This post has been sponsored by Hershey Co. All thoughts and opinions are my own. Photos by Mary Ware
New mom life can be crazy, overwhelming and downright exhausting. So today, I'm teaming up with Hershey Co and celebrating all that we actually do as new moms—and why HERSHEY'S Chocolates are part of my new mom survival tips!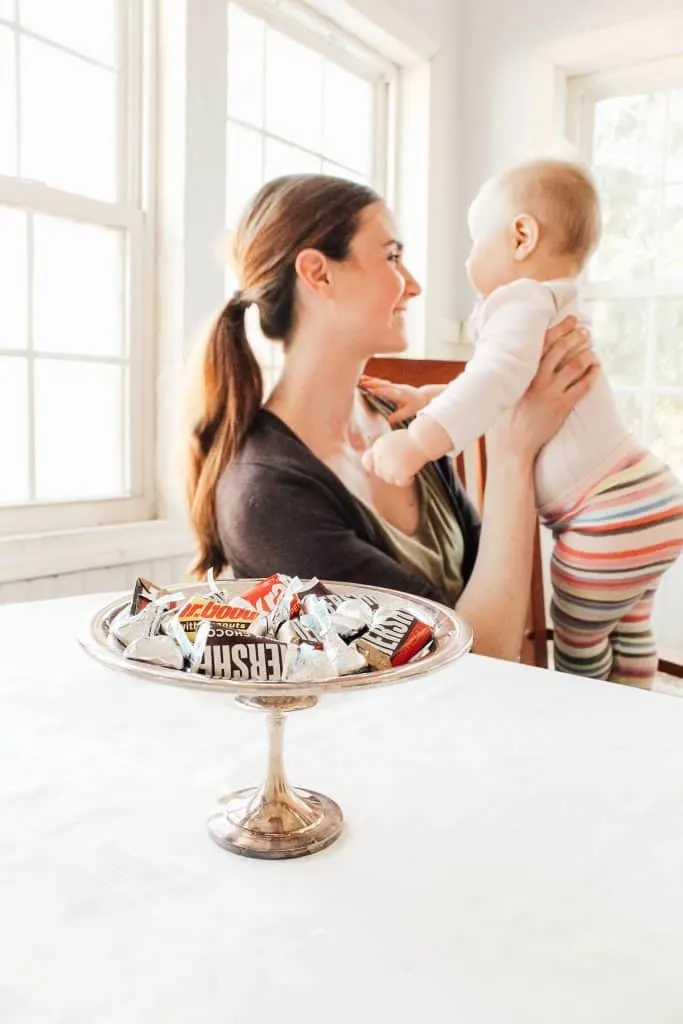 If there is one thing in life that you really can't understand until it happens to you, it is being a new mom.
Everything is different, and it is a steep (and quick) learning curve. It can feel like you are totally alone in experiencing the craziness but the truth is, most new moms can totally relate to what you are going through.
Here are a few things new moms can all relate to, and I'm also sharing my favorite way to shop now with Peapod as a new mom to help take one less thing off our plate!
5 Things Every New Mom Can Relate To: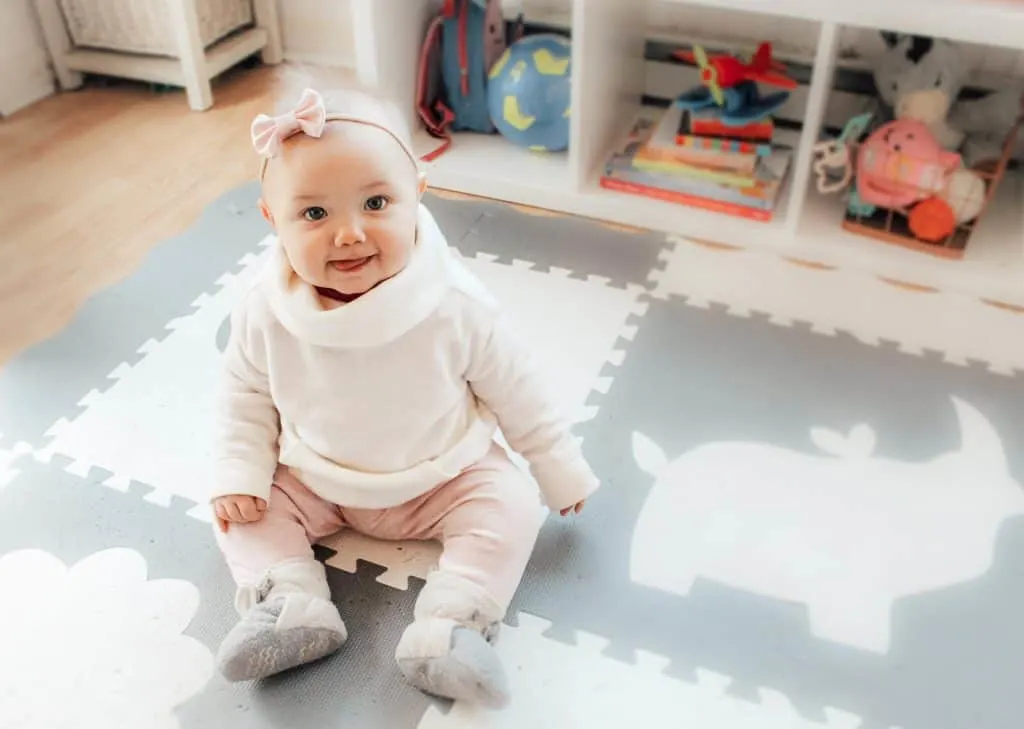 1. There is stuff EVERYWHERE, and it feels like all you do is either pick things up or look for things. And even though you have like 15 pacifiers, you can never find one when you need it the most!
2. You are always tired—ALWAYS—and it is unlike anything else you've experienced. You have perfected your side-eye glance when other people say they are tired from a "lack of sleep."
3. You might spend your day doing things for people all day long, and yet feel like no one notices.
4. Blowouts always happen right after putting a baby in their car seat and thinking you'll be on time for once.
5. Your phone is running low on memory from taking videos and photos of every little thing—but you probably aren't in most, if any at all!
Sometimes it feels like nothing goes right—schedules are thrown off, naps cut short, or freshly pumped milk is spilled on the floor. These things happen, and they are horrible—especially when you feel like you can't handle another misstep.
So instead, take a minute and celebrate what you have done today. Did you:
Successfully change a blowout without getting the changing pad dirty? WIN!
Manage to quiet a barking dog without disturbing a sleeping baby? INCREDIBLE!
Start a load of laundry… even if you didn't finish it? WHO ACTUALLY FINISHES ONE ANYWAYS?
Show your baby love and affection? <– This is the most important thing you can do!
Engage in developmentally appropriate learning activities? HINT: If you played with them at all, you probably did!
Even if it doesn't seem like it, you are working hard all day long. You are providing nourishment and love and building the foundations for every milestone—teaching them about the world around them, how to make sense of it all, and so much more.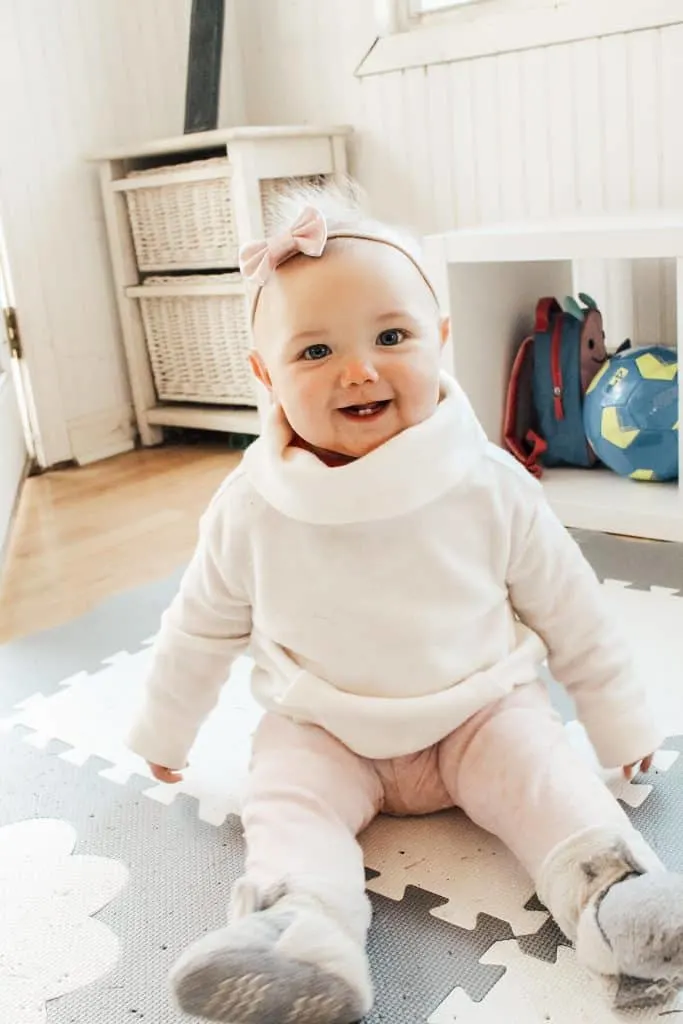 It doesn't matter how cute they are; it is physically, emotionally, and mentally draining to take care of a baby or multiple children, especially when recovering from delivery, experiencing sleep deprivation, or not having the time to engage in self-care.
The truth about self-care as a new mom—and my solution for finding a way to treat myself!
Self-care is a hot topic—and for good reason. In order to be able to take care of others, it is important to take care of oneself. Can't pour from an empty cup, right?
But the truth is, as a new mom, I often feel I don't have the time, energy, or resources to make that happen. I also know that it is important, however, to give myself a minute to recharge or just try to laugh off the frustration. So, what's a mom to do?
There are a million ways to talk about self-care, but one component of it that I have implemented is a quick treat to hit the refresh button (or to be kind to myself when having a rough day).
I decided to find a way to treat myself with something I enjoyed to give me a brief minute of bliss and to help slow down and refocus.
Sometimes, you just need to find (or make) a moment of peace during all the chaos—a little indulgence to make it through the day or to pick up your spirits when the baby just won't stop crying.
The reality is, whatever your reason, you deserve a treat for what you do as a new mom because it is THAT hard. And you are doing a great job.
For me, that is keeping a bag of treats in the house—something that started back at the beginning with a baby shower present.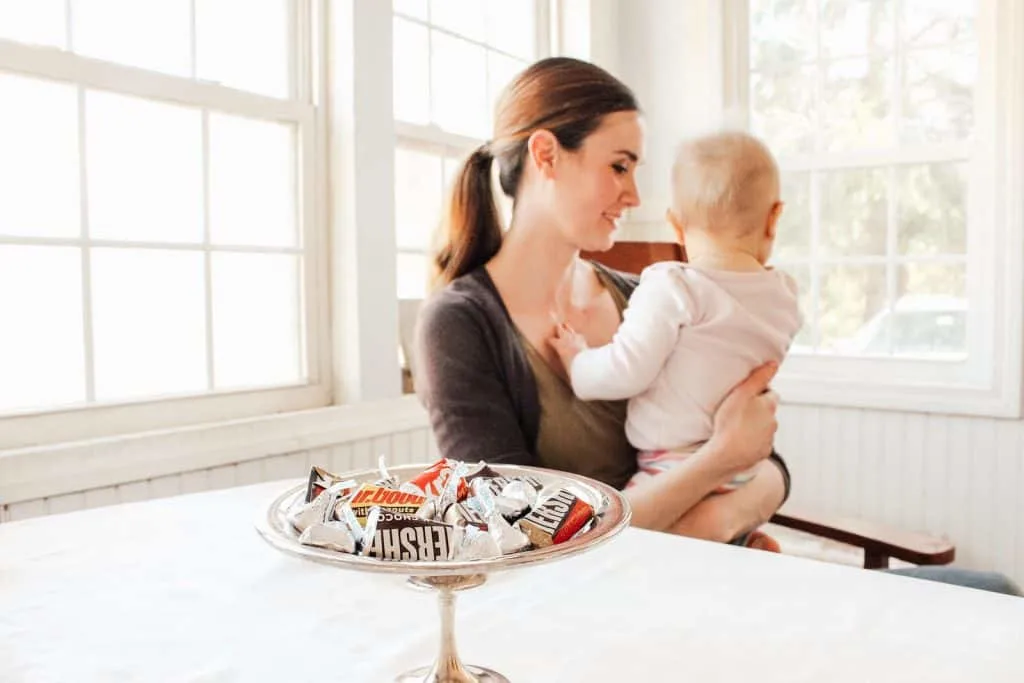 My sister-in-law gave me a bag of HERSHEY'S KISSES Milk Chocolates in a cute New Mom Survival Kit, and it was literally the thing I went through first (that and the coffee) in the early days. HERSHEY'S Chocolate is something that I loved, and it reminds me of home.
Growing up, I lived in the Central Valley of California. It had little to its name except for farmland—and one of the only HERSHEY'S factories in the country! I used to take field trips to the factory in Oakdale, CA and whenever we had visitors from out of town, it was a fun place to take them for a tour as well. If you have ever been, you know that smell is instantly recognizable!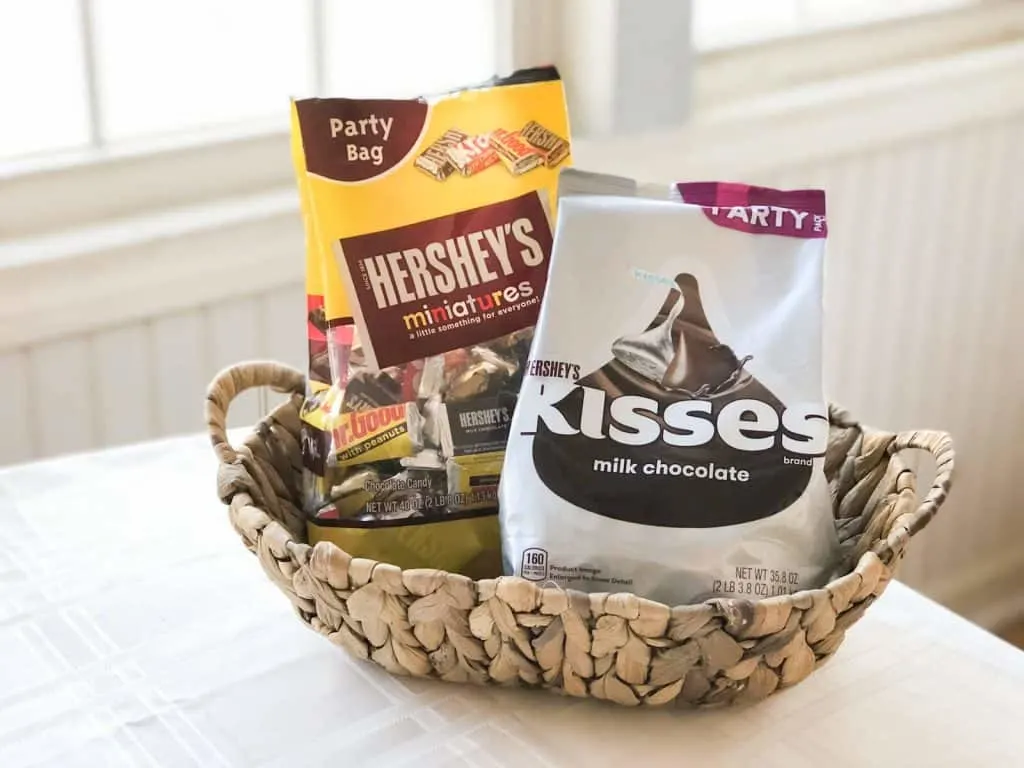 I like to keep a big bag of Hershey's Miniatures Assortment and Kisses on hand; I know I deserve a treat as a new mom and you deserve one, too!
New Mom Mantras to Help Make it Through the Tough Days
In case you need a few reminders that you deserve it, too, here are some mantras you can repeat while enjoying your mini-break:
"It's ok to be pretending like I know what I'm doing. Everybody is learning, all at the same time. Fake it til you make it!"
"I need to give myself grace—I'm new at this, too."
"I gave birth—I can handle this, too!"
"I might not have the answers, but I'm learning to trust my instincts."
"I can't do it all, so what is one thing that will make the biggest difference/impact right now?"
Write these down, post them in a place you'll see them—like taped inside your chocolate stash cabinet—and repeat them as often as needed.
Speaking of chocolate stashes—isn't it great how when you have a newborn, you can just leave it out in the open? If you are in that stage, put a jar into your breastfeeding basket. If you are stuck in one place for a long nursing session, might as well treat yourself during it!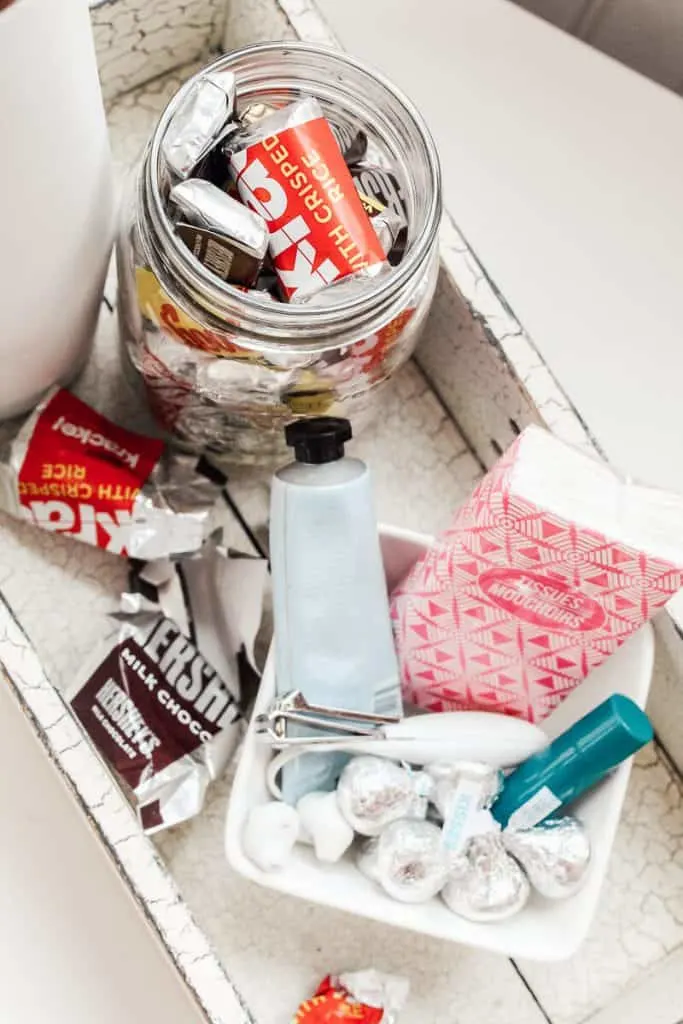 Be warned, however, once they start getting older they all of a sudden become VERY aware of food, which means relocating that stash to a more hidden location.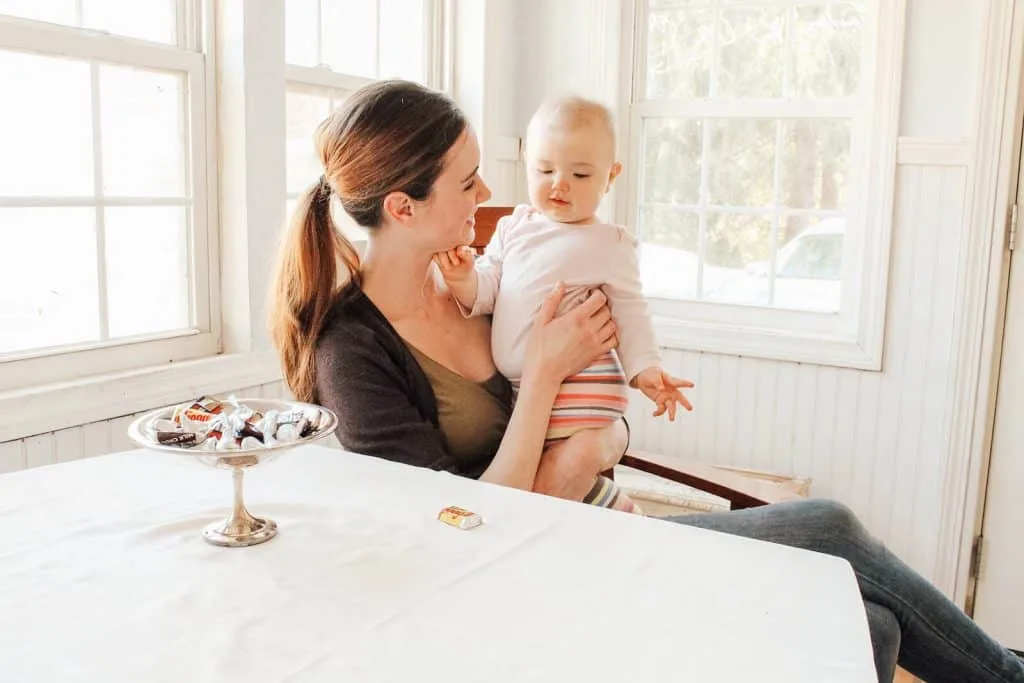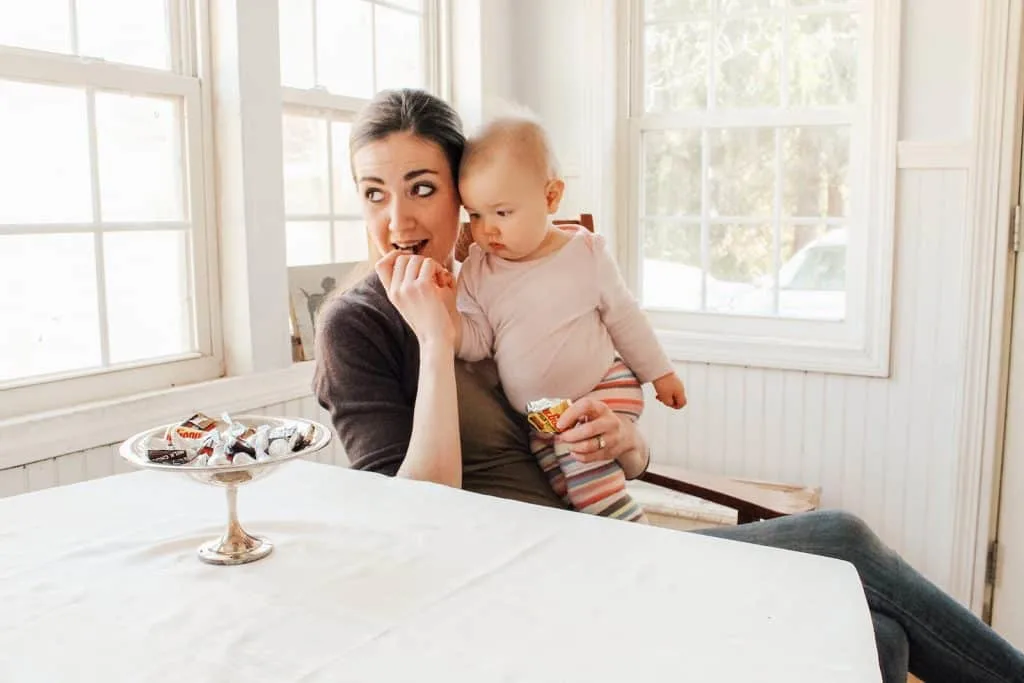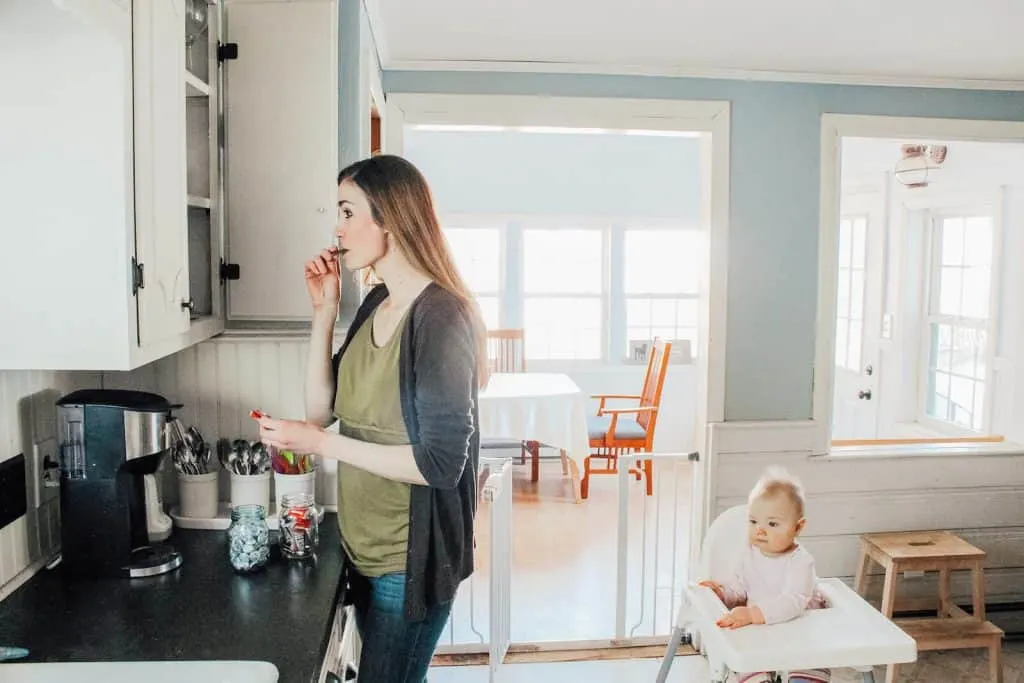 Though I might need to rethink my spot now that my toddler caught a peek and believes she is entitled to everything Mommy has!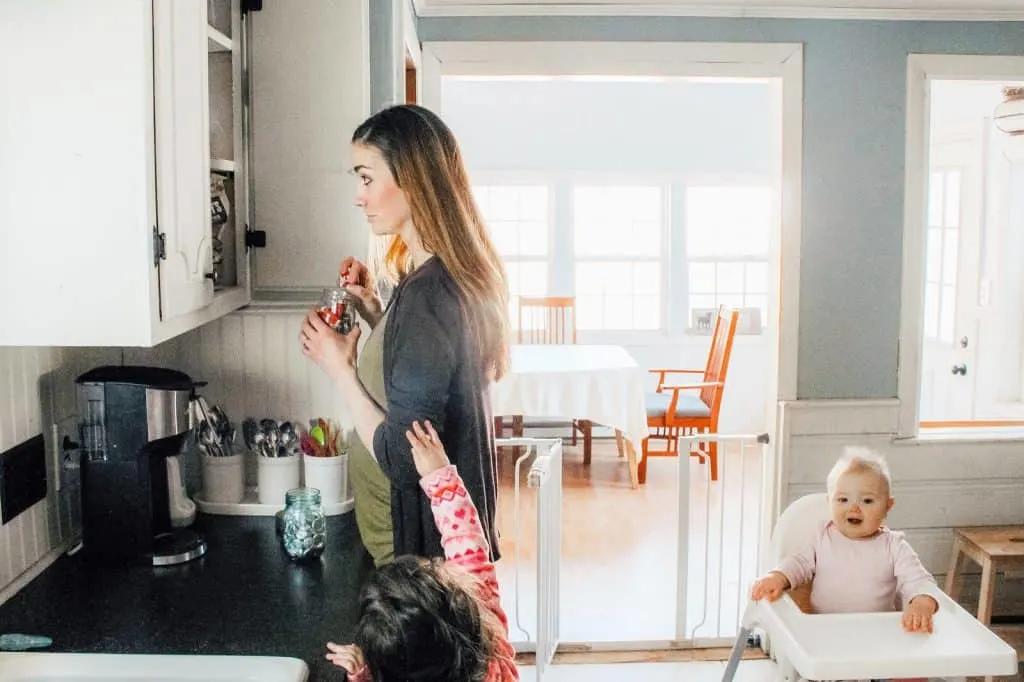 And one last tip to help you survive and thrive in the new mom stage: take advantage of Peapod's delivery or pick-up. It is a game changer. I seriously wish I had tried it with my first!
On the days where going to the store is just out of the question, it is such a relief to simply select all the same groceries online and have them delivered or to do a quick pickup. I was able to restock on all my essentials and have it delivered the next day!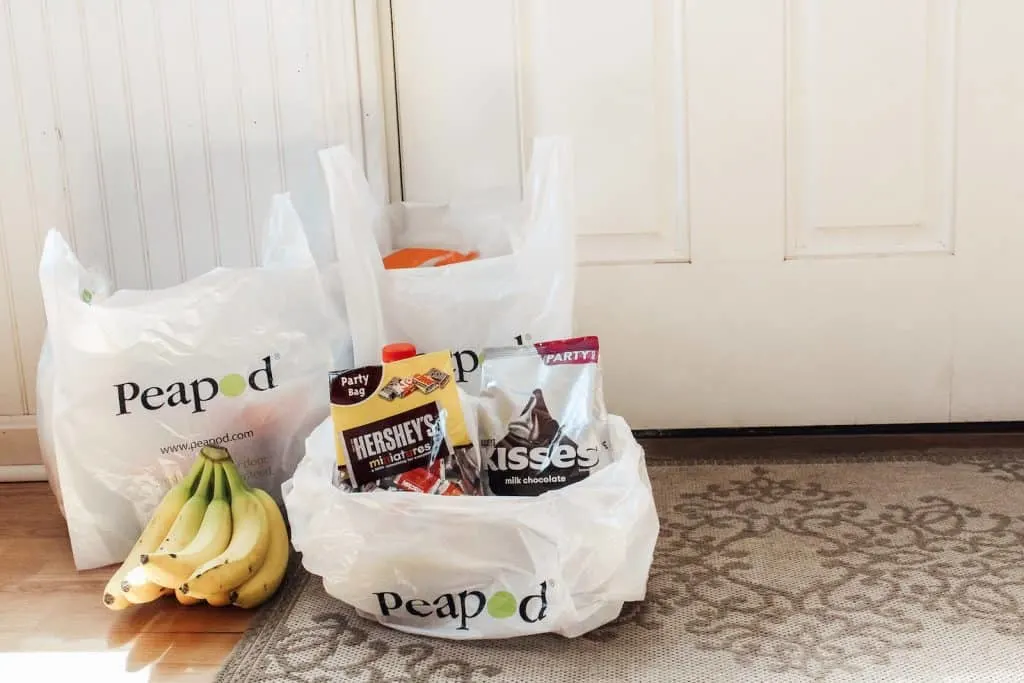 P.S.— you can find the bags of Miniatures and Kisses in the Snacks & Candy "Aisle" on the site. Best part? It remembers your order so you can easily refill after you take the time to treat yourself!
So remember, you are definitely not alone in feeling like you do as a new mom. And be sure to take a minute here and there to remind yourself that you are doing an awesome job and you've got this!
Do you have a favorite mantra to repeat when the going gets tough? I'd love to hear it in the comments below!