This is a sponsored conversation written by me on behalf of Ocean Spray. The opinions and text are all mine. Photos by Mary Ware
Today I am excited to share a new line of juice beverages that stand out from the rest! Why? Because they offer some great health benefits for our kids, plus they come with a little bit of education and a whole lot of fun as well. I'm also sharing about how to turn snack time into a learning adventure with your kids!
The Ocean Spray® Growing Goodness™ beverages are new juice drinks for kids that taste great and are made with real fruit juice, are non-GMO and have no artificial colors or sugar added. They go a step further than a typical juice drink, however, and have additional reasons moms will be happy!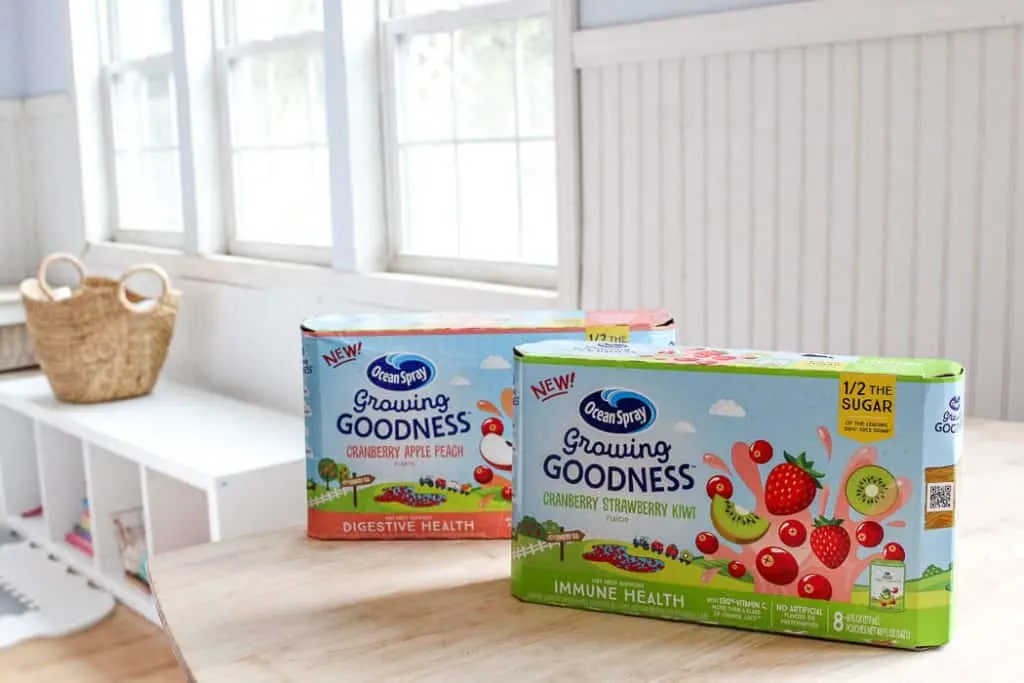 Did you know that Ocean Spray® Growing Goodness™ Cranberry Apple Peach Flavor Juice Beverage may support digestive health with a good source of fiber and Ocean Spray® Growing Goodness™ Cranberry Strawberry Kiwi Flavor Juice Beverage may support immune health with 130% vitamin C? It's true!
So not only does Charlie love to drink them since they are "yummy", but it makes me feel good about the possibility of other health benefits since she is drinking juice drinks anyway. They are easily available with Walmart's online order pick-up too, making it simple to stock up!
Playing While Learning: Exploring the Cranberry Bog Ecosystem
What about the education and fun I mentioned earlier? Well, that comes for both parents and kids from the new Ocean Spray® Growing Goodness™ website that lets families learn more about how cranberries are grown and harvested by the 700+ growers that support the company and it has a link to download a fun app with games!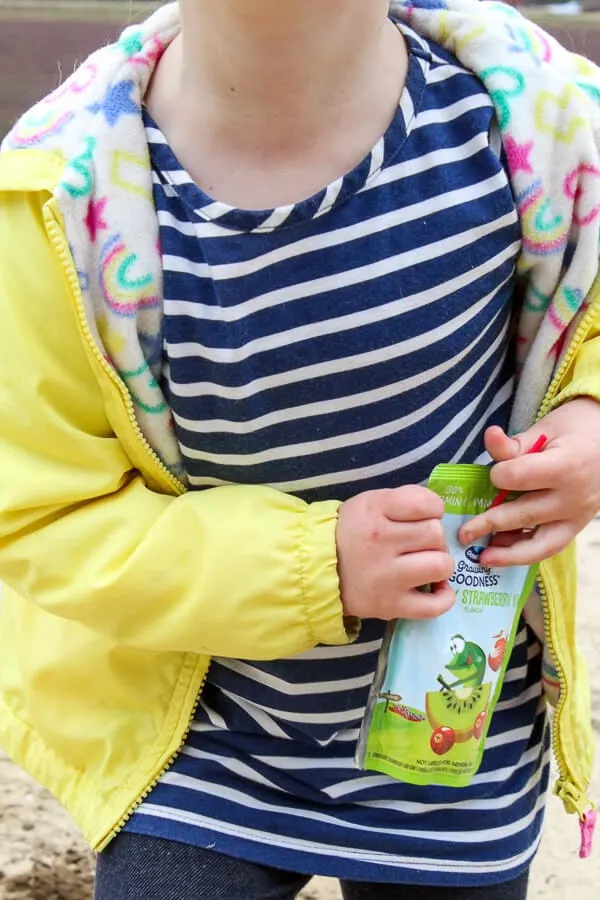 I thought I was pretty familiar with the process of growing cranberries before visiting the website. Cape Cod and the areas surrounding it are filled with cranberry bogs that are well loved—there are even annual cranberry festivals—and one of the best views around is in fall when the bogs are flooded and turn bright red from all of the cranberries floating waiting to be harvested.
However, I definitely learned so many interesting facts on there about cranberries that I had no idea about and had fun seeing what Charlie thought about some of the trivia and learning about the ecosystem of a cranberry bog.
The games on the free app are also engaging and simple to play, and I have to admit—I keep trying to improve my score on the Leap Race one!
Visiting a Cranberry Bog for Hands-on Learning
Charlie loves the outdoors and animals, and lately we have been trying to arrange more purposeful outings to help her grow her curiosity.
I loved seeing her excitement when hearing about the types of animals that live around bogs and decided to bring her out to a local cranberry bog to let her explore and see how the fruit in her drink is grown!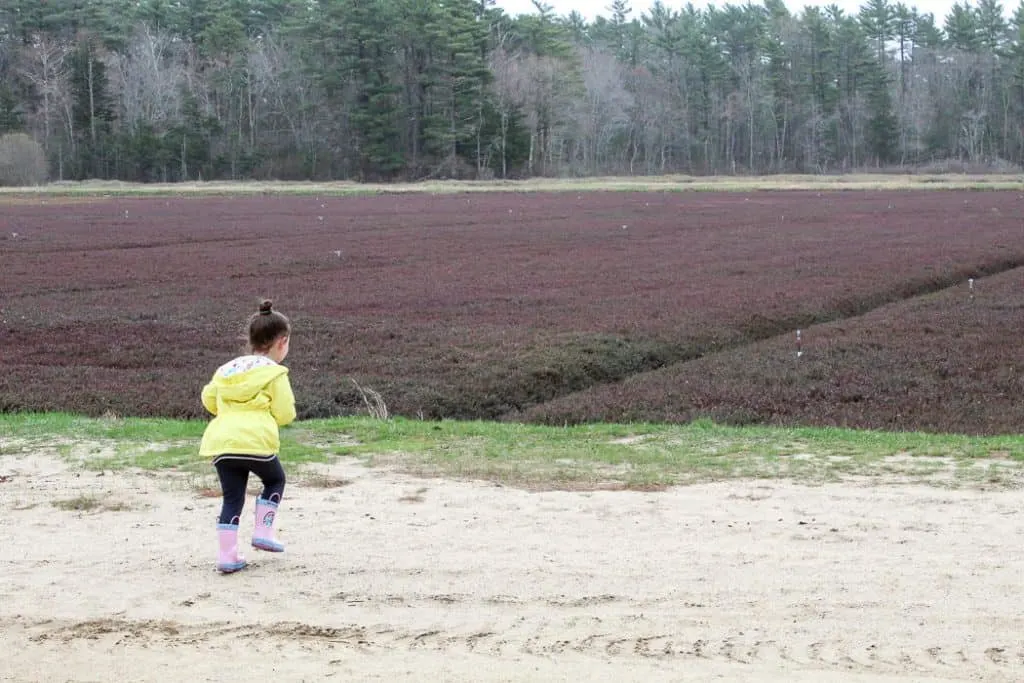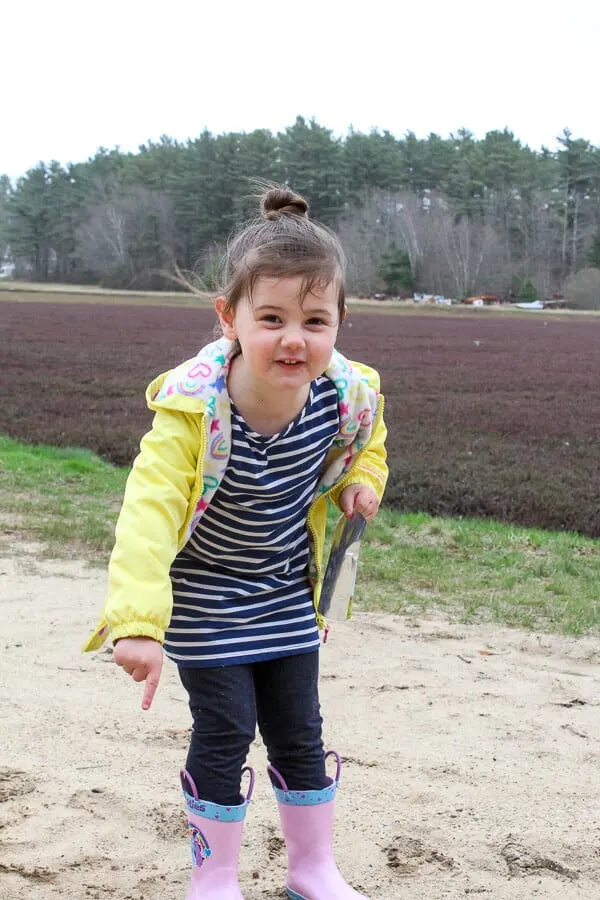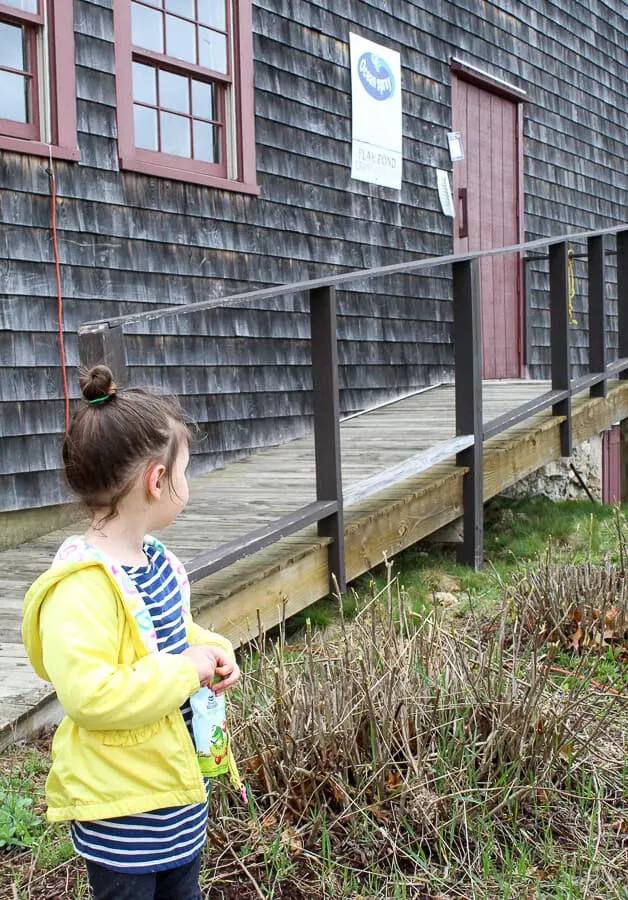 She brought her trusty "ochulars" (binoculars) to try to find frogs, cranes, and turtles like on the website and she desperately wanted/tried to run out onto the vines to see the cranberries up close.
She thought it was so funny when I told her that's the first step of how her drink was made—and she definitely enjoyed her own "taste test"—though she wanted to open the pouch and see the cranberries inside!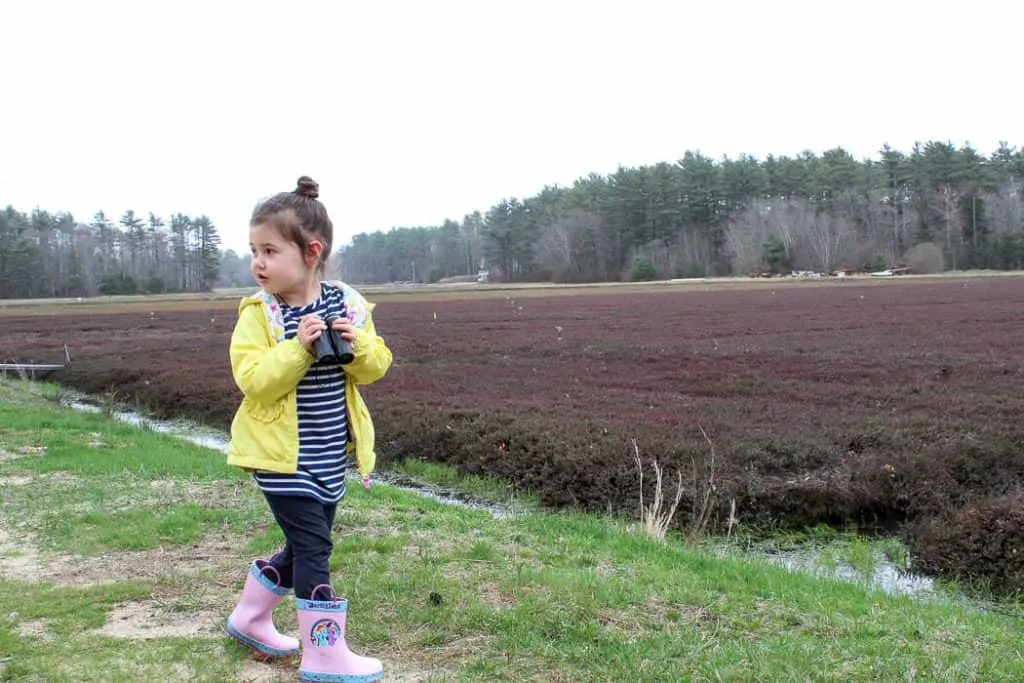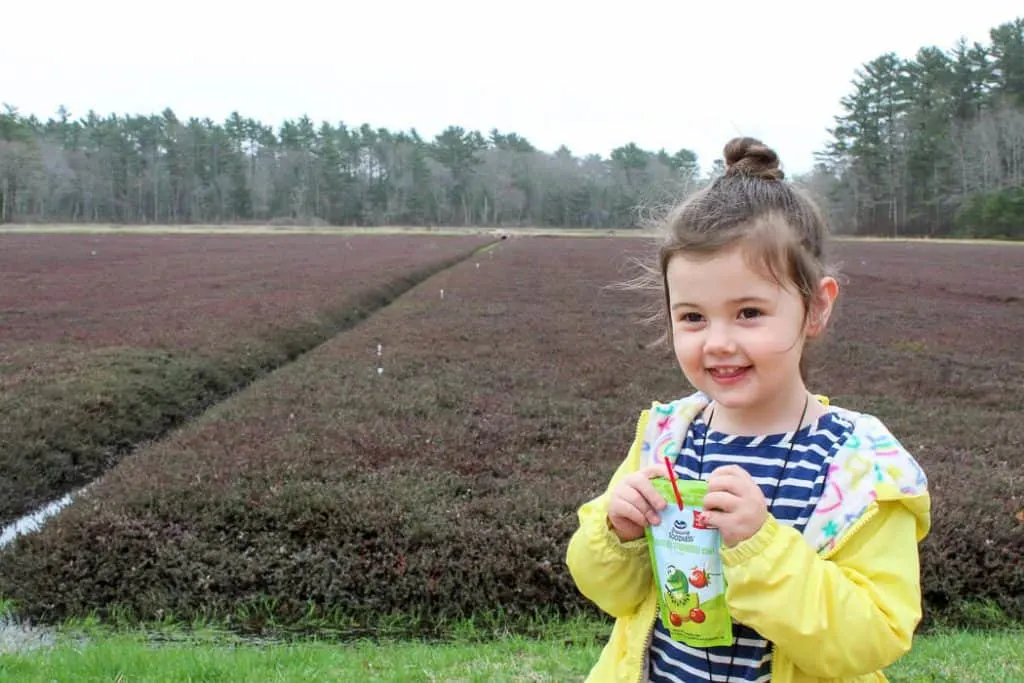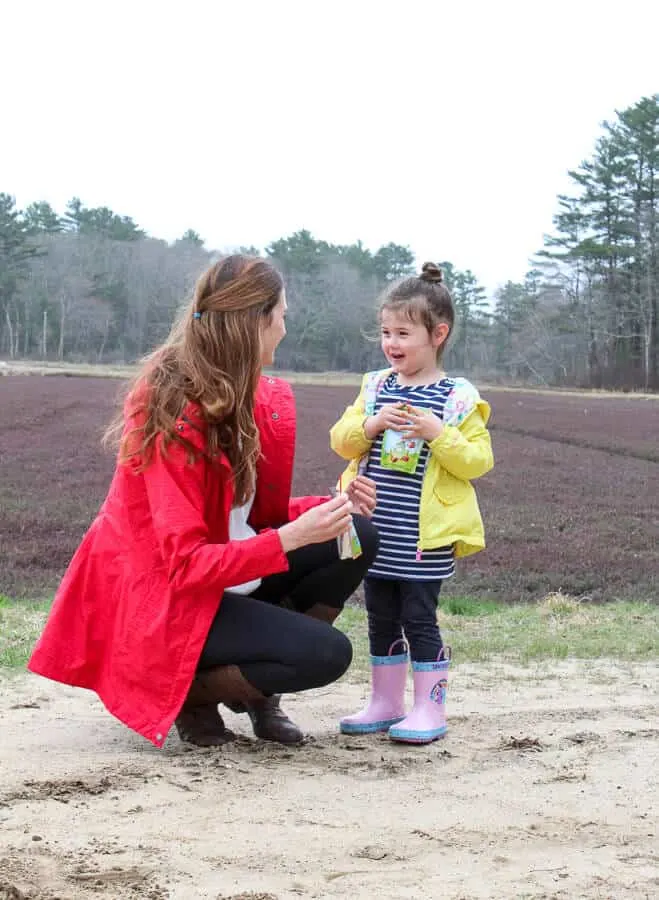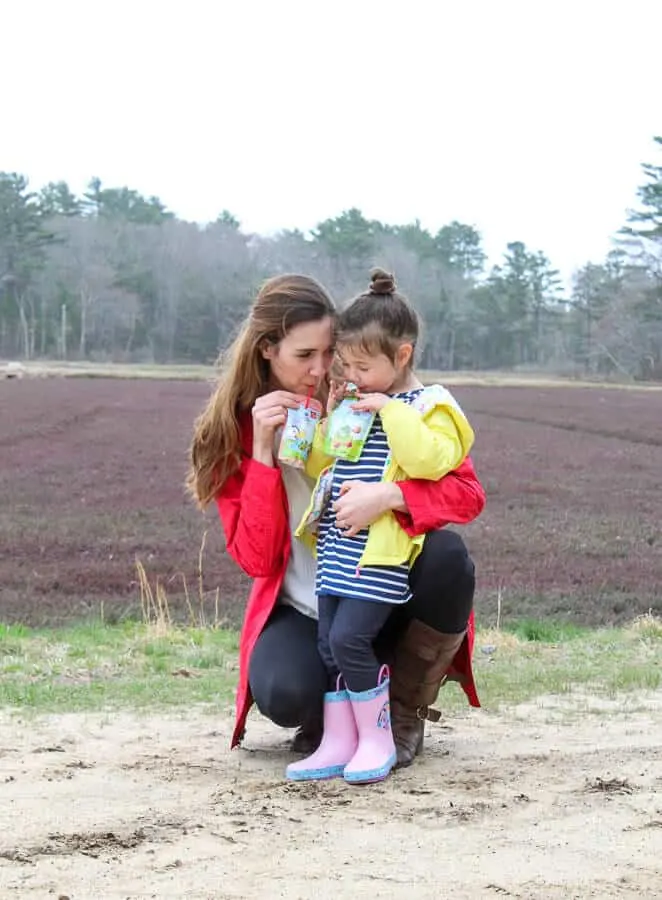 I will definitely have to bring her back during the harvest—she will love it!
Watching her discover the bog also reminded me of when I was 10 years old and had my first "cranberry farming experience".
I came to stay with family in Massachusetts, and they took me to visit the old Ocean Spray® Museum in Plymouth—I remember getting to taste a bunch of different flavors and found it so cool to see how people waded out in waist deep water to harvest.
Being from California, we were surrounded by fruit and farms—but not cranberries—so it was fascinating to me. It is funny how life has become a full circle and less than 15 years later I moved to the Cape and now am taking my daughter to learn about cranberries!
Even without a bog near you, your kids will love reading and playing on the Ocean Spray® Growing Goodness™ website and learning where their juice drinks come from. It is a totally unique process that kids will find so interesting.
Just add some Growing Goodness™ juice beverage packs to your cart on your next online grocery pick-up order at Walmart and bring an easy educational experience to snack time as well to keep their curiosity going.
Making a juice beverage with health benefits and a learning opportunity? It's like Ocean Spray® has moms in mind right from the start!
Are you a fan of cranberry? Have you ever visited a cranberry bog? I'd love to hear about your experience in the comments below!