This shop has been compensated by Collective Bias, Inc. and its advertiser. All opinions are mine alone. #TimeWithAveeno #CollectiveBias
So many times at baby showers or upon birth moms receive generous gift after gift, yet they are mostly all for the baby. But what about mom—doesn't she deserve something too?
Enter the New Mom "Treat Yourself" Gift Basket with AVEENO® products from Walmart, designed specifically to allow new mamas to treat themselves on a daily basis, without any extra effort.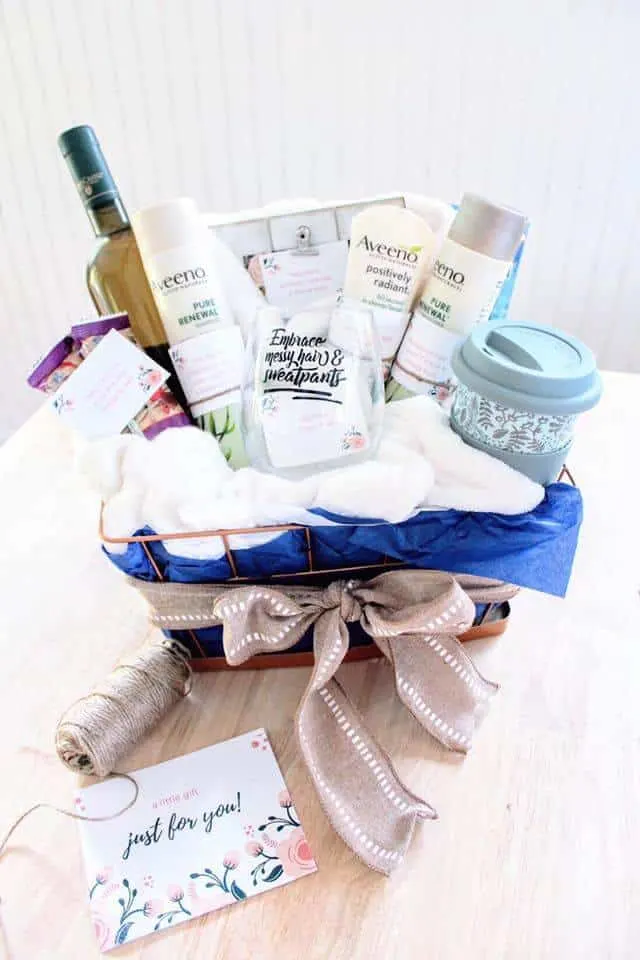 It's the perfect type of self-care!
Why Should Moms Treat Themselves?
The physical and emotional changes a new mom goes through during pregnancy and birth is unlike anything else.
Carrying around a sweet baby for months takes a huge toll on a woman's body, with everything moving and shifting, changing and transforming to bring life to a child.
Labor and delivery, no matter how it occurs, is hard on the body. In the weeks and months that follow, new moms are left to deal with the physical and emotional results of carrying and delivering a baby, not to mention everything they have to do to take care of their little one.
The result often ends up being the new mama spending every ounce of energy on caring for their baby, and at times forgetting that self-care is also extremely important.
Self-care not only lifts the mood and spirits of a person, but it can increase confidence as well.
As a new mom, I definitely needed a confidence boost some days to feel like I was doing the right thing, even if I didn't know what to do!
It's great to tell new moms they should engage in self-care or to treat themselves, but realistically speaking, they might not have the time or the energy to do it.
So let's make it easy on them, and not only show them simple ways to do it themselves, but to provide the tools to make it happen!
The New Mom "Treat Yourself" Gift Basket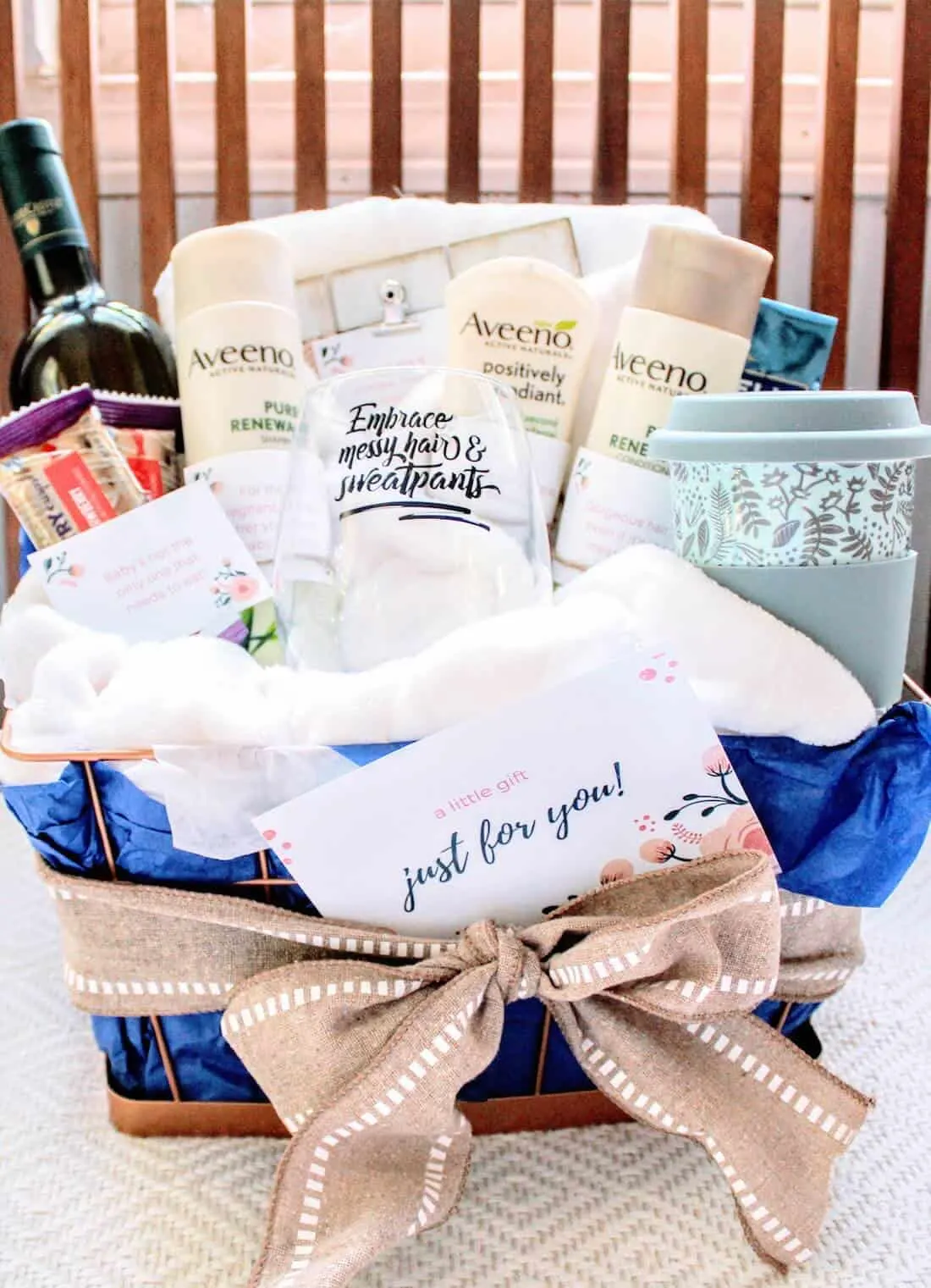 This New Mom Gift Basket is the perfect way to say "Hey Mama, you matter too, and you deserve to treat yourself as well".
The basket would make a great gift for a baby shower, for a mom nearing the end of her pregnancy, or when visiting a mom and her new baby for the first time. And it is easy to put together as well!
Step 1: Gather your gift items and materials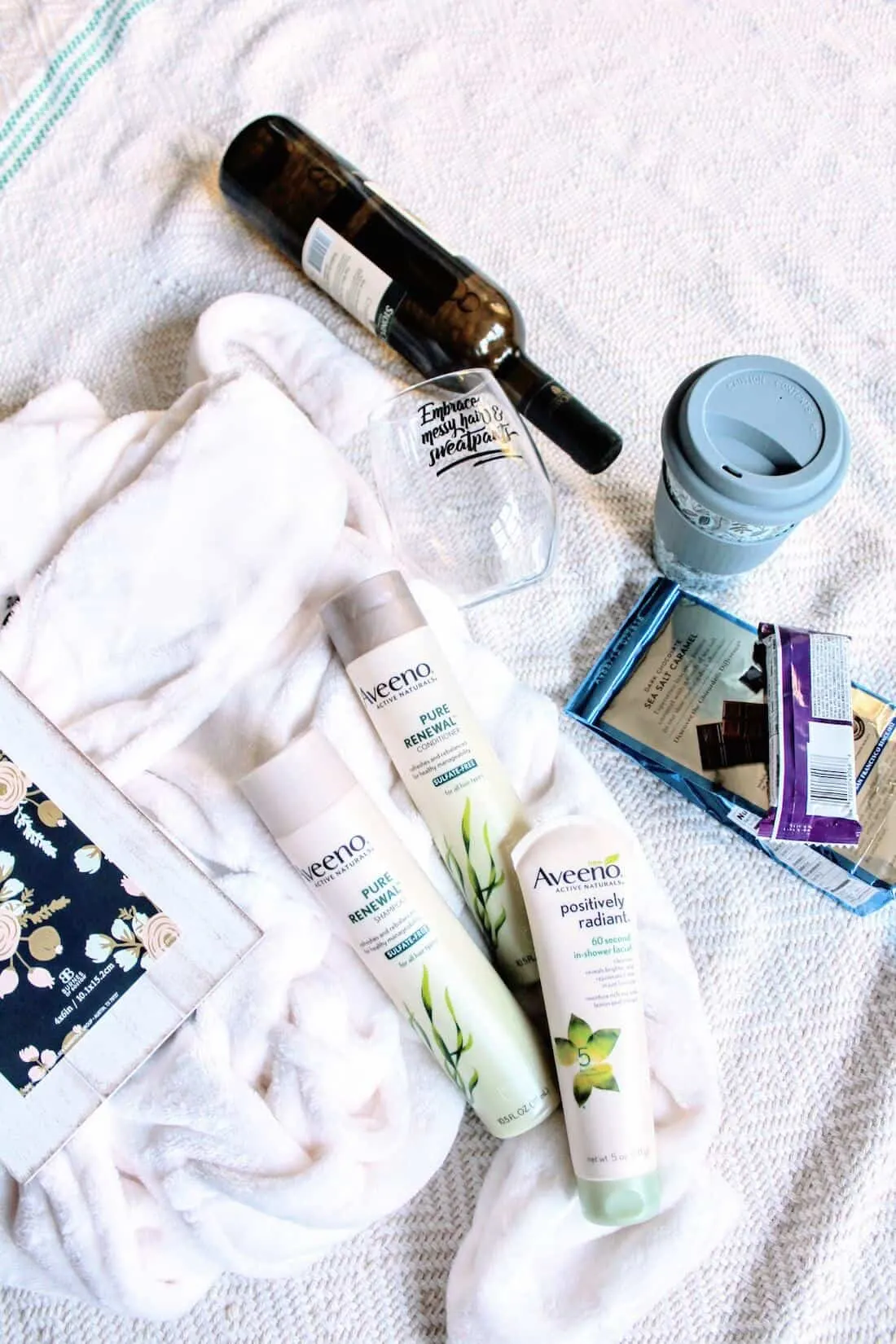 Here is what you will need:
A fluffy robe to make her feel fabulous
Water bottle or coffee mug with a lid (to help keep her going without worrying about spilling on her newborn's head—and yes, I really was so afraid about that!)
Easy snacks (that can be eaten one handed)
Chocolate… lots and lots of it!
A photo frame
A bottle of wine and a witty wine glass, to celebrate and help them on those hard days! *If they do not drink wine, add in some delicious flavored water or drinks instead.
AVEENO PURE RENEWAL® Shampoo and Conditioner for luscious locks
AVEENO® POSITIVELY RADIANT® 60 SECOND IN-SHOWER FACIAL—for a spa-like treat, without sacrificing time or money!
Basket to put all of the items in
Printable gift tags and decorative accents to bring it all together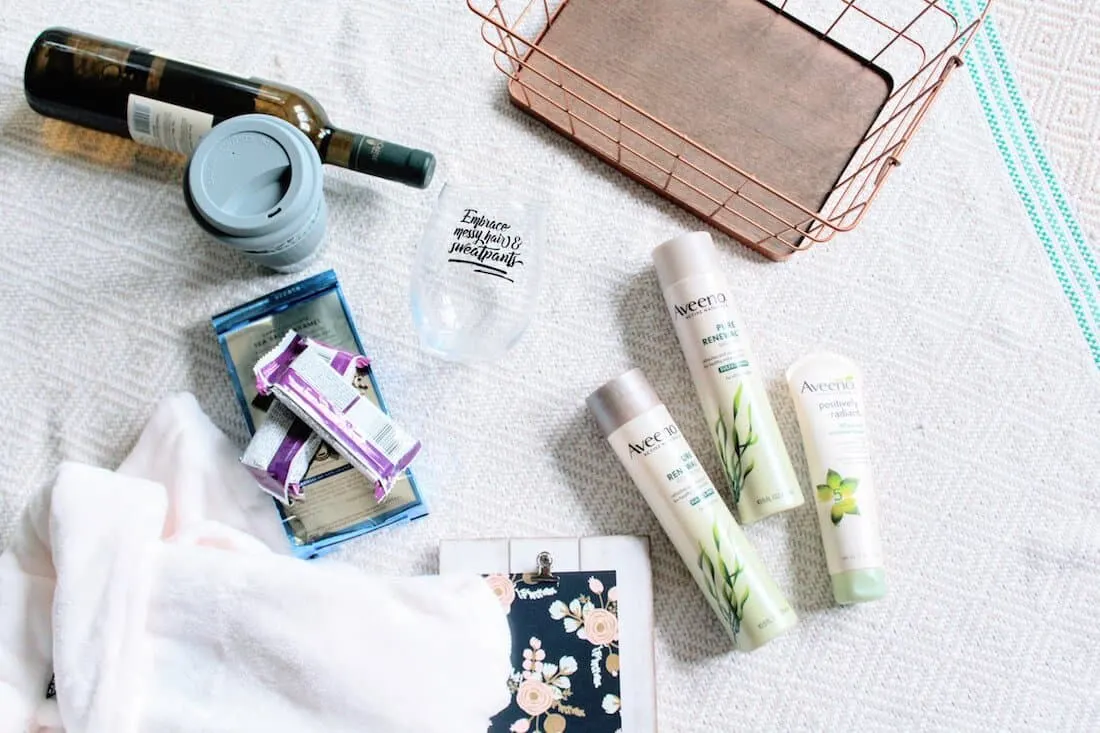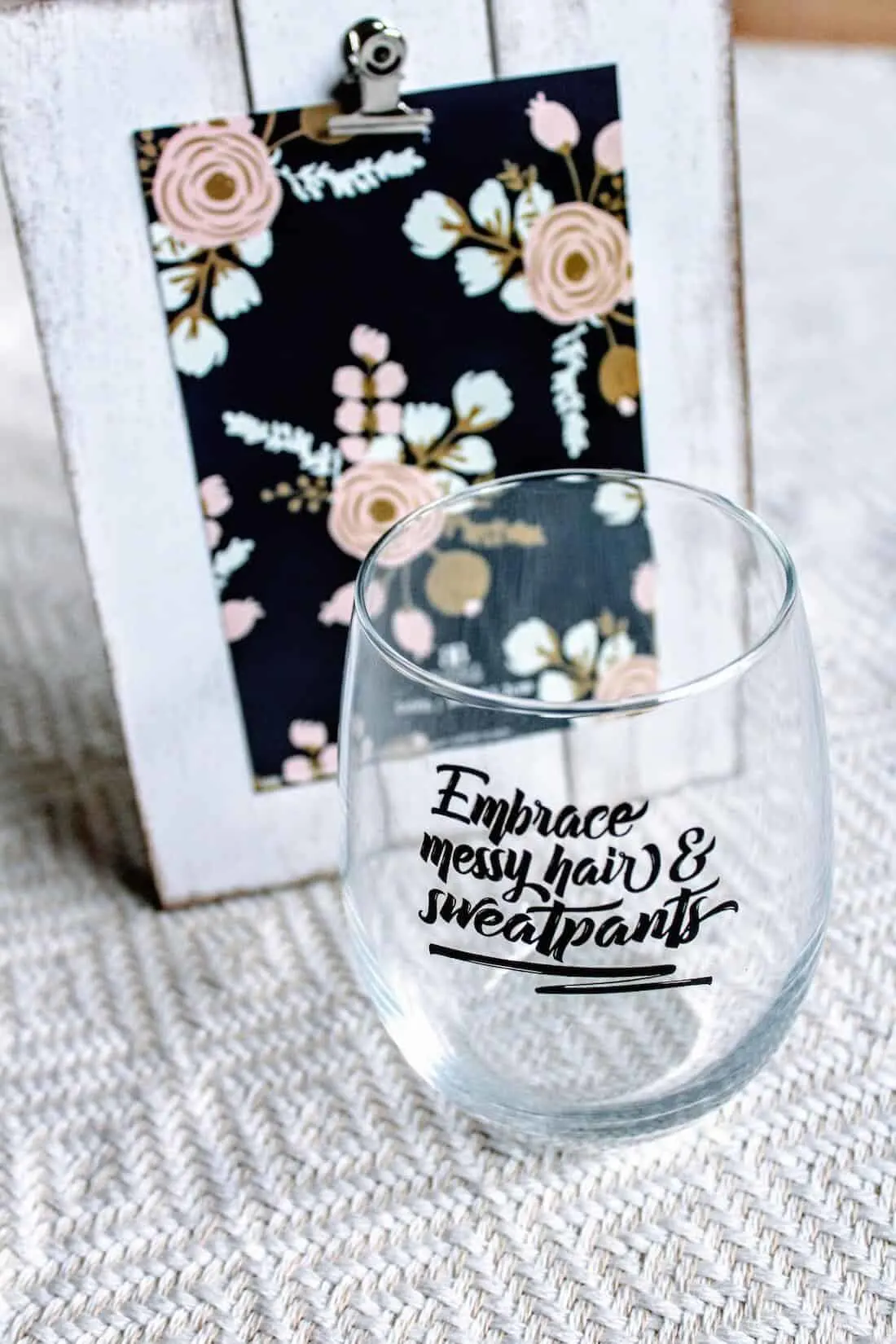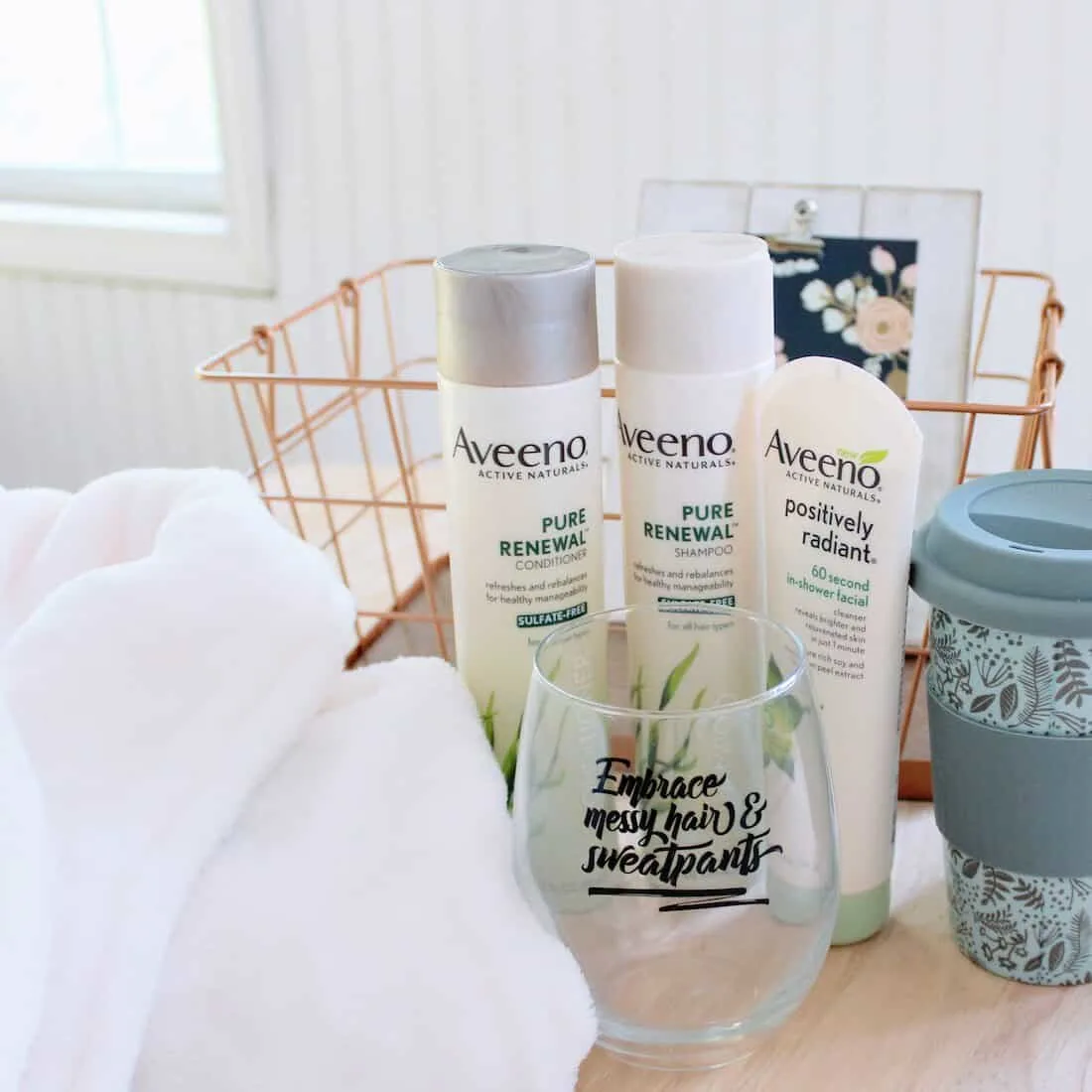 This gift basket provides ways for a new mom to treat herself, without any extra effort! While the snack and drinks are tasty, what makes this so special are the AVEENO® products.
Think about what new moms often say they need most: sleep and a shower! While you might not be able to give them the gift of sleep (unless you offer to babysit) a shower is a perfect place for a mom to treat herself. After all, she is always going to be taking them—even if they are a little delayed!
Lots of mom experience "pregnancy hair" where they find themselves with beautiful, glossy locks thanks to the extra estrogen hormones pumping through their body. It causes hair to grow fuller, longer, and much more quickly than prior to pregnancy.
However, post-pregnancy the sudden drop in estrogen causes it to fall out and hair can appear dull.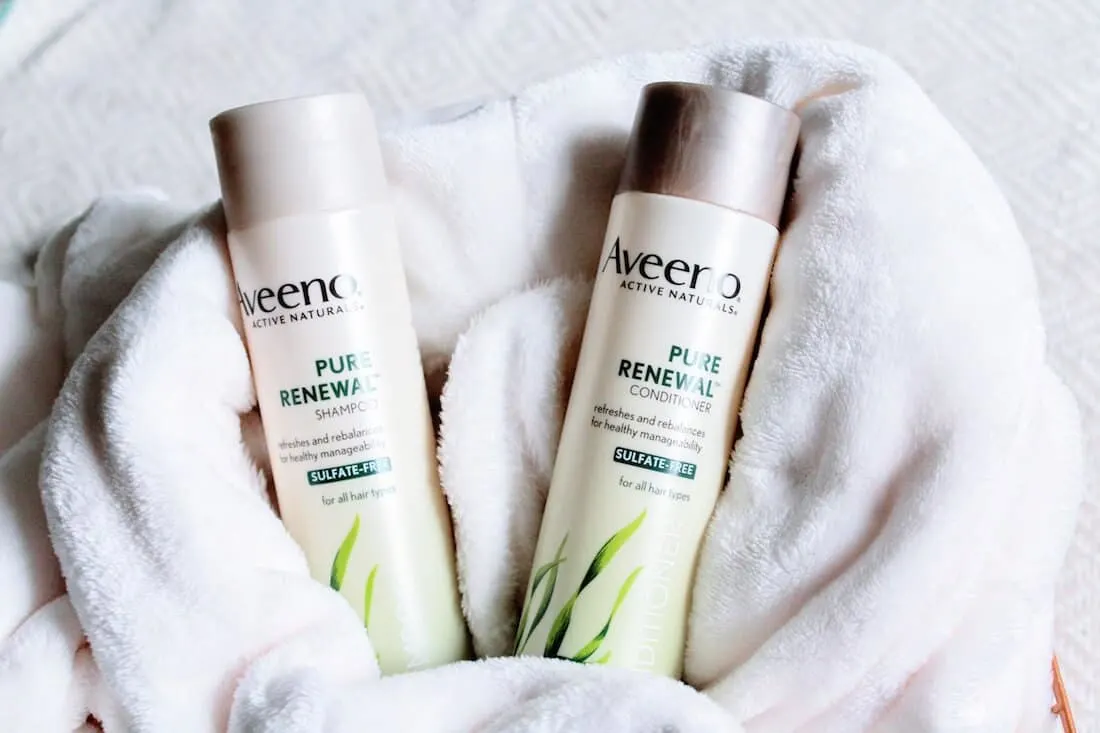 The sulfate-free formulas gently restore hair to its natural balanced state by rebalancing hair's optimal moisture. They are clinically proven mild formulas that are dye free and safe to use on color treated hair (yay for finally being able to dye hair again after pregnancy!).
Just what mom needs to help keep her hair healthy and get a boost in confidence!
As an extra special treat, I love adding in AVEENO® POSITIVELY RADIANT® 60 SECOND IN-SHOWER FACIAL to the basket.
I love that it is designed to be used in the shower (the steam helps it exfoliate and clear away dead skin) and how it only takes a minute to make tired-looking skin (hello, 3 a.m. feedings) look brighter and more naturally radiant, and feel super soft as well.
It's the perfect way to help lift an exhausted mom's mood and help her feel good about how she looks (which gives a serious boost to how she feels emotionally).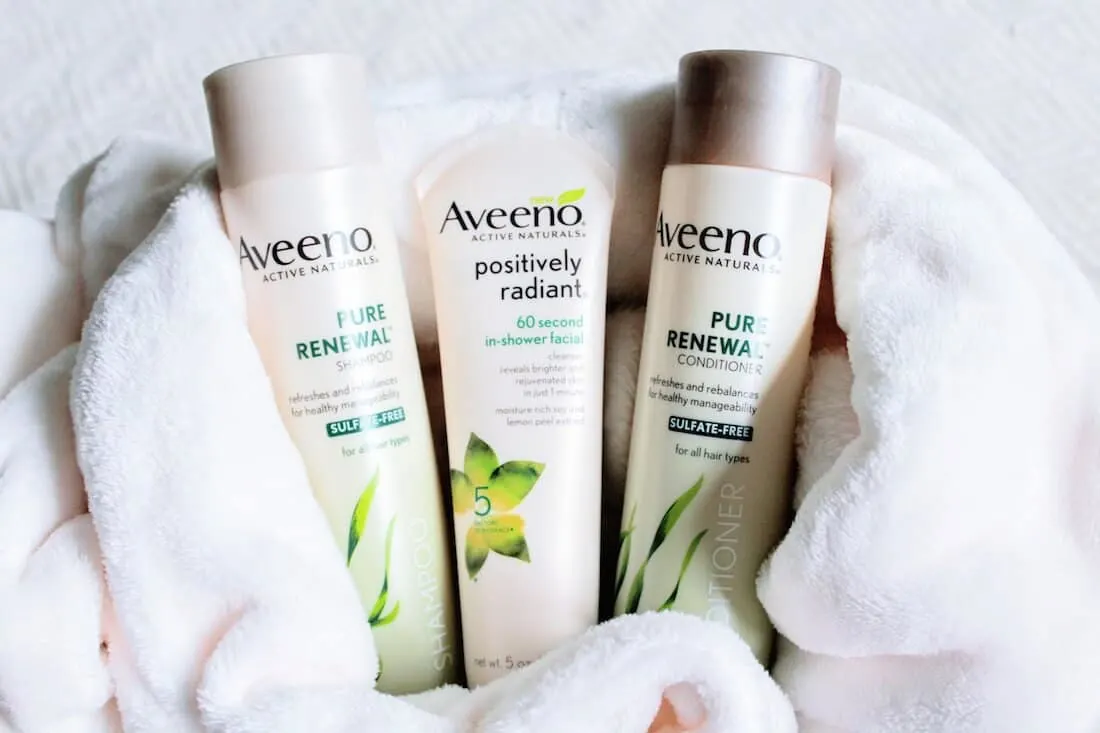 2. Arrange everything in the basket
Once you have everything collected, it's time to put it all together!
First, make sure everything fits in the basket and decide on your arrangement. Use the robe to fill the basket and arrange the rest of the items around it.
Take everything out, and line the inside of the basket with tissue paper (for a more streamlined look if using an open basket like the one below).
Add gift items back into the basket, and tie a ribbon around the base.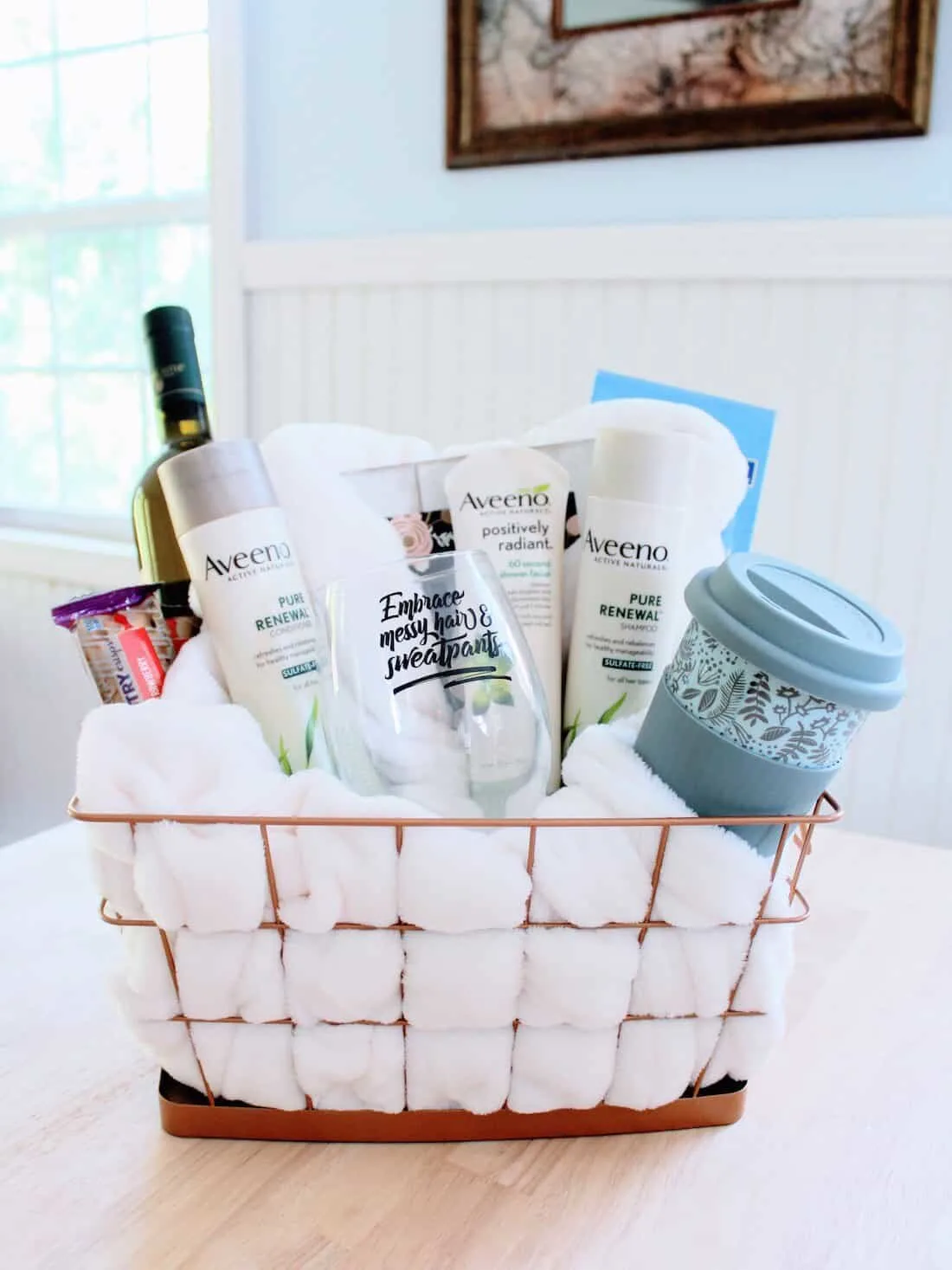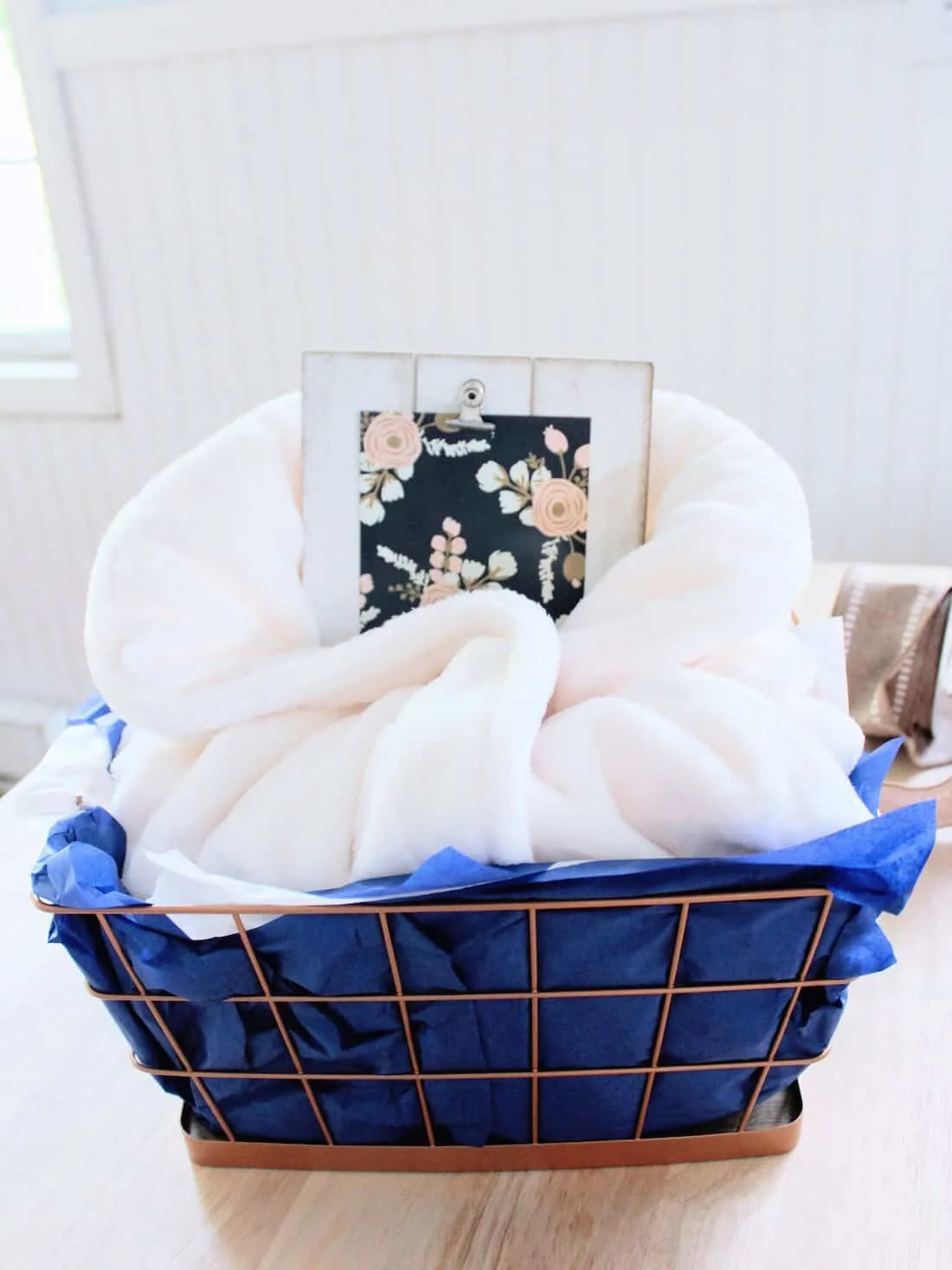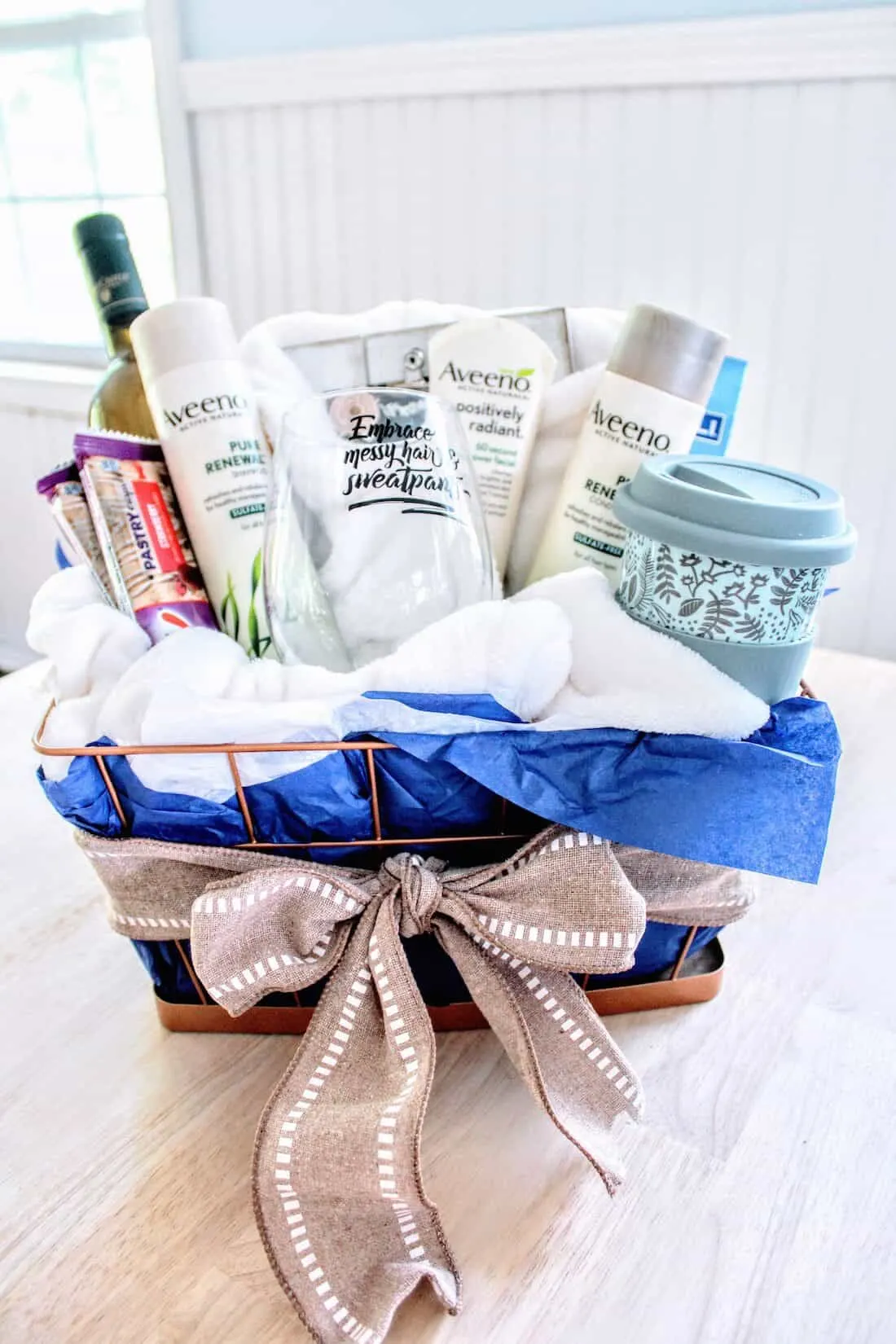 3. Add character with personalized gift tags, and wrap entire basket (or not)
I made these cute printables to show what different items are for, and to make mom laugh. You can attach them with ribbon or even just use tape.
And I'm sharing them with you!
Print off the free printable gift tags here—I even left some blank ones so you can add items to tailor it specifically to the new mom you have in mind.
The basket can be gifted as is, or you can also use a large clear gift bag or wrap the entire basket in colorful cellophane to keep items in and to give it a different look.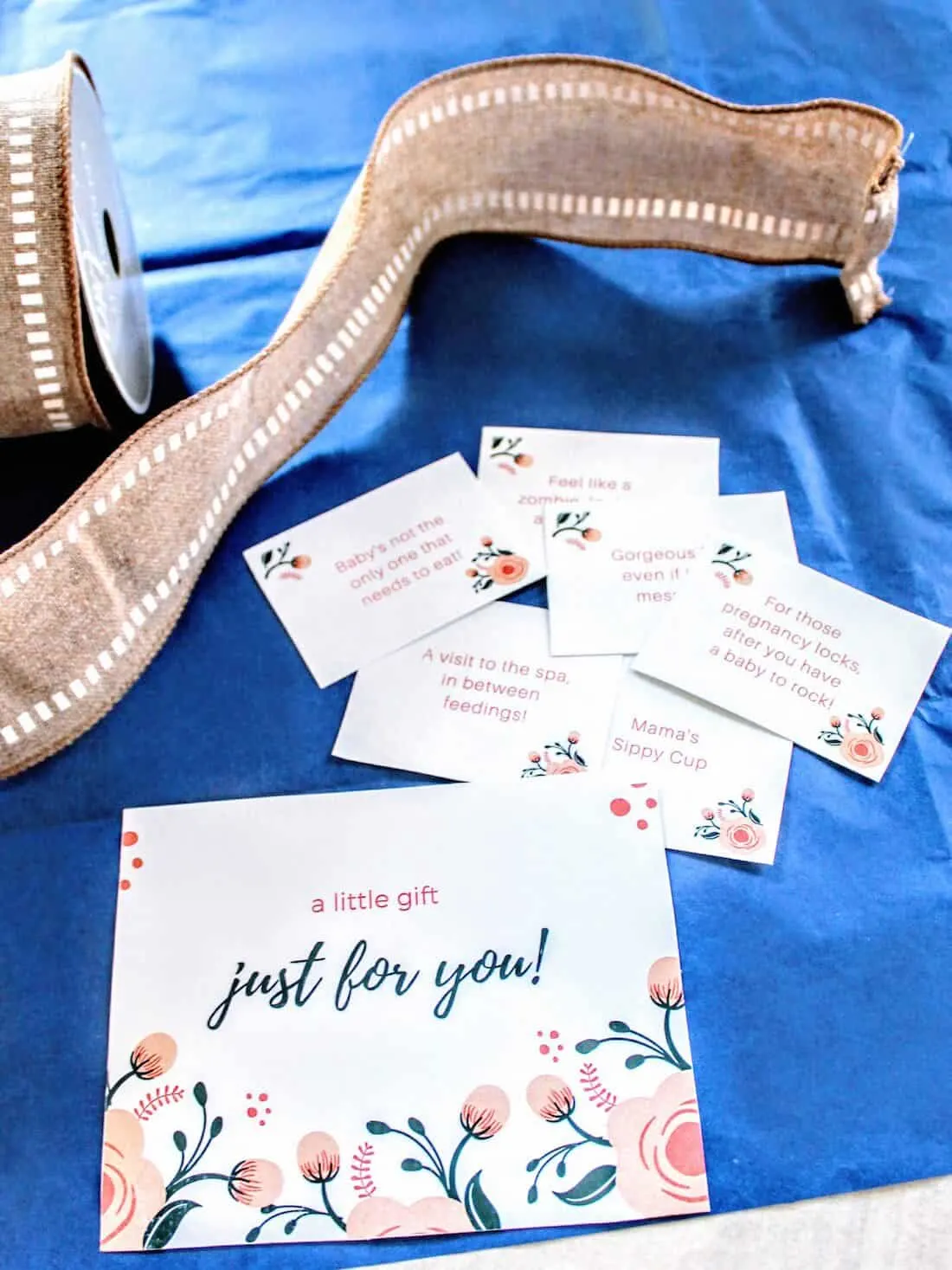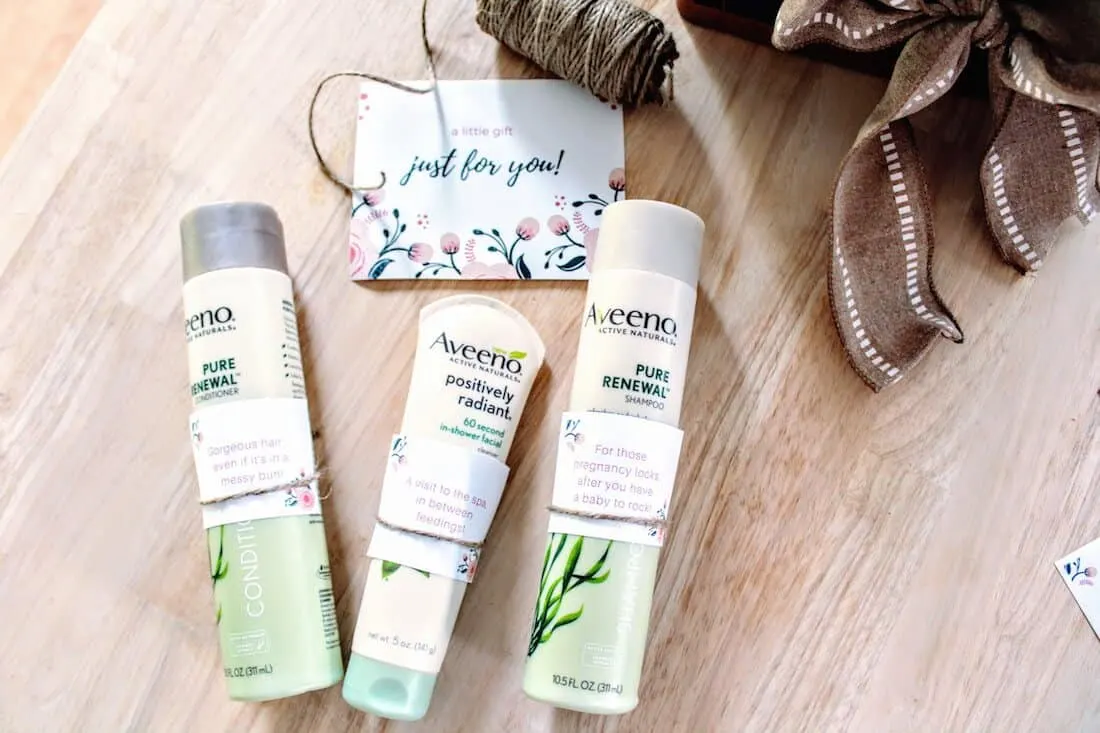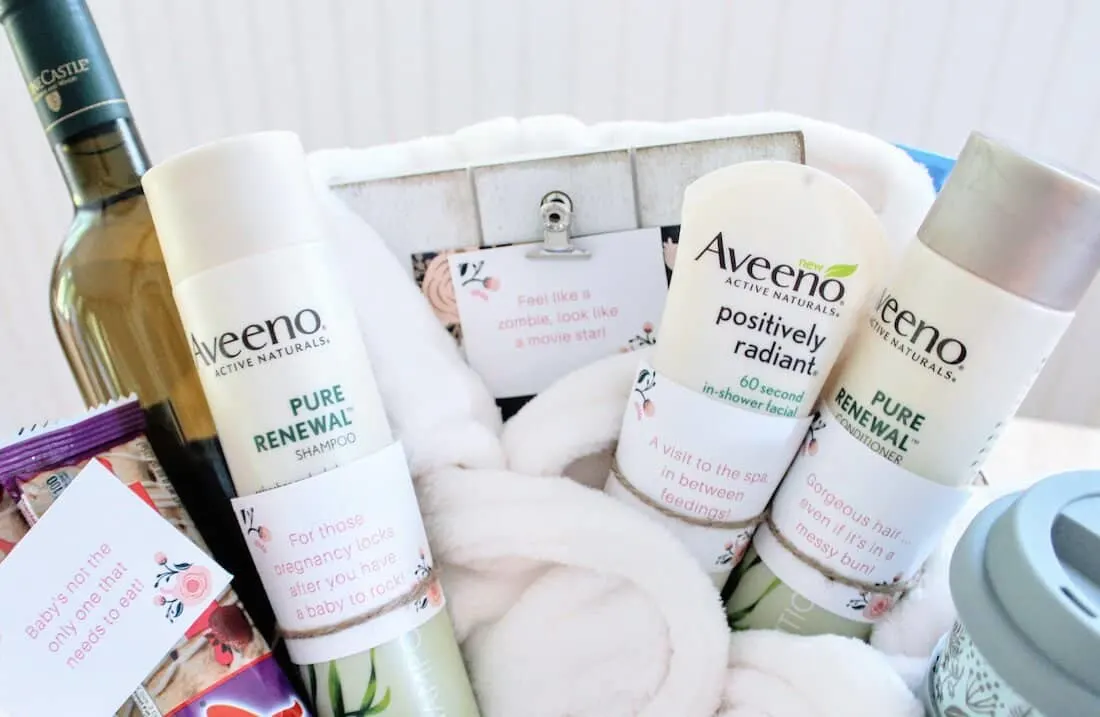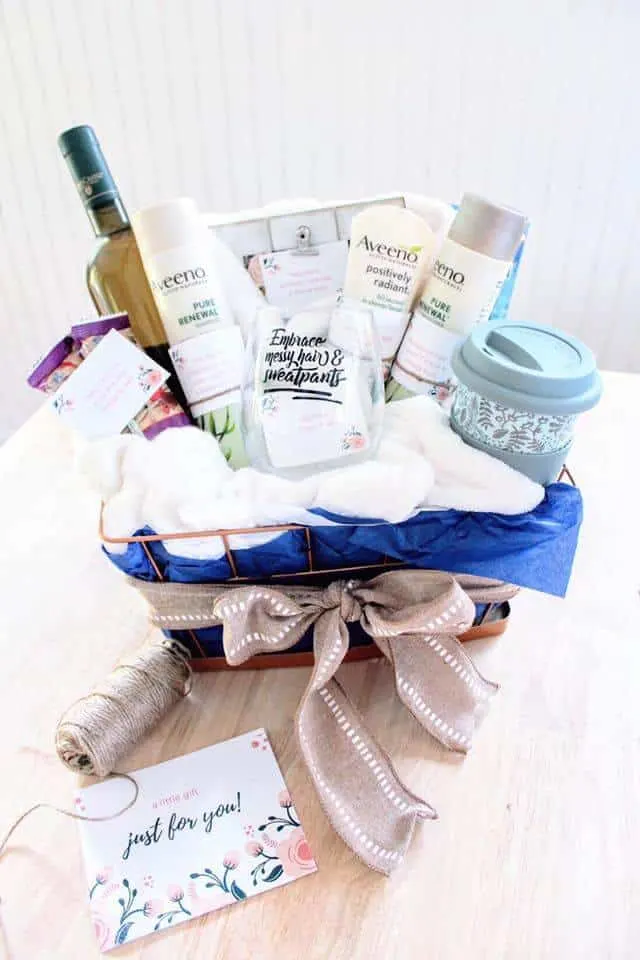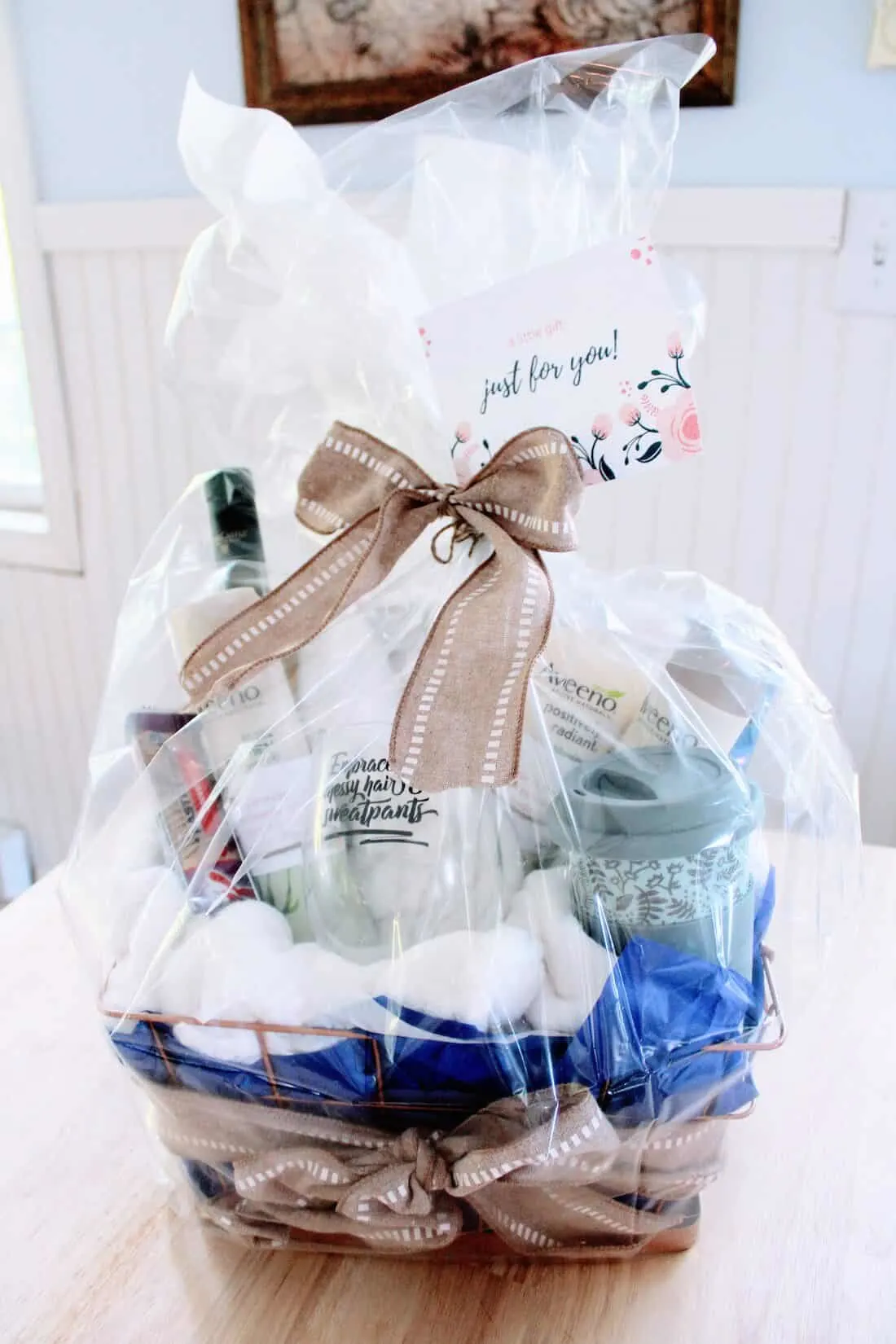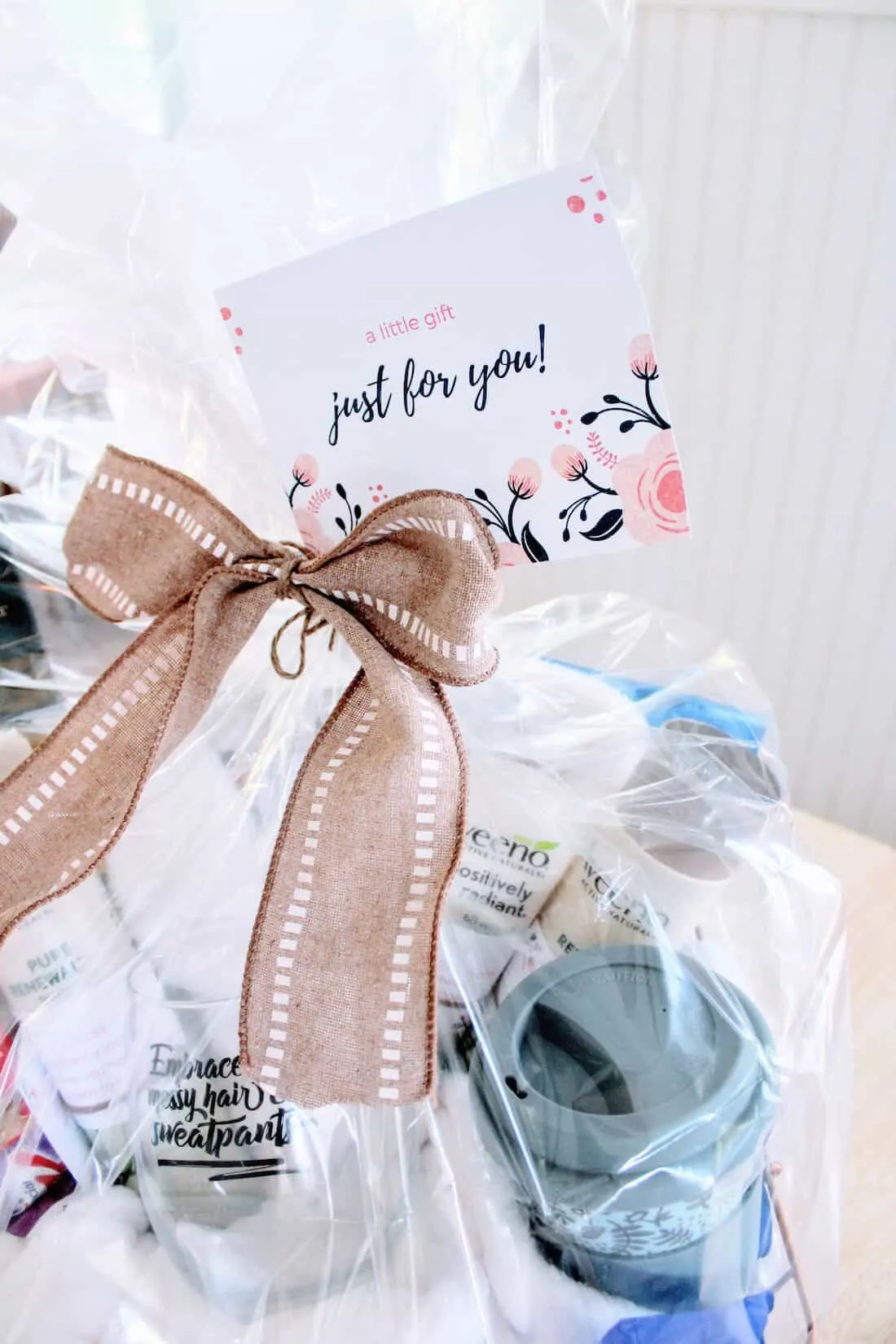 The finished product is a beautiful and helpful basket that gives mom the tools to treat herself in simple ways that are easy to do—no matter how hard of a day she has had.
Do you know a new mom or mom-to-be that deserves to know how much she is appreciated and who would love to receive a gift basket like this?
Is there anything you would add to this basket? Let me know in the comments below!