Are you looking for a fun and creative gift for a baby shower or to give a new mama in celebration of a new baby? I've got just the thing!
Today I'm sharing a super cute (and super easy) bath-themed gift basket that makes a perfect gift and can be customized to fit each mom's personality or design style. Read on to find out more!
This shop has been compensated by Collective Bias, Inc. and its advertiser. All opinions are mine alone.
I simply love shopping for new babies and love putting together fun and memorable gift baskets to make the presentation all the more exciting.
Why simply wrap a box when you can give a gift in style (and make it all the more useful!).
Related: Boy Baby Shower Ideas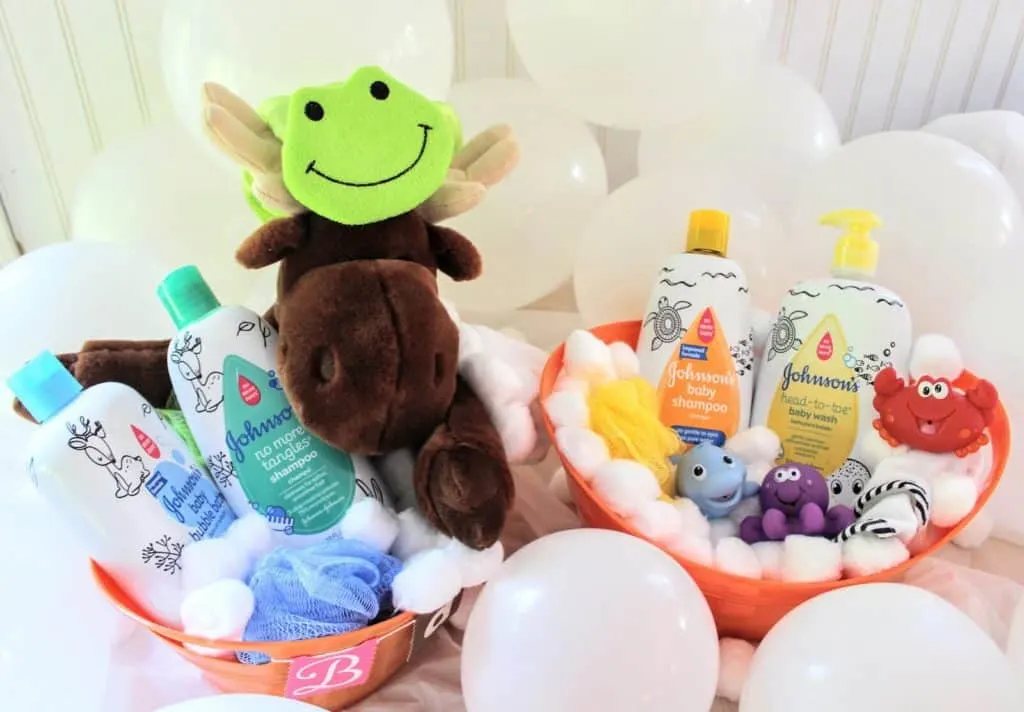 Bath-time gift baskets are some of my favorite ones to create and give, and so when I came across the new designer wraps on Johnson & Johnson baby products at Target, I became inspired to create a set of Bubble Bath Gift Baskets that corresponded with the playful designs!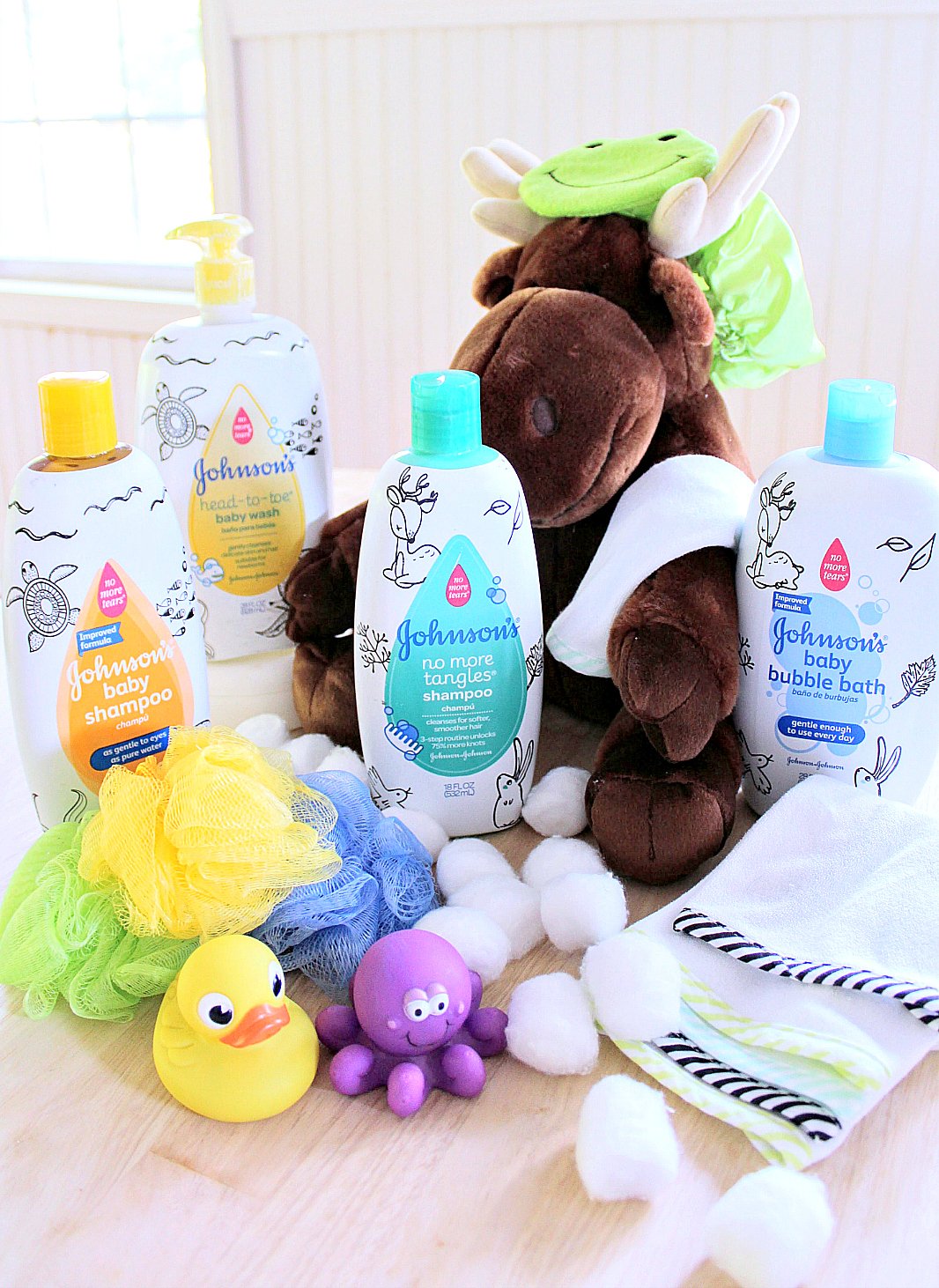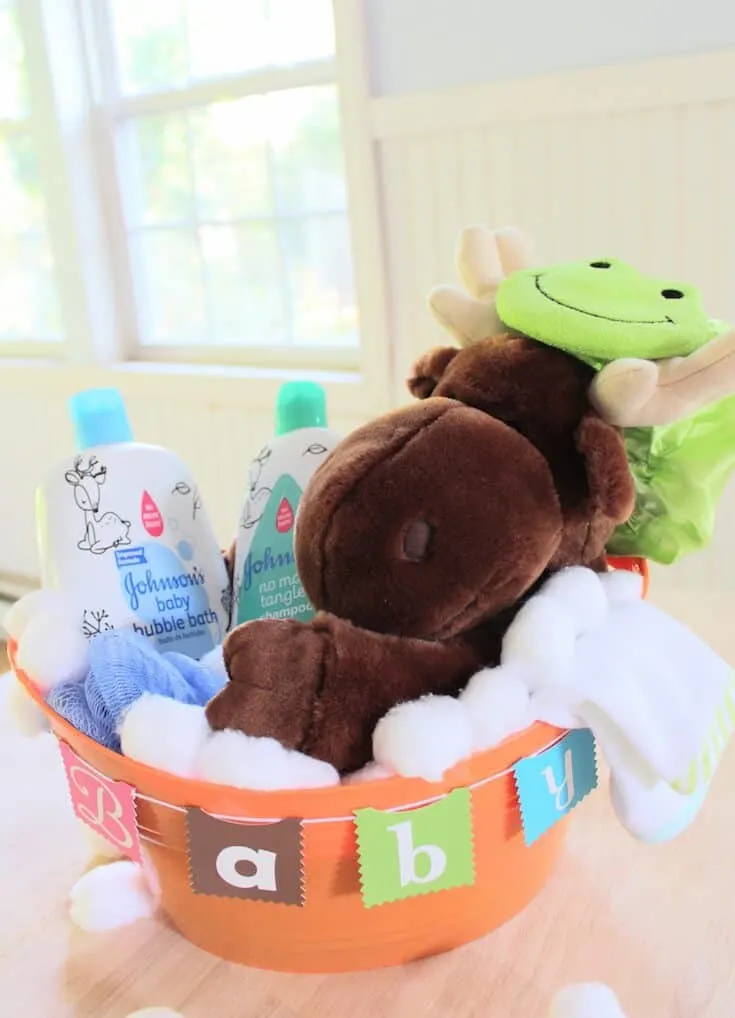 I had two moms in mind when I found the products—my sister, who just found out she is pregnant with a boy (yay for another nephew!) and a friend who just had a new baby.
I was so excited because I found products with designer wraps that fit both of their styles!
Related: Make a cute Gender Reveal Basket!
Woodland & Ocean Themed Bubble Bath Gift Baskets
My sister and her family love the outdoors, and have decided to do a nursery theme of woodland animals and nature-inspired designs.
The adorable sketches of the woodland wrap—with a baby deer, rabbit, and leaves—on the Johnson's Baby Bubble Bath and Johnson's No More Tangles Shampoo fit that style perfectly!
To create her basket, I added in a few bath necessities and a few playful items that fit the theme.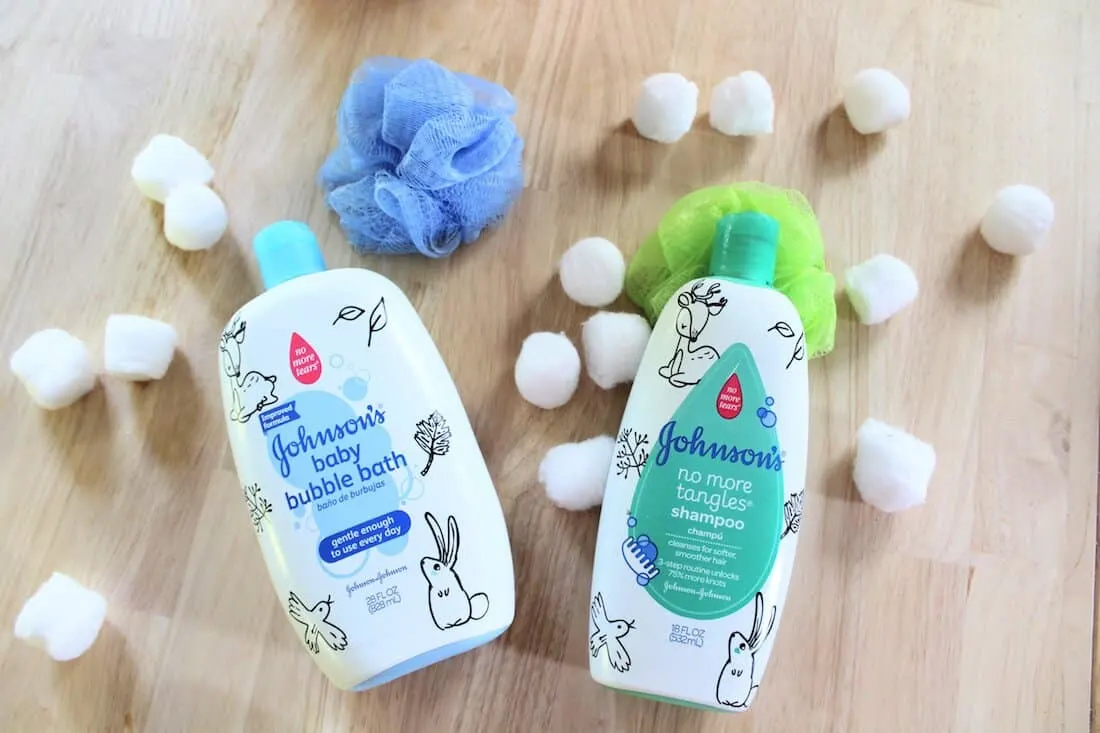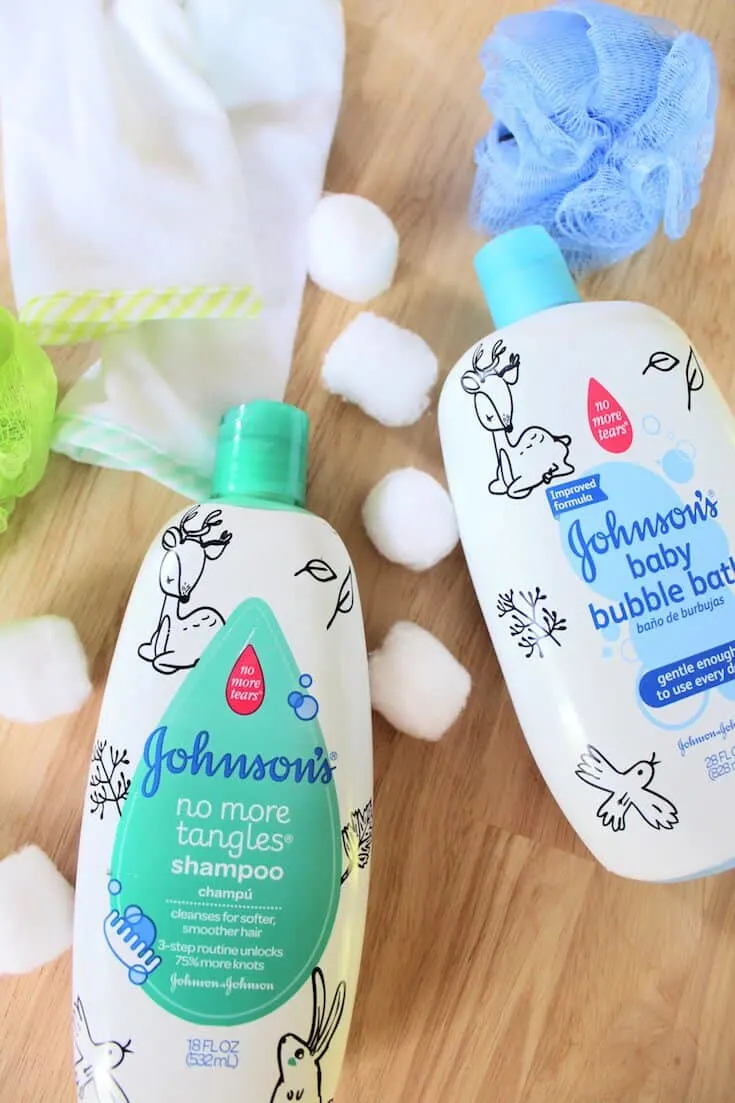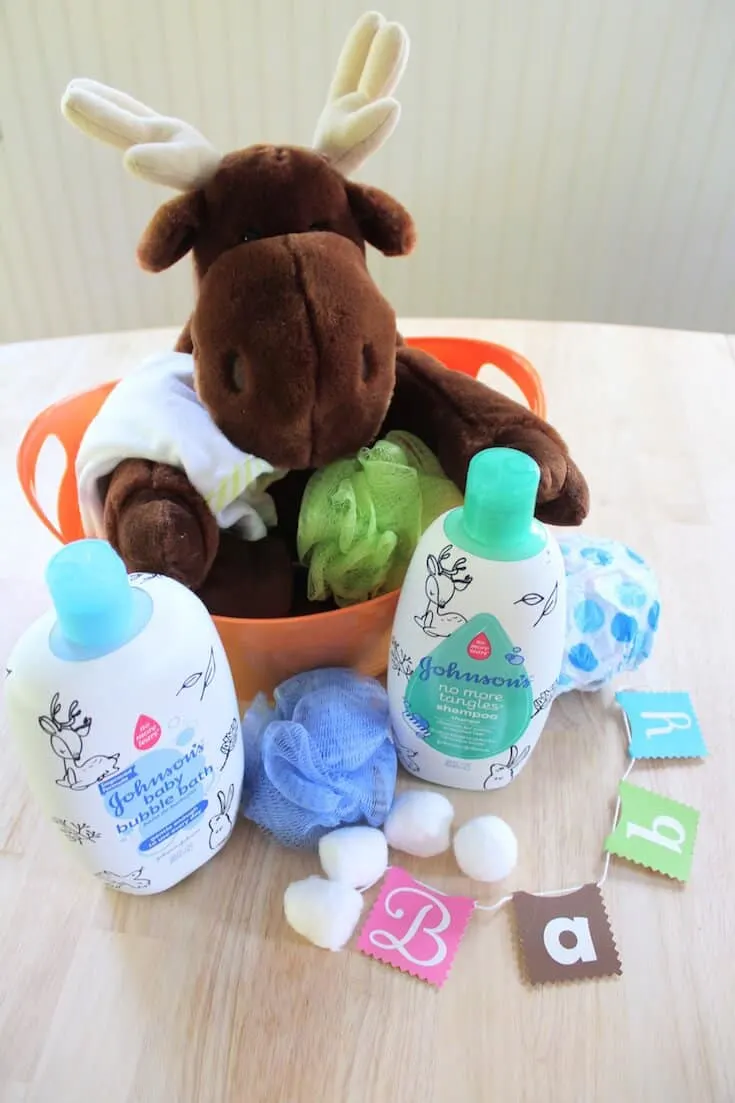 My friend on the other hand, loves the ocean, and is happiest with her toes in the sand.
I just know her little baby will grow up grow up to be a beach bum as well, and so I wanted to theme her basket with ocean animals instead.
The designer wraps on Johnson's Baby Head-to-Toe Wash and Johnson's Baby Shampoo are exactly what I had in mind!
The little turtles, octopus, and fish make for a fun underwater scene and I knew how easy it would be to create a basket around that as well.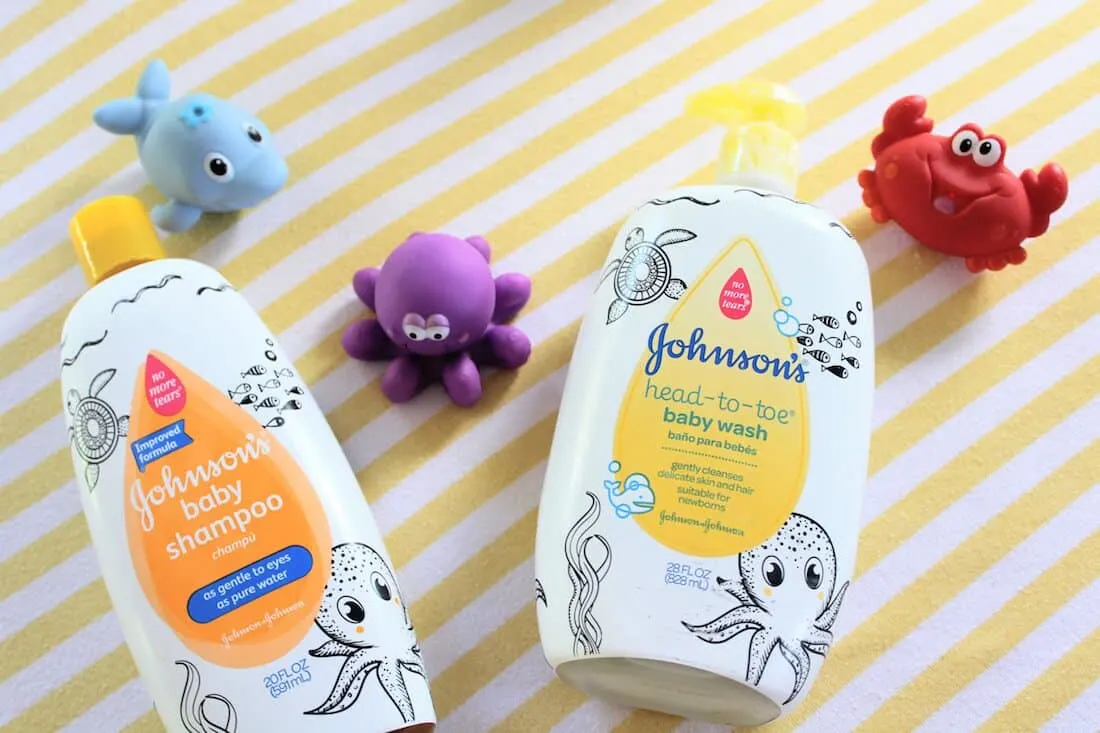 Rather than just throw everything into a gift bag, I decided to make each one a "bubble bath" while sticking to its main theme.
Aren't they adorable? I just love how playful they are while still staying within each one's preferred style!
Here is how to create a bubble bath themed baby shower gift basket of your own!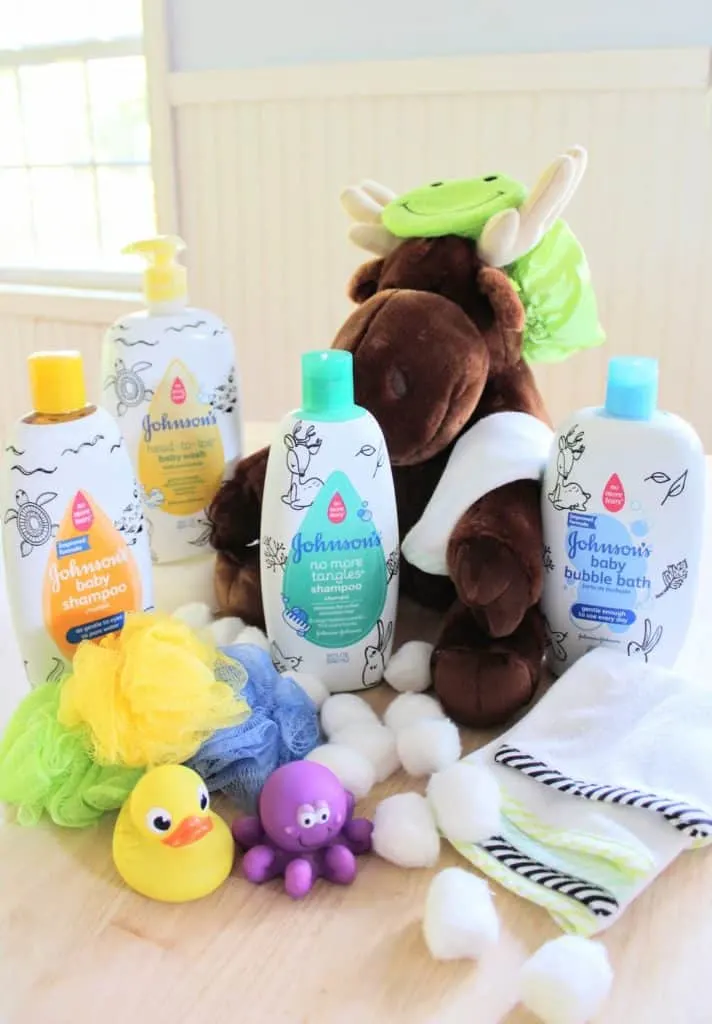 Materials:
Plastic container or basket (I specifically wanted to find a colorful one that looked like a mini-bathtub!)
Johnson's Baby Bath Products (Woodland theme= Johnson's Baby Bubble Bath & Johnson's No More Tangles Shampoo; Ocean Theme= Johnson's Baby Head-to-Toe Wash & Johnson's Baby Shampoo)
Stuffed animal or Bath Toys that fit the design theme
Baby washcloths or loofahs
Playful shower cap
Any other bath or theme related items (such as a hooded towel, book, or decor item)
Cotton balls (for the "bubble bath" effect)
How to assemble the baby gift basket
To assemble the gift basket, place the items inside the basket with the main gift items in the middle—also helpful for weight distribution—and place larger items such as a stuffed animal in the basket next.
Big items such as a towel could also be layered on the bottom to raise the height of the gifts.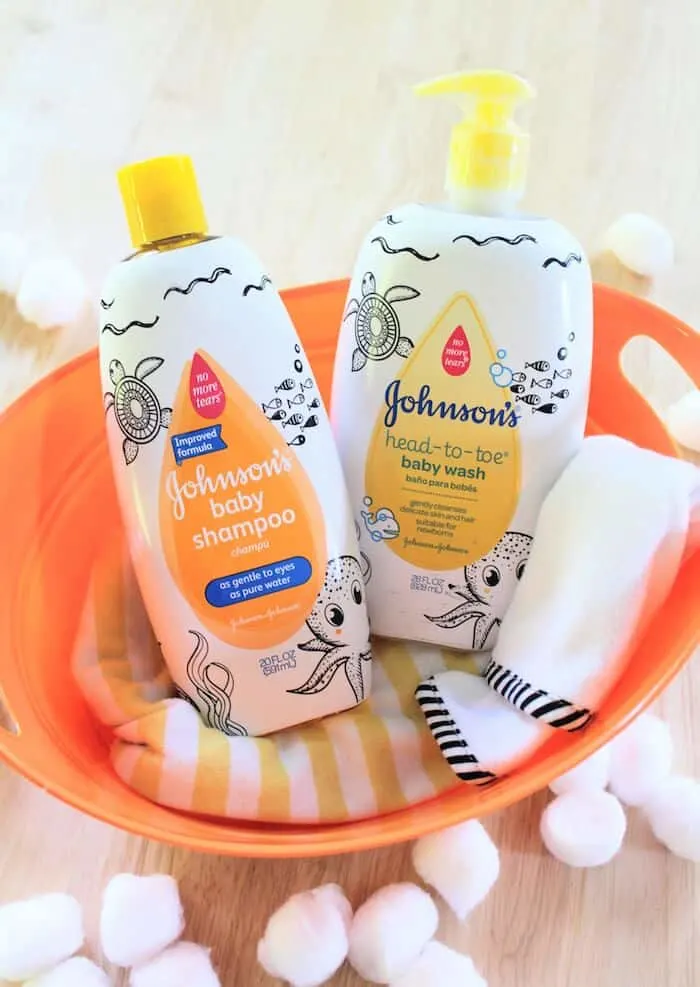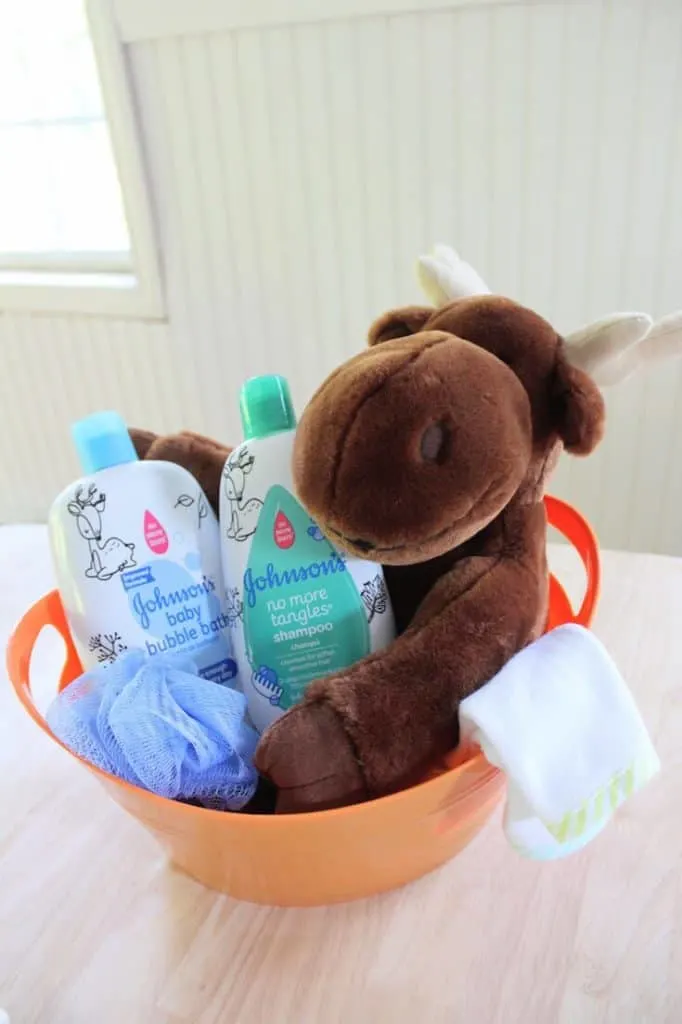 Once all of the larger items are in the basket, cover the "bathtub" with cotton balls to give the impression of a bubble bath.
Place smaller bath toys or items on top and tucked into the "bubbles".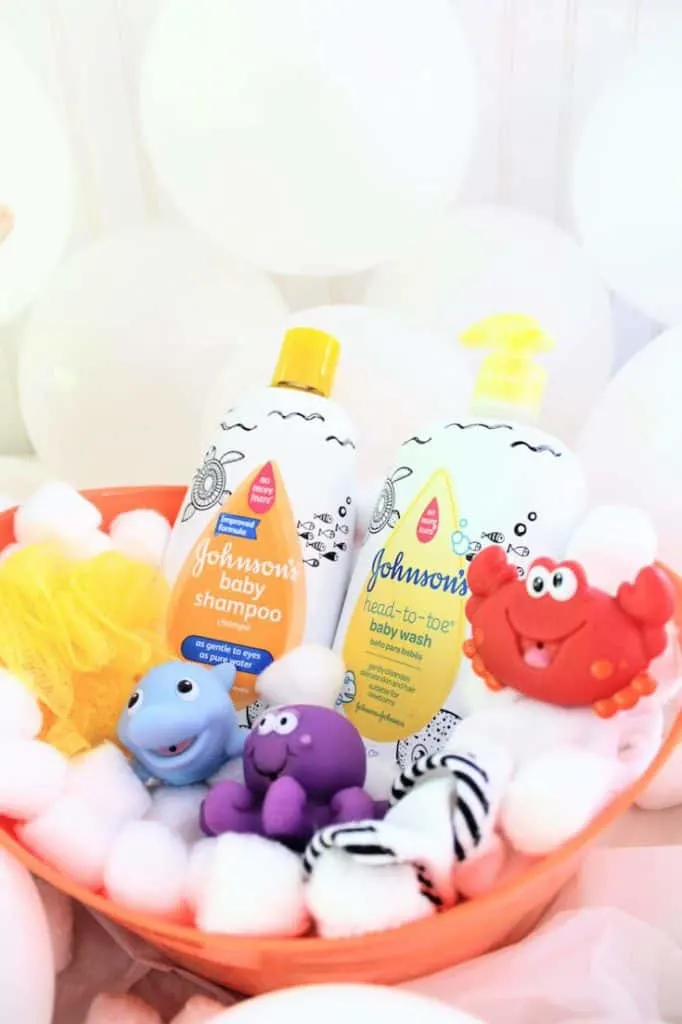 Add finishing touches like a shower cap to the stuffed animal, or a gift tag.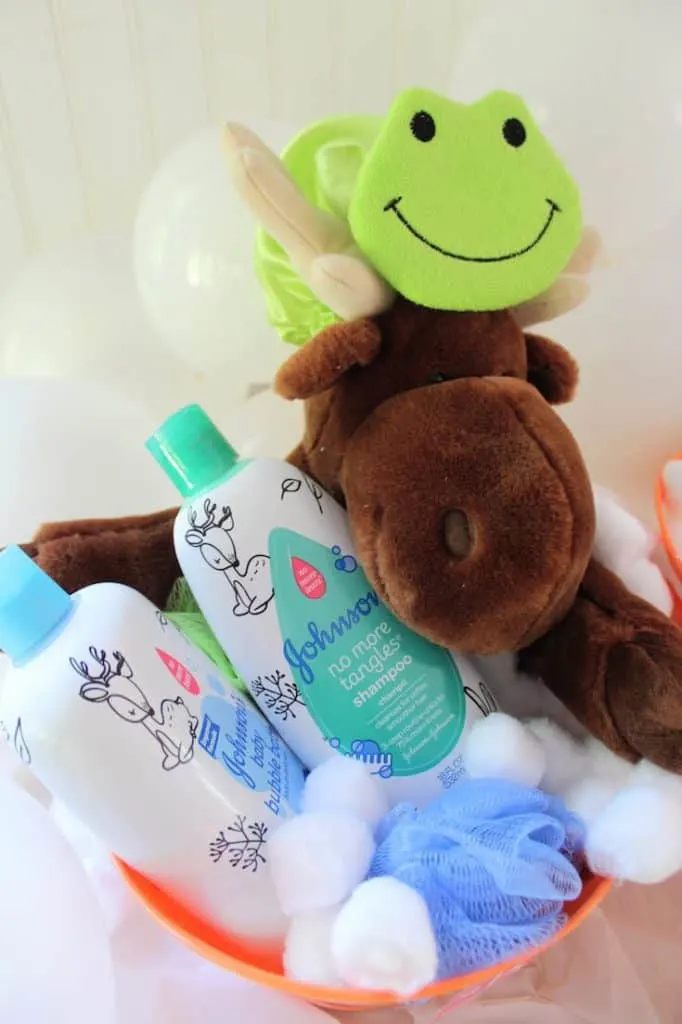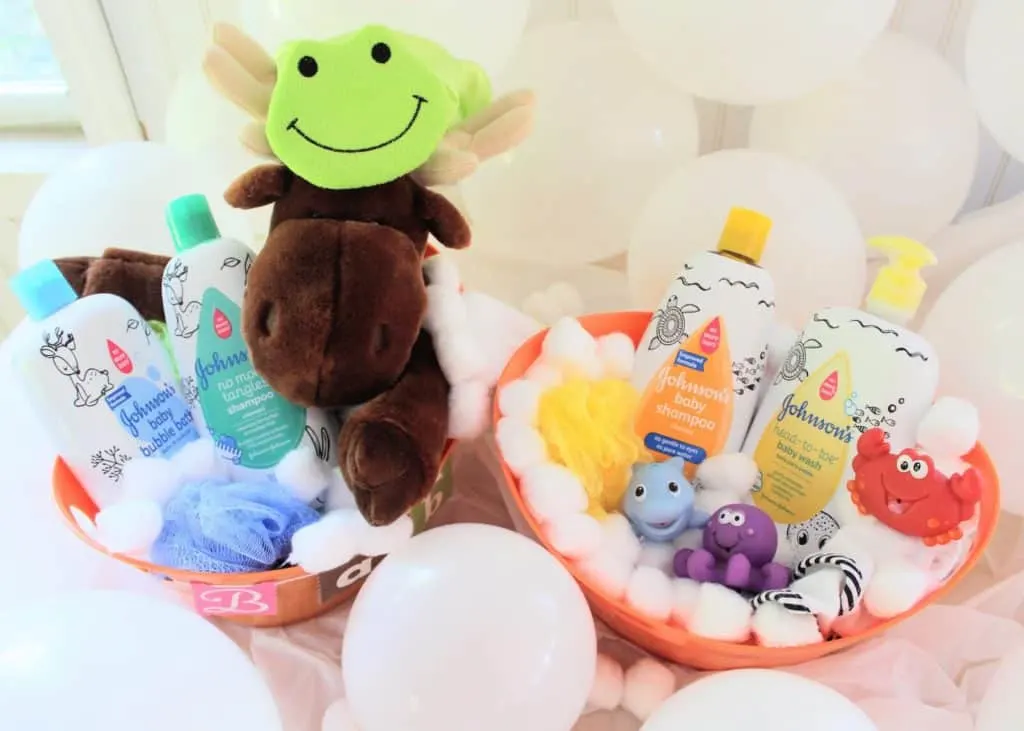 I'm loving how they came out, though I'm having a hard time choosing which one I like best!
Overall I think they will be happy to receive these gift baskets, and it makes me happy to gift something so cute!
Be sure to pin this post to keep in mind for future baby showers or presents!

You may also enjoy: