Looking for an easy gender reveal gift basket idea? Or maybe a simple baby shower gift for a friend or colleague that's expecting? Then you'll love this inexpensive bath themed gift basket that works for either!

This post is sponsored by Sivan Social. All comments and opinions are my own.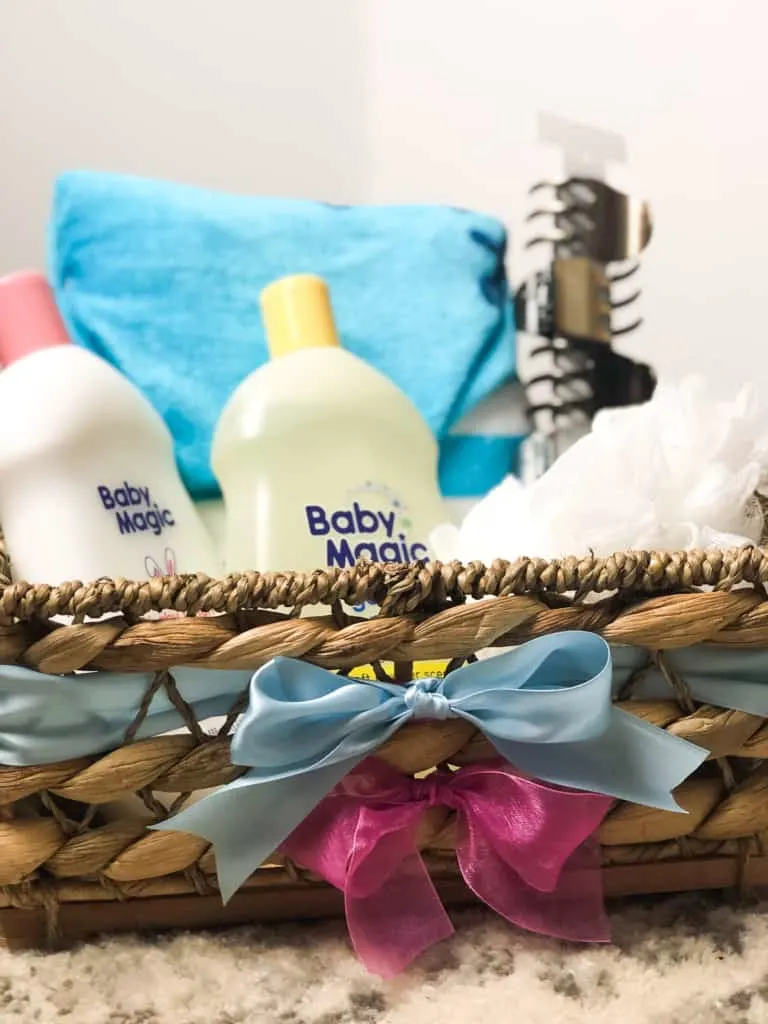 While you certainly don't have to take a gift to a gender reveal party, some people like to and that is totally ok too! It is fun to share in the celebration of a new baby and the parents to be will think it is very thoughtful.
Keep in mind when attending a gender reveal party or a baby shower where the parents have not found out the sex of the baby, you will need to keep your gift gender neutral so that it works for either a boy or a girl.
Related: Virtual Gender Reveal Ideas for Family & Friends
If you are wondering what to put in your baby gift basket, check out the simple idea below or aim for items that are practical (something that can be used), pretty (something that looks good or will be ok to have out), and personal (something that is tailored to the individual parents)—you'll end up with a great gift this way!
Baby Shower/Gender Reveal Gift Basket Items
For this gift basket, I decided to go with a few essential bath items that all new parents need.
I used a neutral, pretty basket that will be able to double as decor or storage down the road.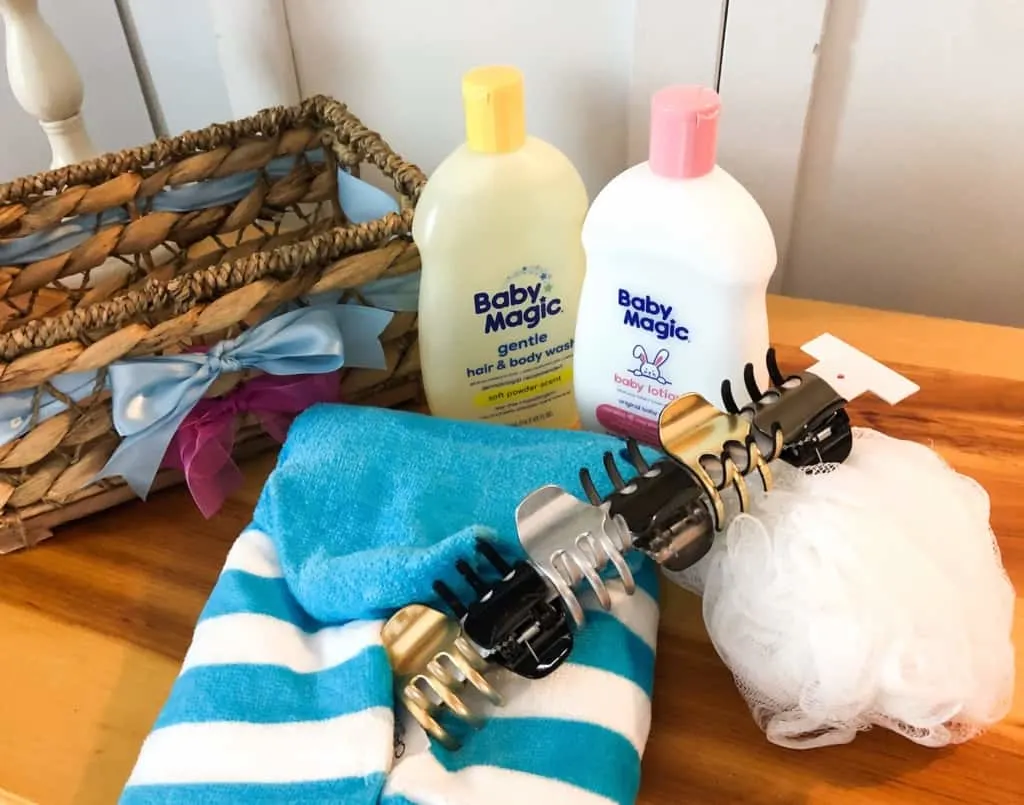 In this gift I included:
Baby Magic Body & Hair Wash
Baby Magic Lotion
Hooded towel
Loofah
Hair clips for the New Mom
RELATED: Gender Reveal Cake Pops
Baby Magic Products
Baby Magic has been a favorite of parents for over 65 years, thanks to the wholesome ingredients used to nourish their baby's skin. Products are free of parabens, phthalates, sulfates, and dyes and are dermatologist recommended for delicate skin.
You can visit their website to learn more about the Baby Magic story, find them in stores, or buy on Amazon.
To be baby skincare products are definitely a matter of personal preference, and sometimes it takes a few tries before finding the best fit for a baby. Baby Magic's line of products are an excellent first choice—they have all of the products you might need (body wash, lotion, etc), and are gentle on baby's skin.
I also like how each bottle is a different color, which makes it easy to distinguish what product is what! It also lets you color coordinate your gift basket if you prefer.
You could easily do a pink, yellow or blue themes basket with the different bottles, or a mix like I did here.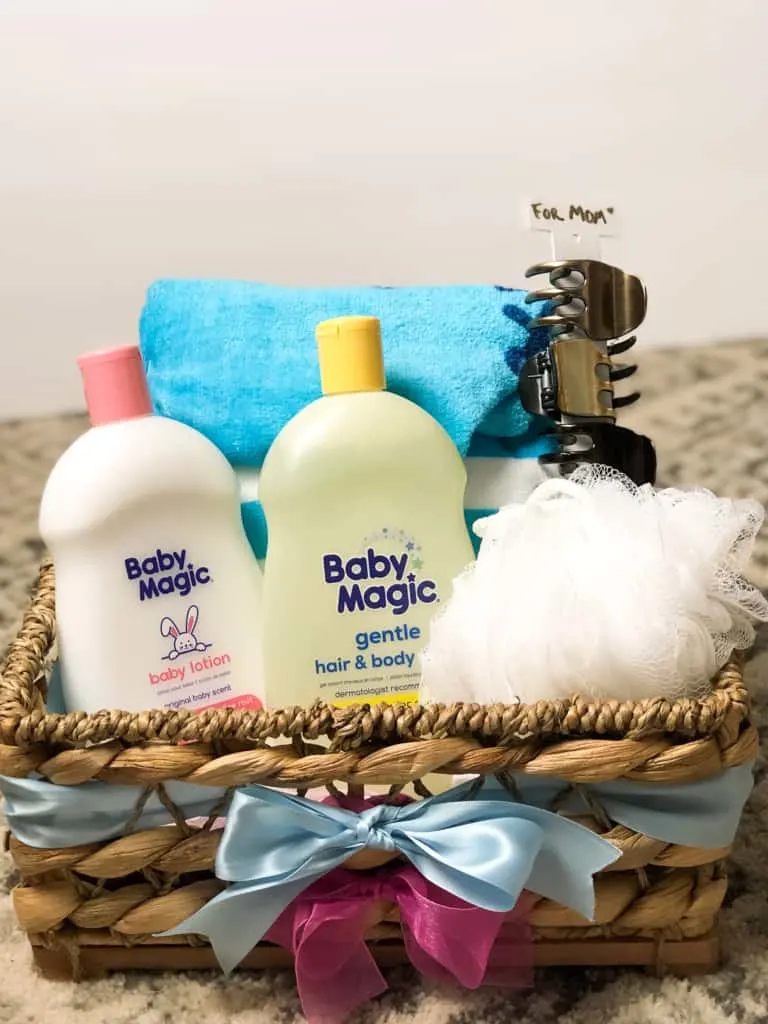 ---
Related: Plan the Perfect Boy Baby Shower
Other items in the baby gift basket
Hooded Towel
Fun hooded towels are one of my favorite baby accessories.
Sure you can use a regular towel, to dry off a baby, but the hooded towels actually do help create a warm cocoon for babies to snuggle into right out of the water, when they can become cold very quickly due to changing temperatures.
However, you don't have to buy a baby specific one. In fact, a kid's hooded beach towel serves the same purpose and stay in use for much longer, so it would make a great gift!
You can also pick a color (like this pretty aqua one I found) or a decorated towel to create a theme for the basket.
Loofah
Adding a loofah, set of washcloths or a bathing sponge helps complete the basket by giving the basic essentials they need to care for their newborn's skin.
Hair Clips
I always love adding something special just for mom when I do a gift basket with baby products. Just something little to help them know I am remembering them in all of this too.
For this basket, I put one of my essentials at baby's bathtime—hair clips!
There is truly nothing more annoying than having your hair in your face when nervously trying to figure out how to give a baby their first bath! And a multi-pack is perfect for putting them all over the house to grab as needed, or for when they inevitably go missing!
I simply put all of the items in a woven basket (without any designs or things that might not be in the receiver's style) and tied both a blue and pink ribbon around to make it a sweet gender reveal gift.
You could add other items like bath toys, cups, or bubbles, or wrap in cellophane and add other items to create a theme.
What I like about this is that it is just enough to say congratulations without going over the top with a gift, especially if heading to a party where you are not sure if others will also be bringing a gender reveal gift of some kind or not.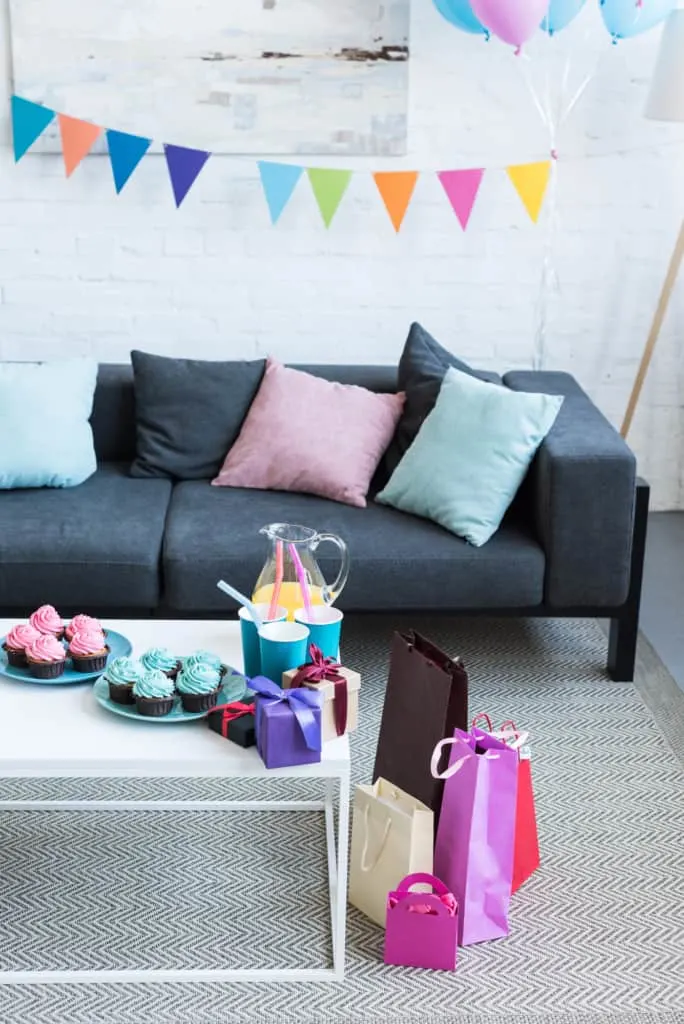 This would also be a great gift to give to someone when you find out they are pregnant as well.