Are you looking for a clever way to tell your family the gender of your new arrival? Plan a gender reveal to share the good news! Here are some of our favorite unique, creative and easy gender reveal ideas for family and friends!
You've probably seen some gender reveal stunts online that are over-the-top, along with the consequences of not executing them safely. What is supposed to be a celebration of life sometimes turns into something far more sinister – one that you hopefully want to avoid.
You can still plan a gender reveal for your family without planes, explosions, or gallons of colorful powder. Here are some simple, yet meaningful ways to get your family excited about your growing family. You don't need to go all-out to create beautiful memories, instead try one of these easy gender reveal ideas!
RELATED: Virtual Gender Reveal Ideas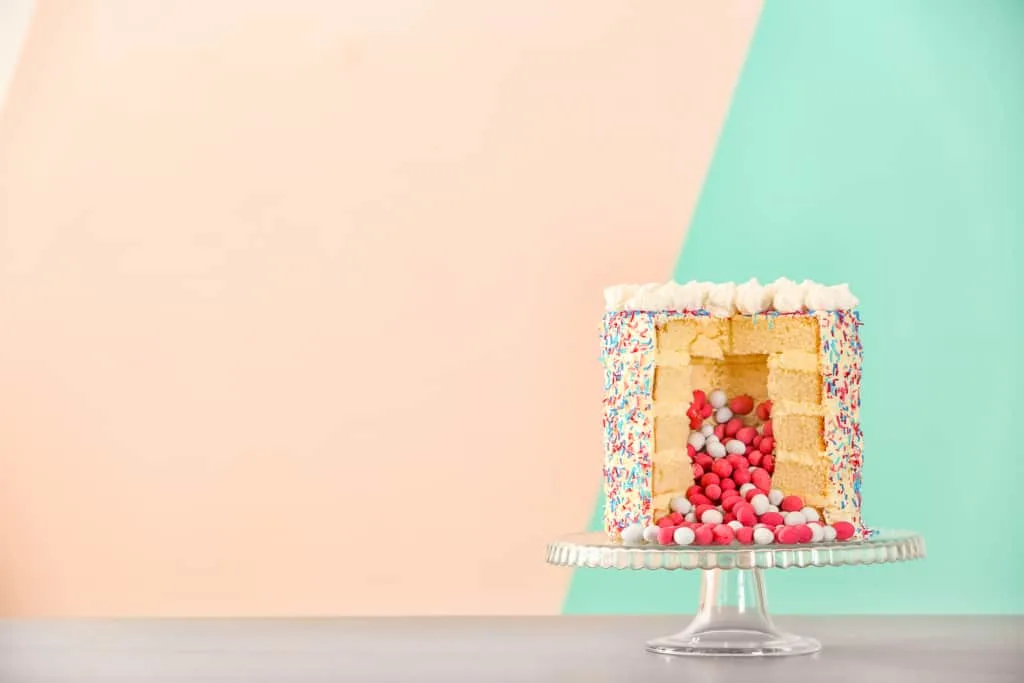 Easy Gender Reveal Ideas for Family & Friends
When your family cuts the first slice of this gender reveal cake, they'll instantly know your baby's gender. First, bake a pink or blue cake (simply add food coloring to a vanilla cake mix). Then, decorate it with a frosting that won't give away the surprise. Make sure you cover the cake completely!
If you're having a girl, skip the food coloring and get a strawberry cake mix instead.
Similar idea as the cake, but you can do this several ways: Make 1 cake pop that is pink or blue on the inside, so it will be like a roulette as guests keep taking bites of plain cake pops until one finally gets a dyed one. Or make the whole batch pink or blue and have everyone take a bite at the same time. Or if you're having boy/girl twins, make half the batch pink ad half the batch white. My recipe has natural food dyes, which is great for the mom-to-be and baby.
Get the whole family involved with a game of Hangman! Have your family guess your baby's name, or make them spell out a phrase that will reveal the gender. Your gender reveal will be fun and interactive, but won't take much effort to execute.
Relying on snail mail builds up quite a bit of anticipation! If you have family members that live far away and don't use video chatting programs, send them a blue or pink paint chip or fabric sample. Label a regular letter envelope as you normally would. Put the fabric or paint chip in another envelope for extra padding before stuffing the labeled one.
Don't forget to tell your family to check their mail!
If your long-distance family members use Skype, FaceTime, or another app, plan a simple gender reveal over the Internet. Ask them to hop online so you can reveal the gender. When the call connects, they'll see you in a pink or blue T-shirt. It's that simple!
Tip: You can also combine both a baby gender reveal online with a physical gift in the mail like we did in our first baby reveal—I've broken it down in 5 easy steps for you in this post on the perfect gender reveal online!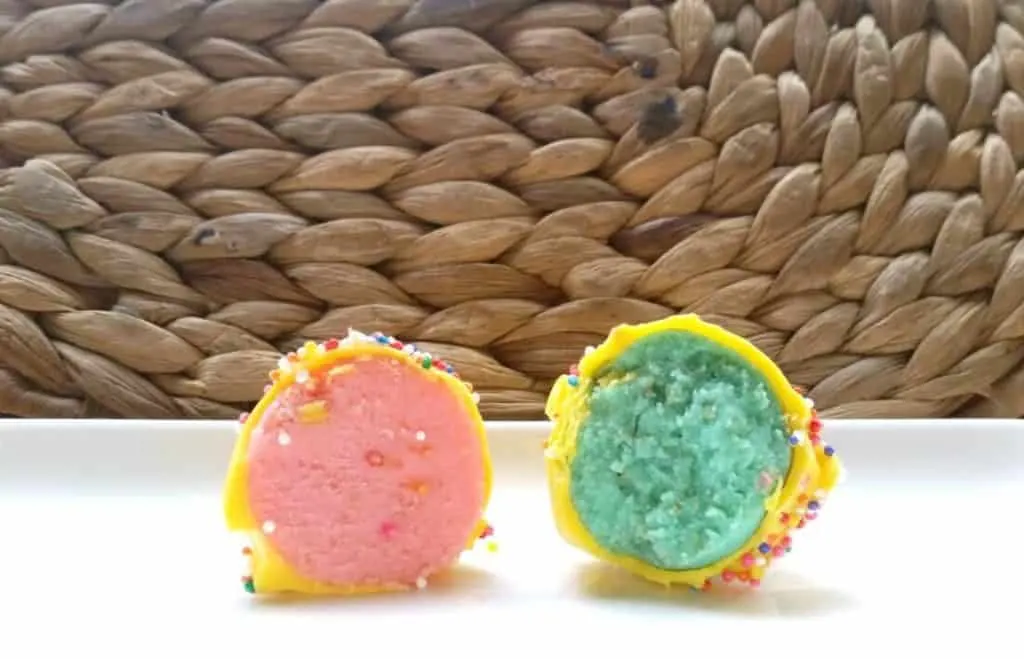 Grab a pink or blue bandana, collar, or outfit for your pet. When your family is ready to learn the gender, bring out your pet. Alternatively, you could have your pet bring your family a pink or blue toy.
Buy a pink or blue onesie; then, place it in a cardboard box. Gather your family around a table to reveal your baby's gender. You'll effectively tell your family what you're having, and you'll have some baby clothes for your new arrival!
Send a greeting card to your family for a classic gender reveal. Grab a few "It's a Boy" or "It's a Girl" cards from your local card store, or create an e-card online. If you'd rather make your own cards, get creative! Write a poem, draw pictures, or use other hints to share the news with your loved ones.
Make your own scratch-off cards that tell your family whether you're having a boy or a girl. First, decorate some pieces of cardstock and write the baby's gender somewhere on the card. Cover the gender with a white crayon. Paint over the crayon with a 2:1 ratio mixture of acrylic paint and dish soap. Don't forget to include a penny with each card!
If you would rather just buy them, Amazon has a ton of gender reveal scratchers!
Make a gender reveal video to post to platforms that your family uses. You can keep the video simple – talk to the camera, do a quick dance with your partner, or make a montage. Upload the video to Facebook and/or YouTube, but adjust your privacy settings to make the video only viewable by invitation.
Grab a small pinata from Walmart or Amazon. Fill it with candies with only pink or blue wrappers, like pink Starbursts or blue raspberry Jolly Ranchers. Let your family take a whack at the pinata for a tasty gender reveal!
Instead of pulling a white rabbit out of a hat, pull a pink or blue stuffed animal out of a hat to announce your baby's gender. If you're throwing a gender reveal party, you can easily stick this reveal into a magic themed celebration.
Let the Sorting Hat Decide
Do you have Harry Potter fans in your family? Let the Sorting Hat "choose" your baby's gender assignment! Place a pink or blue object under a witch's hat. When it's time to reveal the gender, simply lift the hat. Take this reveal to the next level by making a pink or blue Harry Potter-themed item to go underneath the hat – a Quidditch snitch, a broom, or wand.
Buy two pink or blue light saber toys – one for you and one for your partner. When it's time to reveal your baby's gender, turn on your light sabers at the same time. May the Force be with your family!
Bake a batch of cupcakes with pink or blue frosting. When they're done cooling off, toss them back into the oven to hide them. Gather your family around the oven as you pull out the baking tray. If you don't have time to bake cupcakes, you can also buy pink or blue frosted cupcakes from your local grocery store.
You probably don't have enough room in your bathroom to fit your whole family, so you'll want to record a video for this reveal. Purchase a bath bomb that has a "surprise" color inside (these are made specifically for gender reveals). The bath water will turn pink or blue. If you love LUSH products, try their Fairy Jasmine bath bomb for a girl or the Golden Wonder bath bomb for a boy.
Gender reveals can still be exciting without the unnecessary fanfare we see online. Many of these ideas can be executed with less than $20, and none of them should lead to an emergency room visit. With a bit of creativity, you can make your gender reveal short, sweet, and simple!
Fun & Creative Examples of Gender Reveals
I love seeing the creative ways to let everyone know what they are having on Facebook and Instagram and so I rounded up some of my favorites, including some easy gender reveal ideas like mentioned above (since Mama has enough on her plate rather than planning something extravagant!).
Use these as inspiration to announce the gender of your baby on Facebook or at a gender reveal party.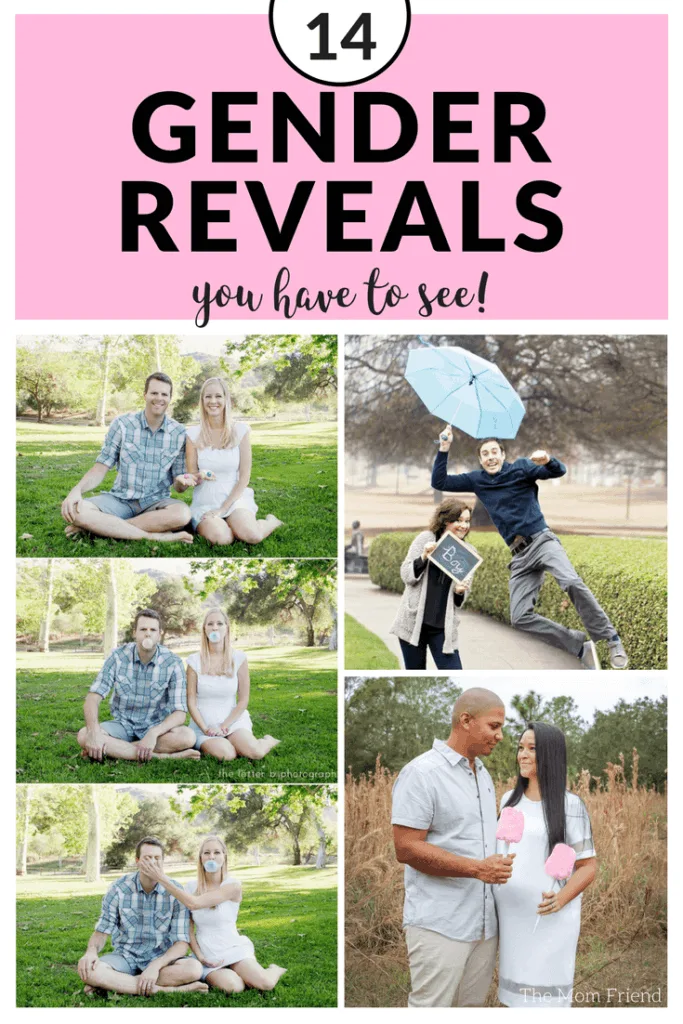 Here are some more super creative and unique gender reveal activities… hopefully they inspire you to come up with your own version if you are finding out as well!
14 More Creative & Easy Gender Reveal Ideas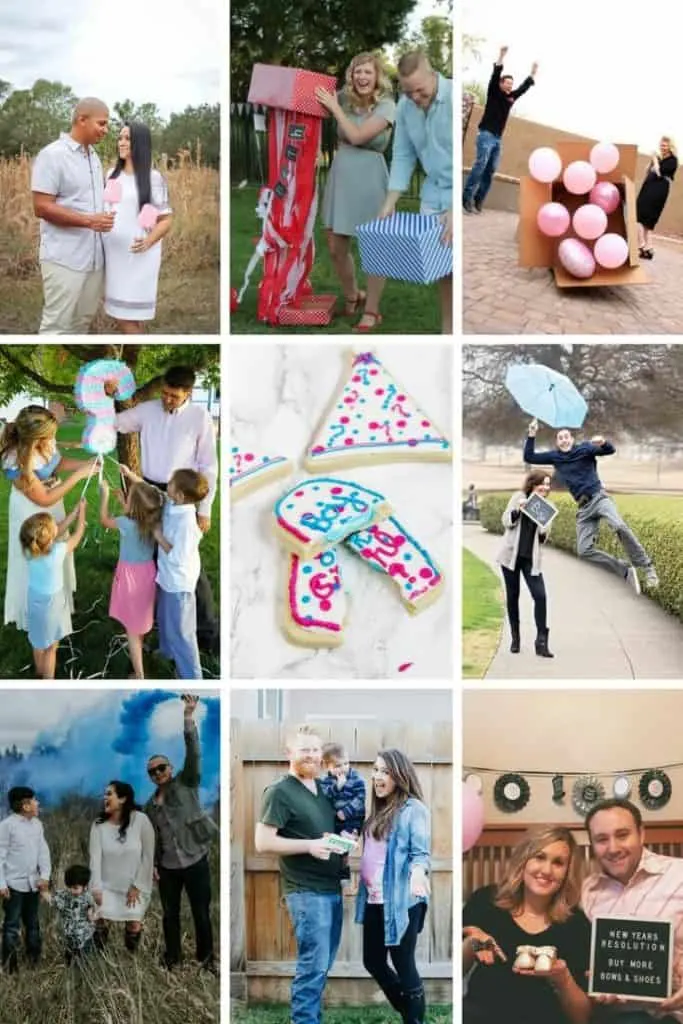 Cotton Candy Gender Reveal by Most Things Mom | I love this! Such a cute idea to take something sweet and simple like cotton candy to announce they were having a baby girl!
Patriotic Gender Reveal by Lady and Laura Kate | Who says gender reveal parties have to have blue and pink? If yours falls around the 4th of July, or if you are a military family, why not do red and blue instead? Check out their post for more patriotic gender reveal decorations and ideas too!
Gender Reveal Box of Balloons like Espresso Ever After | How cute is Dad's reaction in this photo? Gender reveal boxes of colored balloons have been around for a while, but you could also have someone take a photo of you doing it and use that to announce it on social media! Bonus if you catch a reaction like this one!
Gender Reveal Pinata from Little Dove | We ALMOST did a pinata for our reveal. I thought it would be fun for Charlie to whack at, but my husband thought it would be even more fun to send a pinata full of colored glitter to our parents for them to open and have to clean up! HA! We ended up doing something else, but I was going to order this one if we did.
Gender Reveal Cookies at Simple Moments Stick | These are some serious baking skills! No "sweeter" way to share the news than a dessert with colored filling! I think these cookies would be the perfect gender reveal food—then everyone gets one! We did something similar by sending gender reveal truffles to our families (see how to do it in 5 simple steps here).
Unique Gender Reveal using an Umbrella from My Life Well Loved | I'm seriously in love with this photo. A simple prop like an umbrella makes for such a fun announcement, and I love how unique the concept is!
Colorful Smoke Bomb Gender Reveal over at Raising Jay and Abel | A gender reveal smoke bomb is the perfect background for a photo reveal or during a party—it is big and visible and makes no mistake as to what color is showing!
Fun Water Gun Paint Reveal at Nicole and the Couches | How fun is this idea? It's not often a preggo mama is asking people to shoot her in the belly! You could also get the whole family in on the fun with a big ole' water fight!
Letterboard Pregnancy & New Years Gender Reveal Announcement at the Rowdy Gowdys | Who says announcements have to be flashy? Why not use simple things like a letterboard and baby moccs and tie them into an upcoming holiday as the Rowdy Gowdys did? Love the backdrop and this could be easily adapted for any holiday!
The great thing about gender reveals is that there are no limits! You could do a photoshoot, a party, or announce it using fun items on social media. Or rock a gender reveal tshirt and wait for people to notice. Or if you are in for a surprise at birth you can even do a joint gender and name announcement upon arrival!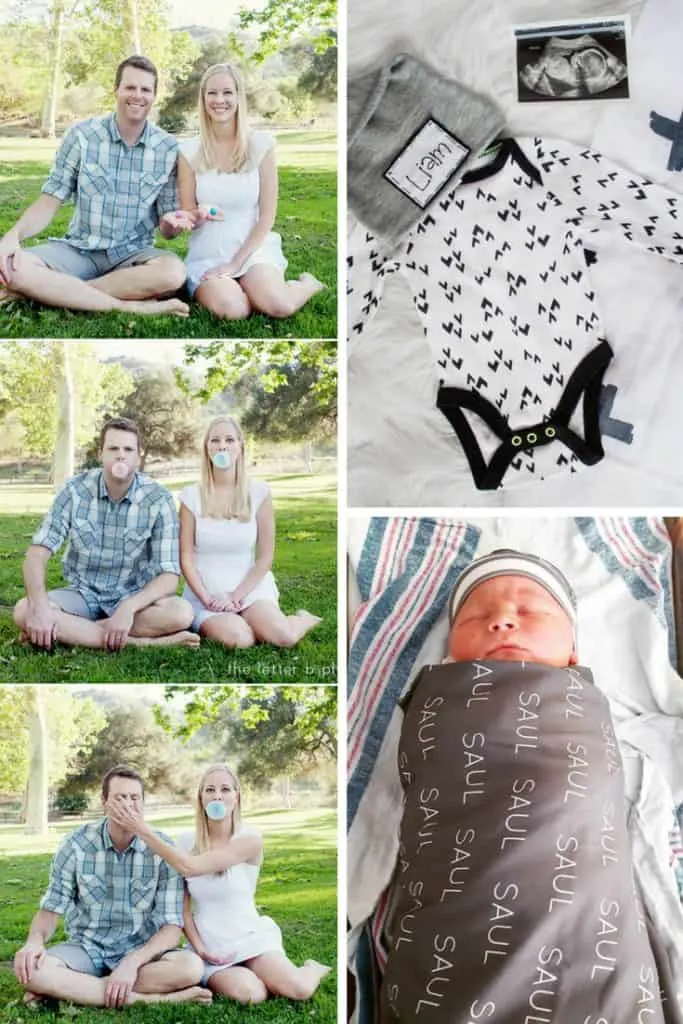 Totally adorable Bubble Gum announcement from The Creative Copy Cat | This bubble gum announcement is so playful, and she gives great tips about how to get those perfect colors and bubbles for the photos.
Announcement gender or name using baby clothing similar to Caffeine & Cuddles | Rather not be in the photo? Try using clothing or baby accessories to share the news for you! You can even combine and do a name announcement and gender reveal all in one.
Or announce both gender and name at birth using a custom swaddle like Bless This Happy Mess | For those who wait til birth to find out (jealous!) everyone will be anxiously awaiting the news. I love the idea of a using a custom swaddle with the baby's name to showcase the newest family member (and give the people what the want to know) all in one!
Gender Reveal Themes
And here are some fun themes, we know you'll love!
Gender Reveal "Election"
"Waddle it Be?" Duck Theme
Twinkle, Twinkle Little Star "How We Wonder What You Are"
Milk and Cookies
Ties and Tutus
What Will it "Bee"?
Bow or Arrow
Staches or Lashes
We Can "Bearly" Wait
Boy or Girl, We "Donut" Know
What Will Our Little "Cutie" Be? (Cutie Orange Theme)
Gender Reveal Video Announcement
I also love the creativity (and admire the work) that goes into a Video Announcement. They help to capture the great reaction of a sibling gender reveal like this one from Oh Happy Play!
How we did our two gender reveals for family and friends
For our first child, both my husband and I wanted to find out, and while we found out at our ultrasound, we had a fun long distance gender reveal for our families. It was a great way to get everyone involved even though they couldn't be here with us for a big gender reveal party (I also show how we created our Facebook announcement in the process in that post).
This time around, I really wanted to be surprised. My husband? Not so much. He just had to know if he was getting a boy or another little girl!
Knowing he could never keep the secret if only he found out (without torturing me about it for the next 4-5 months) I wanted to have some element of surprise. I decided we would have a gender reveal of some sort so we could find out together, and found myself looking at all the great ideas on Pinterest.
We did something with our family over Skype again for a reveal (which hopefully I'll get to sharing soon), but here is how we announced it on social media! We opted for a simple photo and let a prop do the talking for us.
It's a …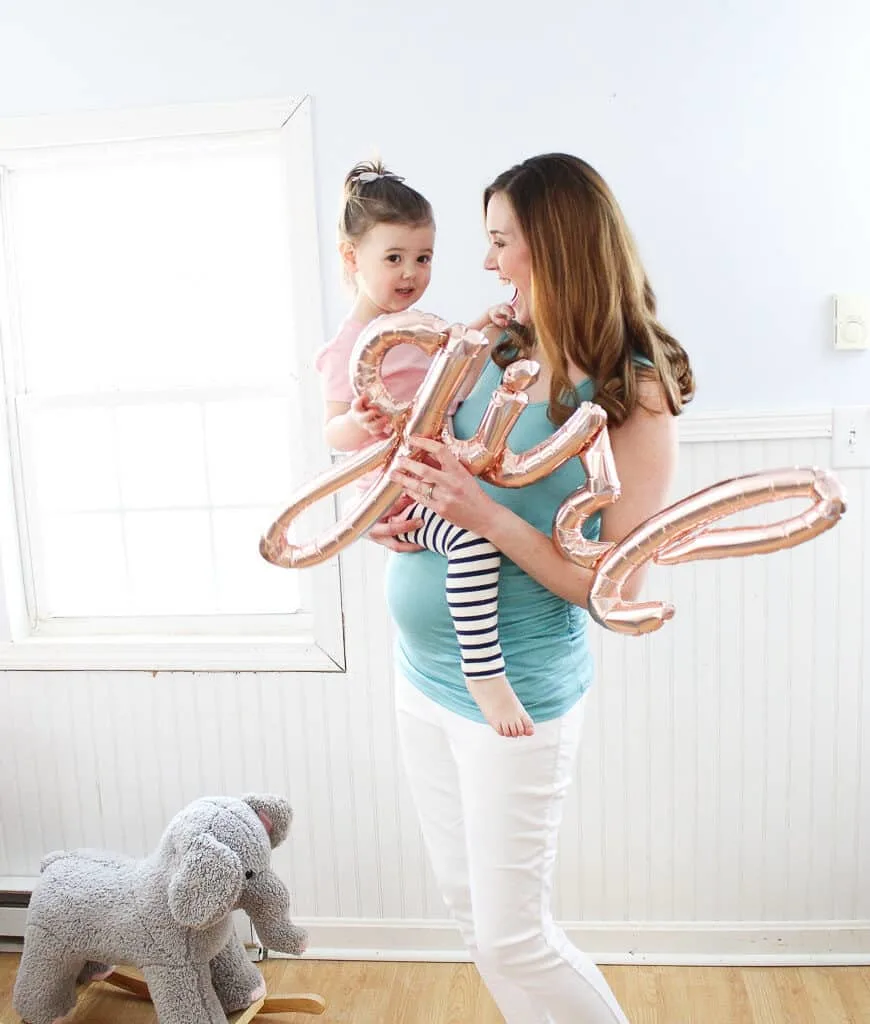 I am so excited for Charlie to have a sister! I have two of my own, and can't wait to see all the cuteness that is in store for us!
*P.S.* My tank top was sent courtesy of Pink Blush, one of my favorite places for maternity clothes. I love the length of it!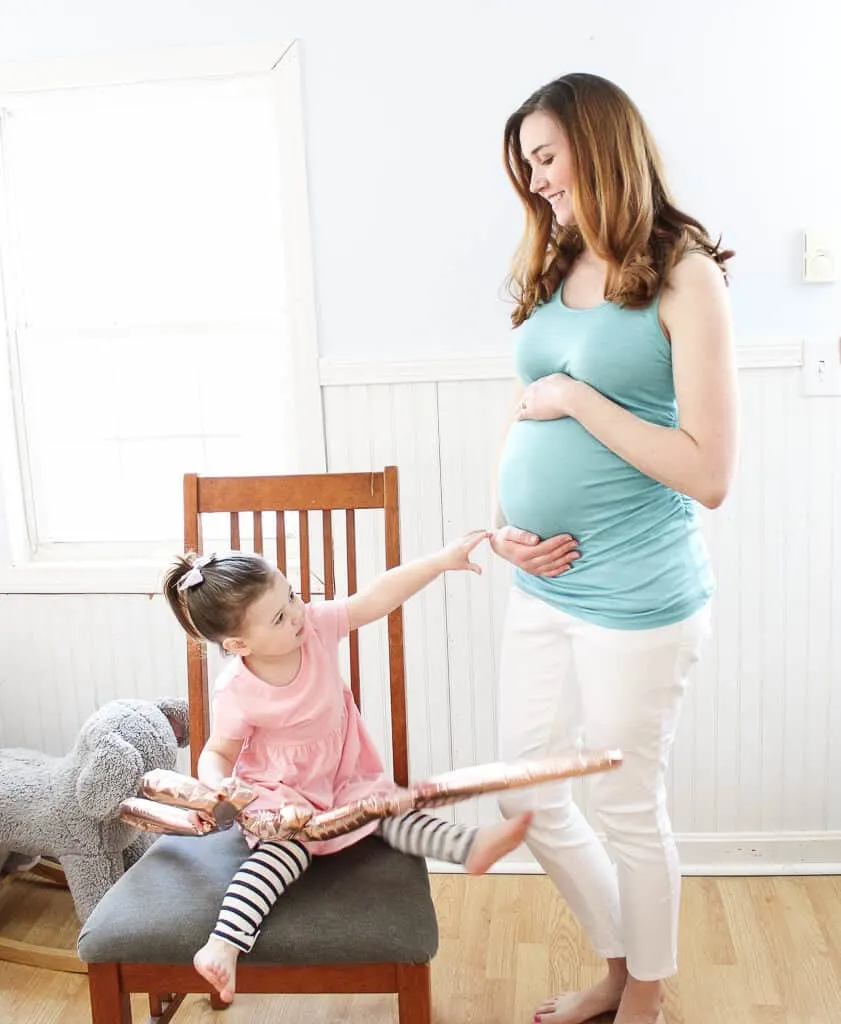 Related: Pregnancy & New Mom Resources
Did you do a gender reveal or party? I'd love to hear about what ideas you came up with! And be sure to follow The Mom Friend on Pinterest, where I'm pinning fun ideas all of the time!
Be sure to pin this to save these ideas for later!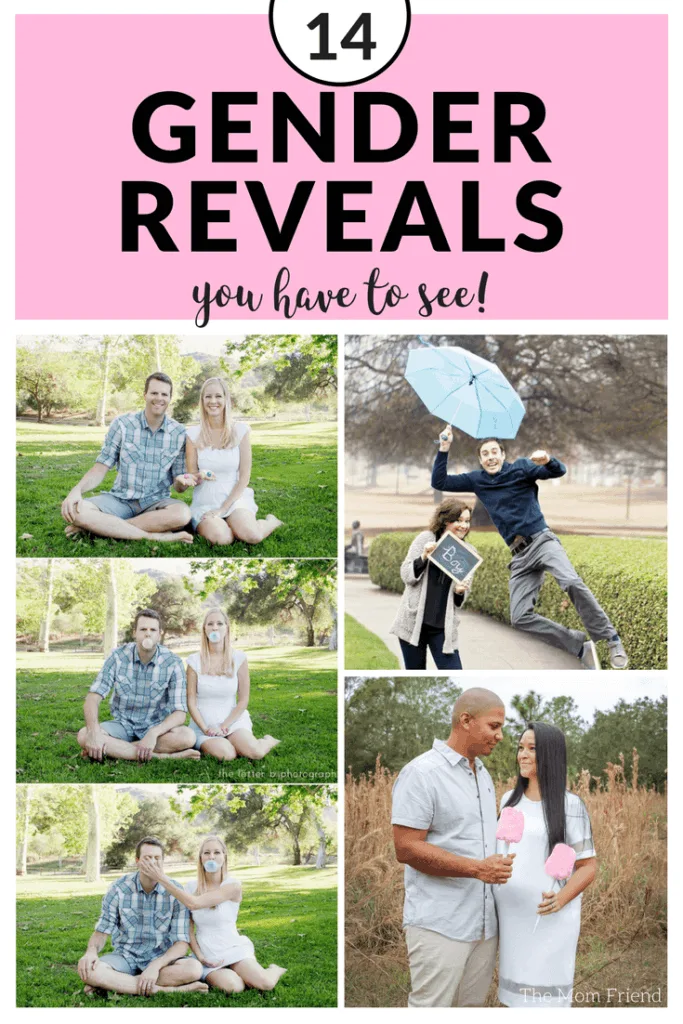 And check out these other reader favorites!