Hi everyone! Today I'm sharing a fun travel themed pregnancy announcement that I used to tell my husband about Baby #2! Enjoy!
I really love pregnancy announcements and gender reveals. When I found out I was pregnant with Charlie, however, I couldn't hold in the excitement and told my husband as soon as he woke up, in a way that made him groggy and confused, and not at all exuberant like I had hoped! Put that one in the fail pile for sure. We shared our news with our family over skype and did a really fun long distance gender reveal—I wasn't missing out on that reaction!
So when we started trying again this time around, I knew I had to find a way to tell my husband the good news when it finally happened. I wanted it to be something unique and meaningful to our lives.
I knew exactly how to do it when I came across Here There Everywear's Airport Code clothing, and I was so excited when they agreed to partner up and send the items as a gift for the surprise!
My husband travels a ton for work, and while he gets to go around the world quite a bit, he spends most of his time doing the trek from Boston (where we live) to Vienna, Austria. And we are just waiting until we can go with him one of these days!
Because their shirts are completely customizable, I was able to create one with those airport codes (BOS & VIE). Of course that meant I had to keep my big mouth shut until they arrived, but Janelle and her team were so sweet and quick to ship that I had them within a few days.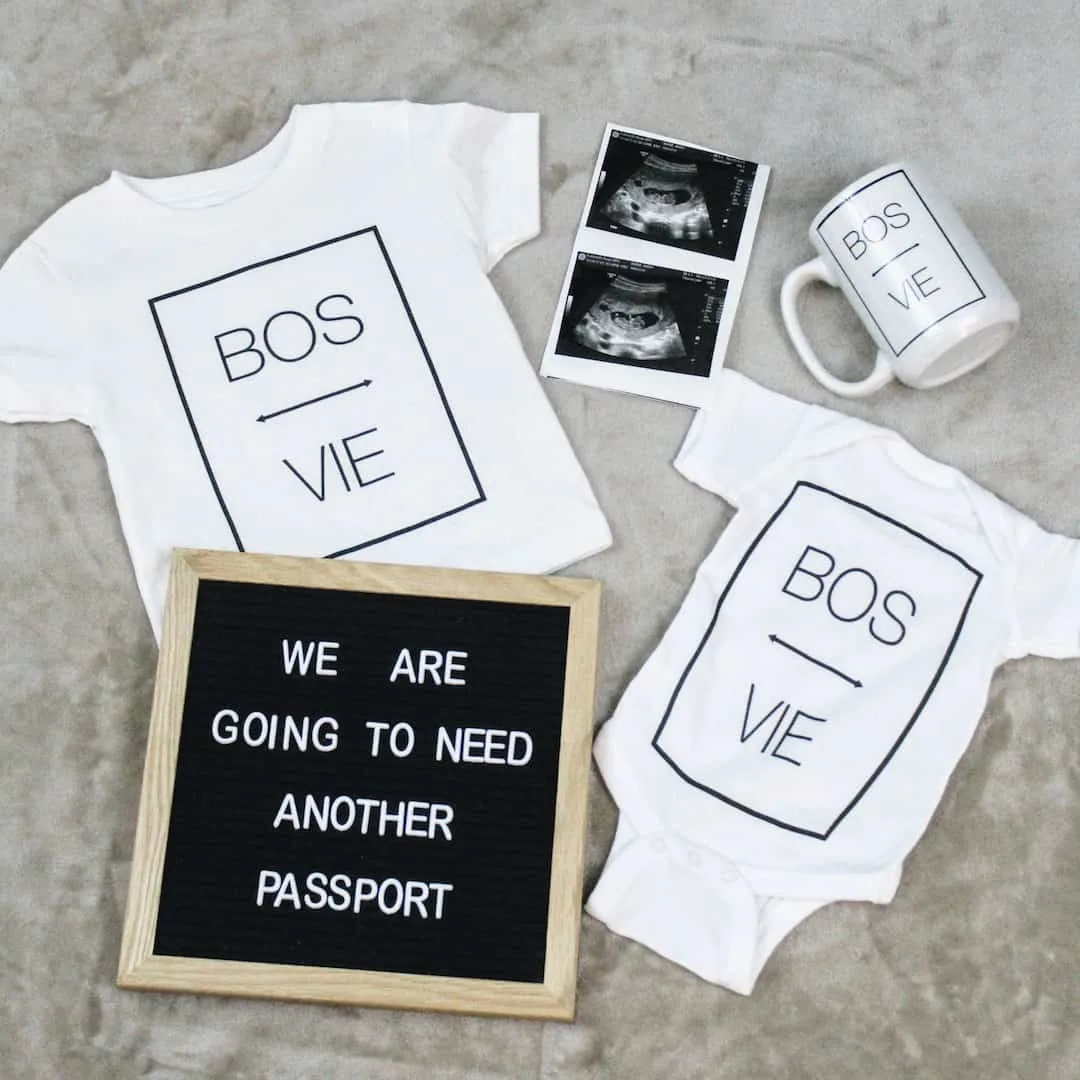 I wrapped it all up and gave it to him as a gift, including a picture that Charlie had drawn for him during the last time he was "Dada on plane". I wrapped it in order, so he saw the mug first ("for his office"), then Charlie's t-shirt (because she wants to go with him) and then while he was unwrapping the onesie I told him since Charlie had one I thought everyone in the family should.
Needless to say, it went over much better than the last time around and he was quite happy!
Here's a little video to celebrate (and for some more inspiration)!
This would make for a great announcement on FB or IG too! A big thank you to Here There Everywear for making this such a fun announcement this time around!
More Fun Ideas
What other travel-themed pregnancy announcements you seen? Or did you ever have an announcement fail like me? I'd LOVE to hear about that!
Pin it!