Virtual gender reveals are growing more common out of necessity. Luckily, the great technology we have today makes it easier than you think to come up with ways to share the news with your friends and family with these fun virtual gender reveal ideas!
First, if you have recently found out that you are expecting, congratulations! This is an exciting time for you and your family!
Now begins the start of the planning. One of the most exciting things to plan is how you are going to announce to your friends and family is if you are having a boy or girl.
RELATED POST: Cute Gender-Neutral Names
You probably never thought you would have to do an online gender reveal over Zoom or FaceTime. I've actually done it twice (read about how we did a long-distance gender reveal), and it is still a memorable experience and full of fun and excitement.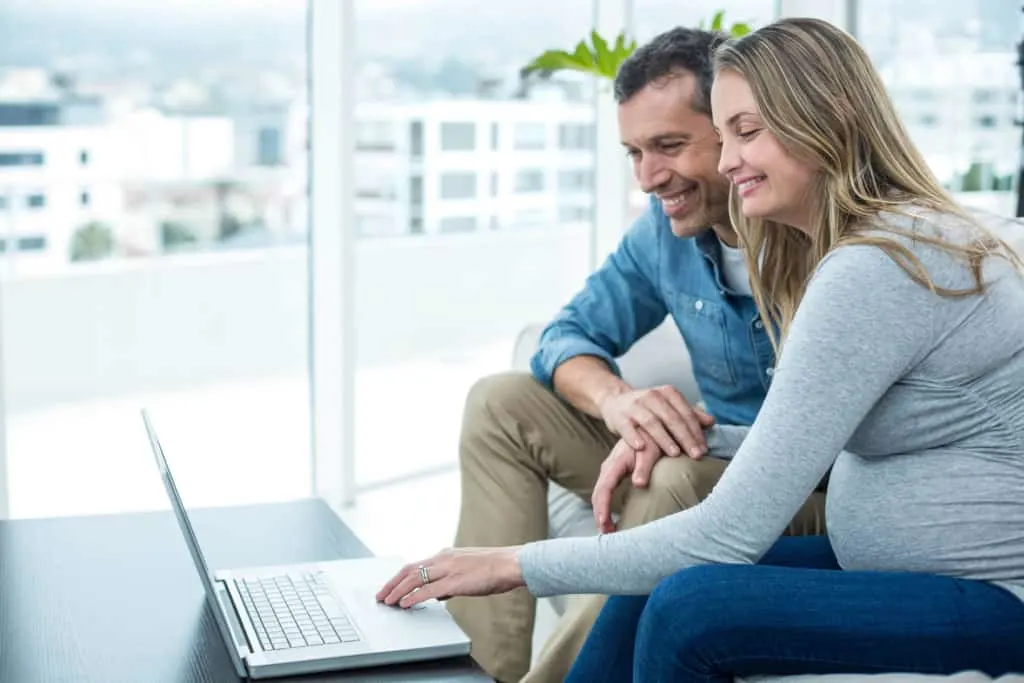 RELATED POST: 15 Creative Long Distance Gender Reveal Ideas
How to host a virtual gender reveal party
The first thing you will want to do is to find a virtual platform or chat software to use for your reveal party. Video chats are popular through Facebook messenger and Facebook rooms, Zoom, and Skype but there are other programs available that you can look into.
You will want to find a program that is easy to use and that everyone will have access to. If some people don't have access to the one you choose, you can always do more than one gender reveal party so that everyone can experience the fun.
You can get as creative as you'd like and many of the games you would play in person can be done virtually through video chatting.
You can make it as official or spur of the moment as you would like.
Want to send invitations or create a Facebook group for it? Go for it!
Want to surprise someone and just FaceTime them right then and there? That works too!
There is no wrong or right way to do it, so just get creative!
RELATED POST: Choosing a Pediatrician: Questions to ask at a pediatrician interview
Fun Virtual Ways to Announce the Gender of a Baby
Since you are doing the reveal virtually, you'll want to think of ways that you can do it through video. It is basically like taking the reveal fun and doing it on camera with everyone rather than having an in-person gathering.
This may limit some of your possibilities, but you can still have a lot of fun with it and it will still allow your friends and family to be part of the excitement.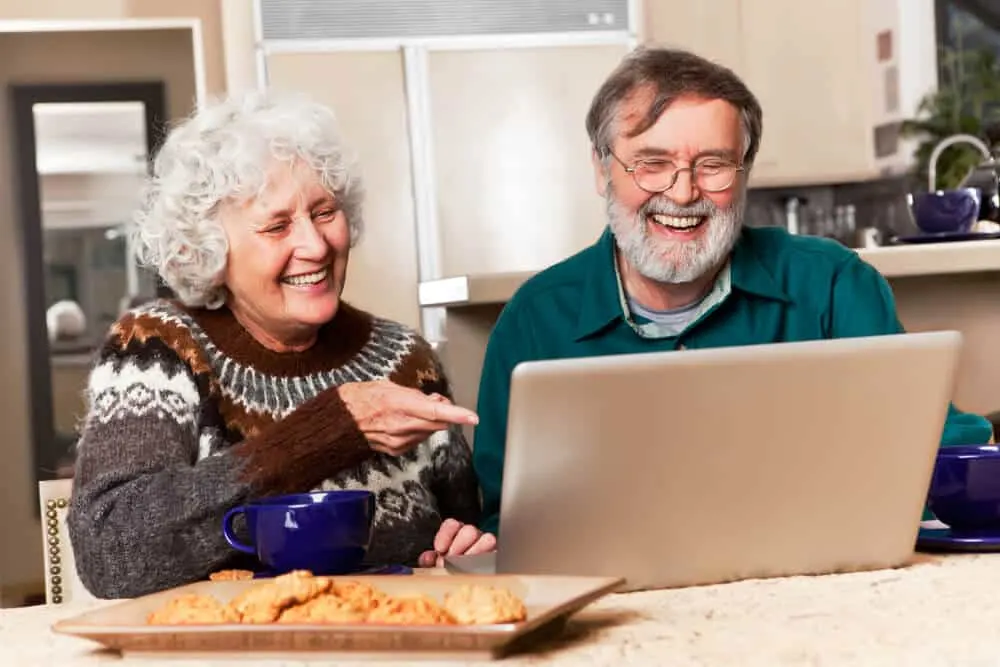 Sealed in a Box
RELATED POST: 250+ Beautiful Two Syllable Names for Girls
This is my favorite gender reveal idea because it keeps the gender secret from the parents until the big reveal, making it even more special to find out the gender of your baby!
Bring a small cute box (such as this mini treasure box) to your ultrasound appointment, along with two small objects, each symbolizing a different gender. At your ultrasound appointment, ask that the tech place one of two items into the box and discard the other one.
I painted little wooden pegs people pink and blue, and gave them both to her with the mini treasure box.
Once she had done our ultrasound, she took the bag with the items and left the room. She returned with the treasure box with the revealing clue inside and made sure not to give us back the other.
We all jumped on a family Zoom call, and let our daughter open the treasure in front of everybody. It was one loud conference call for sure! Super simple, but a great way to do it!
Balloon Pop Gender Reveal
The balloon pop reveal is extremely popular and is something you can still do virtually. Just do it as you would normally, fill a dark-colored balloon with pink or blue confetti.
Then as you are video chatting with friends and family, you can pop the balloon and everyone will be able to see the colors.
Gender Reveal Cake
Another popular option for revealing the gender. Even though guests won't be able to enjoy the cake afterward, they can still watch in anticipation as you cut the cake to reveal the gender (and then you get to have the cake all to yourself!)
You can also send them treats in the mail for them to celebrate with as well. Or if you're doing a small gender reveal with just your parents and in-laws, you can even order them gender reveal cakes from a local bakery so they can cut in at the same time as you!
Another option is to delivery or mail some gender reveal cake pops.
Unlock the Code
This is an interesting game but can be fun for everyone. Remember those worksheets you did as a kid where you unscramble the words and take a letter from each word to find the secret code or word?
This is exactly how this game is played, except you have the letters spell out girl, boy, baby girl, baby boy, etc. If you have names picked out, you can choose to use the letters to spell out the baby's name.
Send Gifts to Open While Live
For our pregnancy, I had fun putting together packages to mail to our family that lived far away. I sent two packages (one for each gender) and the day we found out at our ultrasound we hopped on Skype and told them which package they could open.
Check out this post for a step-by-step how we did that fun gender reveal over FaceTime and through the mail, including making gender reveal truffles and gift bags.
Gender Reveal Piñata
This one is best done outside! Get a gender reveal piñata here and fill the inside with blue or pink confetti. As you are video chatting, someone can use a stick to bust open the piñata and the color of the confetti will reveal the gender.
Virtual Cookout or Campfire
Ok, this one may seem a little out there, but it can be fun. Since not everyone can be together physically, virtually, everyone can have their own small campfire, BBQ, or even cook a small meal outside on the grill.
While video chatting together, with everyone cooking or sitting by the fire, you could use a color changing chemical product that will change the color of your smoke. While everyone is together virtually, those in the virtual chat will be able to see the color of the smoke and find out if it's a boy or a girl.
Just be careful with this one! You don't want to end up on the news!
These are just a few ideas of virtual ways to announce the gender to your friends and family. For other great ideas that you could adapt for a virtual gender reveal party, check out this post on Unique Gender Reveal Ideas.
Know someone who is having a baby and could use some ideas for a gender reveal party online? Send them this post or share it to Pinterest or Facebook to spread the love!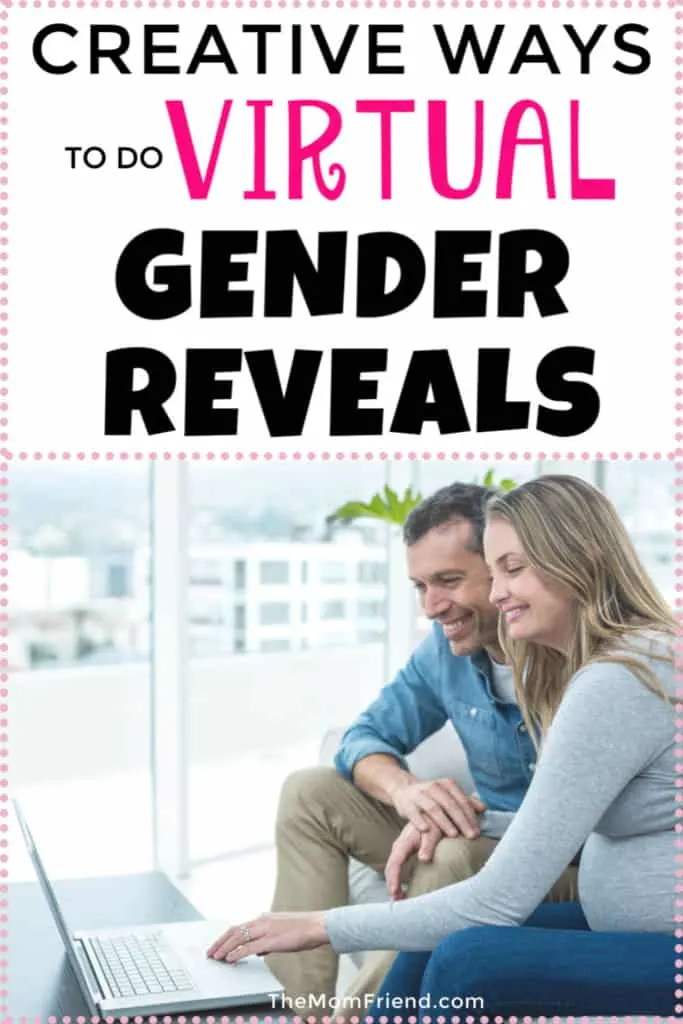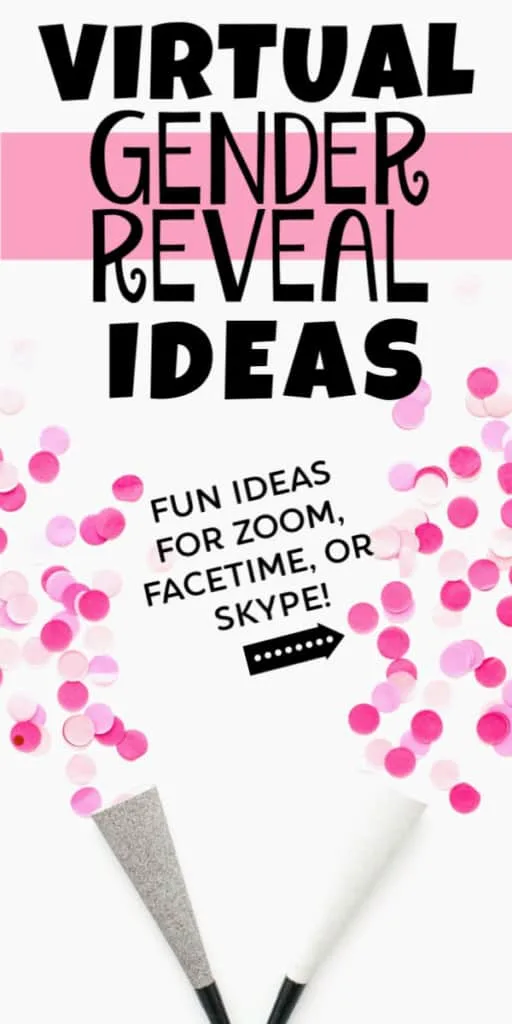 OTHER READER FAVORITES YOU'LL LOVE