Dreaming of a family getaway? Here are 10 great reasons to start planning to take a Disney Cruise in the future from guest blogger, Adriane from Put on Your Party Pants.
Disney cruises have a well-deserved reputation for being expensive. The reputation is well deserved because Disney cruises cost more than a house in some neighborhoods in Detroit. There are ways to save money, but it is not uncommon to see fares double that of any other cruise line.
Should I send my kid to college or go on a Disney cruise? Life is all about trade-offs, right?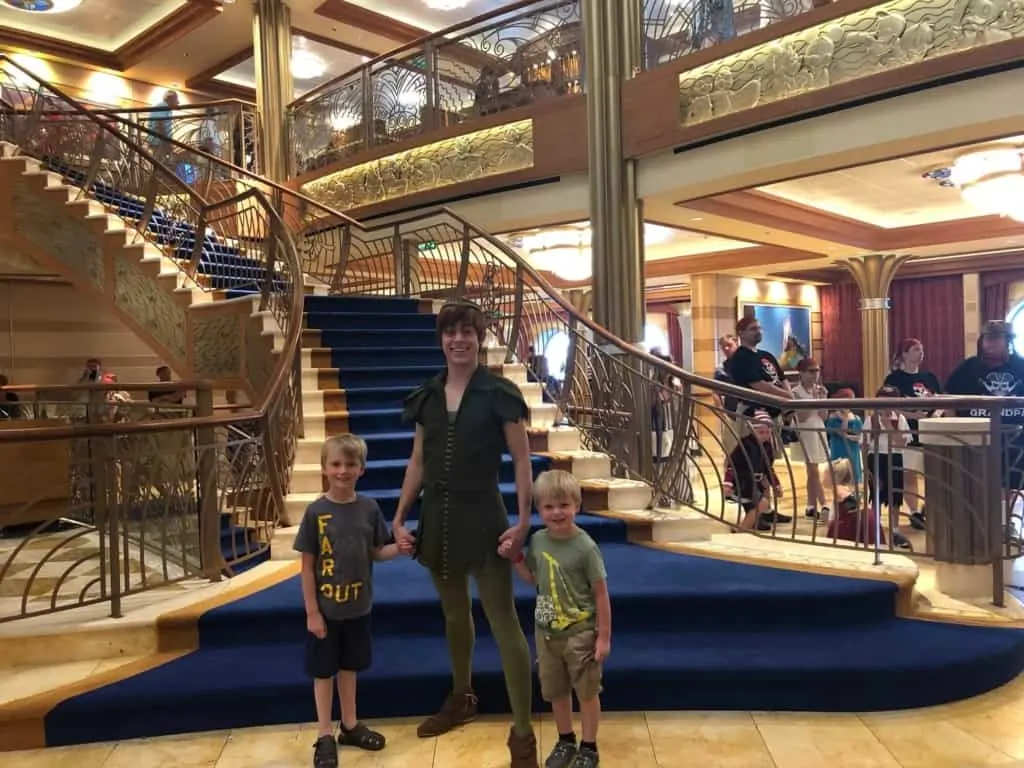 Our family recently went on a cruise to the Bahamas on the Disney Dream. While I love Disney travel and planning, I am not overly excited about Disney as a brand. At the risk of generalizing, I believe Disney cruises appeal to two groups of people: (1) families with children and (2) diehard Disney fans. The two groups may overlap.
Our family falls squarely into group one. I did not pack one pair of Minnie ears in my suitcase. I am fully aware that Mickey is not real. We do not have a single picture of any adult in our family with a character. We were in it for the kids.
For the non-diehards among us, is a Disney Cruise worth the inflated price? To us, it was. The following are ten reasons I would do it again in a heartbeat in no particular order.
Top reasons to take a Disney Cruise
1. Oceaneer Club
Oceaneer Club is where you can drop off your children ages 3-12 when you have had enough of them to play. Adults are not allowed outside of open house hours.
I thought 3-12 sounded like a wide age range. I was uncomfortable with the idea of leaving my young children in the same area as preteens playing spin the bottle (I don't think that actually happened). My concerns dissipated when I saw the space.
Oceaneer Club is truly amazing. It seems to stretch for half the length of the ship. Each ship is unique, but the Disney Dream has a Toy Story play area, crafts and tons of screens (where all the boys can be found). It also has organized activities throughout the day. The club is open from 9am to midnight each day and it is included in your fare. To me, this is the single biggest perk of a Disney Cruise.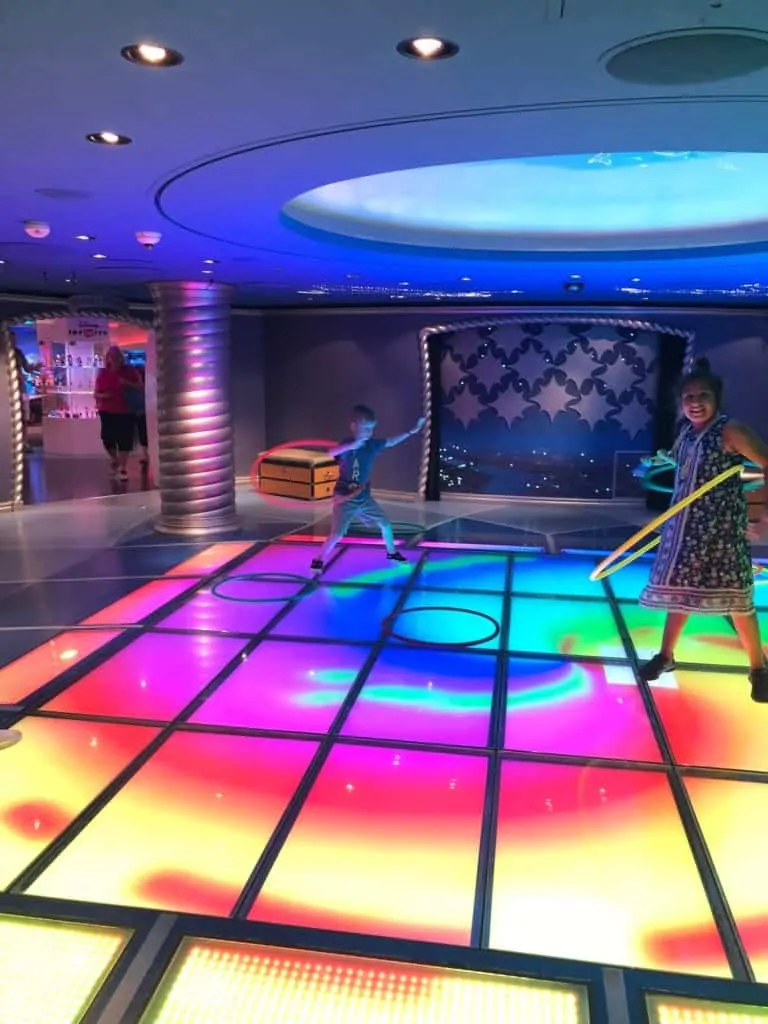 Other cruise lines offer kids' clubs, but they are generally less impressive and more restrictive. Our kids loved the club so much they would sometimes cry when we picked them up. When I calculated the amount I would have paid for a babysitter for the amount of time they were in Oceaneer Club during the cruise, the fare suddenly seemed worth it. The separation from the kids allowed the adults in our party to have a cocktail and maintain our sanity.
When we cruised, my youngest was three. Disney Cruise Line says kids need to be potty trained to be left at Oceaneer Club. My kid was "potty trained" in the loosest sense of the term. Any hint of overstimulation immediately undid any such training.
I was worried he was going to have an accident and get banned for the remainder of the trip. He did have an accident, but they were cool about it. For those of you who are worried about that, walk them in when you drop them off and take them to the bathroom. It will probably be fine.
The ships also have nurseries. You need to reserve a time, and these are not included. I personally would wait to go on a Disney Cruise until your kids are old enough to get into the included clubs. The cost is much harder to justify without the "free" childcare.
2. Characters
As should be expected, the characters are everywhere. There is a schedule of their locations published on the app, and they also roam the ship. You can get your photos in a few minutes, as opposed to what feels like a few hours at the theme parks.
The characters are unique and spirited. Some of them clearly got their start in that production in Waiting for Guffman.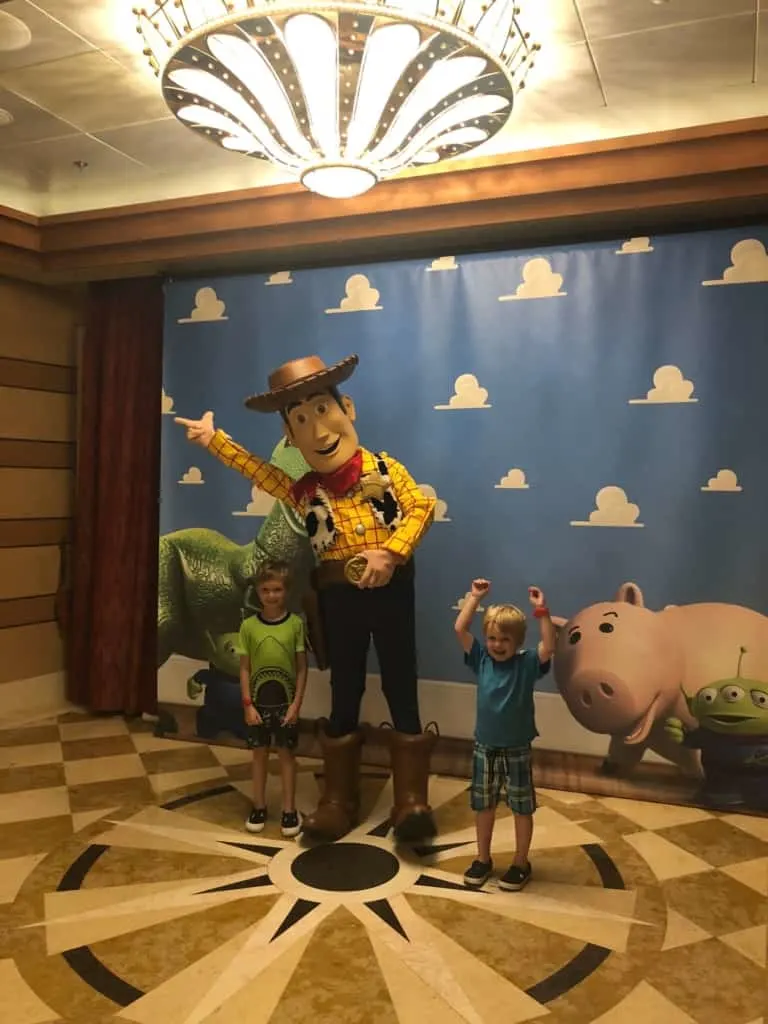 Peter Pan was always running around doing something mischievous. Captain Hook seemed uncomfortable when my kids hugged him. Woody acted stressed out when they high fived him too fast. I have a lot of really cute photos and videos I will appreciate for the rest of my life.
3. Dining
Food is included, and there is a bunch of it. Each ship has different restaurants, but generally, you rotate between different main dining areas each night. There is a buffet for breakfast and lunch, and a quick service restaurant by the pool.
The Disney Dream had a self-serve ice cream station as well, which contributed to my three year old's 10% body weight gain during the trip.
Although you rotate between restaurants for dinner, you have the same server each night. They get to know your preferences and dietary restrictions. Disney Cruise Line is renowned for its ability to accommodate allergies. They are hypersensitive to the safety of the food.
I have to eat gluten free, and for once, it wasn't all that inconvenient to do so. There were gluten free rolls, buns, pizza and desserts. The food was good, much better than what you would expect at the theme parks. It was nice to eat something other than salads and chicken breasts.
Disney Cruise Line also has adults only dining for an extra fee. The Disney Dream has Palo and Remy. We tried Palo. At the time of this writing, Palo is $40 per person. It has a buffet with really good seafood, and you can order off of a menu in addition to the buffet. I enjoyed a meal without a sippy cup anywhere in the vicinity.
You need a reservation to eat here, and it is coveted. You should try to book this when you do your online check in. If you can't get it, go to Palo immediately upon embarking to try to get a spot.
4. Pirate Night
Pirate Night was the only time we dressed up as a family. Dressing up isn't mandatory, but the majority of people did so.
There is a pirate show at night complete with fireworks that were quite impressive when you remember they are getting shot off of a boat. After the show, some loud music reminiscent of my time at Zero Gravity dance club in the 1990s blared through the speakers. My son loved the whole thing.
They do not have a pirate night on every sailing, but I think there is some kind of special night equivalent. There will be a Frozen night on our upcoming Alaska sailing.
5. Castaway Cay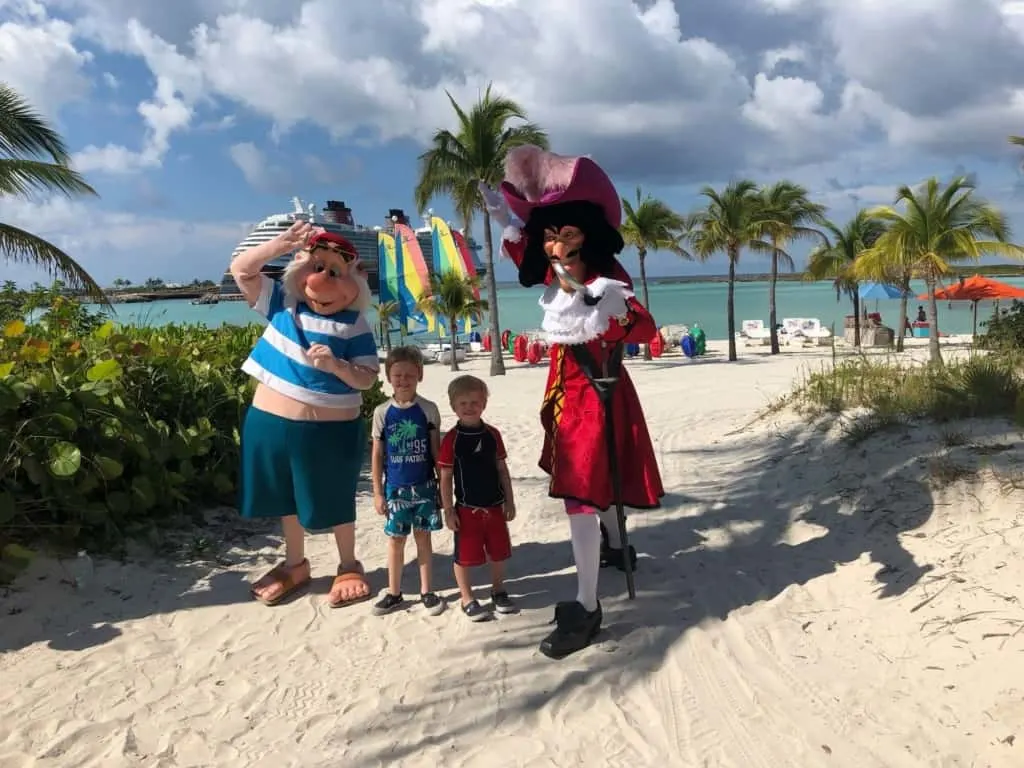 Castaway Cay is Disney's private island in the Bahamas. No one other than Disney cast members live there. It is beautiful. It is clean. It is calm. It is everything Nassau is not.
The boat pulls up to the island, so you do not need a tender to get there. There is a tram to take you around if you don't want to walk. Lunch is served on the island.
The kids' club will take your kids there as well. It has water slides and a splash pad. There are servers everywhere to help you spend more money, so your cocktail is never empty. They offer excursions like parasailing. Castaway Cay makes for a very nice beach day.
6. Staterooms
The staterooms, while not huge, are bigger than on other cruise lines. They were obviously designed with families in mind.
They have a split bath with a bathtub, so more than one person can do what they need to do at the same time. The rooms come with a bed, then depending on the room, either a pullout couch or berth that pulls down from the ceiling to make bunk beds. The ceiling above the top bunk was painted like the night sky.
The rooms come with a heavy curtain to divide the bed from the other sleeping area, so adults can get some privacy.
The Dream had Disney movies on demand in the room. Housekeeping comes twice a day to clean and leave towel animals. While there is no getting around the fact that a family of four is stuck in a single room for a week straight, the room made it more bearable.
7. Water Areas (minus the pools)
Everything on the ships is well themed, and the splash pad on the Disney Dream, Nemo's Reef, is no exception. The whole area is really cute. Fish shoot water at kids running by. It was not too crowded. Our kids played there for hours.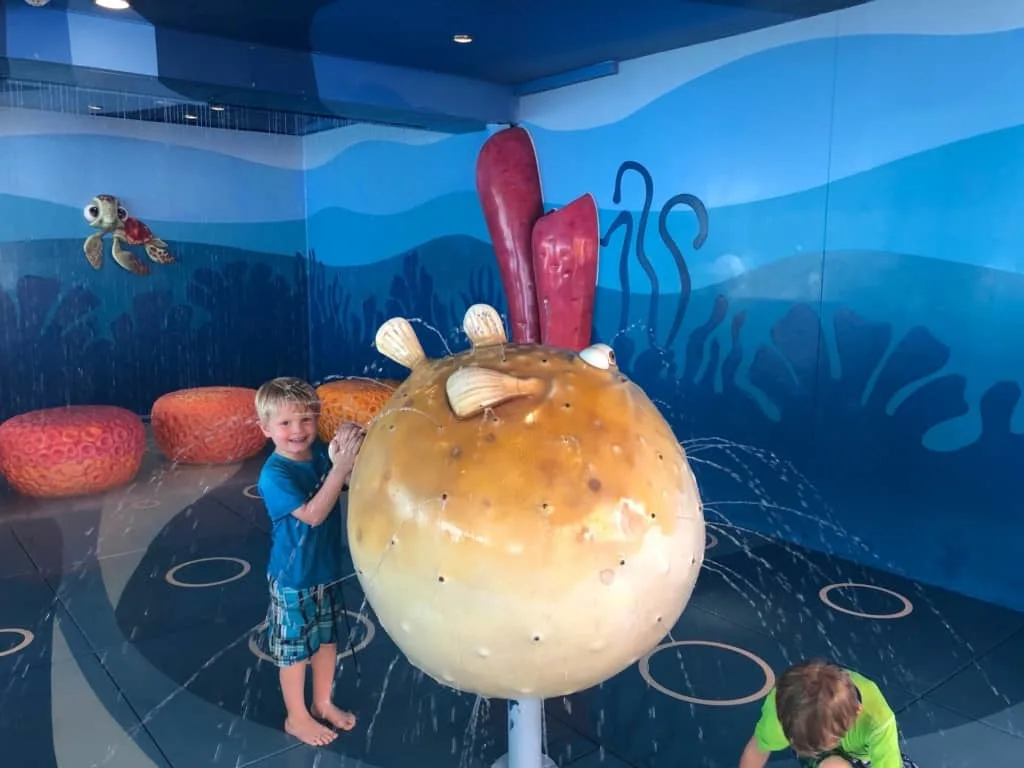 There is also a clear water slide called the Aquaduck that runs around the Disney Dream. It is not on every ship, but there is some kind of water slide on the ones that don't have it.
The Aquaduck was really fun. It lights up at night. You can ride with a partner, which was great because my kids would not have been ready to go alone. The wait usually wasn't too bad. My son still talks about that being a highlight.
You will note I did not add the pools as a reason to go on a Disney Cruise, unless you enjoy the feeling of rush hour on the subway. Those things are CROWDED. Skip those and head for the splash pad.
8. Theater Show and Movies
Each ship has different shows. Disney has labeled them "Broadway-style." I tend to be pretty judgy about theater. Jazz hands and I are not typically friends. I thought it was pretty presumptuous to compare their cruise ship theater to Broadway. I went into the show ready to be bored.
You know what? I was wrong.
The Disney Dream had Beauty and the Beast and a show called Believe. Both shows looked like professional theater. The people can sing. The sets were very elaborate. The Believe show featured a lot of characters.
Don't get me wrong, these shows appeal to kids (and those diehard people I was talking about earlier). However, unlike any other cruise entertainment I have seen, these are worth watching.
There is also a movie theater that plays movies currently in theaters.

9. Service
People make a big deal about how great the service is online. I assumed the people who noticed were those who made a lot of noise to get the attention they craved. I am about as low maintenance as they come. I don't need any special attention, and I never complain about anything.
However, I think it can be objectively said that the service is outstanding.
Everyone I encountered was helpful and friendly. The housekeeping staff was amazing. They acted like it was adorable when kids were acting like jerks. They go above and beyond to make everyone happy and comfortable.
10. Disney World Add On
If you're going to Port Canaveral to get on a cruise anyway, it is very convenient to add on a few days at the park. The port is only about an hour from Disney World. The location allows you to do both without having to book separate flights.
You can enjoy the best of both worlds.
Final Thoughts
Disney Cruises are definitely expensive, but I believe they are worth it. It was probably the best vacation we have taken as a family. At a minimum, you should try it once if you have kids who still require childcare or appreciate characters.
Make memories as family, experience new things together and dump the kids at Oceaneer Club when you can't take it anymore. You will not regret it.
---
Adriane is a blogger with Put on Your Party Pants – And Keep Them on Until 8pm. She writes about family travel, points and miles and gluten free dining. She is on a mission to maximize her family's vacations, save as much as possible and make memories.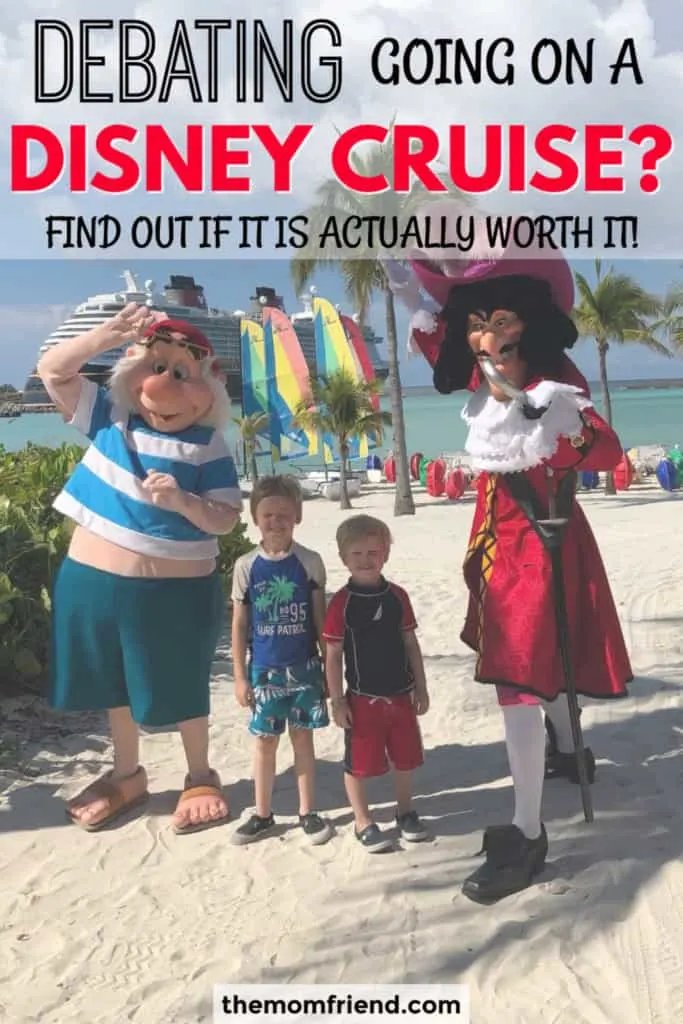 OTHER POSTS YOU'LL LOVE