Thinking about visiting Disney's Aulani Resort with a baby or toddler? Check out these top tips for making your stay even more magical!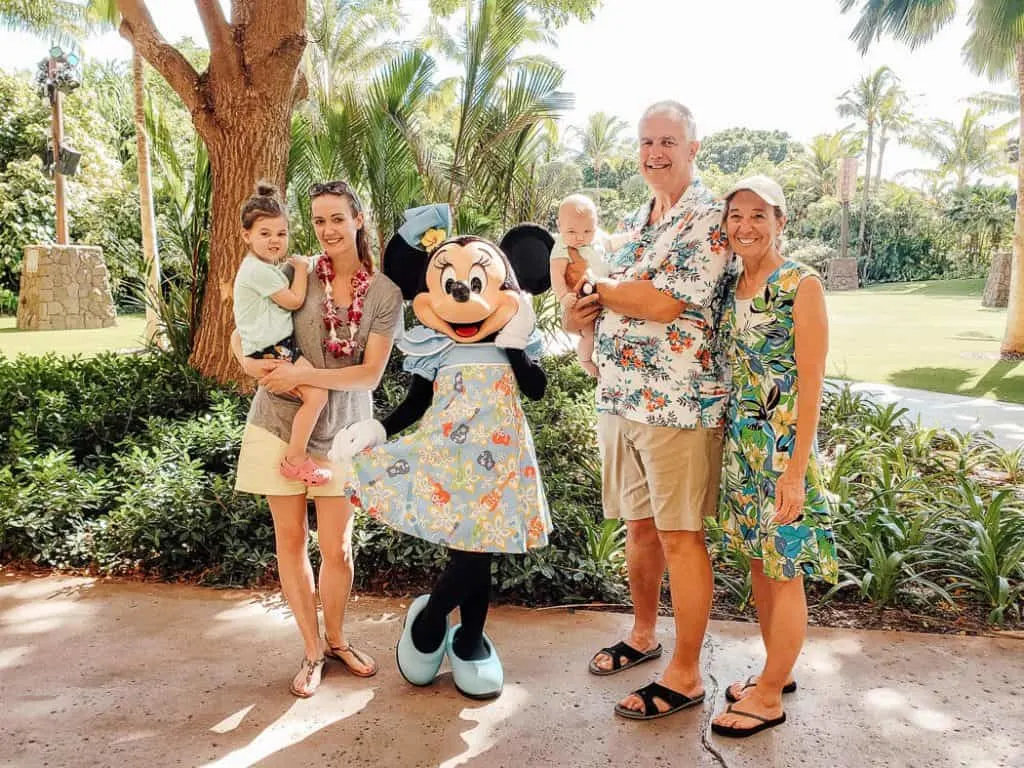 To say I was excited when my husband brought up vacationing to Hawaii was an understatement. We immediately started researching where we wanted to go and what we wanted to do while there.
Since we were focusing our time on the one island, we decided there really was no better choice than to experience some Disney on Oahu!
The trip was a way to end out my maternity leave with a bang, and was our first time traveling with two kids—Charlie turned 3 the day we left for vacation, and Ensley was 3 months.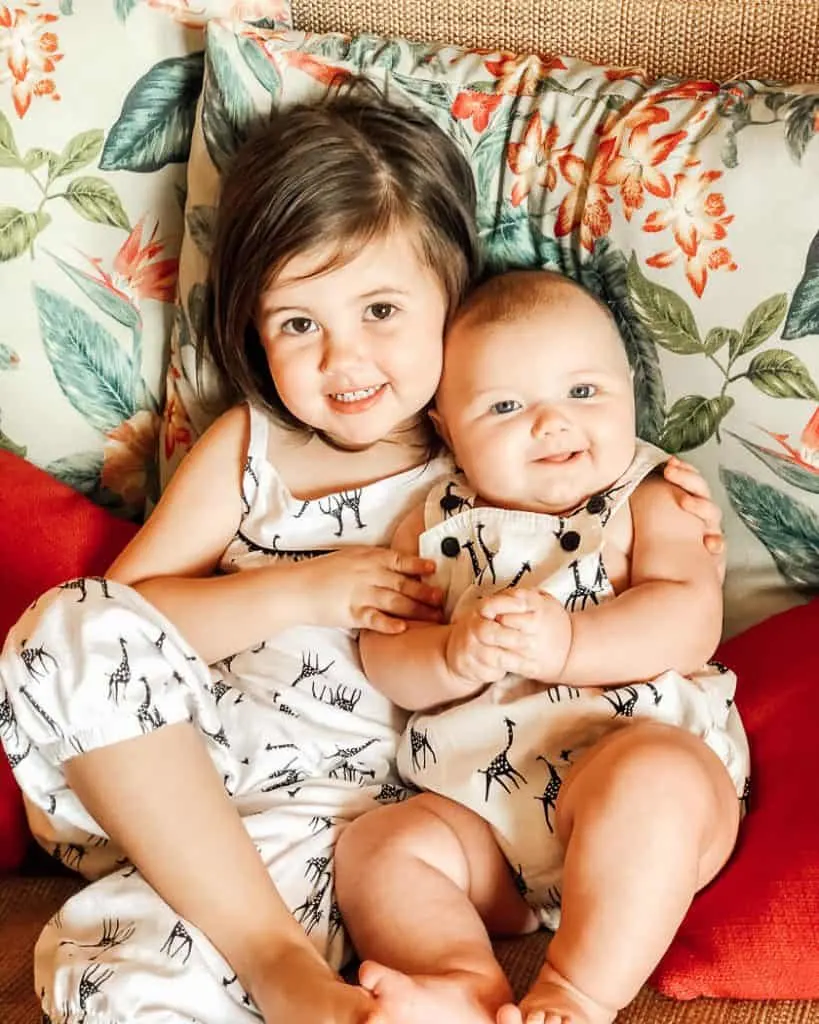 Traveling with kids at any age is an adventure, but a newborn and a toddler together made for quite the trip!
Part of the reason we wanted to stay at Aulani was we knew we would be able to enjoy our time since it is completely focused on providing a great experience for families, rather than staying at a resort that accommodates kids but isn't directly geared towards them.
We had an incredible time throughout our entire vacation—despite lots of meltdowns and public tantrums—and our time at Aulani really was the icing on the cake.
RELATED: Things to Do in Oahu with Kids (Sample 2-Day Itinerary with Go Oahu Card)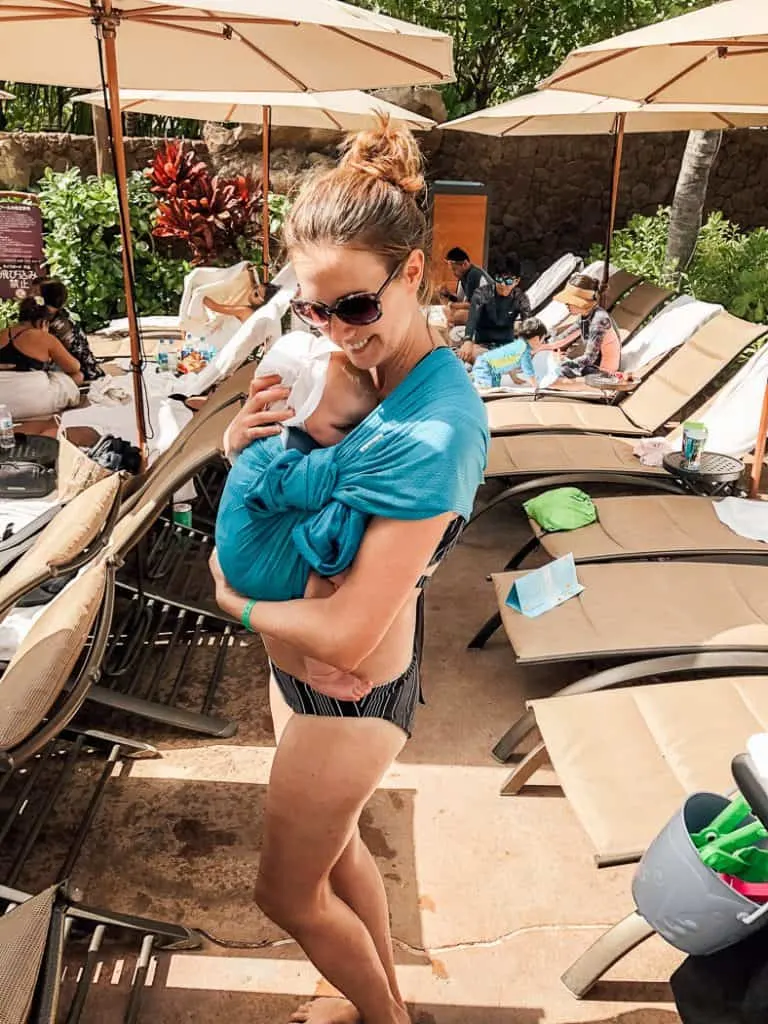 I did quite a bit of research before we went, but I still found some things I wish I had known about or prepared for ahead of time. I thought I would compile some of my best Aulani tips in a post for those of you looking to visit Hawaii with a baby or toddler.
Related: Guide to the Best Things to do on Oahu with Kids!
Tips for Visiting Aulani with a Toddler or Infant
1. Consider staying in one of Aulani's Disney Vacation Club Villas.
While they do cost more, the villas at Aulani are more than worth it if you can swing it.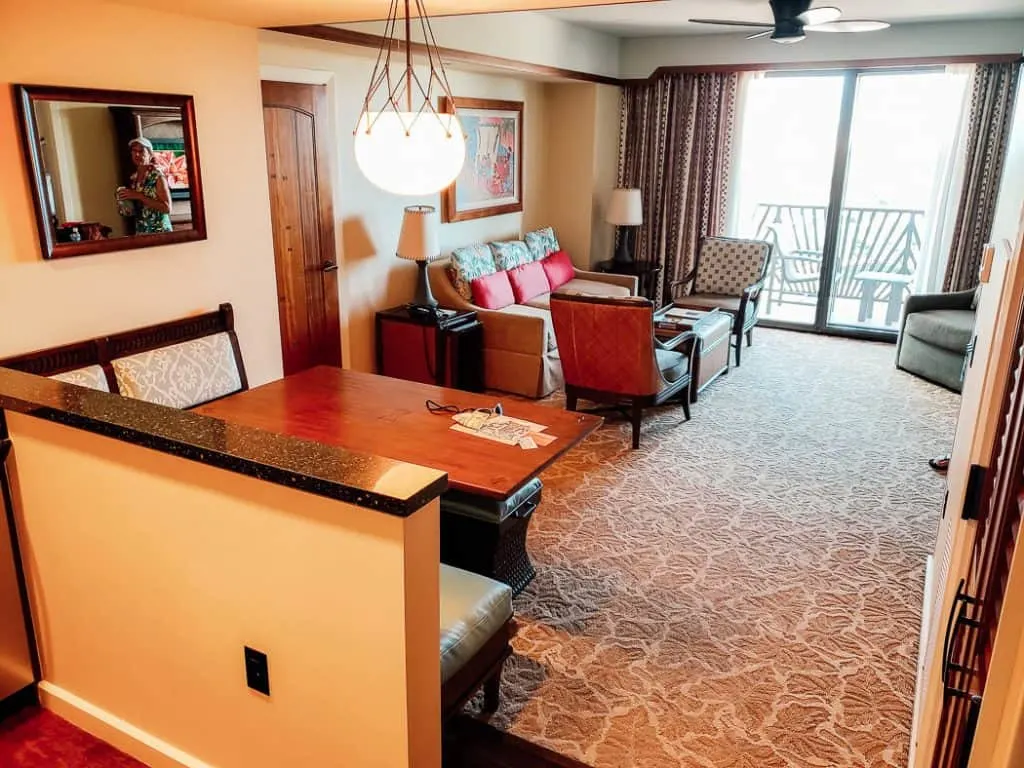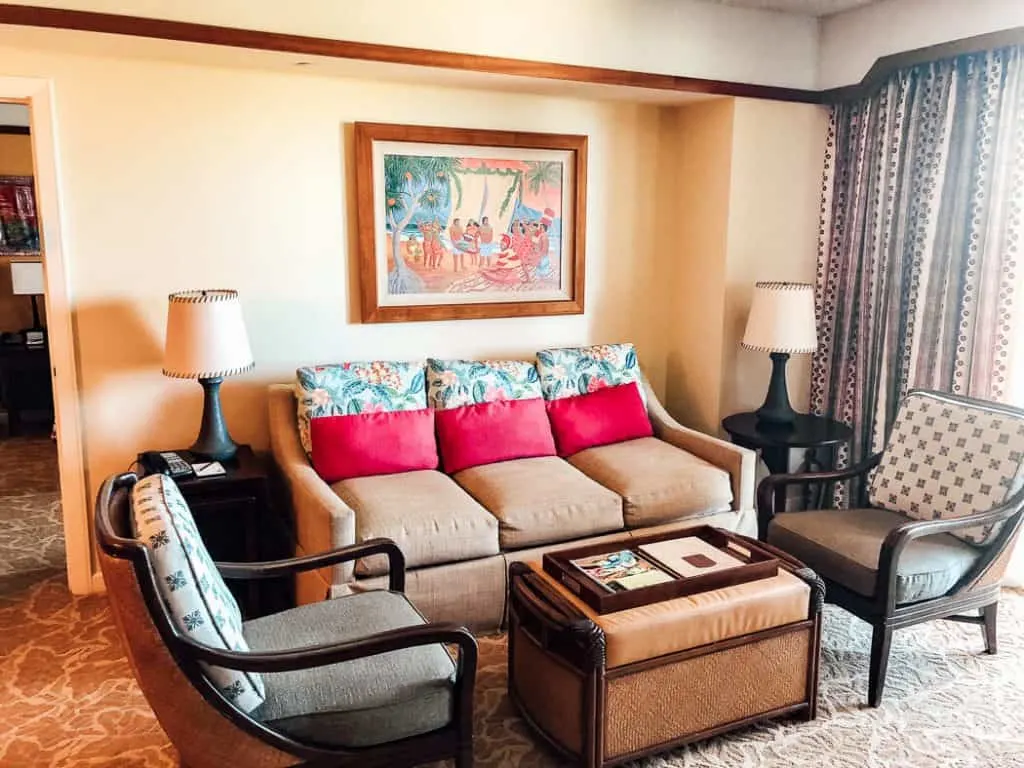 We originally were planning on renting Disney Vacation Club points and reserving a studio through one of the DVC rental sites. We figured the addition of a sink and microwave would be helpful during our stay.
However, when we started pricing out rooms for us and for our family who were joining us (see my other tip below), we realized that for just a few hundred more (split between two families) we could get a two-bedroom villa at Aulani!
I am so glad we went that route. The villa was amazing—it was incredibly spacious and packed with amenities that helped make our stay more enjoyable AND helped us save on food while there.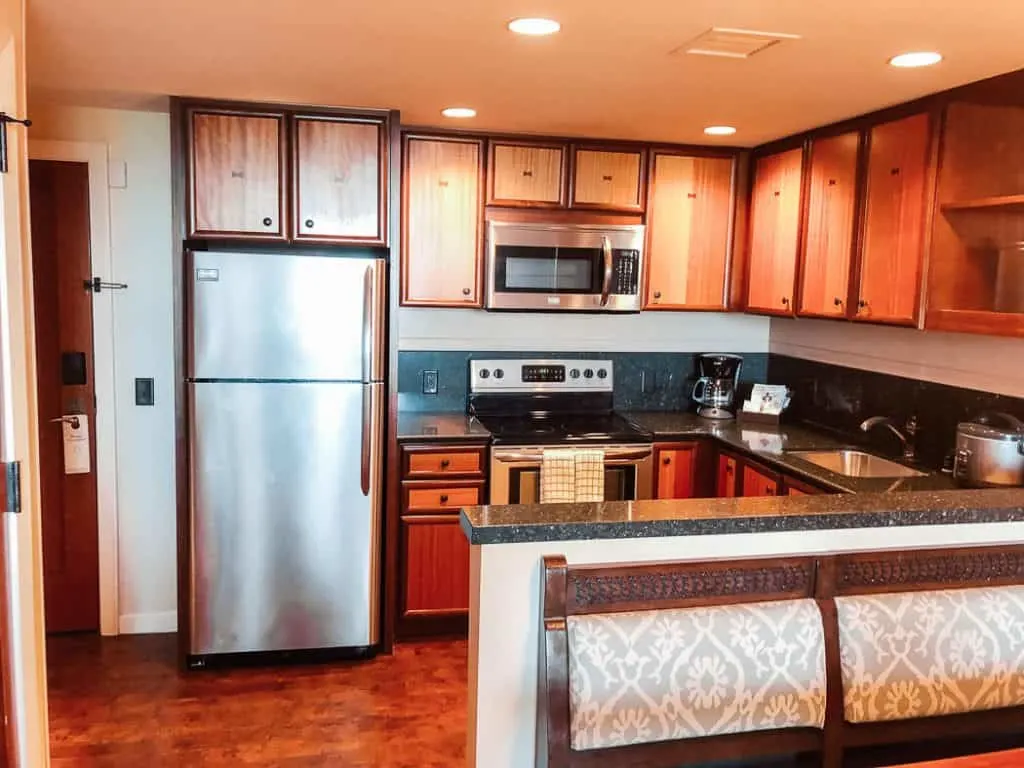 Having a separate living room to hang out in during naps and after bedtime was gold—as was having a full kitchen and laundry right in the room.
2. Convince family to vacation with you
While we fully intend to travel lots with just our little family of four, we also recognized that a 10-day vacation in paradise might be a lot of work at times and not always relaxing.
My parents live in California and love Hawaii, so we invited them along for the fun. They, of course, knew we were also hoping for some babysitting along the way and happily obliged.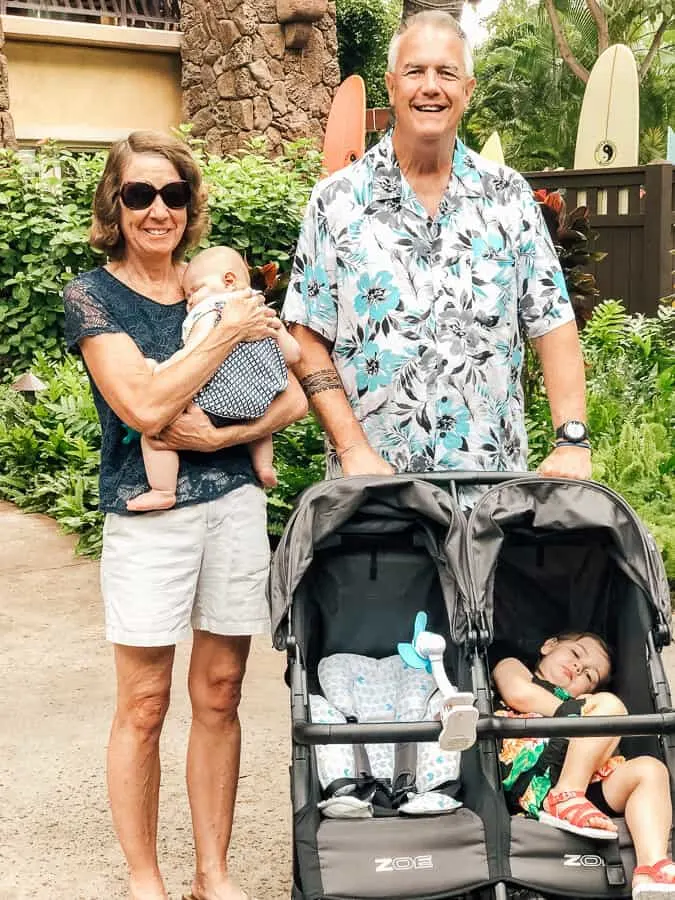 We've traveled with them before (and even went to Disneyland with them) but after this trip, I know without a doubt we will be doing more multi-generational family trips in the future!
We stayed separately for the first part of the trip (but still were close enough to do a few activities together when our itineraries crossed paths) but staying with them in the villa was really the ultimate treat.
It made it so easy to relax and not always have to be "on" as Grandma and Granddad were eager to entertain and look after the kids.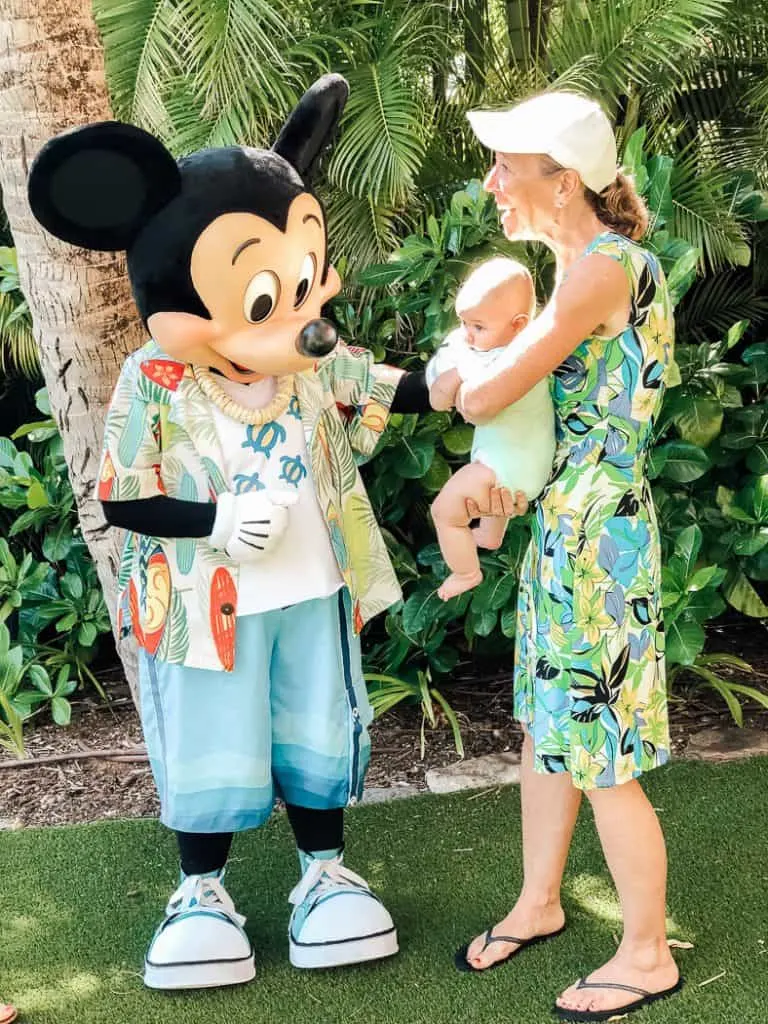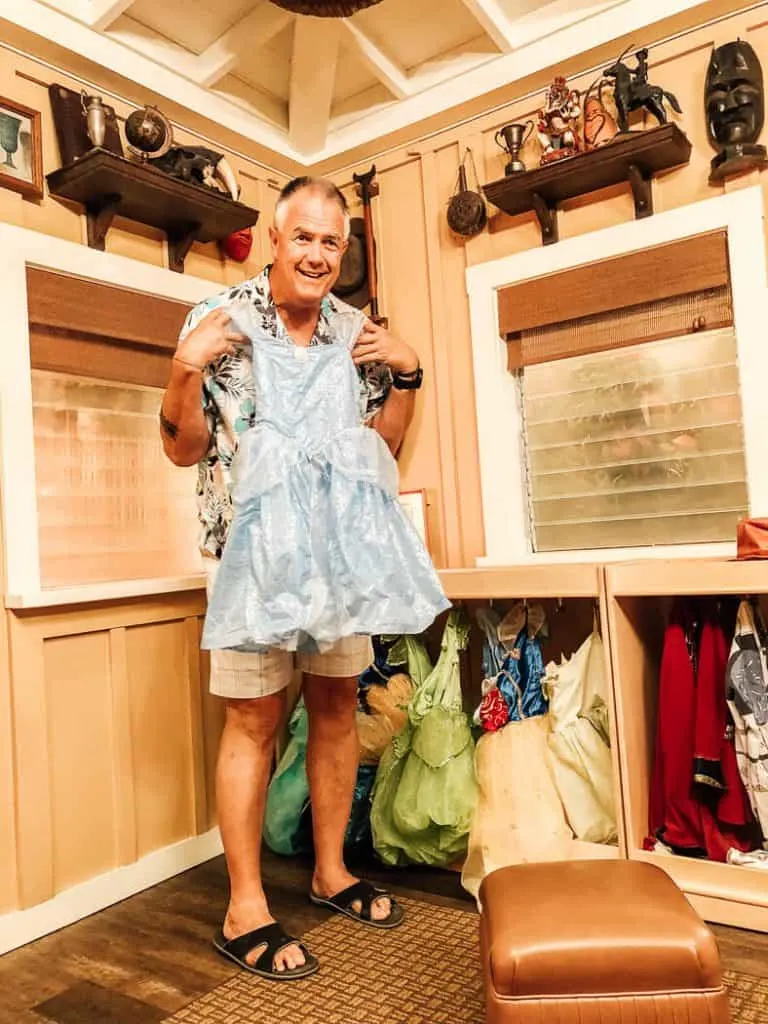 When you take family with you, it also gives you a chance to spend quality time individually with each child as well.
This was especially great at Aulani, as we were able to take Charlie down to the lazy river, pools, or to play on Menehune Bridge—the fun water play area for kids at Aulani.
I also got to spend some 1:1 time with Ensley—quality time with a new baby is hard to come by with a clingy toddler around!
3. Leave some baby gear at home (just remember to ask for it at the resort!)
Traveling with a baby can feel cumbersome—there is so much gear to bring! One of the great things about visiting a Disney resort is that they have so much available to you—and everything is free to borrow!
When staying at Aulani with a baby, you can request a pack n' play for them to sleep in, bedrails for older toddlers/kids to use, a diaper pail, and a bottle warmer.
Our villa had a pack n' play and high chair already in a closet in the living room, and it was easy to call and request a diaper pail and bottle warmer.
The one thing I forgot I could ask for was the bedrails—and I remembered it as soon as Charlie fell off the bed while sleeping.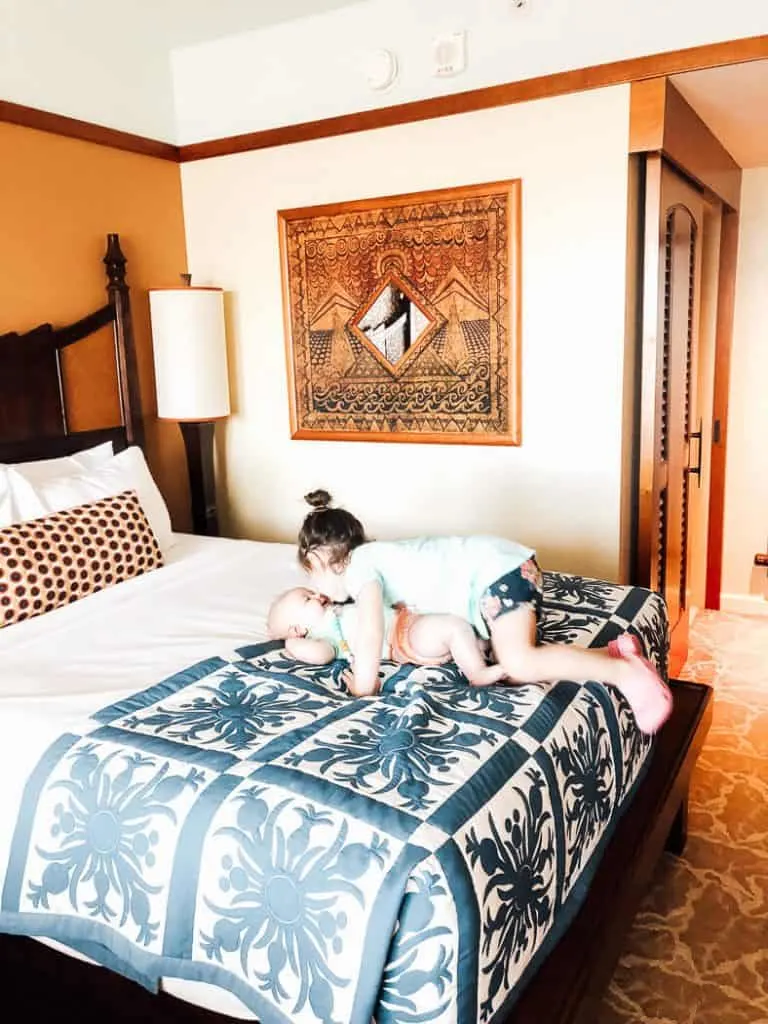 I had read in my research that they were available (it is also on the Aulani booking website) but totally forgot once we got there. The beds were quite high and I used pillows to surround her, but she pushed it off and fell off the second night there.
Housekeeping brought rails up as soon as I called the next morning, and they even took the time to make sure I knew how to install them and helped me when I got stuck trying before he left!
Definitely add these items to a checklist so you don't have to think twice about them!
Other items you can leave at home include towels, children's lifejackets (though you may want to bring an infant one as the beach seemed to run out of them when someone asked) and sand toys. You can easily check these out at the stands near the beach and Rainbow Reef.
4. Visit Aunty's Beach House during Open Hours
If you are thinking about staying at Aulani with kids, you have probably read about the amazing kid's club they offer free for guests.
Aunty's Beach House is an incredible place. There are multiple rooms geared towards crafts, art, movies, dress-up and creative play and a huge fenced in outdoor play area.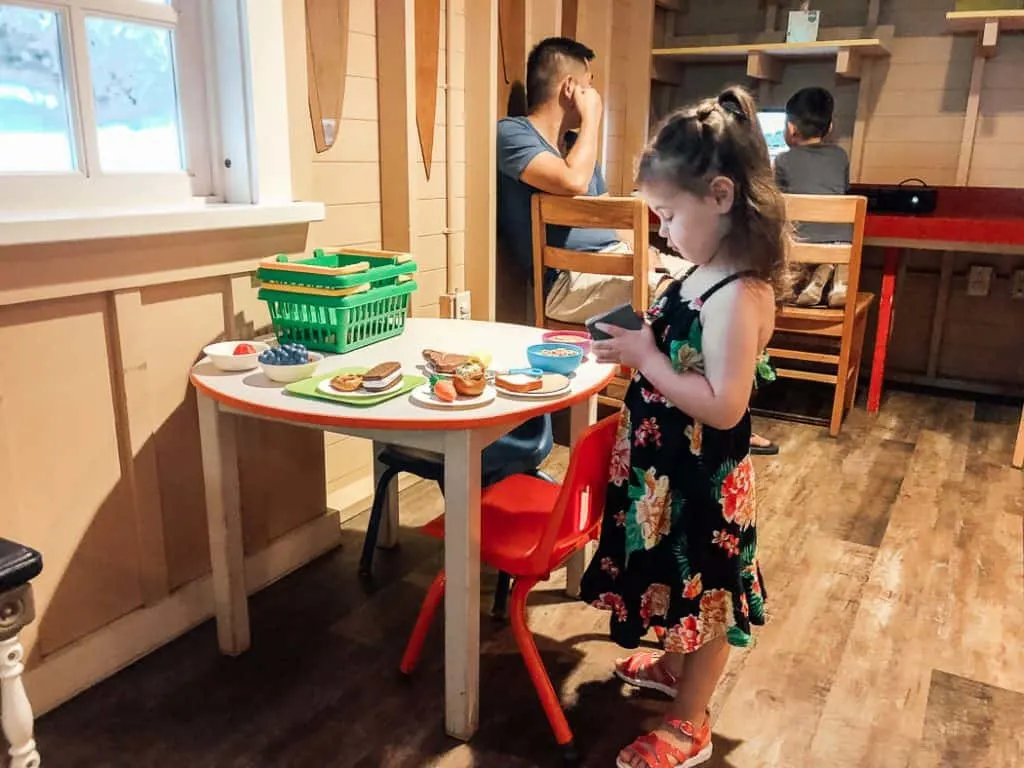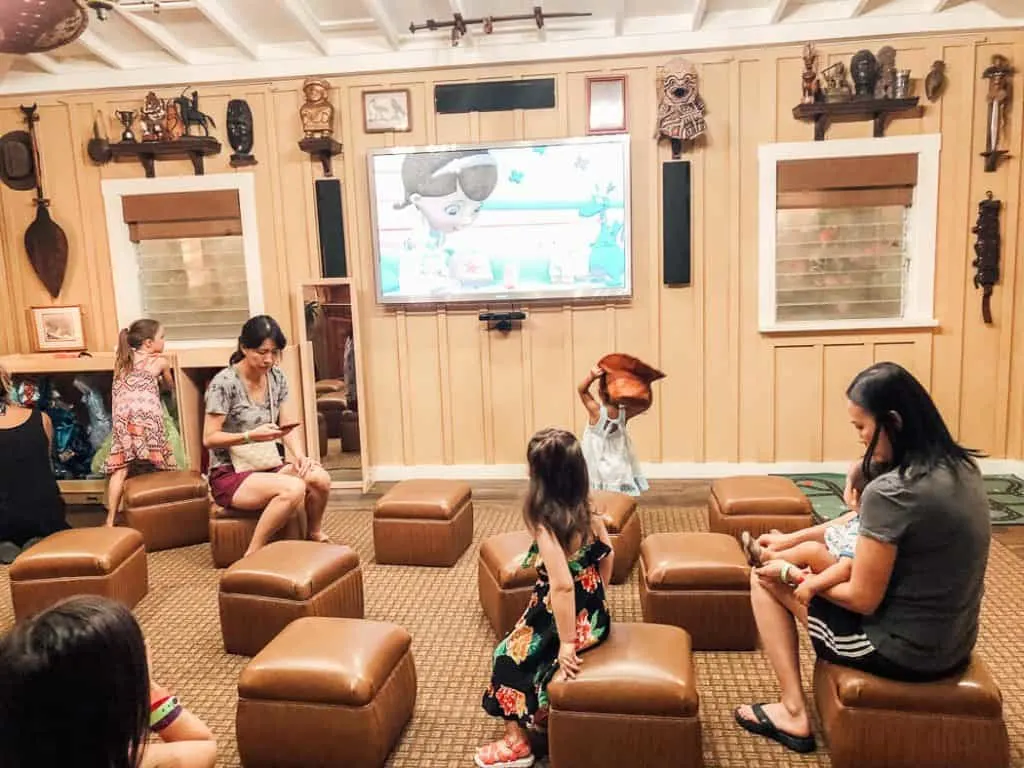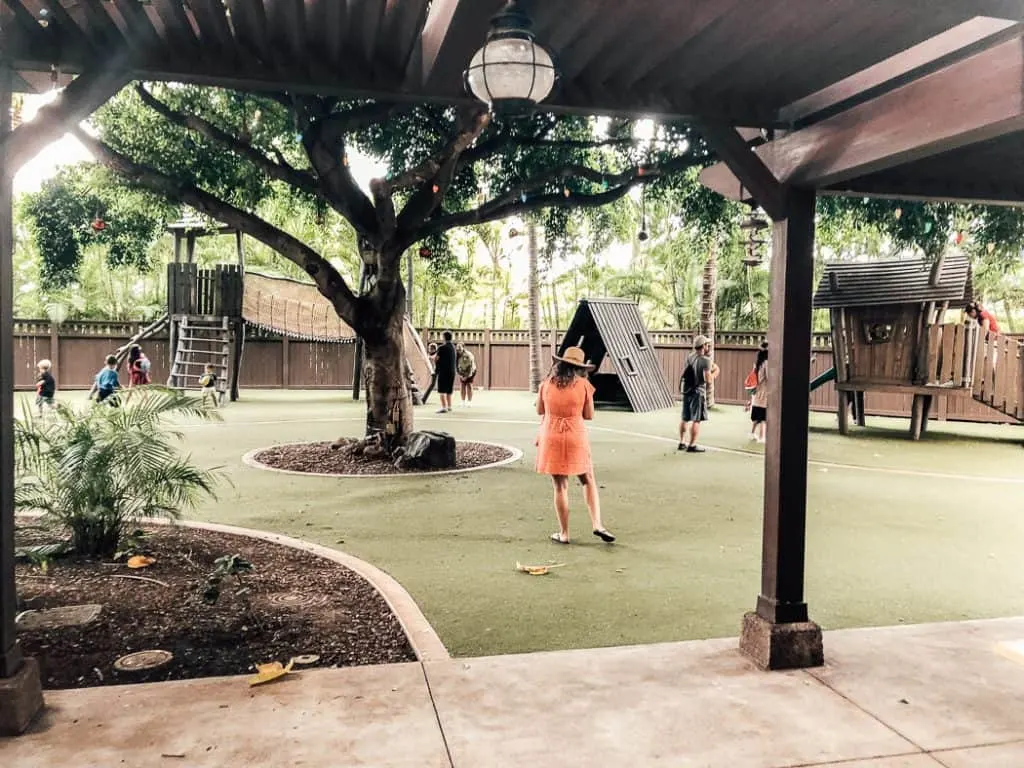 Children ages 3-12 can attend activities at Aunty's (they must be potty trained to register) and during activity hours children attend without parents—giving Mom and Dad some free time.
However, if you have a child who is younger, not potty trained, or who might be timid about attending a program with unfamiliar faces, I highly recommend checking out Aunty's during Open House Hours.
We brought Charlie to the Open House (held in the morning from 8:00am to 9:30am before the day's activities begin) and she had a blast running around and playing. Though she was 3 at the time, she was not potty trained and with her grandparents there we didn't really need to arrange the adult-only time.
After playing for a while I think most kids would probably be begging to stay and/or visit again later during regular hours!
5. Use the Daily 'Iwa to plan out special activities
The Daily 'Iwa is equivalent to a cruise ship daily docket and is filled with all of the fun things to do while staying at the resort. It can be found online or picked up at the front desk starting at 7pm for the next day's edition.
Activities at Aulani can start early (like sunrise yoga) and many activities are only held at specific times on certain days. The Daily 'Iwa is your best chance at finding out what is happening!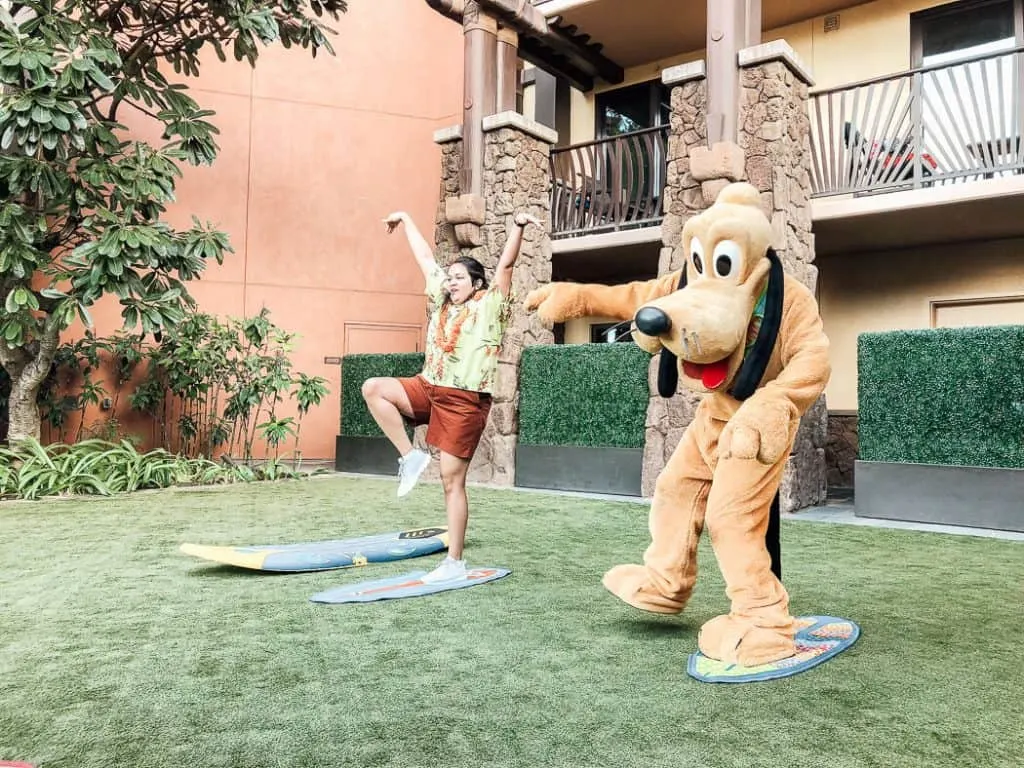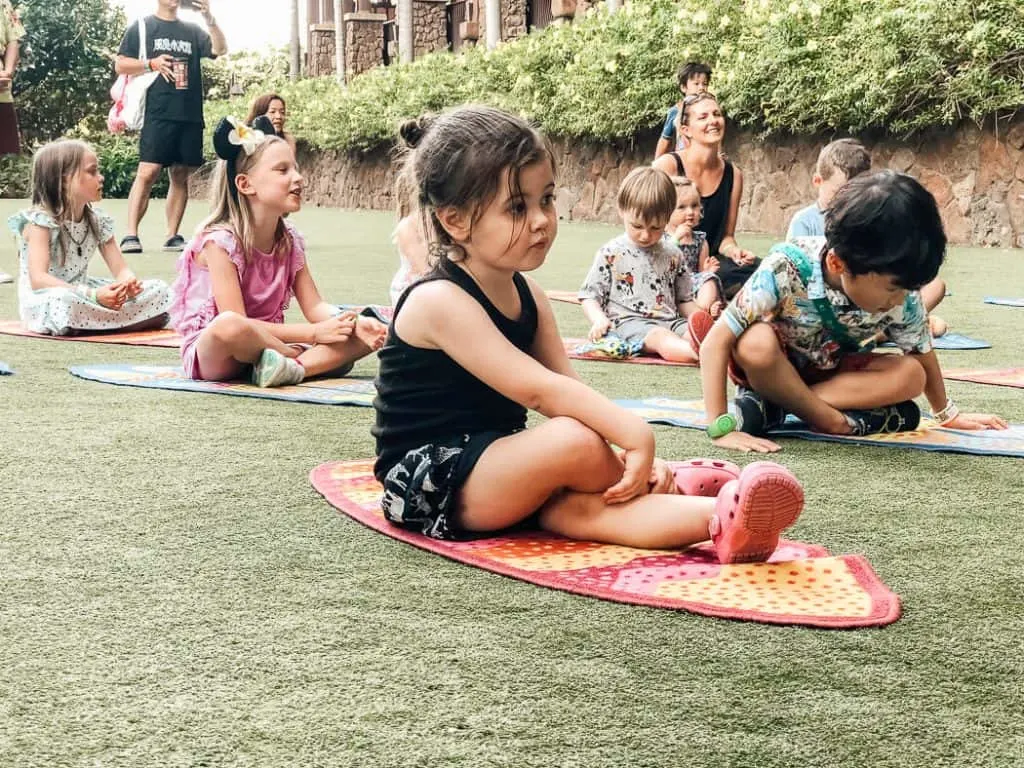 On it, you can find information about tours, classes, exercise groups and special activities for kids. Be sure to note any activities that require a sign-up—those are the ones you want to decide on first! Which brings me to my next tip:
6. Sign up early for limited space activities
There were only a few toddler specific activities during our week, and they required sign-up in the Pau Hana room.
When we tried to sign-up, we were told that they were already full and that parents lined up before the room opened at 8am in order to sign-up for activities with limited openings.
I actually found it a little frustrating that the resort did not have something daily that toddlers could really engage in, and that many of them required sign-ups, such as the Toddler Splash n' Play event. I would love to see more daily offerings for preschool and under!
7. Call into the Character Sighting line as soon as you arrive, and every morning after.
Charlie was so excited to arrive at "Mickey's Castle" as she called it, and of course as soon as we got there she assumed she could meet Mickey right away—which makes sense, we were visiting his Hawaiian house after all!
We called into the character line and luckily Mickey and Minnie just happened to be out on one of the lawn's at that exact time. We hustled over and got to meet them, avoiding a first-day meltdown.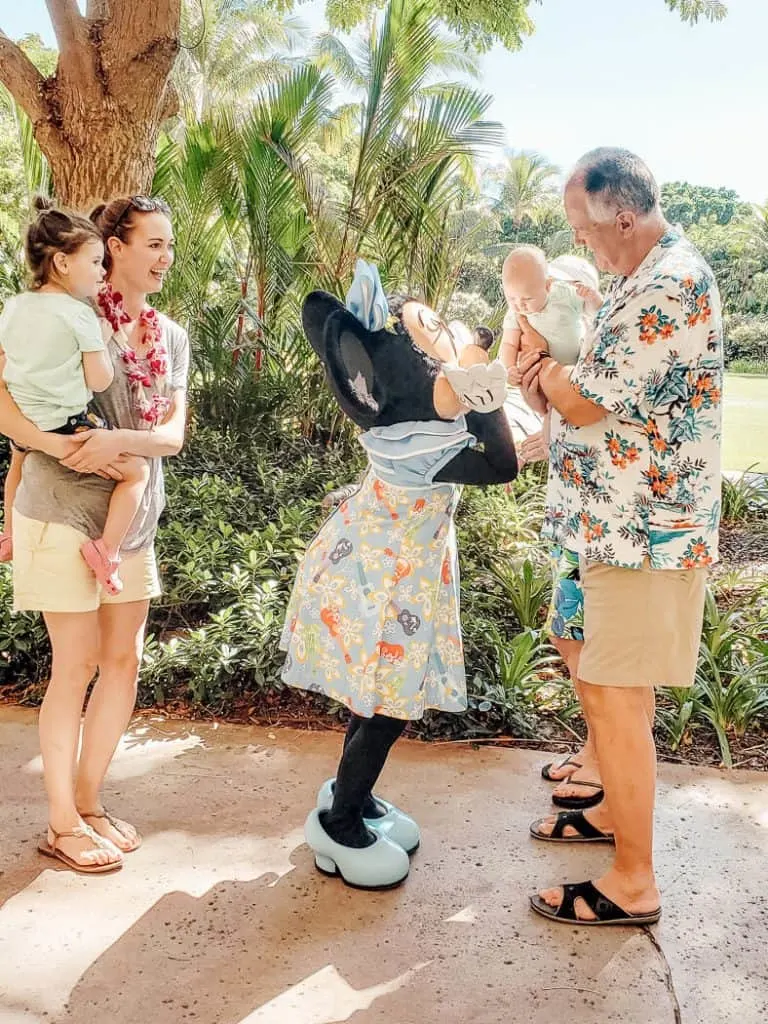 If there is a character your child really wants to meet, be sure to see them the first time you hear them listed. All characters do not come out every day, and some only a few times a week.
Daisy, for example, was listed at the same time as Mickey and Minnie on our first day, but never came out again during our 4 day stay, much to Charlie's disappointment!
8. Ask a cast member to describe where things are located, and not just the name of a location.
I love how Hawaiian culture is infused in every part of the Aulani Resort & Spa—however, the names of the rooms/area can be sort of tricky! This really only came into play when listening to the daily list of character meet & greets and for finding some activities from the Daily 'Iwa.
Every cast member I asked however, was so helpful in pointing me to the right location.
9. Bring a stroller or other shade option down to the pool if you have a baby.
The resort itself is very stroller friendly—there are ramps everywhere around the pool area and down to the beach. And while there are chairs at each pool, they quickly get claimed.
Every time we went down to the pool we were able to find 1-2 chairs within a few minutes to keep our belongings, but definitely not enough normally for our entire party to sit down (which was fine).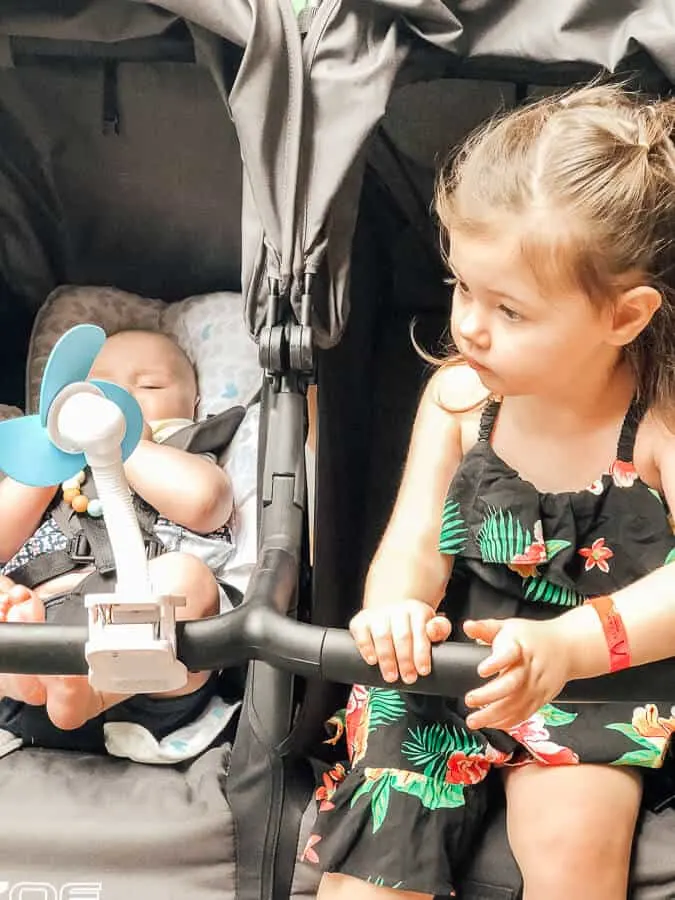 Most of the chairs were in the sun at least some, so I was very happy to have a stroller with a large canopy for Ensley to sleep in.
We also used a baby tent down at the beach for shade that worked great! It is definitely one of my essentials for traveling to Hawaii with a baby.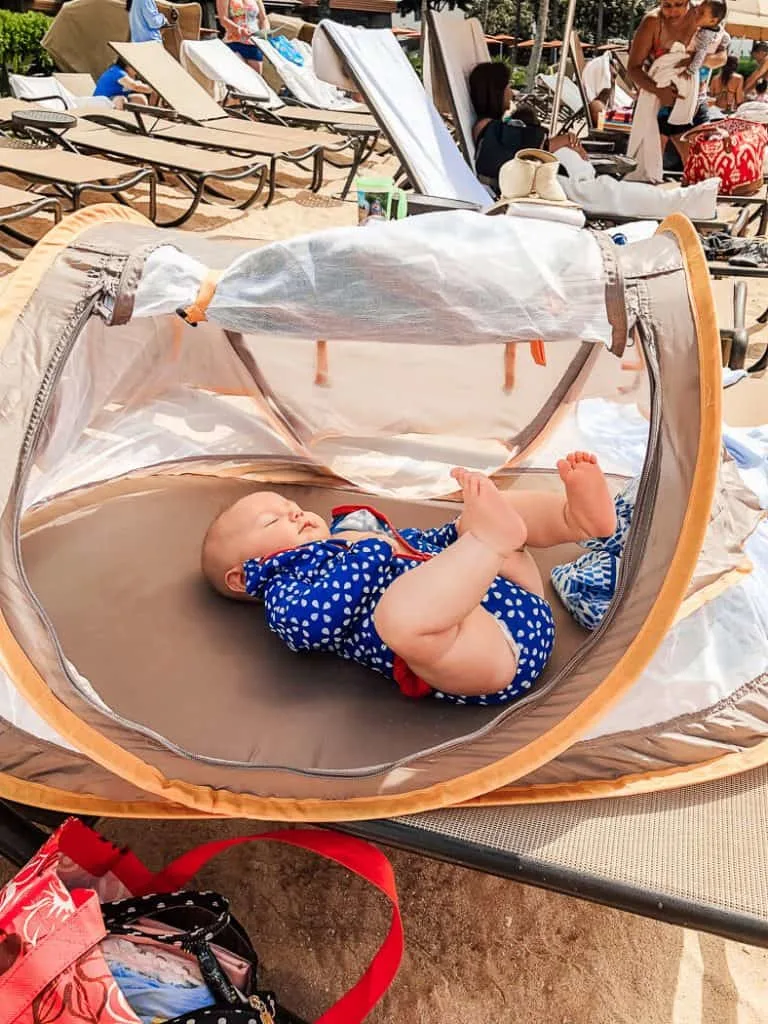 10. Speaking of pools, be sure to check out the Ka Maka Grotto pool.
If you have a baby with you (or really even if you don't) then you are going to love the Ka Maka Grotto pool at Aulani. It was by far our favorite.
It features and infinity edge pool overlooking the beach, plus a jacuzzi attached—which is great because even though pools are heated, the water was actually pretty cold to swim in and we needed to jump in the jacuzzi every so often.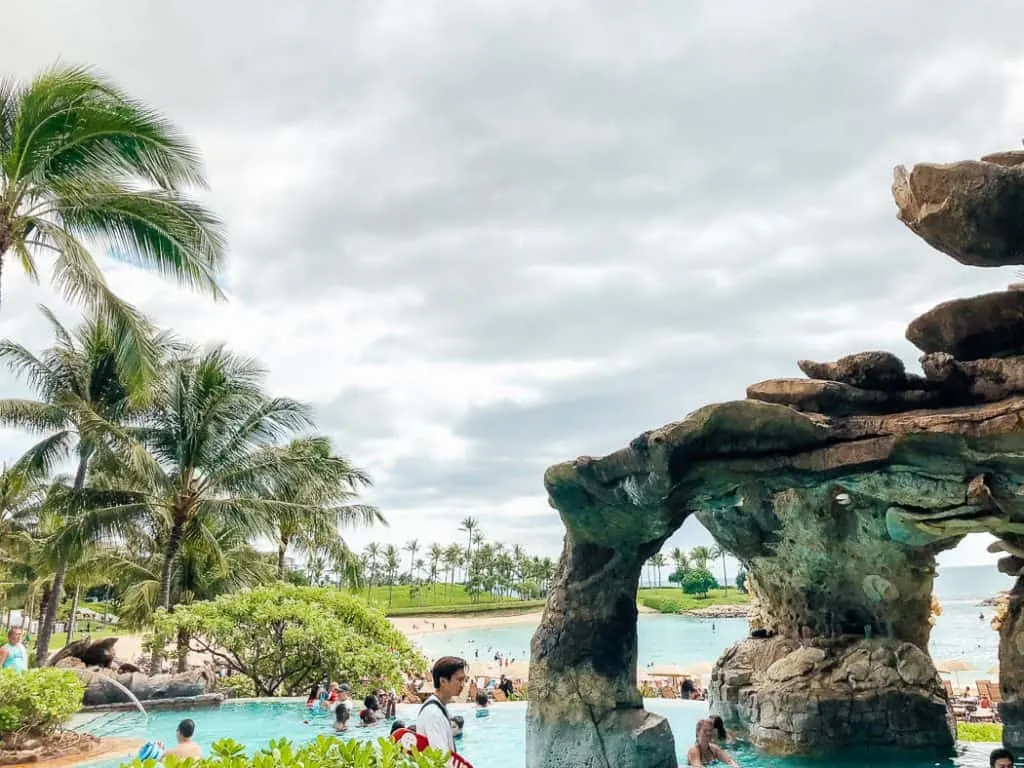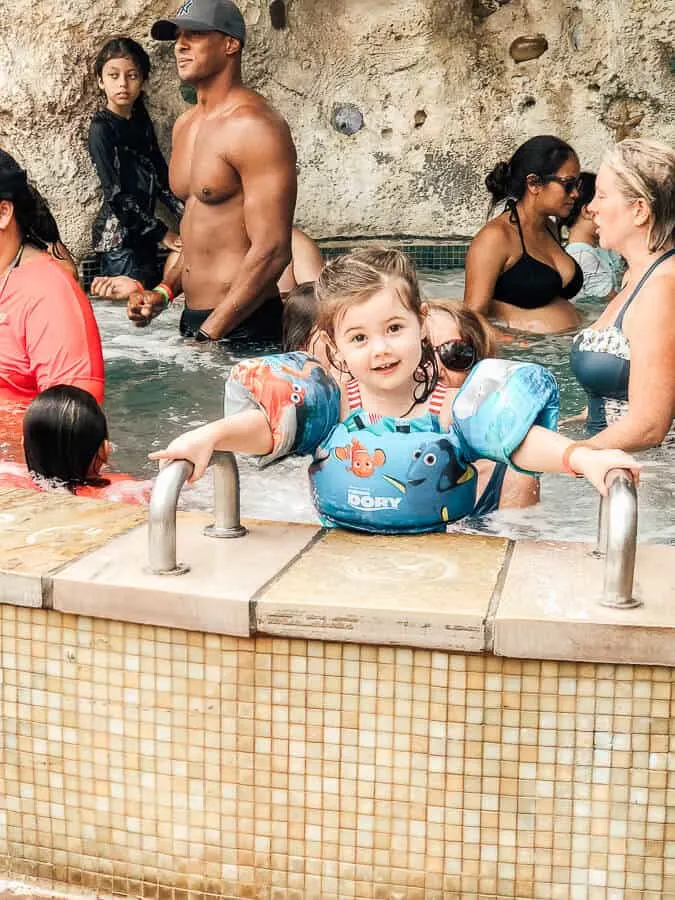 But the real reason I loved it was that it has a cool rock formation that creates a shaded area inside the pool.
I loved that we could take Ensley into the pool to let both of us cool off, but not have to be worried about exposing her to the sun too much.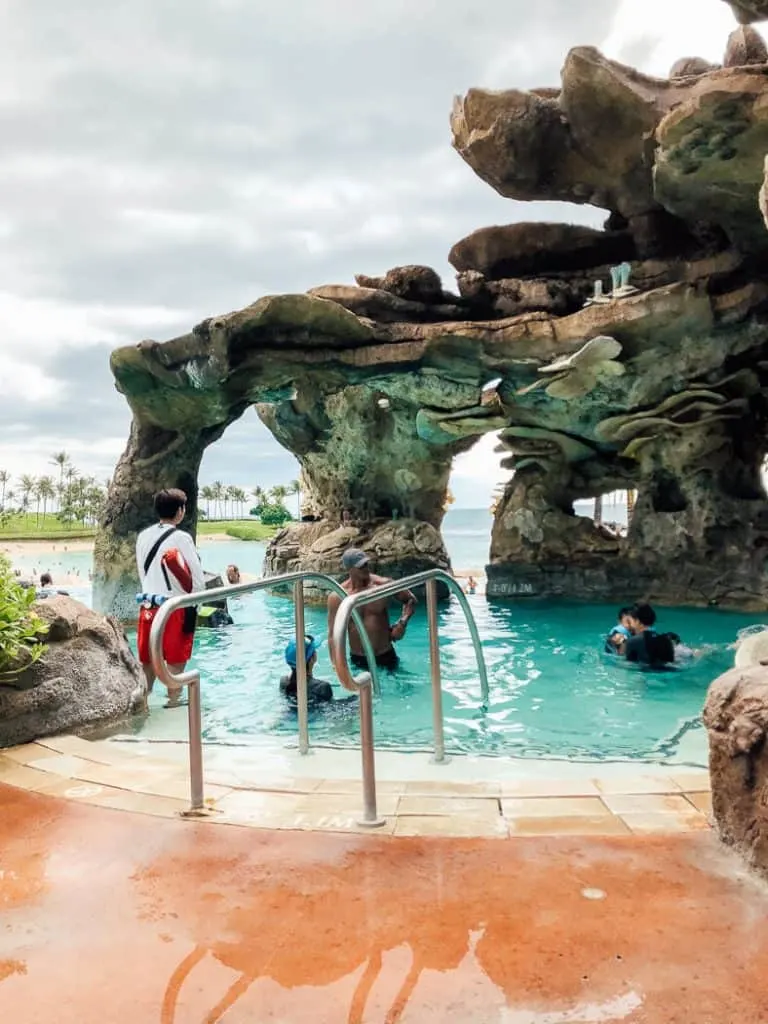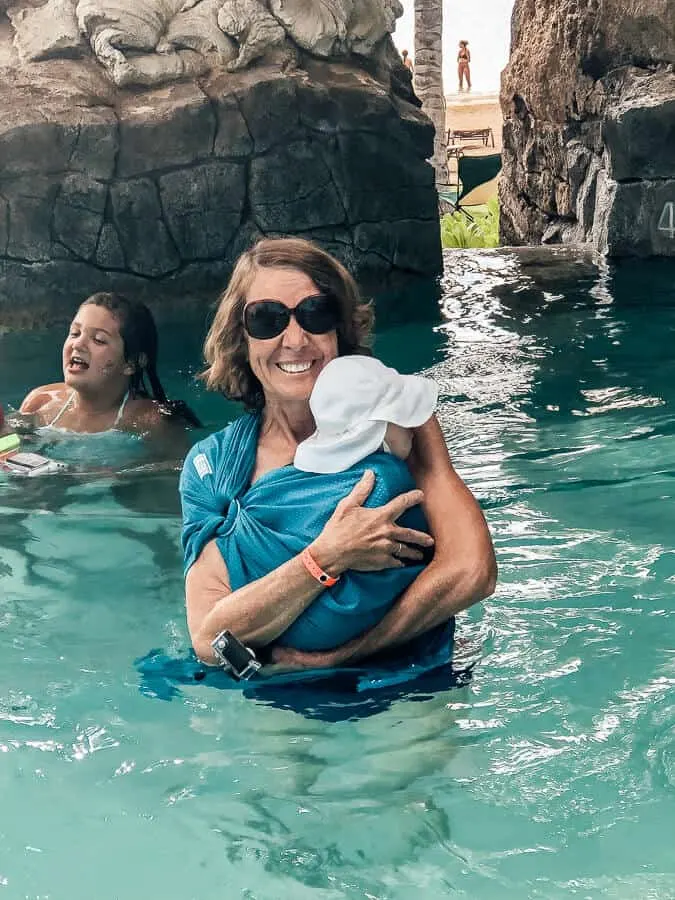 10. Spend some time at a family-friendly hidden beach right near Aulani.
Be sure to also hit up the hidden beach near Aulani while there, it is perfect for toddlers to play in! As a family we chek out this beach and it was perfect for little kids.
There were tide pools, calm waters, great snorkeling for adults, and we even saw a sea turtle!
If you are on the fence about whether or not to do Aulani with a baby and/or toddler, do it.
Our time at Aulani was pure magic. We loved spending time as a family there, seeing our toddler's expression as she grew brave enough to meet and even hug the characters, and found it easy to relax and enjoy our vacation.
Disney knows how to create magical experiences for families, without a doubt.
Our time there convinced us that Disney vacations—whether or not they are at the parks—are perfect for families with young children, multi-generational travel or other types of family vacations.
RELATED: Top Tips for Doing Disney with Toddlers
We have added other Disney vacation experiences to our family bucket list after our time at Aulani, including a Disney cruise and the amazing Adventures by Disney experiences around the world.
Now we just have to start planning (and saving of course)!
Pin for later: