Are you a new mom anxious about vacationing with a baby or traveling with a toddler on a plane for the first time, worried about meltdowns, outbursts or even getting kicked off for them acting out?
Or maybe you already have traveled, and wonder why your child didn't behave as well as some of the other kids on the flight? Think you are (or will be) alone if your child isn't the perfect flyer?
Well, guess what. A new survey tells us that the majority of young children do get antsy on flights.
Did you hear that Mama? You aren't alone.
I've got all the details on a new survey, plus expert tips from a real flight cabin crew member!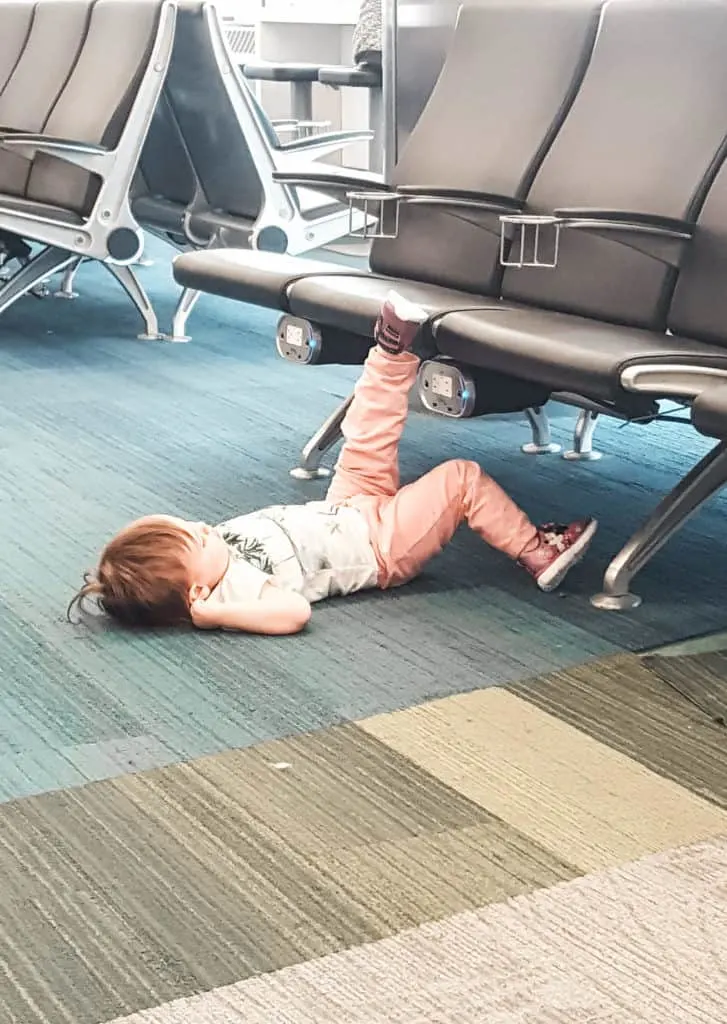 This post contains affiliate links. As an Amazon Associate, I earn from qualifying purchases. Photos by Mary Ware
The Truth About Traveling with Toddlers on a Plane (or kids of any age for that matter)
Emirates Airlines conducted a U.S. Travel Survey on Family Travel, and found that while kids do get better as they age, most children get antsy within the first 2 hours of a flight! In fact 70% of travelers report that their infants and toddlers under the age of 2 get antsy in that time frame, along with 57% of kids ages 3-5.
See? It's the norm, not the exception.
Not to mention the fact that if you are flying mostly anywhere—especially cross-country or international—you are looking at a MUCH longer flight than just 2 hours, or possibly multiple flights. While the survey doesn't identify the total amount of kids who get antsy, I can almost guarantee that that number would be closer to 100% at least once during a flight on long ones especially!
Still need more proof? Take it from me.
As a blogger, I cover family travel—especially flying with babies and toddlers—quite a bit. People are always asking me for advice on how to make their kids a good traveler like Charlie. I always start with a correction—She is a toddler who travels, but that doesn't make her a good traveler all of the time!
I feel it is my job to help families prepare for traveling, and to make suggestions based on what I have tried, seen, or heard about to make trips easier. And you know what, a lot of that comes from experiencing the worst moments and learning how to adapt, respond, or simply make it through them.
Many of my flights have been traveling solo with Charlie, from the time she was 3 months old. I have experienced everything imaginable with her:
Nonstop crying from a baby who couldn't be soothed (and tears from Mama then too)
Missed naps resulting in very difficult journeys emotionally
A toddler who refuses to get up from the floor because she wants to lay down there
An in-flight medical emergency (not ours) that resulted in an emergency landing + delay/ 2 hour hotel stay in the midde of the night 1/3rd of the way into our journey.
Packing a carry-on bag full of activities, snacks and entertainment, only to have her not want anything because she is overtired
And SO MUCH more.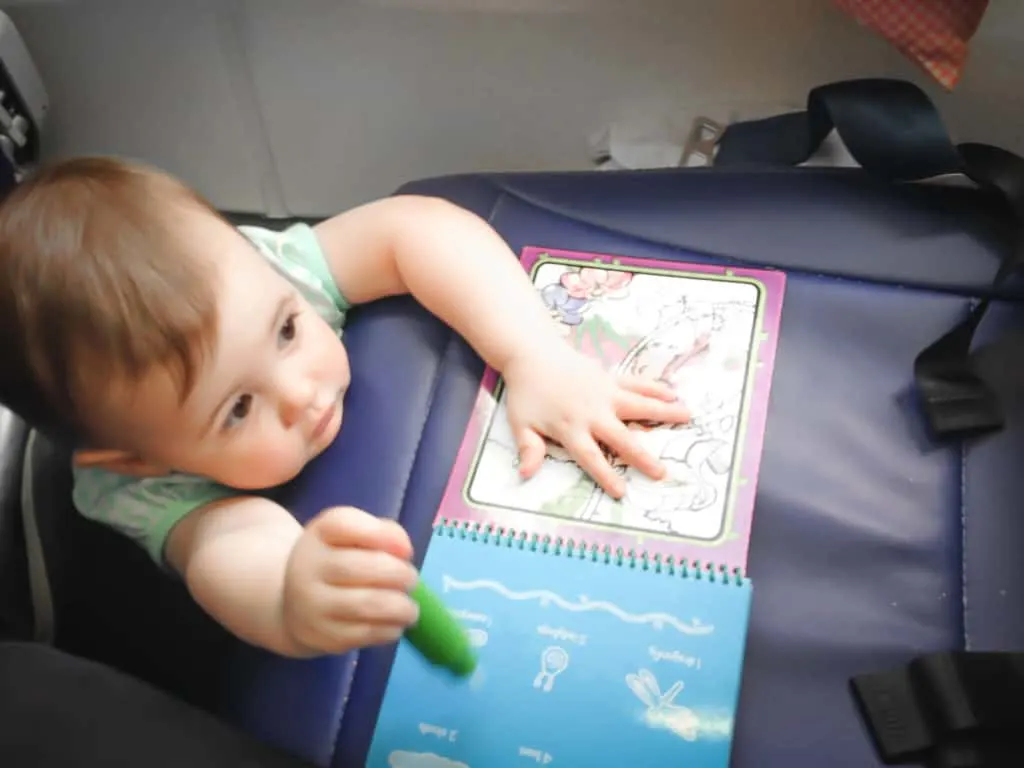 Travel as a family is important to me. Being prepared makes it easier. But life with an infant or a toddler is unpredictable, and sometimes all you can do it try to survive the flight and make it to firm ground again.
And that's ok.
I've learned that you do what you have to in the moment to make it through, and that doesn't make me or you a bad mom, or someone who shouldn't travel with kids alone.
That's actually one of the reasons I really liked reading the Emirates survey. I could almost see the parents on the other end, recalling their difficult journeys as well. I also had to laugh when I came across the fact that kids from Boston were the most likely to be antsy on flights—38% are antsy immediately upon takeoff!
So as a Boston based mom to a toddler and soon be mom of 2, I basically have the cards stacked against me!
Use of Electronics to Entertain Kids on Airplanes (It's more common than you think!)
The other part of the survey that stuck out to me was about the use of electronics during flights to help combat boredom. There seems to be a stigma that floats around parenting boards about using devices in flights sometimes—moms will say they are bringing an iPad but many times are sure to add it (but we will only use it if needed) as if she is worried about being judged or mom-shamed.
Devices to me are the best way to make a long flight pass more quickly, and the survey shows that most parents agree that they are an essential part of kids' carry-on luggage.
In fact, when compared to other things such as toys, activities and snacks, devices were the #1 pick for entertaining kids of all ages. 57% of respondents said devices to watch movies, tv shows or games is by far the most helpful tool for kids under 5, and a whopping 96% said that for kids ages 6-10.
I think we can finally put to bed the shaming for screentime (just be sure to bring headphones—these are my current favorite for kids).
Here are a few other takeaways from the survey:

Advice for Flying with Children from a Real Airline Cabin Crew Member
I thought the survey was great, and also a great move by Emirates Airlines to show that kids are kids, and parents aren't alone, so I reached out to an Emirates Cabin Crew Member to ask some of the burning questions parents want to know when planning to fly with babies and toddlers, and to get their advice for dealing with antsy children.
Read on to learn tips straight from the pros! Here are the questions I asked, and their answers (in italics):
Are there any specific regulations about traveling with children that some families may not realize?
Yes, there are a few minor regulations for families traveling with children, however, they mostly focus on the actual seating arrangements while onboard. For example, if your child is under the age of two, you are welcome to carry them on your lap, we will just need to provide a special seat belt extension for safety reasons.
Additionally, you are welcome to use an infant car seat as well, however, we simply ask that you book a separate seat and pay a child's fare.
If you do choose to bring a baby car seat on your flight, the check in staff will have to ensure it carries a label showing that it's approved for use on an aircraft, along with instructions for use and confirmations that it meets our safety requirements.
When picking seats, where on the plane do you recommend travelers with infants or young children sit? Is it better to be in the front, middle or back of the plane?
While there is not one spot on the plane we recommend travelers with infants or young kids sit, we do have a couple recommendations to make the overall journey as seamless as possible! Emirates allows families with young children to skip the lines and go straight to the family check-in desks where they are welcome to board first and enjoy more time to get settled onboard.
Additionally, regardless of where you're sitting, we recommend taking brief strolls up and down the aisles, to allow your child to stretch and break up the time between activities in their seats!
What are the most interesting or useful means of distraction you have seen for entertaining children during flights?
As you're already aware, Emirates recently conducted a U.S. Family Travel Survey and identified some of the most effective ways for parents to make the experience better for their kids. Emirates actually found that devices were most effective way to keep kids occupied during a long flight.
Further research shows that for children under 5 years old, 57% of parents say that devices to watch movies, TV shows or videos are by far the most helpful, followed by devices to play games (17%) and activity books and toys (16%).
Additionally, for children between the ages of 6 – 10 years old, 96% of respondents say devices to watch movies, TV shows or videos and devices for games tie for being the most helpful in keeping kids content.
Luckily, Emirates award-winning entertainment system, ice, provides children with a fun filled and exciting inflight experience. Here, kids are welcome to choose from brightly colored headphones and a wide variety of movies, TV shows and music, and even challenge themselves and their friends to more than 100 exciting inflight games!
The study also found that for 6 – 10 year olds, 88% of respondents say that having snacks kids enjoy on hand is another way to keep them entertained and distracted throughout the flight. Knowing this, Emirates allows your child to choose from a variety of nutritious children's meals on board.
Each meal is served on special, colorful tray and includes a snack box filled with treats to enjoy along the journey or tuck into while watching a kid's movie.
Another key tip we recommend for keeping your child entertained during a long flight is having a new toy set aside to give them mid-flight. This will ensure there are a variety of fun items that will keep them occupied longer and so they can change it up mid-flight.
Emirates actually has a couple new Fly With Me Animals onboard or even Little Traveler dolls that are available on the Emirates store for all of their upcoming travels. What's more, the little ones will be immersed in the Fly With Me Animals magazine, which is full of puzzles, games and colored pencils! You can find more of Emirates' furry friends here, including Brett the bear, Mia the manta ray and Savannah the elephant!
What sort of assistance can you as a cabin member offer to families with young children?
While Cabin Crew are not able to provide direct assistance, we do everything in our power to make the overall experience as seamless and enjoyable as possible for both the parents and their children.
For example, we are happy to direct you to changing tables in the bathrooms and provide you with infant kits filled with useful essentials, including bibs, diapers, baby formula, baby bottles and wipes. Additionally, to ensure your child is comfortable and taken care of the entire flight, we are happy to provide a baby bassinet for them to rest in or even heat up your food or baby formula!
Additionally, one of our favorite offerings that not many travelers know of is our onboard polaroid camera! By simply asking a crew member to snap your picture with the onboard camera, you are able to capture those special moments and take home a framed photo of you and your child's adventures together!
On the ground, Emirates has continued to expand its exceptional family offering including a dedicated family check-in area in Dubai and priority boarding for families across all airports to make it even easier for families traveling with children.
Additionally, on board, children between 2 and 12 years old can enjoy the specially designed kid's menu served on a colorful tray. They also receive a young adventurer snack box filled with treats to enjoy along the way, or to dig into while watching a kids' movie.
If the young passenger has a specific diet, you can let Emirates know 24 hours in advance and they'll make sure they get a meal that's right for them. Emirates also provides a range of baby meals on board, or if you'd prefer to bring your own, the crew can help with food and bottle warming. There is also milk formula and baby bottles on board if needed. Some sample kids' choices include:
Various kinds of pasta
Chicken tenders
A side of vegetables
Spreadable cheese + crackers, a sweet dessert
Bread
Snack box (dried fruit snacks, cookie, and toothbrush)
Some parents are afraid or nervous to fly with infants or children. What would you tell these individuals if they are trying to decide whether or not to fly?
Don't let the fear of flying with infants stop you from a wonderful family experience! With the right help, traveling with the family can be easy. Emirates is dedicated to making sure your children are taken care of and will do everything in our power to ensure a seamless and enjoyable flight for everyone!
Whether it's out Fly With Me Animals, in-flight entertainment system or nutritious, kid friendly meals, Emirates here to lend a helping hand to calm your family travel anxiety and ensure your child is entertained and entertained from takeoff to landing.
What's more, there are countless offerings for children on-board. They can explore worlds of their favorite heroes and villains through the ice in-flight entertainment. There are many kids channels to choose from on their own personal seatback TV, and they also get a set of headphones which are designed especially for kids.
If a child is visibly upset or throwing a tantrum during a flight, what advice do you have for parents during that time?
We understand that tantrums are common, especially during long flights. In the Emirates U.S. Family Travel Survey, it was found that 70% of travelers say kids under the age of 2 and 57% of kids between the ages of 6 and 10 get antsy within the first two hours of the flight.
That being said, to help prevent a restless-child meltdown, we recommend taking brief strolls when kids are awake and in a good mood, as it helps them stretch and break up time between their activities.
Do you recommend purchasing a separate seat for an infant, or holding a baby on the lap?
It really comes down to your personal preference! If the child is under the age of two, some parents choose to carry them on their lap. This will come at no extra cost and only requires a special safety belt to ensure you are both safe!
Parents are also welcome to use an infant car seat, however, they will need to book a child's fare for the extra seat. Either way, it truly comes down to the preference of the parent and child.
In your opinion, are children more likely to demonstrate good behavior if seated in a car seat on the plane?
Again, we have seen that every case varies! While some children are more relaxed while sitting on the parents lap, others prefer to sit in their own seat next to mom and dad. That being said, think through what your child has preferred in the past and how they have behaved during similar trips and experiences.
From there, we are happy to jump in and lend a helping hand to ensure your child is relaxed, happy and entertained throughout the entire flight!
What is your best advice for flying with babies and young children?
Among all of the advice that we could give, there are definitely two that stick out as the most important when flying with children.
First, a key piece of advice is to choose a flight that is as close as possible to their bedtime. This will allow them to sleep for a large part of the flight. Additionally, make sure you have sweets or a bottle of milk for babies/toddlers to suck on during take-off or descent, as they may have difficulty equalizing their ear pressure and feel uncomfortable.
Additionally, as we mentioned earlier, another key tip is to break up activities during the flight as much as you can. Pack a small puzzle, coloring book or interactive toy between each movie or game to provide a new and fun surprise to keep them occupied longer than one activity, video game or movie could!
Emirates has teamed up with travel experts at Lonely Planet Kids to create packs that inspire children to explore more of the world (and more importantly, keep them entertained during long haul flights!).
Parents can purchase retro, travel-themed bags or lunch coolers filled with educational books designed exclusively for our flights. Inside, kids can find amazing world facts, creative crafts and the opportunity to record memorable moments along the way in their travel journal.
We also recommend creating fun travel experiences for children! With that, Emirates Airline offers Cabin Crew costumes for little travelers! You can check them out here. If you want to complete the full look and arm your children with all of the packing necessities, you can also take a look at the Emirates Little Travellers suitcase.
What great advice! Thanks so much to the crew member for taking the time to answer those questions!
I'm loving these great tips (and seriously want to fly Emirates to check out these awesome offerings for kids!).
One of the things I took away from this interview is that parents should see their children as passengers just like anyone else, and not feel burdened to keep them from acting like kids.
Traveling with kids can be hard, but the more prepared we are, and the more intuitive the airline is about it, the better our trips will be!
You may also enjoy:
Pin these tips!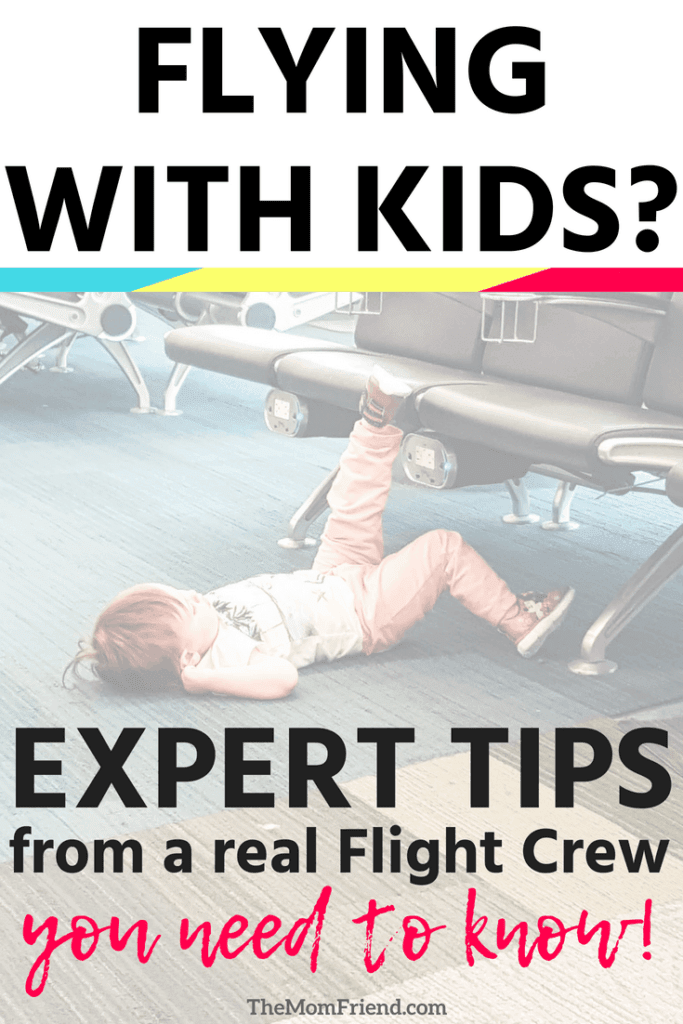 Check out other trending posts: