We just got back from another cross-country trip to visit family, and if you have been following along here on The Mom Friend, you know that means I likely used it as a chance to test out some new toddler-friendly travel products—and was praying I could have my toddler sleep on a plane! And you are correct!
Every time we travel, there are some go-to staples I like to bring, but one of the great things in blogging about family travel is that I get connected to some great brands who are constantly trying to solve the problems or hassles that travel with babies and toddlers can bring!
This time around I tried out some new items for entertainment, snacks, and sleeping/comfort. Let's take a look!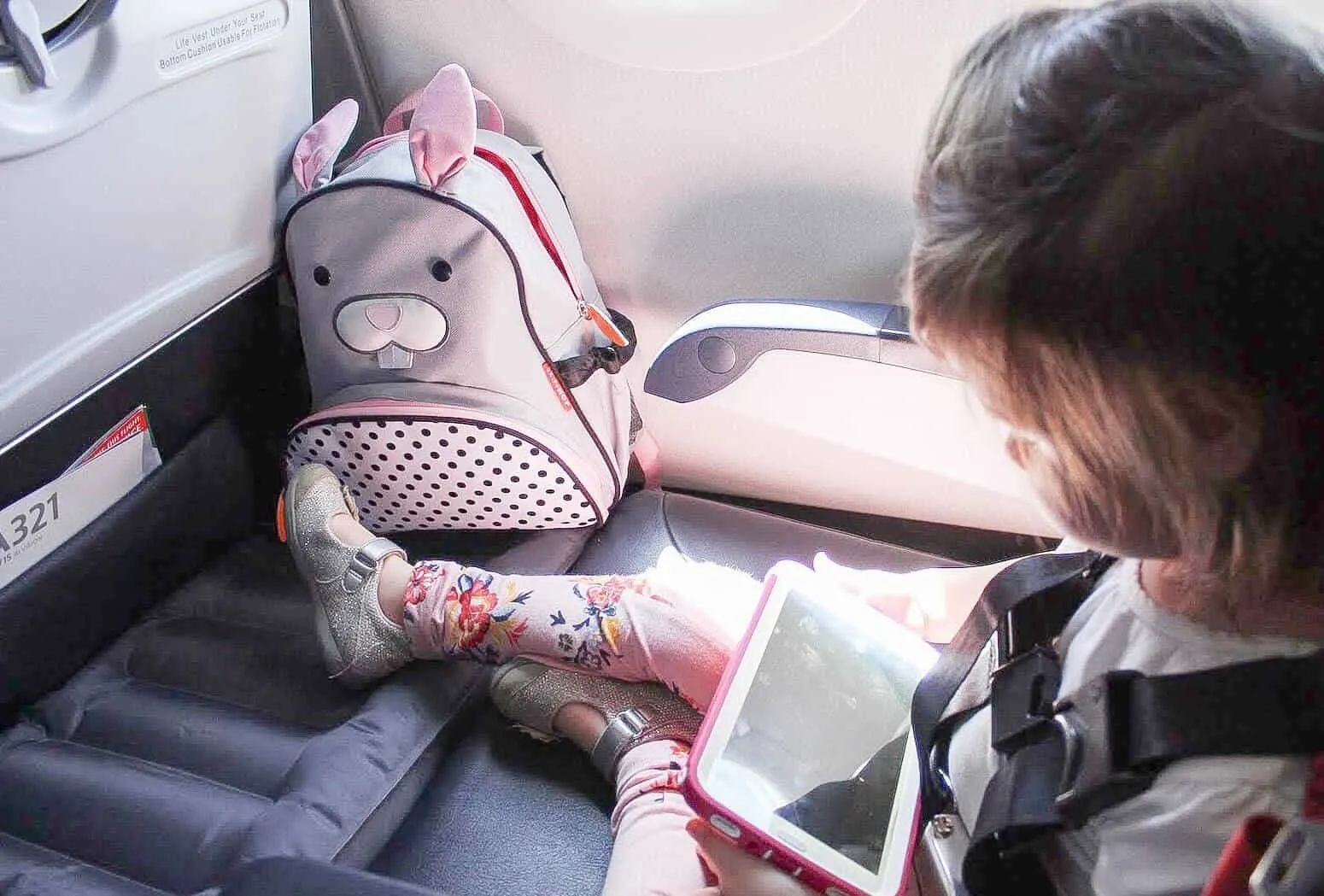 This post contains affiliate links. Some products were sent for consideration, but all opinions are my own, and products are only included if I think they will help other families! Photos by Mary Ware
Entertaining toddlers on planes
My mantra for flying with infants and toddlers is preparation is key, but also learn to anticipate the unexpected.
I like to fill my and Charlie's carry-on with an assortment of items because of 1. Our total travel time when flying to California is usually 12+ hours with time to, from, and inside airports, plus flights. and 2. Being a toddler, sometimes activities can hold her attention for hours and sometimes for 5 minutes. That can make for a long flight!

New favorites (tested and toddler approved!)
My sister bought Charlie a boogie board for the flight (as if coming to see her newborn wasn't gifting enough), and it was a huge hit the entire trip! Charlie and her cousin played with their boards all week. We got the rainbow board here, which makes for really cool designs.
The 4 drawing pencils have different raised lines and bumps for fun drawings. They are a bit tight and therefore hard to get off for my 2-year-old, but honestly, I like that because it means they won't get lost! You can purchase it here. We also got a soft case for it to keep it from getting overly scratched in transit.
Charlie was given a large Minnie Mouse Look & Find book for Christmas, and she loves it. She can spend 20+ minutes just looking at all of the pictures and has gotten really good at finding things. I found a small travel-friendly version with different pictures and picked it up for the journey. She loved it and uses it in the car too.
Just be sure to check the size when ordering as they come in small and large (linked above is the travel one).
We also brought some old favorites, including her baby doll, playdough, and window clings. I bought animal shapes this time (bunnies from Easter at Target) and they worked much better than the smaller letters. She had fun playing with them off the window too, so I'll be sure to stock on shapes/things as opposed to letter clings in the future.
Airplane Snacks for Toddlers
The way to Charlie's heart (and most toddlers) is definitely snacks. I loaded up our carryon with a wide assortment of different snacks. Goldfish, Cheerios, pretzels all went in our new bbluv Döse snack container (check out my Instagram highlight under baby gear where I go into more detail).
It worked great to keep easily crushed snacks fresh, and Charlie loved pouring them out and putting them back in (a little too much—she dumped out most of the Cheerios while I was distracted pushing her around the airport). Totally my fault for giving it to her without the top on though ;).</em
I also packed yogurt & applesauce squeeze pouches and some candy for those times when bribery is needed. We went with M&Ms (her favorite) and Smarties. She is at the stage where she insists on having everything in the bag they came in, so I packed a bunch of small fun-sized M&Ms instead of one large bag.
I also love using suckers as they are a fun treat and can help with ear discomfort on takeoff & landing. We brought along a bunch of Lolleez Organic Lollipops, which are actually natural throat soothing pops as well. Last time we were in California during spring she seemed to be affected by allergies, so these pulled double duty in case her throat was bothering her this time around.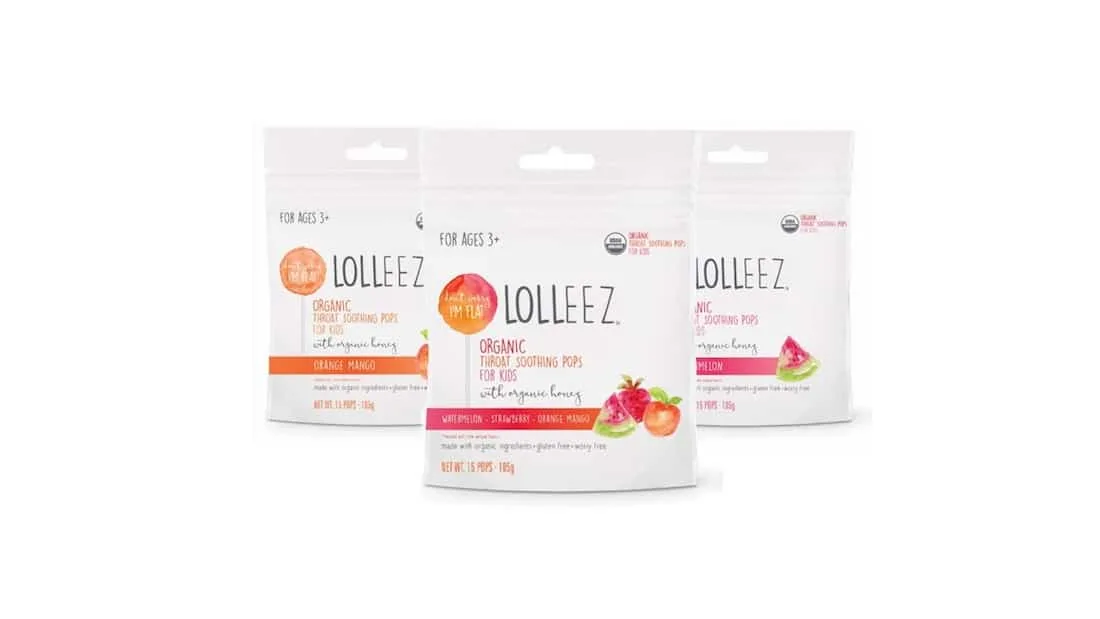 They are actually quite tasty too—I may have had to finish one of hers after I opened it and she got distracted and then may have eaten a few more when I wanted something sweet during the trip! 🙂
Helping Toddlers Sleep on Planes
The biggest item I added to my carryon this time around was the Fly Tot. After flying multiple times where Charlie wanted to play on the floor in front of the seats and trying to get her to lay comfortably across her seat and my lap, I was eager to try something that could be a solution to both issues.
The Fly Tot is an inflatable cushion for use in front of the airplane seat (and it works for either standard or premium economy). It extends the area a child has while on the airplane, making it easy to spread out while playing or lay down and sleep on the plane. It inflates using a foot pump in under 3 minutes and deflates in a snap by pulling the valves out.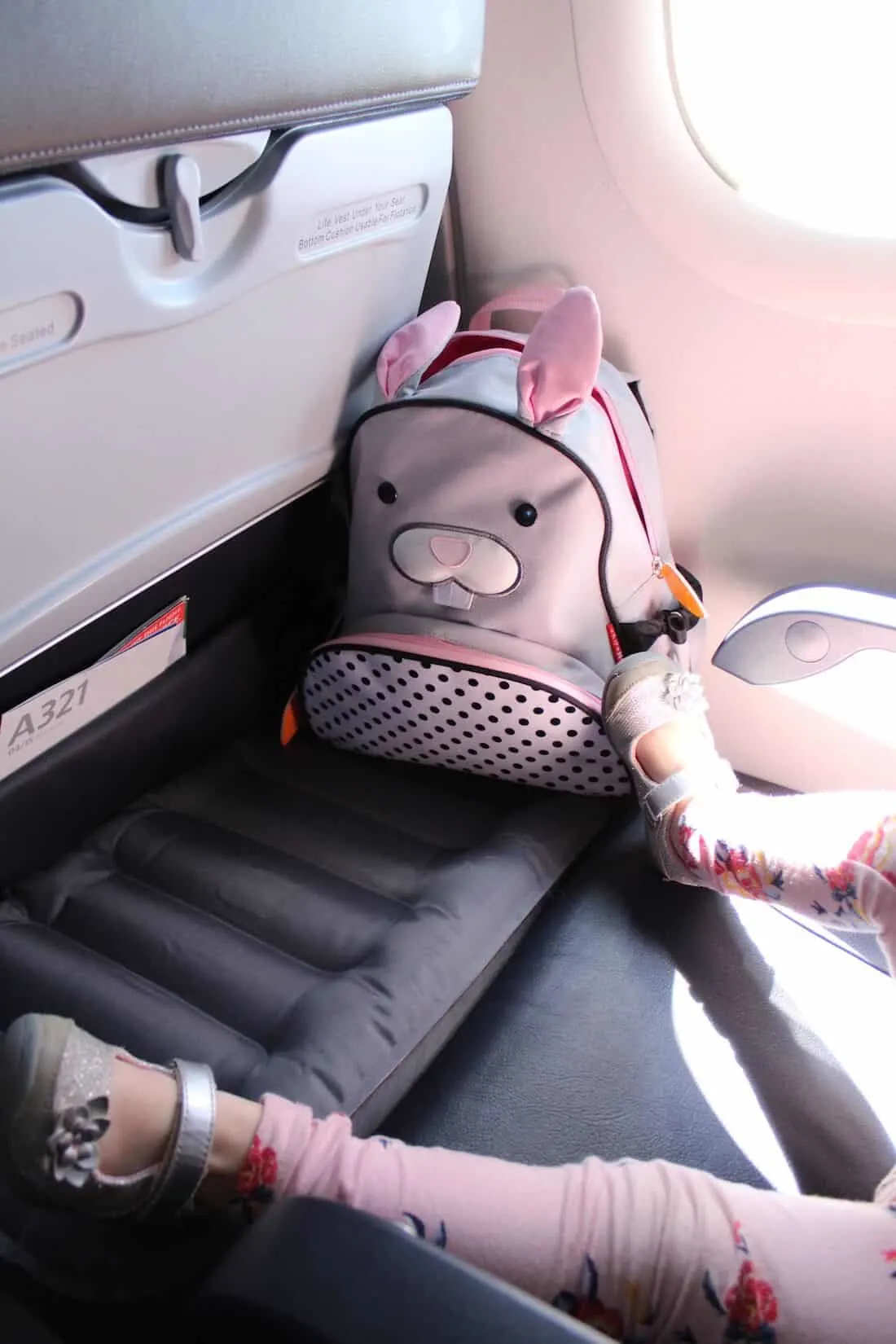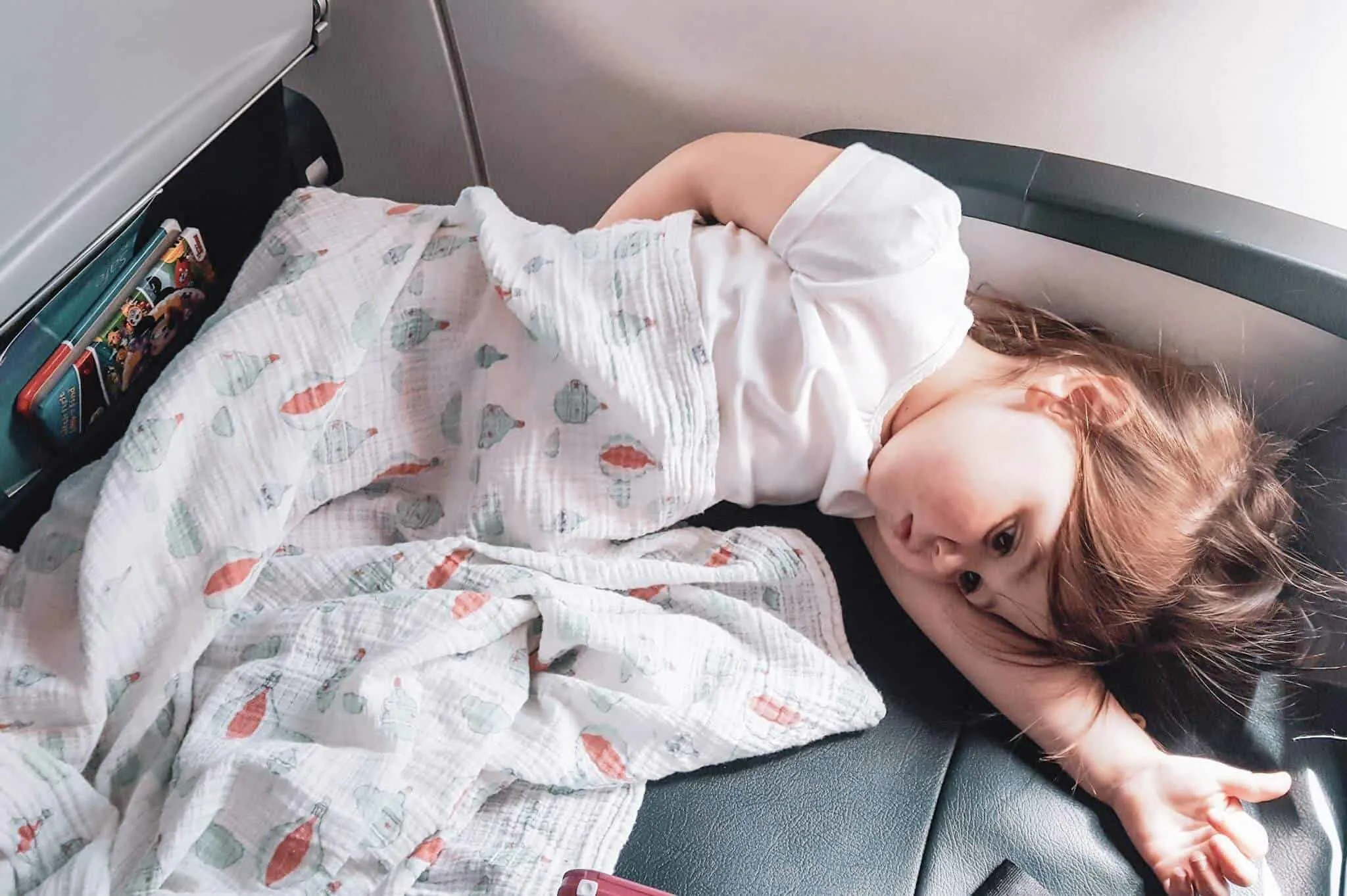 I used it on 3 different flights, during which Charlie was able to stretch her legs out straight onto it, use it to hold toys and snacks, and lay down and catch a few hours of sleep. It completely took away the option to play on the floor of the aircraft too! A child can still be buckled while using it, and the seat in front can still recline too.
It is a bit bulky to carry around but does fit into a carryon. Since I travel carry-on only, I was able to slip both the Fly Tot and the foot pump into the front pocket of my carry-on suitcase, but it will also fit easily in a backpack if your child has their own carryon or you don't need to bring everything in one bag. For one leg of the flight I even just stuck it in a plastic grocery bag after purchasing snacks so it was easily accessible once on board.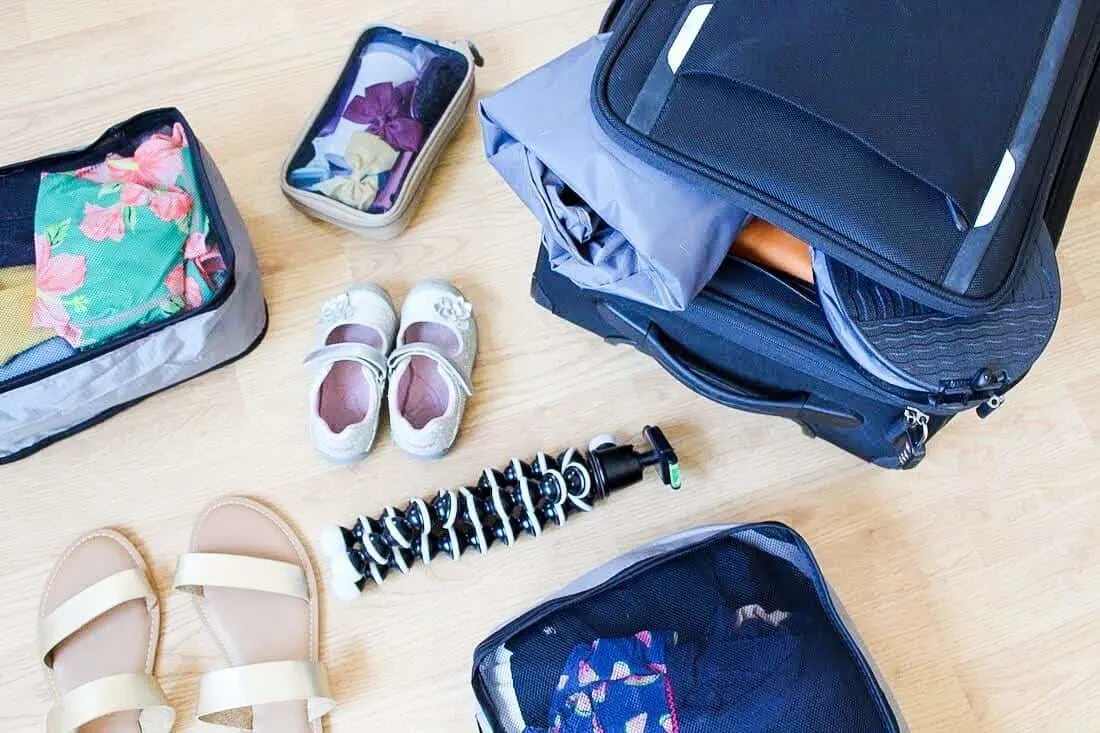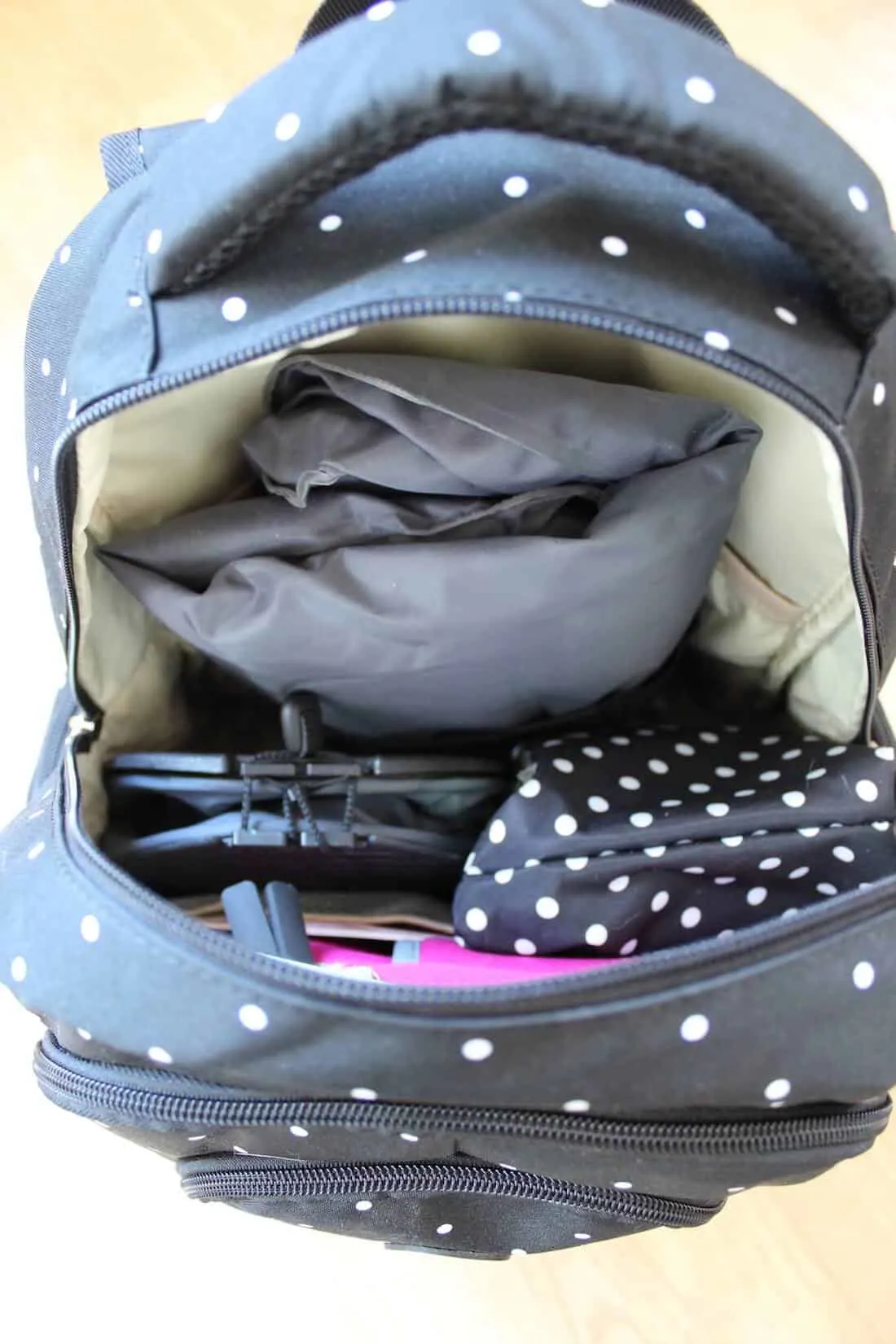 A few things to know:
Using the Fly Tot does mean the floor space in front of your child's seat is completely inaccessible. If you are used to putting one of your bags or your child's entertainment carryon on the floor, it will either need to go in front of your seat or on top of the Fly Tot. I got caught in a middle seat (with a stranger to my left) and had my carryon backpack plus everything else at my feet, and while it was ok for a short trip, on a long trip you may want to stow some stuff in the overhead compartment.
It took me just about 3 times practicing inflating it at home before I got the hang of it. I recommend trying it out a few times before flying, as once I got on the plane it was quick and easy. It also doesn't come with instructions (they are on the website) so it is helpful to do a trial run at home.
The foot pump does make a slight squeal when being used. Other Fly Tot reviews have said similar things, and I found really tightening the tube by twisting it into the valve a bit, and pumping your foot quickly will help minimize the sound. However once on the plane, the white noise of the flight covered most of it up, so no one around me noticed.
Since it does take up a good amount of coveted carryon space, it may not be something all parents find necessary, especially for shorter flights. If your child is in a car seat, then it is obviously not necessary as well. I used the Cares Harness in order to allow her to lay down for a late night flight instead of a car seat, so it made sense for us to bring the Fly Tot.
To help her sleep on the flights we got her dressed in her PJs (love this set because you can mix and match depending on how cold the flight is), and brought her sleepy time stuffed Elmo and lovey with us on the plane in her backpack. She slept for hours both ways!
Carryon Backpack for Traveling with Kids
The last thing I tested out on this trip was a new backpack diaper bag as a carryon bag. I love having a backpack diaper bag (it is one of my mom must haves) but I wanted something more spacious and that would fit my laptop and camera for the trip (a blogger needs to bring her gear!).
I ordered this one off of Amazon and was so surprised at how spacious & roomy it was, how many pockets it had, and how much stuff it fit, all for under $30.
A few of the features I liked for traveling include:
Multiple drink cooler pockets (and separate cooler bag included—though I left that at home)
External wipes pocket
16 pockets with a range of sizes making organization easy
Laptop pocket and front wipeable pocket
Padded straps, handles, and stroller straps all included
It did get a little heavy loaded up with all of my stuff, but even so was comfortable to wear. My sister liked the bag so much she ordered one as well after I showed her mine. Really good bag for the price if you are looking for a regular backpack diaper bag.
Out of all of these items, I really feel like they all can be recommended for traveling families. We definitely will be bringing them along for future flights (and road trips too!).
What new travel gear have you found recently? I'd love to know! Let me know if you have any questions about any of the above items too!
Pin it!