Finding hidden gems while on vacation is one of my most favorite things. Whether it is a magical little courtyard, a great coffee shop, or in this case—the perfect hidden beach right near Disney's Aulani Resort & Spa.
If you find yourself staying at Aulani (which you should totally do!) be sure to make your way over to Paradise Cove Beach. It is the perfect spot for families, snorkeling and a relaxing day at the beach. It quickly became my favorite beach spot during our trip to Hawaii.
Here is what makes it so great, and how to find it!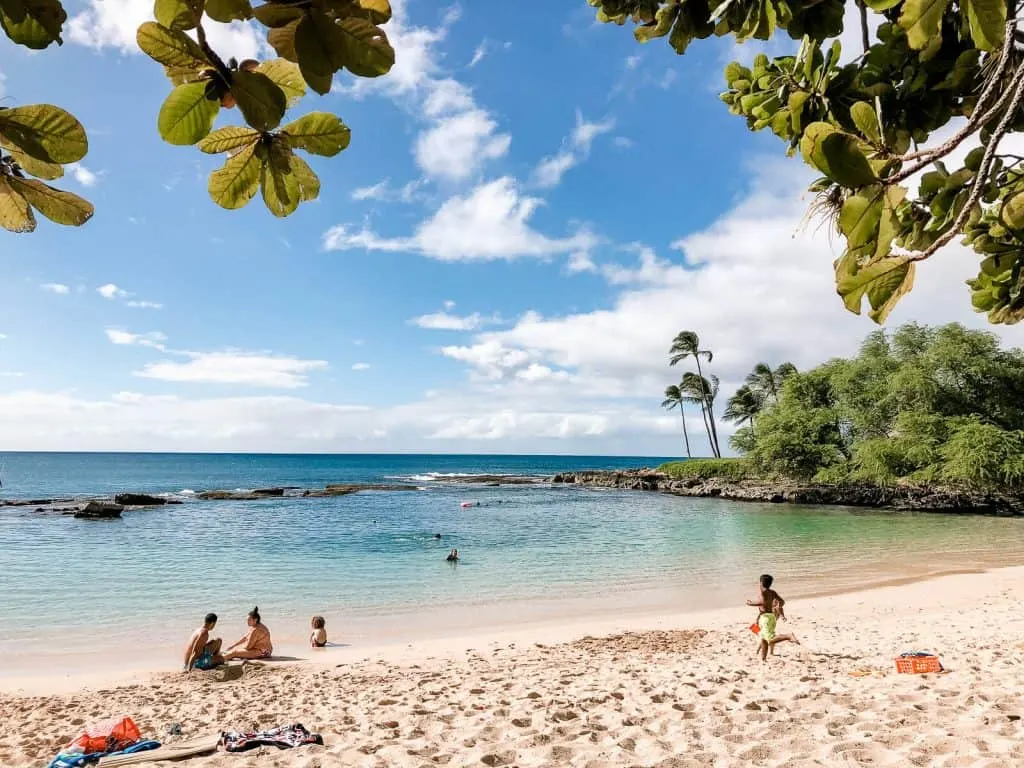 This post contains affiliate links. Items mentioned sent c/o SwimZip.
The Best Hidden Beach on Oahu—Paradise Cove (Lanikuhonua Beach)
Like every other beach in Hawaii, Paradise Cove is a public beach. It is located in Kapolei, right next to the Four Seasons Resort at Ko Olina. It is a quick walk from the Aulani resort as well.
How to get to Paradise Cove/ Lanikuhonua Beach from Aulani
When you exit Aulani, follow the sidewalk to the left of the resort at the street level. Continue following the sidewalk past the Four Seasons (you'll cross the street at the traffic light with the Four Seasons and a little pond to your left).
When you come upon a parking lot, cut into the parking lot and on your right will be a little section with a dirt pathway that is shaded thanks to a gorgeous palm frond canopy.
It opens up to the most serene cove, with calm clear water and soft sand.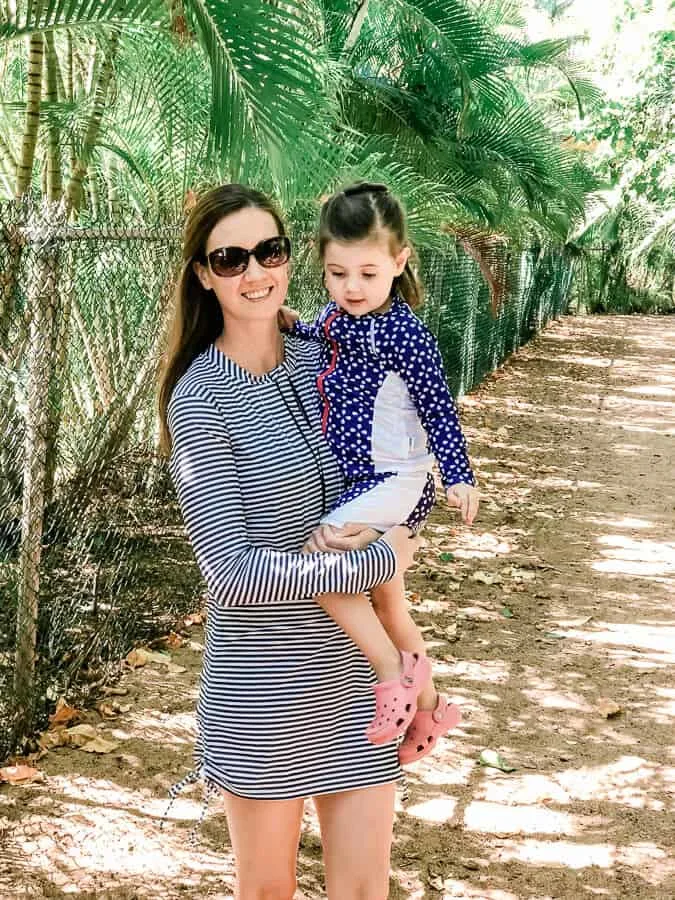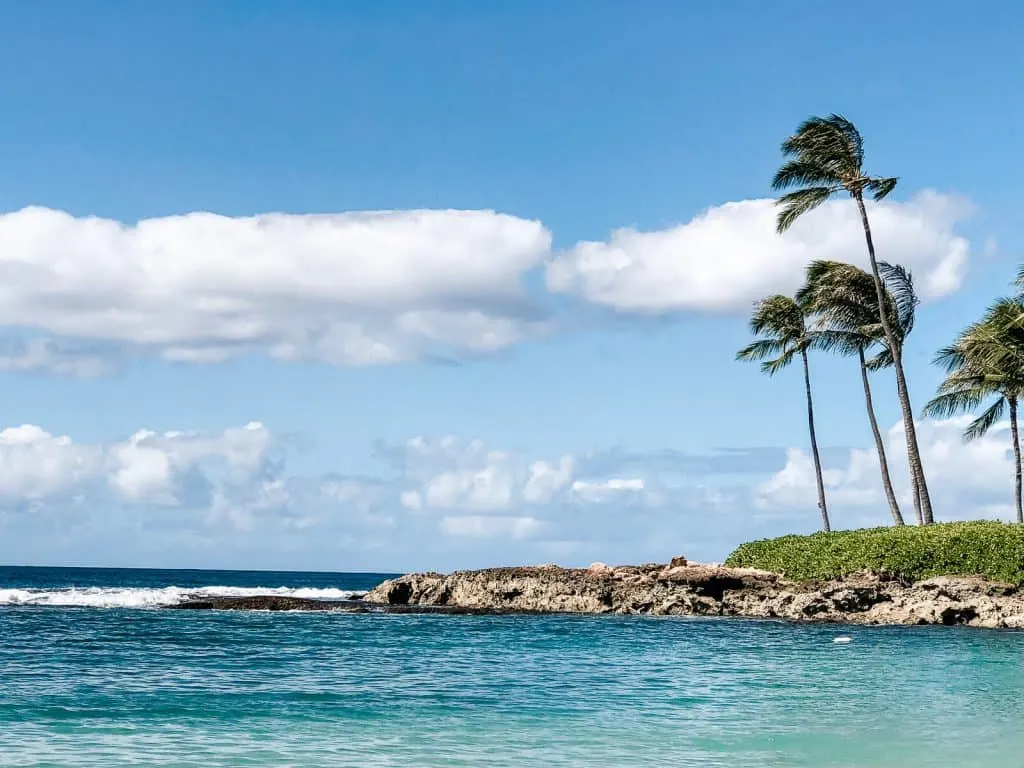 The water was perfect for snorkeling—in fact, my dad said it was much better than snorkeling at the Kahola Lagoon at Aulani as there were not as many people and a greater amount and variety of fish than what he saw snorkeling at Hanauma Bay!
From my experience trying it out (I can't remember the last time I snorkeled) it definitely has to be one of the best places to snorkel on Oahu, especially for beginners.
View this post on Instagram
My parents saw a sea turtle feeding the first time they went there—we missed it during our time snorkeling but it was still beautiful.
What really made Paradise Cove such a great place was that it was perfect for families. The water was calm and protected from waves by a rocky outcrop that creates the most incredible little tide pools for exploring.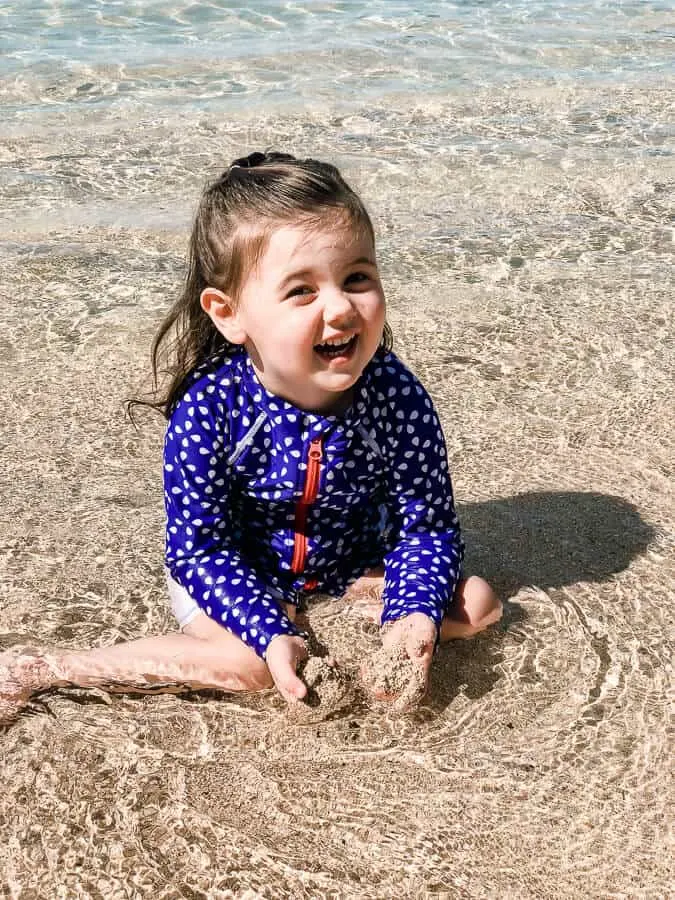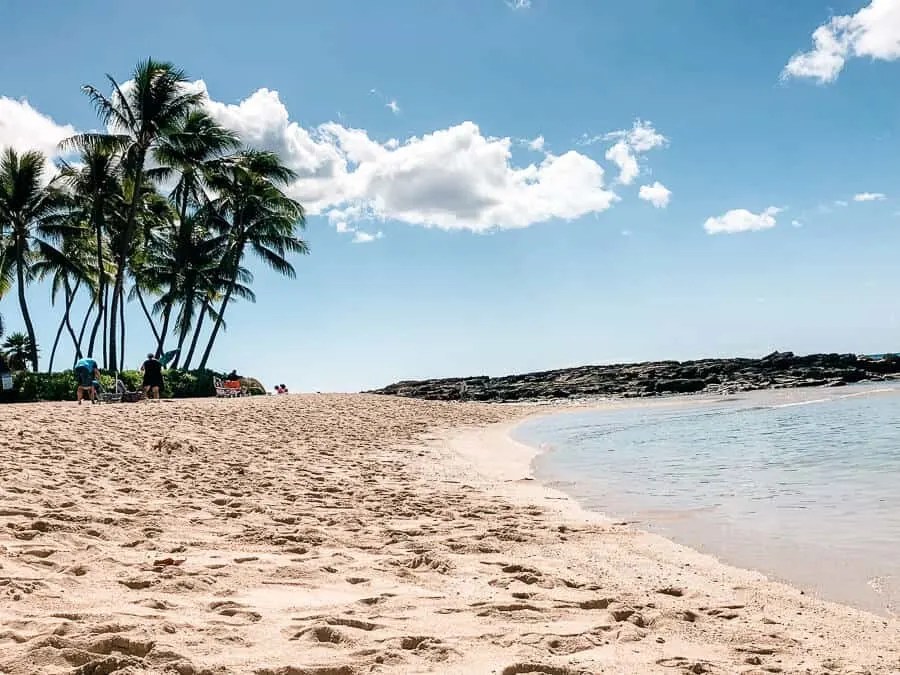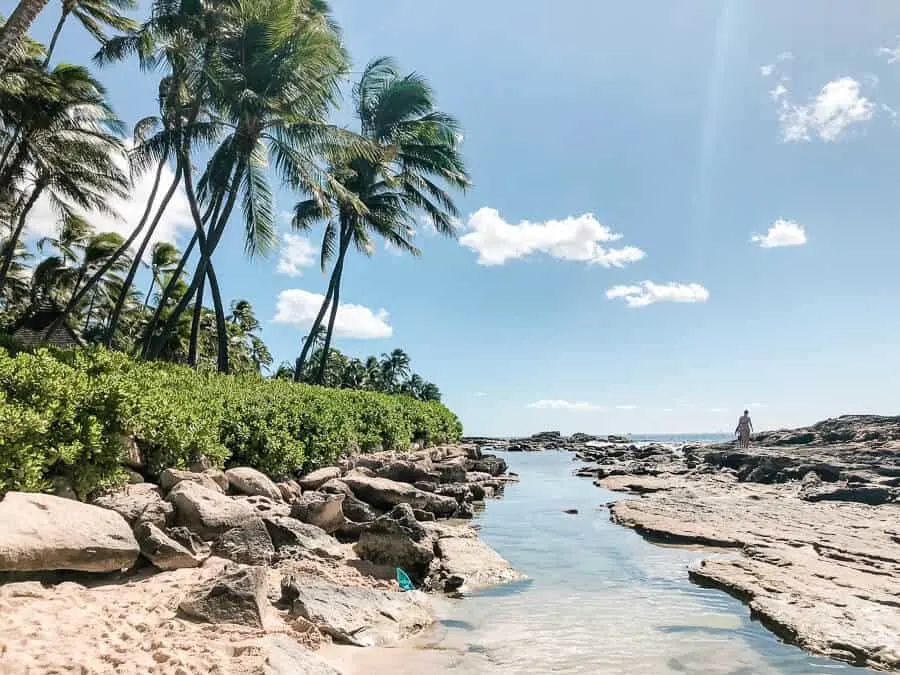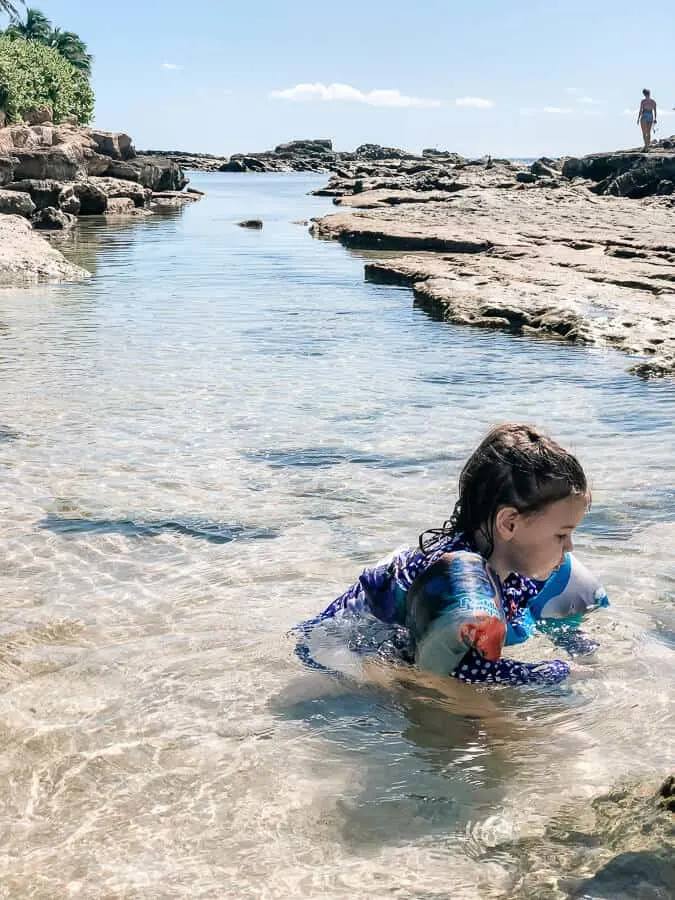 Insider Tip: If you are really up for an adventure to find a truly secret beach on Oahu, keep walking to the left from Paradise Cove through the tidal pools. After climbing over some rocks, it opens up to a strip of beach not accessible by the road!
There is even a strip of shade from trees at the top of the beach, which is so helpful when traveling with a baby who needs a little extra protection from the sun!
Some things to note about Paradise Cove:
There are no public bathrooms there, so keep that in mind.
The access path is compacted dirt—it is doable in a sturdy stroller but has a little hill and some bumps to it at the start. It then turns into sand so be prepared to carry your stroller if it doesn't work well over sand!
The rocks to the left of the cove is where you'll find the tide pools—they are very slippery though so water shoes are a must have. These water socks were great as they were super compact in my bag.
The weather was great the day we went, though the sun is definitely intense in Hawaii even on days when it seems overcast. The girls wore their adorable swim sets from SwimZip—if you haven't checked out their swimwear and coverups you absolutely should!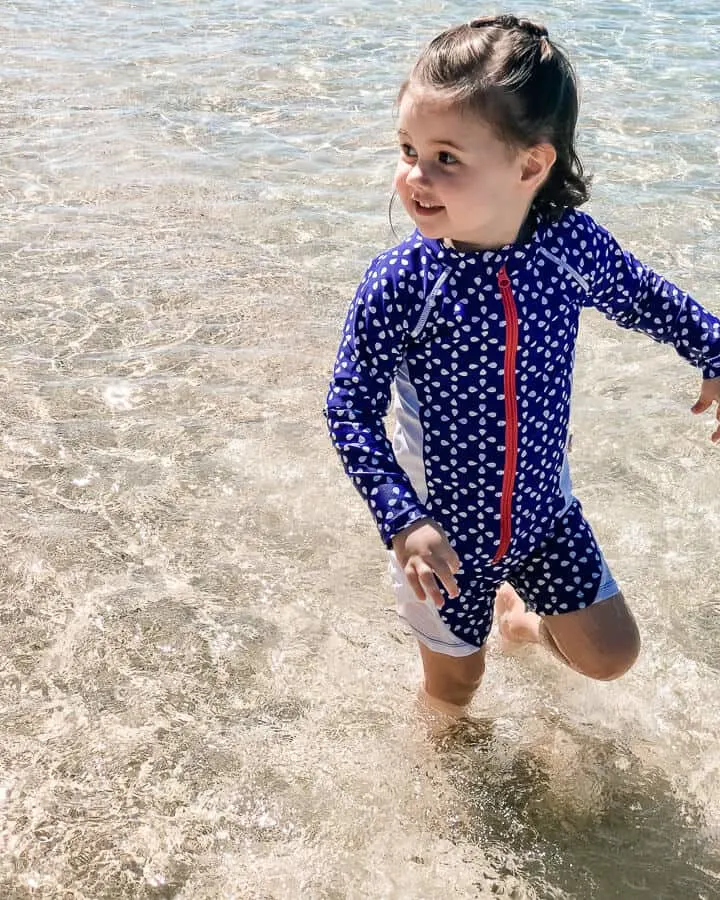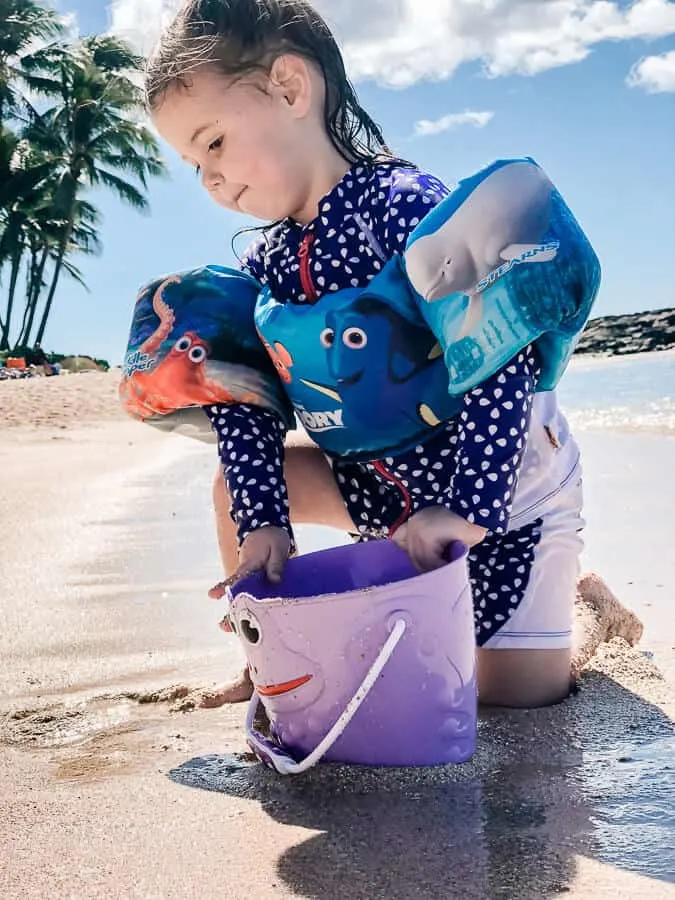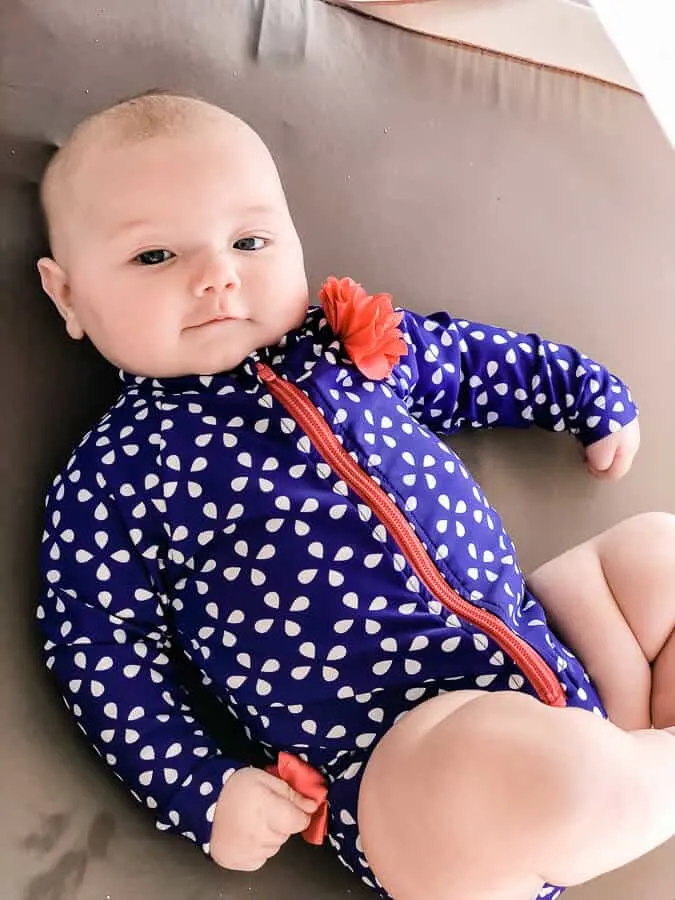 Their items are all UPF 50+ and the full-length zippers make them so much easier to put on wet and squirmy babies or kids than regular rash guards.
I basically lived in my swim dress cover-up from there too—it was great for blocking the sun and wind without making me feel too warm.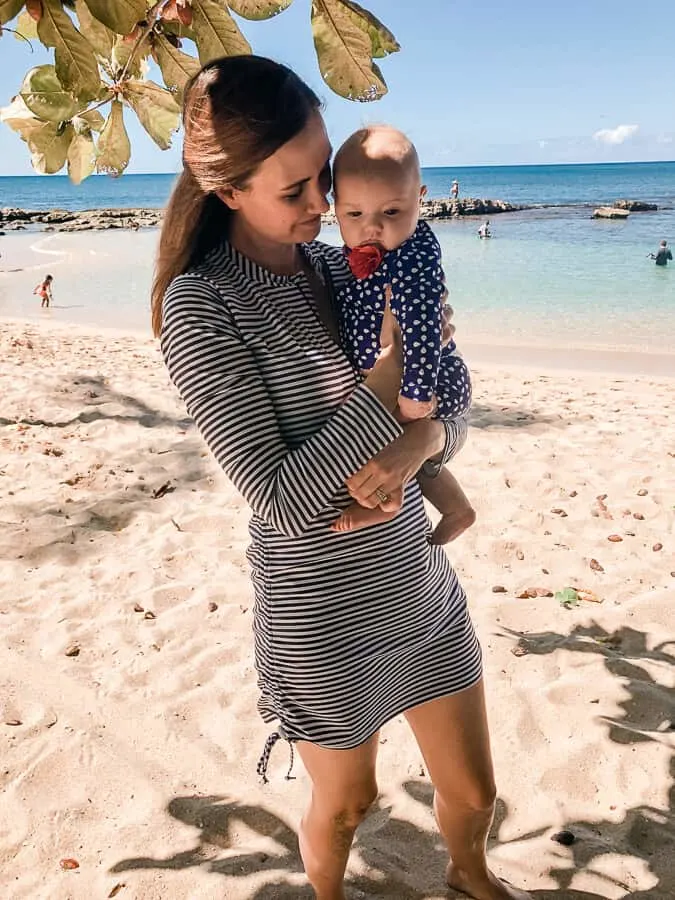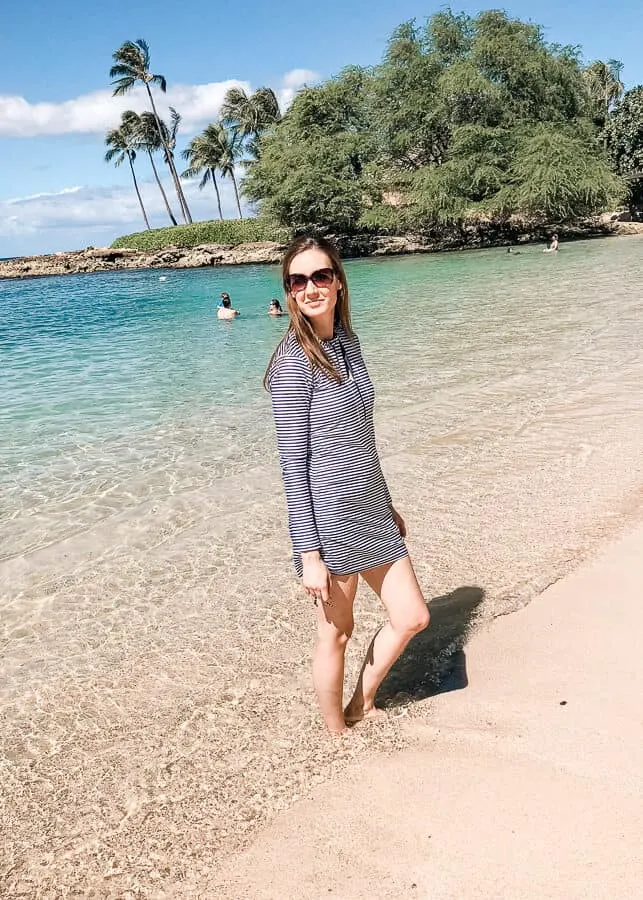 Sun protective swimwear is definitely on my list of essential items for Hawaii!
We spent a few hours in total at Paradise Cove, and compared to our time at other beaches, it was hands down my favorite.
We were there in early November, so while it probably gets more crowded at busier times of the year, hardly anyone was there despite what seemed like a full resort at Aulani.
On the walk back, we made plans to grab ice cream at the little shopping plaza across from the Four Seasons (which was delicious by the way).
If Aulani or Ko Olina is on your list of things to do in Oahu, then definitely make sure to check out Paradise Cove—you won't be disappointed!
Be sure to check out other great family-friendly activities on Oahu, and follow along on Pinterest for more travel inspiration!