This past weekend I was wanting to find a way to entertain the girls in a new way. What resulted was some fun—and messy—Jello sensory play! (Photos by Mary Ware)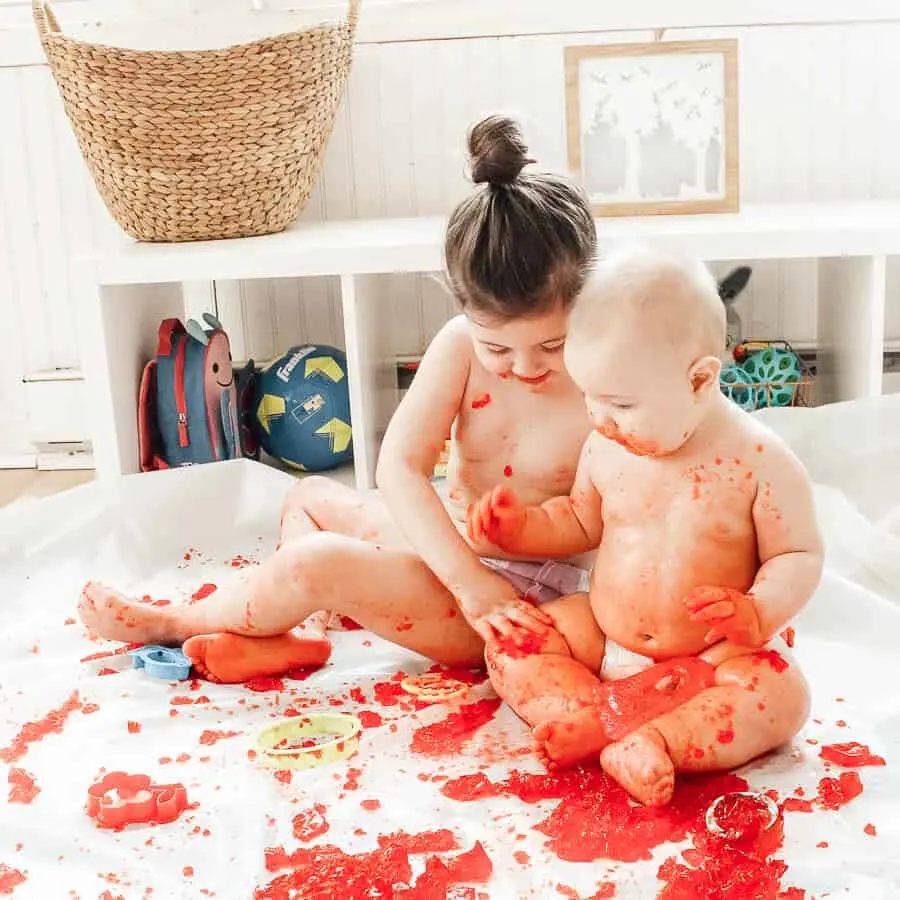 We have been cooped up in the house for too long with this cold start to the year, and Charlie is starting to show signs of cabin fever (as am I)! With Ensley on the move soon too, she has become increasingly active with play and loves exploring textures and things around her.
She is fascinated by water and loves pulling things out and digging around to find toys that interest her.
I had given her some jello to play with at her highchair, and she thought it was hysterical. So naturall,y I knew I had to really up it into something fun!
I decided we were going to go all out and have a messy play day with Jello.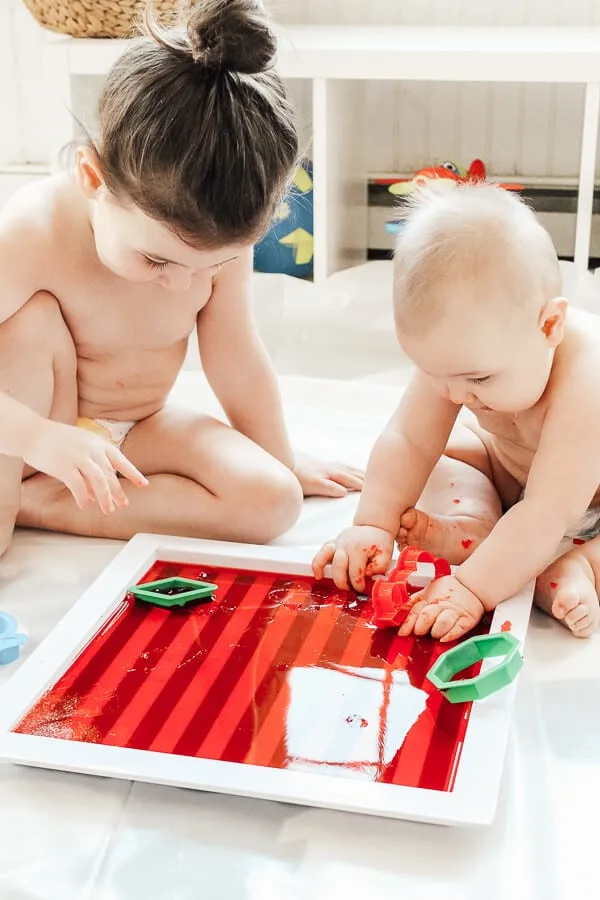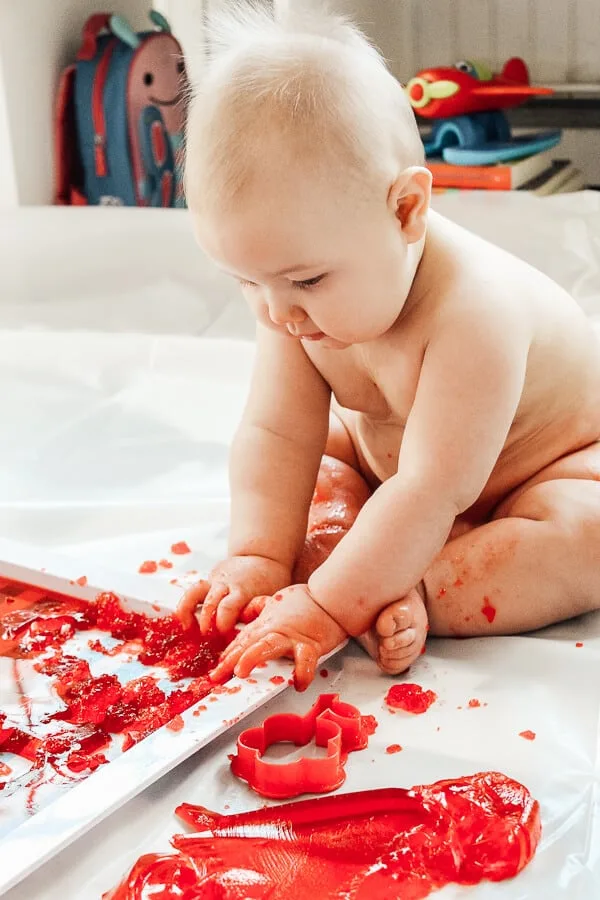 Now, I know this gives some mamas a heart atttack just looking at the mess and the potential disaster it could mean for furniture and clothing.
But I promise, it is was so fun and so worth it. If it really does give you anxiety, I've got a few tips to make it less messy and easier on mom in the post down below.
Since my goal was messy sensory play, I used a large sheet of plastic we had leftover from home remodeling. It actually worked so well that I plan on using it for future play and painting activities.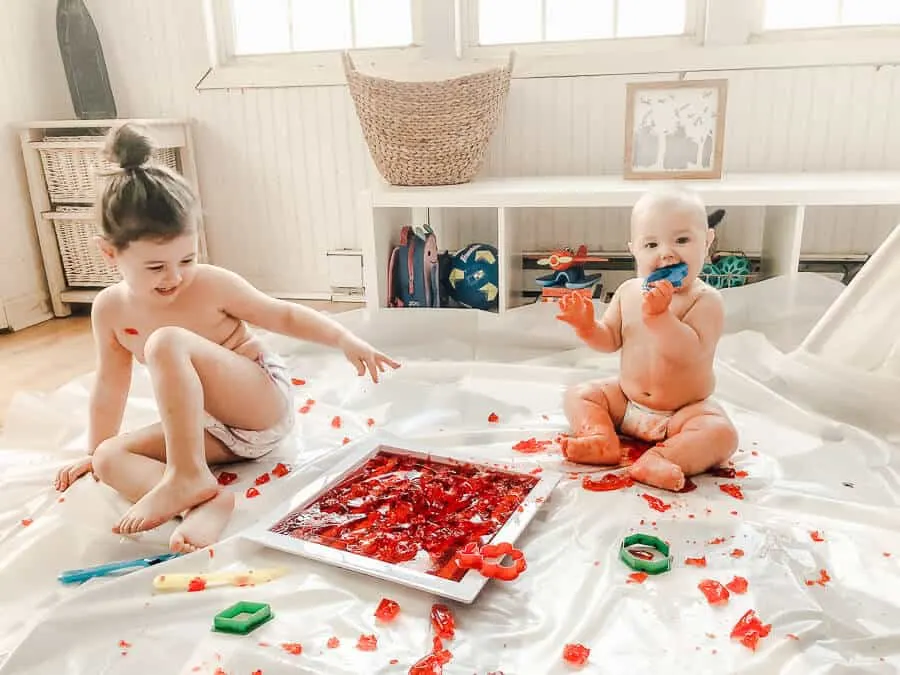 You could also use cheap shower curtains from the dollar store, plastic tablecloths, or vinyl tablecloths from discount stores. Cut up trash bags work in a pinch too—just duct tape them together if covering a larger area.
Of course, you could just let them go to town on the kitchen floor, but then you have to clean it up. The best part about using plastic was I literally just rolled it up and threw it away when we were done.
The only clean up was of the girls (and the pans of course later).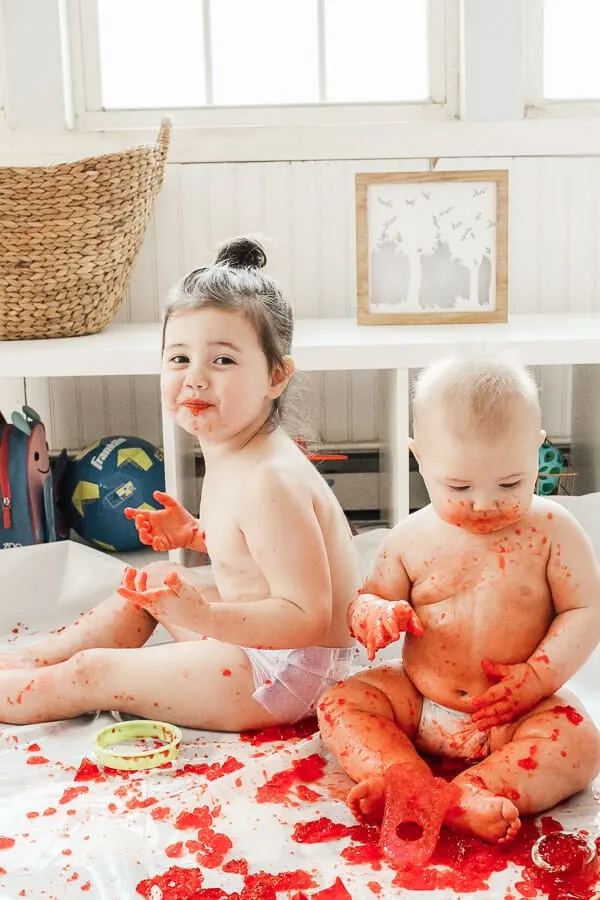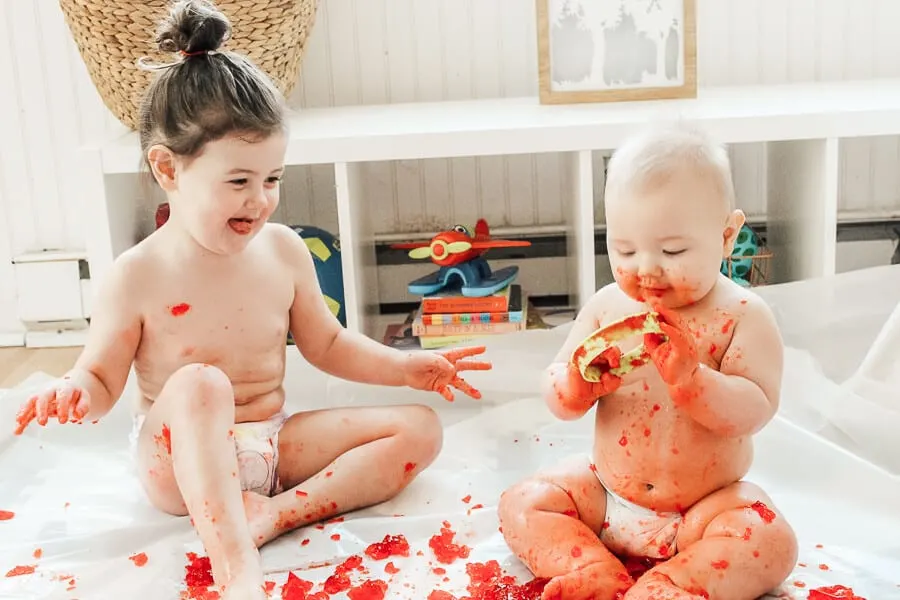 This time around I used regular Jello. I wanted it to be colorful to engage the senses—looking back the red does make it look a little like a murder scene! This would be fun to make multiple colors for rainbow play for future efforts.
I know you are probably thinking—there is so much sugar in there, what if they eat it all? It's true, some Jello does have sugar and they will eat it.
I used sugar-free Jello but it does still have coloring. You can adapt it to fit your family though!
In fact, a great way to do this would be to get boxes of plain gelatin and then add food coloring to it.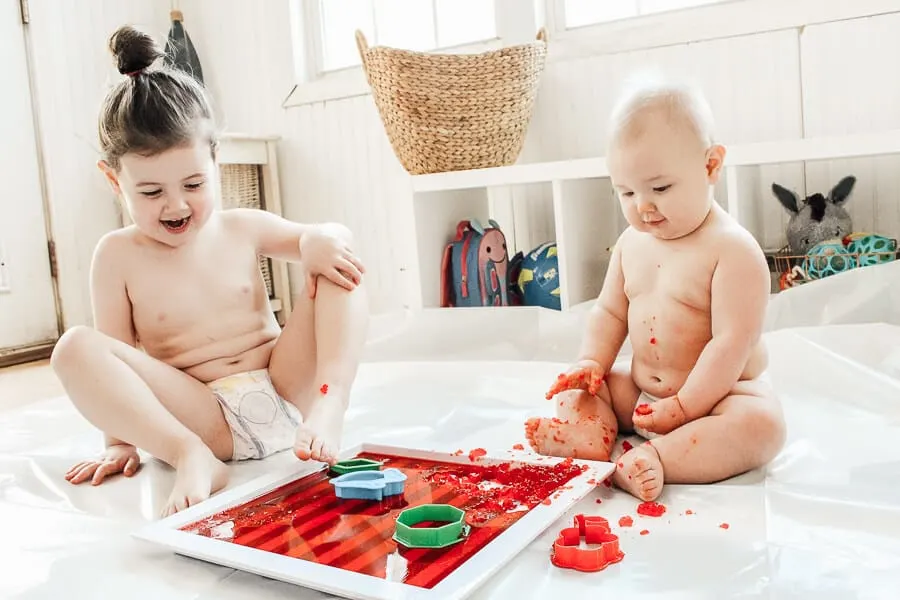 I used 4 boxes of Jello and divided the mixture into a flat party tray (make sure any tray has a raised edge) and a tupperware container where I added links and other baby toys for a little sensory digging fun.
Charlie had more fun playing with it than eating it, and surprisingly so did Ensley. She was more focused on gnawing on the toys in it than actually eating it!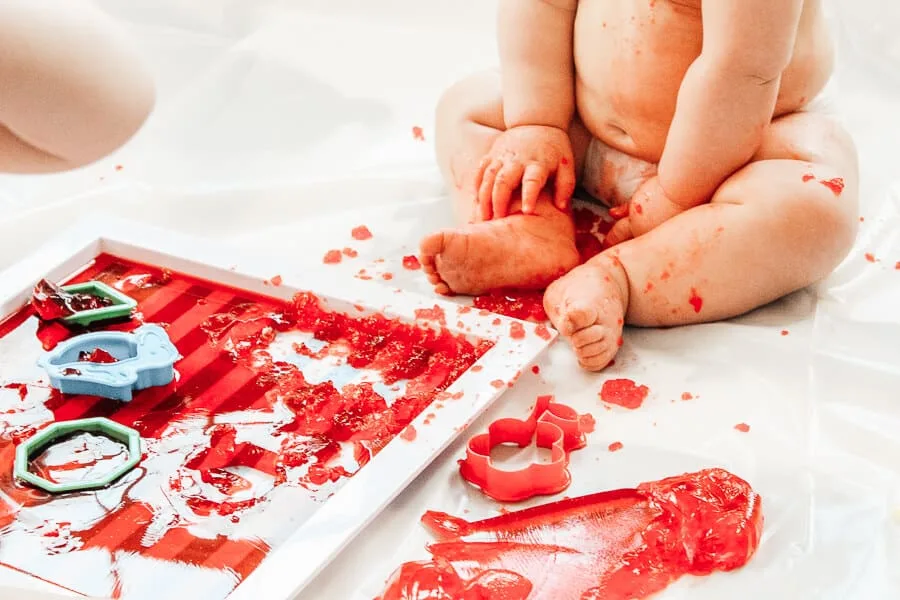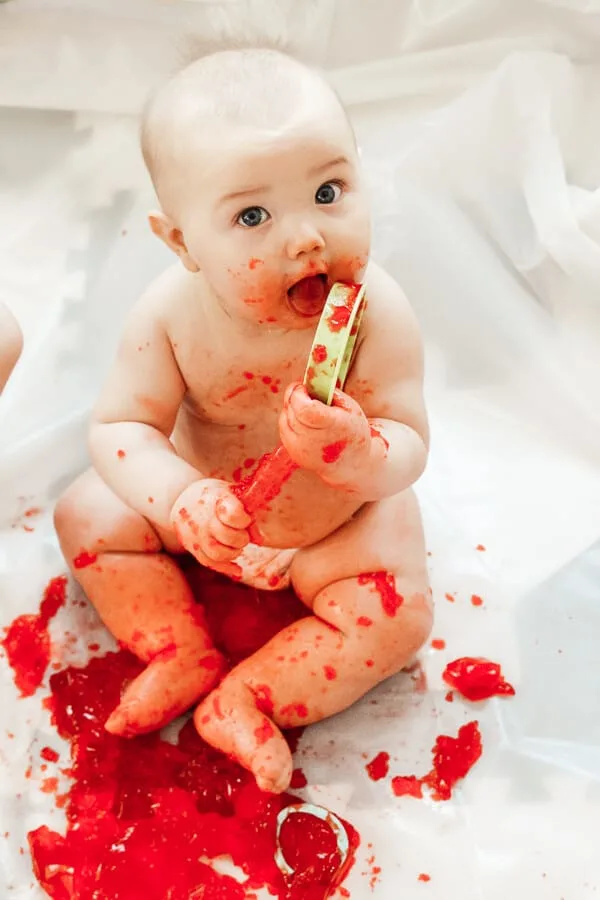 It was funny to see Charlie's reaction—she was unsure about how messy we would allow her to get I think and it took some coaxing to get her to feel comfortable smooshing it all over and putting her hands and feet in it.
This was easily the highlight of our week and our friends and family loved seeing some of the pictures on Facebook as well.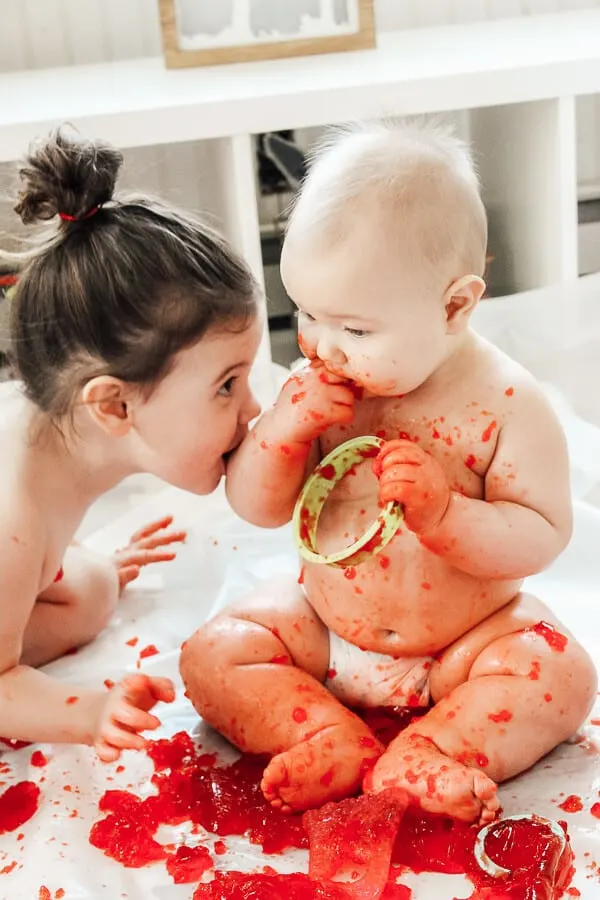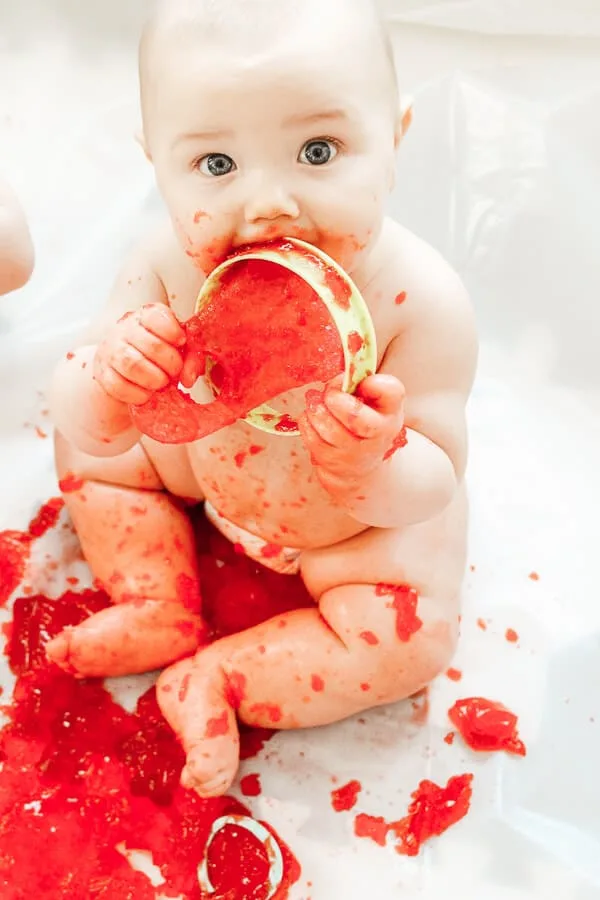 A few tips if you are planning on doing a similar playtime:
The Jello will be really cold if played with straight out of the refrigerator. To combat this, just take it out a little while before playtime to bring it closer to room temp.
Have a roll of paper towels or a wet washcloth nearby. While it is helpful for cleaning them up, you will probably need it more! You are going to want to take pictures of the cuteness, and also will inevitably get your hands dirty helping them with something along the way. Trust me on that!
If you want to start with something more simple, make a small tupperware of jello with toys. That can be played with while sitting in a highchair or used for a little less cleanup.
For even easier cleanup, do this outside during warmer months. Just hose everyone and everything off when done!
We just put both girls straight into a bath after playing to wash everything off. Charlie found it hilarious when the bathtub water turned pink as well!
Jello sensory play like this is great for babies starting around 6 months (when they can really use the fine motor skills to dig and move the jello around) and as you can see it easily entertains toddlers as well!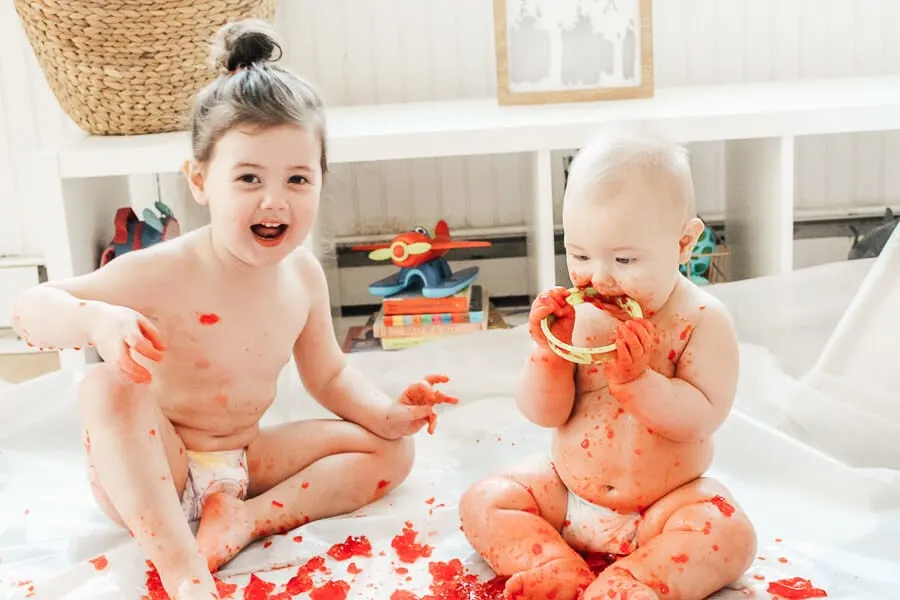 Have you done jello play before? I'd love to hear your favorite things to do with it!
Pin it!