Whether you're choosing a pediatrician for your new baby, or switching pediatricians, you're going to want to choose a pediatrician that is best for your family and lifestyle. In this article, you will find:
What to look for when choosing a pediatrician
25+ questions to ask the pediatrician and the office staff during a meet and greet
A free printable list of of the questions, so you can take notes during your pediatrician interview!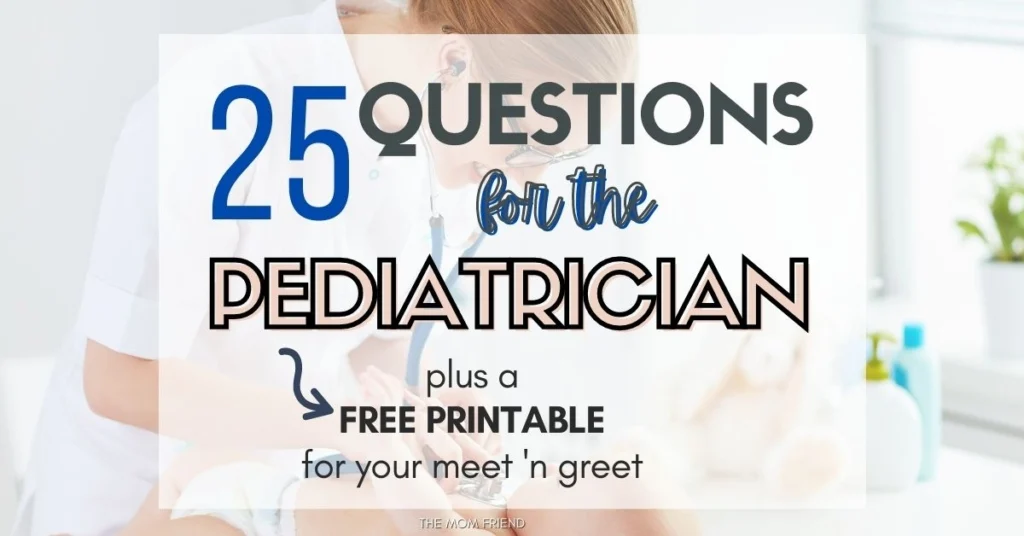 Note: I realize that most "meet and greets" are now virtual or over the phone, but this list of questions and things to think about are just as important in today's world!
How to set up a pediatrician while pregnant
Choosing a pediatrician for a baby that is not even here yet might seem like a daunting task. Everyone's got opinions and suggestions (and no, that doesn't stop after you have the baby!).
The ONE suggestion I have for you is to do what is right for YOU and your growing family.
To make the process of selecting a pediatrician easier for you, I made a list of questions you might want to ask a pediatrician at a meet and greet.
You might not need to ask every question on this list. But I thought it was worth writing down, just in case there is something on the list that might be important to you that you didn't think of yet!
Related: Essential Questions to Ask at a Prenatal Appointment
When to start looking for a pediatrician
When in your pregnancy to start looking for a pediatrician really varies by where you are located and how your pregnancy is going. If you have twins or a high-risk pregnancy, you might want to nail down a pediatrician earlier in your pregnancy, in case you go into labor early.
If you live in an area with a shortage of pediatricians, you want to make sure you find one that is accepting new patients and has time to see your baby within a day of when he or she is born. Ask around to see what other parents in your town do, and ask your OBGYN for advice.
We started seriously looking for and interviewing a pediatrician around 7 months, but we knew of few decent pediatricians who would see us just in case our baby came really early.
Keep in mind: You don't have to find your forever pediatrician right now. Sure, it is great to find someone you trust and love who will get to know your kids as they grow. But remember, a doctor is a service you pay for, just like anything else. If you are not happy with the service – whether it's after 1 visit or after a few years – it is okay to switch. Keep this in mind to take some of the pressure off finding the right doctor.
Don't feel weird about interviewing a pediatrician. Don't feel bad asking them LOTS of questions. They are going to be taking care of your child and making a TON of money from you (or your insurance company) over the next 18 years, so don't be afraid of taking up 30 minutes of their time to make sure they are the right fit.
Related: Techniques for Coping with Labor Pain
Before your meet and greet
Step 1: Before calling any pediatricians, think about what you want in a pediatrician. Some things to consider:
Someone who insists on vaccinations or lets you spread out the vaccines based on your preferred schedule?
One who tries natural remedies instead of prescribing antibiotics every time you come in?
A male or a female doctor – picture yourself as a 15 year old boy or girl and think about what you would prefer. Someone available at all hours in case of an emergency?
Someone who will see you quickly instead of having to take a half day off work every time your child has an appointment?
Someone who is within a 15 minute drive with easy parking? Remember, you might be going to their office several times a week when your kiddo is really sick.
Step 2: Make a list of 3-5 pediatricians you would like to meet. If you have no idea where to start, here are a few suggestions:
Talk to other parents in your neighborhood
Ask your OBGYN for recommendations
Look at your healthcare insurance directory and sort by pediatricians in your area with the best reviews
Step 3: Write down the pediatrician names and contact info. Give them a call and say "I am currently pregnant and I am looking to meet with a few pediatricians. Is it OK to ask you a few questions and schedule a meet and greet with Dr. _____ or another doctor in your practice?"
Hint: How quickly they get back to you and how they treat you on the phone is actually an important sign to pay attention to.
Questions to ask at a pediatrician interview
Let's start with the basics. Before you even go to meet and greet a pediatrician, call up their office and ask the following questions. This will save you time – you might either decide not to go to this pediatrician practice, or it will save you time when you go in person.
Double check whether they accept your insurance
What other insurance do they accept? (In case of a future job change)
How many pediatricians do they have in their practice? Do you get to choose which pediatrician you make an appointment with?
Office logistics questions to ask
You can ask these questions with the receptionist or your pediatrician. I definitely recommend asking the office staff at least a few questions, so you can tell if they have a helpful, patient vibe, or if they seem to be rushing you.
What are their office hours? Are they open on weekends? If both parents are working and their jobs are not flexible, an office that is open outside of 9 AM-5 PM is super helpful. Babies tend to get sick at night AND on Sundays when doctors are not working.
Do they have a 24/7 nurse line? We've had to call our pediatrician's nurse line at all hours of the day with emergency questions, and it was a life saver (literally and figuratively!). When our son was having trouble breathing at 3 AM, the nurse asked me to email her a video of my son breathing and after watching it told me to go to the emergency room because he was in respiratory distress.
What hospital are they affiliated with? What hospital will they refer you to if your child needs any specialty testing or procedures? Then do some research on that hospital and their pediatrics department and make sure that hospital is in-network for your insurance.
How long is a typical wait when you show up for your schedule appointment on time? One pediatrician we visited said it was about a 1-2 hour wait in the waiting room, even with an appointment. We did NOT go with that one!!
How quickly can you make an appointment for a sick visit? When your newborn baby has a fever, every minute feels like HOURS and you need to get to the doctor immediately (see When to go to Urgent Care vs the ER). Our pediatrician's office always scheduled their appointments so they would have time for walk-in sick visits throughout the day, so we never had to wait more than a half hour when we showed up with a sick baby!
Is there a separate waiting area for sick and well patients? You do NOT want your child getting sick when you bring them in for a routine well visit.
Can they schedule newborn baby appointments early in the morning so that no one else had a chance to bring their germs in that day?
Do they do blood draws in the office, or do they refer you to a lab? In-office blood draws are much more convenient, obviously, plus there is the added benefit that the phlebotomist is very experienced at dealing with babies and squirmy toddlers, is invested in your child's well being (and good customer service), and is not a disgruntled worker in a lab (sorry but it's true!).
Is their blood work lab in-network for your insurance? If not, are they willing to send the blood work to a different lab that is in-network for you?
Would you see different doctors within the practice, or do you only see your one pediatrician? Both can have their advantages. We were able to make appointments with all the doctors in the practice just to meet them, but then made appointments with our main pediatrician, as long as they were available.
Do they use email or texting for anything, or do you always have to come in or call? Our pediatrician has an email address where we could sort out all insurance, referral, lab results things so we didn't have to play the voicemail game all day, and it was very efficient. They also answered non-emergency health questions we had through email, and nurses were available to look at pictures of rashes, etc., and give us advice. It is super convenient.
Questions to ask the pediatrician
Below you will find a very thorough list of questions to ask the actual doctor. Perhaps too thorough. You might not even care about how your doctor feels about some of these questions. But you should ask them anyway.
Here's why:
Asking more questions will help you understand how the pediatrician approaches healthcare and mother & baby well-being in general. The longer you talk to the pediatrician, the more you'll see whether they are the right fit for your family, even if you already know the answer to your questions or do not care about the answer either way.
For example, the question about breastfeeding vs formula. You might be set on formula because of various reasons. Because of this, you might not even bother to ask the doctor's opinion. But what if it turns out your doctor actually is so against formula that they will make you feel like an awful mother for making the right choice for your family? Or what if you REALLY want to breastfeed and have trouble at first, but your doctor doesn't think a lactation consultant can actually help and laughs it off when you ask for a referral? That's not a good fit.
You also want to get to know your doctor a little, just to see if you connect. Besides, the more questions you ask, the more you'll see whether the doctor is caring, kind, compassionate, and understanding of the stresses that come with having a baby.
Anyway, here we go!
How long have you been with this practice? Where did you work before this?
Are you certified by the American Board of Pediatrics (ABP)? (Or whatever is the equivalent in other countries, if you're outside the US)
Do you have any kids?
Do you come to the hospital where we will give birth? If not, what do I have to do to get you the hospital records? Typically, a pediatrician examines your baby in the hospital in order for them to be discharged. Some hospitals have a relationship with some pediatrician practices, while some hospitals provide their own pediatricians. By the way, this is a question that is also worth asking your hospital. Ideally, when you go to the pediatrician for your first appointment, the pediatrician will have all the hospital birth and discharge records in their hands already. Depending on the day of the week you give birth, this might mean you only have a 1-2 business days to make sure those records get from the hospital to the pediatrician. You will be sleep deprived, bleeding, leaking milk, and too scared to go to the bathroom or shower. You do NOT want to be worrying about these logistics and making extra phone calls. But at the end of the day, this is only one minor detail, so don't worry about it too much if the process is confusing but you love the doctor otherwise. You'll figure it out.
How soon after birth should we bring our baby to see you? Do we have to schedule an appointment immediately after giving birth to secure a spot, or can we wait a day to recover?
What are your thoughts on breastfeeding and formula?
What are your thoughts on circumcision?
What is your policy on antibiotics? Do you try any natural approaches first?
How long do you recommend waiting before bringing our baby outside? (Assuming the weather is nice.) One of the doctors we interviewed said he does not recommend even going out to your own backyard for 1-2 months, even if it's a perfect 75 degree day and we are in the shade. I did NOT love that answer and we didn't go with that doctor.
Are you flexible with spreading out the immunization/vaccination schedule?
Does your office have any specializations or extended training, such as lactation help, sleep training, occupational therapy, picky eating, allergists, gastroenterologists? You never know what your baby will need!
How long is a typical check-up? Sadly, it is realistic to only spend 10 minutes or so with a doctor, and the rest of the time will be with a nurse.
As you see, most of the questions I mentioned are actually about the office and not the pediatrician. While the pediatrician is super important, you'll probably be dealing with them only a little bit. The rest of the time you'll be dealing with the billing department, the nurses, the billing department, the admin at the front desk to make appointments and getting doctor's notes and forms signed for daycare, the billing department.
Get the printable questionnaire
Click the image below to access the FREE printable Questions for the Pediatricians PDF!