Are you or one of your friends or family expecting a baby boy? Do you want to throw a memorable baby shower but are overwhelmed by all the ideas out there? You've come to the right place!
Below you'll find ALL the necessities to plan a boy baby shower without too much fuss for you. Everything from low-key games and activities, special memorable touches, food, drinks, and more!
And by the way, if you're looking to plan a girl baby shower or are planning a gender-neutral baby shower, I've got you covered too!
Boy baby shower invitations
First thing's fist: baby shower invitations. There's no need to overcomplicate things. Choose between any of these options, depending on the mom's-to-be personal style:
No matter which invitation option you choose, remember to include the day of the week, date, time, duration (if relevant—you can write this as 1pm-3pm, for example), and location. You can also include the expected due date and mention that the mom is having a baby boy, which helps people know how to shop for gifts.
If there's any kind of dress code or suggested clothing, please include that too. For example, if the shower will be on a grassy field, remind women not to wear heels. If the shower is in a nice venue, you can specify that the dress will be cocktail-casual.
This varies by region and location, but if it's standard to include the stores where the parents have their baby registry, then include the registry info (name and/or link to the registry) so that people can get exactly what the expecting parents need and want!
Related: Handsome Boy Names
Diaper raffle
Another thing I love seeing on baby shower invites is a request to bring in specific items. Friends and family love knowing that their gifts will be valued. One idea is to include a Diaper Raffle card asking guests to bring in a pack of diapers (any size!) in order to enter the raffle. Don't forget to get a small prize for the guests!
Book request cards
Another idea that I love is asking guests to bring in a baby book instead of a card, so the parents can start building the baby's book collection! It's a great idea, especially considering that cards often cost almost as much as a small baby book anyway, but end up in the trash after just a few months. Use this cute pre-printed Books for Baby request card to cut down on the work.
Some wonderful book options include: I Prayed For You, Giraffes Can't Dance, and The Wonderful Things You Will Be.
Guest book ideas for a boy baby shower
Even if you're having a very casual baby shower, you might want to consider one of these guest book ideas because they'll be a wonderful keepsake that the mom will be able to look back on years from now.
Set up a table as soon as people walk into the shower so they don't miss it. Here are a few guest book ideas for a baby shower:
Picture frame guest book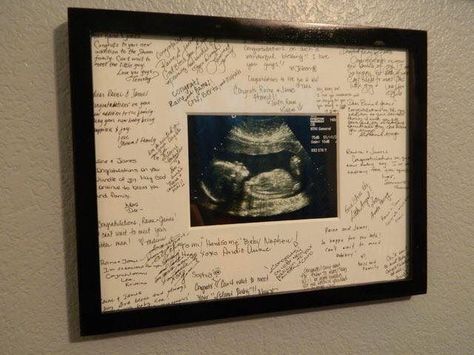 Using a picture frame with a wide white frame is one of my favorite guest book ideas because it allows the mother to cherish such a beautiful memory and makes a great way to display an ultrasound or a new baby photo. You can get a frame here.
Wooden puzzle pieces guest book
Another idea is to have a wooden puzzle guest book, where each guest writes their name and a small wish on a puzzle piece. When the baby grows up a little they can play with the puzzle! This heart-shaped wooden puzzle has 58 pieces, and this cute baby bottle shaped one has 49 pieces.
Don't worry if you don't have enough guests to fill each puzzle piece, you can write wishes for the new mom & baby once the shower is done to fill up the pieces.
Don't forget to bring a few fine-tipped sharpie markers for the guests to use!
Wooden block guest book
This is the most fun guest book idea—have guests sign wooden blocks that the boy will be able to play with in just a few months!
Baby elephant guest board
This darling elephant guest book can be personalized for 25, 30, or 40 hearts for each guest to sign. Add a frame and this will be a perfect addition to the nursery! You can find this elephant guest book print here. And don't worry, you can customize this one with blue hearts instead of pink!
Find more baby shower guest book ideas here!
Boy baby shower games
We've all heard and seen the overdone baby shower games. I'm hoping these are a little unique and a little bit more fun than the standard games. If you're not into organized games at the baby shower, scroll down to the "side activities" section, which are more low-key activities that don't need to be organized.
Sperm corn hole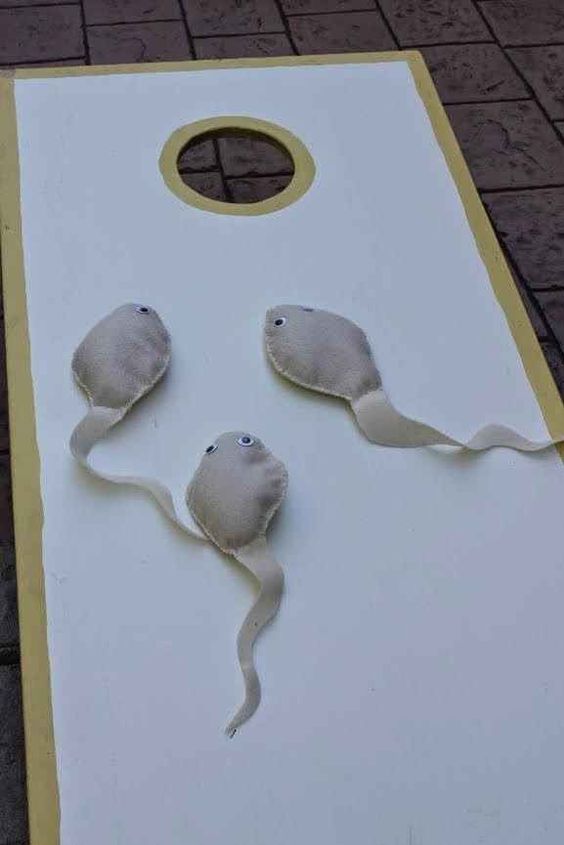 This is silly, but why not?! People love corn hole because it's low-key and gives them a chance to mingle and catch up with friends and family while having something to do. Get a regular corn hole game (a wooden one or a collapsible one, depending on whether you're indoors or outdoors and your budget) and then get cute sperm-shaped bean bags, for which you can customize the color. Perfect game for a boy baby shower!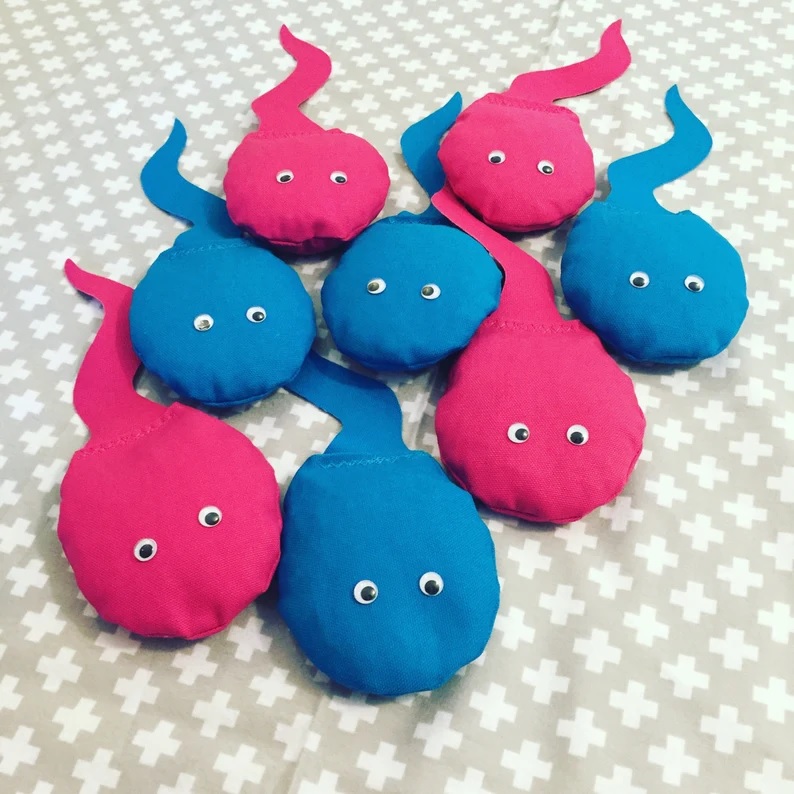 Related: Unique Boy Names
Pin the paci on the baby
This pin the pacifier game is totally silly, but why not?? It's inexpensive, it's fun, and it's casual. I love this set because it comes with extra eye masks, which is perfect for nowadays.
Who will the baby look like when he grows up?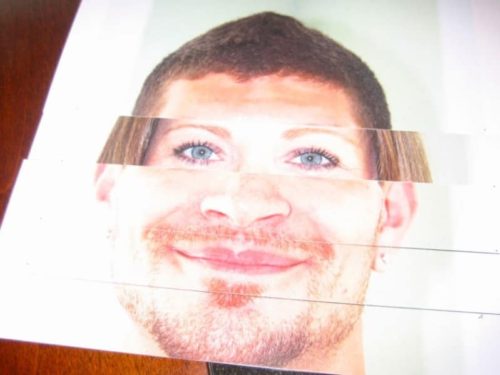 This game is actually pretty cool! Simply print out headshots of mom and dad on paper (cardstock paper is best!) and cut into even strips. Try to crop the pictures so that the head is about the same size. Let the guests arrange the strips of pictures into what they think the boy will look like when he grows up.
A few fun variations: 1) Get a couple of different pictures of each parent (different hair, smile/no smile) so there are more options to choose from. 2) Print pictures of the grandparents too! 3) You can put copies of the pictures at each table, give each one to a guest.
Relay race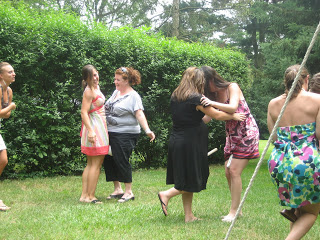 This one is pure fun and ridiculousness, and might depend on the crowd and venue… Break the guests into two teams. Send one player from each team to the opposite side of the room as the other players.
Have these two players put a roll of toilet paper between their legs. The first player from each relay line puts a plunger in between their legs. When its time to start, the person with the plunger has to waddle over and insert the plunger into the toilet paper roll.
No using hands! Once the plunger is inserted, the person with the plunger now becomes the person with the toilet paper. The person with the toilet paper goes to the end of the relay line. The first team to get through their relay line, wins!
All you need for this: 2 CLEAN plungers and several empty toilet paper rolls.
Find more baby shower games here!
Side activities for a baby shower
Side activities are perfect for baby showers even if you don't want to plan any organized games. Side activities give the guests something to do during the shower. It allows the guests to mingle easier, giving them something to talk about. This is really great if you're invited friends who might not have met the family yet or friends from other stages of the mom's life.
Side activities also help improve the flow of the room and keep people moving around instead of either sitting at their tables the whole time, or standing around the buffet table. Just set up the activities in different areas of the baby shower.
The great part about side activities is that people don't have to participate in them if they're busy chatting or eating, but it certainly gives them an option to have something to do if they're feeling awkward. And then you have something fun as as keepsake for the mom and baby!
Time capsule for baby shower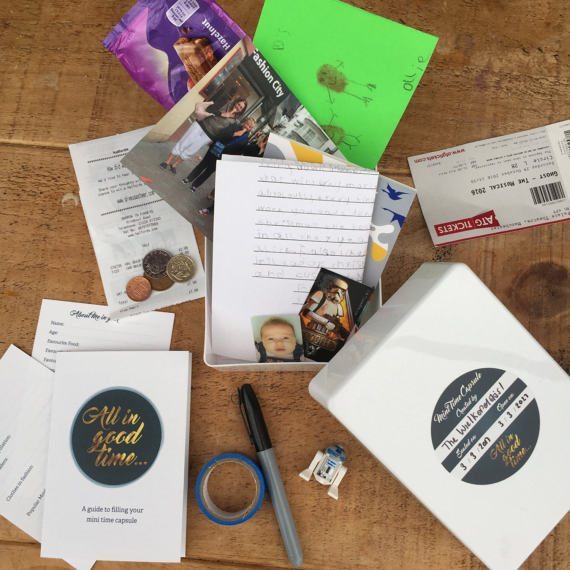 One of my favorite side activities is to ask guests to bring items for a time capsule for baby boy that he will get to open when he turns 18. Things like newspaper clippings, photos, printouts of funny memes, anecdotes are just a few ideas. You can have a collection bin set up on a table, and this gives guests a chance to look at all the items that others brought in—this is sure to make people smile!
All you need for this is: a box and a couple of pens and blank cards. Don't forget to mention in the invitation that guests should bring some small items with them!!
"I'm Bored" Jar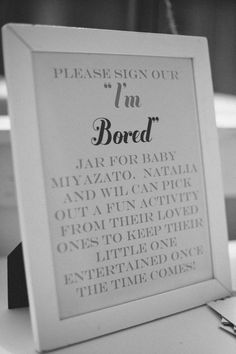 Have the guests write down a fun activity for the parents to do with their little one. When the child is "Bored" the parents will pull out an activity to do from the jar!
For this side activity, you'll need a cute box or an empty jar (a large one!! 32 oz or bigger), small pieces of paper or index cards cut into quarters, a few pens, and of course—the instructions!
Wishes for baby
Have the guests fill these cards out and put them into a book for the baby to read when he gets older. You can place a card by each seat, or have the stack of cards on a table with all the games and activities.
Write a message on a diaper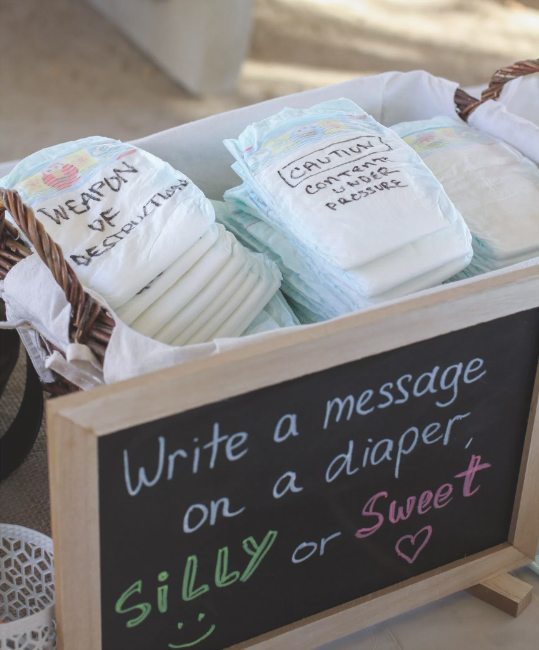 The mom to be will adore these silly or sweet messages during those late night feedings and diaper changes. Just have a box of clean diapers available, use these non bleeding fabric markers, and either write down some instructions or write a message on two diapers (one silly, one sweet) so guests know what to do!
Related: French Boy Names
Due date bets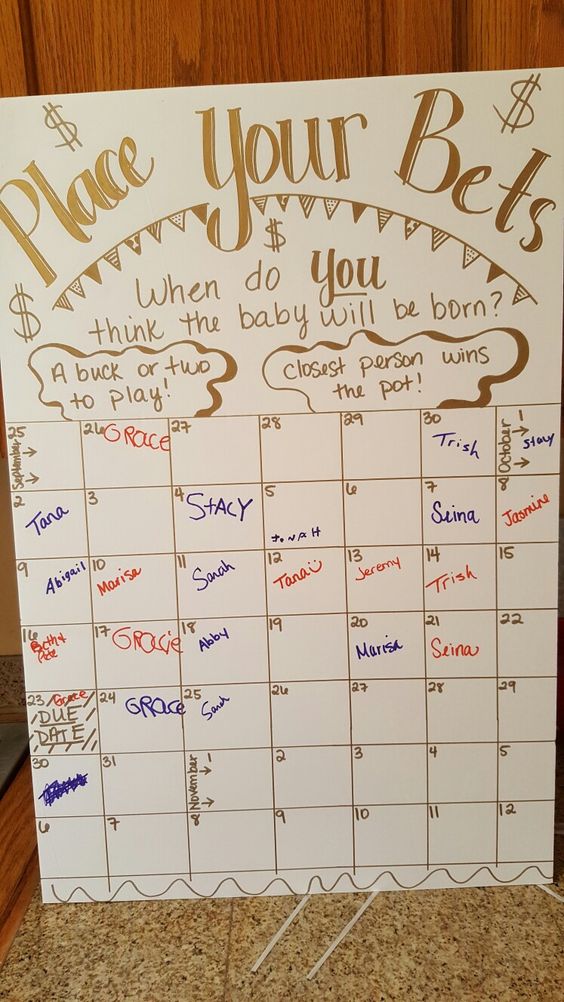 If the guests want to participate, have them place their bets on when the baby will arrive. It can be a $1 or $2 to play, or even $5. You can have the entire pot go to the person who is the closest, you can split the pot 50-50 with the person who wins and the mom to be, or split the pot however you would like.
For this activity, you can make your own betting board or get one here. You'll also need a box to collect the money the money, or simply an envelope.
Another option is instead of collecting money for a pot, you can have people "pledge" to deliver a freezer meal for the mom. The person (or people) closest to the date are on the hook to drop off a frozen casserole or whatever other dish they want!
Related: Make a Gender Reveal Gift Basket!
Food and drinks for a boy baby shower
If you are not having the baby shower catered or if the venue is not providing the food, here are a few great options for baby shower recipes that can feed a crowd without being too much work for you.
Whatever you do, make sure to have a couple of gluten-free and/or vegan options if you don't know everyone's dietary preferences.
Main dishes
Side dishes
If you want to make this simple, serve a hearty side dish (think baby couscous salad, potato salad, pasta salad) in addition to a green salad. This way you don't need as many main dishes because people will be full and happy anyway!
Appetizers and dips
The best part of any party is the appetizers, right? Here are a few EASY ones that can be prepared ahead of time:
Desserts
Finger-food desserts are a lot more fun than serving cake, so here are a few ideas:
And here are a few really cute baby boy themed desserts for the shower: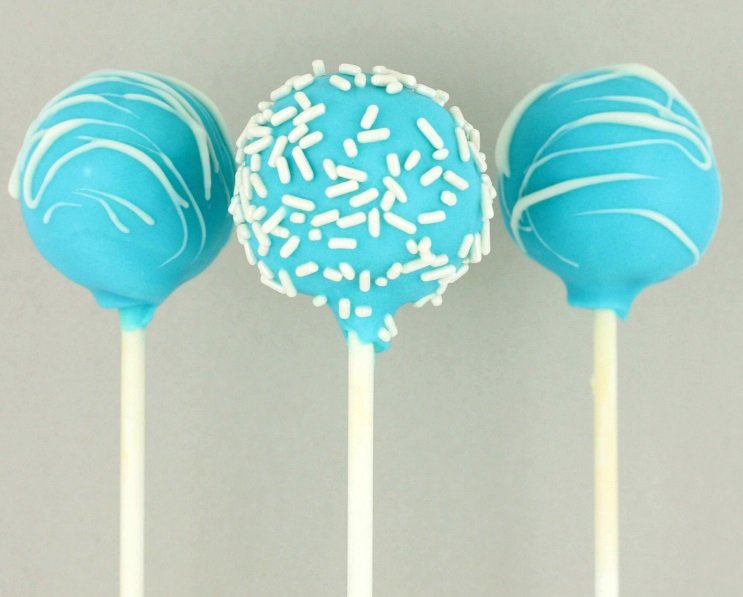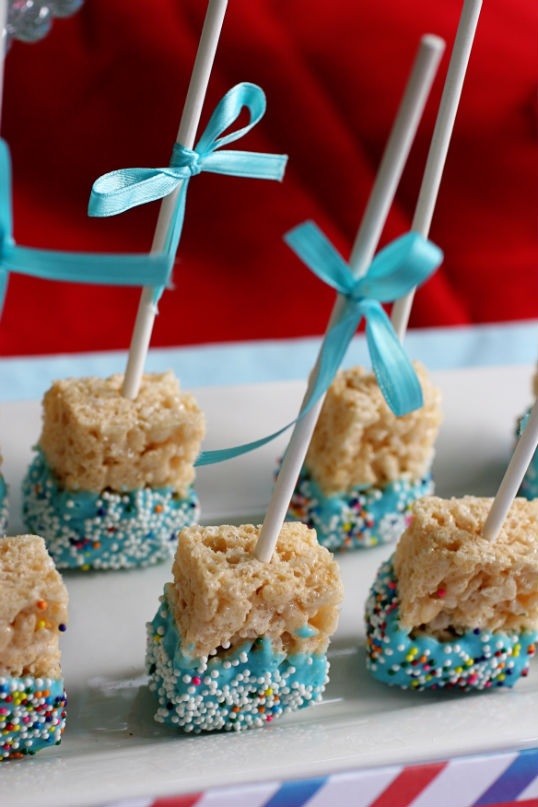 Baby Shower Chocolate Covered Strawberries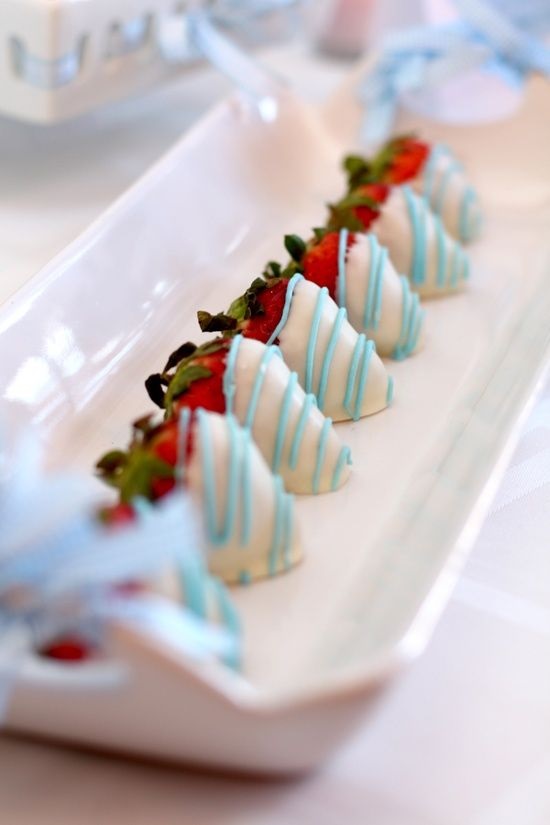 Cupcake Baby Carriage Arrangement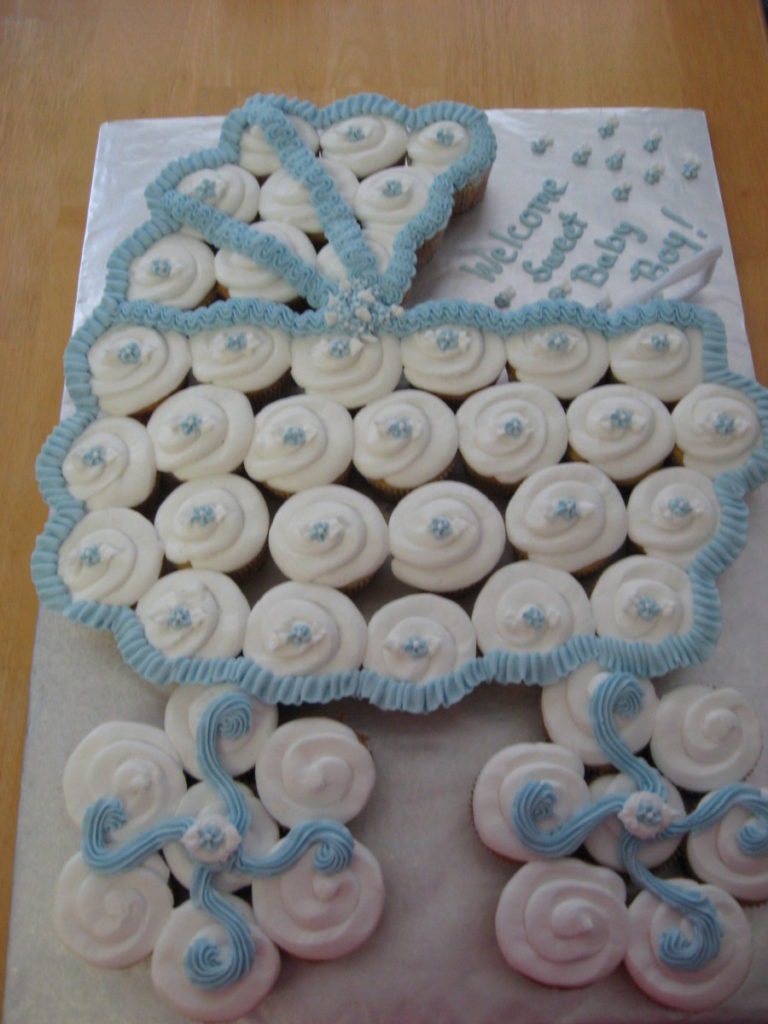 Baby Carriage Watermelon Carving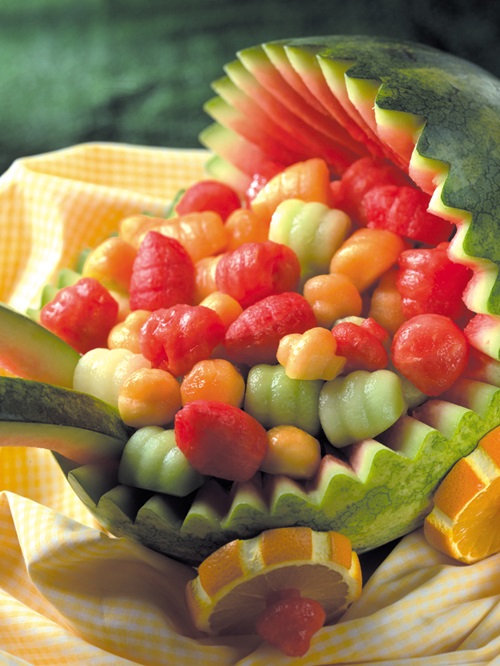 You can also have a local bakery decorate sugar cookies with blue icing!
Related: Baby Shower Gift Basket
Drinks
Have a few fruity drinks available, in addition to water, juice, and soda. Make a large punchbowl of cherry lemonade or minty green iced tea. If you want a little adult beverages, have a few bottles of wine and some champagne and fresh orange juice to make mimosas.
If you want to serve a few baby boy themed drinks, here are a few ideas: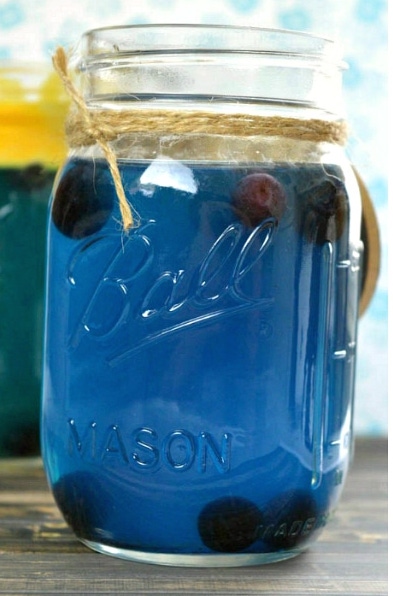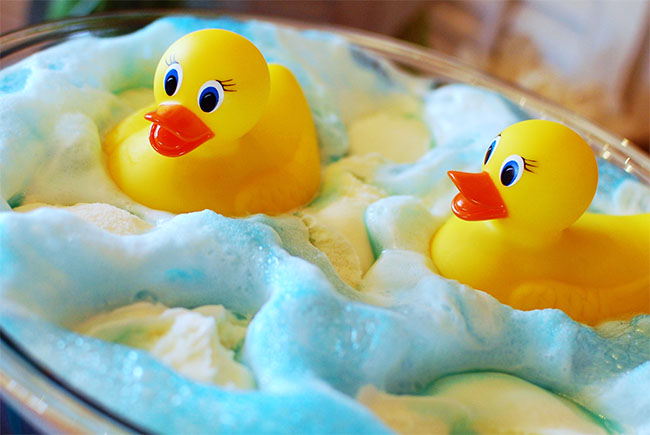 Related: One Syllable Boy Names
Décor for a boy baby shower
Decorating for a baby shower can be as simple or as involved as you want it to be. If you want to keep it simple, you don't need any blue or baby-themed decorations. Just a nice, clean venue with neutral tablecloths will be wonderful!
You can check out boy baby shower themes for ideas, or look at these to get your started: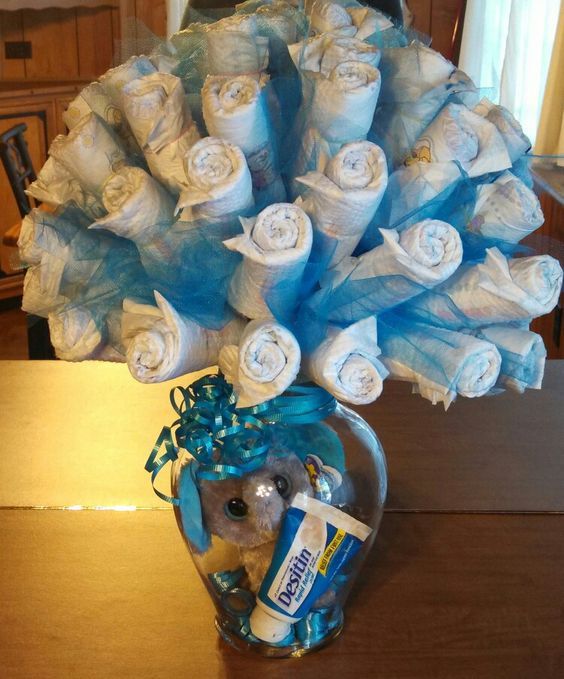 Use diapers, blue tulle, and a vase for a wonderful centerpiece idea.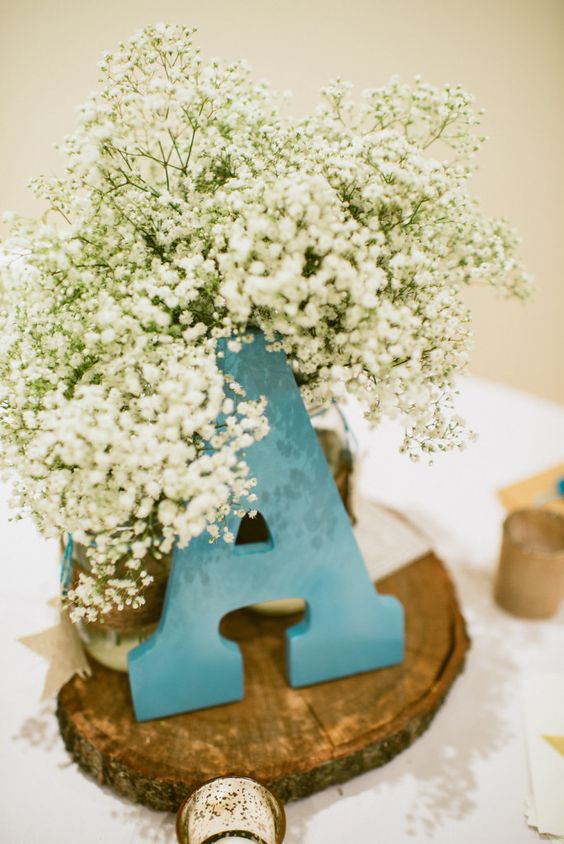 Wood slabs, baby's breath (the little white flowers), and a blue letter (either baby's last name or first name if they have picked out a name). You can find wood slabs here. Blue letters can be found here.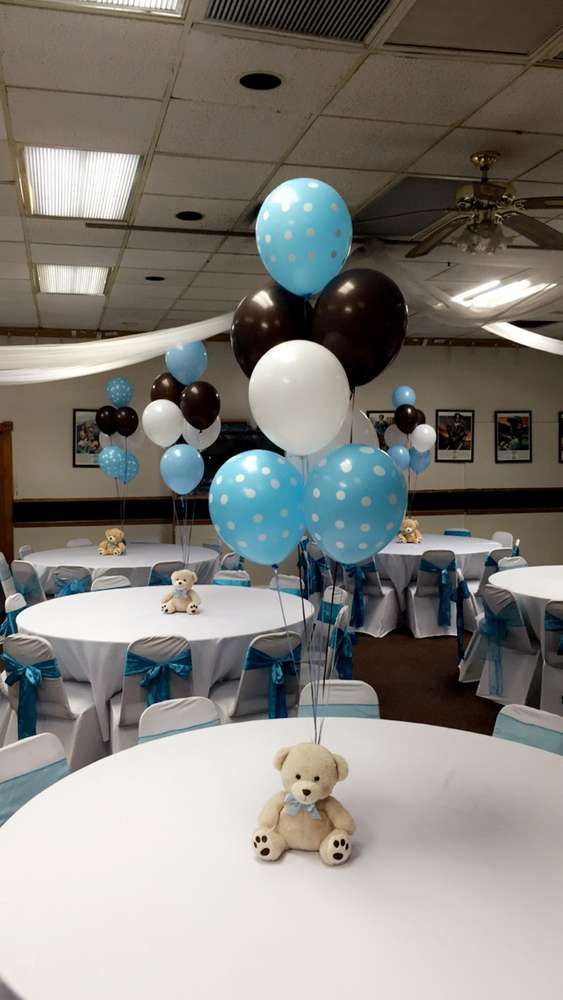 A simple teddy bear tied to blue balloons makes for a cute, inexpensive center piece. As a bonus, the mom-to-be can take home the teddy bear (and other animals) for her baby! Get blue balloons here.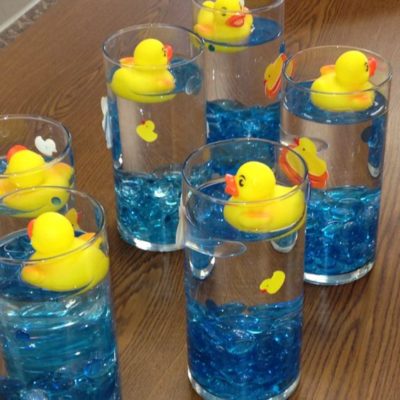 You can find a pack of rubber ducks here. You can find glass vases here. And marbles here.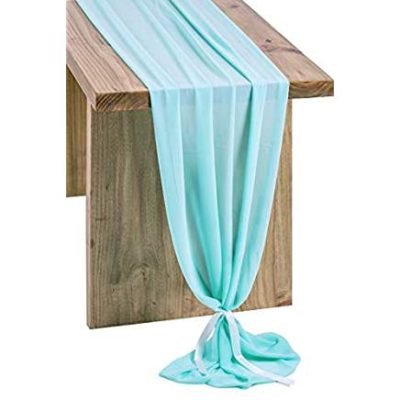 You can get this table runner here.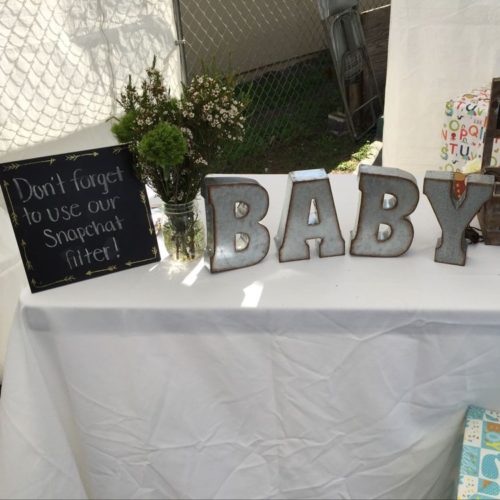 Simple yet darling for the guest book table. Find beautiful rustic galvanized letters here.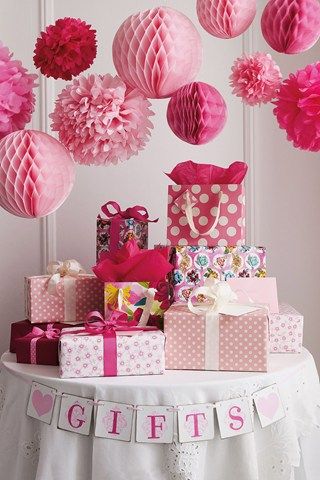 Such a cute idea for the gifts table, but just using blue instead. Find the paper pom pom balls here. Gifts banner here.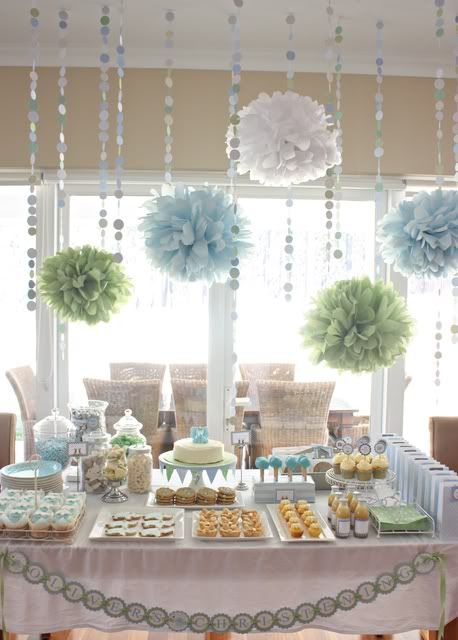 You can find the pom pom balls here. The circle streamers here. Food tiers here.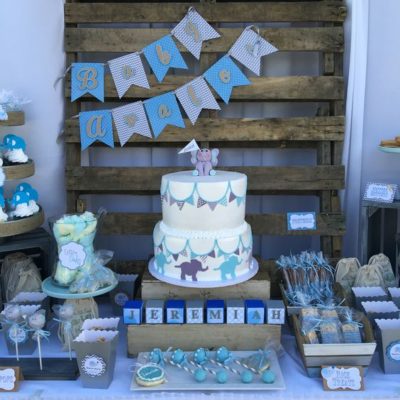 You can find white food trays here. "Its a boy" banner here.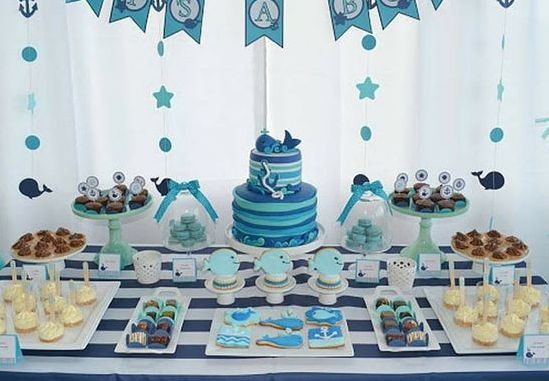 You can find the "It's a boy" banner here. Blue star garland streamers here. Navy and white striped table runner here.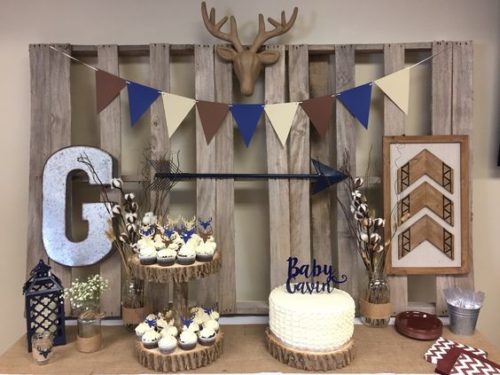 You can find wood table decorations here. Wood food tier here. Metal letters here. Deer head here.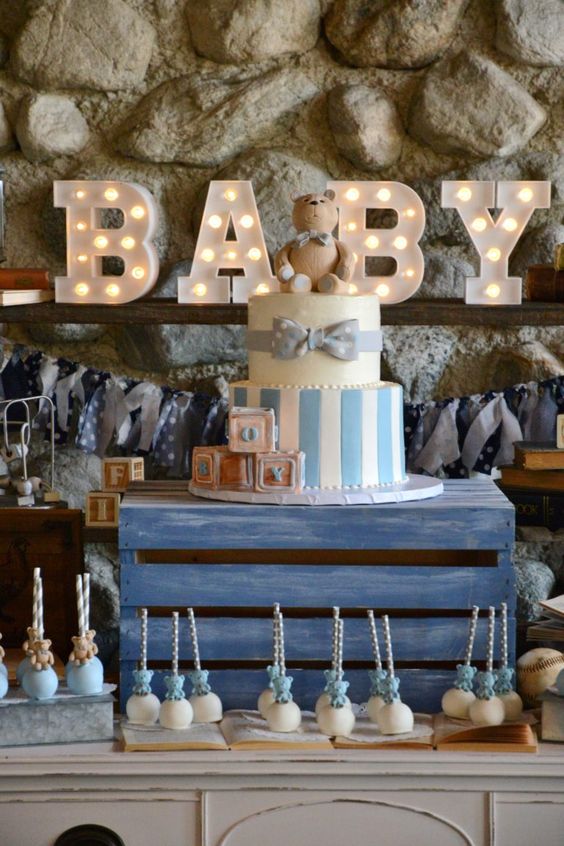 You can find wooden crates here. Light up letters here. And a tassel garland here.
Diaper cakes
And here are some AWESOME diaper cake ideas: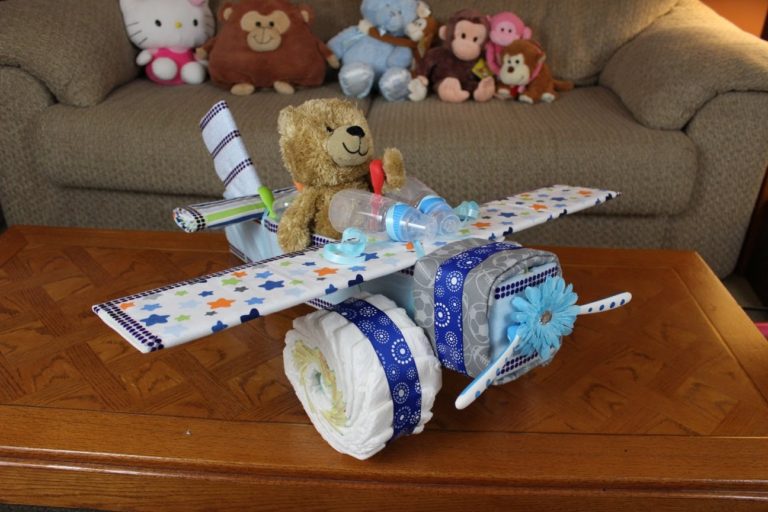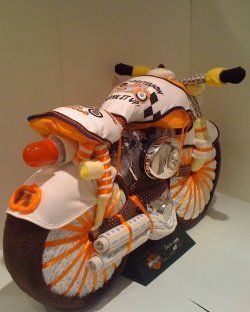 Football Diaper Cake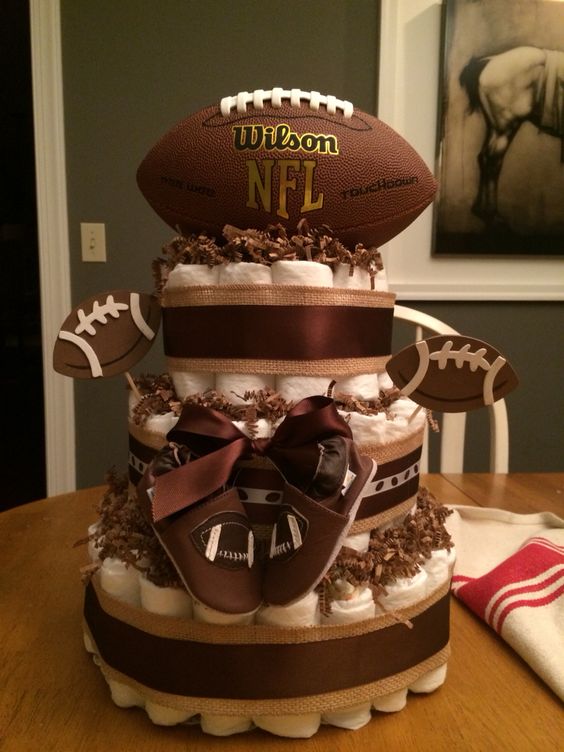 Baseball Diaper Cake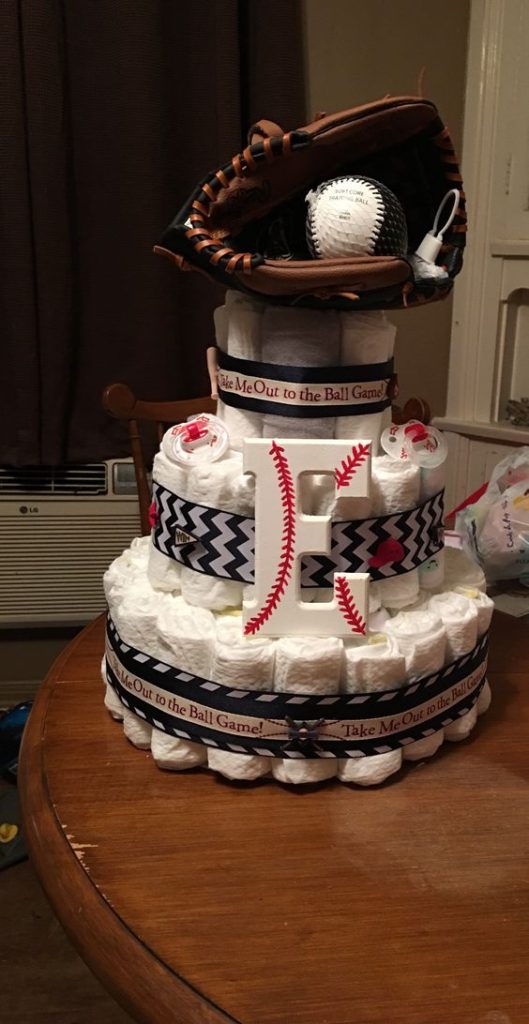 Tables and serving ware
If the venue is not providing all this, make sure to have enough tables set up to display the food and dessert (think through whether there are any crockpots that might need to be near an outlet), and have some nice tablecloths covering the tables… this is both to protect the table and decorate the space
Make sure to have enough serving spoons, napkins, food plates, dessert plates, cups, utensils, etc.
Need more inspiration? Browse these Baby Shower Boards on Pinterest!
Thank you cards
Don't forget to pick up thank you cards to send to the guests after the shower! If you're planning this for the mom, it's such a nice touch so she doesn't have to do this herself! Just make sure you give her a heads up so that she doesn't also get thank you cards.
And THANK YOU for reading this! I hope you found it helpful! Make sure to pin it on Pinterest for later, or share it with a friend!