Canned tuna can make for very nutritious and EASY meals for toddlers and kids. Read below for how to choose tuna that's safe for kids and for lots of easy, delicious tuna recipes for toddlers that the whole family will love too!
Tuna is a very budget-friendly protein to cook for the whole family. You'll love these kid-friendly tuna recipe ideas!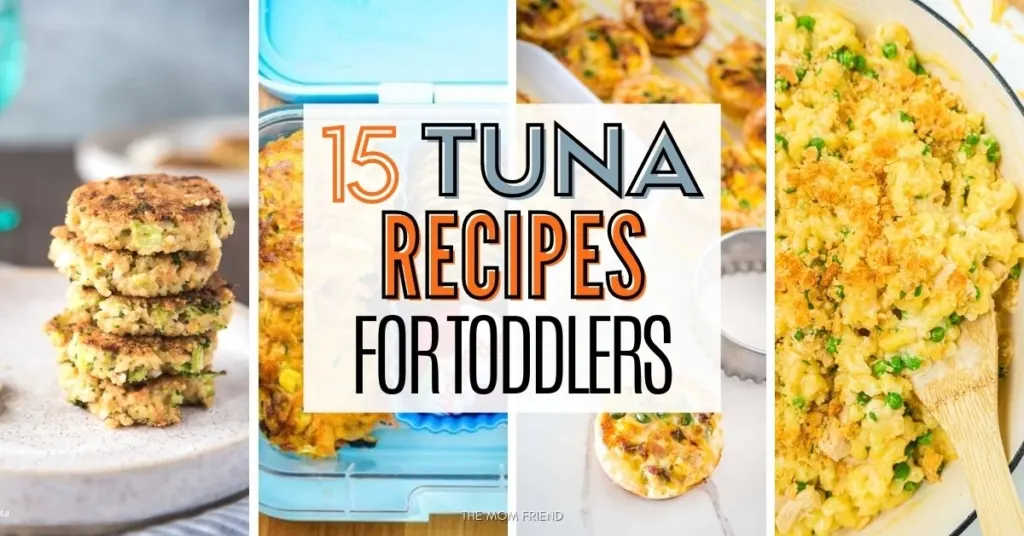 Can toddlers eat tuna?
Tuna is high in protein, helping little muscles grow. It is also high in Omega-3 fatty acids, which are essential for healthy brain development in toddlers and kids.
At the same time, tuna is a large fish, so it contains higher amounts of mercury compared to smaller fish and seafood, such as salmon, sardines, or shrimp. Choose canned light tuna or smaller tuna varieties, such as skipjack to help reduce the amount of mercury.
Check with your pediatrician about how much tuna toddlers and kids should eat. In our house we feel comfortable serving about 2-3 servings of tuna to our 4 year old son per month, even though the FDA says we can give more (see FDA recommendations for fish servings).
RELATED: Daycare Lunch Ideas
What kind of canned tuna to choose for toddlers and kids
Choose "light" or "lite" canned tuna when shopping for tuna to cook for kids. Albacore tuna contains more mercury and is not recommended for small children as much as chunk light tuna. Chunk light tuna is canned from smaller tuna fish than albacore, which means that the fish have not consumed as much mercury during their lifetime.
The good thing is all the kid-friendly recipes below call for light tuna, OR can be made interchangeably with light tuna or albacore tuna.
Enjoy!!
Tuna Recipes for Toddlers
A lot of the recipes below combine tuna with other ingredients, such as pasta, rice, potatoes, quinoa, and even veggies. Combining tuna with other ingredients is a great way to make sure your toddlers and kids get healthy nutritious tuna in their diet without going over the recommended servings of tuna per week.
I hope you get to try some of these kid-friendly tuna recipes and that your little ones love them!! If you found this helpful and want to save it for later, make sure to save this to Pinterest! And please share it with a friend if you know someone looking for nutritious meal ideas for their kids.