Japandi is an emerging interior design style that combines the best elements of Japanese and Scandinavian design. Read this guide for creating a peaceful, beautiful Japandi style nursery with lots of tips and decor ideas. You will love the gorgeous, peaceful room you will be able to create for your baby!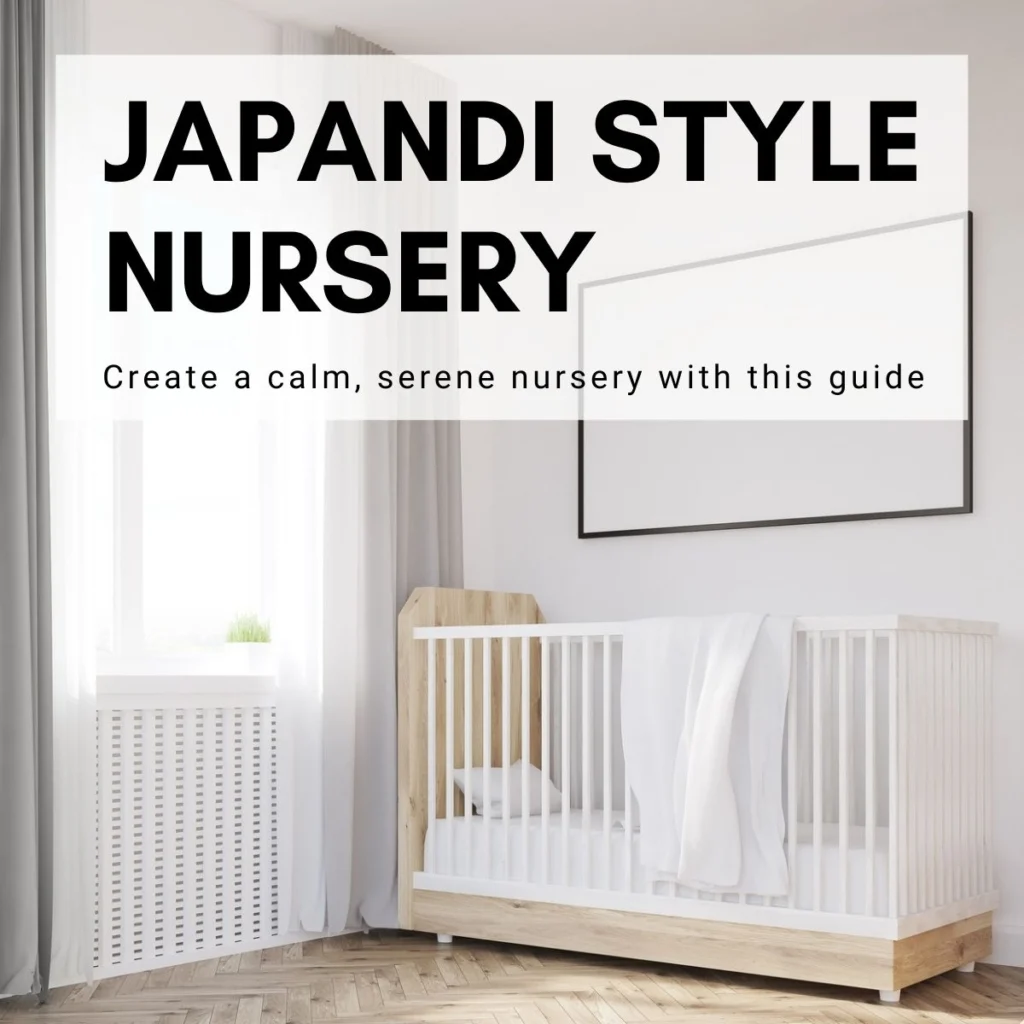 What is Japandi?
The word Japandi is literally the combination of "Japanese" + "Scandinavian" (Scandi). Japandi focuses on minimalism and nature, which it gets from Japanese design, as well as functionality that comes from Scandinavian culture. Japandi combines clean lines, natural elements, and a feeling of simplicity and art while still being functional.
Here are a few images of Japandi design for inspiration so you get an idea of the style to use for your nursery: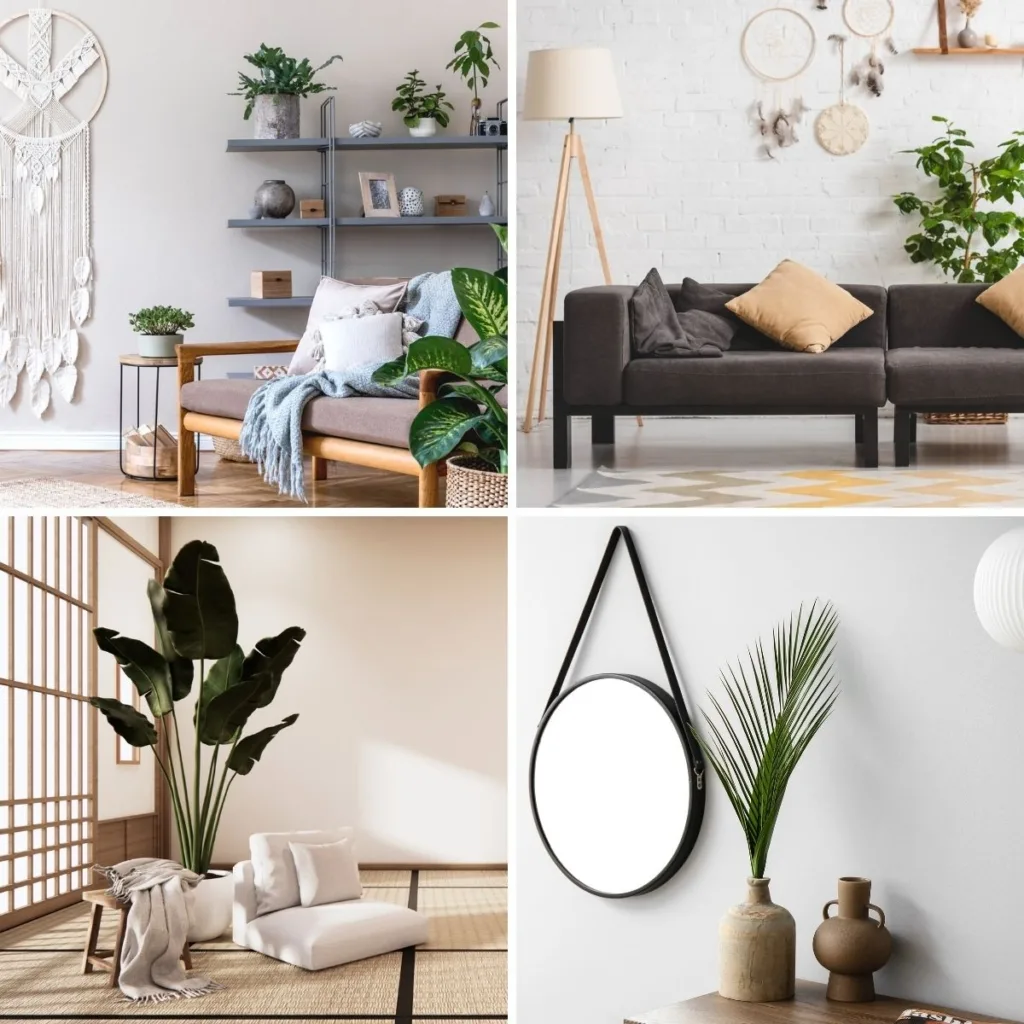 How to incorporate Japandi elements into a baby or toddler room
It's easy to incorporate Japandi elements into a nursery, since Japandi focuses on nature and light, both of which we typically want in a baby room anyway.
Think natural wood tones and clean lines for furniture. Think soft, comfy rugs. Add some natural light and natural fabric curtains instead of blinds. Add some color with the wall decor but keep the colors intentionally natural and earthy.
Below I link to some of my favorite Japandi finds, mostly from Etsy and Amazon affiliate links. Japandi emphasizes sustainable materials from natural materials instead of cheap, plastic items or fiberboard or particleboard. Personally I would love to buy all handmade items from Etsy sellers and local artists, but because that is not financially accessible to many people, I do turn to big box stores and Amazon for many items. It's a balance that works well for us.
RELATED: Modern Farmhouse Playroom
Japandi color palette for a nursery
One of the easiest way to get started with a Japandi style room for your kids is to choose colors that evoke the feelings of calm, nature, and simplicity. This means choosing non-circus-colored items and decor for the room, and venturing out a little from the grey chevron patterns that have been popular lately (although I do love those!!).
A good way to achieve a calm, Japandi-style room is to paint the walls a neutral light color, choose light-colored wooden furniture, and add in pops of color with nature elements such as rich green colors inspired by trees, earthy browns and deep mustards inspired by earth, red clay, and other natural elements.
Here is a great color palette from Etsy to get your started with choosing room colors.
One of the best parts about Japandi is that it creates a pretty neutral nursery, suitable for boys and girls. This way you're not committing to pink or blue only to find out 2 years later that your toddler's favorite color is purple or green!
RELATED: Gender-Neutral One Syllable Baby Names
Reducing clutter and keeping the room organized
A bit component of Japandi design is reducing clutter and keeping things organized. There are 2 main ways to achieve this: (1) Reduce the amount of toys, books, and clothes in the nursery by displaying only what your baby needs during the current phase of their development, and (2) Have a place for everything.
RELATED ARTICLE: 11 Toy Organization Ideas
Best Japandi finds for a nursery or toddler room
After you select the wall color, it's time to choose items for your nursery. In true Japandi style, you want to think everything through and make sure everything has great functionality and contributes to an overall sense of peace and organization in the room.
Wooden crib
This crib is super functional because it coverts from a crib to a day bed to a toddler bed, and even to a full size bed. It has simple, clean lines, and it is made from solid pine wood. Available from Amazon with free shipping. Learn more about it here.
Japandi crib sheets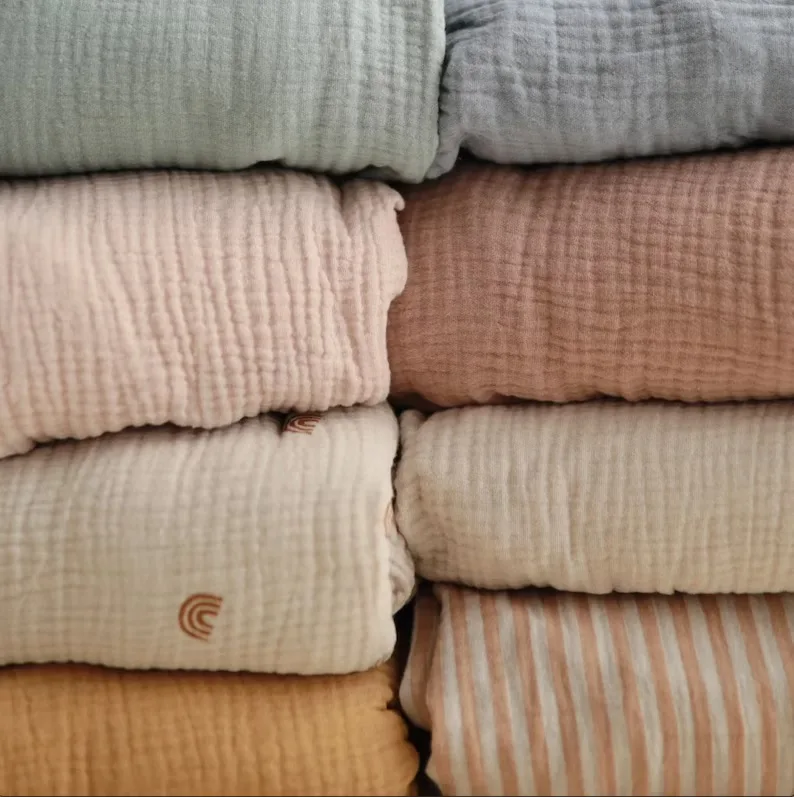 These extra soft muslin cottom crib sheets come in gorgeous natural colors, so you can choose the one that would go best with the rest of the nursery decor that you choose. The soft breathable fabric definitely makes for a peaceful night's sleep…. us moms can only hope, right??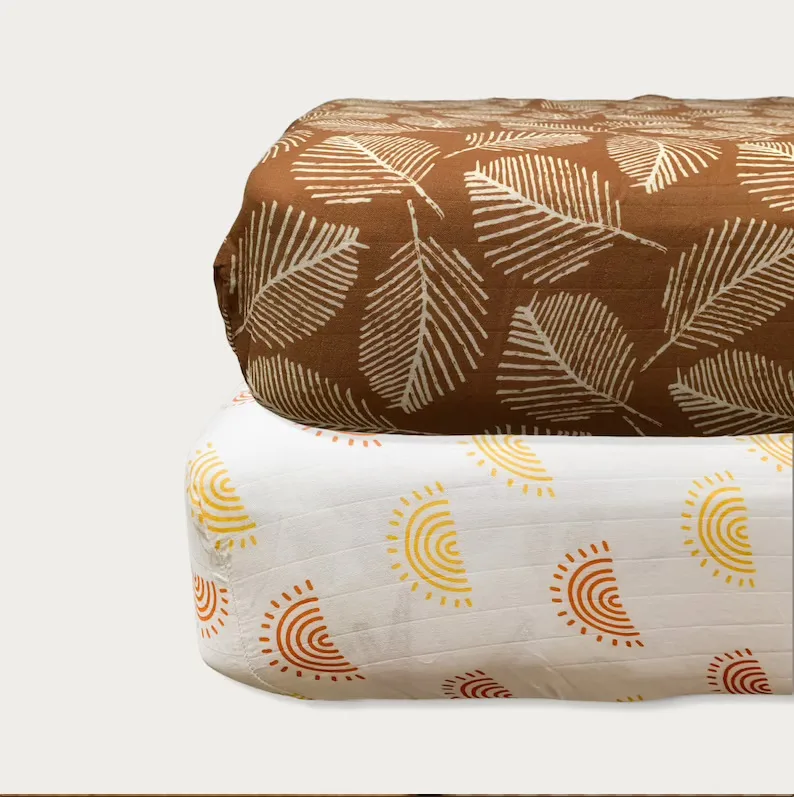 If you want to add a little more patterns to your baby's sheets, these are a great option. The soft bamboo fabric is breathable and great for sensitive baby skin.
RELATED: Two Syllable Girl Names
Crib mobile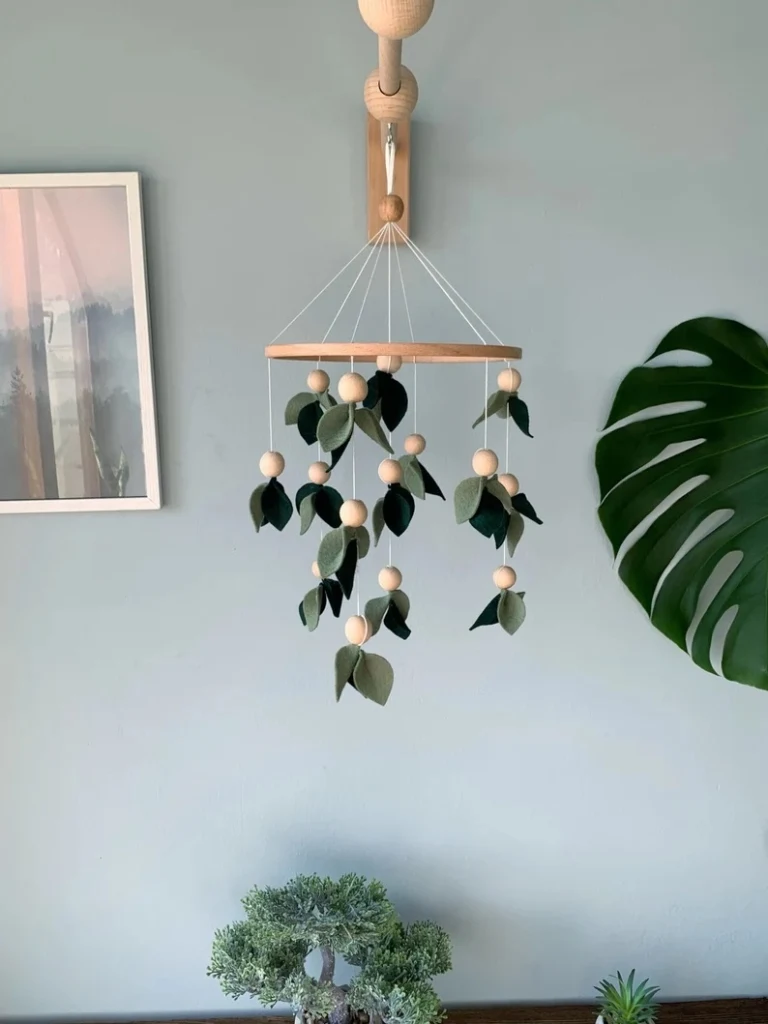 There are so many gorgeous crib mobiles that will calm, relax, and entertain your baby without any garish plastic. Instead, natural fabrics and calming colors can be the first thing your baby sees when they wake up. Here is a great one with natural wood and green leaves.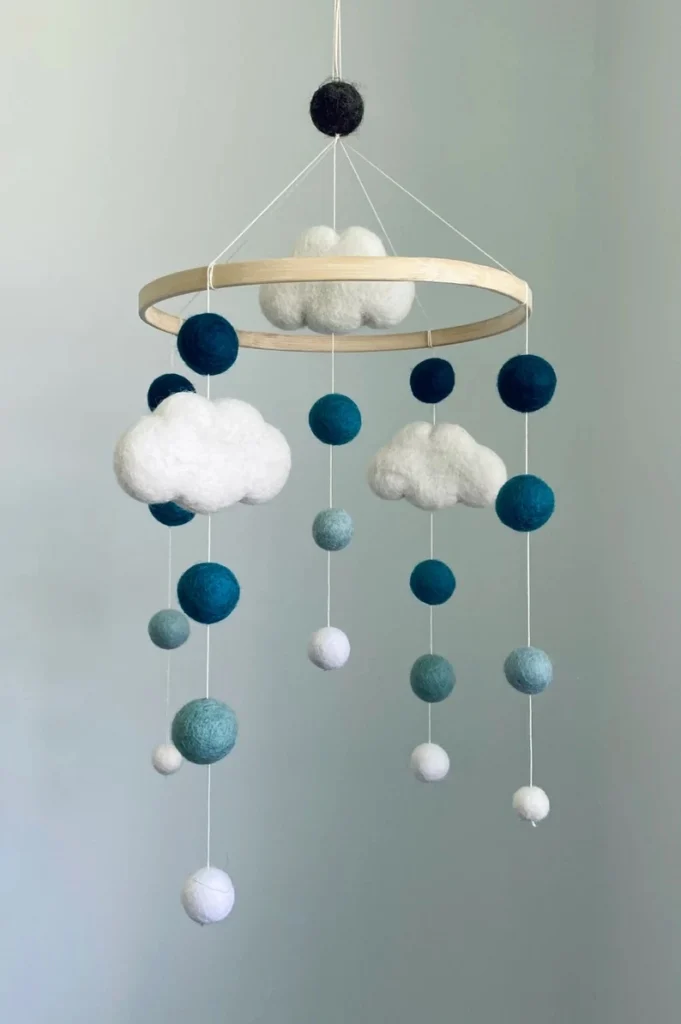 Here is another mobile with clouds, and it's a great option if you want to add some blue tones to the nursery, and here is one with pink tones.
Soft rug for baby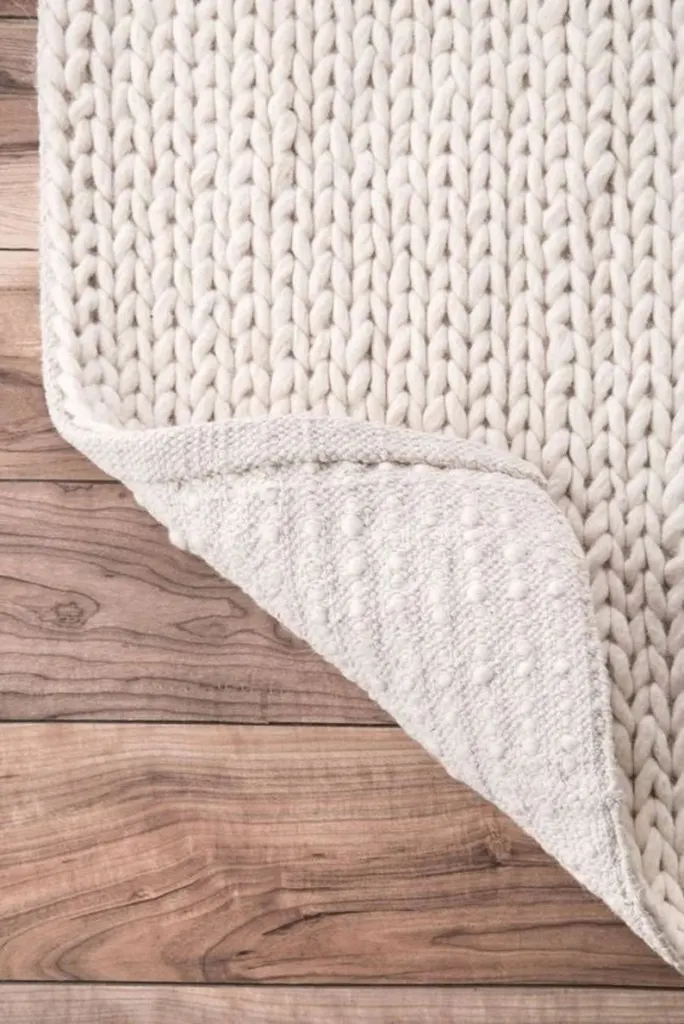 This hand-knitted chunky rug evokes all the hygge, cozy vibes and will soften the many falls, trips, and bumps that your baby will inevitably have as they learn to crawl, try to sit, and attempt their first steps.
For a more budget-friendly option, check out this one from Amazon, in grey.
RELATED: Strong Girl Names
Changing table
This pine changing table has clean lines, is made from solid pinewood, and has a safety bar to make sure your baby doesn't fall if they roll over. It has 2 shelves on the bottom for storage. Learn more about it here.
Dresser with changing table
If you don't have a lot of closet space and want more closed storage, you can always go with a classic dresser and put a changing pad on top. A white organic cotton changing pad cover should fit in with the calm colors of the nursery.
Just make sure to secure the changing pad to the dresser, and secure the dresser to the wall with anchors to make sure it does not tip over when baby gets old enough to start climbing on it.
Rocking chair / glider
As a mom, the only thing I would recommend not to get in Japandi style is a recliner / glider / rocking chair. The minimalist IKEA look is definitely less imposing than a huge glider, but is not as comfortable. You'll want a comfortable place to sit for story time, for middle of the night feedings, and for sick baby snuggles.
So go with a neutral color, such as this one, and get a throw in a complementary colors to bring in the Japandi elements. This natural fiber blanket is gorgeous and will keep you warm during the long nights.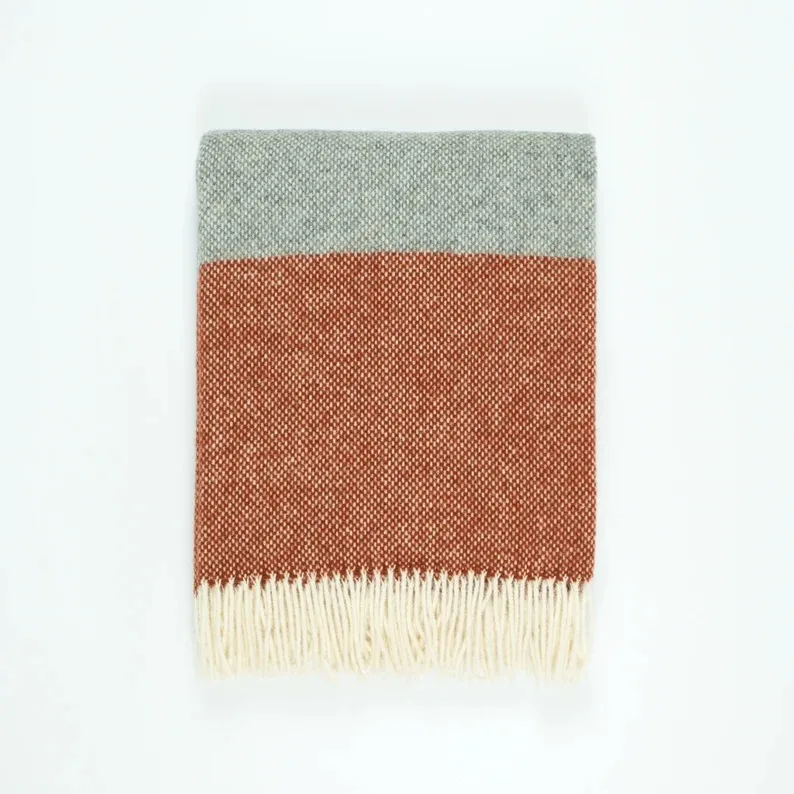 Japandi nursery decor
Just because you're not decorating the walls with tons of colorful decals, doesn't mean that you can't provide your baby with lots of stimulating images, colors, and textures to look at in their nursery.
In fact, sticking with Japandi design allows you more flexibility in decor. Instead of choosing a "theme" for the nursery (such as space, forest animals, Winnie the Pooh, etc), you can choose a color palette and choose items that will look visually pleasing in the nursery.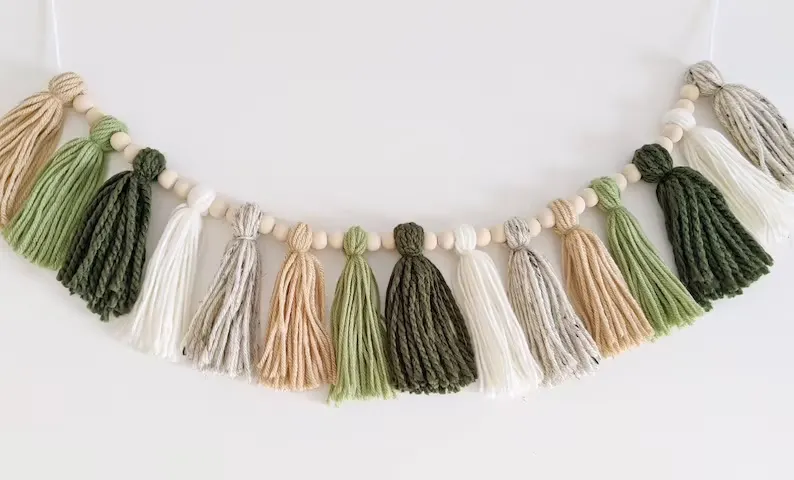 This gorgeous tassel garland stays true to organic, neutral colors and provides lots of texture for the nursery (also making a great sensory activity for baby—under supervision, of course).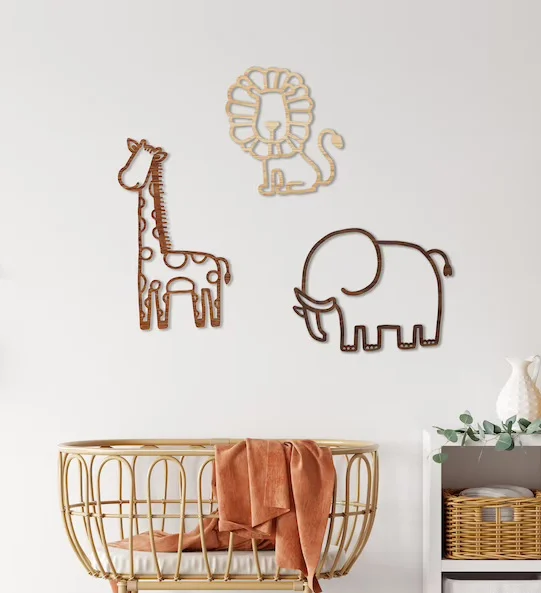 These wooden safari animal cutouts make a great textured wall decoration, with a simple contrast between the natural wood and your wall color.
RELATED: Spring and Summer Maternity Wear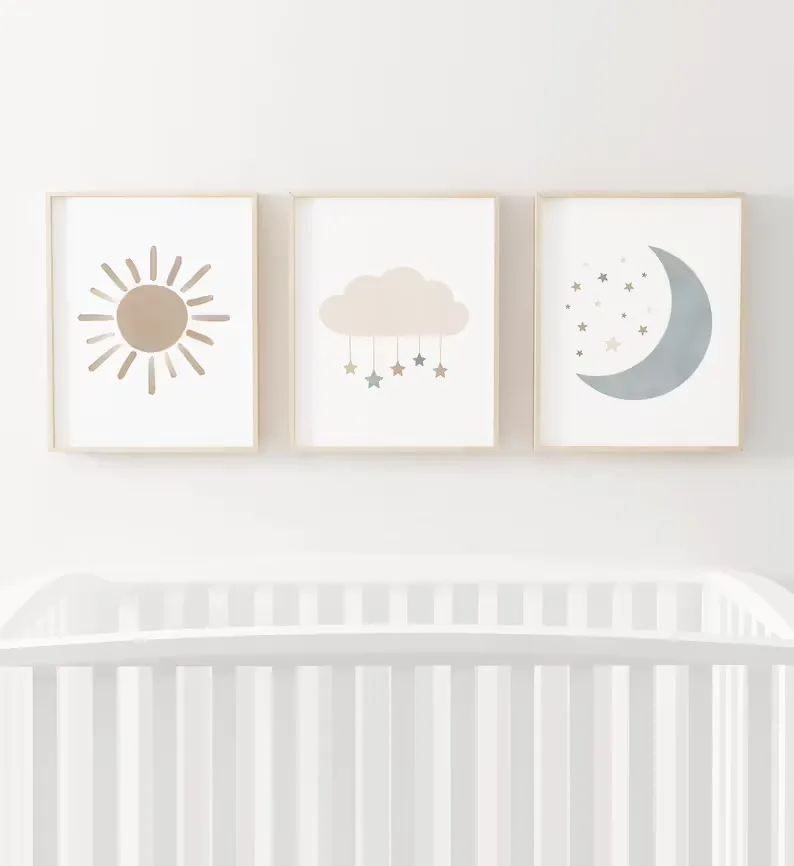 Prints are a great inexpensive way to put art on nursery walls. This set of 3 neutral cloud, mood, and sun prints would be perfect for these natural wood frames. I love that these prints are a digital download and can be reprinted in any size you need as many times as you want. A thin elegant wooden frame is best for these prints.
I've also ordered amazing posters/prints and canvases from PhotoWall when they emailed me asking if I would like to try their products for review. This serene leafy design would be great as wallpaper for an accent wall.
This sakura design would be awesome printed on canvas for a nursery to add a pop of color but keep the nature elements.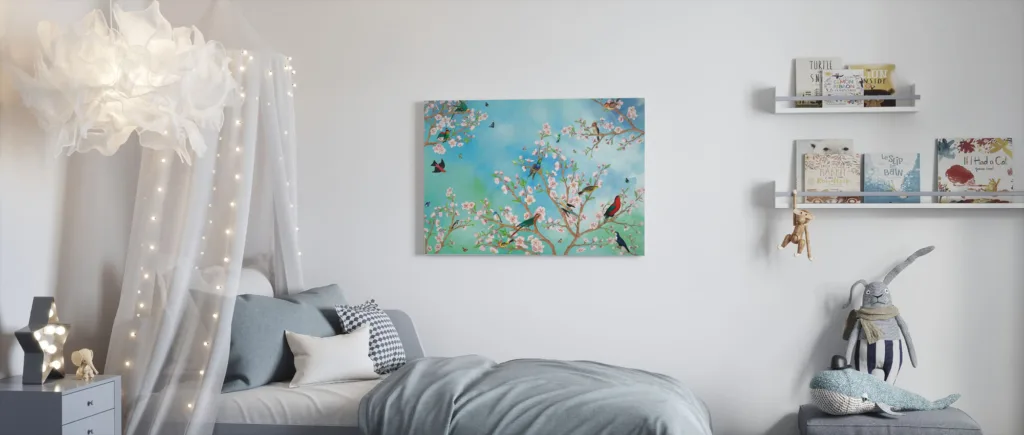 Organization
Part of Japandi is keeping the space tify and organized.
Book storage
Book storage is a must for the nursery, so you never forget to ready to your little one. Here's a great Montessori-style bookshelf made from natural wood. And here are wooden wall shelves to display books for easy grabbing for adults if you want to keep a few special books out of reach of little hands until they can be trusted to not tear apart books.
Toy storage – Japandi style
I love these cotton rope baskets because they're stylish, washable, and soft, meaning your baby won't hurt themselves if they bump into them (which they will do, many times over!). They're perfect for storing stuffies, extra baby blankets, etc.
Here is a natural wicker storage trunk to store your baby's toys.
I hope you love the Japandi nursery items I linked to here, and use the items here as a starting point or inspiration for your baby's room!
If you found this helpful or know an expecting parent who is looking for nursery ideas, please share this article with them or save it for later on Pinterest!