Dreaming of a kids' playroom that is so magical, neither you nor them will ever want to leave? Look no further than this amazing and whimsical modern farmhouse playroom!
Everywhere you look there are thoughtful details and adorable surprises, making the little girls who call this their own one very lucky pair!
I chatted with Morgan—the mastermind and mom from the Northeast who is behind this beautiful space—and am sharing all of it here to help you find inspiration when designing your own children's play space or looking for unique ways to store and display toys while inciting the imagination.
Take a look at all of these awesome ideas, and be sure to check out our post on the best playroom signs, which includes one from this adorable play area!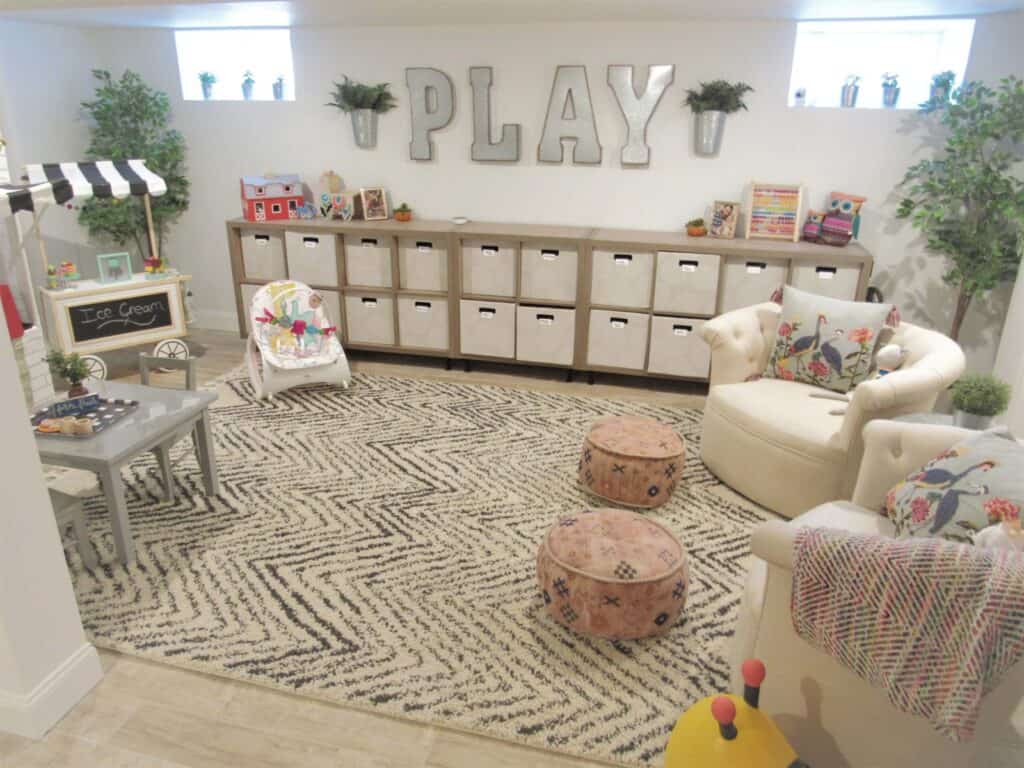 RELATED: Japandi Style Nursery
A Modern Farmhouse Playroom Perfect for Pretend Play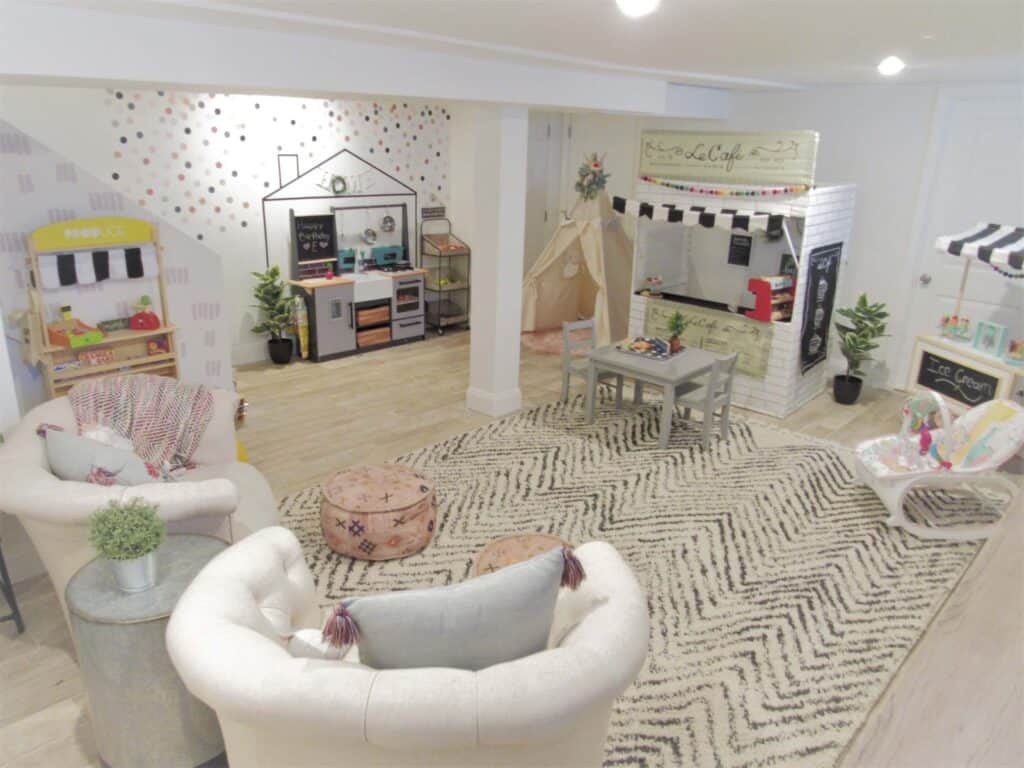 How adorable is this entire space? I love how she lightened up the entire room and filled it with things that would make any child want to stay and play for hours on end!
The level of detail is amazing. For information on where to find items in the playroom, scroll to the bottom of the post—we've got all the links you need!
RELATED: Modern Girl Nursery
So Many Incredible Playroom Ideas in One Room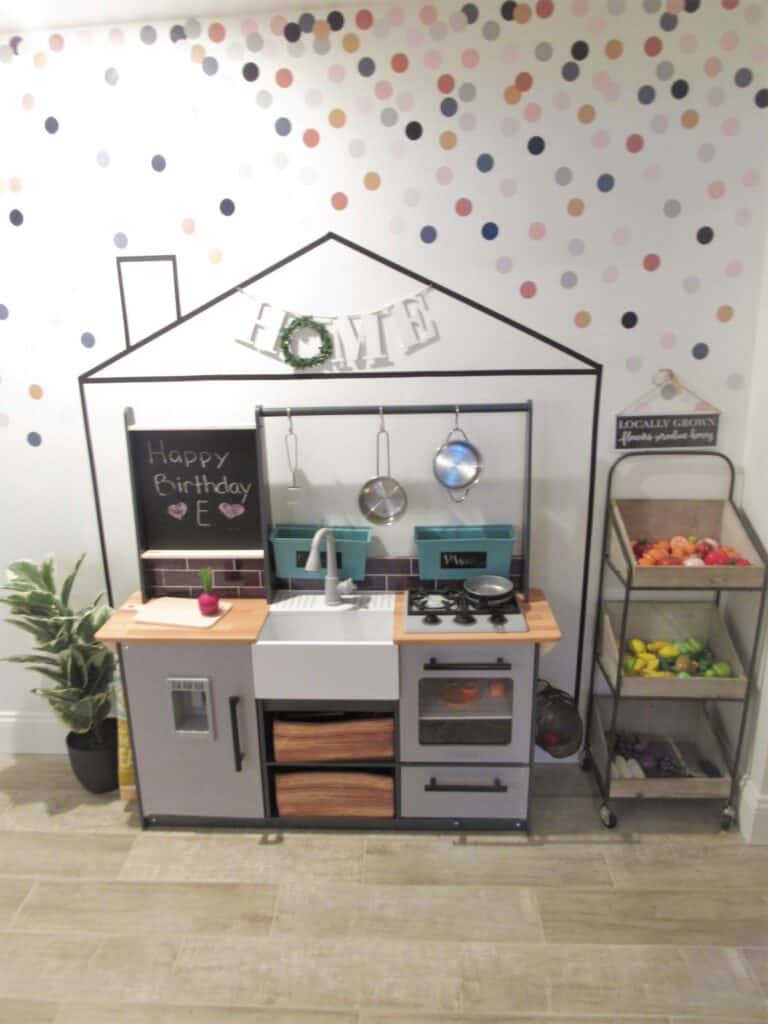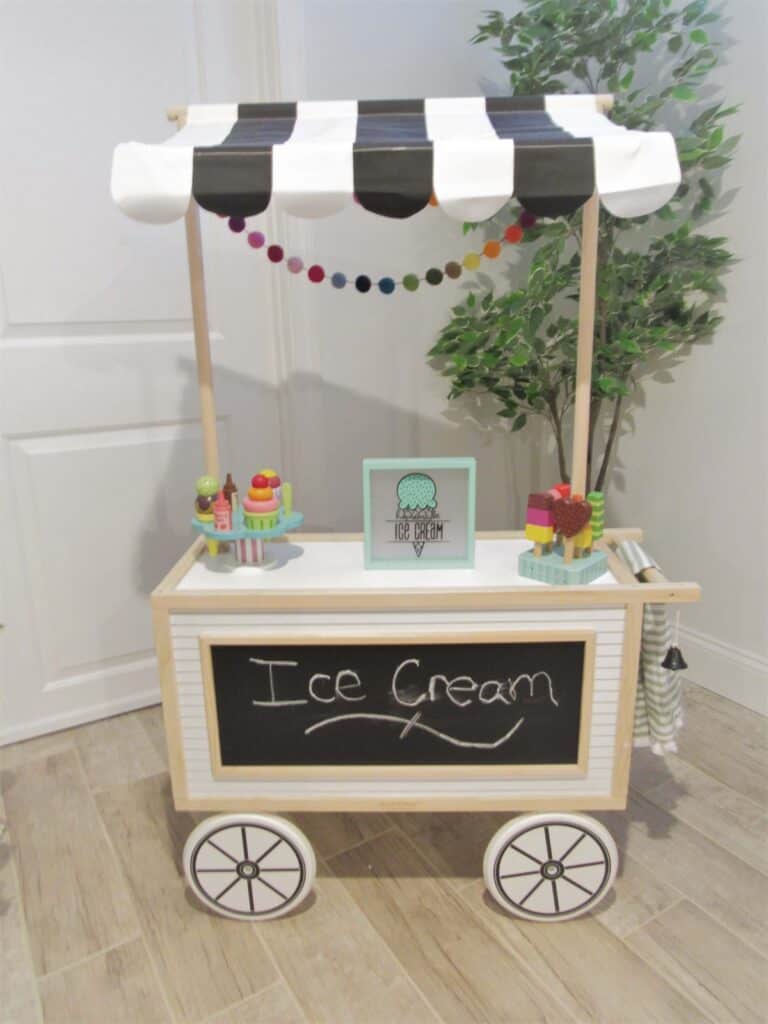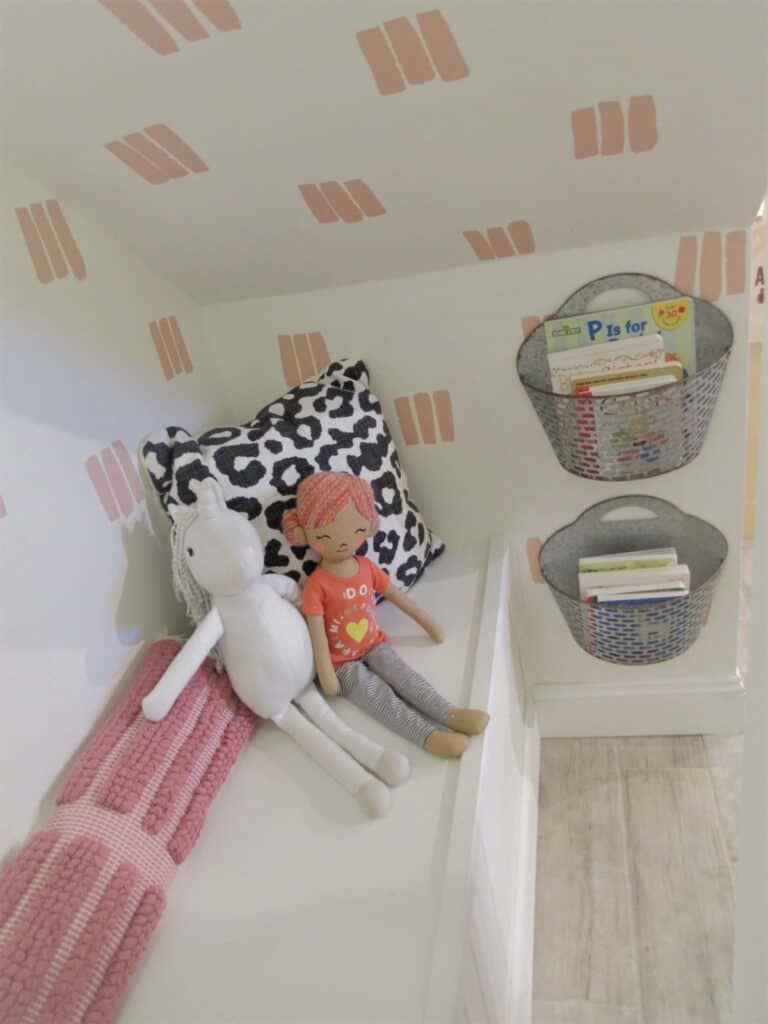 This little cafe is the sweetest thing. I can imagine it will bring lots of inspired play for her little girls!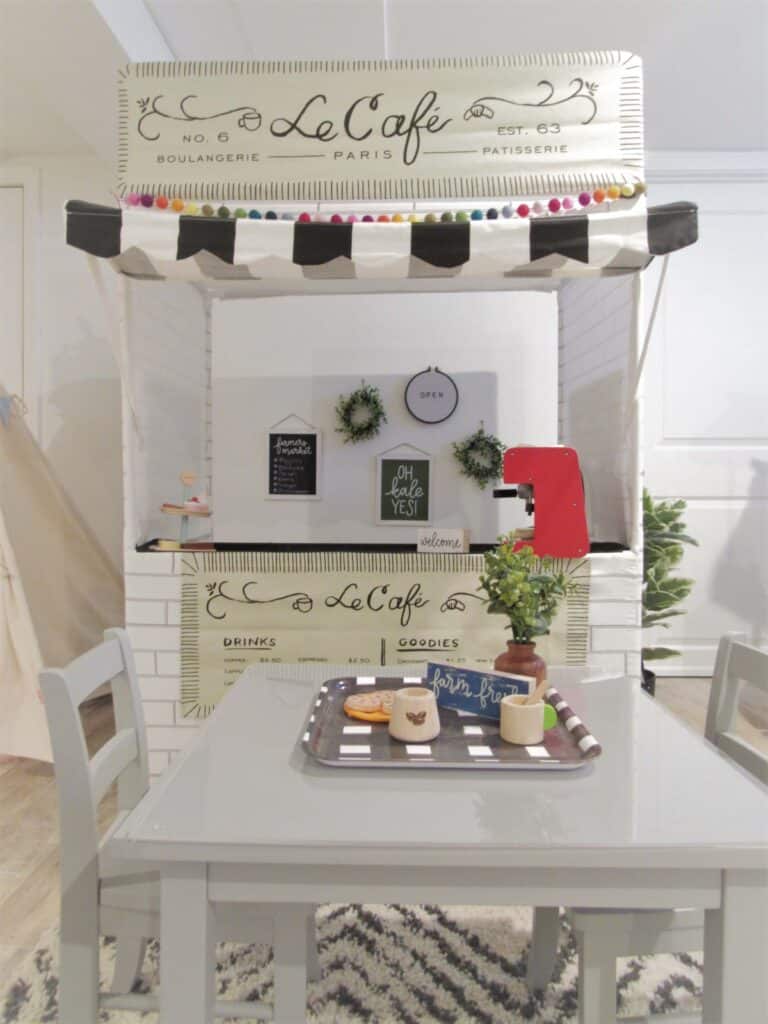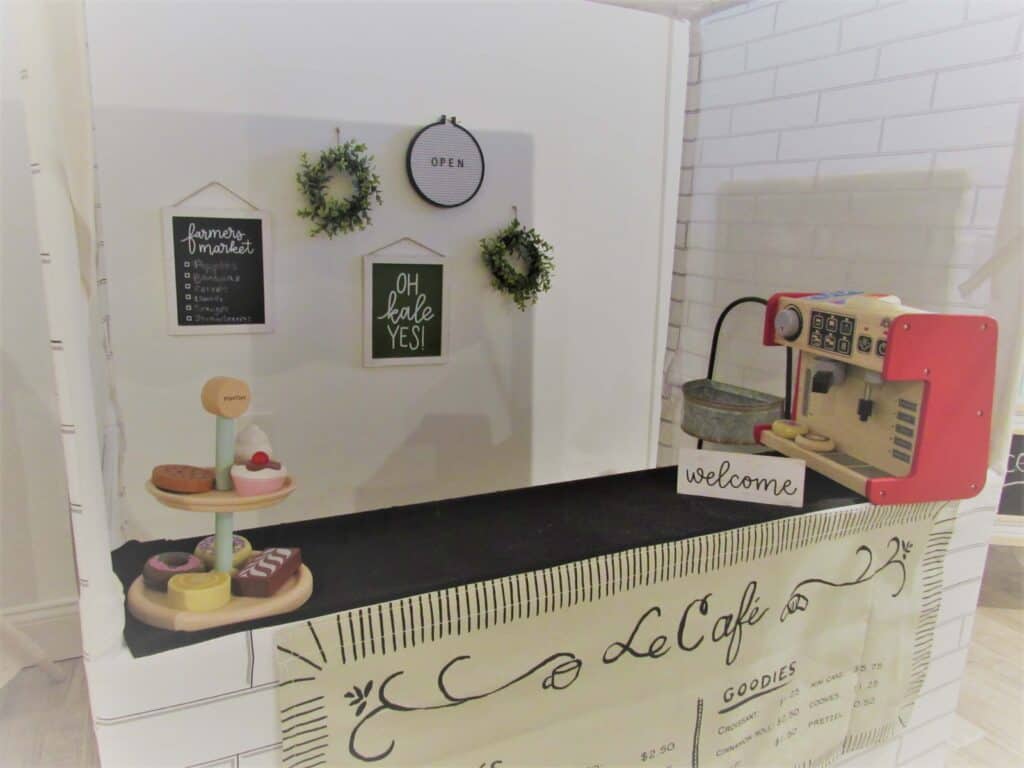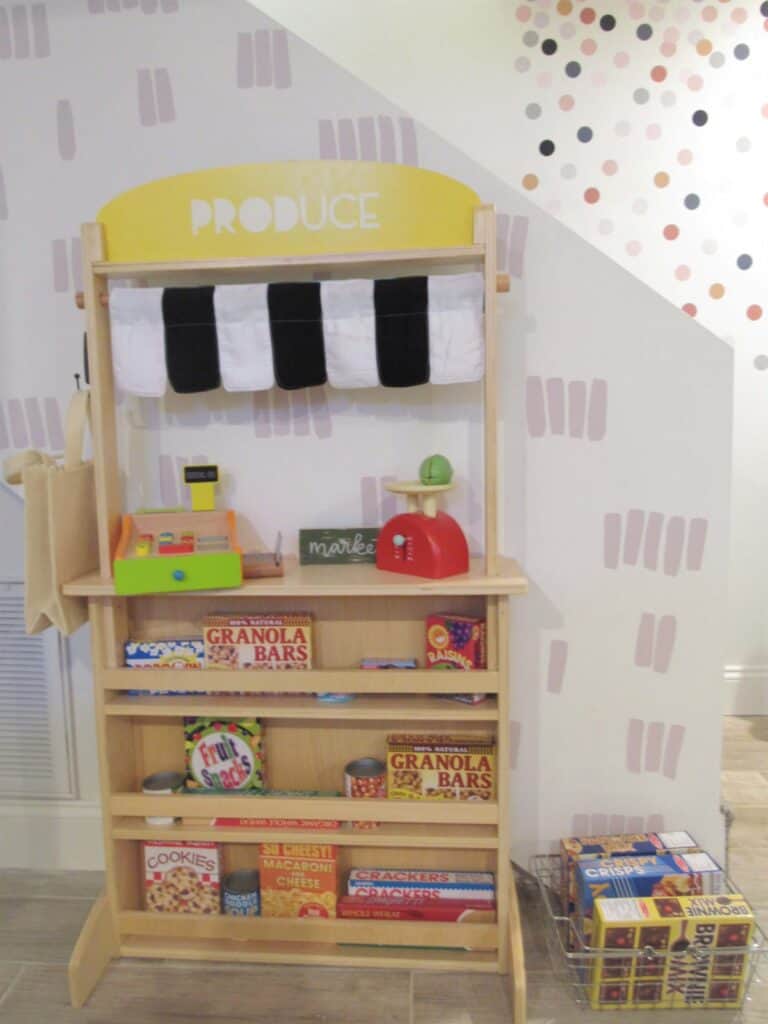 Related: The Importance of Play in Child Development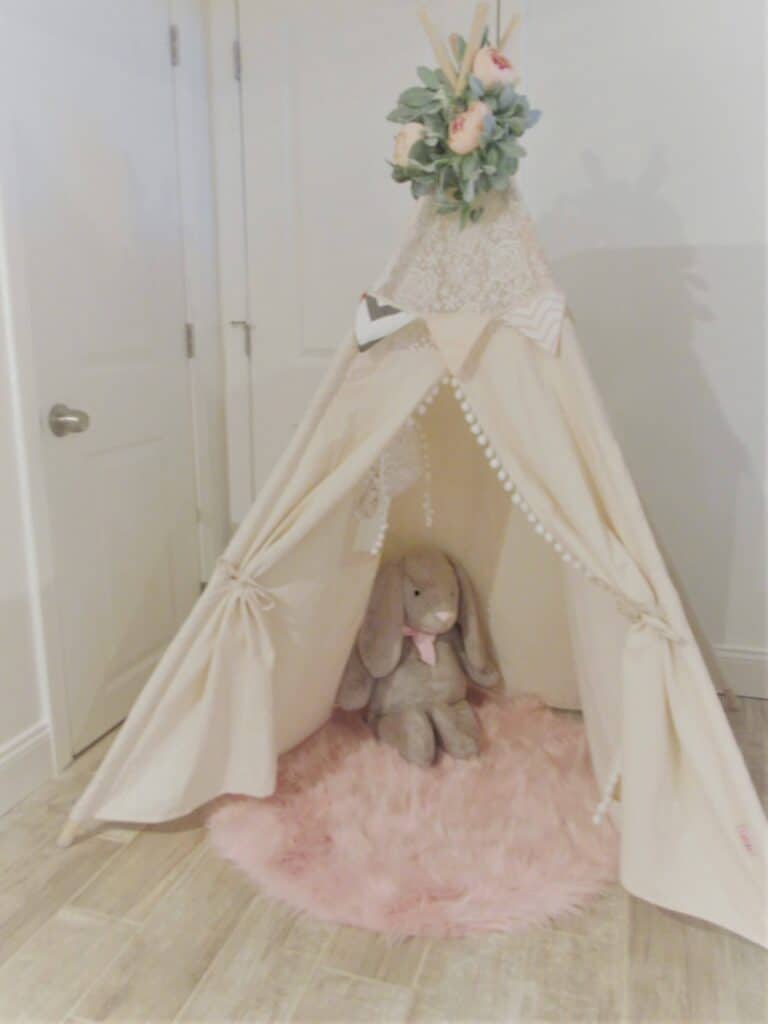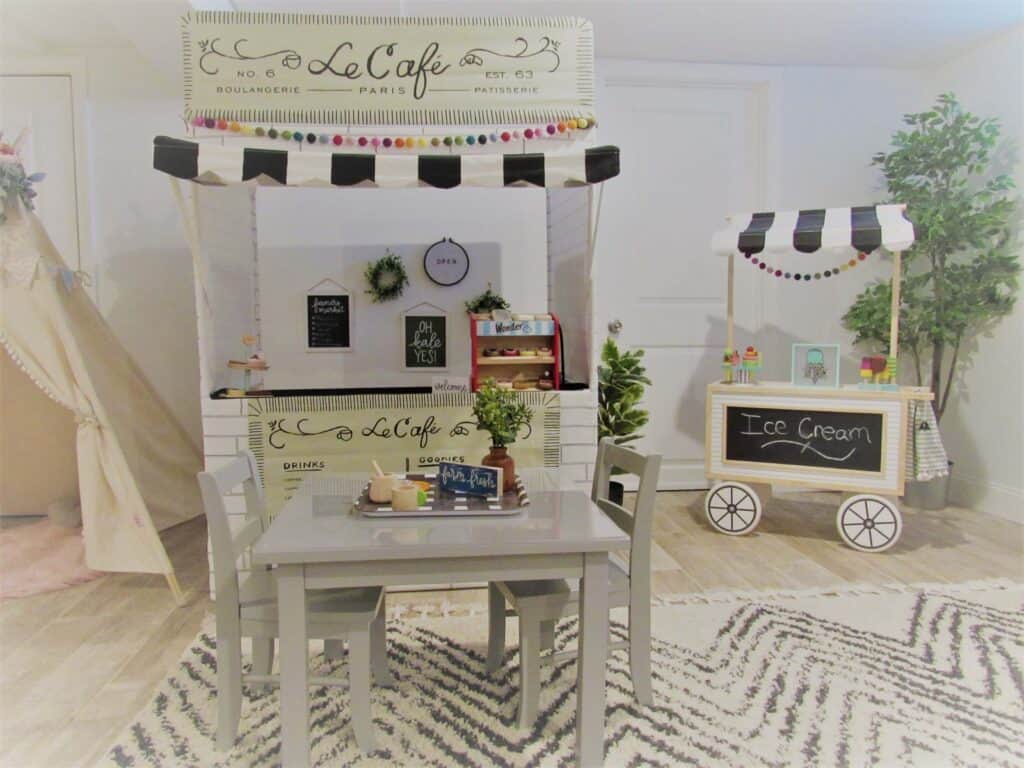 I love how there is modern farmhouse decor all around, with special touches like the huge galvanized PLAY sign on the wall, or the neutral colors and open space to create and play.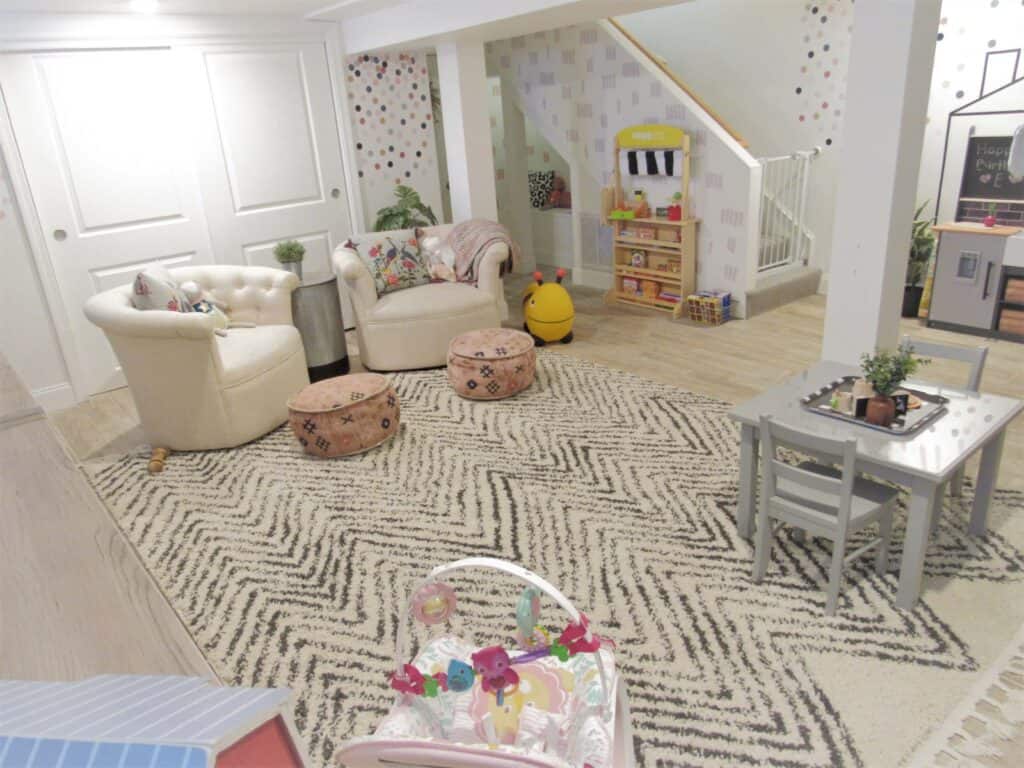 Let's learn a little more about Morgan and her inspiration behind this playroom:
First of all, tell me a little about you and the family you created this playroom for:
My husband and I are the parents of two really cool little girls (two years old and four months old, respectively). Our two-year-old is a creative soul who loves to sing, dance, and bring amazing stories to life through imagination. Our four-month-old is just starting to show signs of her personality but loves to laugh and roll.
Why did you decide to create this space? How was the room previously used?
My husband and I wanted to create a space for our kids to express their creativity and explore their imaginations. I've loved watching my two-year-old create stories through role-play and we are thrilled to be able to give our kids this playroom.
The road to get there, however, was no picnic. Imagine an unfinished basement filled floor to ceiling with every item you've purchased in the past 10 years – that was this space.
In order to build a playroom, we had to completely renovate and finish the space, including new walls, closets, flooring, trim, and paint. The renovations took 3 weeks to complete and included a few fun surprises along the way (goodbye stair banister!).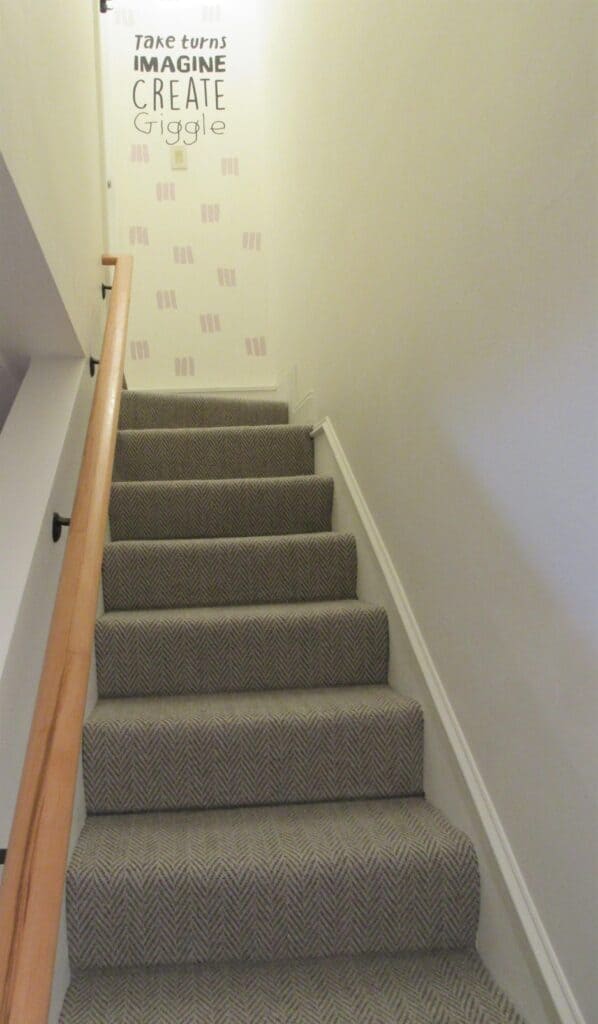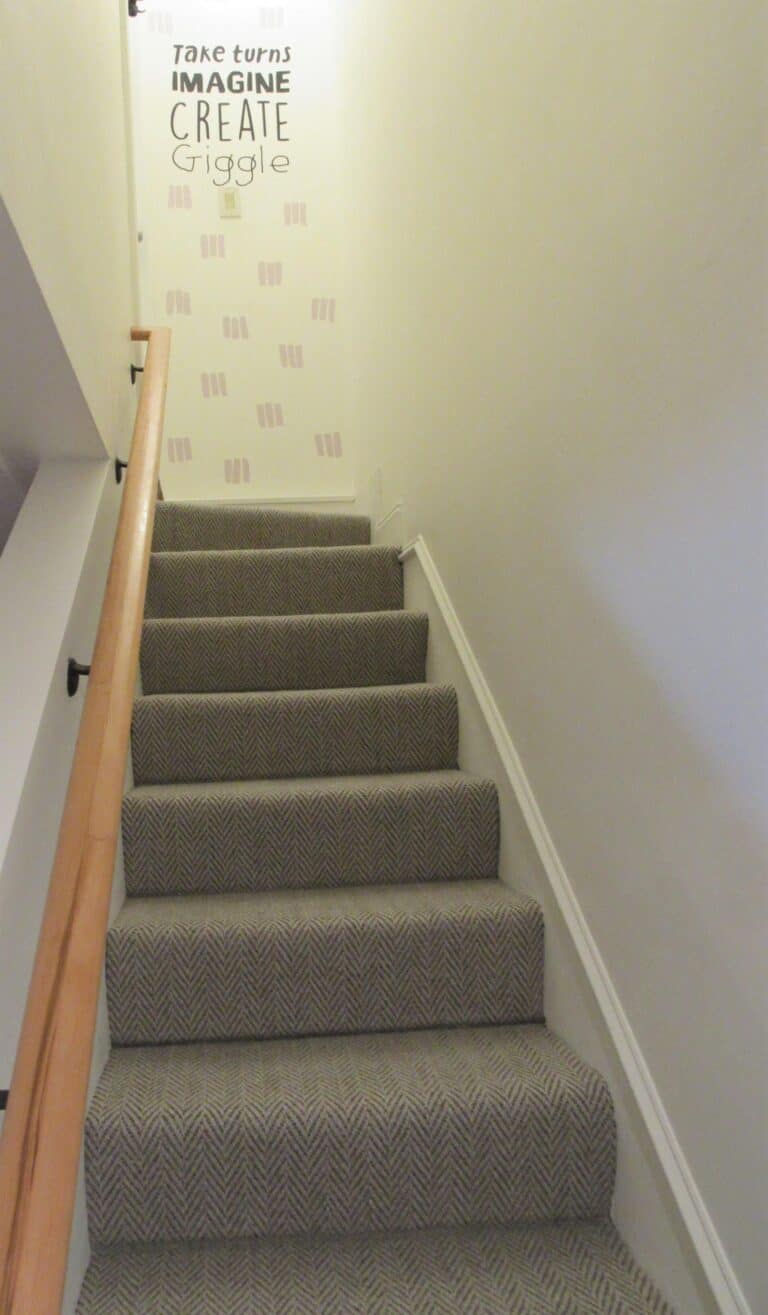 That said, our contractor (Tim Grey of Complete Property Solutions) did a fantastic job supporting us throughout the process while putting safety first to ensure that every detail was kid-friendly.

How would you describe the style and feel of the room?
My goal was to design a space that was whimsical and calming for both adults and kids to enjoy. I tend to lean towards a Modern Farmhouse style so this playroom reflects those notes through galvanized metal accents, wood furniture, and creamy walls but also adds splashes of bold color to energize the space for kids.
It was really important to me that we also minimized our use of plastic for an Eco-conscious space so we only used wood toys.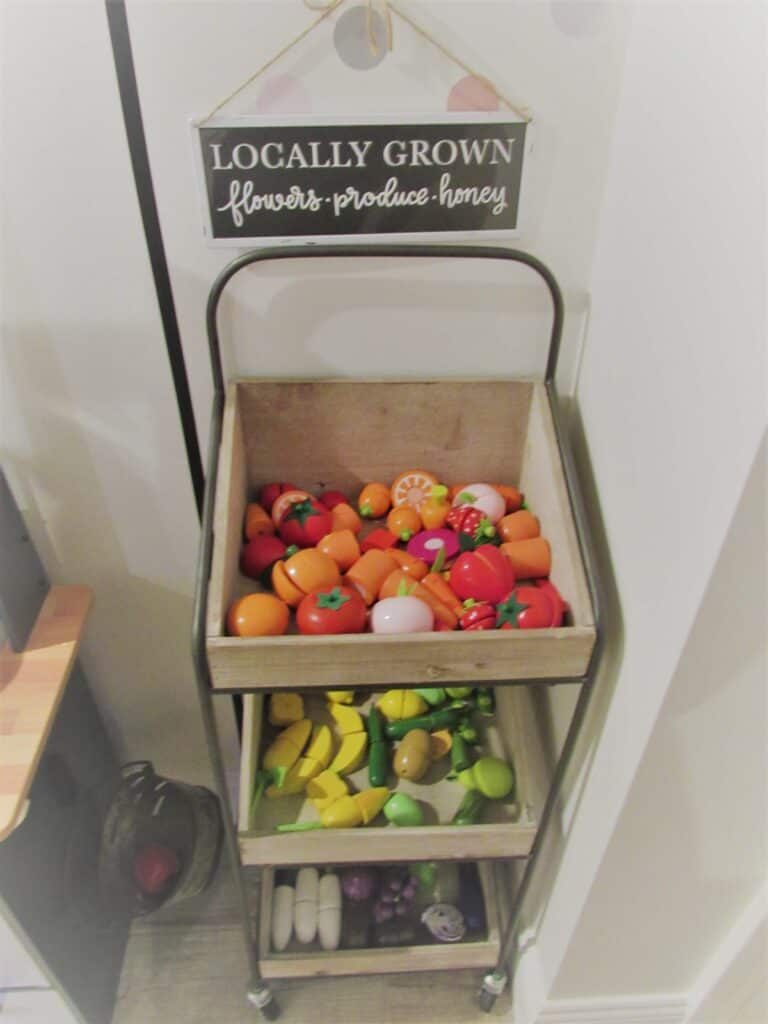 What was your design inspiration for this playroom?
Childrens' Museums! They foster an entrepreneurial spirit in kids by introducing them to a variety of different businesses that they can work in, such as grocery stores and restaurants.
We wanted that same feel for our playroom so we looked for furniture that could support a marketplace of ideas.
Our space has a grocery store, farmers market, kitchen, coffee shop/bakery, BBQ joint, theatre, lemonade stand, ice cream cart, drive-thru, library, and boutique so that they can own and run different businesses.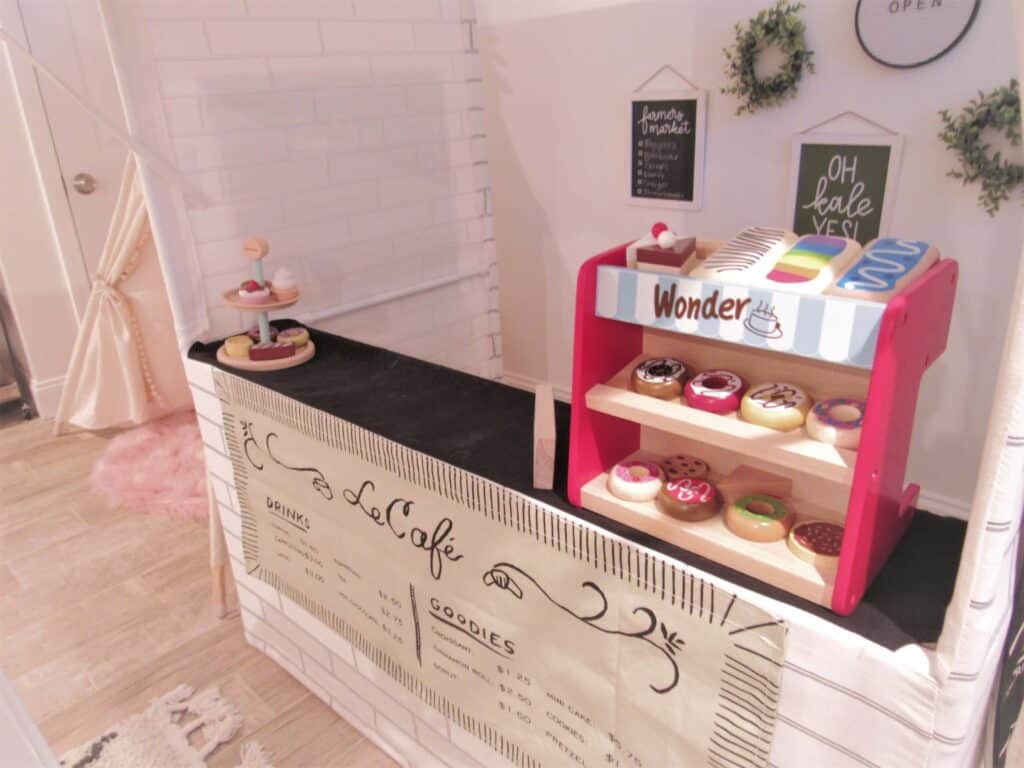 I want to help my girls to develop their confidence (something that I didn't find until my 30s) and I believe that starts early on with role play.

How did you go about actually putting the room together? Did you do it little by little, store everything until you were ready to tackle it in a weekend overhaul, etc.? What did your process look like?
We'd been flirting with the idea of finishing our basement to create a playroom for a while so I used that time to gather my thoughts and ideas but I didn't really start planning the experience until construction was underway.
That said, once I begin something I embrace it full-throttle so I completed the full design in under two weeks.
Whenever I decorate a room I look for one piece that inspires me and for this one I found a cat doll that included a blend of bold and muted tones that became the inspiration for the space.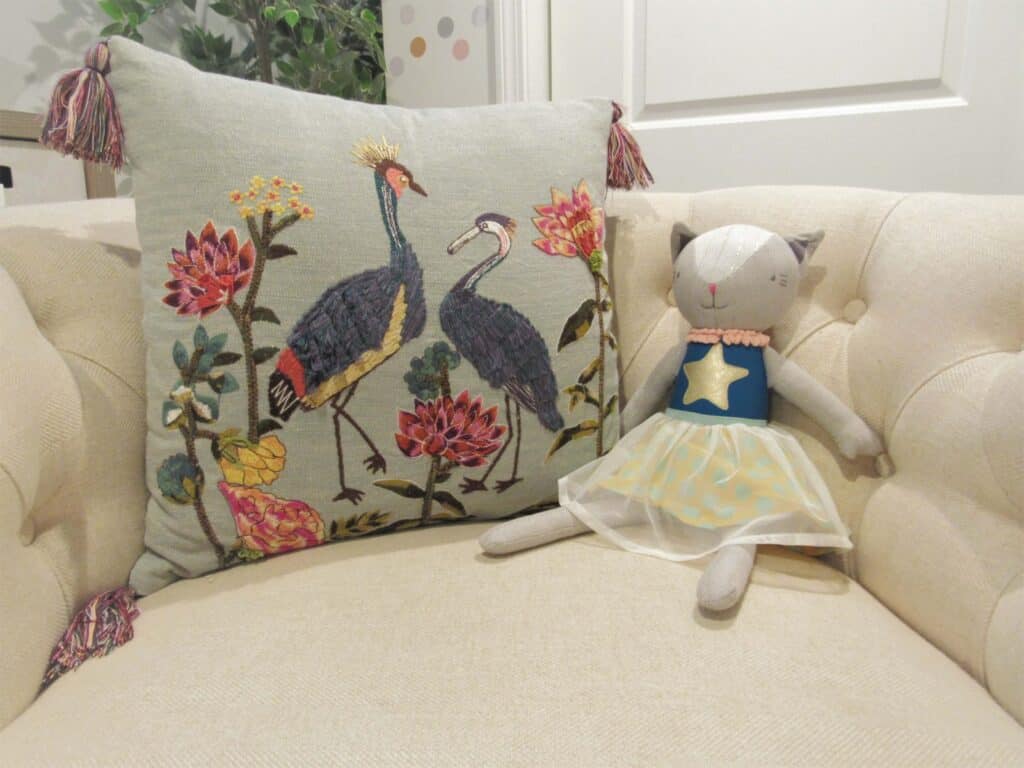 That palette that led me to balance the space with ivory walls and a muted rug. I chose jewel-toned decals for the walls to bring some fun in without overwhelming the eye. I used different but complementary decals for the book nook under the stairs and the Boutique to give each space its own personality.
My tip to anyone looking to build their playroom palette is to use a Collage App to show what different designs look like side-by-side. I've done that for every room in my house and it really helps to bring a space to life. (What an awesome tip!)
I work full-time but genuinely enjoy interior design and am admittedly sad to see this project end. As my husband would no doubt affirm, I'm running out of rooms in our home to renovate.
Do you have a favorite part of the room, or item in it?
The Boutique. I wanted an area where our kids could explore different careers and costumes. So far, we have outfits for a Doctor, Geologist, Lab Technician, Girl Scout Leader, Minnie Mouse, Fairy, and Chef.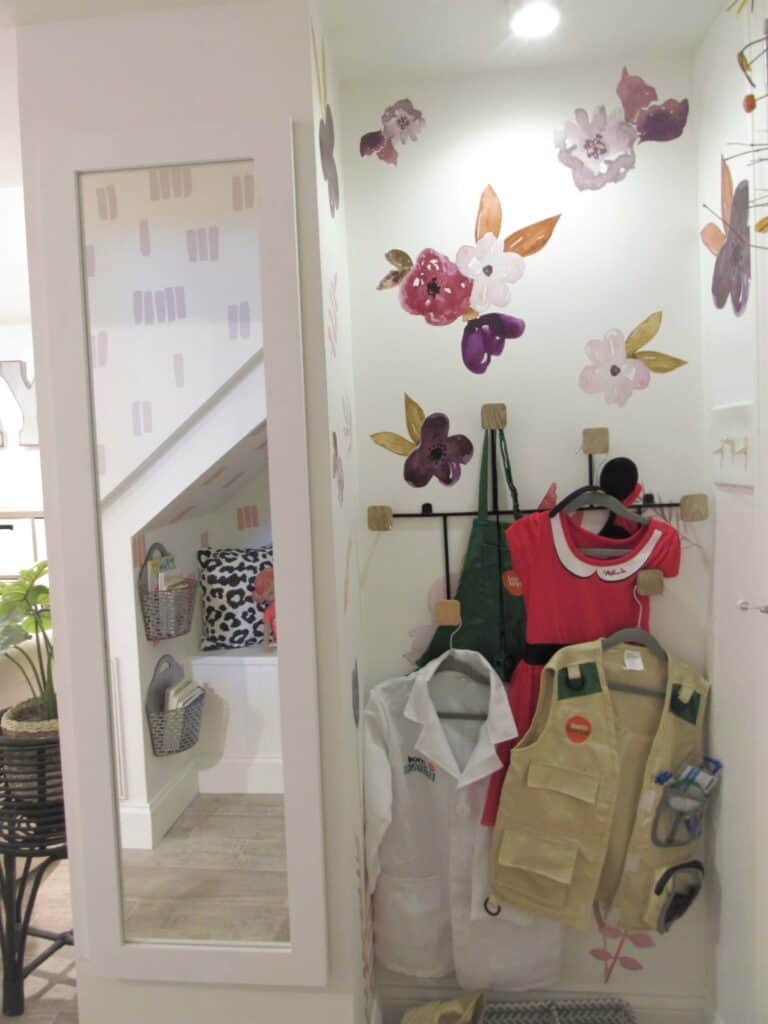 I want my girls to explore every aspect of their personalities to discover what kinds of experiences they do and don't enjoy and I hope that the boutique aids in their self-discovery.
Another feature that I love though is the Playroom Rules sign. It adds a bit of humor to the space.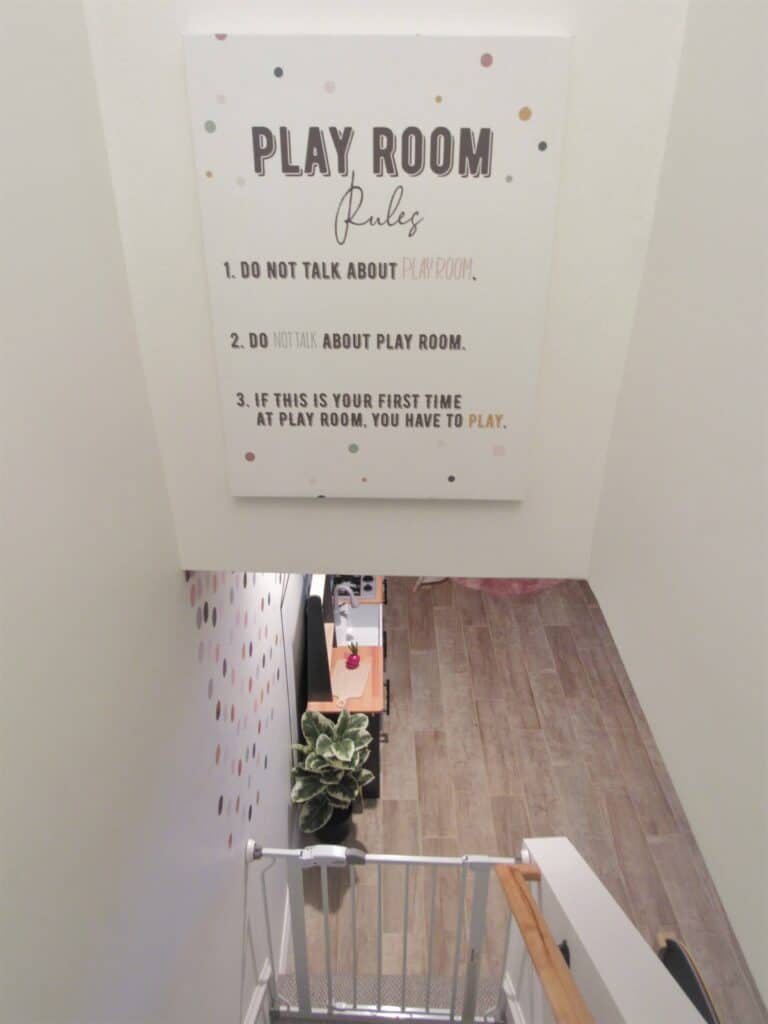 That said, my two-year-old would likely tell you that her favorite part of the playroom is the phone. She had a long conversation with both Mickey and Minnie Mouse on it today (imaginary, of course) so the Boutique has some serious competition for the best feature.

What was the reaction from your child(ren) when you showed it to them? How do you hope they will use it (now and/or as they grow)?
OVER THE MOON. My oldest has been using the space for about a month now and she discovers something new in it each day.
I love how she really studies one item before moving on to the next toy or experience and I'm hopeful that she'll continue to hone that skill as she ages. She has the ability to truly focus on one moment and I'm in awe of that gift.
Over time, I hope that this playroom supports our kids on their path to become strong, confident, and independent women. In the short run, I hope that it brings them lots of laughs, memories and awesome play dates.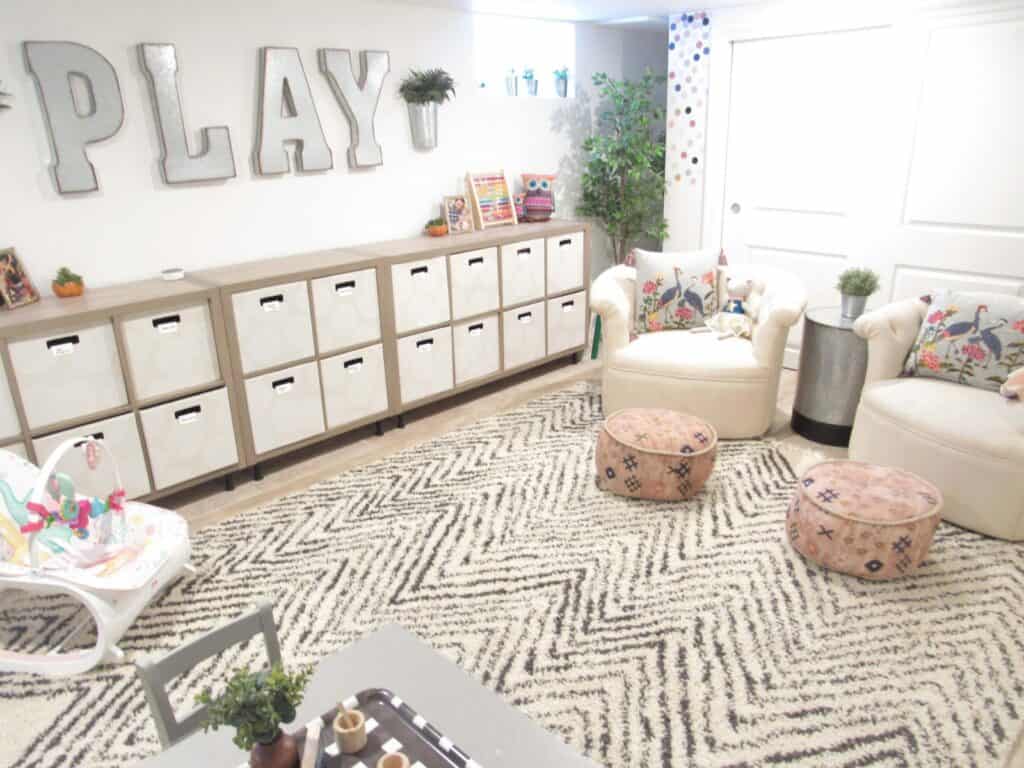 Where to Find or Buy the Playroom Decor, Toys and Other Items in this Creative Space
PLAYROOM TOYS
Bakery Stand – Amazon
Wooden Barn – Amazon
Le Café Playhouse – Crate & Barrel
Coffee Shop Espresso Machine – Amazon
Grocery Store – Crate & Barrel
Grocery Store Food & Boxes – Amazon
KidKraft Kitchen – Amazon
Ice Cream Cart – Target (found for $29.99 on clearance in-store)
Ice Cream Cones – Amazon
Popsicles – Amazon
Infant Toddler Rocker – Amazon
TeePee Tent – Amazon (gifted to us in 2019)
Weighing Scale – Amazon
Wooden Bakery Treats – Amazon
PLAYROOM FURNITURE
Cubby Storage – Ikea
Kids Table & Chairs – Pottery Barn (gifted to us in 2018)
Side Table – Target
Swivel Chairs – Pier1 (purchased 2016)
PLAYROOM DÉCOR
Artificial Plants – Ikea & World Market
Bins – Target
Bin Clip Labels – The Container Store
Chair Pillows – Cost Plus World Market
Dot Decals – The Lovely Wall
Floral Decals – The Lovely Wall
Mirror – Amazon
Metal Play Sign – Hobby Lobby
Playroom Rules Sign – So Whipped
Pom Pom Garland – Cost Plus World Market
Poufs – Cost Plus World Market
Retro Phone – Amazon
Rug – Home Sense
Striped Decals – The Lovely Wall
Trees – Ikea
Wall Art – Target ($1-5 section!)
Washi Tape for Home Outline – Amazon
Wood Cutting Food – Amazon
What is your favorite part of the room? Leave it in the comments below!
And be sure to pin this post so you can refer back to it for all of the links, and follow The Mom Friend on Pinterest—I'm always sharing great playroom and other toddler inspiration on there!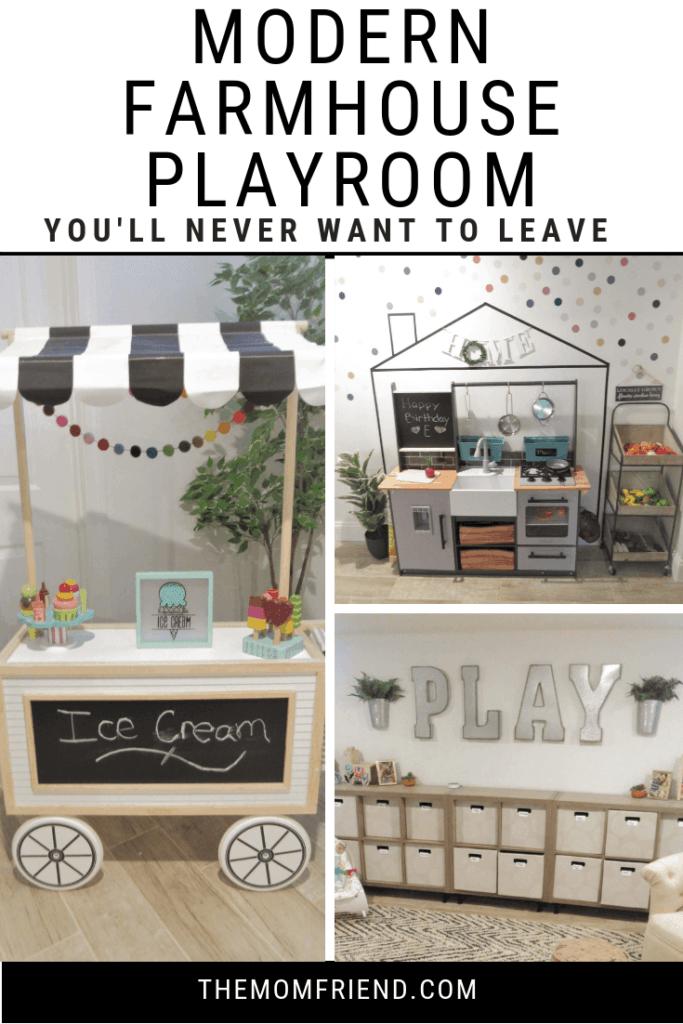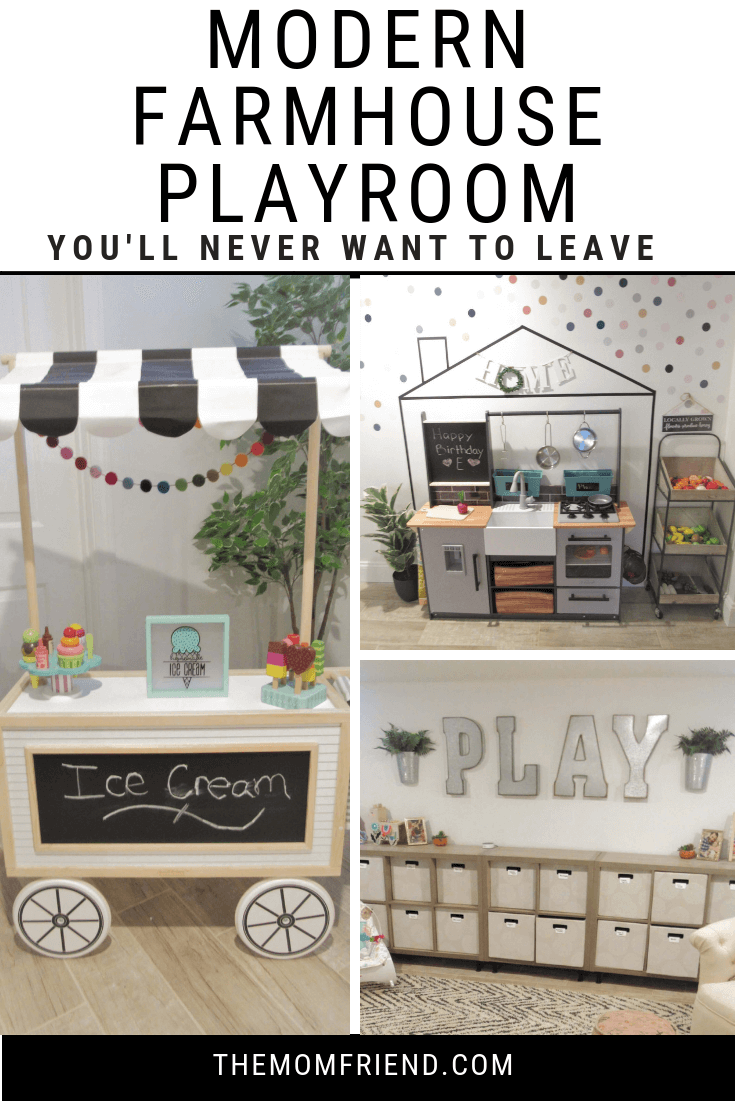 You May Also Enjoy: