Whether you are fully into raising your children using Montessori at home, or if you want to ensure your home has a few key elements to develop independence and curiosity, then this list of the best Montessori toys for toddlers is a great place to start.
In traditional Montessori, you would usually use the word "materials" rather than "toys" but nowadays the terms have become somewhat interchangeable.
Technically, there are no Montessori "toys" though. Materials always have a specific purpose in Montessori and usually teach a specific skill. However, that doesn't mean that materials can't also be fun for your child to use! Many of the toys listed below can be used in our list of Montessori inspired activities for toddlers that you can do at home.
For an introduction on how to bring Montessori at home, check out this post for tips on starting Montessori with babies and infants.
What to Look for in Montessori Materials or Toys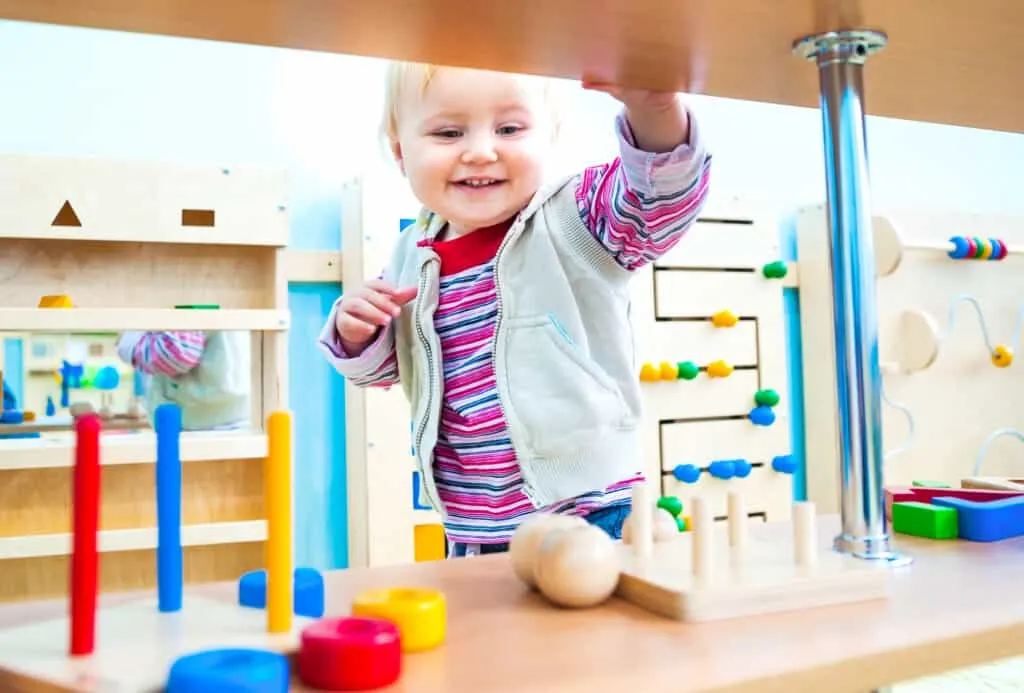 As an Amazon and other member affiliate, I may earn commission from qualifying purchases.
When you are shopping for Montessori materials for toddlers be sure to keep a few specific things in mind:
Made from natural substances: Montessori materials should be attractive and made from natural materials. You want the material to attract the attention of your toddler and keep it. Choosing natural mediums like wood, clay, stone, or metal also gives your toddler the chance to experience many different textures, smells and weights.
We love how this gorgeous playroom is filled with wooden toys, which will truly last much longer than plastic as well!
Avoid loud flashy toys: Noisy, colorful, flashing, loud toys are overwhelming and can distract from the skill you are trying to teach your child.
Teaches a specific skill: Materials for your toddler should help them develop one specific skill. Montessori materials will focus on one concept but it's usual for them to have multiple challenges with one material. As your toddler masters the easier aspects of that skill you can then introduce the next idea.
Practical life materials: Not all Montessori materials need to be focused on "practical life" activities but you should consider including some. Children LOVE to be included in everyday life and it will make your child feel like they have an important role in your family unit. Think along the lines of child-sized mops and sweeping brushes for cleaning or small watering cans for watering the plants.
The Best Montessori Toys for Toddlers
Montessori Toys for Motor Development
Infants and toddlers are constantly working hard on developing their fine and gross motor skills and there are plenty of materials you can get to help.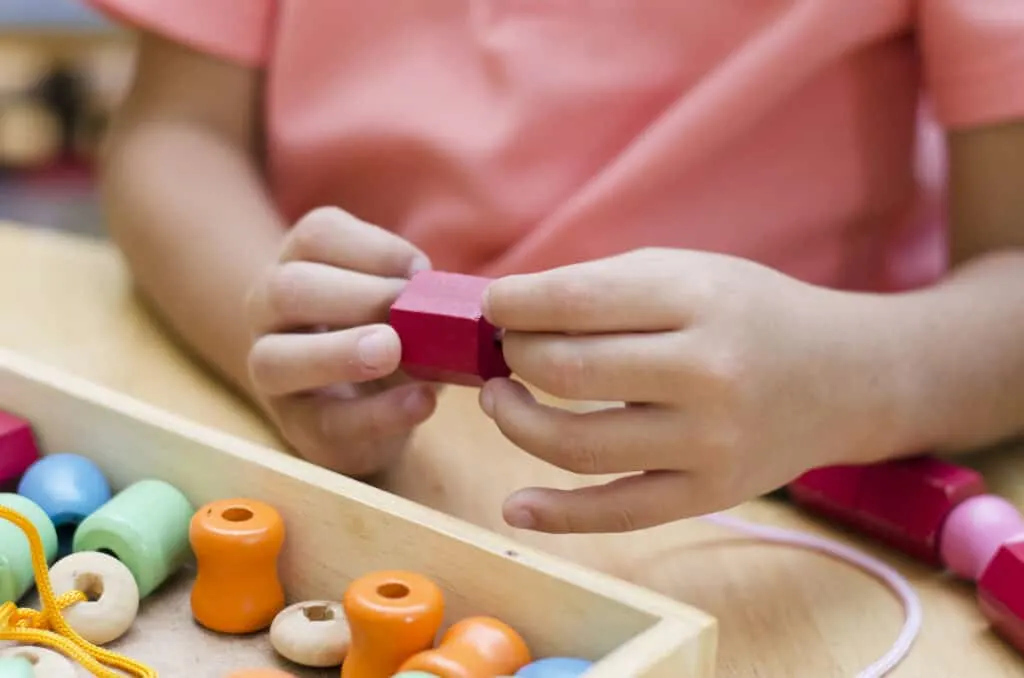 Materials that get your toddler using their pincer grip are great for fine motor development such as:
Bead threading is a great material for your toddler. Be sure to include a variety of different size and shape beads with different diameter holes. Start with the largest beads and gradually introduce the smaller sizes.
These knobbed cylinders are a great material for teaching your toddler color sorting, size sorting and depth perception.
Latches and locks are perfect for getting your toddler to use their hands to perform fiddly tasks that need a lot of concentration.
Gross Motor Montessori Materials
Getting up and playing is so important in child development. Don't forget to nurture your toddlers gross motor skills as well. There are some wonderful Montessori materials that will get them performing big movements.
One of the most popular climbing materials in Montessori is the Pikler triangle which can be used for kids as young as one. When your kids are older, throw a blanket over it and it also makes a great fort!

If you're looking for something a little different this wooden rocking board is great for teaching your child balance.
Montessori Toys for Language Development
You are probably helping to develop your toddlers' language every day simply by talking to them! Montessori education actually focuses on writing before reading and then introduces letter sounds before progressing to words.
Here are some materials to help them soak up those language skills even faster.
Books!! Top of the list for a good reason. Books are great at any age. Even before your toddler can speak, tell them the names of things and ask them to point to something specific. It won't be long before they are copying the words.
Nomenclature Cards are amazingly diverse and can be used to teach words and sounds as well as matching.
Sandpaper letters are a staple in any Montessori toddler environment and allow older toddlers to trace the shape of the letter with their fingers before moving onto using chalk or sand to write the letter themselves.
Where to Buy Montessori Toys
One of the great things about the internet is everything is available just a click away. There are many great toy and material options for babies and toddlers on Amazon, and with free Prime shipping (which is a lifesaver for parents) you can easily bring in new toys as your child grows.
There are lots of great Montessori stores online, as well as some really neat subscription boxes from places like Lovevery, which offers engaging boxes and products that are developmentally appropriate for each stage birth-preschool.
Remember, incorporating Montessori methods at home doesn't have to be overwhelming, and it doesn't mean you have to do everything that way.
Even just bringing in a few simple toys designed to give your child room to explore and grow, rather than just be entertained, will bring tremendous benefit, and fun, for everyone!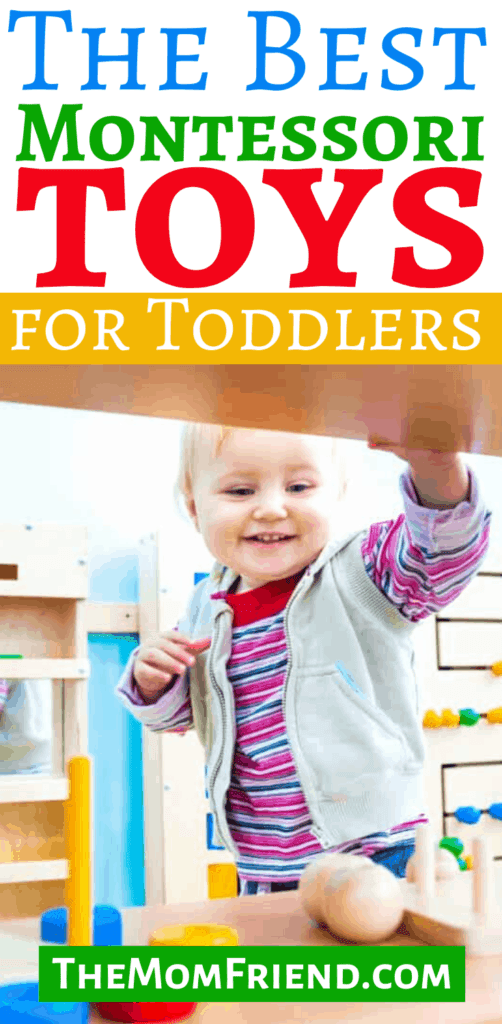 Check out these other reader favorites: