Adding baby #2 to our family meant Charlie was now going to have to share her room—we live in a 2 bedroom home and even though we plan to have her sister sleep in our room for the first few months, space is limited and we needed to convert her toddler room into a shared toddler and baby room for naps, and to store ALL THE THINGS, as well as to become the regular nursery down the road.
The nursery has a few design challenges that irk me—including baseboard heating and having to use window AC units. Add to that a closet, door or window/baseboard heater on every wall, it makes for configuring the space a little more challenging.
But with a few smart purchases, we were able to take it from a toddler room to an affordable and quaint nursery for our girls, so today I'm sharing our shared nursery and toddler room to give you some ideas.
Enjoy!
RELATED: Japandi (Japanese + Scandinavian) Nursery Decor
Modern Shared Girl Nursery: Toddler & Baby Room
This post contains affiliate links and I am excited to have partnered with some of the companies below who sent items to be included in our nursery.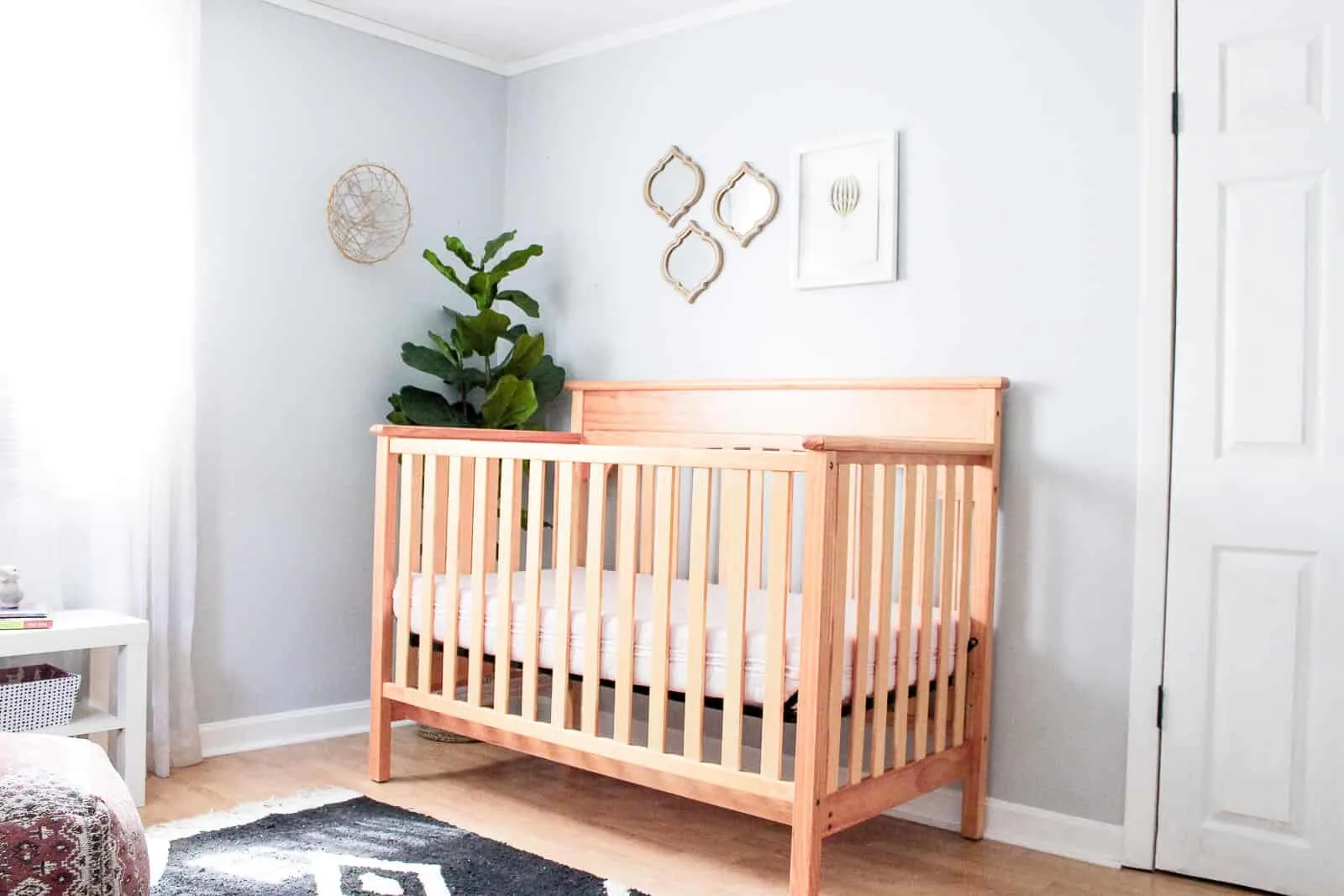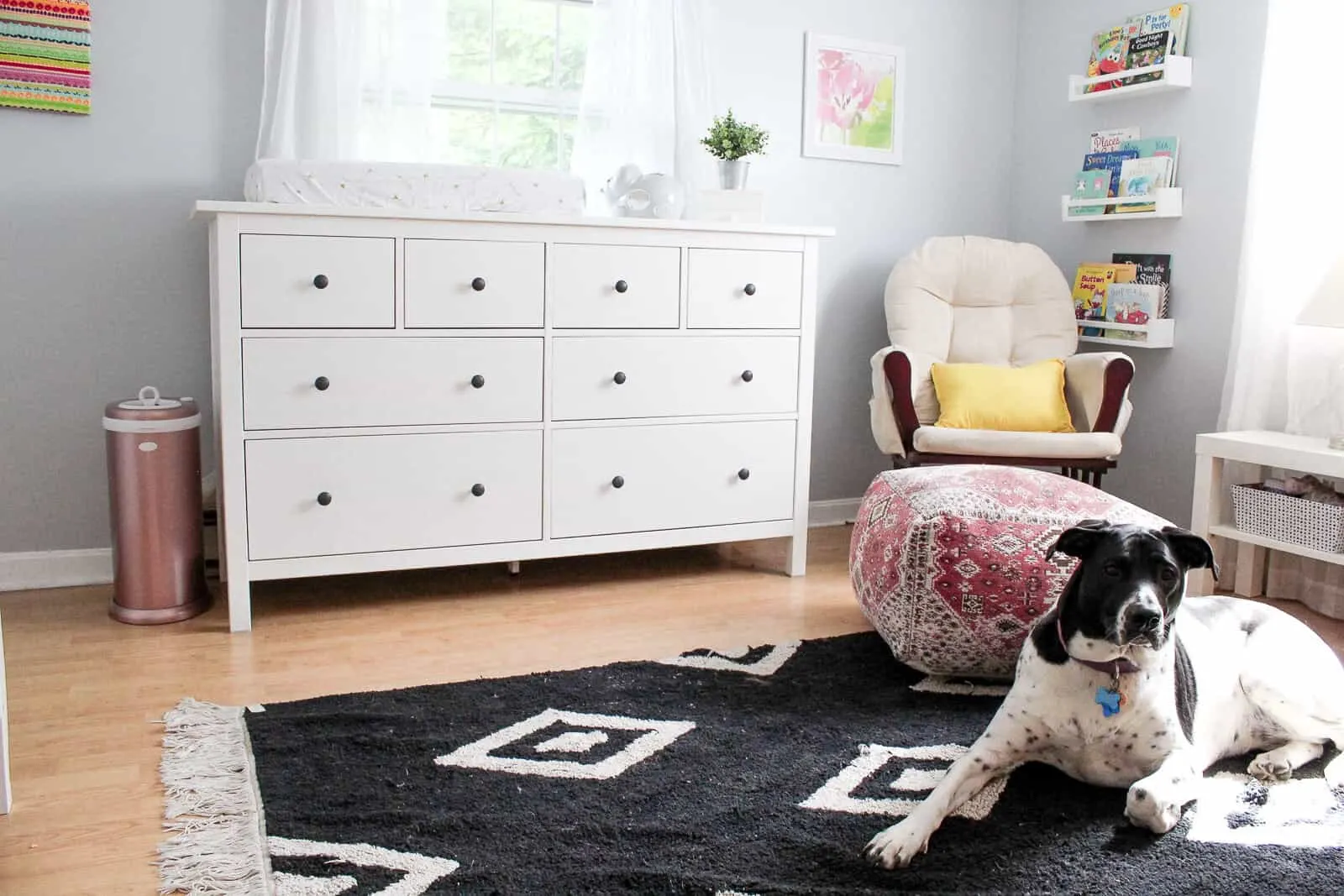 I shared a sneak peek on Instagram of a few items, one being our new pink mattress! It is the Wovenaire Crib Mattress by Newton Baby, and I just love the blush tone.
This was our favorite mattress for Charlie (you can read my full review here) and I was so excited to partner with Newton Baby again for baby #2.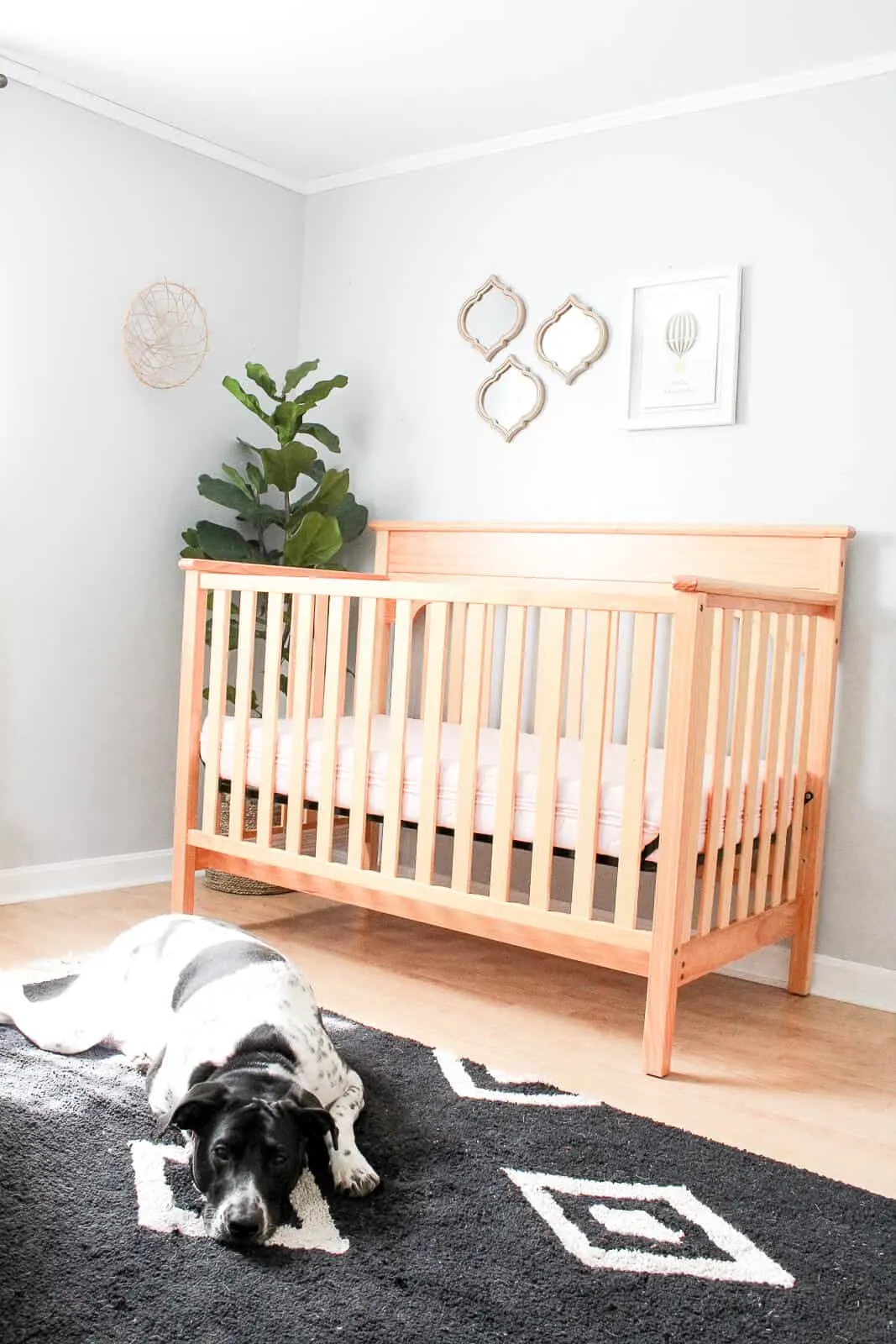 The Newton crib mattress is extremely breathable and comfortable and is even washable, so they are perfect for infants. When a baby starts rolling over in their crib, it is one of the most nerve-wracking things for parents. It is such a relief to know that once that happens, they are still able to breathe through the mattress!
I have actually smushed my face into it to try it out, so I know it works! And no that isn't weird, lots of other parents are doing it in their #breathetobelieve challenge as well!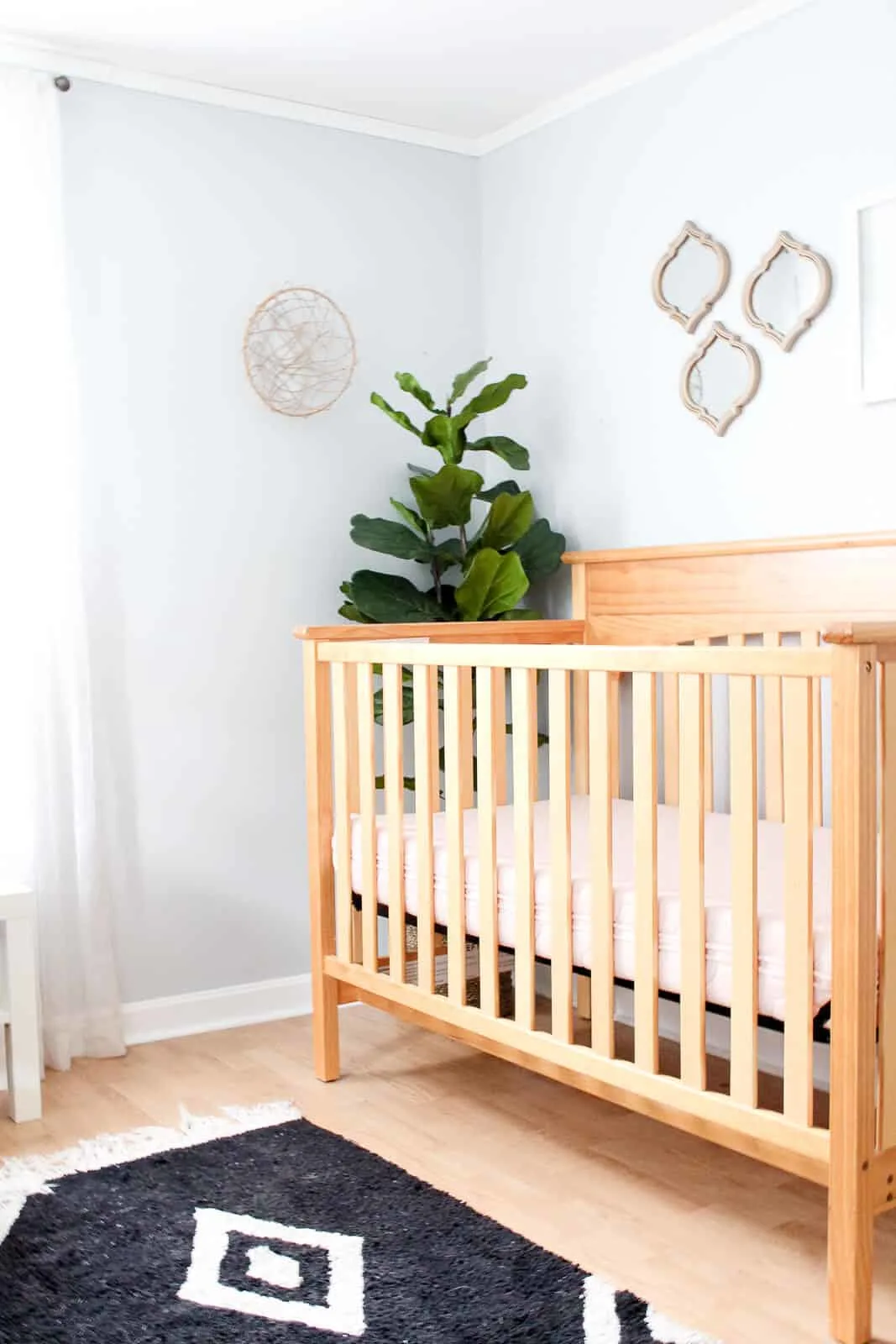 They also just came out with a waterproof crib mattress pad cover that you can put over this mattress—or any other one—that makes middle of the night accidents a breeze to clean up. We have one on Charlie's bed since she is potty training, but I'll definitely be getting another for the crib too! You can see my video introducing that product here and shop for both items here.
Solving the Storage Issue
Storage is one of the biggest problems we have in our house, with almost no closet space throughout. In fact, prior to this baby, I shared both a dresser and a closet with Charlie! Now I'm being kicked out completely, but still needed to buy a new dresser that would better accommodate two growing girls and everything else that stores well in a nursery (blankets, diapers, etc).
We went with the Hemnes dresser from IKEA, and the amount of storage is perfect. I love how the top drawers are small enough to keep everything for the changing pad tucked away, and places for swaddles, wraps and other items that can be hard to store while remaining accessible.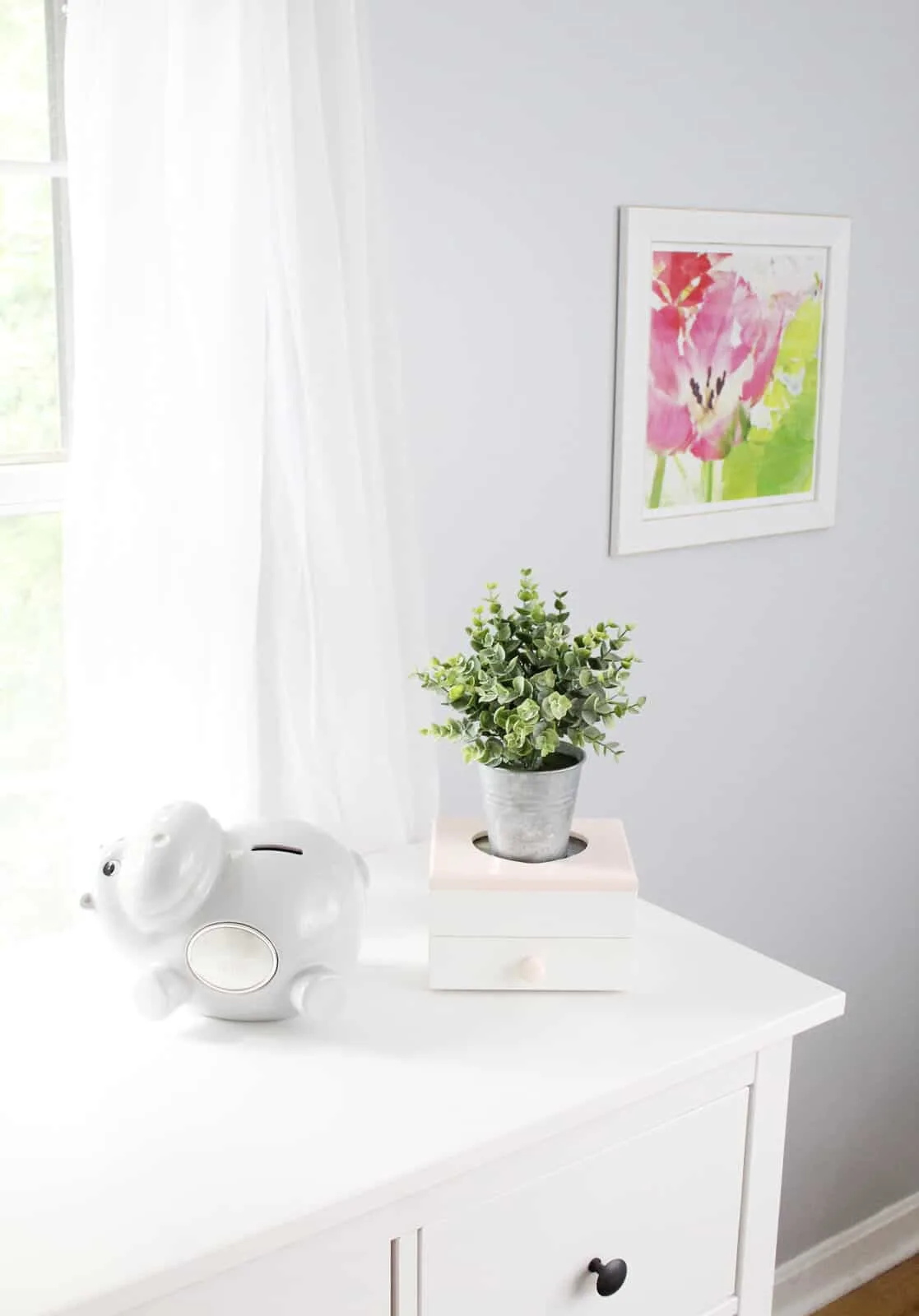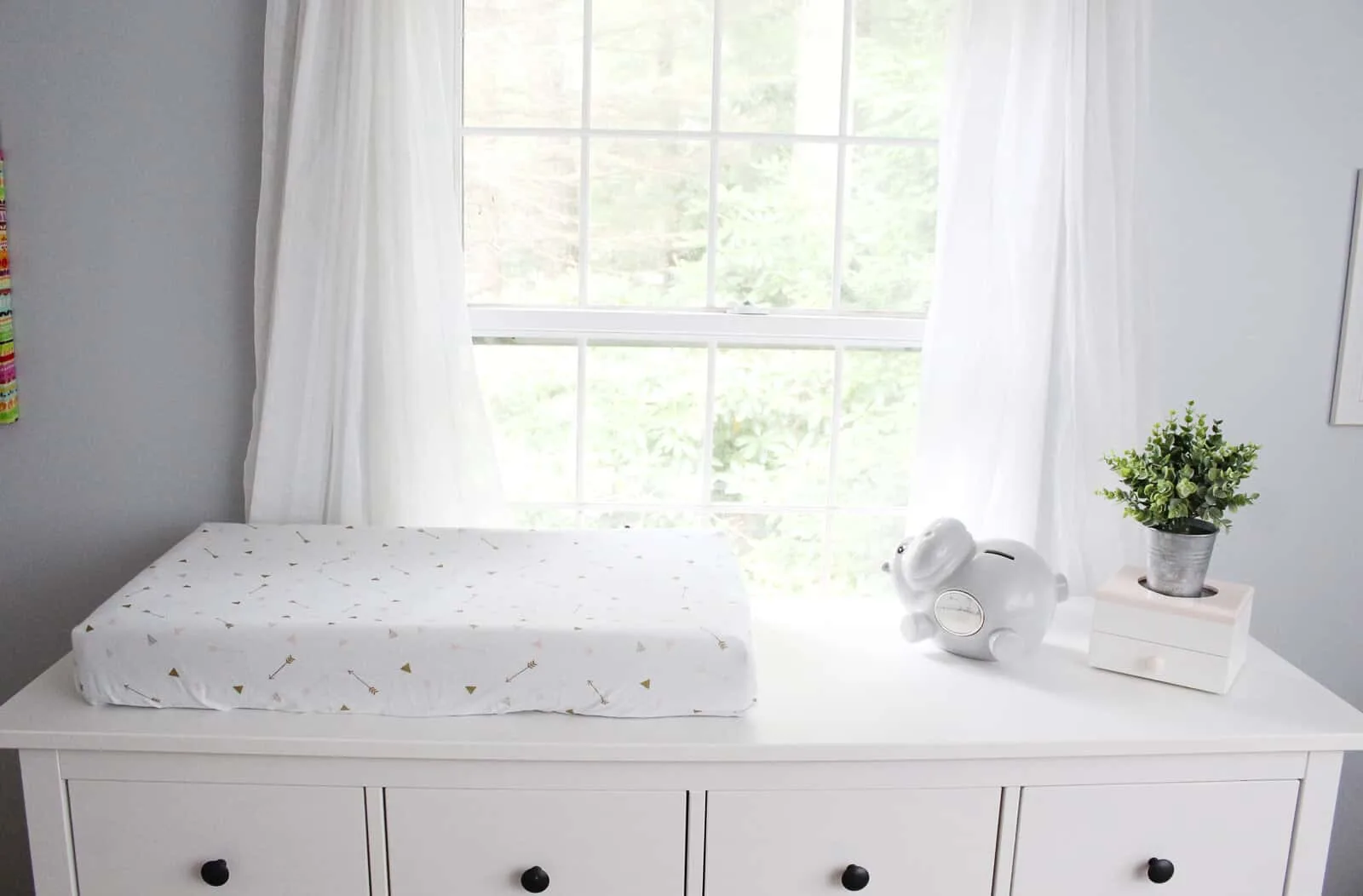 (Note: I don't recommend putting it together when 9 months pregnant. It probably took me 3x as long because sitting on the floor and reaching for pieces is hard, so do it earlier if possible!)
Room Additions
Next to the dresser, we upgraded our diaper pail to the Rose Gold Metallic Diaper Pail from Ubbi—it is made of steel, has an easy to open top—for toddlers who insist on helping—but also has a lock, and the best part is it doesn't take special bags! I love the little pop of color it brings to the room as well.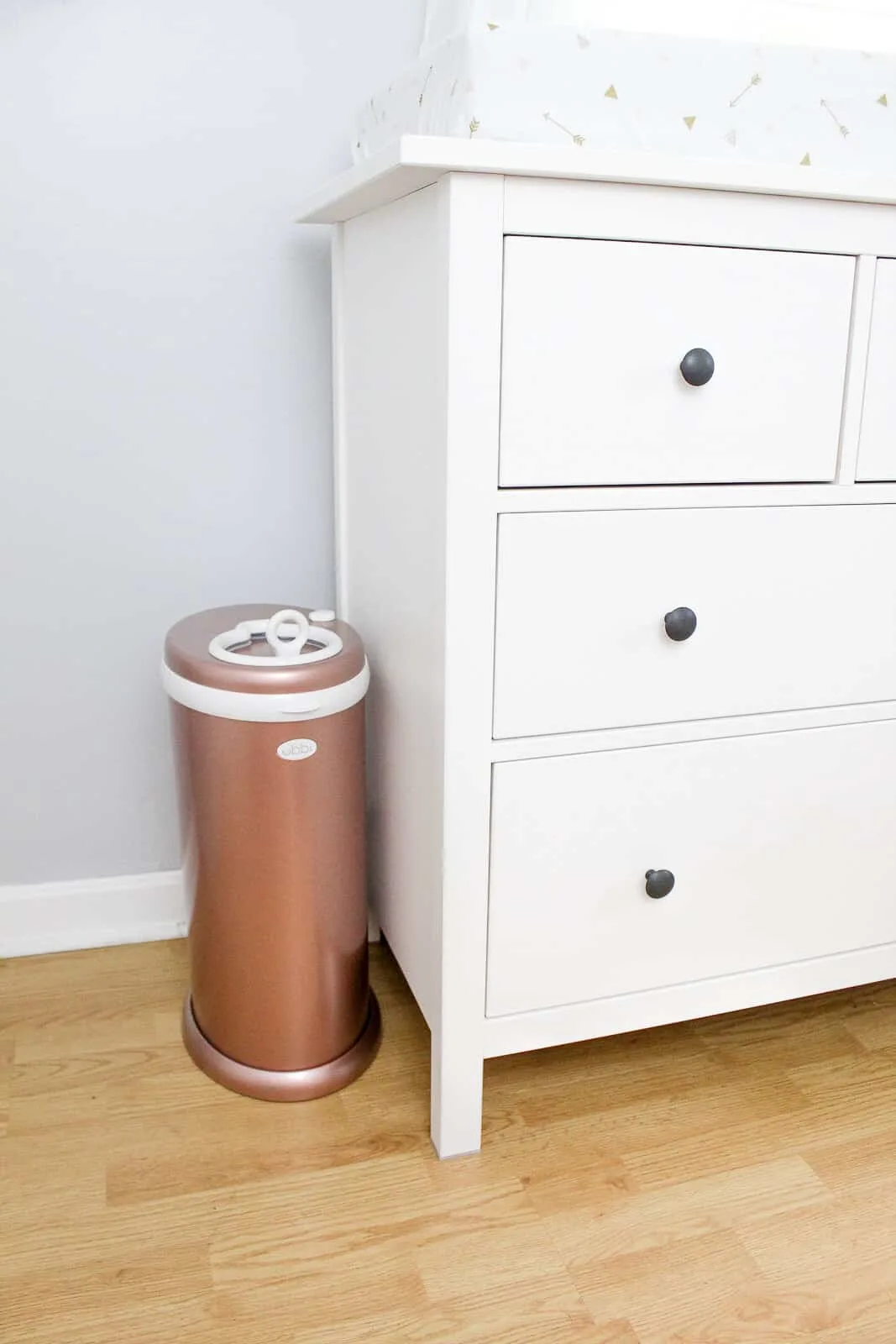 I still plan on updating the glider to something more modern, but for now I added a floor poof to give Charlie a place to sit while I am nursing, and for a comfy place to put my feet.
As for Charlie's side, we kept it the same for her to help with the transition, and as we adjust to life as a family of four we will probably add a few toys or activities to keep her occupied when needing to give a little extra attention to the baby.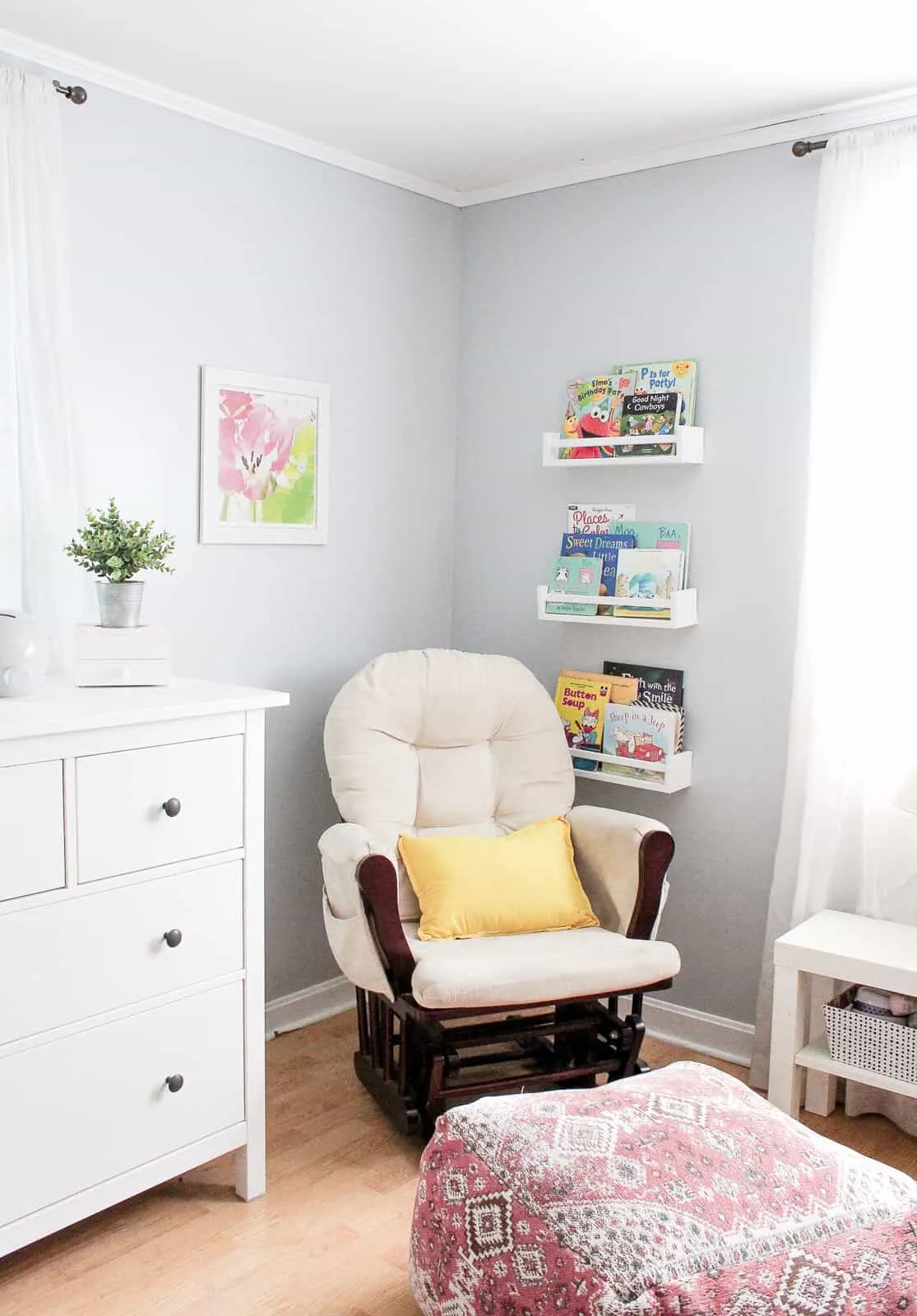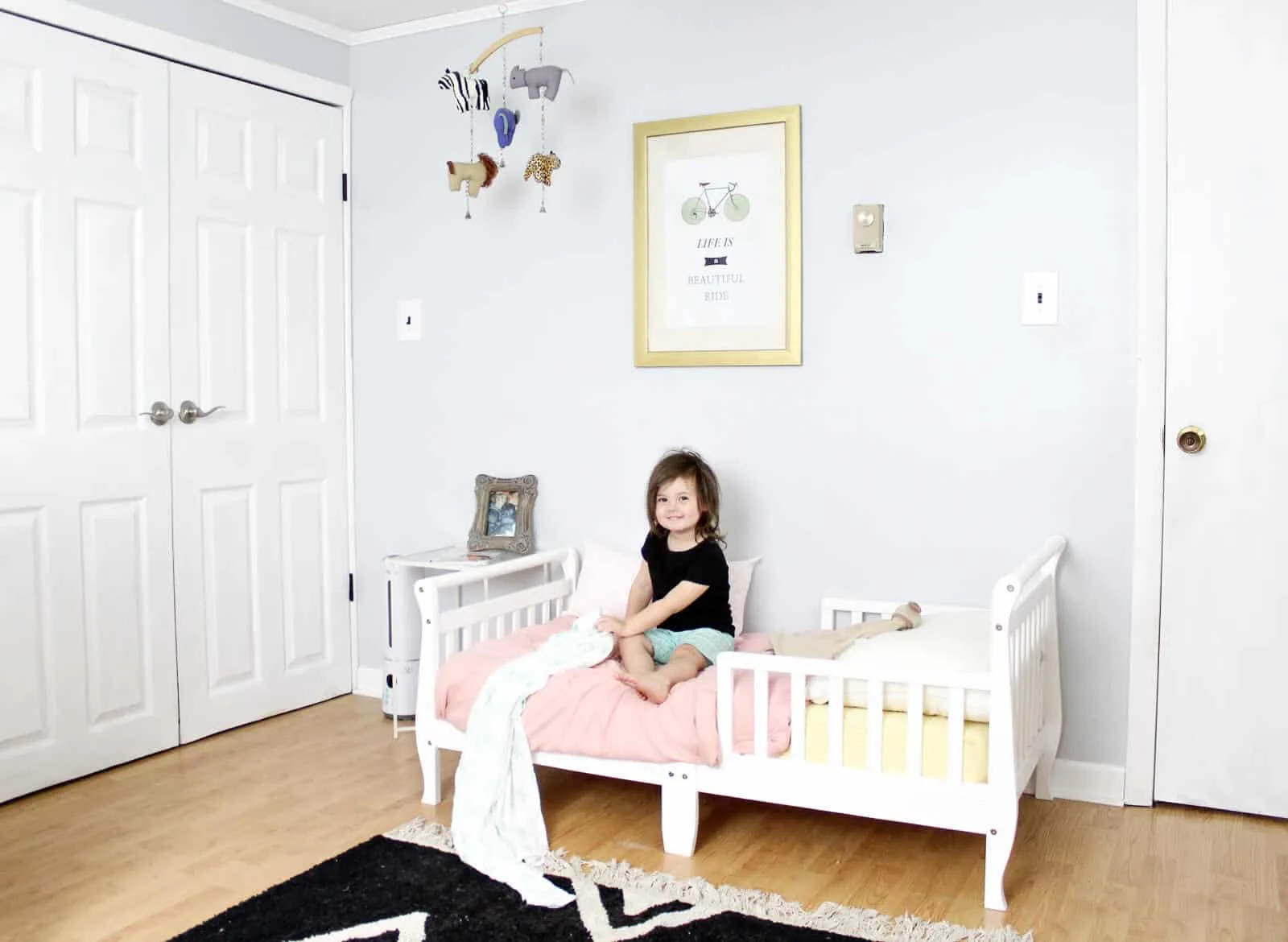 You might recognize the rug from this post—I moved it in here as I think it brings the room together!
We also upgraded our old humidifier to the new Ümi – 2-in-1 Ultrasonic Humidifier & Air Purifier by bbluv. This thing is amazing. I saw it at the New York Baby Show and was so impressed by the features it packs in its sleek design.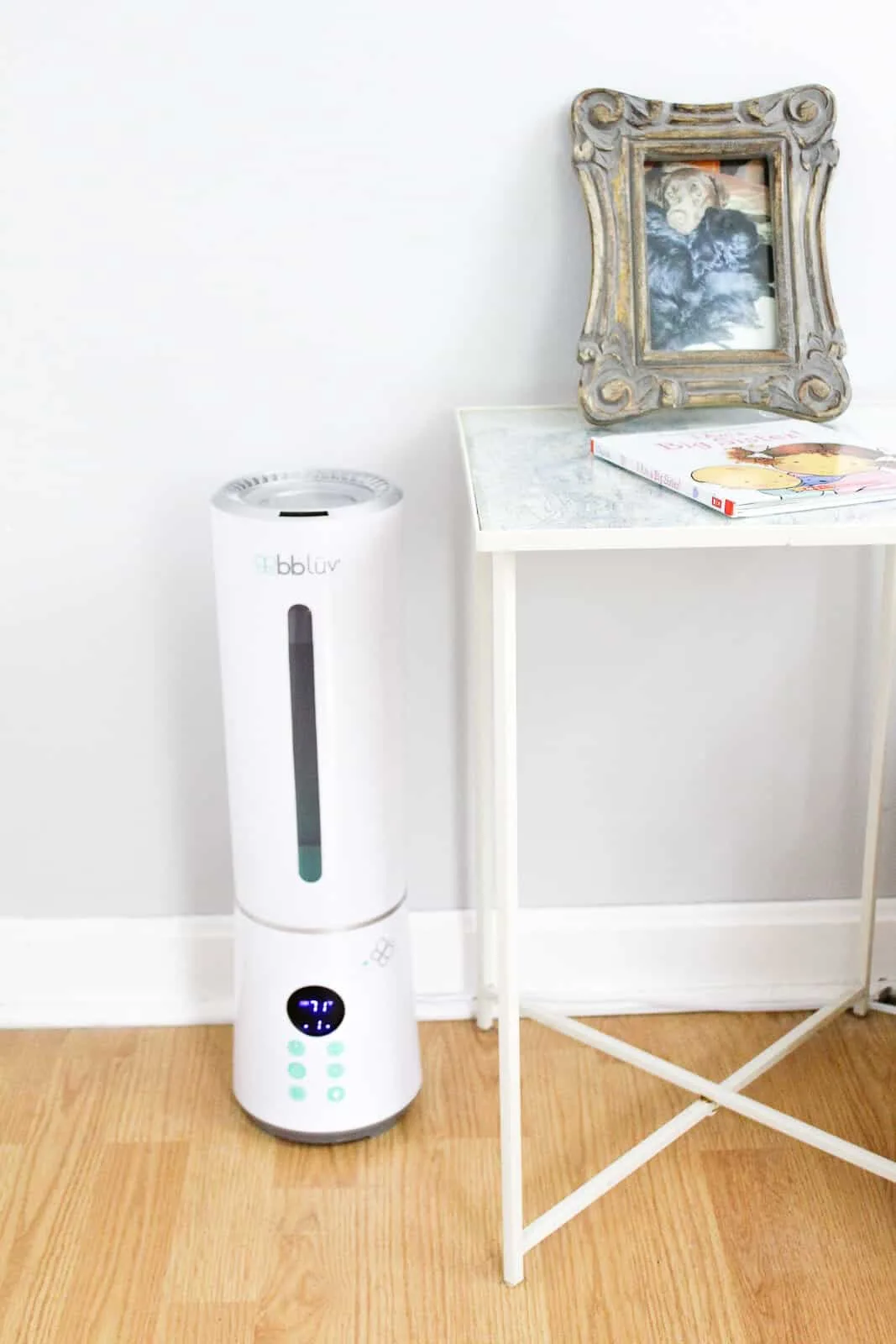 It is a cool mist humidifier with climate control (so you can actually specifically set a level of humidity), and air purifier in one. It also can act as an aroma diffuser, has a color changing night light, and a setting for auto shutoff (based on time, or when the tank is running low).
The room still needs a few touches to really complete it, but for hitting my due date, I'm just happy it was finished before she arrived (and so is Charlie). Now we just need a baby to fill the space!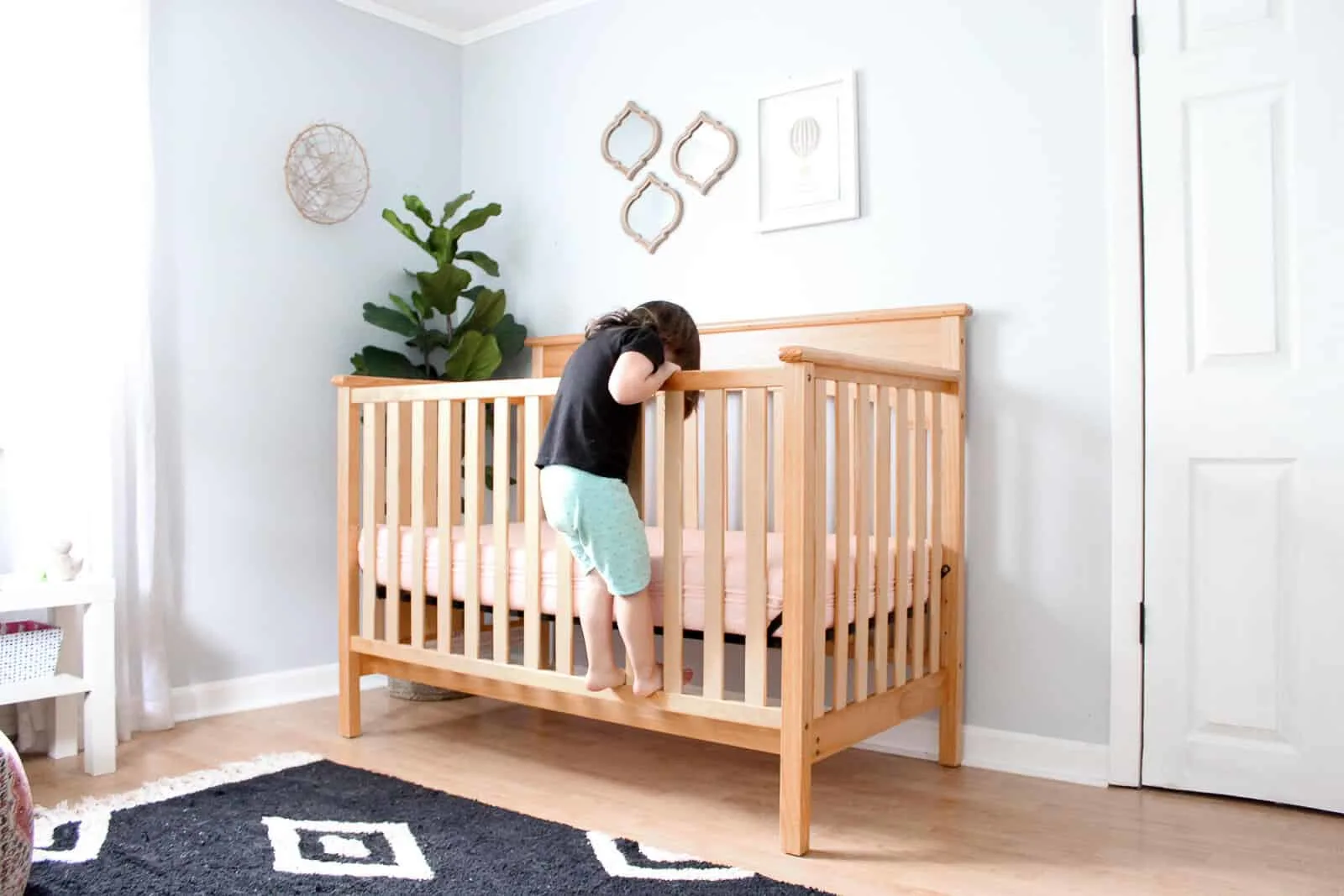 Where to buy:
Dresser: Hemnes by IKEA
Diaper Pail: c/o Ubbi (metallic version available on their website)
Glider: Target
Floor Poof: TJ Maxx
Crib: Graco
Mattress: c/o Newton Baby
Bookshelves: IKEA BEKVÄM Spice Racks
Rug: c/o Lorena Canals
Humidifier & Air Purifier: c/o bbluv
Baskets: Home Goods
Be sure to follow The Mom Friend on Pinterest for more Nursery Decor Inspiration & Ideas!
Pin it!