I received this product in exchange for my honest review. All thoughts and opinions are my own. This post contains affiliate links. Please see my disclosure page for details.
Can I make a confession? When I was pregnant, I was far more concerned about the style of crib I wanted than I was about researching mattresses. It wasn't until after my newborn was here that I realized that should have been one of the first things I looked into.
I definitely regretted not researching mattresses, and knew I needed to upgrade hers to a higher quality one. When I first heard about the Newton Baby Wovenaire® Crib Mattress, I was really intrigued by the idea of a breathable mattress, but I didn't know what to expect from a mattress without springs or foam.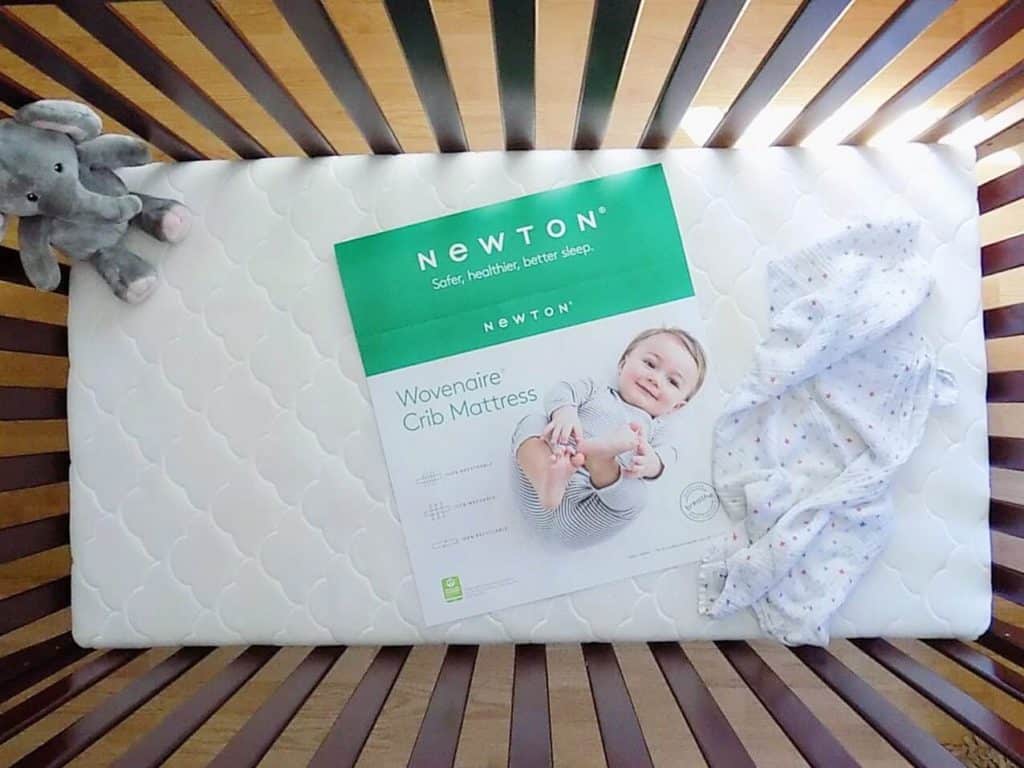 What I Love about the Newton Baby Wovenaire Crib Mattress
Let me tell you honestly, I am seriously impressed with this baby mattress. Here is a breakdown as to why!
Innovative Materials & Design
The first thing I noticed was how light it is. When I saw the giant box sitting on my doorstep, I internally cringed having to carry it in. Until I lifted it, that is! The entire mattress weighs like 11 lbs. This completely changes the hassle of lifting a mattress to clean it or reset a monitor, like the AngelCare one we used under a mattress.
The reason it is so light is that the mattresses is actually 90% air, with the remaining material being Wovenaire®, which is 100% recyclable food-grade polymer. This makes it so much more than just light, it is hypoallergenic too, with no toxic off-gassing.
One of the really neat things about this mattress is that the entire thing can be washed. I can literally pick up the mattress and toss it in the shower or bathtub to wash it. The cover can be thrown in the washing machine just like any other crib sheet. Not only is this great for large accidents, but also for preventing mold and bacteria. This is the only crib mattress I know of that can be actually washed, and it makes me wonder what is growing on the inside of my other mattresses!
Safety- The #1 Priority in Sleep
Safety should be the first priority when it comes to creating sleep environments for babies. It is devastating to hear of tragic incidents involving SIDS (Sudden Infant Death Syndrome) and infant deaths resulting from unsafe sleep environments.
Even by following all suggestions for a safe sleep environment—including not having loose blankets in the crib and putting baby to sleep on their back—the reality is, babies learn to roll over, and some, like my daughter Charlie, love to sleep with the face smooshed into the mattress.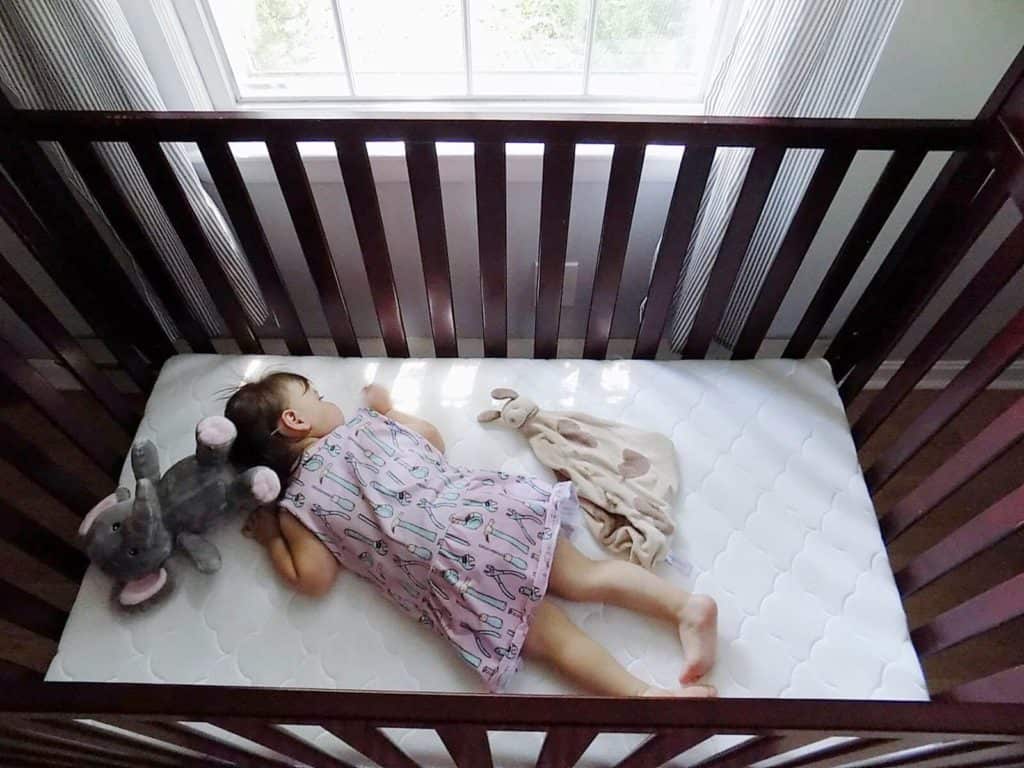 This innovative mattress has been independently tested and proven to allow babies to breathe through it, and that is poses less of a suffocation risk than other mattresses. Well of course this mama did her own breathability test. After physically squishing my face into the mattress in various positions, I can definitely say with confidence that I could breathe through.
This is a huge sigh of relief when I see her face down on the monitor screen since I know she is still able to breathe freely. (Please note, she is 21 months old—babies who are unable to roll over on their own should still be placed to sleep on their backs).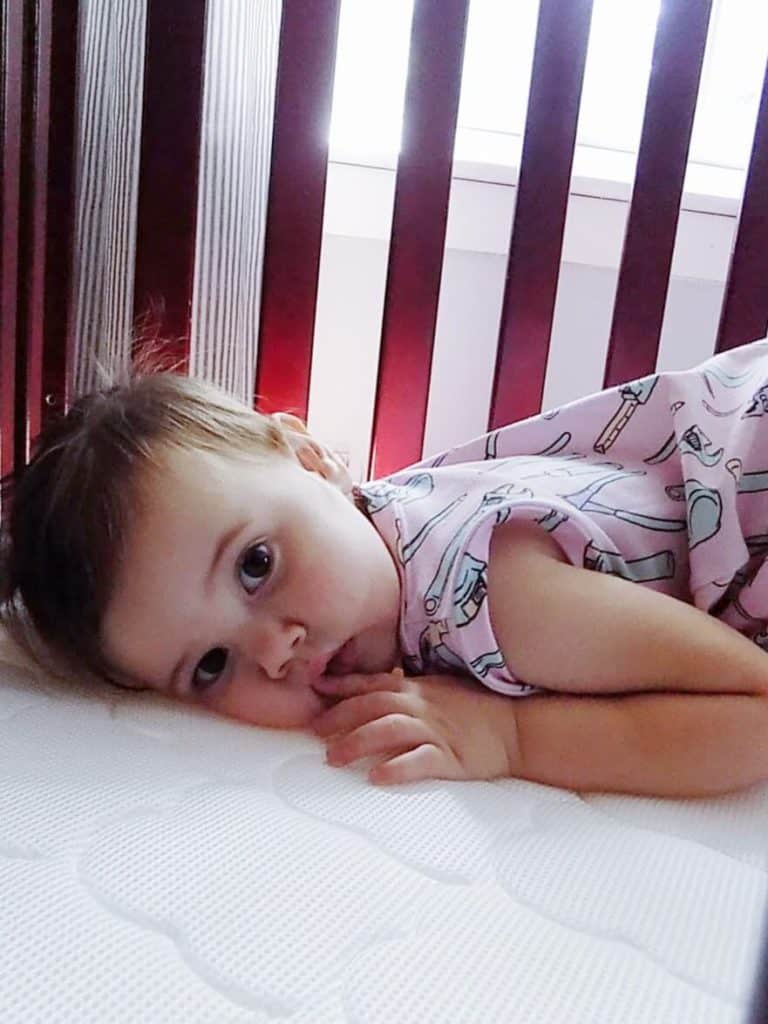 Comfy & Cozy
Having a breathable and uniquely made mattress is great, but if it isn't comfortable then no one in the house is getting much sleep. That is definitely not the case with the Newton baby mattress. It is extremely comfortable to lay on—I know I'm not the only parent who climbs into the crib to get their little one to fall asleep from time to time! There are no springs causing pressure points, and the quilted cover is made with soft pockets that cushion all around while sleeping.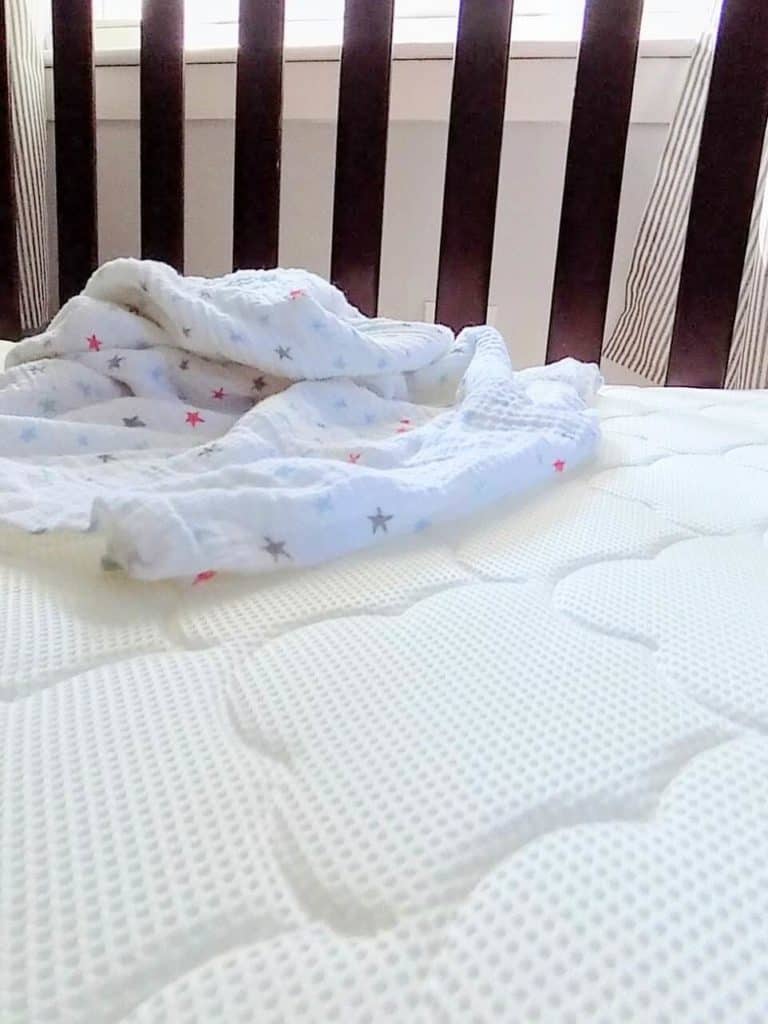 I waited a bit to give my daughter time to use the mattress before reviewing it, and I have noticed an improvement in her sleep during that time. In fact, she has starting asking for "Bed" at night, wanting to skip over her routine of rocking just to lay down. She also seems much more comfortable at night, and seems to be experiencing deeper & more consistent sleep.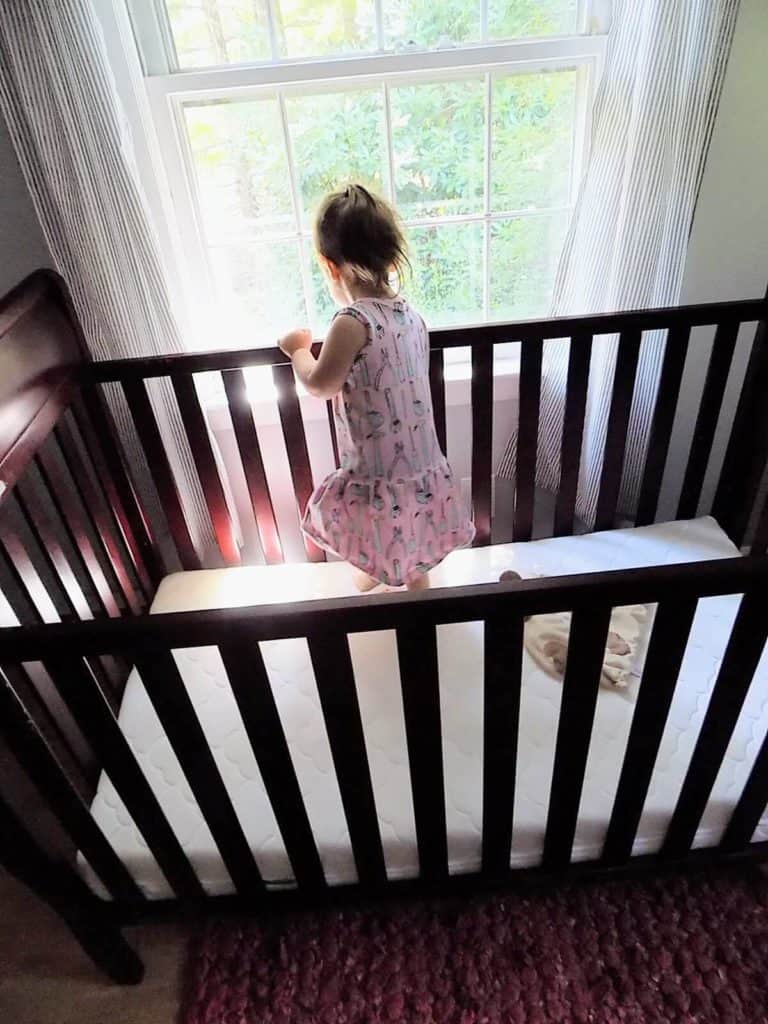 One big change I have noticed is how much cooler she feels in the morning, thanks to the breathability factor. Not only does it help her breathe, but it allows for more circulation, and prevents her from getting sweaty on her face or body where she is pressing against the mattress. I didn't realize how much heat she was generating on the old mattress until I saw the comparison, and can definitely see how mattresses can contribute to overheating, a serious risk that can lead to tragedy.
A few things to know & consider:
The mattress can be used with crib sheets, but cotton or muslin cotton are recommended to not hinder the breathability.
Waterproof mattress pads, however, should not be used, as that would block the breathability benefits of the mattress. I have always done the layering trick (mattress pad, crib sheet, mattress pad, crib sheet) to make middle of the night changes easier if Charlie had a big leak or got sick. This would not be possible with the Wovenaire® mattress. Newton Baby does sell extra covers (in different colors too!) so you could remove a sheet and zip off the cover if needed. You could just flip the mattress though and add a new sheet if one side one was still a little wet though and deal with it in the morning (totally what I would do!)
It retails for just under $300—which definitely makes it an option on the high-end. However, given the benefits and years of use that it will get, I do think it is worth the cost. It is comparable to buying a good quality mattress for adult bed (which are more expensive but obviously larger), and I feel children's sleep is just as important. They also have 100 night guarantee, so you can feel confident in trying it out!
The mattress is designed to be supportive enough for a baby, but comfortable enough for a toddler, and it fits a standard toddler bed as well.
That last part is huge for us, as Charlie is getting ready to transition to a toddler bed (hello crib escape attempts!). I am happy to know that this mattress will transition with her, and will last us for a long time!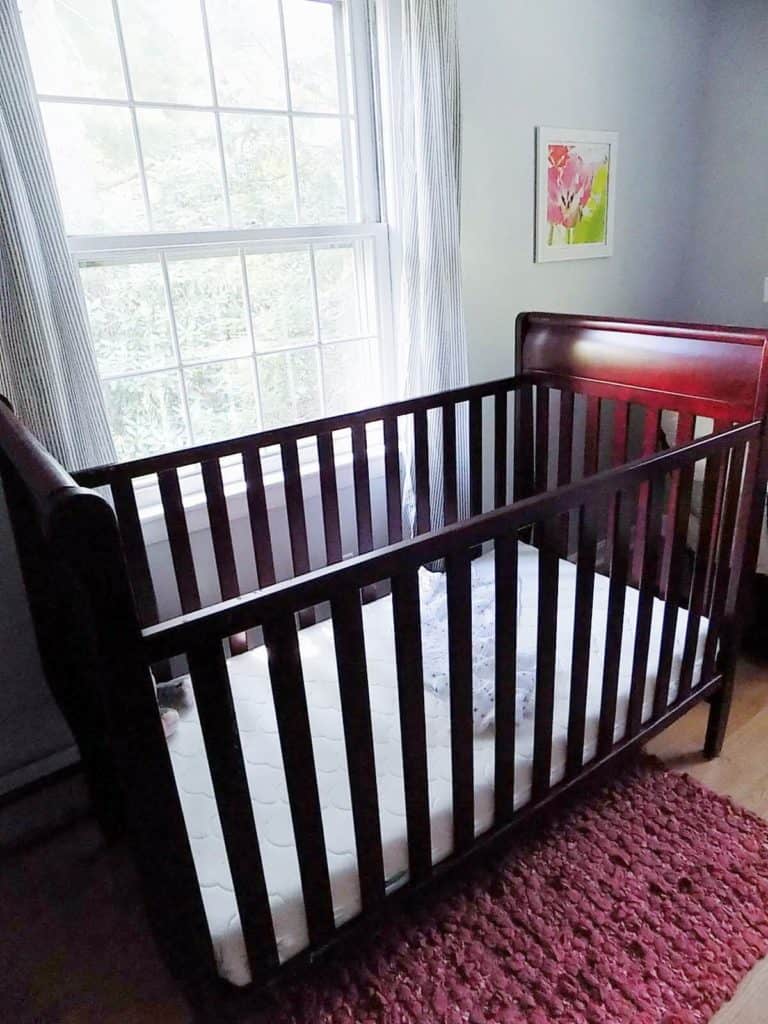 Given the safety factors, comfort level, and overall characteristics of the Newton Wovenaire® Crib Mattress, I definitely recommend this for parents of both babies and toddlers. You can find more information (as well as purchase it) on Newton Baby's website, or purchase it on Amazon.
You may be interested in:
Pin it!