Somewhere around the time infants start to crawl, parents everywhere begin noticing everything in the house that suddenly doesn't quite work for a mobile child. I definitely took the lazy wait-and-see approach in child-proofing the first time around, but quickly learned that there are a few living room essentials for life with a baby or toddler.
Now that I am in the nesting phase of preparing for baby #2, I am revisiting my plans to redecorate the living room and make it a space that continues to be kid-friendly (taking into account both newborn baby gear and toddler toys) and upping the style factor to create a space that makes us feel happy and comfortable.
I've put together a few of the lessons I've learned and products I have found that have made (or will make when added in) life easier!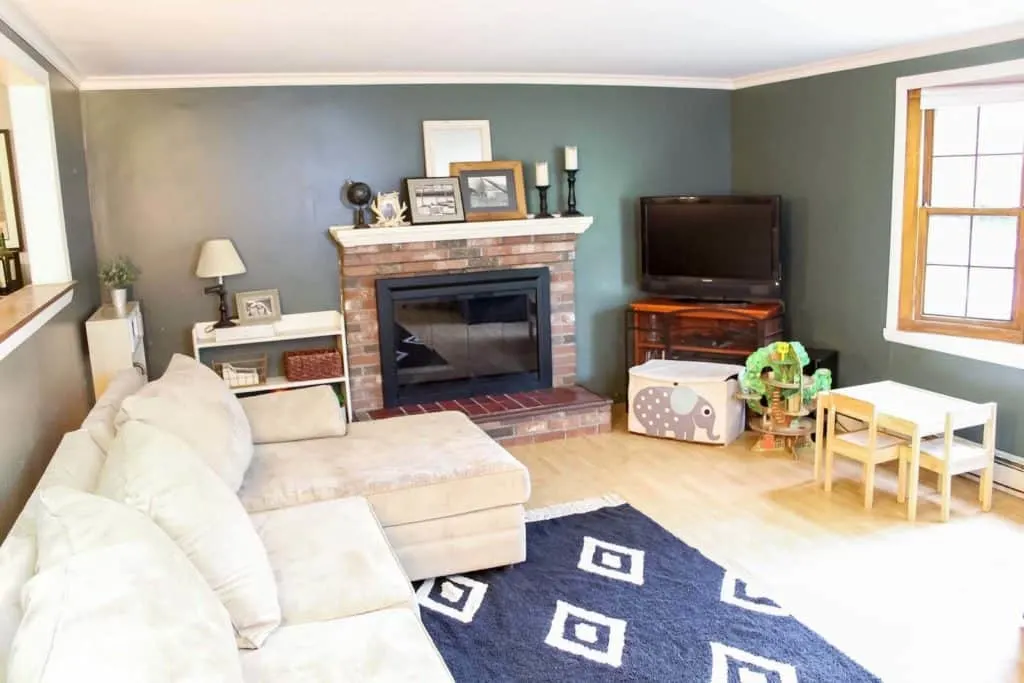 This post contains affiliate links and product received for review.
There are three main things to consider when planning out a family living room space:
Safety
Kid-Friendly spaces & room for creativity/play
A place where grown-ups feel relaxed as well
Safety is by far the most important, and child-proofing should be at the top of any new parents list. If you are like me though, child-proofing often looks like running around looking for a solution or making a quick purchase on Amazon when the baby finds a new item to explore or is all of a sudden able to access a new part of the house. Thank goodness for Prime shipping (you can get a free 30-Day trial here if you don't have it)!
Here are a few must-have items for creating a safe & stylish living room space:
Padding for (or Replacement of) Sharp Corners
Whether it is the pointed corners of a wood coffee table, or brick on a fireplace, anything with sharp corners basically has a magnetic pull towards children. They can, and will bump or fall into them, and land perfectly in the one-inch area that does the most damage.
There are many great products on the market to provide a bumper for furniture you just have to have (like these corner tabs for table edges and padded fireplace strips to cover exposed brick or tile.
Replacing items is also a great option. We took out our coffee table for the better part of a year when Charlie was learning how to walk to create more space and just avoid the imminent fall into it, but I would love to get something like these padded poofs or ottoman to add style to the space (without creating more danger zones).
Cord management systems for electrical cords + blinds (or cordless blinds)
Electrical outlets and cords look like fun toys to little kids, and I don't think it really needs to be said how babies and electricity don't go well together! At a minimum, make sure there are outlet covers on unused outlets, and consider covering up plugs and cords with furniture or cord protectors and box covers like these.
Another danger to children is the cords of window treatments or blinds. These need to be tucked away out of the reach of children, who can easily become strangled by them if left loose. There are some great cord management systems that are easy to use.
I highly recommend cordless blinds or shades however. We had regular blinds in the beginning, but after our dog decided she had to see what was outside one day and destroyed them, we bought these cordless cellular shades as a replacement.
DEZ Cordless Shades
Not having to worry about cords getting loose has been a lifesaver. Our bay window is Charlie's (and the dogs') favorite hang out spot, and it is nice that they have all figured out how to raise the blinds on their own as a bonus!
Furniture Anchors
If it is heavy and can be pulled over, then it likely will. I'm a bit ashamed to say I totally forgot that I ordered these and forgot to install them. That is at the top of my list to do today! Anchors that attach TVs to stands, or that hold bookcases and other large pieces of furniture are essential to prevent tip-overs from curious toddlers, which can and has led to serious injury and even death. Not something to joke around with! There is a wide selection to choose from here.
A soft rug (that is easy to clean)
Our entire house is laminate flooring, which makes for a rather hard surface for a newborn during tummy time or for a baby learning how to crawl and walk. With our first, I found myself layering blankets on the ground and looking into foam mats that would provide some sort of padding. I never really found a solution I liked, until I heard about washable rugs!
Having a rug (whether on hard or carpeted floors) makes so much sense with kids. Having a washable rug? Even better. Not only do they provide a place to play, but they are easy to throw in the washing machine when spills or blowouts occur.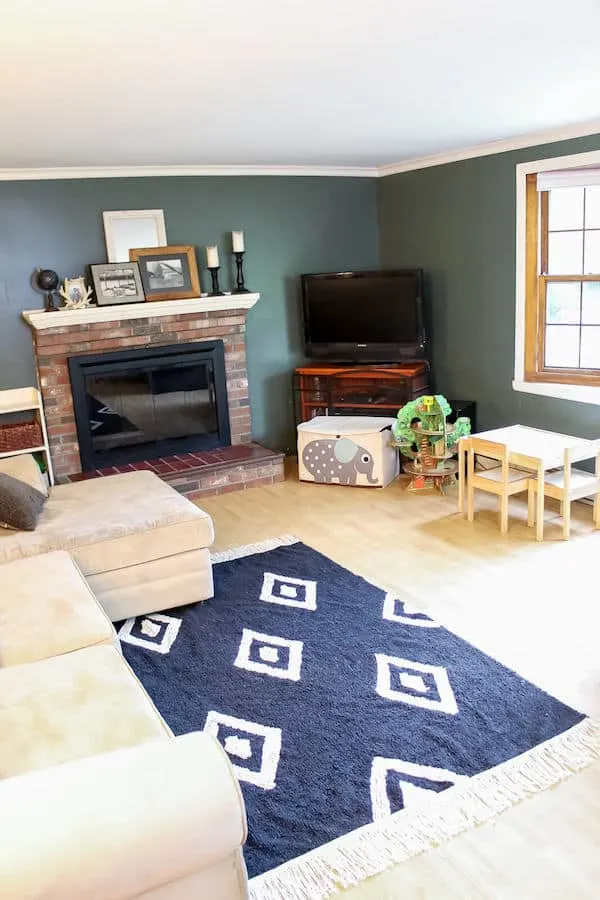 We received the Diamonds rug courtesy of Lorena Canals, and I love how it is not only so kid-friendly but that it is stylish for the adults in the house as well. It is the perfect jumping off point for my mission to redecorate!
Toy Storage
It is easy for even the most minimalist minded parent to become quickly overwhelmed with the number of toys that can accumulate, and therefore take up space in a living room. We have used a series of baskets and bins to corral Charlie's toys (this is the soft toy box you see above), and try to rotate through toys so they are not all out and once (plus studies show having more toys can actually lead to boredom and that kids have more fun with less stuff). I'm currently on the hunt for a new set for our living room.
Here are a few great options depending on your space constraints and needs:
West Dwelling Woven Basket
Foldable Storage Bins (these are always a great deal!)
Toy Storage Bins (perfect for larger toys)
You can also use smaller travel organizing bags or packing cubes inside larger baskets to hold puzzle pieces, art supplies, or small toys to help keep everything neatly tucked away but easily accessible.
Toys that promote independent play and creativity
While many families have a playroom area (which we do plan on incorporating into our house this summer), to make a living room a place for everyone I think it is important to have a few spaces or items that encourage creativity and independent play in the living room too. It allows everyone to be together but also allows parents to relax and enjoy TV or other activities while the kids are playing on their own.
For us, that includes making space for a child's table and play kitchen in our living room. Charlie loves "making dinner" for us and uses her table for lots of different activities. We bought and love both the Duktig Play Kitchen and the LÄTT Children's Table set from IKEA, because they are sleek in both size and design and incredibly affordable.
Once we finish the playroom (and once we need to make space for a baby swing again), we will have to make some choices as to what goes in each room, but there will always be a few things for her to play with in the living room as well!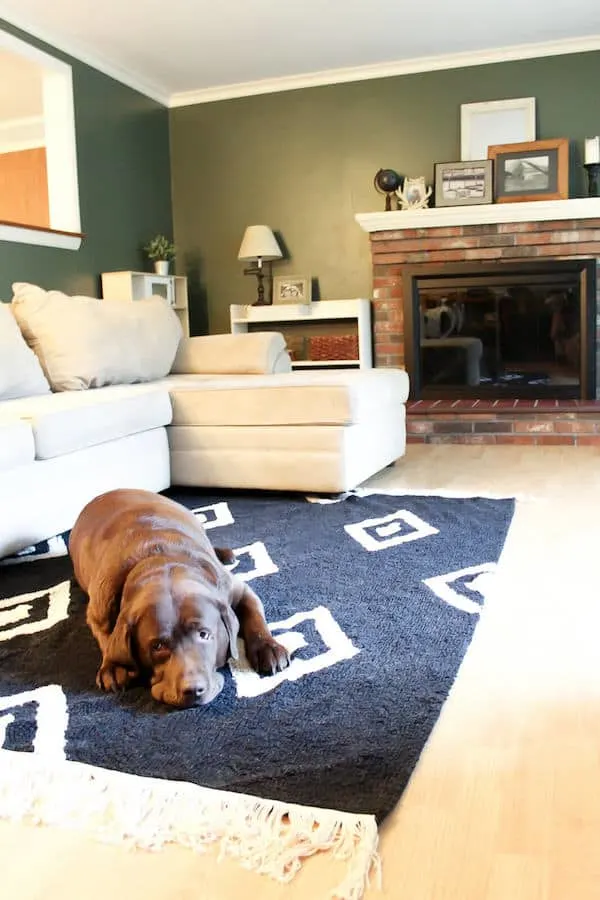 A family living room should be a place that everyone feels relaxed, comfortable and can enjoy spending time together. I am excited to tackle a redesign to make ours reflect our style and interests, and create a safe space for us to grow as a family together!
For more ideas on incorporating play spaces in the home, be sure to follow The Mom Friend on Pinterest—you'll especially love the Playroom & Kids Space Inspiration board!