What makes a mama who is 8 months pregnant drive 5+ hours in the car (each way) on her own with a toddler in the car? Baby Gear, that's what! Last weekend I had the chance to attend the New York Baby Show 2018 at Pier 94 in New York City courtesy of MomTrends, and it did not disappoint!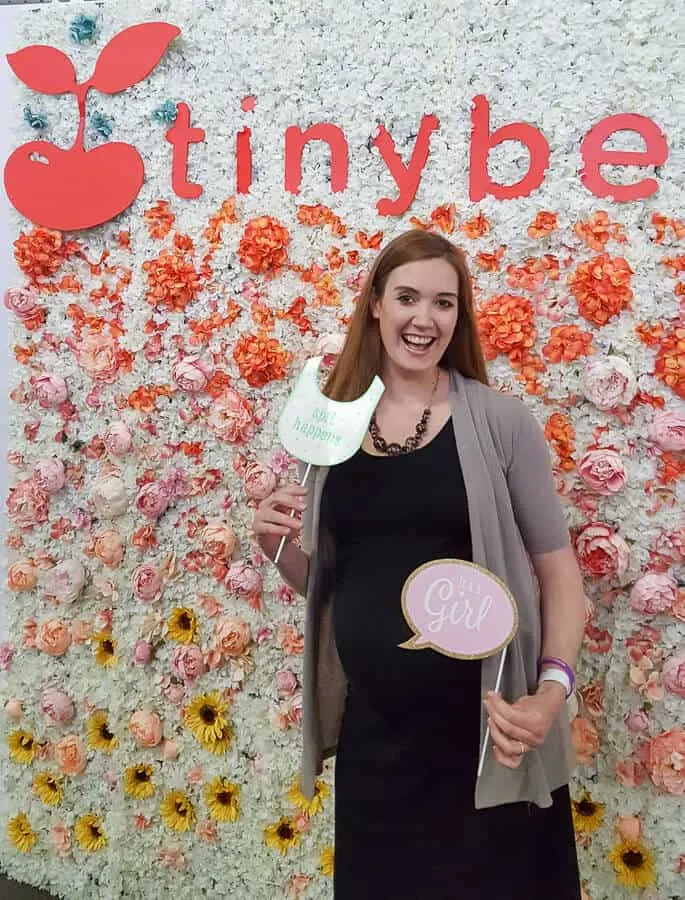 Lucky for us, Charlie's grandparents live just outside the city, so I was able to drop her off and spend the day (all on my own—a rare accomplishment) checking out the latest and greatest in baby gear, scoping the scene out for both you my readers and for our little one on the way. I also got the chance to meet the great people behind some of my favorite brands, and get to know some new brands as well. It was a great day and I'm looking forward to sharing my favorite finds today and more info about lots of great products in the future!
The entire event was great—so many families from around the New York City area turned out to try out products, learn from the expert panels, and get a jump into parenthood. Here are a few of my favorite finds (though it was definitely hard to choose)!
This post contains affiliate links.
Baby Gear Favorites
After spending hours walking through booths, one thing was for sure—baby gear development is not slowing down anytime soon. Car seats and strollers took up a huge section of the show floor, and each brand brought their latest and greatest for parents to test out. I loved trying out the unique side to side movement capability of the Ergobaby 180 Reversible Stroller (as well as the new Omni 360 carrier) and feeling the fabric on the newest infant car seat prototype in the Maxi Cosi line (the Air—dreamy is the only way to describe it!).
There were so many great options in both categories—I got a great overview of how the Chicco Fit2 works (such a game changer for large babies like mine!) and got to play around with the Austlen Entourage to see which double stroller accessories I want to get to add to my Entourage (definitely grabbing the sit-and-stand and car seat adapter to start in case you were wondering). And so many others!
One of my favorite finds for baby gear outside of the car seats and strollers, however, was definitely the bloom Coco Go Lounger. This ticks all the checkboxes that make a good lounger, all in one!
It is a 3-in-1 seat that serves as a rocker, bouncer, and upright seat for feeding or interactive play. The Coco Go also has 2-speed vibration, and since it has the word Go in its name, you know it is portable!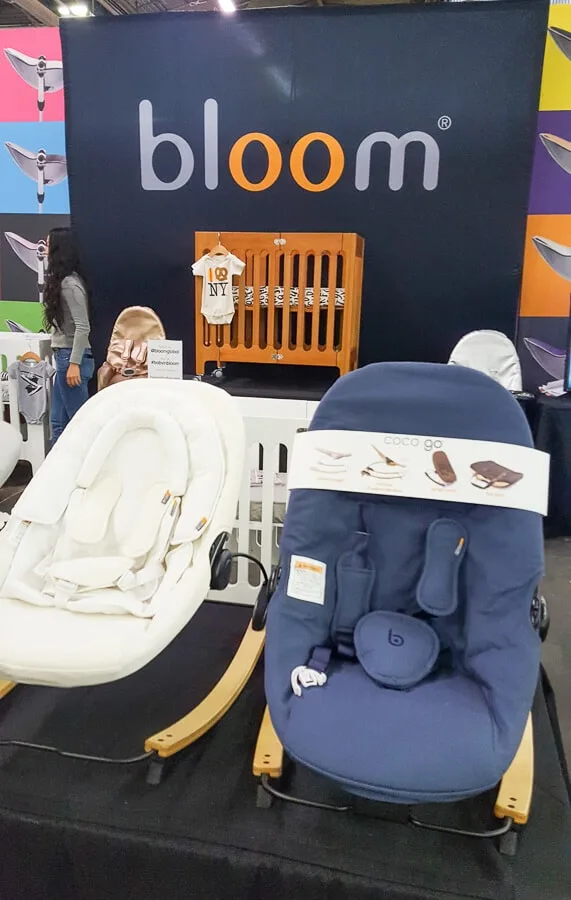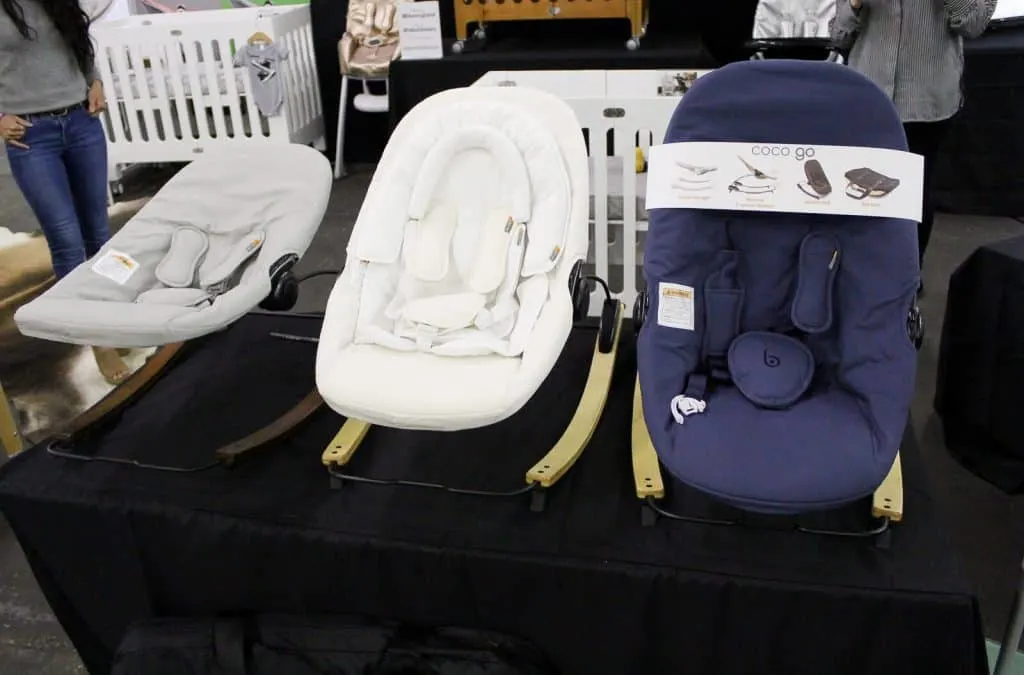 This lounger actually folds down flat and fits neatly into the included travel bag, making storing it or taking it on your next family vacation a breeze. It fits newborns up to 25 lbs, has 3 recline settings, and is machine washable. And I just love the classic style of it—no bright colors or annoying prints, just a stylish item that would fit perfectly into any home's decor. You can pick the wood and fabric colors too!
Favorite Finds for the Nursery
There were so many great exhibitors representing the nursery space at the show. I loved being able to see some of the hottest nursery items in person, like the Keekaroo Peanut Changer and the stylish cribs and gliders from a whole variety of trusted brands. I also got the inside scoop on a new version of the Chicco Deluxe LullaGo portable bassinet coming out this summer (called the Nest) and am definitely looking forward to that!
One nursery product I really loved learning more about was the bbluv Ümi—a 2-in-1 Ultrasonic Humidifier and Air Purifier. I'm a fan of bbluv products (see how I used the Döse during travel here) and the team gave me a great overview of how the Ümi works—it has some pretty impressive functions.
Not only does it offer 3 levels for the cool mist humidifier and can maintain a specific level of humidity in a room, but it uses ionization to purify the air and even has an option for an aroma diffuser as well.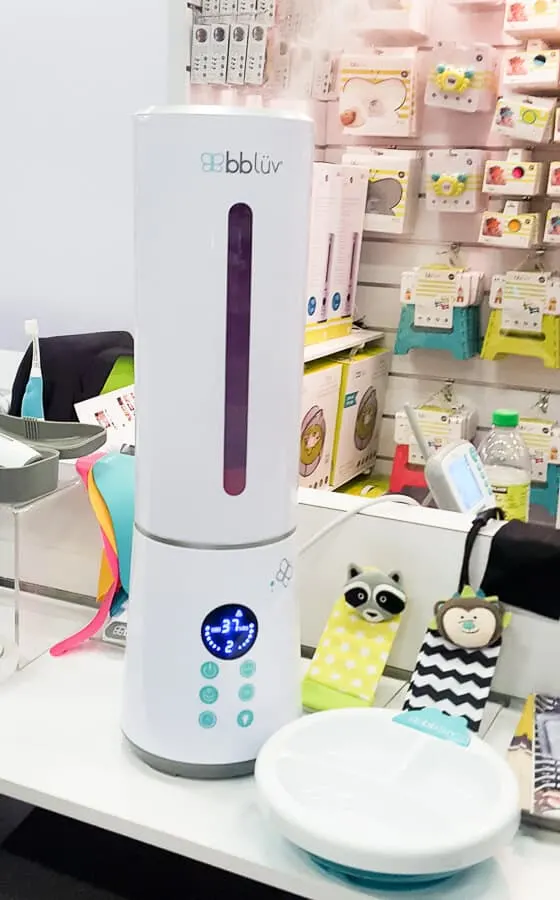 It's unique tower shaped design helps solve a common nursery problem—lack of tabletop space for a standard humidifier—it can actually be placed on the floor as needed without getting the ground wet.
Favorites from Clothing & Accessories
One of the awesome things about the New York Baby Show is that there is a good variety of items to check out—clothing and accessories included! Breastfeeding attire, teething jewelry, and nursing covers were out in full force with parents eager to scoop up the great deals offered on the day of the show.
I jumped at the chance to try out a Magnetic Me by Magnificant Baby footed one piece for baby #2, and picked this cute safari print as we have a slight obsession with all things related to wild animals. I'm excited to see how it speeds up the middle of the night diaper changes with its magnetic closure instead of snaps!
A new-to-me brand I came across at the show was the Luv Bug Company, and their UPF 50+ Hooded Sunscreen Towel. If you have been following The Mom Friend for a while, you know we love anything that makes life and travel easier with kids (and the more compact the better). This towel seems like a great solution for both pool/beach days close to home and for packing for vacation as well.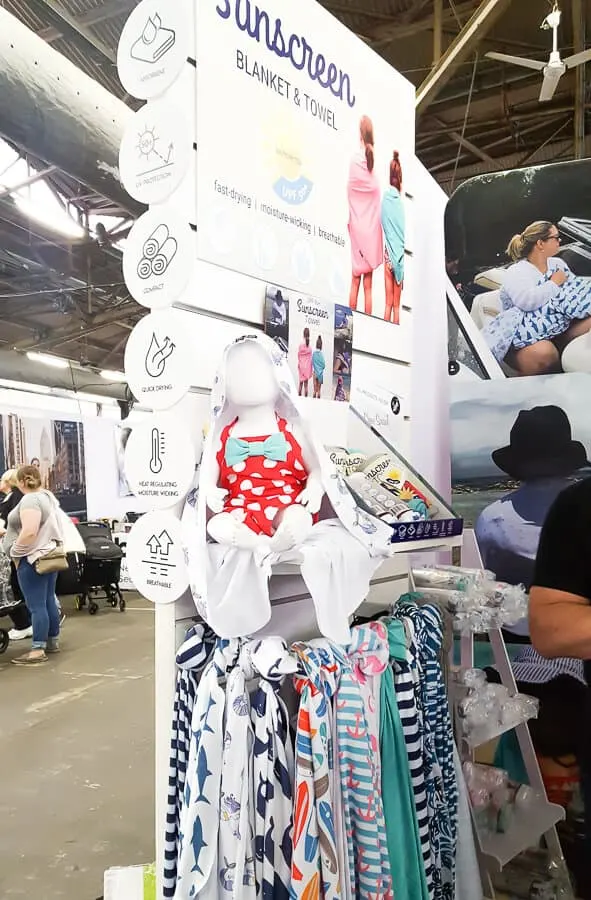 The towels are made out of a thin, lightweight, breathable fabric that is moisture wicking and fast drying, and the entire thing rolls up into a small roll the size of a compact umbrella. The idea is that it can be used or worn in different ways to cover up the skin when out of the water, or for protection for infants under the age of 6 months (the minimum age for sunscreen use). They offer some cute and preppy patterns as well!
While these products are barely scratching the surface of all of the great finds from the New York Baby Show, one thing is for certain—if you find yourself near NY next year, or are in one of the cities where the show is traveling to next—be sure to go and experience it for yourself!
It was definitely worth the drive for me, and I can't wait to go back next year (where I will definitely make use of the #NYBSBloggerLounge Broadcast Booth to share my favorite finds through video with all of you!). Did you attend the show? What has been your favorite baby find lately? Let me know! Be sure to follow The Mom Friend on Pinterest and like it on Facebook for more great finds!