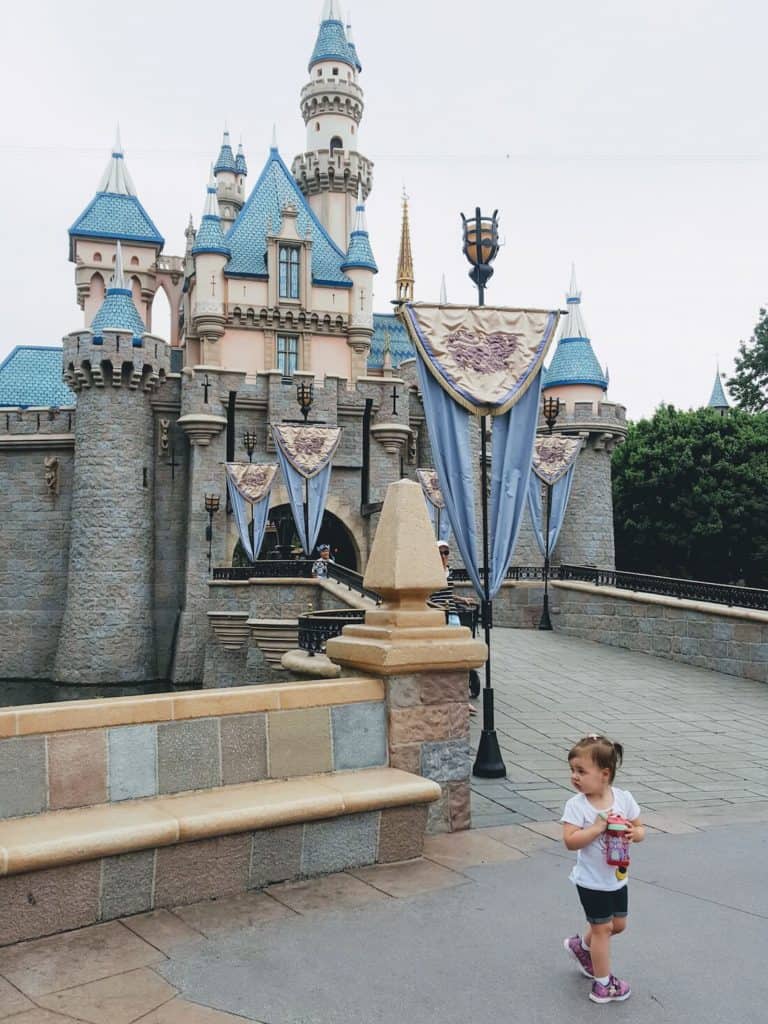 We returned last week from our big vacation out to California, and had so much fun taking a quick stop at Disneyland for the day. Before I left, I rounded up an amazing list of tips for taking toddlers to Disney from over 20 blogger friends, and I am so glad I did. The tips really helped us make the most of our day. And while I have so much I can share about what I learned from the day, I couldn't wait to share the single item that had the biggest impact on our day at Disney- the Austlen Entourage stroller!
If you follow The Mom Friend on Instagram, you might have seen my sneak peak of the Austlen Entourage a few weeks ago. I promised I would put it through the trenches before I reviewed it fully, and I've done just that. I'll post a full review of all of the features soon, but I had to share how it worked for us at Disney in the meantime.
Austlen Entourage at Disney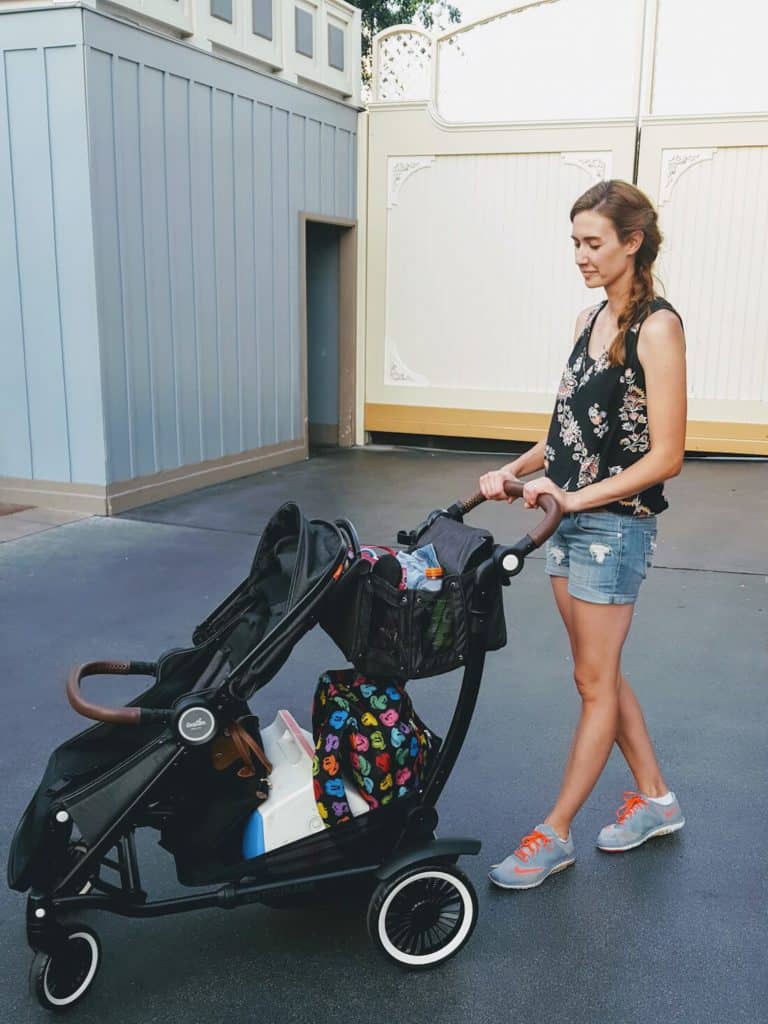 Thank you Austlen for sending the Entourage in exchange for my honest review. All opinions are my own. This post also includes affiliate links. Please see my disclosure page for more details.
For being a popular and pretty expensive theme park, Disneyland and Walt Disney World are surprisingly very open to allowing families to bring in what they need for a happy and stress-free day. Coolers filled with lunches, snacks, drinks and sippy cups of milk are totally fine, and there is no real limit as to how much "stuff" a person can bring in. Most people would have to limit themselves as to what they can carry or what fits in their small stroller basket, but my experience was completely different.
For 4 adults and 1 toddler, we brought along:
a medium sized cooler that held 12+ drinks, including water, soda and milk
an extra large backpack with all of the diaper bag necessities, plus extra clothing, sweatshirts, activities to keep Charlie occupied, and snacks… lots and lots of snack!
my tote bag (purse for stashing things to play with while standing in line)
I literally had no worries about whether or not I had room to bring things. I am an efficient packer, and love to travel light, but the Austlen Entourage let me say "sure, why not" to bringing an extra toy along, just in case.
Related: Great Travel Items for Toddlers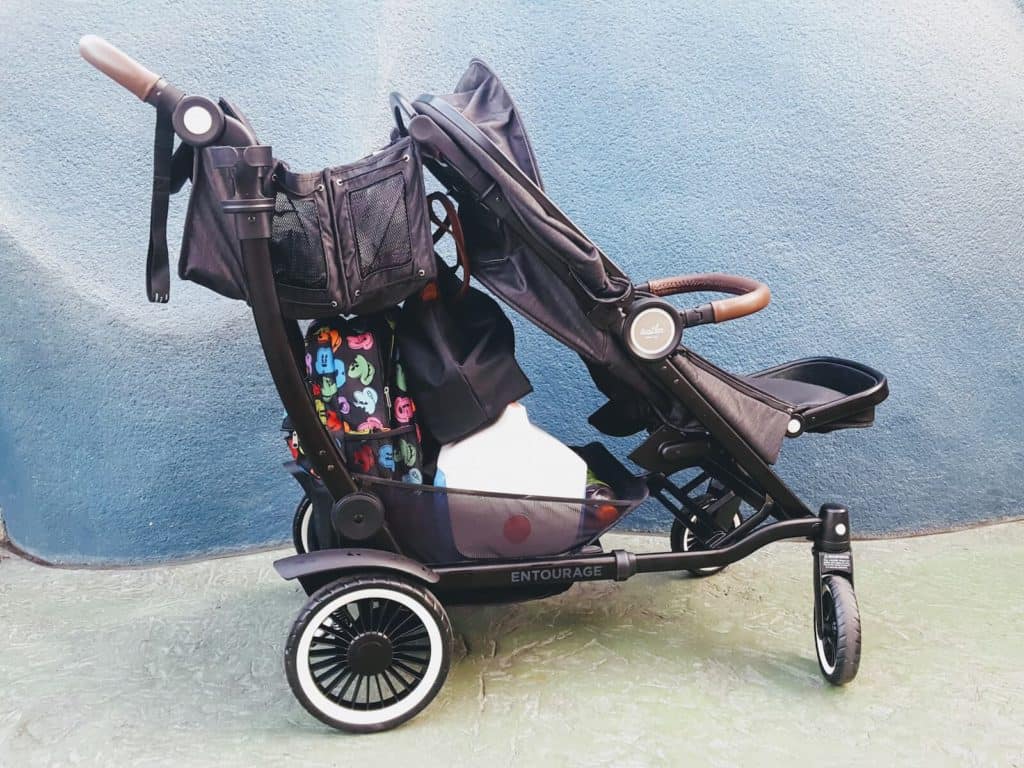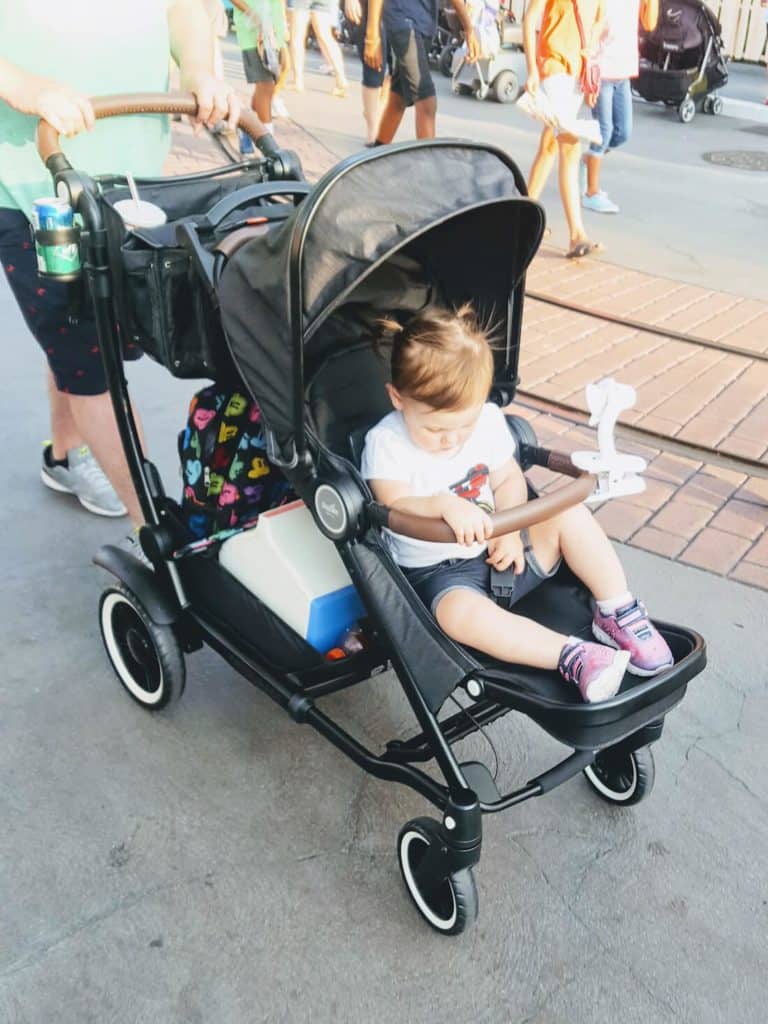 Knowing we had everything we needed for the day—and plenty of room for the inevitable souvenirs the grandparents would be buying for Charlie—helped the day start off on a relaxed and prepared note. Charlie was happy riding along as we made our way to Fantasyland, and then spent the rest of the day jumping in and out of it, walking (more like sprinting away from us) or riding when she got tired. Her favorite spot was walking alongside, holding onto the belly bar (and of course getting in the way, making walking very slow going!).
It was over 90 degrees that day, and I was so happy to not have had to carry the backpack on my back. I can't imagine any extra layers in that heat (says the girl who grew up in the 100 degree California summers!) I actually felt bad for people in the park who were pushing strollers and still carrying bags or backpacks. What a burden!
Related: Preparing for Disney with Toddlers—Tips & Secrets from 20+ Bloggers
Everyone in our party took turns pushing it throughout the day, and loved the fact that the handlebar was so comfortable and could be adjusted for each person's height. Even my dad, who is 6'9″ (yes, really) repeatedly commented on how comfortable it was to push and basically staked claim on it for the mile-plus walk to and from our hotel.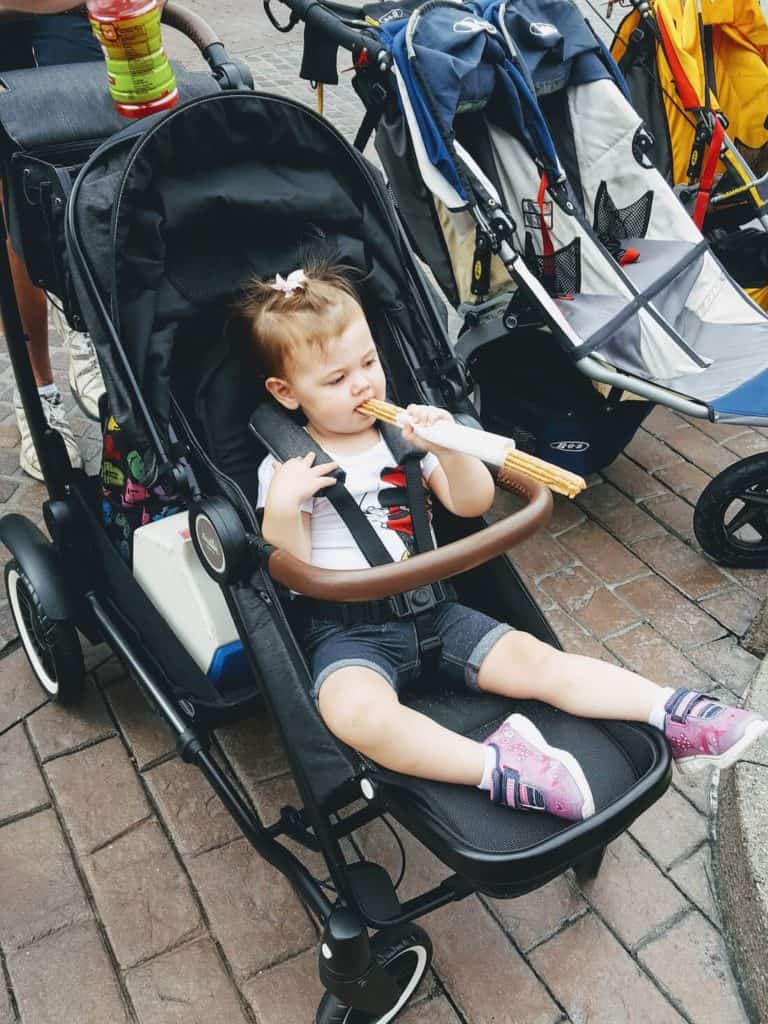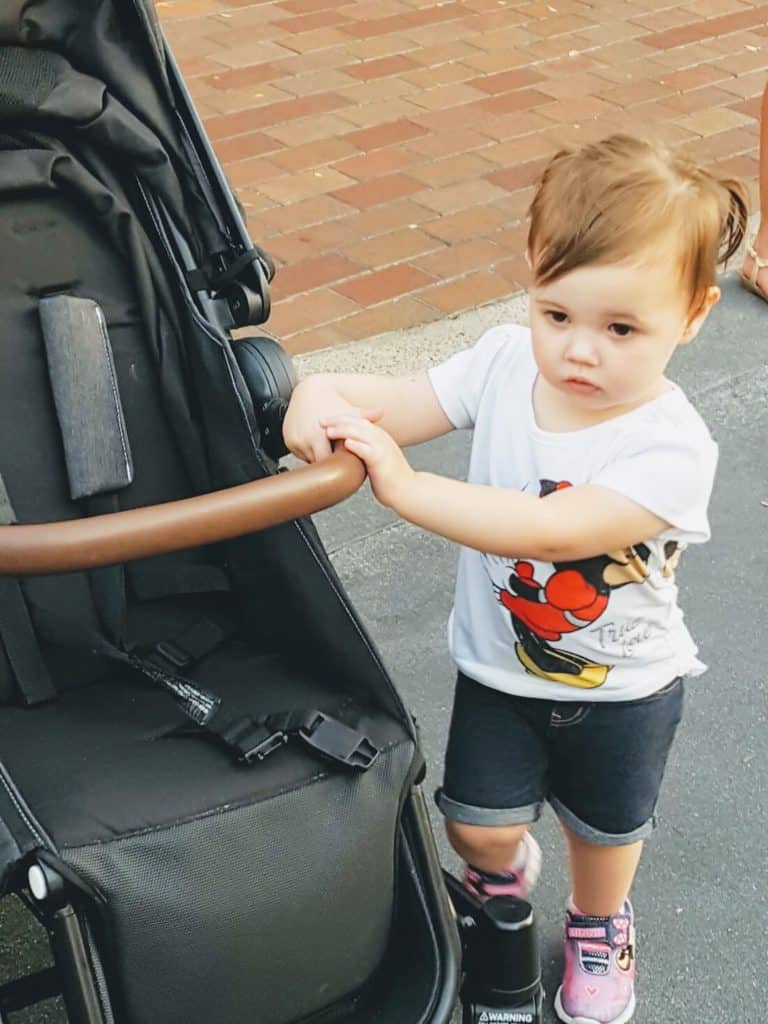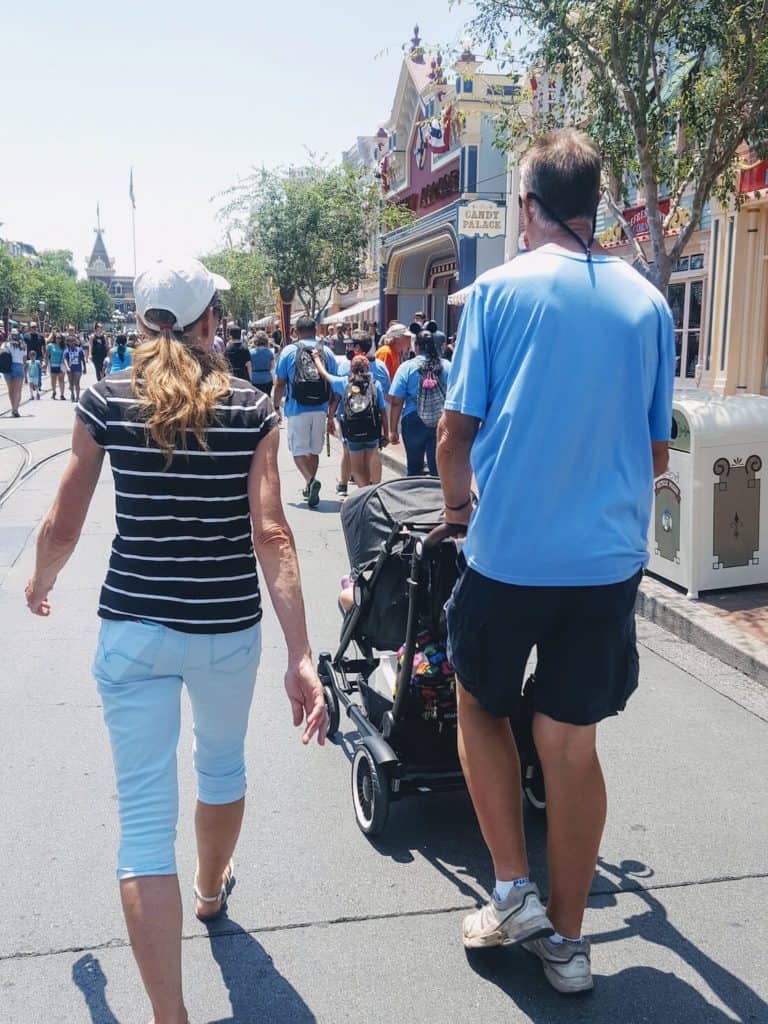 I absolutely loved the expandable market tote during the day—we utilized both the covered section (which held drinks, phones, and cameras), and the open sections as well, for all of the miscellaneous stuff we either picked up along the way, or grabbed from the bags. It even fit my tote bag in between rides so I could still have quick access to my go-to items.
Napping on the Go
But the absolute best part of having the Austlen Entourage at Disney was how even loaded up with all of our stuff, we were still able to fully recline the seat when Charlie fell asleep.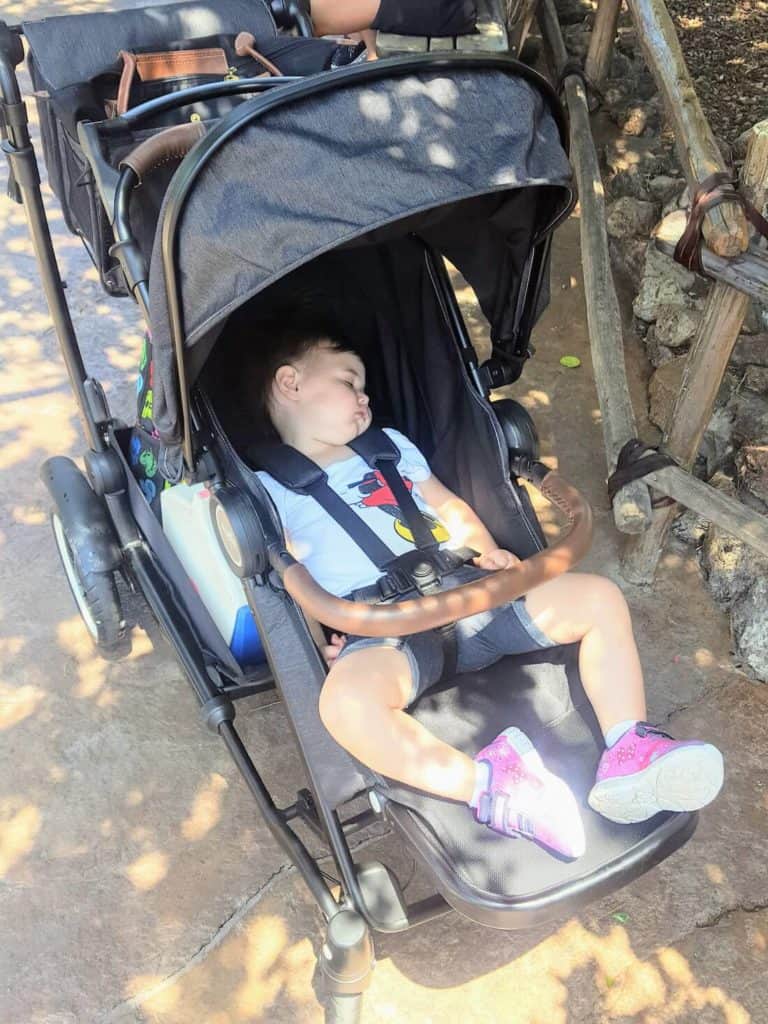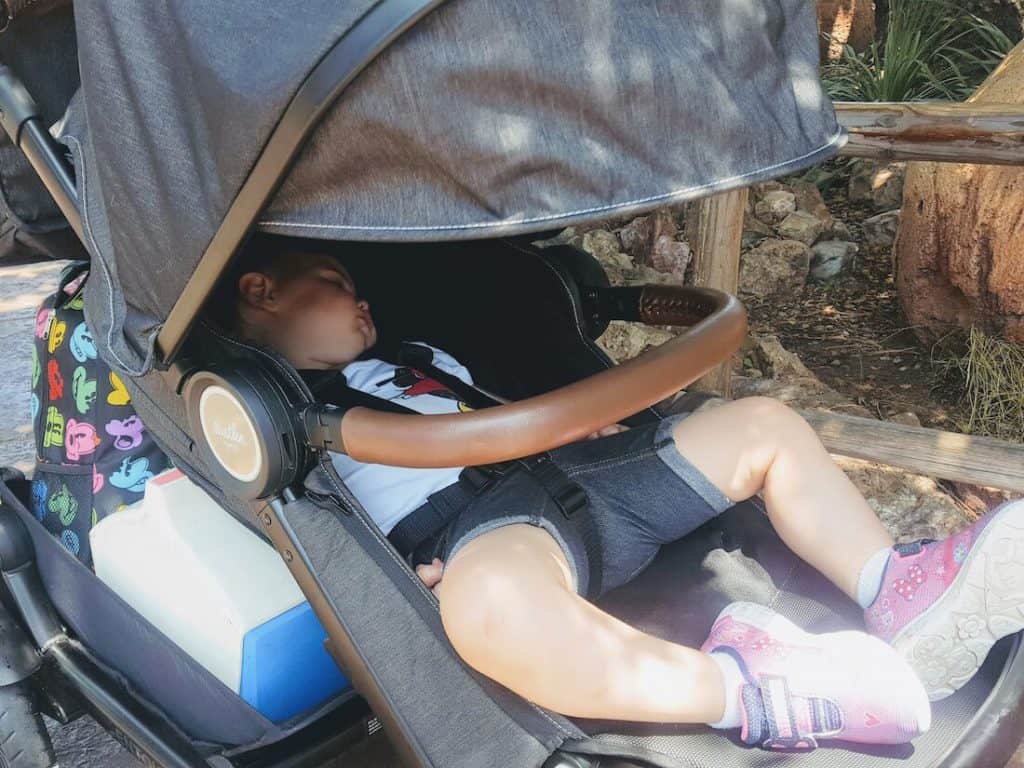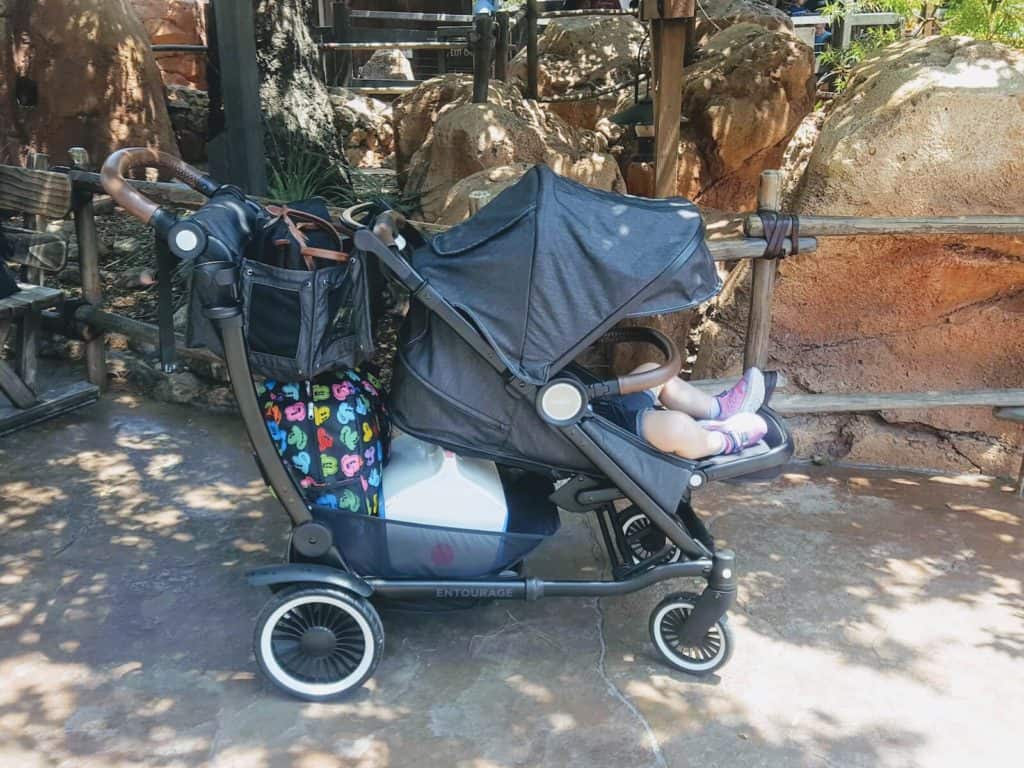 We tried timing her nap so we could take a midday break at the hotel, but the poor thing was so exhausted from the excitement that she passed out while a few of us were in line for Thunder Mountain Railroad. She slept comfortably for the entire walk back to the hotel, and even stayed asleep in it once we arrived (this mama was not risking waking her up to move her to a bed!). I attached this stroller fan to the belly bar, which kept her cool in the hot temperatures, along with the huge canopy which has 50+ UPF protection.
She took a solid hour and a half nap during the day in it, and fell asleep again at night, allowing us to ride all of the "big kids" rides while Grandma enjoyed watching her sleep. Originally we thought she might head back with her grandparents when it got late, but because she was so comfortable, we were all able to stay at the park until WE got tired, rather than having to leave when it was bedtime for her.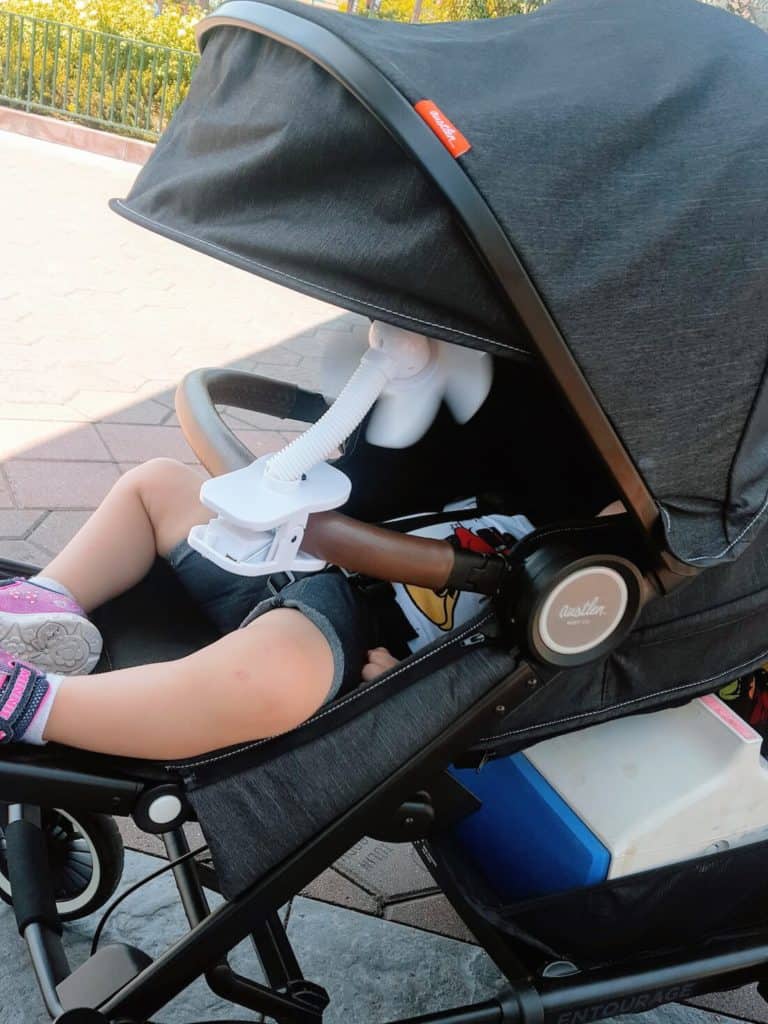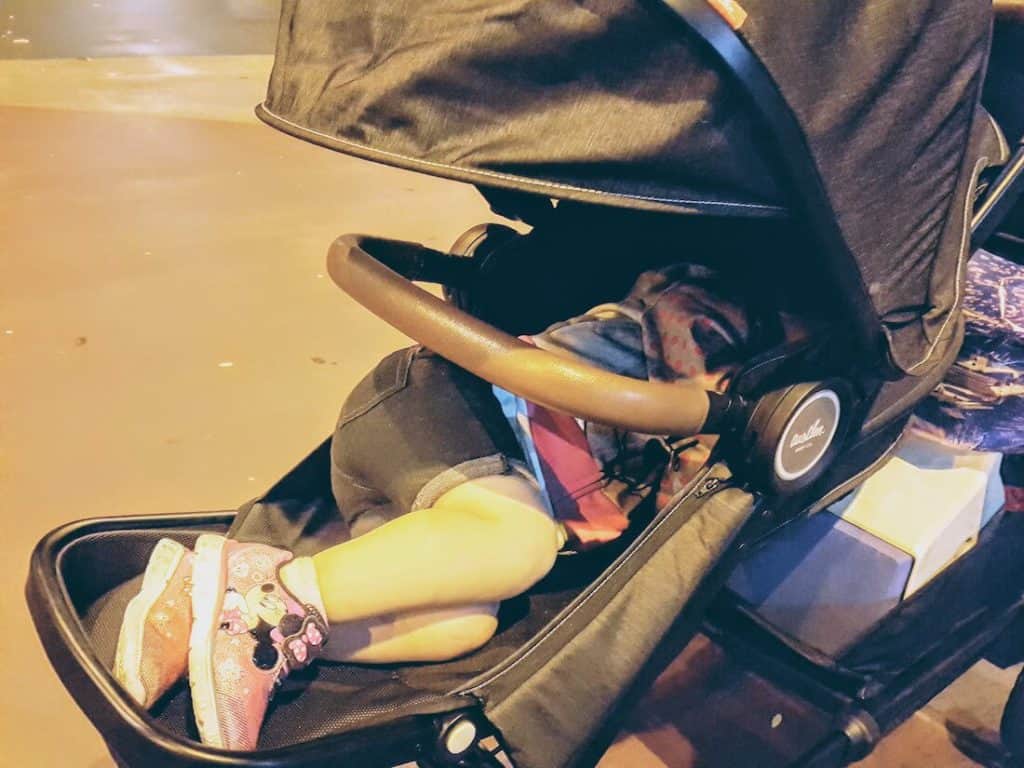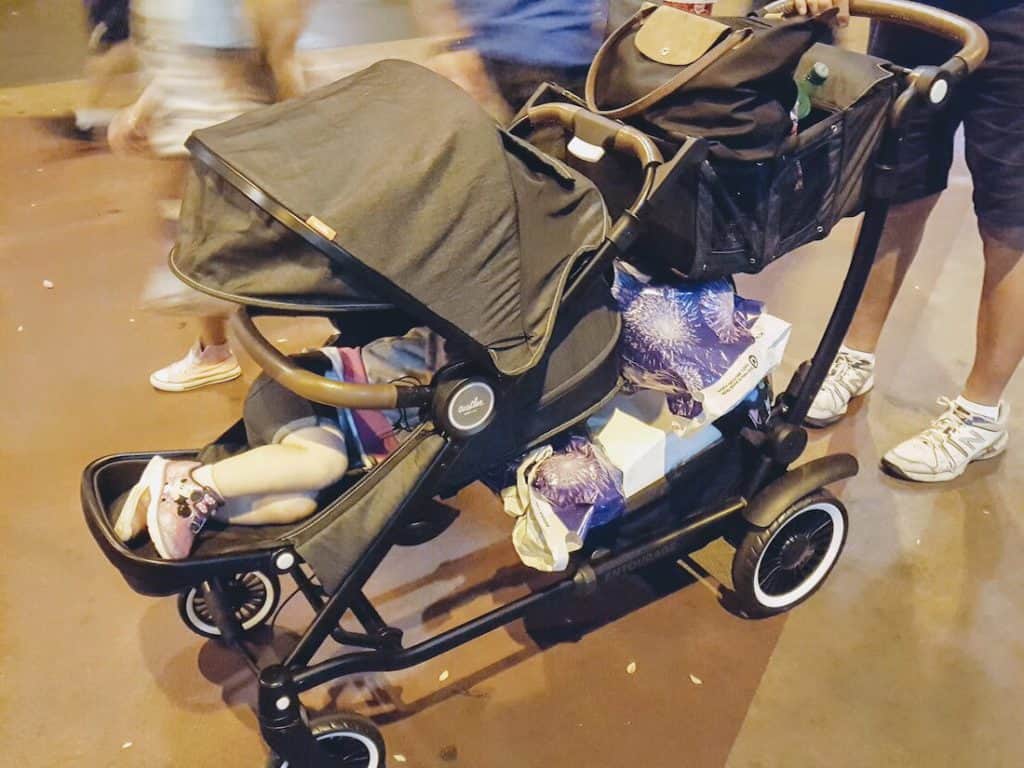 Shopping & Sleeping
See all those Disneyland bags? Just as I predicted, by the end of the night we brought home a large stuffed animal (Kion from the Lion Guard) and a large toy figurine set (again, Lion Guard, our girl is obsessed!). We spent most of the day with the stroller in the middle extension length, but at the end of the night I slid it out to the full extension to fit the souvenirs and still give us access to the rest of the bags and cooler.
If you saw my Instagram story, you'll know just how soundly she slept—straight through the fireworks show!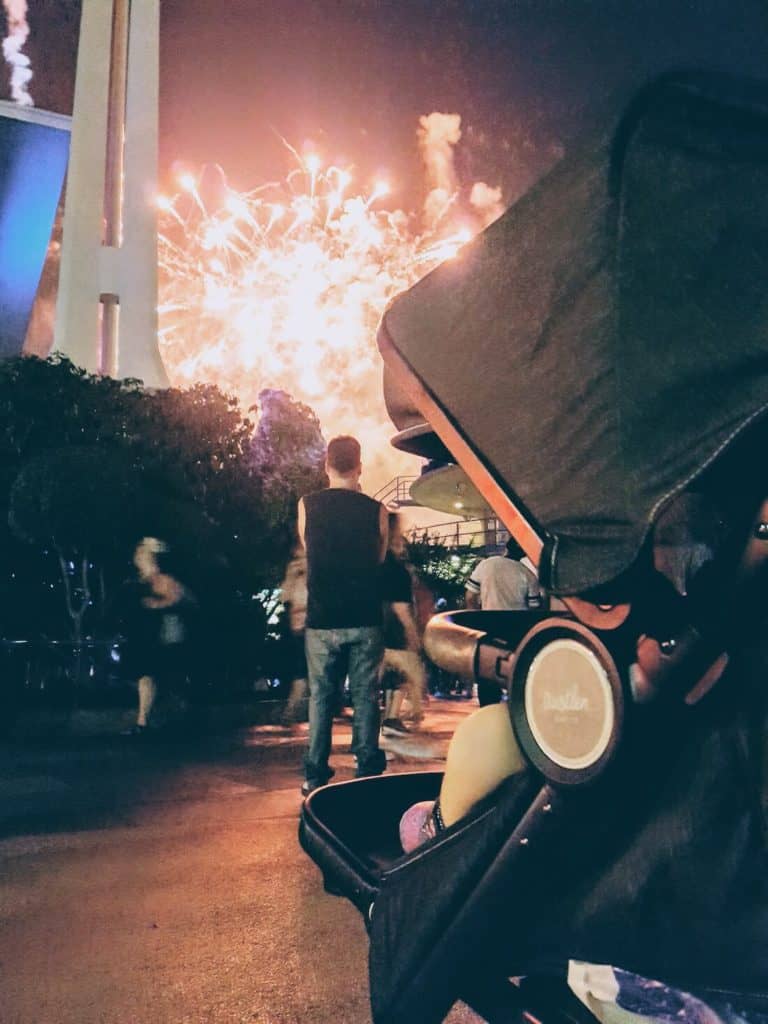 The nice thing about the Austlen Entourage (well, one of the many nice things—I truly love this stroller) is that it isn't just good for the times you need to haul kids and #AllTheGear. The next day we walked a few more miles to and around Downtown Disney, and had it on the most compact setting. She YET AGAIN fell asleep in it, and again we could recline it fully in that position.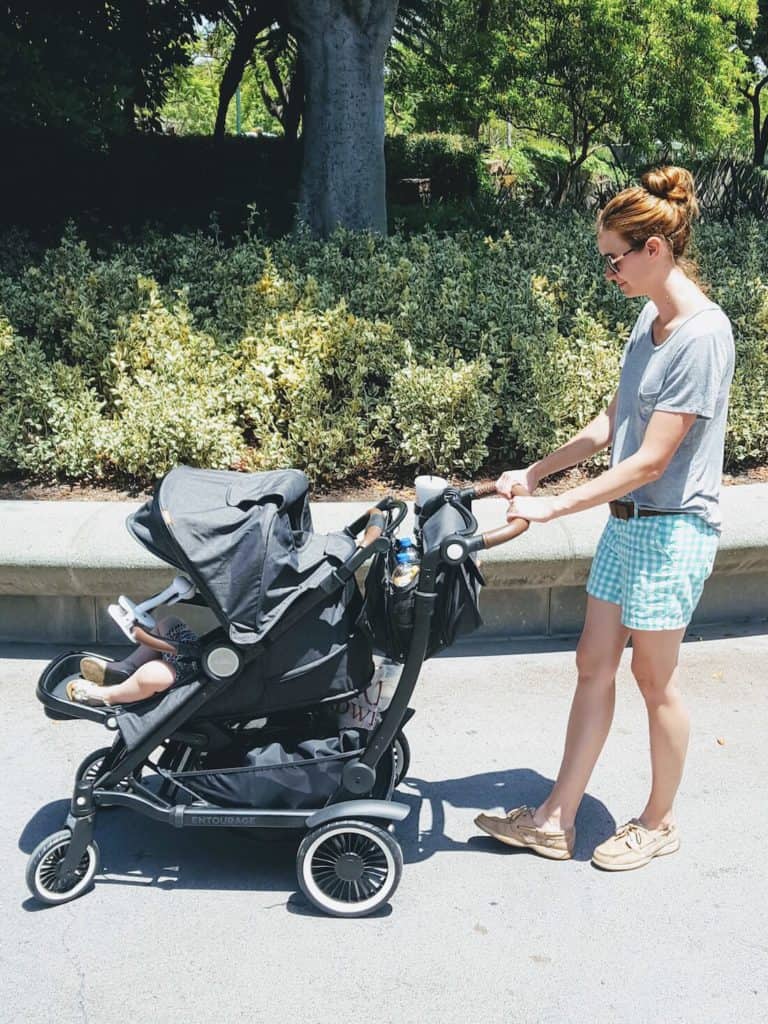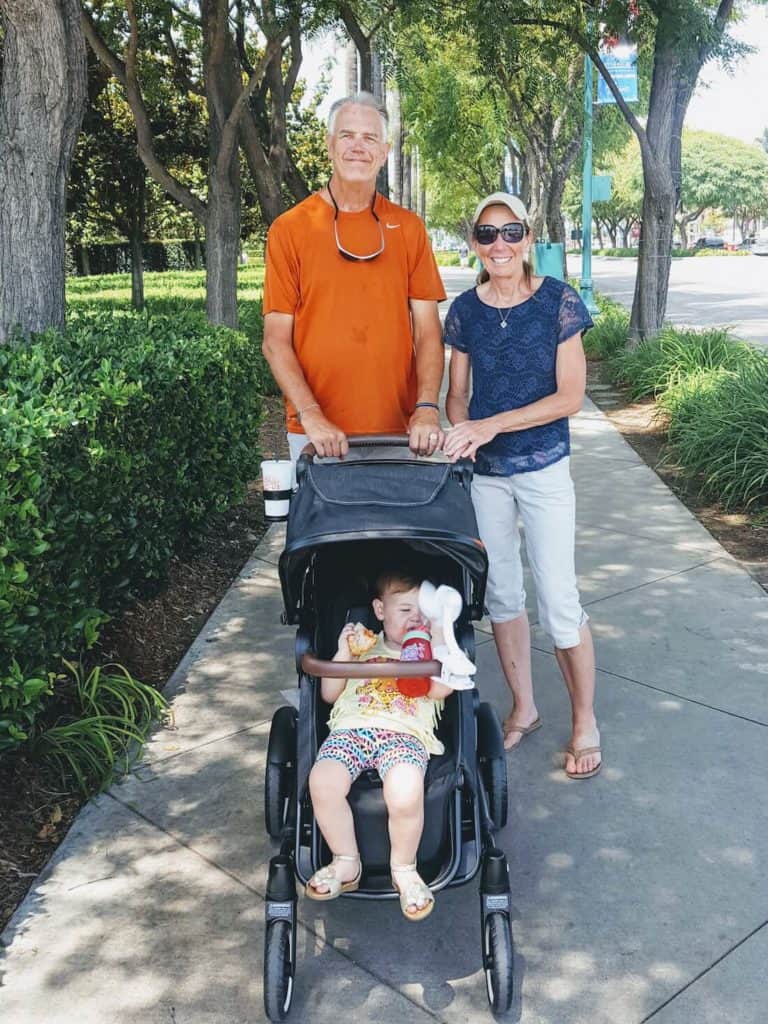 My time at Disney definitely sold me on the EXTREME versatility and function of the Austlen Entourage stroller. I spent the day looking at other strollers in the park (I'm a baby gearhead, can't help it) and nothing came close to the storage and comfort of the Entourage.
Related: Baby Registry Essentials & Lifesavers
And if you are wondering how it handled in a park full of people—it did great. Like any large or double stroller, it does take up a little more room, but we had no issues parking it or maneuvering in the massive crowds (though we aren't jerks and didn't try to cut people off, and walked at a leisurely pace all day! ;P).
It handled great all day long, we were able to weave our way amongst crowds waiting for shows, and escape the park at the end of the crowded Electric Light Parade. I did find that in massive crowds (like the exit after the parade with only a tiny walkway open) having someone standing at the front lightly holding onto the canopy helps for quick stops or to swerve around people who have no idea what is going on around them!
Final Thoughts
Overall I HIGHLY recommend taking the Austlen Entourage on any Disney vacation. The last thing a family needs is to feel weighed down by gear all day while chasing, I mean, entertaining kiddos! And just wait until you see how this thing performs for carrying luggage at an airport—it is insane! Check back soon for my detailed review of all of the Entourage's features.
The Austlen Entourage is available on Amazon. Check out all the great features there!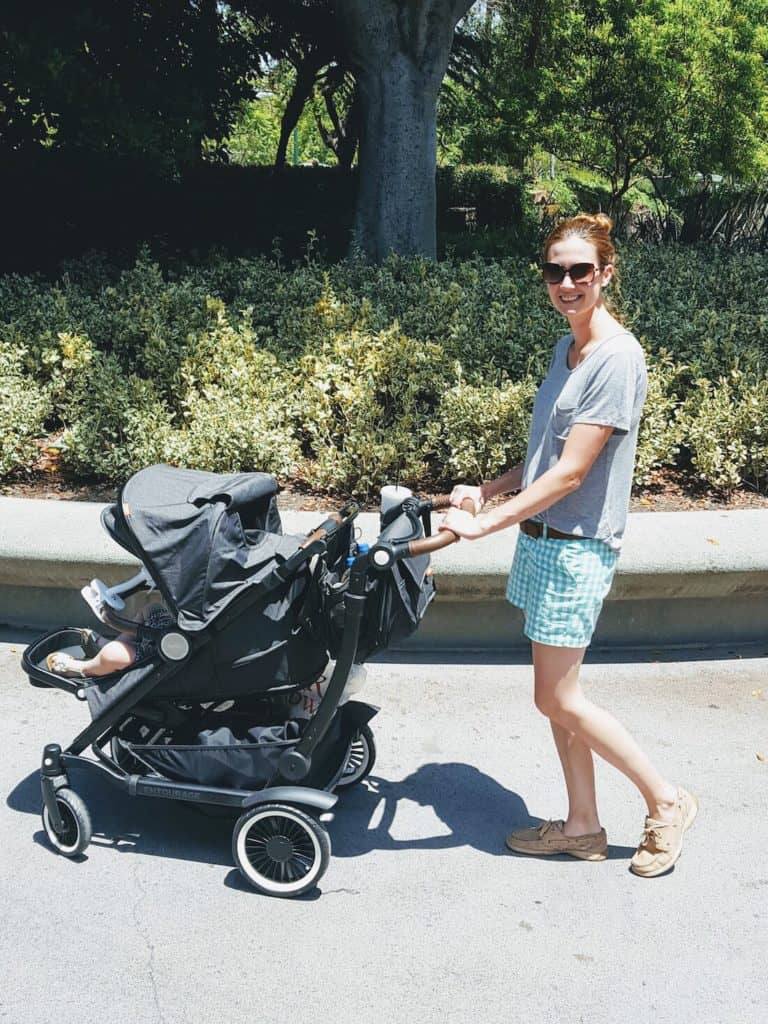 What are your stroller must have qualities for a trip to some place like Disney? Tell me in the comments below!