Need to transition to a toddler bed quickly? That just happened to me. Today I'm sharing a few tips to help you get it done quickly and without a lot of drama!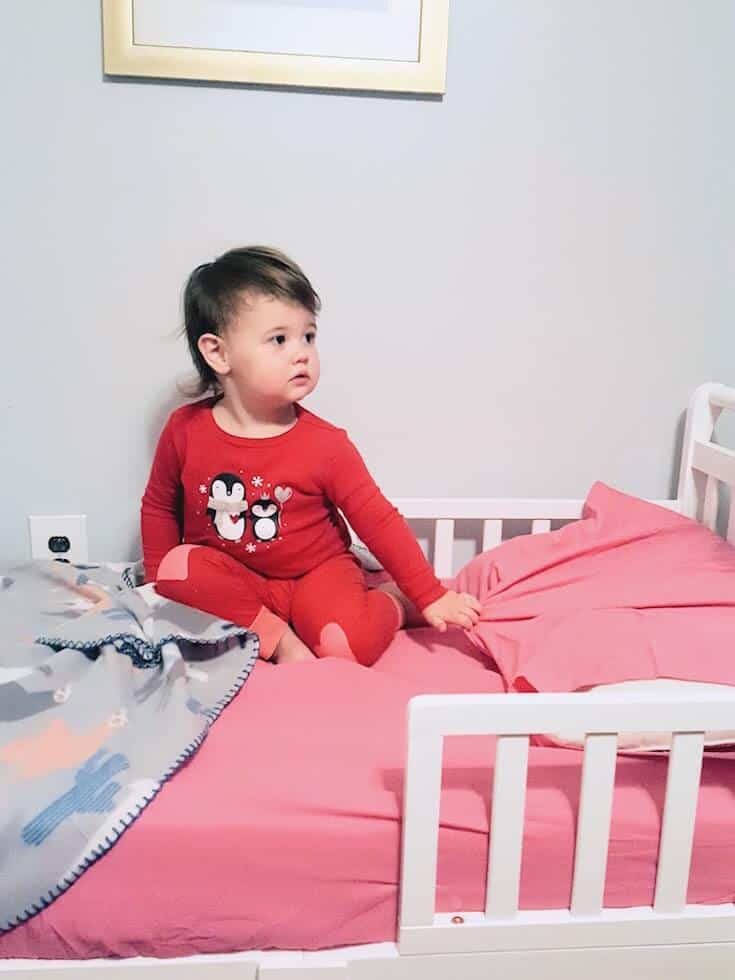 In my perfect plan, I wanted Charlie to stay in her crib as long as possible. For her safety (not getting into things), for her comfort (she loves being pressed against the slats) and for her sleep habits. Really though, it was for me. Knowing she was confined gave me an extra few minutes each morning to do one last thing before getting her up, and I didn't have to worry about her getting out of bed and wandering around. When we were ready, we would slowly transition her. Perfect plan—which of course means it doesn't happen!
At 22 months Charlie was still in her crib (which is lucky I know for some mamas!) but I knew her time was coming. Then one day I walked into her room and caught her with her leg swung up and foot resting on the top of the crib, ready to climb over. Well, that was the end of that dream!
I knew it was time to transition her to a toddler bed, as it was now a issue of safety if she tried to climb out. We had discussed it, but hadn't really made any preparations or purchases. Thank goodness for Amazon Prime!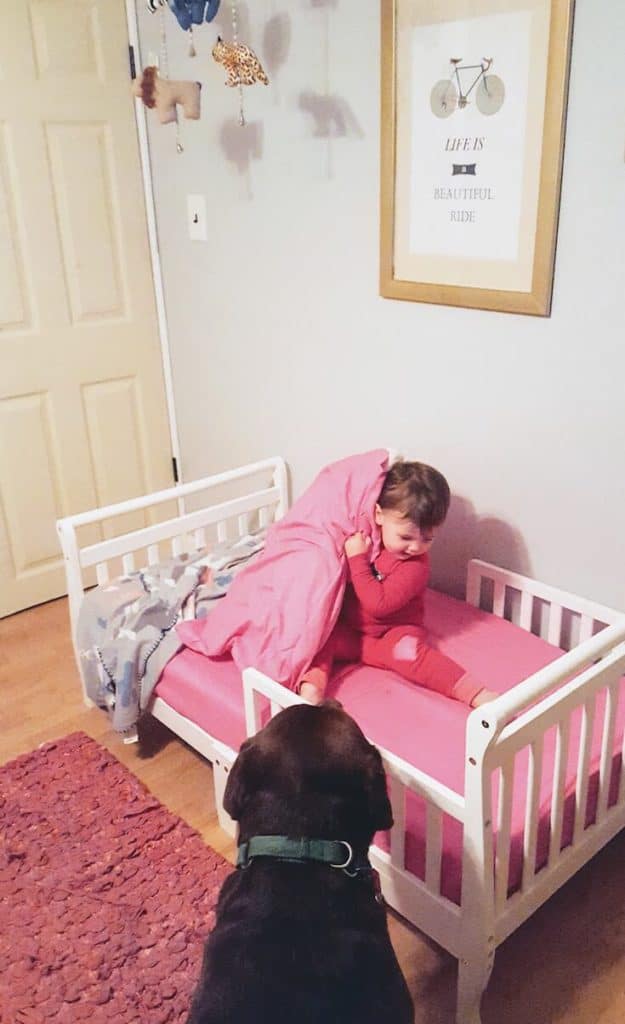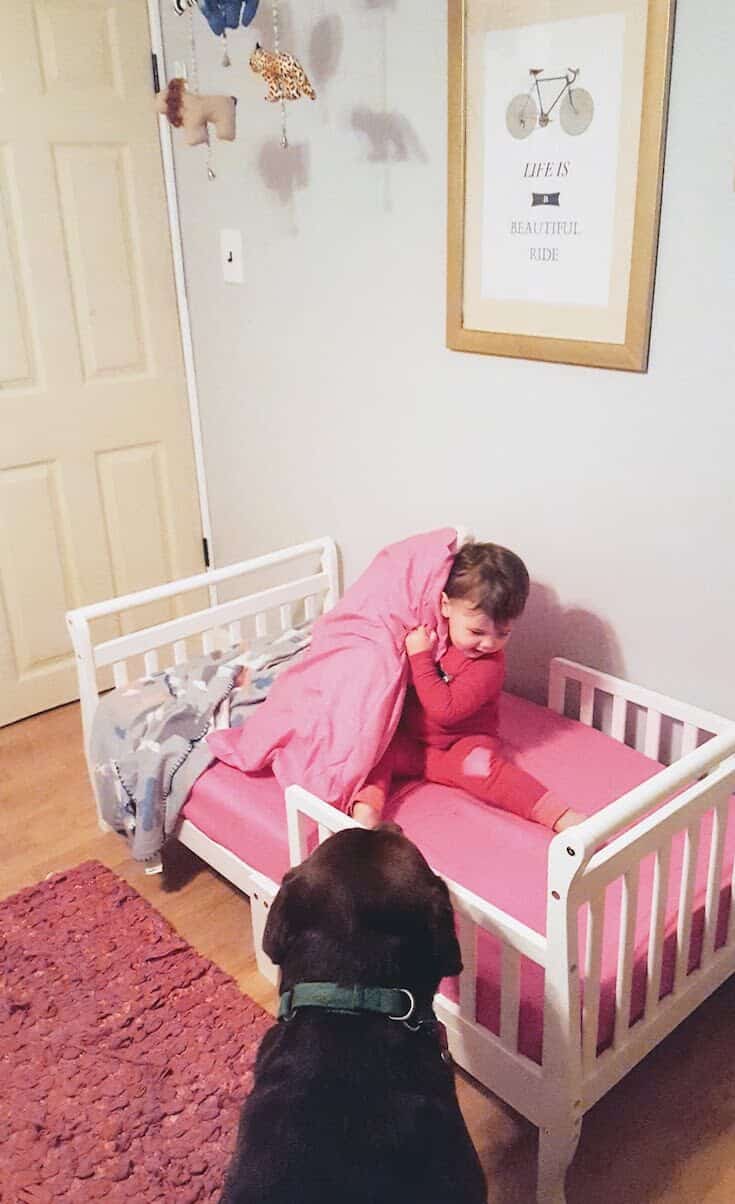 Since we had to do a sort of mad dash to transition her, I thought I would share the top things to think about and how to do the transition quickly if you find yourself in the same position.
This post contains affiliate links.
Make sure the room is child-proofed
I admittedly have slacked on the child-proofing around our house, and its always a mad dash to fix something once I realize it is an issue. Since she would be in her room alone all night, I knew this was not something to be taken lightly this time. We took an inventory of all of the things that needed to be changed or fixed in her room before she could transition. Our list included:
Anchoring the dresser/furniture (must do to prevent tipping and causing serious injury or even death)—we used these straps.
Installing closet doors with safety lock (we had previously used sheer curtains in the door way for a softer look, but knew she would pull those down and get into things in the closet)
Install outlet covers to previously inaccessible outlets (we went with these for added protection)
Removing small objects from her reach and stowing medicines and creams in other rooms
Wrapping window shade cords in cord wranglers
Find and purchase new toddler bed
I had spent weeks mulling over options for a toddler bed, more so for style than anything else. I am planning to update her room (I'll do a full room reveal when it is done) and had a particular style in mind but couldn't find the right one at the right price. My husband grew tired of waiting for me to decide and found one that covered my basic requirements (white, toddler rail included) and quickly gained my approval before buying. When you need to do the transition, it needs to happen!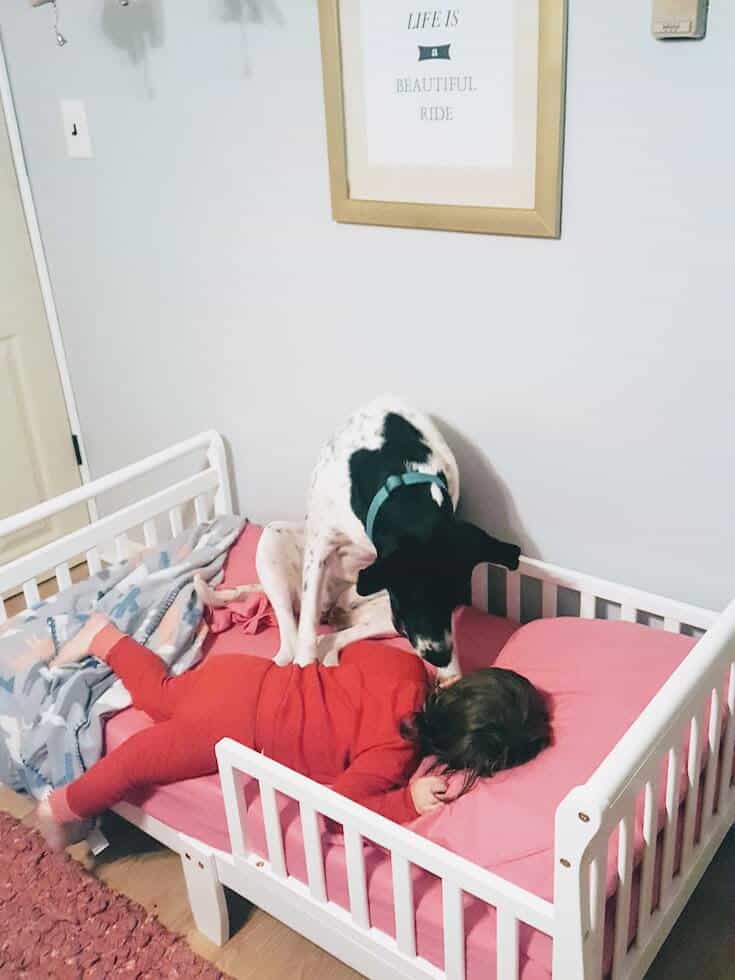 I'm happy with the one he chose though, and since it was on Amazon Prime it was delivered quickly. We already planned to use our Newton Wovenaire Crib Mattress into toddlerhood because we love it so much, but you could also go straight to a twin bed or even put the mattress on the floor for a while.
Blankets, SleepSack, and New Jammies
I started looking for a bedding set for her new bed, but to be honest, haven't found anything I liked just yet. We went with a lightweight throw (in a super cute llama print!) and bought these new fleece footed pajamas too, but I'm glad we didn't buy much more than that. Instead, she transitioned to her toddler bed with her sleepsack! This has been great because she is still flopping around and kicks off the little blanket, so I know she is still warm in bed at night when that happens.
She has been using her regular HALO Lightweight Knit SleepSack, but it is starting to get chilly. HALO was nice enough to send us a MicroFleece SleepSack Big Kids free to try out, and it is the perfect thing for fall temps.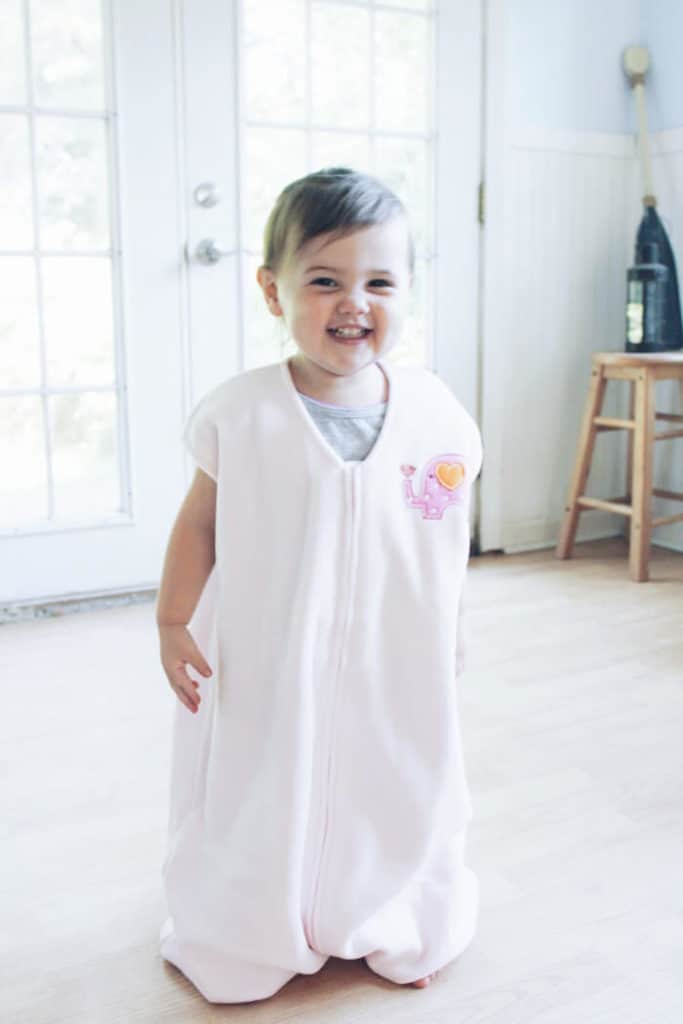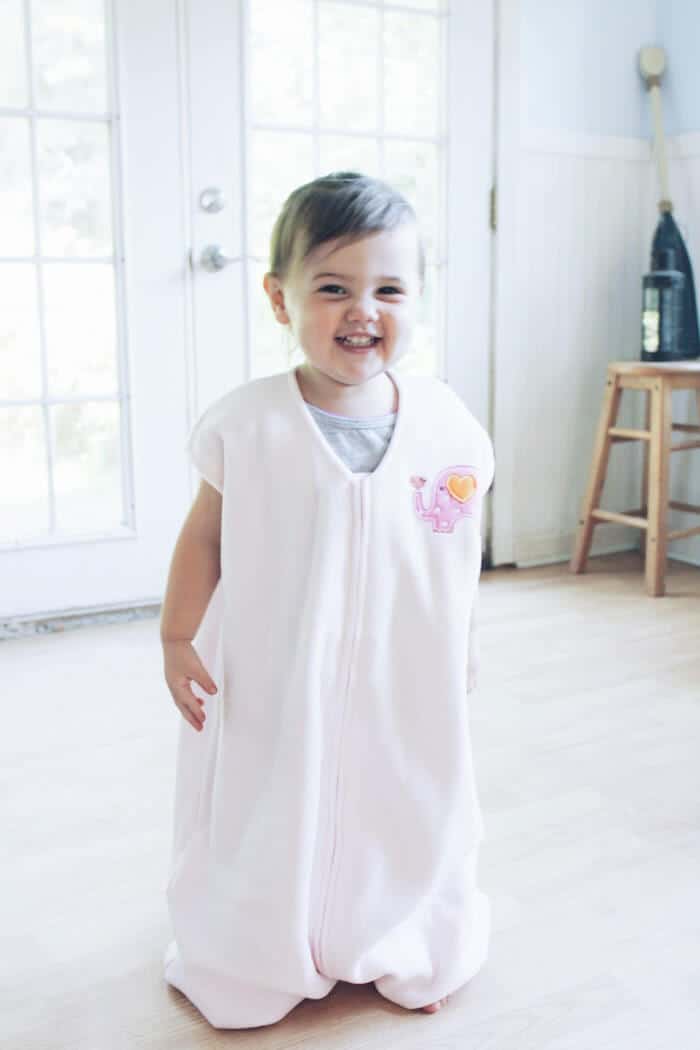 We've been a big fan of sleepsacks over the past two years, and have used @HALOSleep SleepSacks at each stage of her development—from swaddles to early walker, and now onto the HALO SleepSack Big Kids wearable blanket. The Big Kids version is perfect for toddlers because they have footholes that allow for movement.
So not only does she stay warm at night, but it gets daytime use as well. Charlie loves to keep her "blanky" on her when she wakes up in the morning and the footholes make it easy for her to walk around while still comfy and cozy.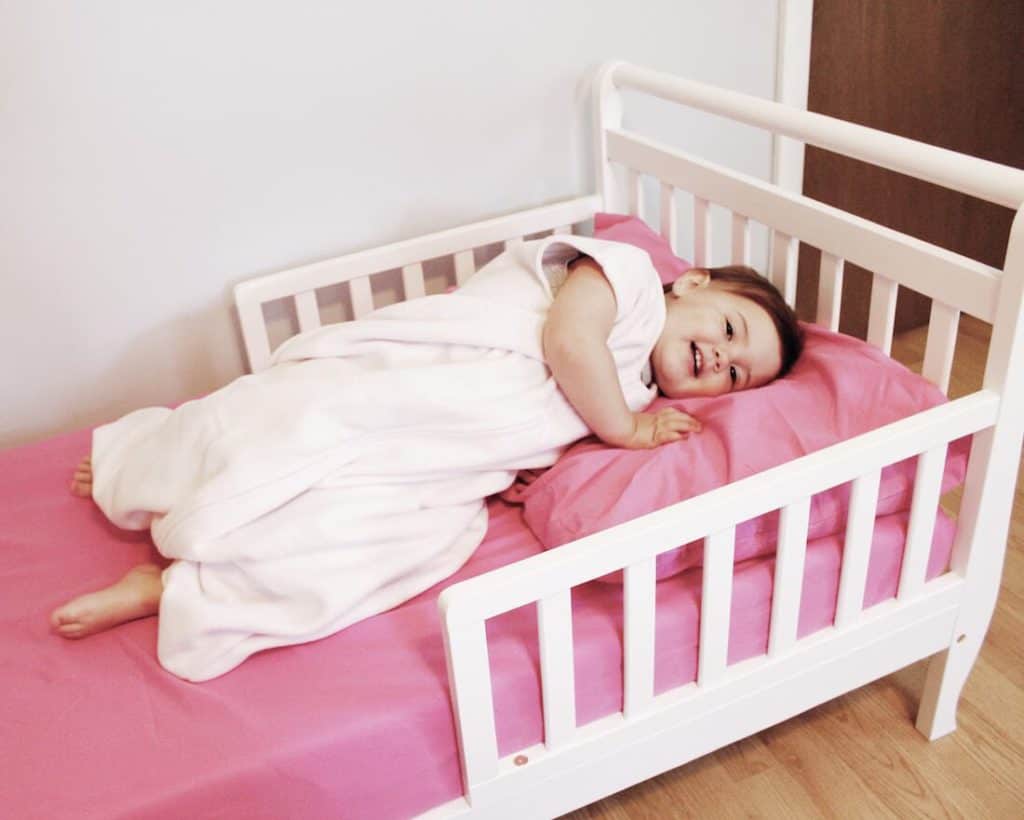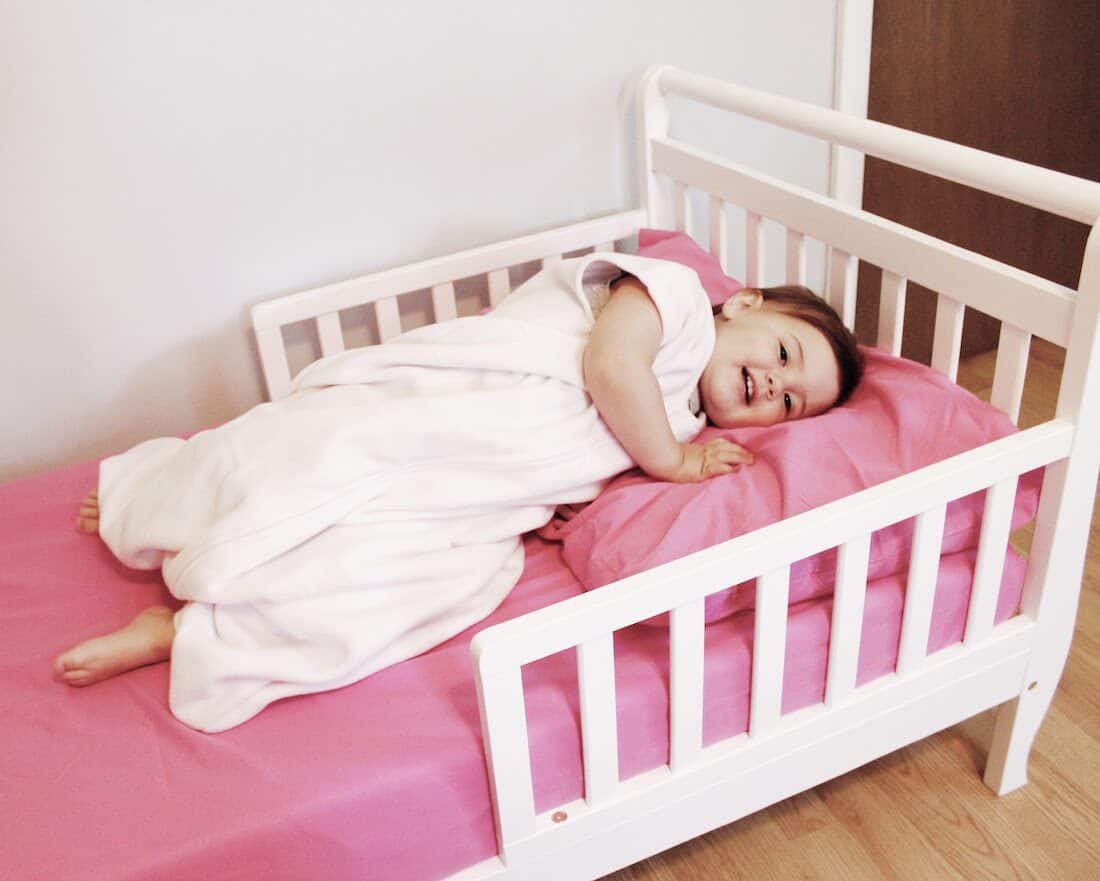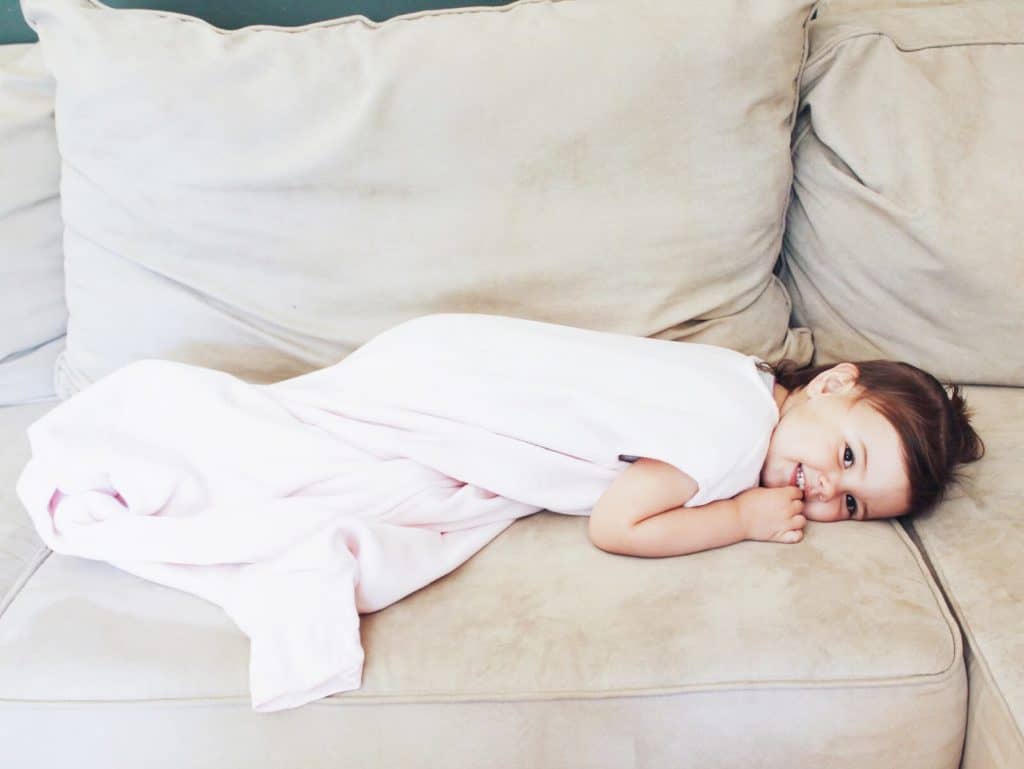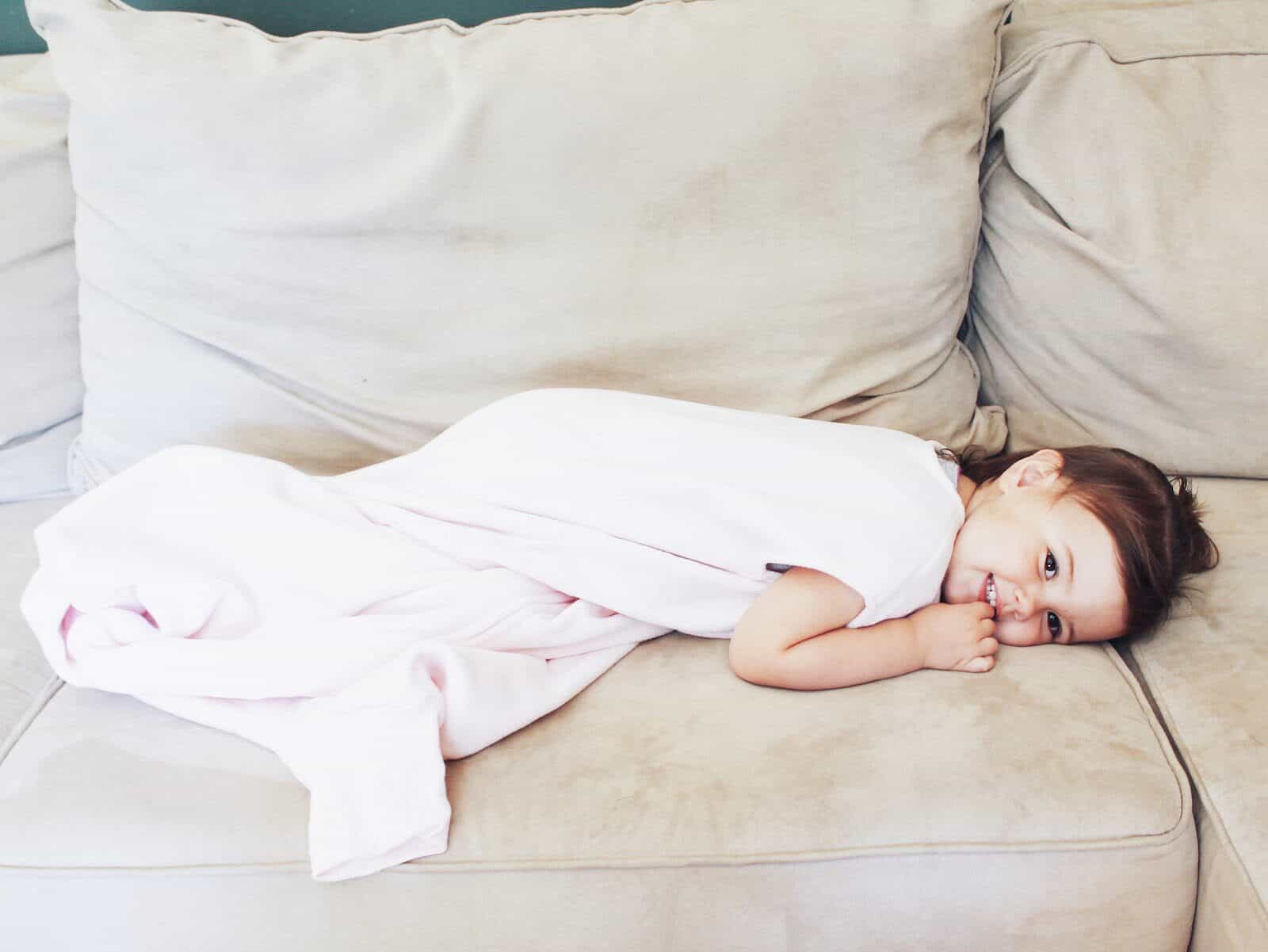 I would definitely recommend using a sleepsack during the transition to a toddler bed if your child is not ready for a full comforter (or even if they are)!
What Not To Do
So you know what you need to make the transition happen, but how about what not to do. I highly recommend not deciding on the spur of the moment to just do it that night, after you get home from work and still need to assemble the bed. UHMM. Not a good idea.
But hey at least after we were finally done she was so excited that after a few minutes climbing in an out she was so tired so passed out for the night! So maybe that was the right way to go about it!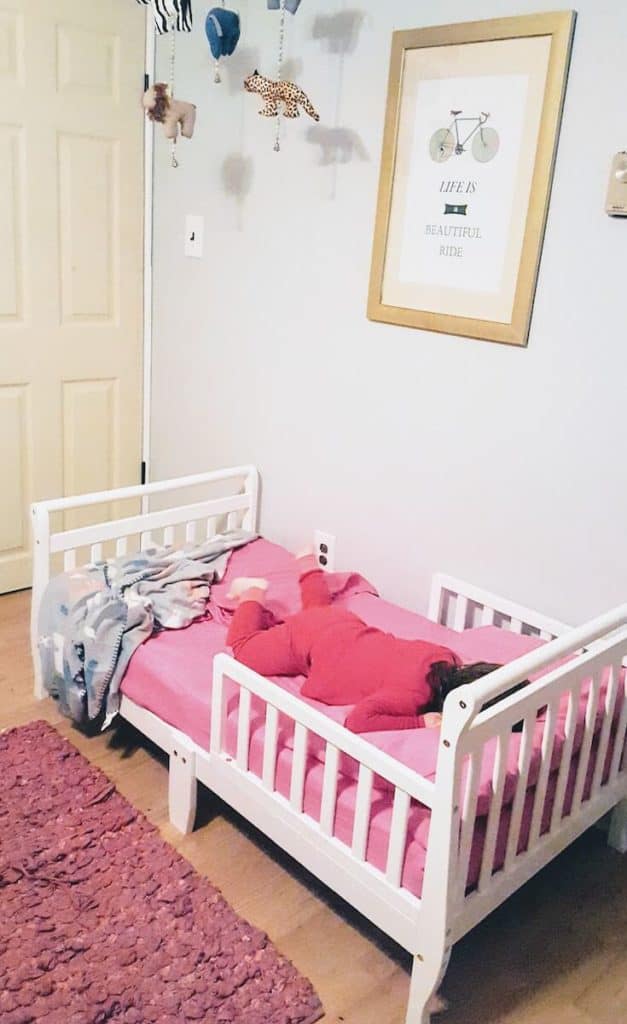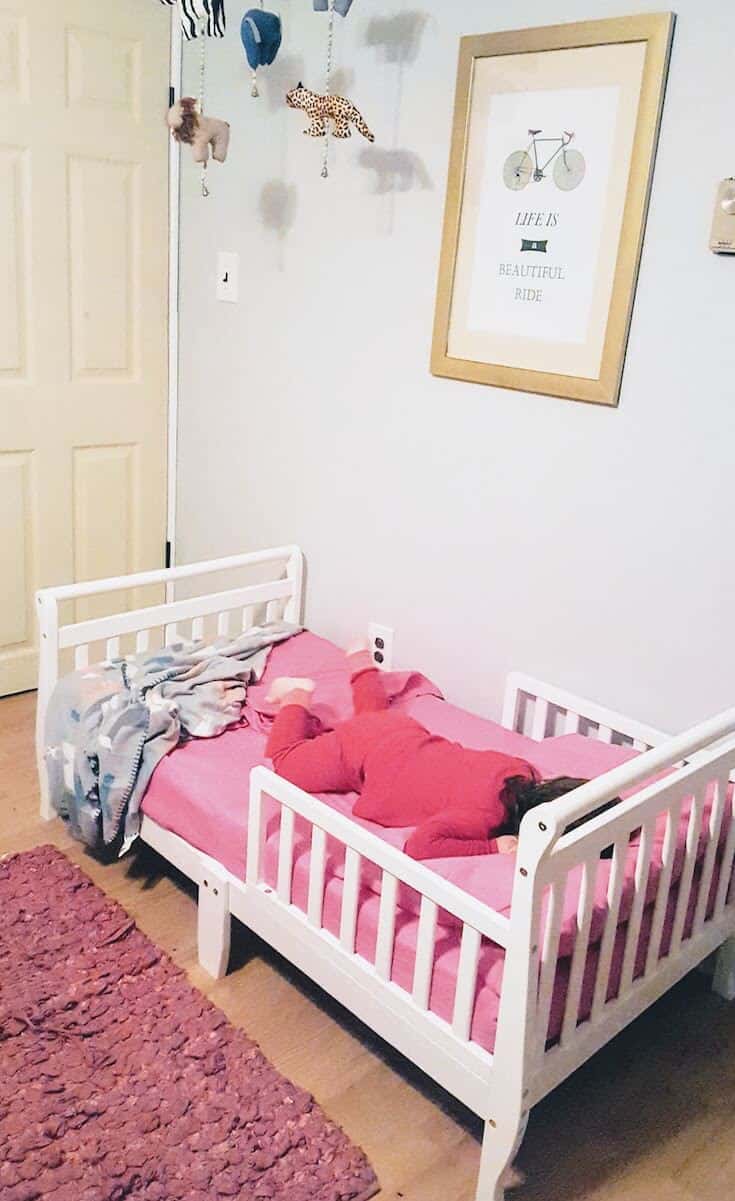 Have you made the toddler bed transition? What did you do to prepare? Let me know below!