Mornings around here are rough, and not being organized and prepared for the day ahead has already caused chaos in my house. Maybe it has in yours too? I decided it was time to stop the chaos in its tracks and make mornings more enjoyable by creating a simple family command center.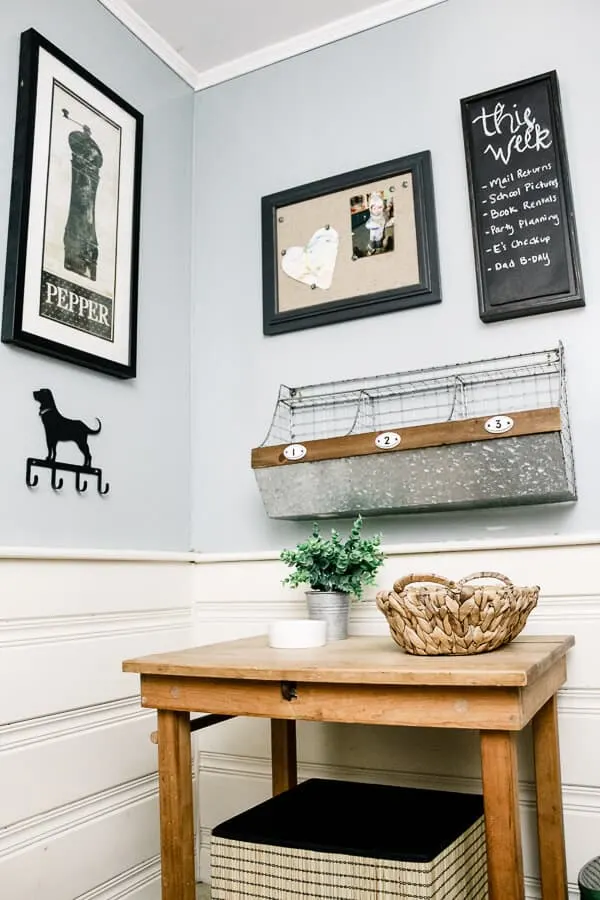 This shop has been compensated by Collective Bias, Inc. and its advertiser. All opinions are mine alone. #MyInspiredFall #DunkinAtHome #CollectiveBias
The goal? Less stress about losing and forgetting things, and more time to enjoy mornings, leaving ready to conquer a new day.
I'm not one to pretend to have everything together. I've shared plenty of times about how my life gets crazy (because having a toddler is hard) and I know I can do better in terms of organization and streamlining my home tasks. This fall has been no different!
I have, on no less than 3 occasions, forgotten something Charlie absolutely needs for preschool—something I only realized after driving 20 minutes to drop her off of course. Lunches and nap mats are the main culprits.
I can also never find my keys and have left the house without my wallet a few times.
And while that it isn't the end of the world while on maternity leave, once I head back to work there is no way I can drive back home for things I have forgotten.
It was time to get my act together and find a way to make mornings more relaxing and less rushed.
I did three things to make it happen:
Created a simple family command center.
Packed lunches/ made sure everything was ready the night before.
Started setting an alarm for an earlier time, or stayed up after a nursing session if it was within 45 min of normal wake time and I was able to get Ensley back to sleep, and used this extra time for me.
Those three things, when everything goes right, magically combine to create a morning that—void of rush and stress—provides time to myself to sit and actually enjoy a cup of coffee to get my day going.
RELATED: How to Make Mornings Less Hectic
I don't know about you, but I need coffee to help me feel ready to Mom all day long. If it doesn't happen before the girls wake up or we need to leave the house, then it is almost a certainty that it will take me hours to finish even one cup.
And while coffee doesn't make me a better mom, it makes me feel more like myself, and ready to tackle the day. (Psst—I have a coupon to help you tackle yours too down below!).
So coffee + preparation + a place to make sure everything is accounted for is the secret to getting things rolling around here.
RELATED: Create a peaceful, serene nursery with Japandi style decor
Creating a Simple Family Command Center
One of the things I needed to do was reign in the chaos with a family command center.
I'm a sucker for a good organization system. In store and on display that is. I have dreams of how that will help me organize my life, and I've purchased more baskets and organizational things than I can count. But without purpose, those things just collect dust, and clutter overwhelms them.
So to be intentional about the family command center, I asked myself two questions:
What causes the most clutter around leaving/entering the house, and what do I keep forgetting?
From there I decided mail and paper clutter is my biggest downfall, with bags and preschool items being the next. Keys, sunglasses and errands that need to be done while out and about are the things I forget the most.
Creating a command center around those needs, I decided the most important things for our family to have in ours were:
Somewhere to put the mail
A place for keys
Baskets for general dumping of items that tend to collect on the table
A place for preschool items
A chalkboard for reminders
Calendars are also really popular for command centers, but I just use my planner instead for that.
Using decor items mostly from around the house, I put together this simple yet functional command center that works for us.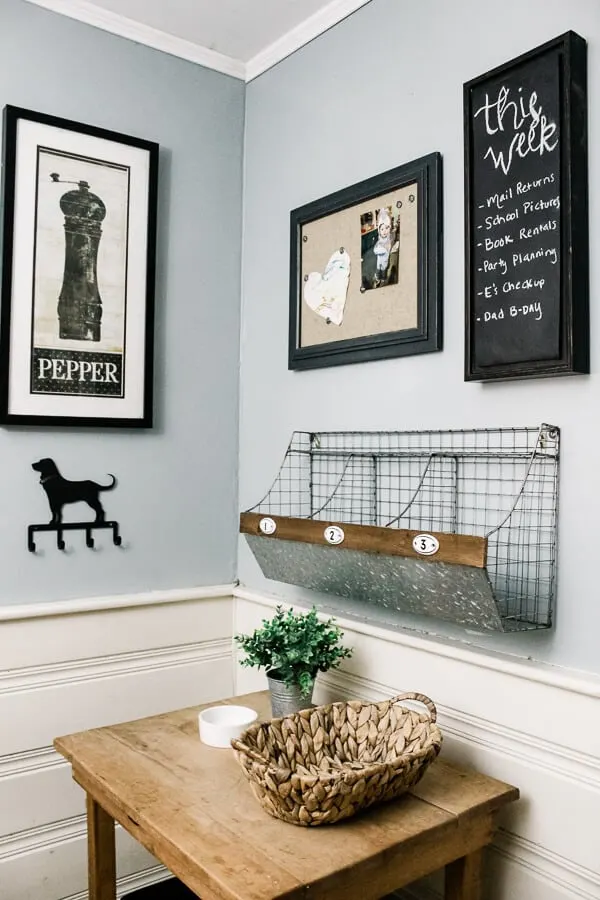 RELATED: Modern Girl Nursery
Space is at a premium in our house, and we have very few walls that don't have a window, a pass-thru, or something else preventing it from being used fully. I carved out a little corner in the kitchen to make way for a central place for all of our stuff.
Using a rather rustic kitchen cart-style table, I added a basket for random items like sunglasses and phones, a small dish for change and camera cards (I am always finding them scattered around the house!) and a big storage cube underneath.
In that, I'm keeping Charlie's napmat for preschool, her lunchbox, and anything else that needs to be remembered to bring to school. I hung a key rack we already had on the adjoining wall to help finish the corner and hopefully keep me from losing them again!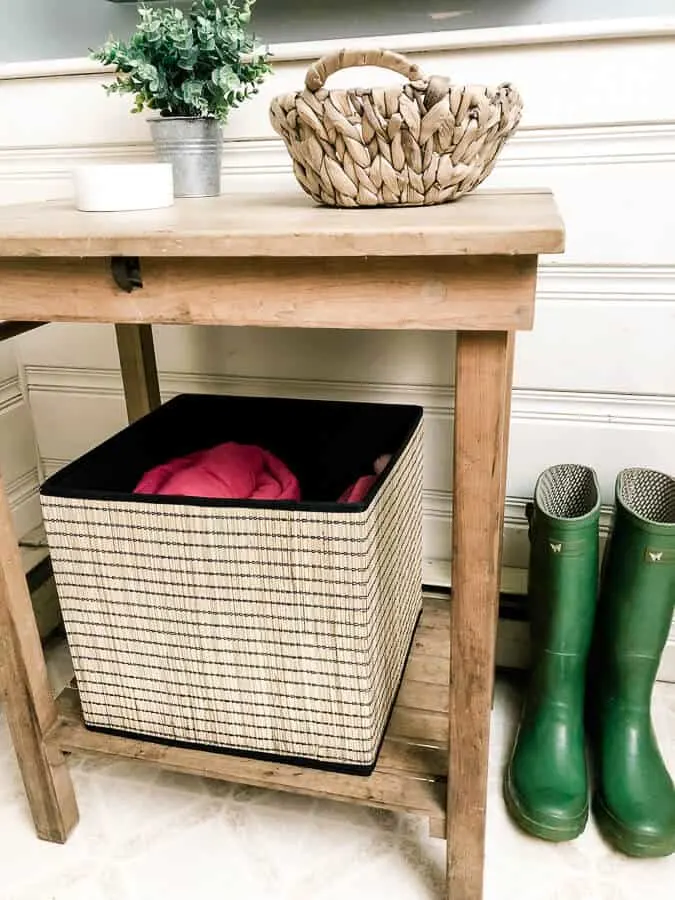 I found this wire hanging organizer at a decor store (here is a similar one), and I like how it provides open space to throw in the mail or small objects/toys that seem to add to the clutter.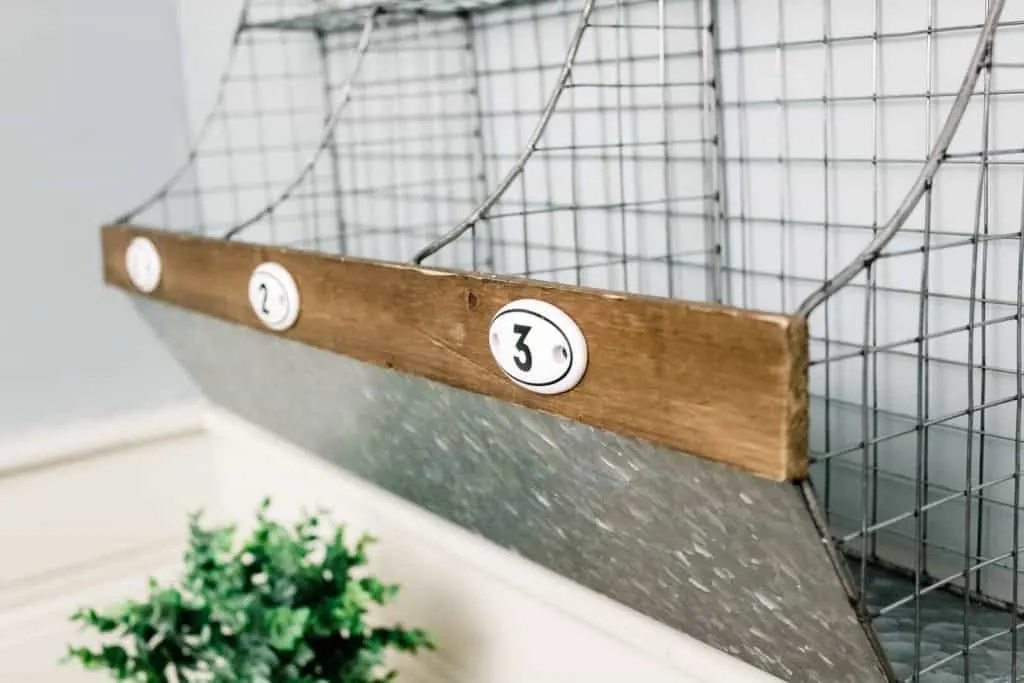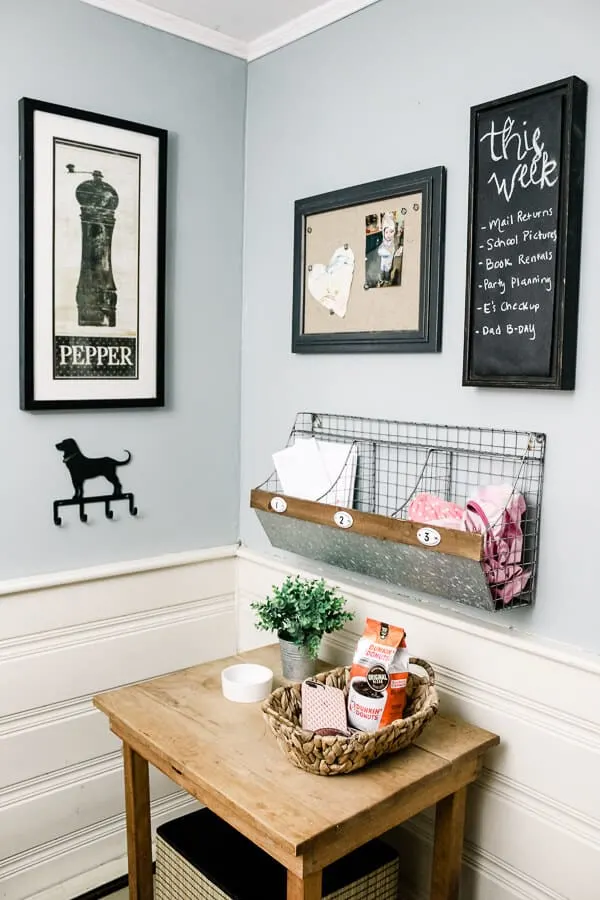 For the chalkboard, there are tons to choose from (this one is similar with a black frame) or you can purchase chalkboard paint and paint over a wooden sign or another piece of decor you already have on hand.
I added a burlap pin board to keep all the random reminders and receipts we need (and can never find) handy—another option would be to put a calendar here instead, or both!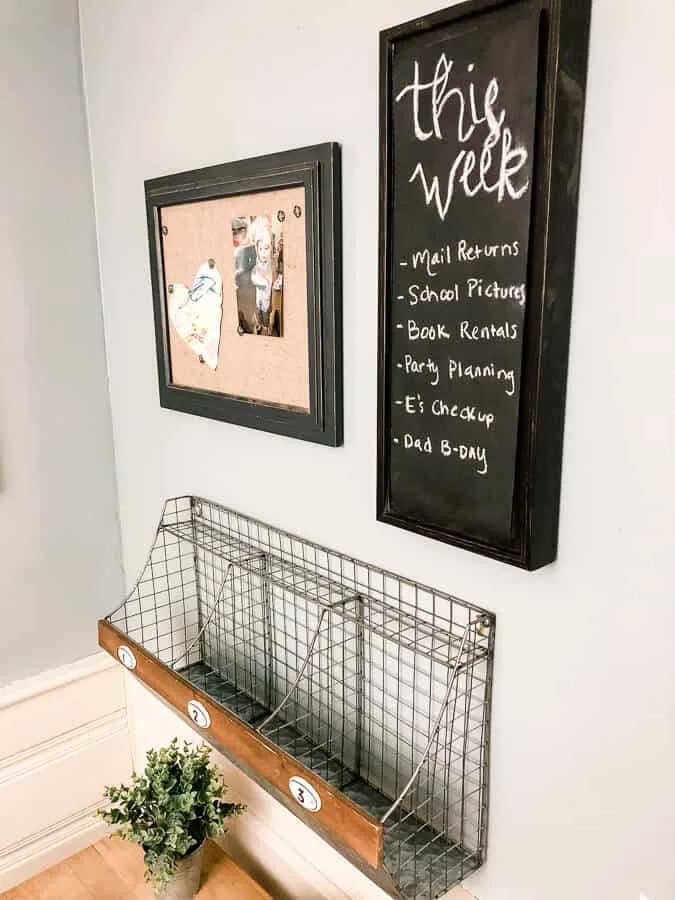 Having a place for everything makes a huge difference, and it is something I really want to replicate throughout my home. When I utilize the command center like I am supposed to, it makes mornings and getting out the door much easier.
Less madness= Enjoying a cup of coffee—while it is still hot!
It definitely doesn't happen every day—because for some reasons newborns just don't seem to stick to a schedule and some nights I am just too tired to prep for the next day. But the days I get up before the girls and get to sit and wake up slowly with coffee are the days I start off in a better mood.
The more effort I put into figuring out what the triggers are in my house that add to the chaos, the more I realize that clutter is definitely a prime reason. By creating a central family command center, a major source of anxiety is able to be managed more effectively—and it is something that is easily replicated for your home too!
Now onto figuring out how to get Charlie out the door easier! That paired with a few quiet moments to start my day over coffee would be the ultimate success!
What would you add to your command center?
Pin it!