Why is it that toddler meals for lunch or to take to daycare seem so challenging? I mean, our kids eat a wide variety of fairly basic food, and we always make sure they are fed at home, right?
But for some reason, daycare lunch seems confusing—and I know I'm not alone in that thought! So many moms of my son's daycare friends have said the same thing to me.
Everyone is looking for easy toddler lunch ideas for daycare. And rather than judging what others bring, we are actually scoping out their lunchboxes for ideas!
I am what I like to call a 'healthy convenience meal packer.' I try to make sure our son gets a variety of healthy, quality food, but I'm just not at the place where I can spend a ton of time crafting elaborate lunch boxes.
Related: How to Make Mornings Less Hectic
I try new things when an idea pops up or someone recommends something, but most of the time, we cycle through the same basic meal options—and they work great! We also do the same for breakfast (check out our go-to breakfast menu for toddlers!)
This post was originally sponsored by Happy Family but all opinions and lunch ideas are my own.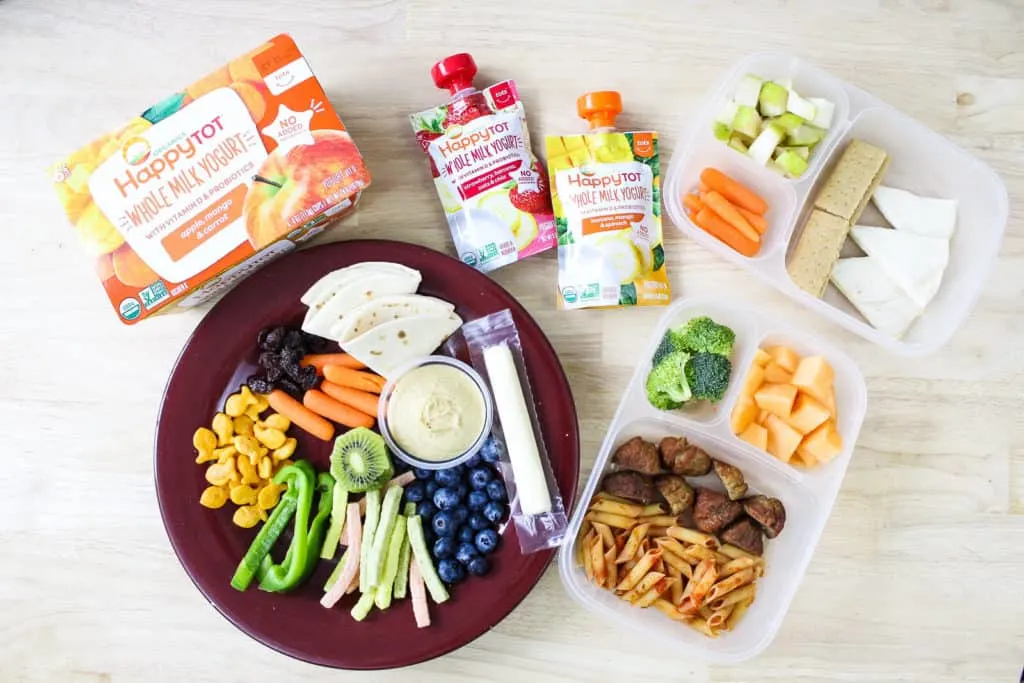 Easy Toddler Lunch Ideas for Daycare
Toddler lunches basically break down into a few categories (or at least that is how I look at it). I like to add something from all of the food groups, which makes it easy to think about what to add.
Here is a glimpse at a typical week in the lunchbox at the toddler stage to help you brainstorm more lunch ideas for 1 to 4 year olds at daycare or at home.
And be sure to scroll down further to find 16 more complete daycare lunch ideas!
Toddler lunch main dish options:
Hummus with crackers, veggies, & tortillas
Sun butter and banana sandwiches
Mini quesadillas (with chicken or broccoli if have some leftover from dinner)
Turkey and cheese rolls (as is or melted on a tortilla then cut into manageable pieces)
Penne pasta (veggie-based or regular) and meatballs (heated from frozen and cut into smaller bites)
Veggies:
Raw veggies are an easy and crunchy way to add nutrition, and adding a dip like ranch or hummus makes them even tastier! My favorites include:
Snap peas
Cherry or grape tomatoes (cut into smaller pieces)
Broccoli
Bell peppers
Cucumber
Carrots
Cooked veggies are also great (I always keep a bag of frozen peas, corn or carrots on hand for a quick 2 minute steam in the microwave as needed).
Fruit favorites include:
Grapes (cut)
Apples (sliced)
Mandarin oranges/ clementines
Banana
Strawberries
Blueberries
Pears
Kiwi
Cantaloupe/watermelon if in season
Dairy:
For dairy products, we usually do string cheese, cheese slices, or yogurt.
Yogurt pouches are my favorite, as they are so easy to toss into the bag and eat at school or on the go later on with less mess, though they are sometimes harder to find than cups.
We are also loving these non-dairy smoothie melts, which are shelf-stable and make a great toddler snack, both at home and in daycare.
Our regular rotation of snacks for daycare:
Pulling double duty as a side for lunch while at daycare or an option for snack time, I always throw in one or two other snack options. These include:
Cheese crackers
Graham Crackers
Pretzel sticks
Veggie straws
Chewy fruit granola bar
Raisins
Goldfish crackers
Teddy Grahams
Non-dairy smoothie melts (shelf stable and no added sugar!)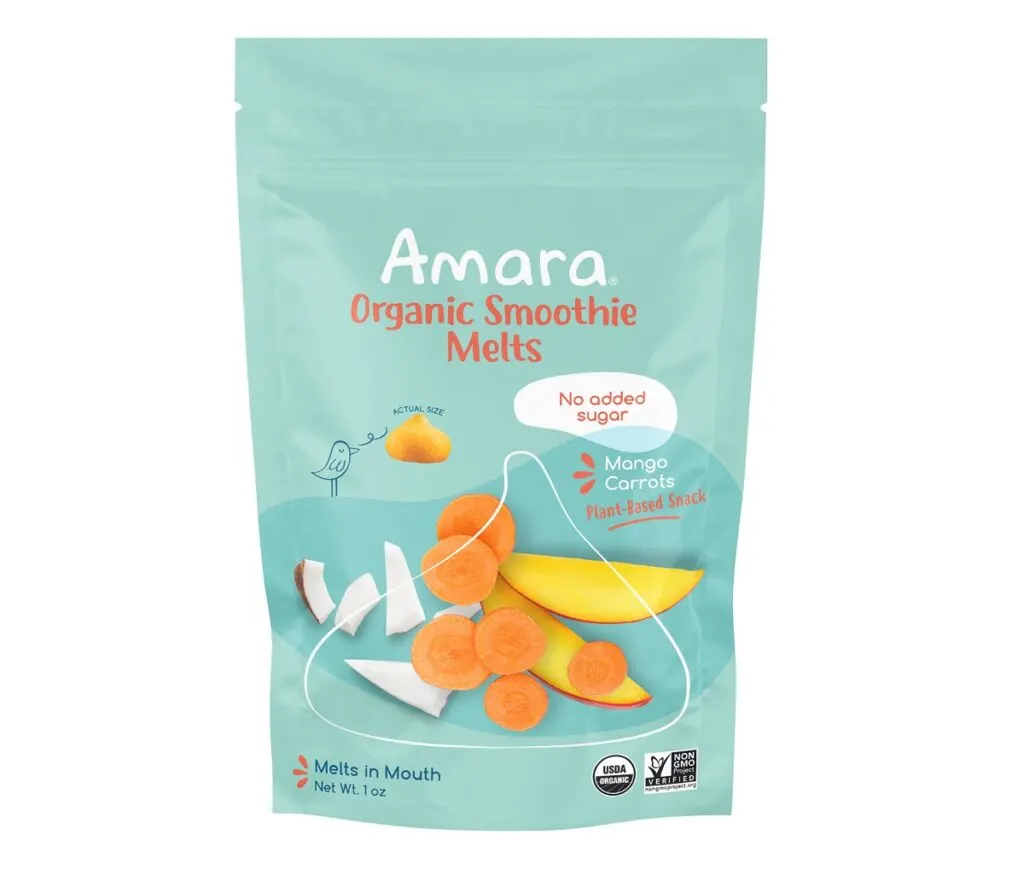 We also have a bunch of ideas of easy and healthy snacks for toddlers that can go into the rotation as well!
Muffins are another great type of snack to add in lunches. They can be made full of veggies to get extra nutrients in too!
Check out this post for over 60 awesome recipes for muffins!
Making easy healthy toddler lunches
The easy part about just having different items on hand is that I can just pick one or two from each category or food group and add it to the lunchbox.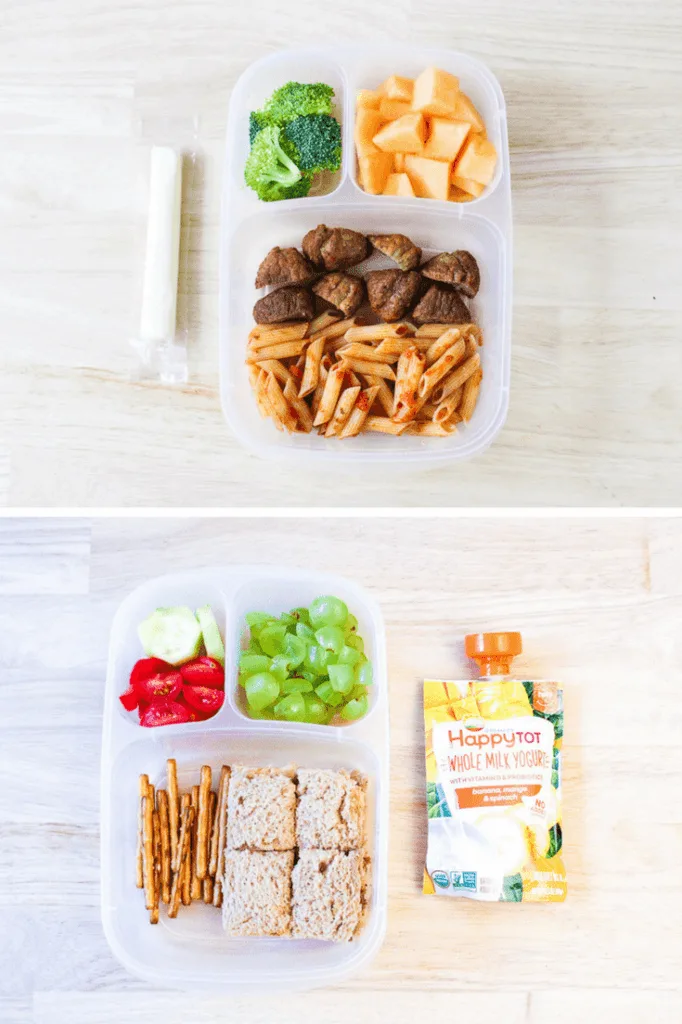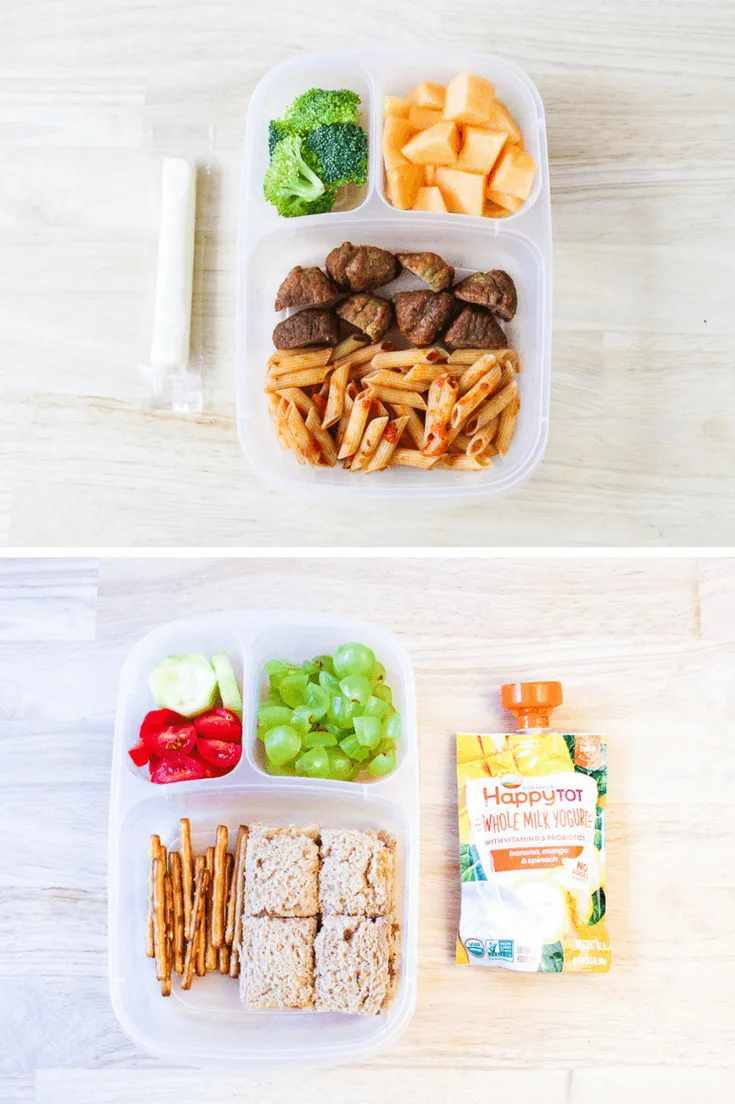 I like to use these storage containers, which helps separate different items, or a bento box would work great as well.
These ice packs are my favorite as they are flat and slim and don't take up much space.
I'll add the yogurt pouches and snacks on top, and that's it! Easy peasy.
Things to think about when preparing your toddler's meals to take to a daycare setting
At 12 months old, most children can eat almost anything that a healthy adult can have. The main difference is that the food should be prepared in safe-to-consume sizes and textures that reduce choking hazards.
For parents of picky eaters, this is great news! Once your toddler outgrows a food they used to love, you have plenty of other options.
If your child is attending daycare, preparing their lunch becomes a bit more complicated. Many daycare centers don't allow certain foods at their facility due to allergies (like peanut butter, nuts, or other allergens).
Some programs are even stricter, not allowing children to bring "unhealthy" snacks and many have specific rules about how food needs to maintained (such as in an individual cooler lunch bag rather than in a fridge, or supplying your own milk).
When preparing a lunch to send your child of with, you'll need to meet your daycare center's requirements.
These daycare lunches are healthy, safe, and should meet your daycare center's lunch guidelines. If you're unsure about a certain meal on this list, check with your daycare center before bringing it.
When serving meat or vegetables, keep each bite smaller than ½ an inch to avoid a choking hazard. Make sure nothing in your child's lunchbox contains nuts, fish, or other items that are likely to be banned by their daycare center.
They're often fine to eat at home, but not in a facility with other kids!
20 More Daycare Lunch Ideas for Toddlers
Hummus Sandwich
Spread some hummus between two slices of soft bread or on an English muffin; then cut it into safe bite sizes. Try serving this sandwich with whole grain crackers and steamed carrots. Make sure your hummus is nut-free before using it in your toddler's sandwich!
Eggs and Pita
If you're allowed to pack eggs in your toddler's daycare lunchbox, send them off with some hard-boiled eggs and whole grain pita wedges. Since some toddlers won't like the texture of hard-boiled yolks, only include the egg whites. Add some sliced apples, a sliced vegetable, and something to dip the pita in. You can re-use your hummus from the hummus sandwich.
Taco Salad
It's taco time! Place some brown rice, beans, diced vegetables, and cubed cheese in a container to create a kid-safe taco salad. If your child likes it, you can add a mild salsa.
Chicken Salad
Serve some chicken salad with crackers and apple slices. Your toddler can use the chicken salad as a dip for the rest of their lunch! Throw in some celery or another sliced vegetable. Or try a fun twist on chicken salad with this Hawaiian-inspired chicken salad with pineapple and ham.
Sweet Potato Chicken Nuggets
These homemade baked chicken nuggets are made with a hidden vegetable – sweet potato! They taste like regular chicken nuggets and are a great way to get some extra nutrition into your kids, especially if you have picky eaters who might not be into sweet potatoes (yet).
Ham Egg and Cheese Pockets
These portable, make-ahead pockets are a favorite for our son and make a great nutrition, high-protein lunch that is easy to eat at daycare!
Tuna Nuggets
These easy homemade tuna nuggets are high in protein and easy for kids to eat with their hands.
Tuna Salad
Your little ones can help make this super easy tuna salad! They'll be so proud to help make and pack their lunch.
Pesto Pasta
Cook your child's favorite pasta with some pesto sauce. Add halved cherry tomatoes, diced chicken and cheese, and some thawed peas to create a healthy meal. I found that our son liked Alfredo Pesto sauce long before they enjoyed plain pesto in case you haven't tried it!
Breakfast for Lunch
Some kids really love their breakfast food! Cut up some waffles and serve with sliced strawberries. Add some yogurt topped with oats (if allowed by your daycare center – it's fine to leave out the oats). Don't send your child off with an entire cup of maple syrup unless it has a lid that closes well, as it can turn into a sticky mess. Instead, just drizzle some onto the waffles or send in plain.
Yogurt Parfait
Using a plain or full-fat yogurt as a base, make a parfait using diced cantaloupe and berries. If your toddler can bring granola or oats to daycare, sprinkle some on top – so long as it's nut-free. Serve alongside some sliced vegetables, like cucumbers.
Meat and Cheese
Serve some cubed deli meats (like turkey or ham) with cubed cheese, or do roll-up with sliced meat and cheese. Add some peas and a favorite fruit, along with some veggie straws.
Toddler Quesadilla
Spread cream cheese, hummus, or goat cheese onto a tortilla. Add some shredded cheese and mashed beans, potatoes, or butternut squash – whatever you think will work well. Fold it up and slice into safe bite sizes before serving. Or try these pizzadillas, mini broccoli quesadillas or mini chicken quesadillas. They're a favorite around here!
Soba Noodle Salad
Looking for a healthier alternative to pasta? Send your toddler to daycare with soba noodles topped with cubed tofu. Add some cubed watermelon and chopped snap peas.
Meatballs and Orange Slices
Cut some meatballs into quarters to make them safe to eat. If you're using store-bought meatballs, opt for some that have vegetables inside. Serve them with some mandarin orange slices, applesauce, and a healthy snack. Try adding a fruit leather (an all-natural alternative to fruit roll-ups)!
Yogurt Bites
You don't need to serve yogurt in a container! Buy some yogurt bites (or easily make some by squeezing small drops of greek yogurt onto a baking sheet and freeze) to add to your toddler's lunch box, complete with mixed berries and hard-boiled eggs (if allowed by your child's daycare). Or try these shelf-stable smoothie melts that do not need to be stored cold in order to eat. Add some sliced or cubed cucumbers to throw a vegetable into the meal.
Cheerios and Fruit
Instead of serving Cheerios with milk, opt for some dry Cheerios with sliced strawberries on top. Include blueberries, diced pears in the juices, and some yogurt. This also makes a great mix if your child has a morning snack or breakfast at the daycare center as well.
Chicken Nuggets
Regular store-bought chicken nuggets are fine to send to school! Cut up some chicken nuggets and serve with cubed cheese, quartered grapes, applesauce, and diced avocado. Include some Annie's bunny crackers or Goldfish as a snack.
Cream Cheese and Strawberry Sandwich
Spread cream cheese onto some whole wheat bread, and top it with sliced strawberries. Add some shredded carrots and diced string cheese for more nutrients. If your child's daycare allows it, you can even throw in some oats.
Homemade Lunchables
Make your own Lunchables meal with apple slices, hummus, whole grain crackers, diced turkey, and cubed cheese. Add some cooked green beans to make this meal even healthier. Most Lunchables kits aren't great for toddlers, but this version includes safe bite sizes.
When making your toddler's lunch for daycare, you have to follow more guidelines than you would at home. Aside from avoiding allergens, though, you can serve most of what you'd prepare on the weekends. These toddler meals are likely to be allowed by your child's daycare center. If certain items aren't okay, they can be altered or swapped out for something suitable.
Keep each lunchbox meal nutritious, colorful, and easy to eat to keep your toddler and their daycare providers happy!
What are your go-to toddler lunch items? I'd love to find out to add more to my rotation!
You may also like:
Pin this for later!
Other Helpful Baby + Toddler posts: