As a parent, there is just no getting around the fact that we need to bring at least some stuff with us wherever we go—for changing diapers, entertainment and food for the littles! The transition to toddlerhood can make packing a diaper bag a little challenging, so I'm sharing what I pack and how I organize a toddler diaper bag—most of the time without using a diaper bag at all!
One of the nice things about having a growing toddler is that she simply requires less stuff than a baby does. I still need to tote around essentials, and she isn't potty trained yet, so I need to have the basics with me at all times just in case.
Toddler Diaper Bag Essentials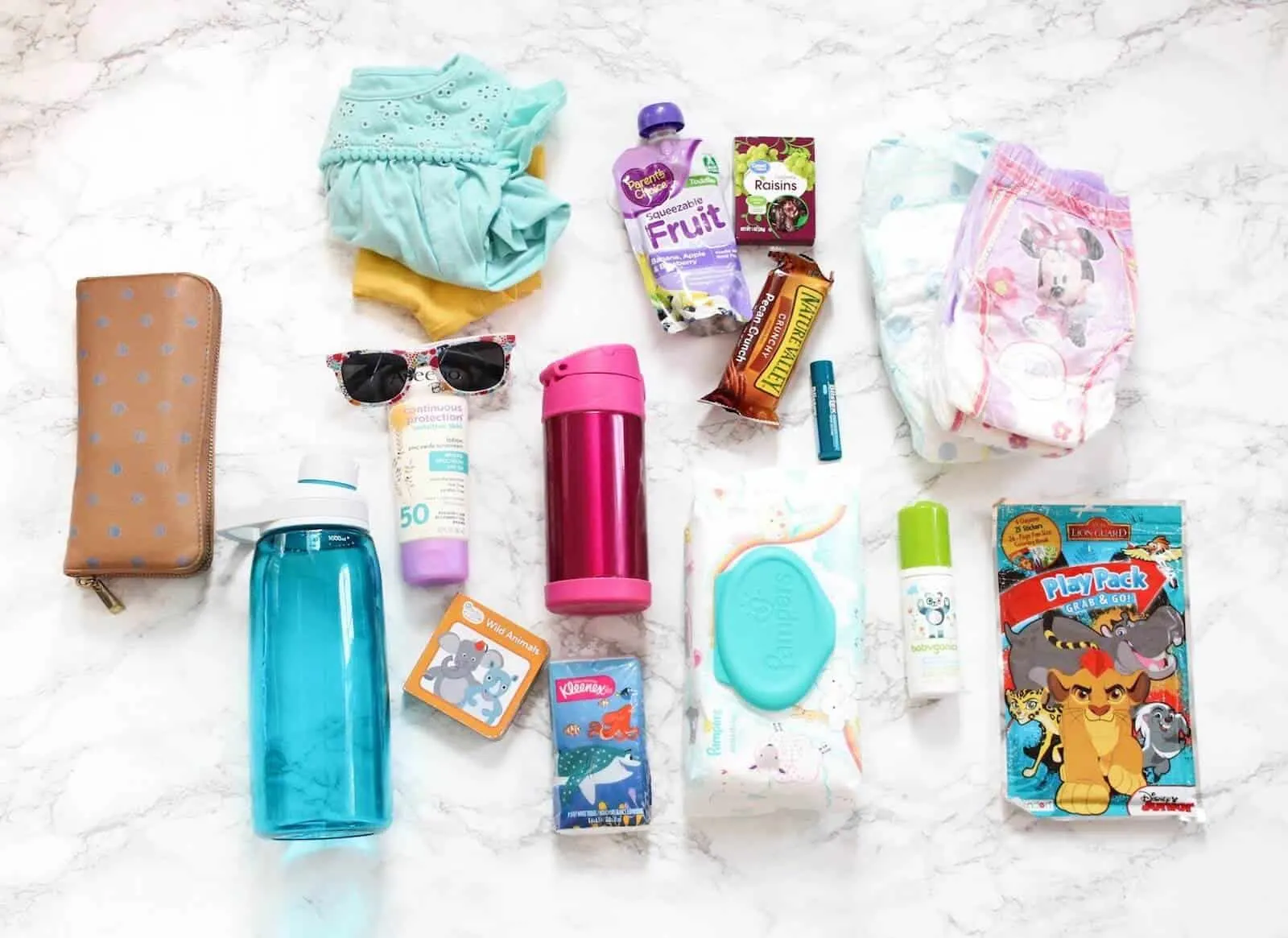 This post contains affiliate links.
Here are my must haves in my diaper bag with for my toddler:
Diapers + Pull-ups (we are starting to potty train, plus pull-ups are just easier to put on in public since she is often too big for the changing tables!)
Wipes
Thin, wipeable changing pad
Water Bottle and/or Milk Cup (we love this one for on the go)
Change of clothes
Sunglasses/Sunscreen for impromptu trips to the park
Snacks
Alcohol-free foaming hand sanitizer
Tissues
Small books or toys
Mama's Essentials: Wallet, cell phone, chapstick, water bottle, granola bar (got to have my snacks too!)
I keep an assortment of toys and books in the car for our commute, so there is always something for her to do, and no need to bring it all with us in a bag. Depending on the season or activity I'll also throw in a sweatshirt or other small items.
Some of my diaper bags are just too big for these minimal trips out, so I've been either throwing a diaper clutch into my bag (typically a larger sized tote bag) or only half filling a diaper bag to bring out. Half the time both end up being a messy solution. Apparently bringing less stuff means I focus less on keeping it all organized!
Honestly trying to figure out the best toddler diaper bag for moms to carry can be hard—it's pretty much half their stuff and half mine, so I don't also want just a plain diaper bag!
Using the ToteSavvy to Keep an Organized Diaper Bag for a Toddler (in any bag!)
Enter the ToteSavvy, which keeps both Charlie's and my stuff organized and easily accessible. We received one to facilitate a review, and I'm loving how practical it is!
It is designed to transform any regular tote bag into a diaper bag, and keeps everything organized, thanks to its 11 pockets (one being an insulated bottle pocket), and included changing pad.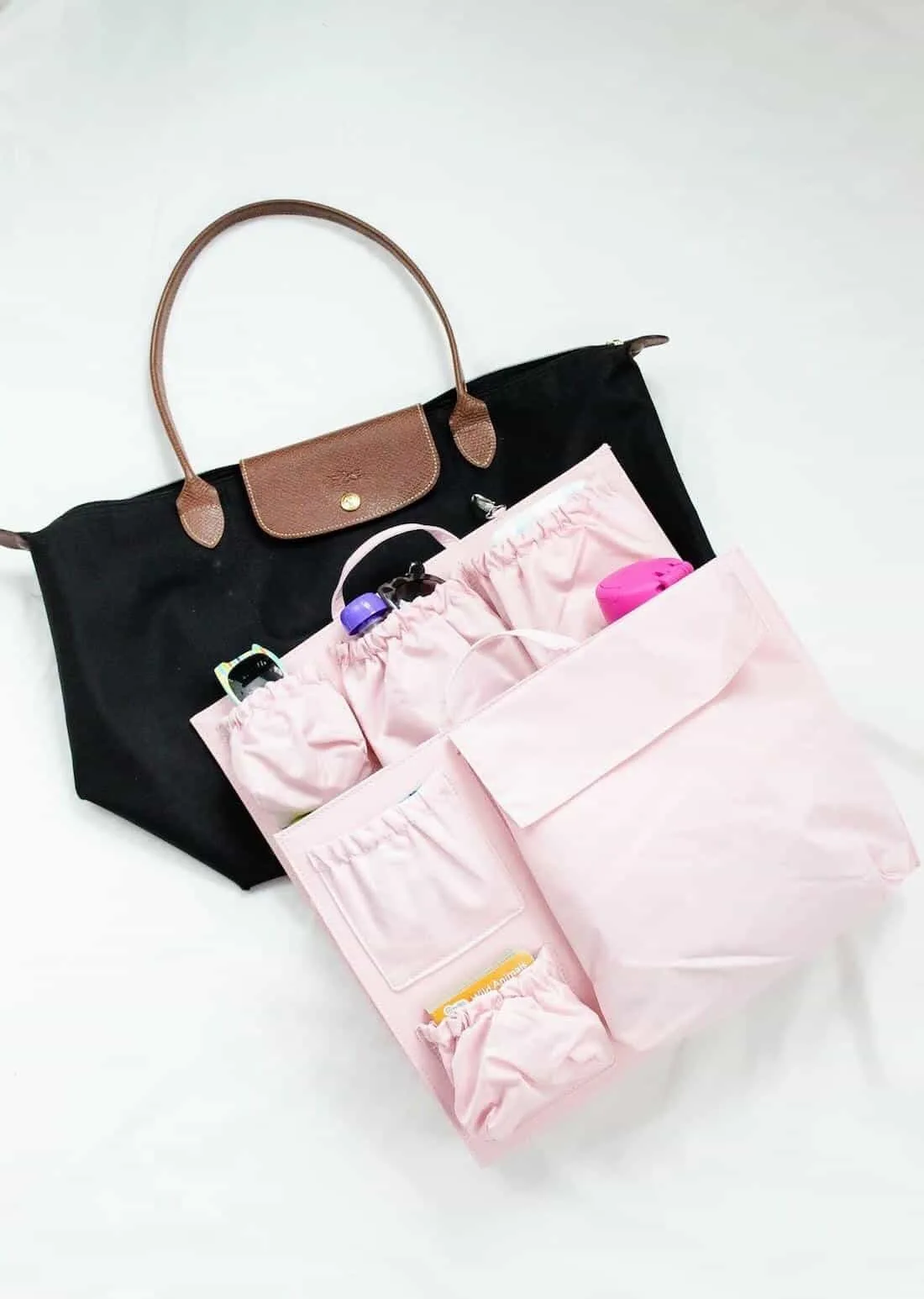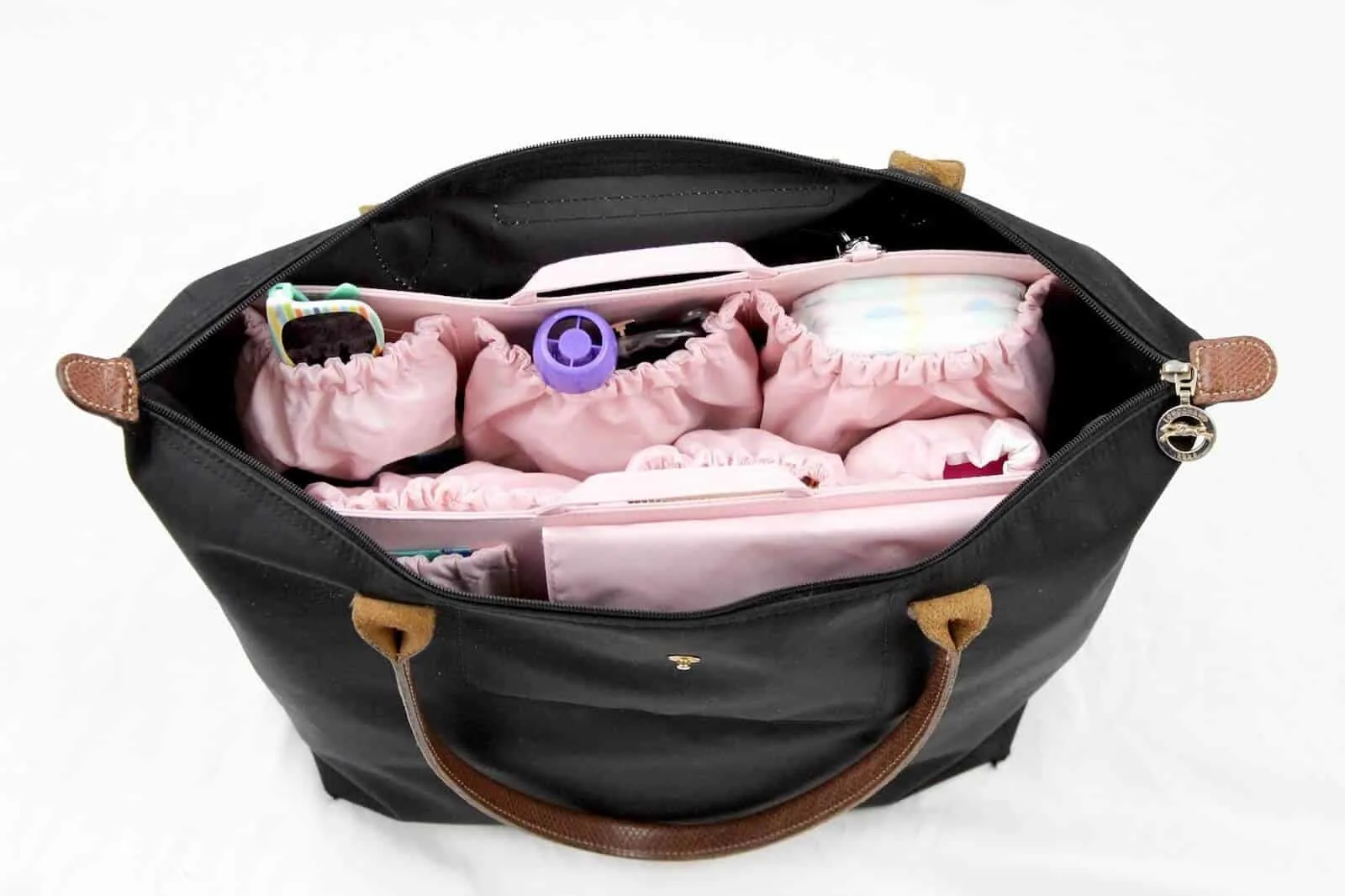 Here is a breakdown of how I use the ToteSavvy pockets to organize our stuff and combine my purse and toddler diaper bag into one!
Insulated Pocket: Milk Cup or Water Bottle
Interior pockets (large):

Diapers
Wipes
Wallet/Cell Phone
Snacks
Interior pockets (small)

Small board book
Sunglasses/Chapstick
Hand Sanitizer/Tissues
Change of clothes in the Exterior Large Pocket (velcro closure—and could fit a bunch more stuff in here if needed!)
Coloring/sticker activity packet in exterior slot pocket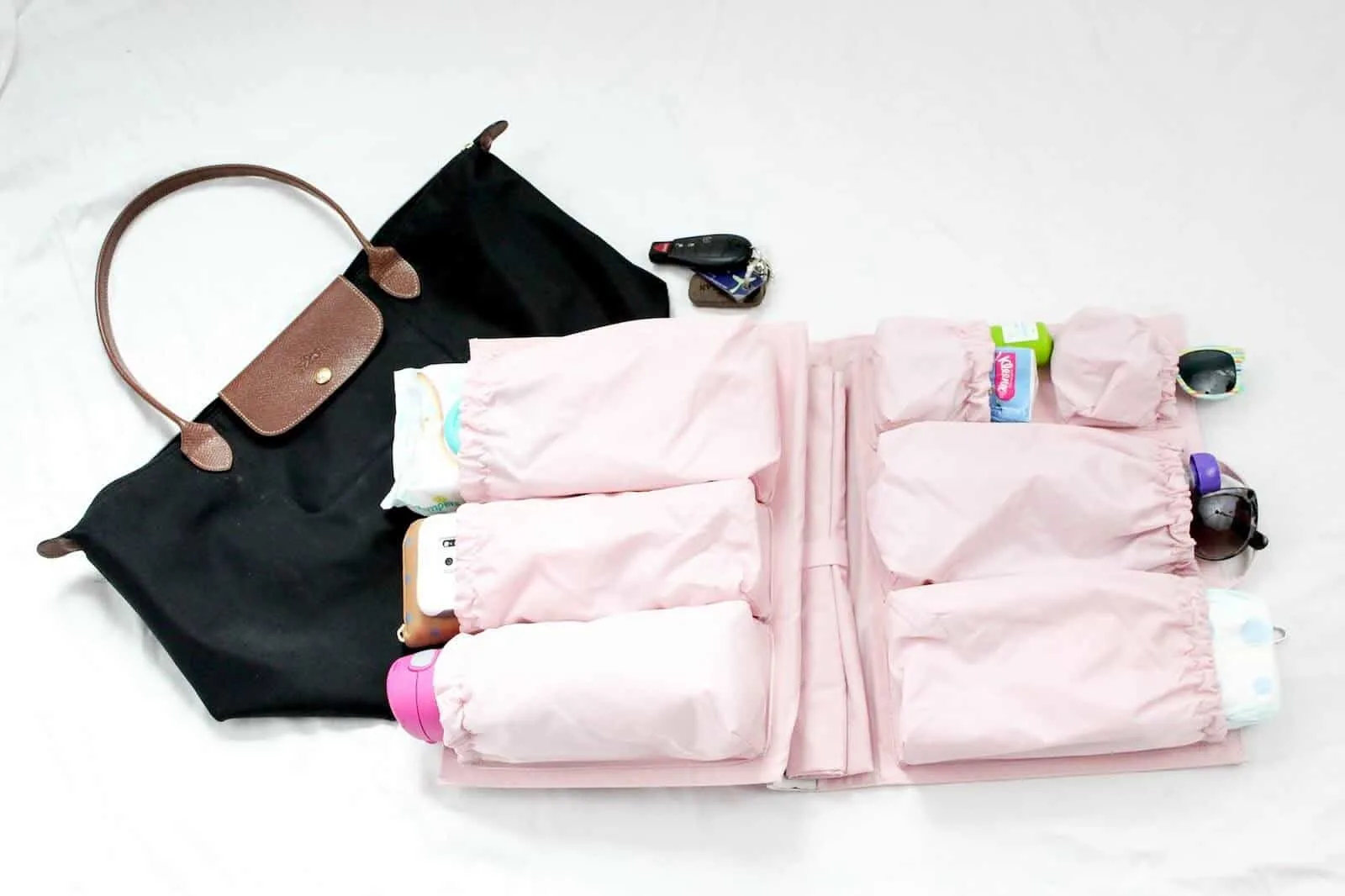 The great thing about the ToteSavvy is that you can use it in any bag, so if you keep it relatively stocked with toddler diaper bag essentials you can just change your mind about what bag to bring and literally just move it all in one swoop!
My current favorite purse is my Longchamp Le Pliage Large Tote—hubby finds great deals on these at the duty-free shops when flying for work—but since it doesn't have any pockets, it makes organizing tricky. With the ToteSavvy, however, I can find everything easily rather than digging into the great abyss. I have it is Blush, but you can see all of the colors here.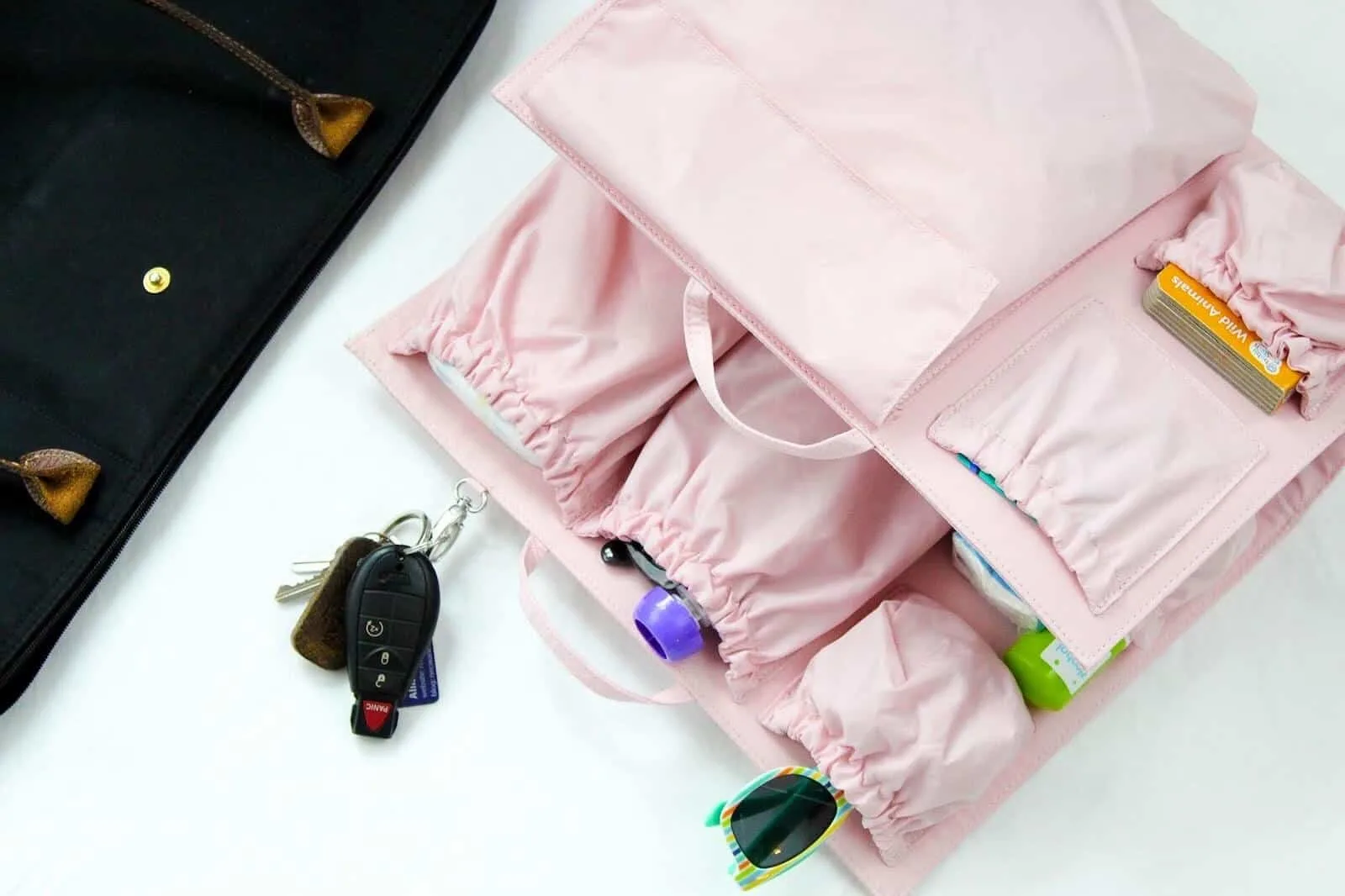 I will say that the regular ToteSavvy is a tight fit in the Longchamp bag—there is no room for anything else besides what is in the organizer. ToteSavvy does make a mini version that would work if you find yourself needing more room or just like to have a bit of breathing space in your bag. I might get one so I can stash my giant water bottle inside rather than carrying it around (have to stay hydrated while pregnant!).
It works great in larger bags or even in beach bags for keeping everything in one place for swim lessons or at the beach too (making it perfect for summer activities).
Overall it is a great option for moms looking for an easy solution for a dedicated toddler bag, or just a more stylish way to carrying around all your toddler's stuff along with your own! Interested in trying it out? You can shop for one here.
How do you like to keep your toddler bag or purse organized? Let me know below, and be sure to check out The Mom Friend on Pinterest where I'm sharing lots of great diaper bag options and suggestions for packing!
Pin it!