This shop has been compensated by Collective Bias, Inc. and its advertiser. All opinions are mine alone. #HappierFirstMoments #ForBetterBeginnings #CollectiveBias
The first summer with a baby is one of the most memorable milestones—there are so many things to see and do and watching a baby interact and explore the world is just so much fun!
Creating a summer bucket list is something lots of people like to do but add a baby into the mix and it can get a little complicated trying to think of suitable activities and what to bring along to make them a success!
So today I'm sharing tips on creating the Ultimate Summer Bucket List with a baby, but I'm not just going to give you a list and leave you to figure out the rest.
I'm sharing things to keep in mind when brainstorming and planning activities for your bucket list AND my go-to items to pack in a diaper bag (whether you are breastfeeding or formula feeding) to make sure you are ready for all those great summer adventures!
I even have a Diaper Bag Checklist for you to help you spend less time prepping and more time making memories!
Here's a sneak peak at what's included down below (and as a bonus, hover over the picture to instantly shop the items from every mom's favorite place, Target!)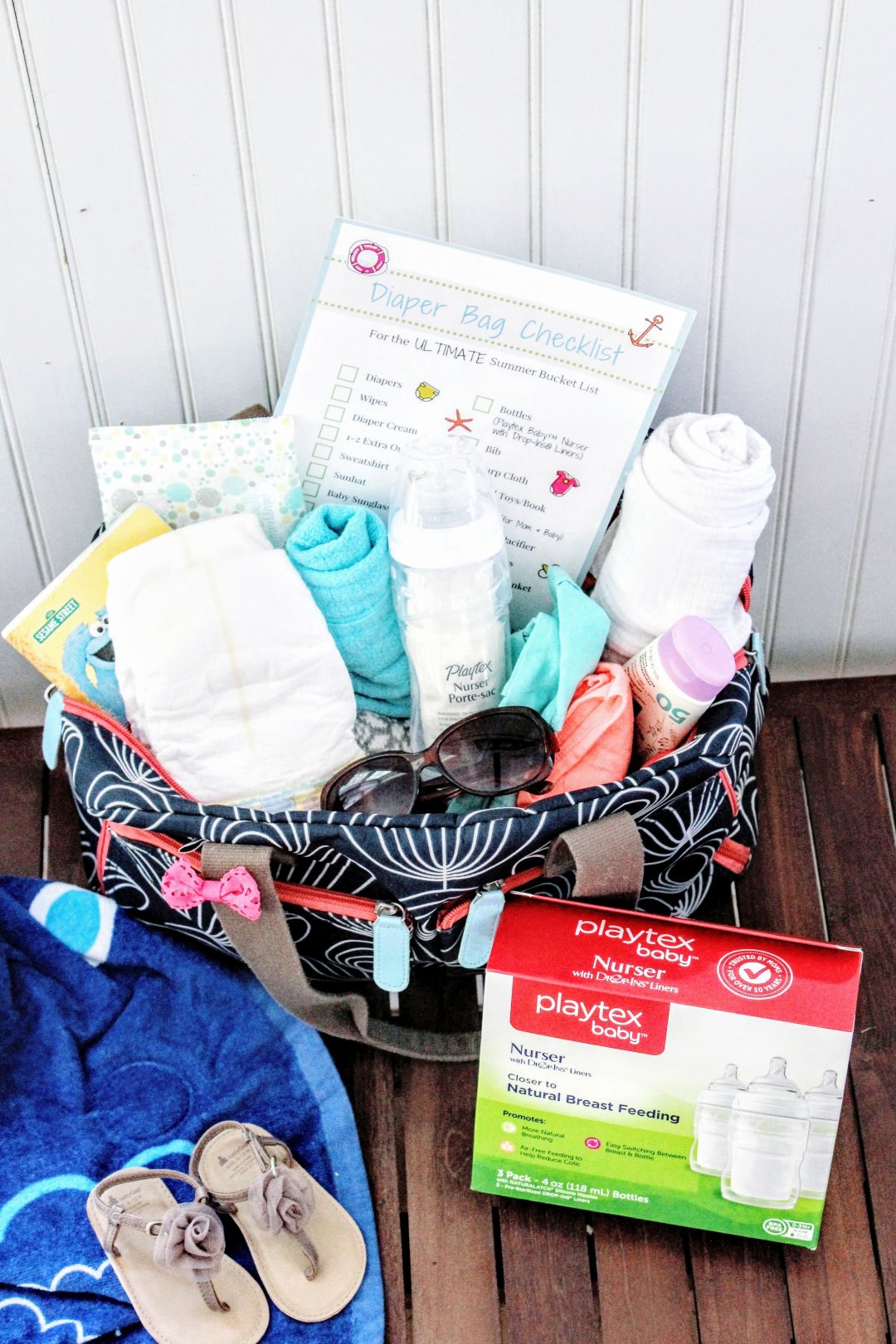 Creating the Ultimate Summer Bucket List for Babies
Last year was the first summer I got to experience with a baby, and figuring out how to find and prepare for activities took a bit getting used to.
Many of the summer bucket lists I found on Pinterest were geared more towards older children, and not all items were baby friendly. As a result, I decided to create my own.
To give you some inspiration for your list, here is my Ultimate Summer Bucket List for Babies (free for you to print!), with activities that are designed both for baby playtime and family friendly outings that babies can enjoy as well (by taking in the sights, sounds, and outings that are great for making family memories).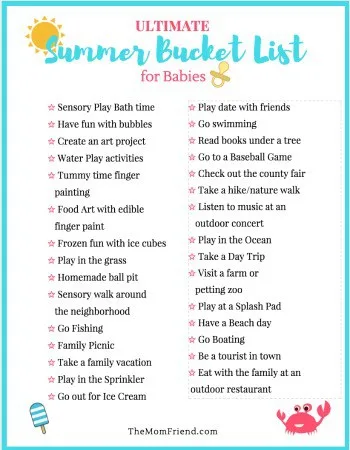 Tips for creating your own Summer Bucket List
The actual activities and experiences on a bucket list are not what matter—rather it is the opportunity to build memories and create fun learning experiences for your little one.
Each family's summer bucket list will look different, based on interests, location, and proximity to activities.
Here are some things to keep in mind to help you as you plan your own summer adventures: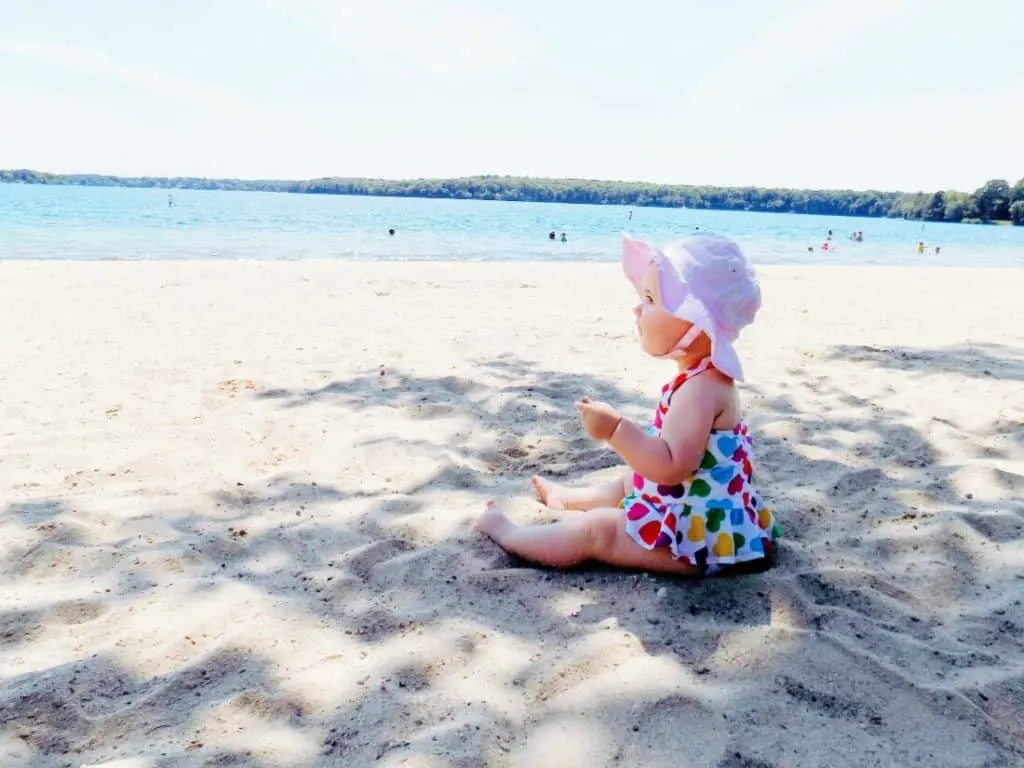 Brainstorm a mix of activtiies

A bucket list doesn't have to filled with grand and expensive activities.
Try to come up with an assortment of activities that range from simple at home items, to fun outings or places to visit.
A wide variety allows you flexibility and gives great ideas for play when you just feel like staying at home for the day.
Plan around baby's schedule

There are certain times of the day when a baby is most likely to be awake, and those are the times to plan fun activities.
Morning outings work great before it gets too hot, and they allow for some fun before nap time rolls around.
If your little one is able to sleep on the go, be sure to bring a stroller or baby carrier to let them snooze while you continue to enjoy.
If they get cranky being out close to nap time, avoid the stress and plan for a time that works better (lesson learned here).
Keep safety in mind

While Mom and Dad might be able to stand the heat, babies cannot. They are prone to overheating quickly, and so bucket list activities outdoors should be planned for cooler parts of the day, or make a plan if going to be in the sun for long periods of time.
Check with your doctor regarding sunscreen use (typically ok after 6 months) and dress them in lightweight fabrics.
Never place a blanket over a stroller to block the sun, as it creates a greenhouse effect. Rather, plan for breaks inside when possible.
Be Prepared

Planning the perfect summer bucket list won't matter if you have to return home because you forgot essentials.
Keep a diaper bag stocked throughout the summer to make it easy to grab and go. Being prepared with extra items will come in handy for days that you find yourself having to much fun to return home, or decide to add a detour to your schedule.
The biggest thing that will make a difference in enjoying a day out is whether or not baby is well fed. Bringing enough formula if formula feeding, and other snacks to keep them happy as well if they have started solids.
My secret to stress-free outings
As a nursing mom, the best way I have found to be prepared for summer adventures is to pack an extra bottle.
That's right!
Even though I was breastfeeding I always packed a bottle of breastmilk to take along for the day if we we were leaving the house for a few hours, especially when driving longer than an hour.
This helped tremendously if running short on time while out, made for quick stops while driving, and was a lifesaver when my milk ran low (*gasp*).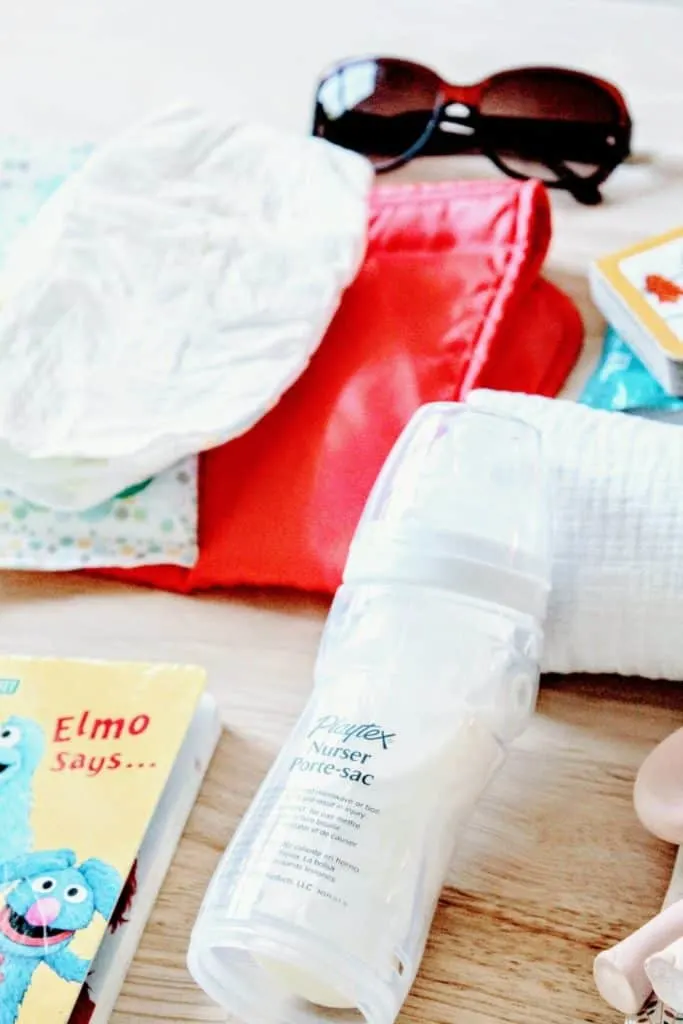 One such occasion was when I was checking off "Take a Family Vacation" off my bucket list.
We were flying to California to visit family, and Charlie decided to nurse almost the entire flight, leaving me totally empty. She started throwing a fit trying to nurse with 2 hours to go.
Luckily, I had packed 2 prepared bottles with me. I had learned my lesson to not have breastmilk in one container and unfilled bottles on another flight, so I was able to grab a bottle from the diaper bag and defuse the situation super quickly.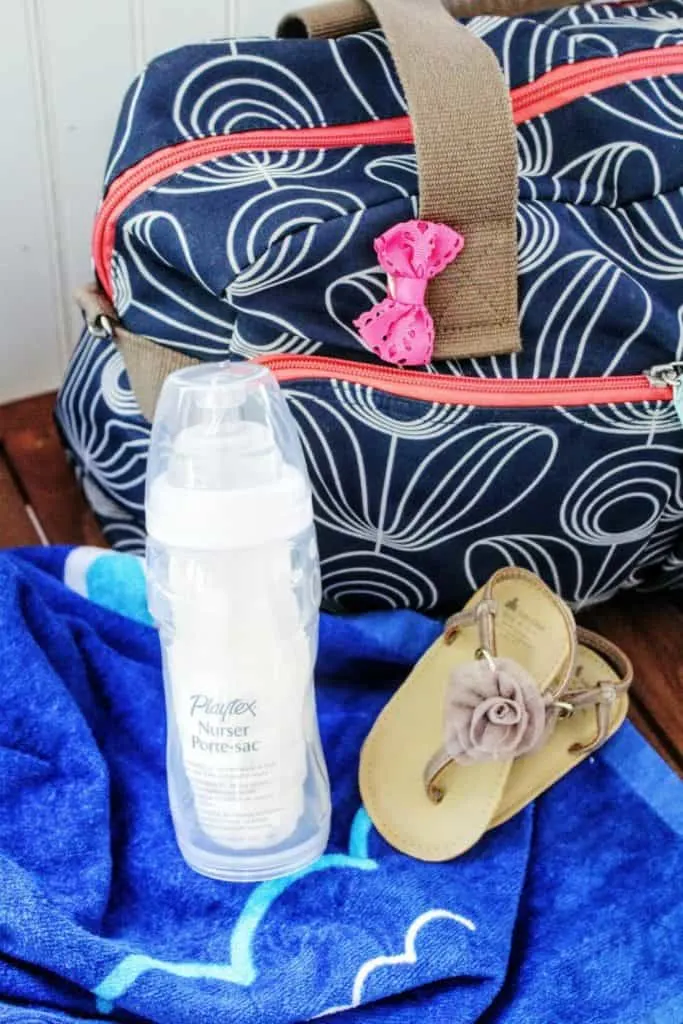 I love the Playtex Baby™ Nurser with Drop-Ins® Liners for this purpose. They are easy to store filled and there is no mess to clean up since they have easy-to-dispose liners, making them perfect for families on the go during summer adventures.
The Playtex Baby™ Nurser bottles are great for both formula feeding and for use with pumped milk, as the liner gently collapses as the baby drinks from the bottle, preventing air from getting in and transferring to the baby's tummy.
They also have The Most Like Mom® NaturaLatch® Nipple—its raised texture and natural wide shape help babies latch—making it a great choice for introducing babies to formula or from switching back and forth between breast and bottle.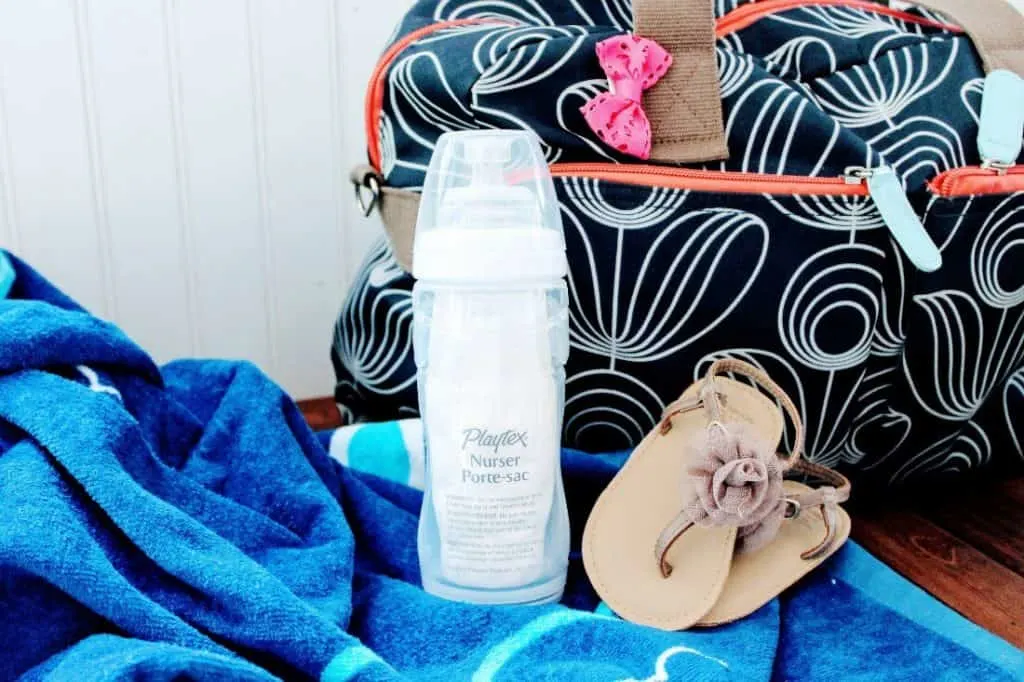 Prepping your Diaper Bag for Summer Adventures
So a prepared bottle is the #1 thing to have in my bucket list diaper bag, but what about the rest?
To help you prepare for your Ultimate Summer Bucket List with a Baby I'm giving you my Diaper Bag Checklist to keep you ready for all the summer fun!
It has all the basics you need for any outing, and just add speciality items (swimsuits etc.) as needed.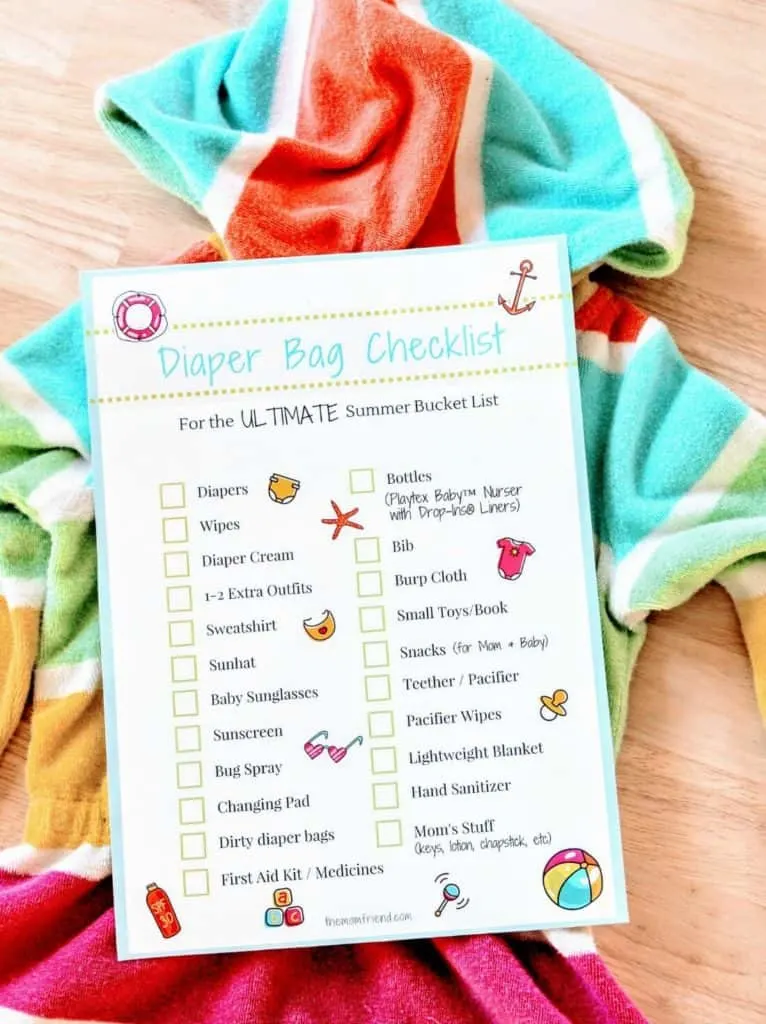 For stress-free diaper bag packing, just download your copy of my free Diaper Bag Checklist printable.
Print off multiple copies and do a quick run through prior to heading out—it makes checking off your Ultimate Summer Bucket List even easier!
Most importantly, remember that a summer bucket list is designed to help create beautiful memories with your baby, and should not be a cause of stress!
Picking a few fun experiences will help create opportunities to explore, discover, and enjoy with your baby.
That is what a bucket list is all about!
-Happy Summer!
Pin this for later!