Are you on the hunt for a large backpack diaper bag? Maybe you haven't found the right one yet, or one big enough for full day family adventures (and yet still organized and practical for everyday use). I've got one that just might work for you! Read on for a full review of the Obersee Madrid Convertible Diaper Bag and see if it meets your criteria!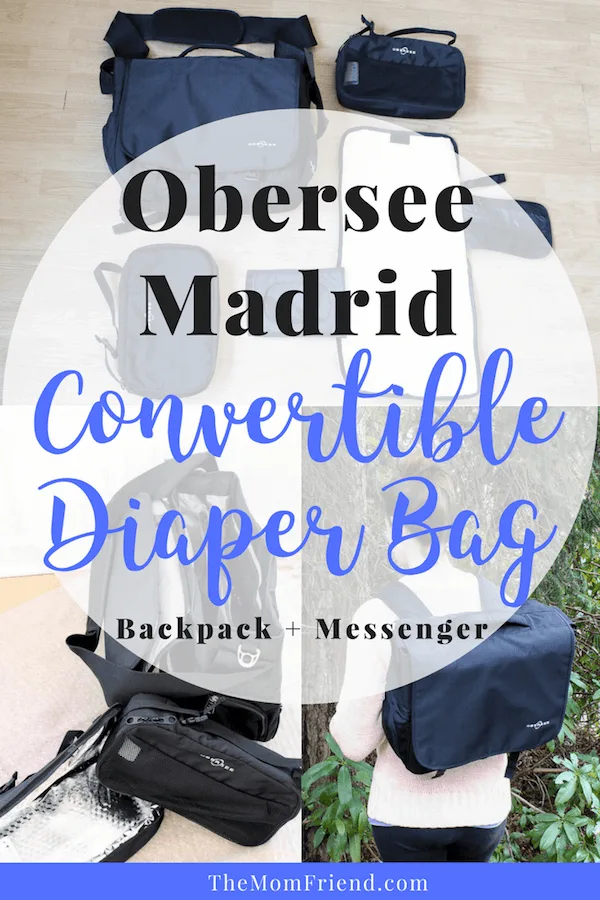 I received this product for free to review for all of you, but all thoughts and opinions are my own. This post contains affiliate links.
The thing I love about reviewing baby gear is that every family is different, and therefore there is never one perfect stroller, diaper bag or car seat for everyone. I love finding great products and showing how they can be used, and provide families with a little guidance in finding the right gear for them.
I own and use quite a few different diaper bags, as each one works best for different situations. Lately, I've been loving backpack diaper bags, and have found great ones for quick errands, everyday use, and travel. I have been getting questions about bigger diaper bag backpacks, or ones that would work for long days out with multiples, and today I'm sharing one that I think might work well for many families looking for that type of bag—the Obersee Madrid Convertible Diaper Bag.
Let's dive into specifics, shall we?
Obersee Madrid: A smartly designed large backpack diaper bag
Obersee is a unique company when it comes to baby gear. They aren't a baby company, but rather they focus on two and quite unique things: gymnastics apparel and bags/backpacks for the family. If that seems odd, it really isn't. From what I've heard from friends involved in gymnastics, meets and events often last a long time, including all day or even all weekend! Not only is there a lot of gym gear to bring, but parents need to have a bag stocked with food, drinks and other essentials for a day out.
Sort of makes sense then that they would know a thing or two about making a bag designed for a purpose! As a result, their line of diaper bags offer some fairly unique features in the world of baby gear.
The Obersee Madrid is a convertible style diaper bag—it can be used as both a backpack and carried as a messenger bag. It comes with wide padded straps that are comfortable and easy to use, even with the bag is heavy—which is something that can happen if packed full because this bag is extremely spacious.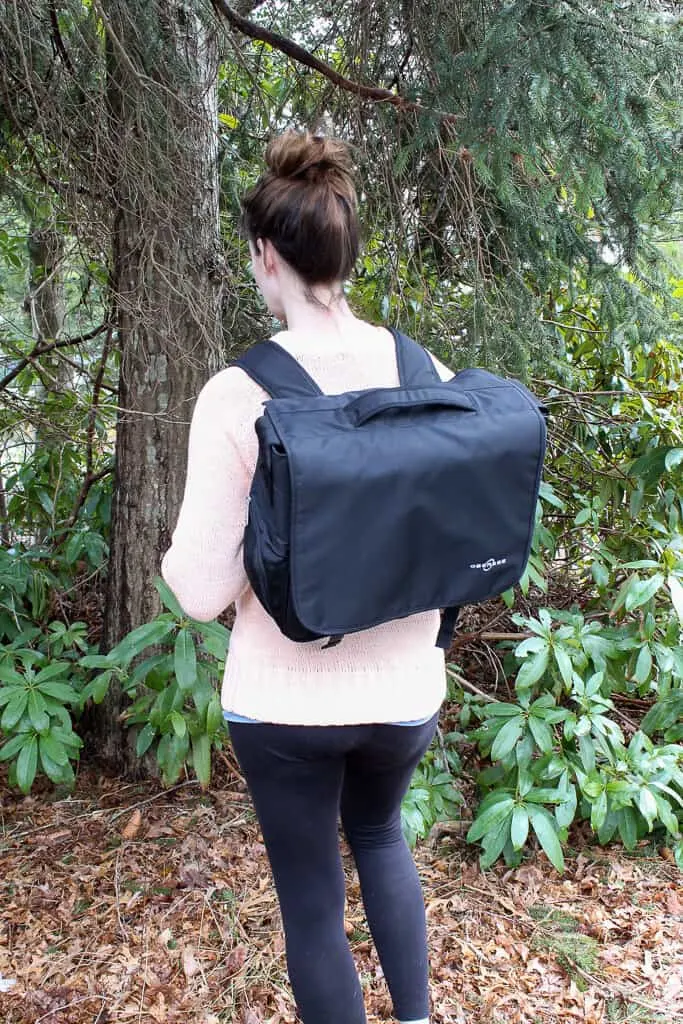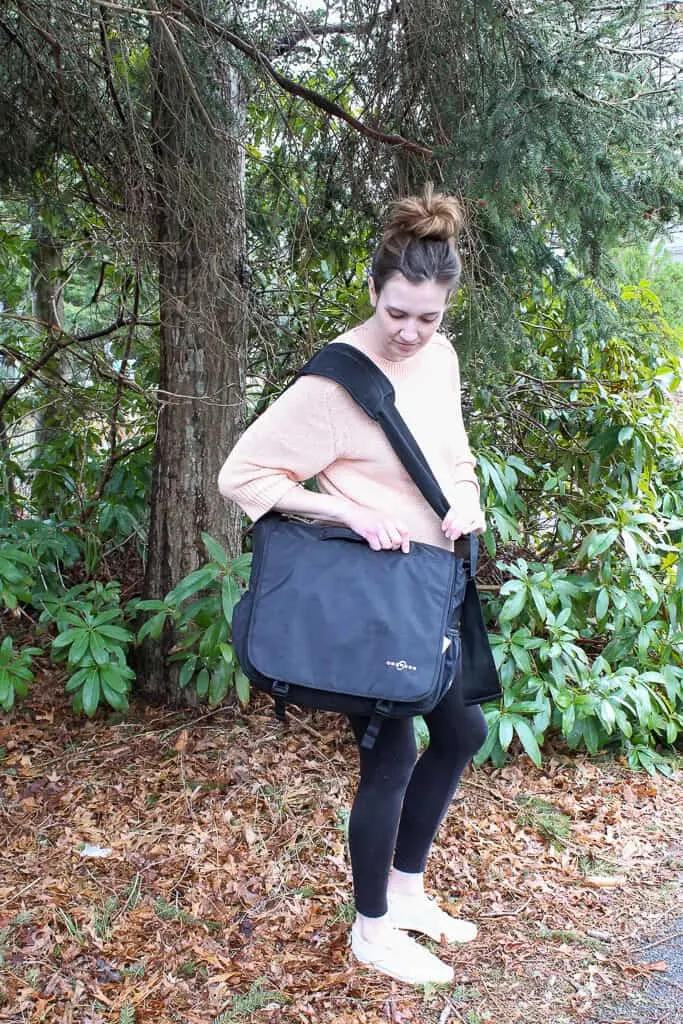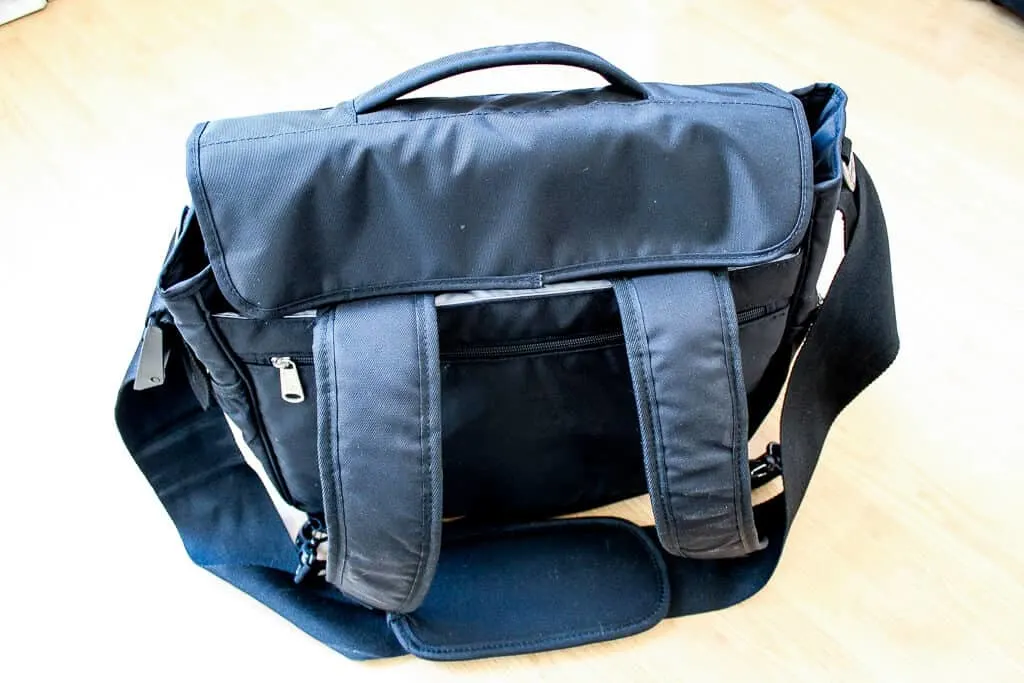 The bag itself is technically 15″x 13″x 6″ but the way it is designed it can fit up to a 17″ laptop.
Some of the main features of the Obersee Madrid Diaper Bag include:
A large capacity great for long day trips or multiple children
Fleece-lined backpack straps that can be partially detached and stored when not in use
Top carrying handle
Included Voila changing mat kit with room for diapers/wipes, plus a clothing cube and cooler bag
Available stroller straps (must be purchased separately)
Interchangeable top flap if wanted to switch out colors down the road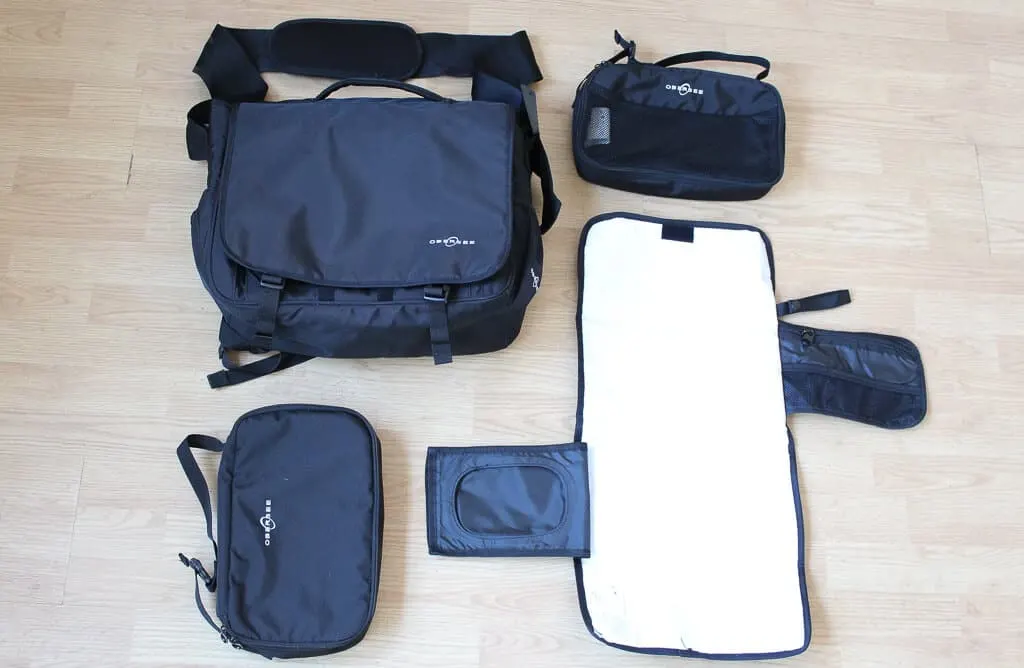 The 14 pockets are spread throughout the bag, including a great variety of options such as:
a padded laptop pocket
drink side pocket
zippered exterior and interior pockets
mesh pockets of different sizes for finding baby items
pacifier pocket
external back pocket to tuck backpack straps into
One of the features I really appreciate about this bag is that it comes with not only a padded changing pad, but also with two packing cubes—one is a large clothing packing cube and the other is an insulated cooler bag. I personally use packing cubes and organizer bags in my traveling and diaper bags, so it is nice to see those included.
Some things to consider: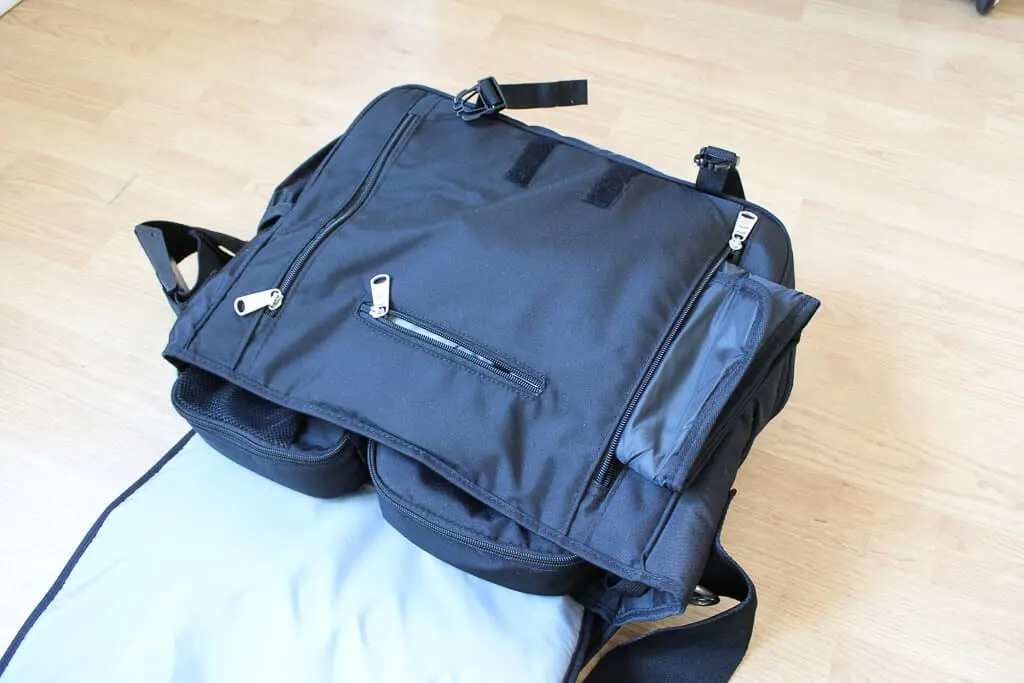 The clothing cube and cooler bag are extremely large, measuring 12.5″ x 7.5″ x 2.5″, so together they take up the entire back compartment of the diaper bag and reach almost to the maximum dimensions of the bag itself. This is how the bag is designed (with the intention of using those cubes in that slot, however, this can make the bag a bit bulky and limits any other items to the front half of the diaper bag's split compartment.
While the cooler bag is more than large enough to carry lunches and snacks for a full day out, it is a little large for short trips or everyday use (unless putting multiple drinks or bottles in there). It can easily fit 3-4 bottles however if needed so could be great for twins!
Similarly, the packing cube is quite large—the same size or even larger than what I use for organizing clothing on trips, and therefore either leaves unused space if only packing for short outings or might make it hard to quickly find items if packed full. Personally, I would love to see two smaller cubes rather than one large clothing cube, to help with organization and ease of finding items on the go.
However, if you are packing for a full day of adventure—like say, a trip to Disney—both cubes will help you keep enough clothing and food/drinks for the entire family, neatly organized and chilled!
Overall Impression of the Obersee Madrid Convertible Diaper Bag
The Madrid is a well-made and durable bag that is sure to last a long time. It is easy to see that effort was put into the materials and design to make it usable both in the baby stage and beyond. It is larger and heavier (3 lbs) than many diaper bags out there—which was honestly the first thing I noticed when I opened the box and it did take a bit getting used to.
On the body, it is wider than other backpack diaper bags I have tried but is comfortable to wear. The wide messenger strap is also quite comfy, and the padded neoprene sleeve keeps it that way even when the bag is heavy.
The size is really what will make it a great fit for some families and not for others. While it is a bit too big for me to use as a go-to bag for just one child, it would be a great option for larger families or extended trips.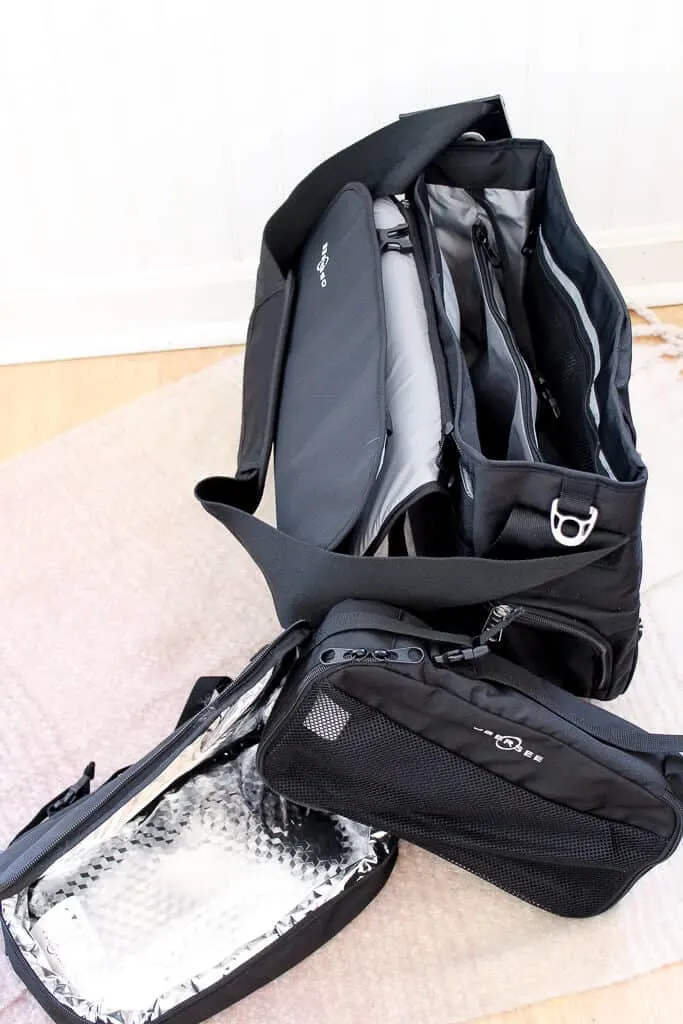 I loaded up the diaper bag for Easter and put everything we needed for 4+ hours in the car and time with family once at our destination. The clothing cube easily fit an extra outfit and sweatshirt and could have fit a change of clothes for myself as well if desired. The cooler bag held all of the snacks and drinks for our car trip with room to spare, and the front section easily held diapers, wipes, toys, my DSLR camera in its padded bag storage case, and my portable tripod. On the way home, we filled it with some Easter goodies and small gifts as well.
That trip really made me see how valuable this bag could be for sports/competition families—not having to bring my camera bag in addition to the diaper bag was a huge plus!
Any Drawbacks?
There really are only two design aspects I would prefer to be altered. One is the interchangeable front flap. To me, that is just not necessary, and the combination of zipping and velcro to keep it on prevents it from being flat and streamline at the top of the bag, and the cover has unzipped when left undone and tossed around (because, life). I can appreciate the desire some people might have to be able to change colors, but I don't think I will need that function.
The second is the length adjustment clip on the messenger strap. Due to the unique size of the strap, the adjustment clip is extremely large—but also extremely easy to use—and is not detachable. While I love the ease of use, the large clip sticks out of the side some when the strap is tucked into the bag for backpack mode. I would love to see that smaller or be able to detach it, but I am not sure how that would work!
Final Thoughts
As I said at the beginning, a big diaper bag backpack like this is not for everyone. However, families that find themselves out for long periods of time or have multiple children will love how spacious and functional this bag is. The messenger bag design allows for easy carry in 3 different ways, and the layout was smartly designed to keep families organized despite its larger capacity. And as a bonus, it doesn't look like a diaper bag, so it can easily be used well into childhood and even used as a work bag for Mom or Dad with its unisex design.
Want to learn more about the Obersee Madrid? Check out their website, or find them on Amazon (there was an AMAZING deal on the white and red versions when I was writing this post!).
For more baby gear reviews, be sure to follow The Mom Friend on Pinterest where all everything is shared too!