Need some ideas to make busy mornings a little better? Read on!
This post is part of a social shopper marketing insight campaign with Pollinate Media Group® and Sejoyia, but all my opinions are my own. #pmedia #CocoRoonsAtWalmart http://my-disclosur.es/OBsstV
This past week we started back to school, and let me tell you—the first day it was like I couldn't figure out which way is up when it came to getting out of the door on time (and with all parties properly dressed). Do you have this problem too? I'm one of those people that are both chronically late and chronically forgetting things. Maybe you can relate?
Early morning madness is nothing new for me—I've always worked starting early hours or having to commute. But when I added a baby to the mix, mornings became a whole different ball game. Not only did I need to get ready, but here was a baby who took 45 minutes to nurse, and then would decide to throw a fit or have a blowout on the way to the car. Not pretty. And most days it was while functioning on limited sleep as well.
Now that she is a toddler, she likes to have a say in her mornings (like, whether or not she wants to get up OR get dressed). It's exhausting, and all before 6:30am! The first day of school I literally went through 6 outfits before she was willing to put one on—she is only 22 months old people, I'm seriously in trouble!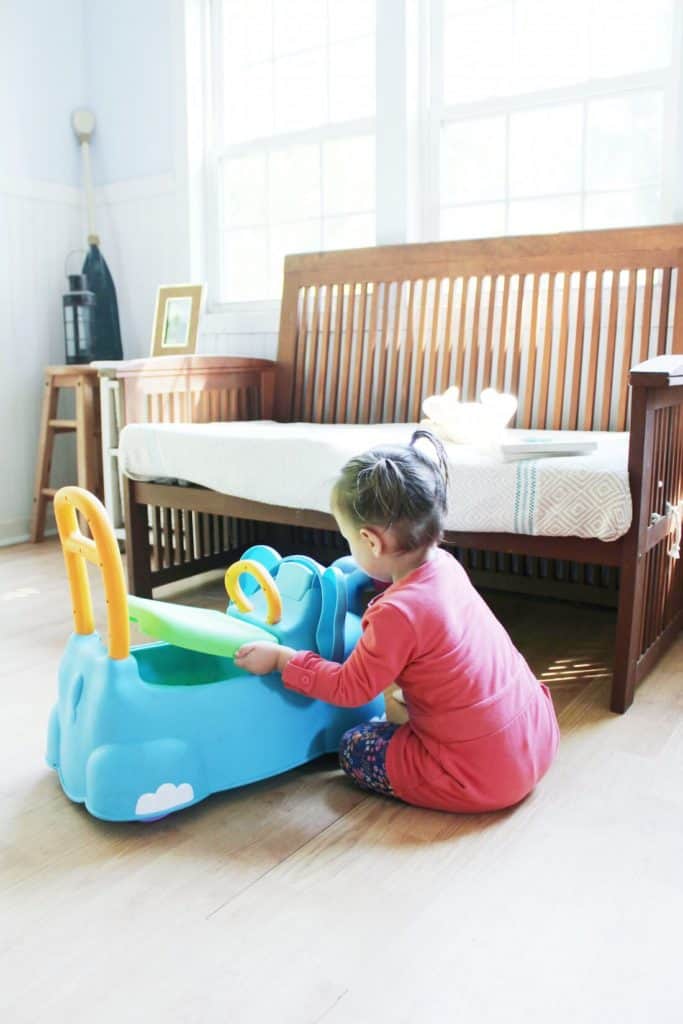 I've been trying to put together a morning routine that works, and that is realistic for me (who doesn't function well in the morning) and for Charlie (who wants nothing to do with mornings!), and I wanted to share it with you to both encourage you in your own morning chaos, and give you some strategies that might work for your family.
So here was my process in making one, what a typical morning looks like, and some shortcuts I've found to make it easy!
Making Mornings Less Hectic—My Morning Routine
5:00am— First alarm goes off. Hurriedly shut it off so it doesn't wake the dogs. "No way," I think. Not getting up yet.
5:15am—Now I have the alarm and a dog whining at me. Time to get up & let the dogs out.
5:20am—Make coffee, feed dogs, let them back out.
5:30am—Check email, drink a cup of coffee while browsing social media blog accounts. Beg dogs not to wake up Charlie when they come back in.
5:40am—Drag myself and cup of coffee to the bathroom to get ready. Quick make-up & get dressed.
5:50am—Grab the lunches and pack everything into my work tote, keep forgetting items and run back to the kitchen. Finally get the idea to bring bag to kitchen to cut down on trips (repeat every day).
5:58am—Rush to make a 2nd cup of coffee to throw in my travel cup (Must. Have. More. Caffeine—and I've accepted my coffee will always be cold so I pretend it's iced).
6:00am— Wake up Charlie, spend 15 minutes trying to plead her into a happy mood and to get dressed. Bribe her with her toothbrush (weird child) so I can do her hair quickly (EPIC bedhead).
6:15am— Bribe her further with something to eat to keep her occupied while I race to find my missing shoe.
6:20am— Return to see that she has taken everything out of my bag. Scoop it all up, plus her, and race out the door.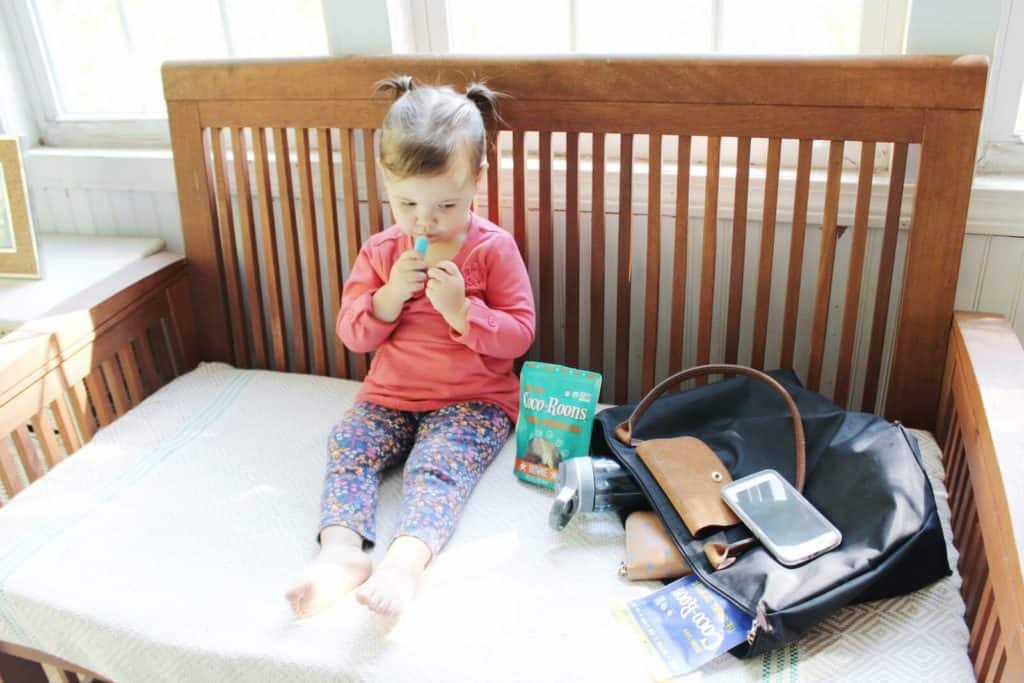 Are mornings busy still? Of course! But not half as hectic as before. Here's why:
Realistic Expectations
I know lots of moms who get their little ones up for breakfast and play time before heading to work. That just doesn't work for me or for Charlie. Once I came to that realization, I stopped trying to make it work. When she was an infant, I used to get her dressed during her first early morning feeding around 5am, and then just scoop her up for a quick diaper change and put her in her carseat. Now we do breakfast on the road (more on that further down!)
Prep the Night Before
This is the single biggest factor in making mornings less hectic. Anything and everything that can be done the night before, does. That includes:
Picking out/ironing clothes
Packing lunches, prepping lunch bags and cups for the next day
Adding any extra things to work bag that I might need.
House specific things that need done (covering the couches from my licking crazy dog, for example).
There are always things I forget and have to do, but doing these few things have really helped. Plus our lunches and snacks are much more thought out and healthier than they used to be.
Have a breakfast back-up plan & on-the-go options
Did you happen to notice that I completely overlooked breakfast for myself in this list? That's because I always forget to eat when running around in the morning. Don't get me wrong, I'm not skipping out on feeding my child or myself, but ever since I stopped trying to force a sit-down breakfast in the mornings sometimes I just forget!
I do quick on-the-go meal options for Charlie (like toast, frozen mini waffles, etc) that she can eat on the way to daycare (where she will eat more upon arrival), and for myself, I've started keeping a pack of Sejoyia Coco-Roons in my purse for the days where I run out the door without eating (or just for when I want a snack!)
These little cookies are not only tasty—the brownie ones are made with the finest raw, organic cocoa and has a delicious deep, rich flavor and the lemon cookies are light and refreshing—they are healthy too! They have just about every health-related word associated with them:
Organic
Gluten Free
Vegan
Non-GMO
No Refined Sugar
Paleo
Coco-Roons are made out of coconut and cashews, and sweetened with maple syrup, so I'm not worried if when Charlie gets into my purse and helps herself to them while I'm trying to get us out the door!
In fact because they are cookies, they make a great bribe negotiating tool to get her into her carseat and on our way! Her favorites are the Brownie Coco-Roons, but I'm partial to the Lemon cookies.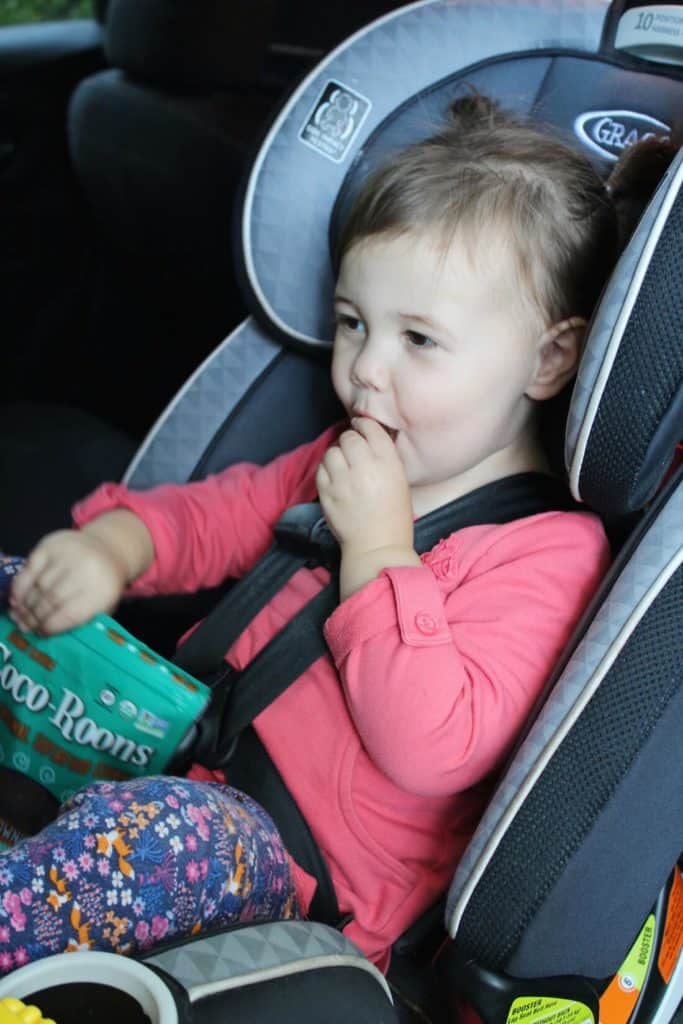 I found them at Walmart in the gluten-free snack section, and there is a great deal on them right now! Take advantage of the $0.75 off ibotta offer when you purchase 1 Sejoyia Coco-Roons at Walmart, while supplies last! Also, get an additional $.50 for redeeming the rebate on 3 different shopping trips!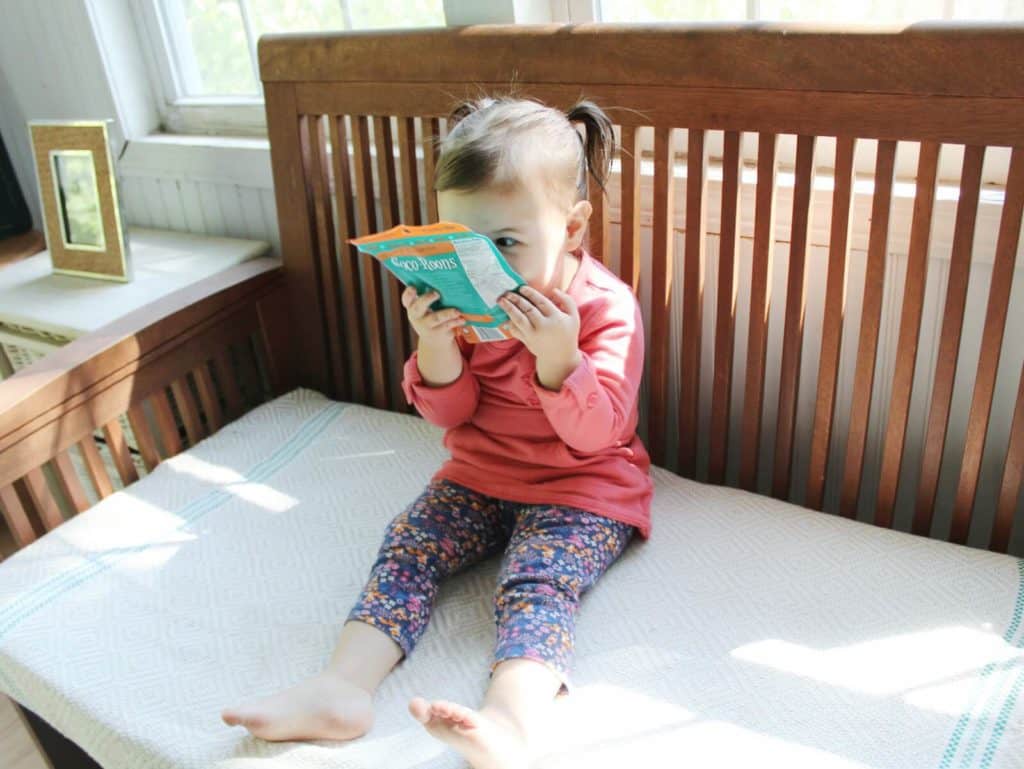 Between prepping the night before, having realistic expectations for my mornings, and figuring out solutions to reoccurring problems, our mornings have been going much more smoothly.
My mood and level of crazy definitely has an impact on Charlie in the morning, so by being able to get her up and ready without being too rushed, and letting her play for a few minutes while I do last minute tasks, we have found a common ground that makes us both happy.
And that is the perfect way to start a busy day!
How do you start your mornings? Tell me in the comments below!
Pin it!

You might also enjoy: