Halloween only happens once a year, but year after year, the character costumes seem to win out. Everyone wants to be their favorite cartoon character, movie villain or singer, but every once in a while, you'll find that kids want to stand out from the rest of the trick or treaters and here are some unique DIY Halloween costumes for kids that may inspire you!

Unique DIY Halloween Costumes for Kids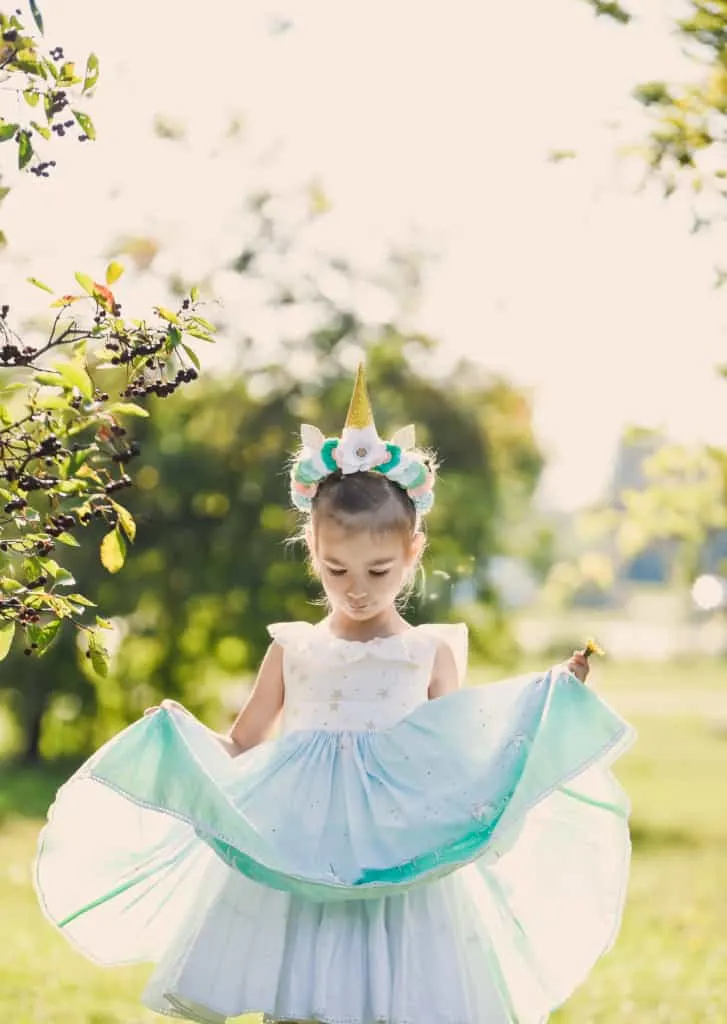 Unicorn Princess: You'll need a princess dress, a Styrofoam ring, felt paper in assorted colors, hot glue, a sheet of cards stock paper and gold spray paint (glitter, optional).
Cut out flower shapes or form "rosettes" using your felt paper and glue them to the foam wreath to make a flower crown. Fold your card stock paper into a cone shape for the horn and paint gold.
You can also add ears using your felt as well.

Cupcake with Sprinkles: Pick up a lampshade from a garage sale or thrift store. Make sure your kid's legs can fit inside it when turned upside down and it goes up to their waste.
Hot glue elastic arm straps to the inside and aluminum foil around the lampshade to make the cupcake liner and hot glue some tulle or stuffing on the top in a cupcake shape! For the sprinkles, hot glue uncracked glow sticks to the "cupcake" and crack them before you go trick or treating.

Candle Stick: This is a simple DIY costume that can be put together in mere minutes. All you need is a white sweatshirt, white sweatpants, a headband/hat and some craft foam.
Cut flame shapes out of orange, red and yellow craft foam, then hot glue them to the headband or hat!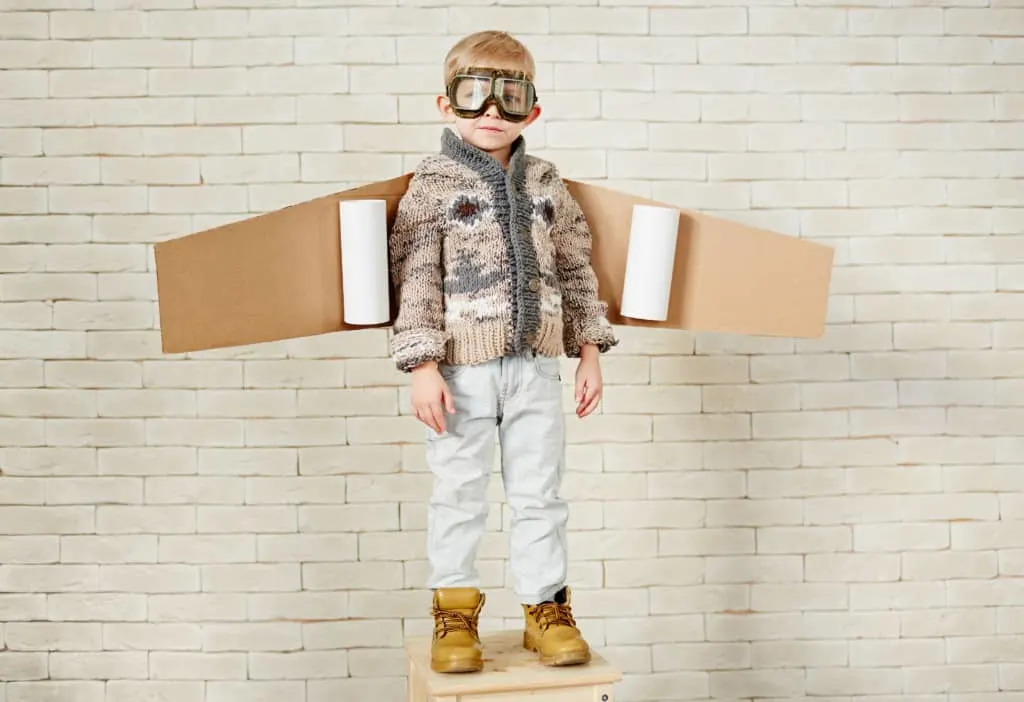 Airplane: All you need for this project is cardboard, card stock paper, glue gun, elastic straps, goggles, and your imagination.
Simply cut the cardboard into the shape of wings (You may need to use two sheets of cardboard that you can attached with masking tape or duct tape). Attach cylinders to the underside made from your rolled white card stock.
Add your elastic straps to go over your child's shoulders.
A Cloud, A Puff of Smoke or A Fart: This is a fun DIY that really only takes hot glue and coordinating tulle and sweatsuits.
For example: Cloud, white on white (you could even add craft foam rain drops), Puff of Smoke, white and gray and for the fart, brown and camo type colors!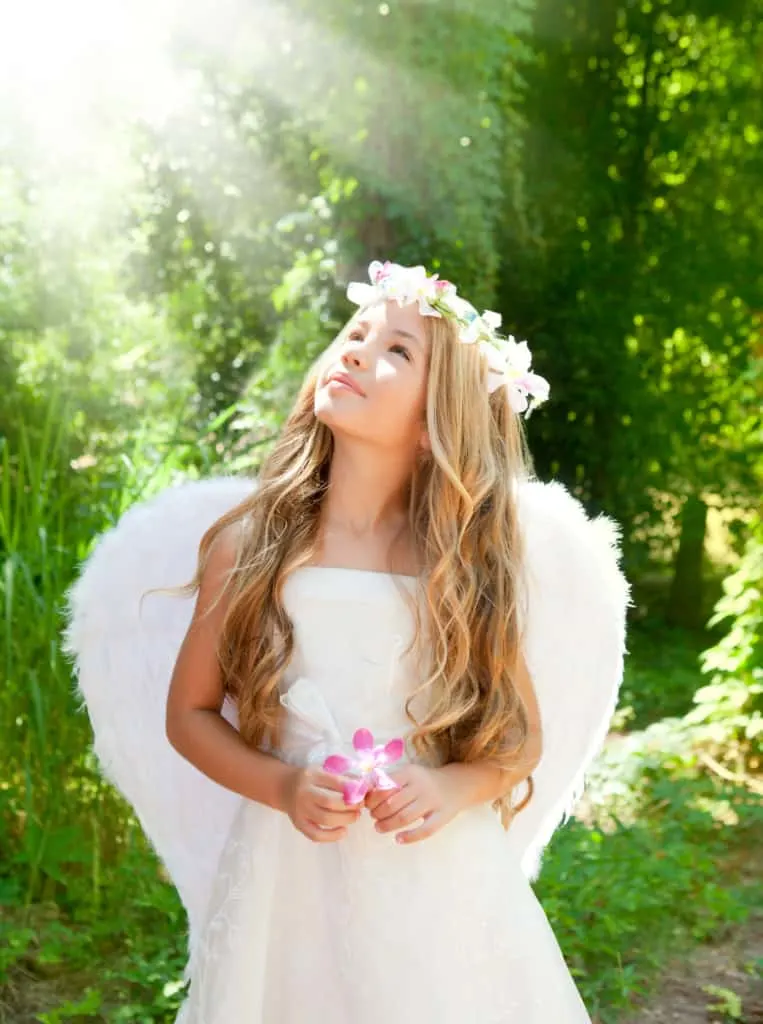 Angel: This super easy DIY costume requires a white dress, cardboard, feathers, wire twine, hot glue, elastic straps and fake flowers with stems.
Cut your cardboard into the shape of wings and cover in white feathers. Attach your straps.
Make your "flower halo" by forming the faux flowers into a wring and securing with your wire twine.
A Walking Stick Figure: This has become a popular, yet unique DIY Halloween costume for kids.
All you need is a black hooded sweatshirt, black sweatpants, glow sticks and hot glue! Hot glue the glow sticks on to the outfit in the shape of a "stick figure" and then crack them to light them up right before you trick or treat!

A Bag of Candy: This is a fun DIY project that can be done with fabric markers or fabric paint.
Take a large pillow case and cut leg/arm holes, cut the top so it looks rigid like a candy bag. Hot glue a couple of elastic straps to hold it up on the shoulders and then, use the paint or markers to turn it in to the candy bag of your choice.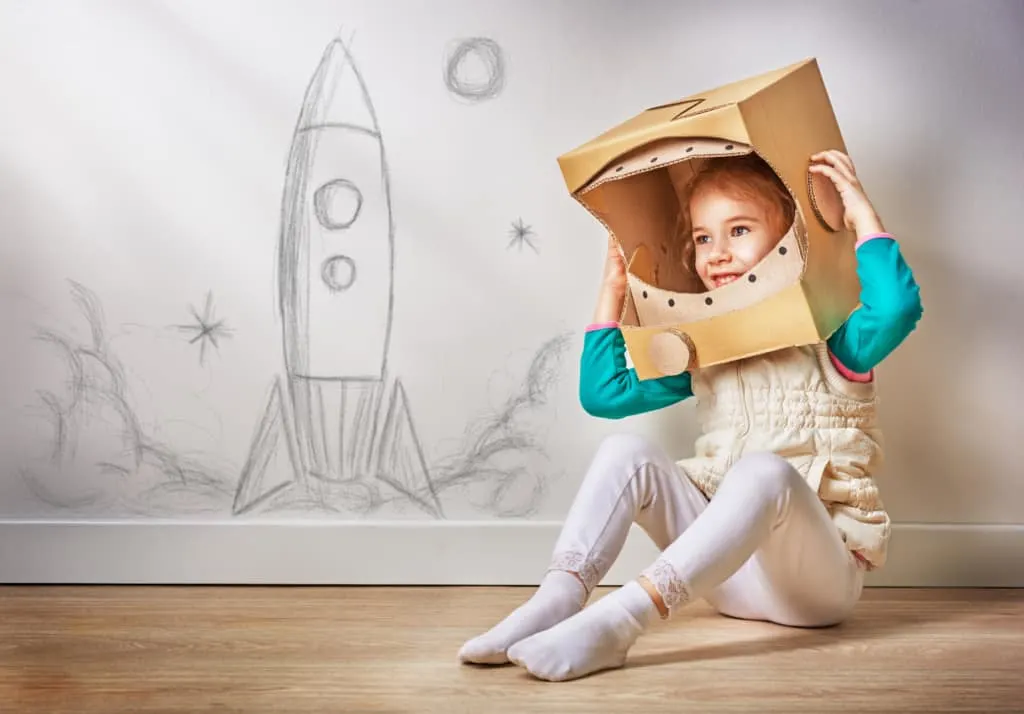 Astronaut: You'll need an all white (or mostly white) outfit. This could be a white sweet suit or leggings with a white top. You'll also need a cardboard box and extra cardboard for the astronaut helmet.
Cut out a hole in the front of your box and use your imagination and remaining cardboard to trim out your helmet. You can also use felt to make stripes, patterns and patches for the body of the costume.
We are loving all of these easy Halloween costumes to make at home!
Check out these other great Halloween Ideas:
More Halloween Ideas for Families