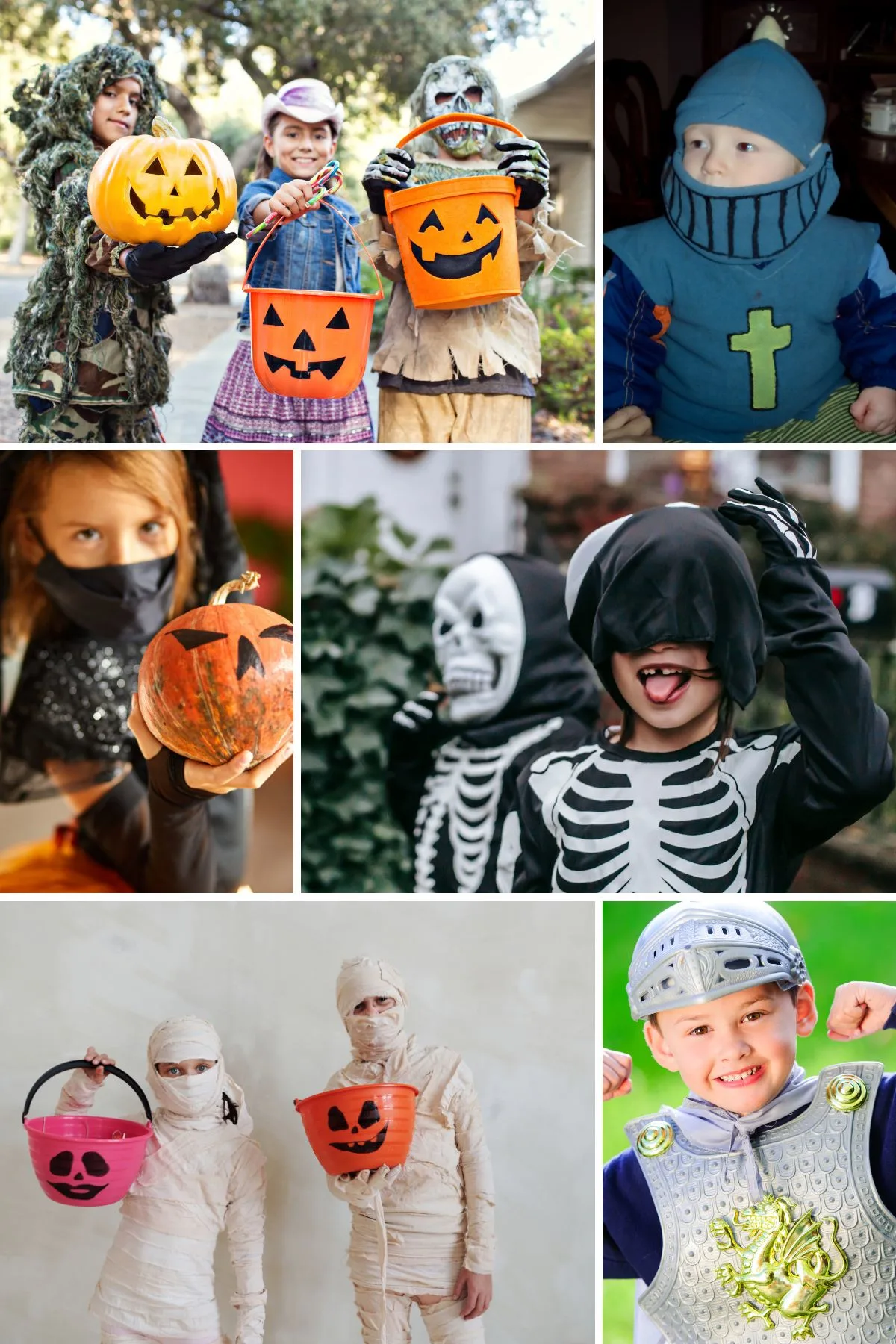 Halloween will look a little bit different this year. In addition to social distancing guidelines, your kids will also be looking for Halloween costumes with face masks as a feature part.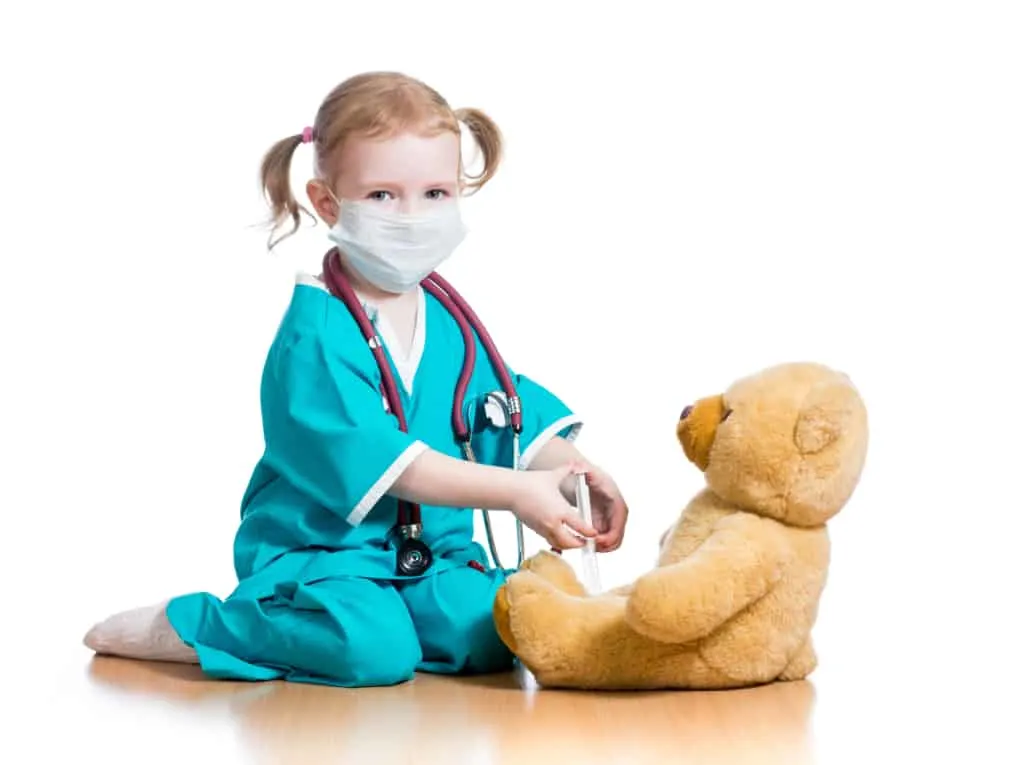 And while many Halloween costumes include masks, finding a cute costume that incorporates a mask can sometimes be difficult, and kids are likely to put up a fuss if they think you are ruining their costume by adding their everyday face mask to the outfit.
While Halloween is likely to look different depending on your community, restrictions, and steps to ensure social distancing, it is unlikely to just be totally canceled.
In fact, we think neighborhoods and groups of friends are going to ban together to find social distancing approved means of helping their kids still celebrate, whether that be through creating boo baskets for friends and family, holding a neighborhood costume parade, decorating windows with Halloween coloring pages, or a reverse drive by trick or treating.
Related: Fun Halloween Ideas for Babies & Toddlers
Many of these ideas can made at home with mostly materials you probably have on hand, or could incorporate solid color clothing to make it more budget-friendly (and reusable).
We've included some costumes with masks that already come as a set, some easy DIY costume ideas with face masks, and some other inspiration as well!
If you're looking for fun ways to use a mask in your child's costume, you're going to love these cute Halloween costume ideas.
Easy Halloween Costume Ideas with a Face Mask
Doctor
The most obvious way to incorporate a mask into your child's Halloween costume is to dress them as a doctor. In addition to a medical mask, you'll need some child-size scrubs and a toy stethoscope to complete the look. You can easily grab a full play doctor outfit on Amazon, like this cute one here with play jacket or an awesome scrub set kids costume that makes your kids look ready for surgery (it also comes in blue).
It's a simple costume idea that also gives a nod to all those amazing frontline workers. Keeping with the medical theme you could also do a nurse, veterinarian, or EMT.
Ninja
Ninjas are supposed to be stealth and often wear a face covering to hide their identity. That means it's a great costume for your child to wear with a mask! Dress your kid up in all black and add a black face mask and hat to their costume to turn them into a ninja this Halloween!
Rather just buy one? There are tons to choose from here—just be sure to switch out the mask to one that conforms to recommended guidelines if the one you choose comes with just a small strip of fabric over the face.
Cat, Dog, or other Animal
Another simple way to incorporate a face mask into your child's Halloween costume is to get a little crafty with your child's mask. To dress your little one up as a cat, dog or other animal using a mask, simply draw an animal nose, mouth, and whiskers on a plain mask. Add some cat or dog ears to their head and pin a tail on their pants to complete this adorable costume.
Here are some fun options for other creative animal costumes with masks: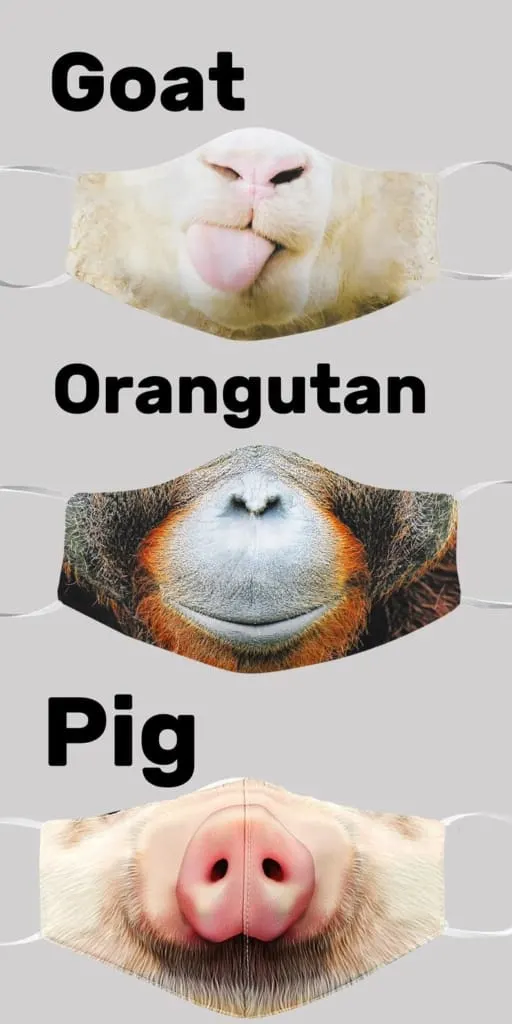 Tiger (Perfect for a Tiger King Family Costume)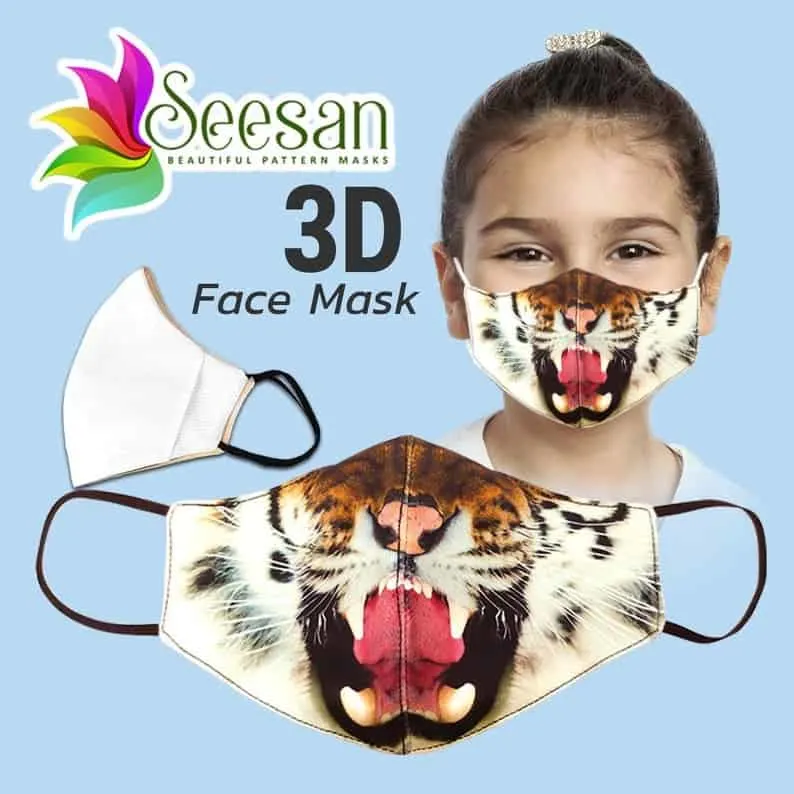 A great family costume would be Joe Exotic and Carol Baskin, with your kids playing the role of little tigers! You could do a homemade tiger costume and just add stripes to their mask and costume or you could grab a realistic looking tiger face mask to really seal the deal!
More Costumes with Masks Ideas
Their Favorite Cartoon Character
Kids often want to go as their favorite cartoon characters. You can purchase a mask of the character's face for your child to wear, hiding their face-covering in the process, however, it would make it difficult to see if they were having trouble breathing.
Instead, why not make a mask that works into their costume! You could do the character's mouth and nose, like this cute Scooby-Do mask, or you could let them bedazzled or decorate a mask that goes with whatever they choose to be.
Skeleton
Make the most of a classic child's costume by decorating a plain mask with a skeleton mouth (a black mask with white fabric paint would work well). Then, use a traditional skeleton costume to go along with your child's spooky skeleton mask.
Knight
Here's a unique costume with a face mask! Go back to Medieval times and dress up your child as a Knight, complete with a cool face mask like this one. You could also do a great family costume, just add in a princess, a horse, and even a court jester using mask ideas from above!
Clown
Clowns often have face makeup on to cover their face, making it a great costume idea for kids. You can draw a fun clown mouth on a plan mask, then add some other makeup to your child's face to finish the look. Dress your kid up in a funny wig and some oversized shoes and you instantly have a fun costume idea your kid is sure to love.

Dinosaur
This awesome T-REX face mask is perfect for those adorable dinosaur costumes that have the eyes up on the hood. We would expect lots of ROARing going on with this mask, so choose carefully!
Of course, any of these ideas could be used for an adult as well!
If you are in looking for regular face masks that kids won't complain about wearing, check out some of our favorite face masks for kids here.
Ideas from Pinterest
Click the share button to pin this to your Halloween board on Pinterest to save for letter, and check out these other great posts!