More travelers will require you to spend more money on vacations, but your family vacation still doesn't have to break the bank. These affordable family vacation ideas not only keep cost in mind but also family-friendly settings and activities. They offer great value so you can treat your family to a trip they'll never forget!
9 Affordable Family Vacation Ideas & Destinations
This post may contain affiliate links that result in a commission at no extra cost to you.
Great Wolf Lodge
Great Wolf Lodge has several locations throughout the United States, so it's accessible no matter where you live. These resorts include an indoor water park, themed rooms, and other activities for the whole family.
View this post on Instagram
A curfew in the building keeps kids from running around late at night, letting parents get some well-deserved sleep. Although the rooms can be over $200 per night, they include water park passes and other amenities. You'll never have to leave the resort while you're there!
I'd recommend bringing water shoes or water socks for the kids, and for you, especially if you are going to be holding an infant in or around the water areas. The ground can get very slippery! I have these ones and they worked great when carrying my baby all day. A water ring sling is also great for keeping little ones close.
Amish Country in Lancaster, Pennsylvania
Your family can learn about Amish culture and history while still experiencing modern attractions! Lancaster is home to Dutch Wonderland, a theme park geared towards kids. Your family can also visit the mini horses in the Amish country, ride some steel trains, and check out an Amish schoolhouse.
Back when we lived in New Jersery we spent a long weekend in Amish Country. It was such a beautiful place that reminded me of home (I'm from farmland originally) and stopping at the shops and stands for whoopie pies and other treats made it even better.
Niagara Falls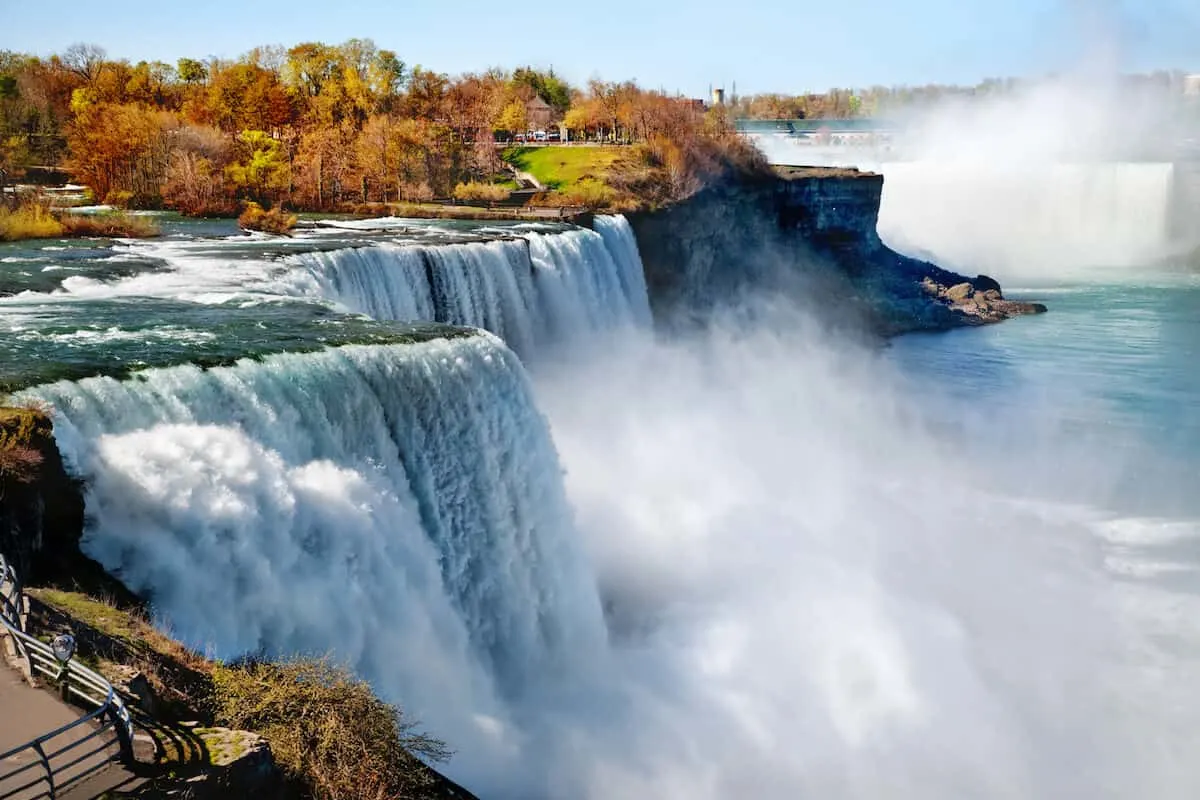 Niagara Falls has a special place in my heart—my husband surprised me with a weekend away there back when we were dating and he proposed while on the trip!
Be sure to bring your passports to Niagara Falls, since some attractions are on the Canadian side! You'll definitely want to ride the Maid of the Mist (which isn't cheap, but completely worth it) and the Journey Behind the Falls was neat too—just be prepared to get wet!
The falls light up at night, and can be seen for free 24/7, 365 days a year. Bring your family to play glow-in-the-dark mini golf, and take a stroll around Clifton Hill, aka The Street of Fun.
Club Getaway
Club Getaway is a family-friendly cabin resort that offers activities for all ages. Based in Connecticut, your family can participate in team building activities, go ziplining, go kayaking and paddle boating, shoot archery, and so much more.
Club Getaway is only open on weekends in the summer, and dates fill up quickly. Pricing is per person for the whole weekend, not per night, which will help your family save money.
There's a discount for anyone under 17, and kids under 2 stay for free!
Myrtle Beach
Head down to South Carolina, where it's warm year-round and there's plenty to do. Bring your family to Pavilion Nostalgia Park (for free!), Family Kingdom amusement park, and Broadway At The Beach.
Lodging may be expensive during school breaks, so look into a family-friendly AirBnB.
Cooperstown, New York
If you have baseball lovers in your family, you need to visit Cooperstown! This small town is home to the Baseball Hall of Fame, and is close to Oneonta, a quaint college town with lots to do (24/7 hippie deli, anyone?)
Cooperstown is great for a weekend trip too.
Yellowstone National Park
Yellowstone is one of those things you just have to check off your list in the US. We are planning a trip there next year and I am so excited about everything I am reading about experiencing the natural wonders like Old Faithful and the Grand Prismatic Spring and the wildlife.
If you venture just outside of the park, you'll find affordable lodging, like at Kelly Inn West Yellowstone with a complimentary shuttle to the national park.
Hershey Park
Our readers picked Hershey Park as a top place to visit for the whole family—and given my love for chocolate—I'm eager to get there myself!
Bring the family to Pennsylvania for the ultimate Hershey Park experience (or maybe even combine it with a trip to Lancaster). This amusement park has chocolate-themed attractions for both kids and adults, in addition to tours and education on how chocolate is made. T
The park is huge, so you'll have plenty to do while you're there. Moms suggest you may even want to take a whole weekend to explore!
I'm hoping we can get down there sometime soon!
Washington, D.C.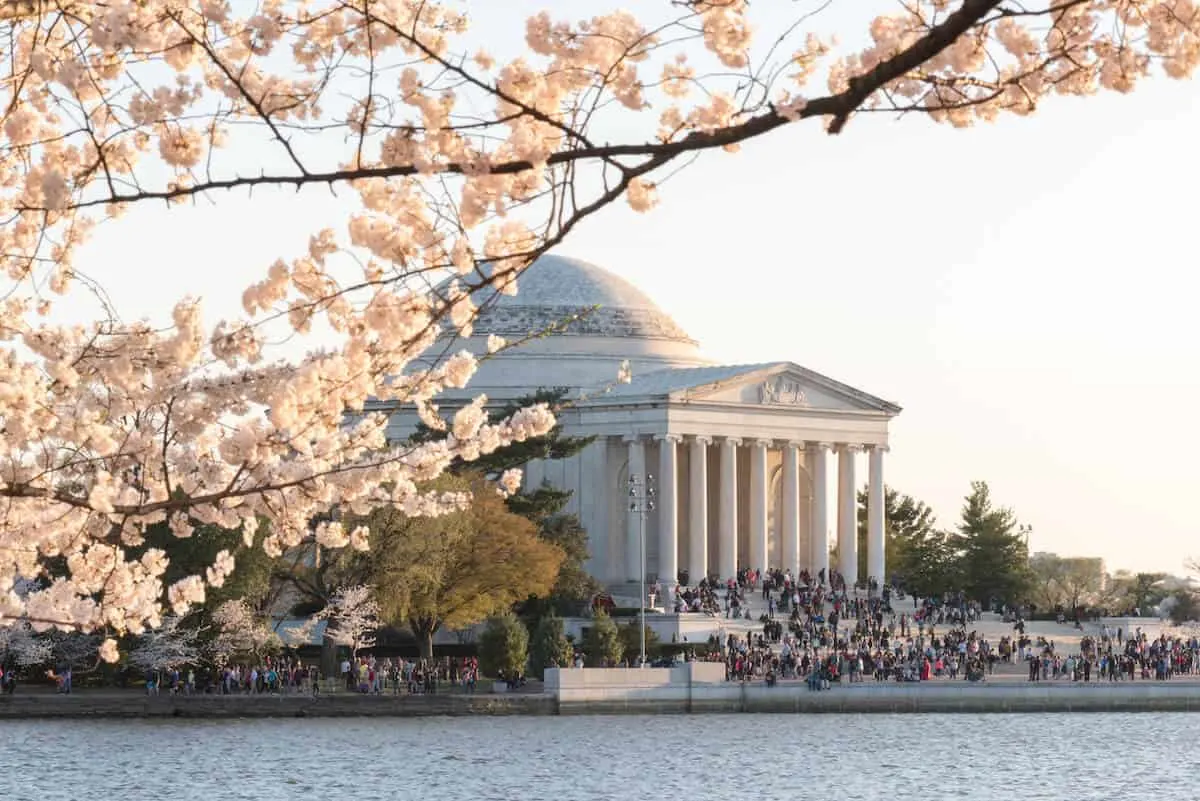 Ah, D.C. I get all the heart feelings thinking about it. It's what led me to the East Coast, where I went to college, and where I met my husband.
It's also one of the most interesting places in the world—and surprisingly affordable for activities!
Perfect for history or politics buffs but also for sports fans, nature lovers, and kids, there is plenty to see and do for everyone. You can easily spend a few days checking out the National Mall where you will find the Washington Monument, and many of the major memorials (Lincoln, Vietnam, Korean, World War II), along with the Jefferson, FDR and Martin Luther King, Jr. Memorials around the other side of the Tidal Basin.
The White House, Capitol Building and the Smithsonian Museums are all right there too. I am not exaggerating when I say you can spend a week there and still not see everything!
The Smithsonian museums are the best for families—there is a museum to fit any interest and best of all—THEY ARE TOTALLY FREE! Some museums and monuments do require (free) tickets or reservations ahead of time to help manage the crowds, so be sure to check out the National Parks website for more details.
Tips: Accommodations are cheaper in the surrounding towns in Virginia and Maryland. Be sure to bring comfy shoes as it is a ton of walking, and go down to the National Mall one night AFTER DARK—you won't regret it!
Once you start brainstorming places to go and narrow down to your favorite, be sure to check out my tips for traveling light with a baby, the best items for entertaining toddlers on a plane, or get travel tips from real crew members for traveling as a family.
Looking for other ideas related to family travel? Find more inspiration in the posts below: