Whether you're packing lunch for yourself, your significant other, or your kids, sandwiches can get old quick. Here are tons of delicious lunch ideas that are not sandwiches.
These lunches are great as packed lunches for work or school, or for quick lunches at home. I am sure you will find something you love!
Tortillas, Wraps, and Other Lunch Ideas
This one might seem like a copout, but try using adding your favorite sandwich ingredients to a wrap or a tortilla. The texture of tortillas and wraps are different enough that these easy lunches taste totally different than sandwiches and are 100% non-boring!
Here are a few favorite tortillas and wraps lunch ideas to try:
Tortilla pinwheels – this recipe has two ways to make them: Buffalo Chicken and veggie black bean
Turkey cheese rollups – add a little mayo, pesto, ranch dressing, or hummus for flavor
Grilled chicken pesto wraps – add some lettuce (wash and dry it in advance so it doesn't make the wraps soggy!)
Pizzadillas (just make a quesadilla with marinara sauce, mozzarella, and pepperoni slices, or your favorite pizza toppings)
Bagel + cream cheese (this is a favorite with kids! Tip: add some everything bagel seasoning to the cream cheese if you like, it's less messy than an everything bagel!)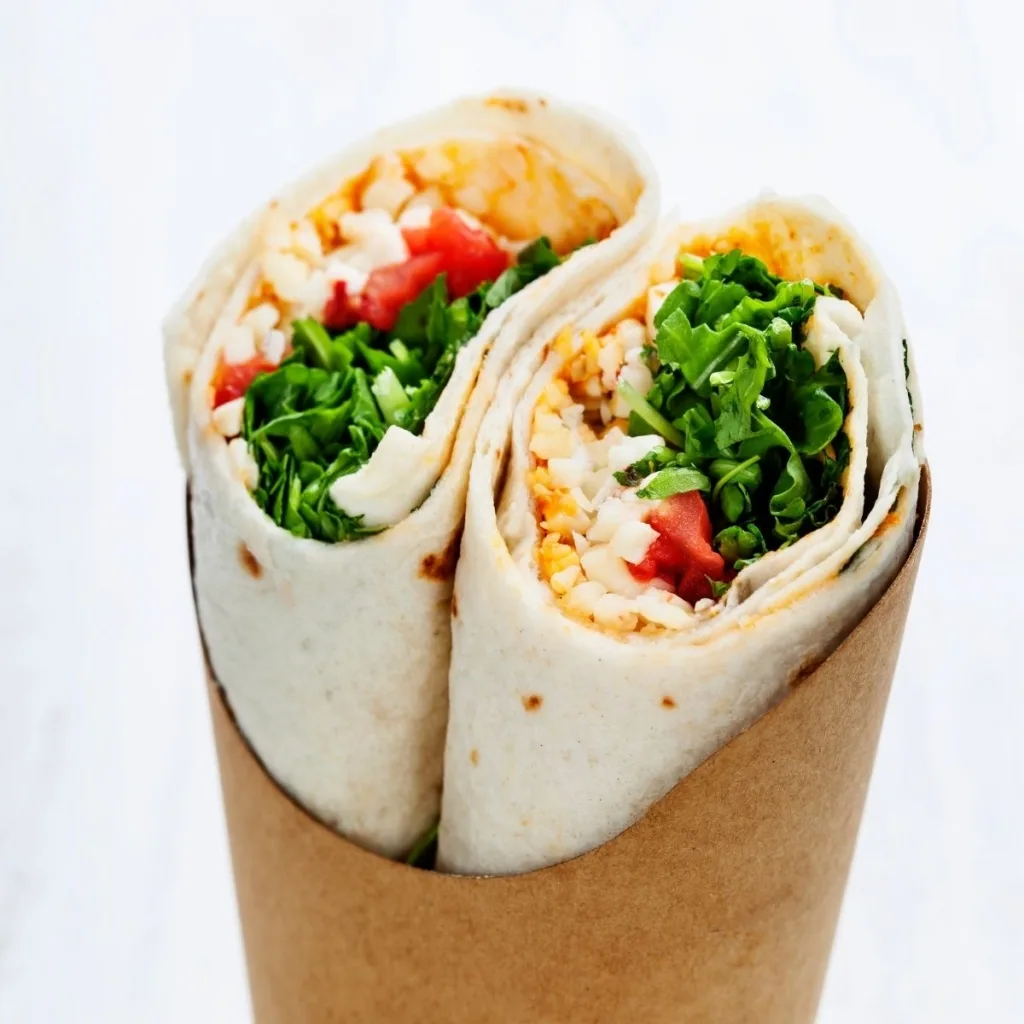 RELATED: Toddler Daycare Lunch Ideas
Filling Salads
No boring, unfulfilling leafy salads here! Try one of these hearty, filling salads that can be enjoyed cold and don't need to be reheated: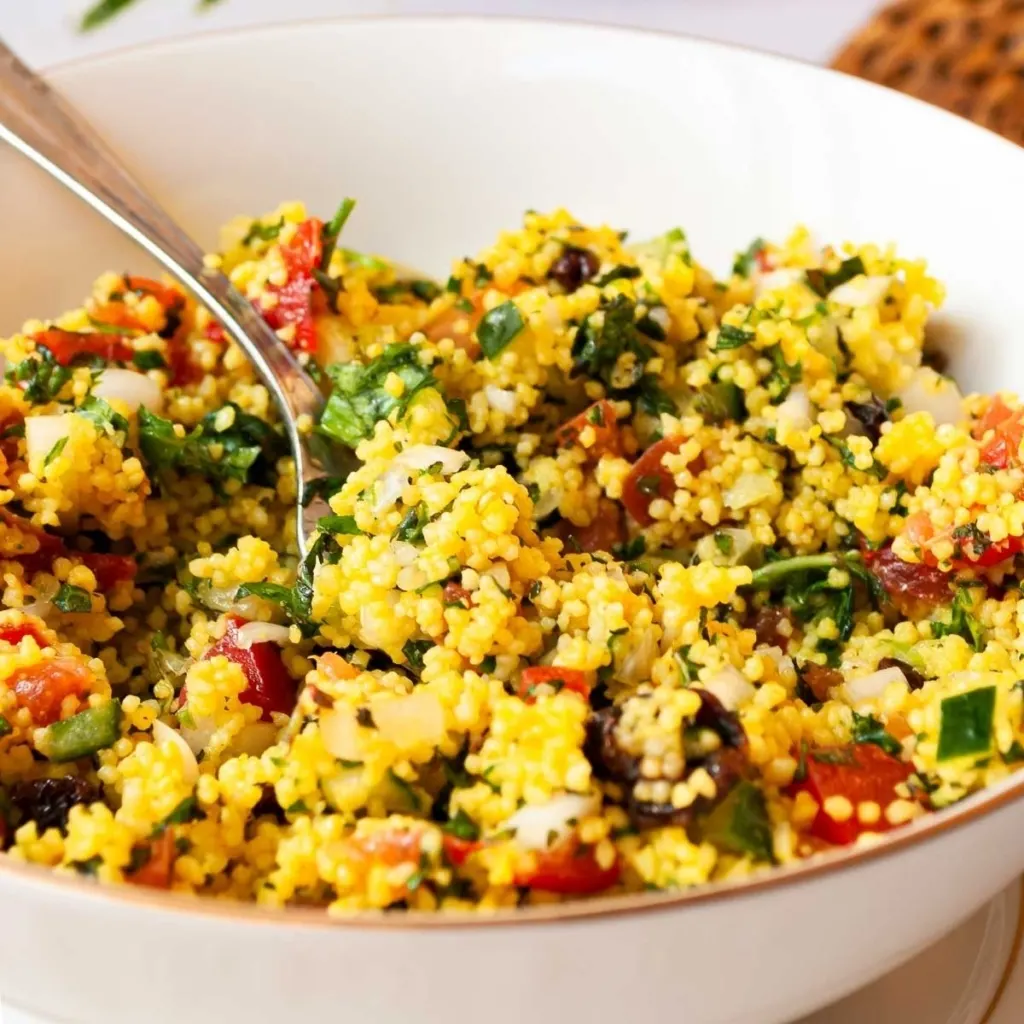 RELATED: Easy Freezer Meals for Postpartum Moms
Bento Box Lunches and Snack Lunches
Who says lunch has to be one main dish?? Pack a variety of small foods in a cute bento box container and then there's no pressure to get the "main dish" just right, because you have such a great variety of snacks. Here are a few ideas:
Turkey + cream cheese tortilla roll ups, apple slices, baby carrots, cherry tomatoes
Adult lunchables: sliced salami, ham, or other meats, cheese, crackers, fruit, and veggies. Add some olives, some hummus for dipping
Pancakes: make mini pancakes and pack a small container with syrup, add some fruit an you have a tasty breakfast for lunch idea!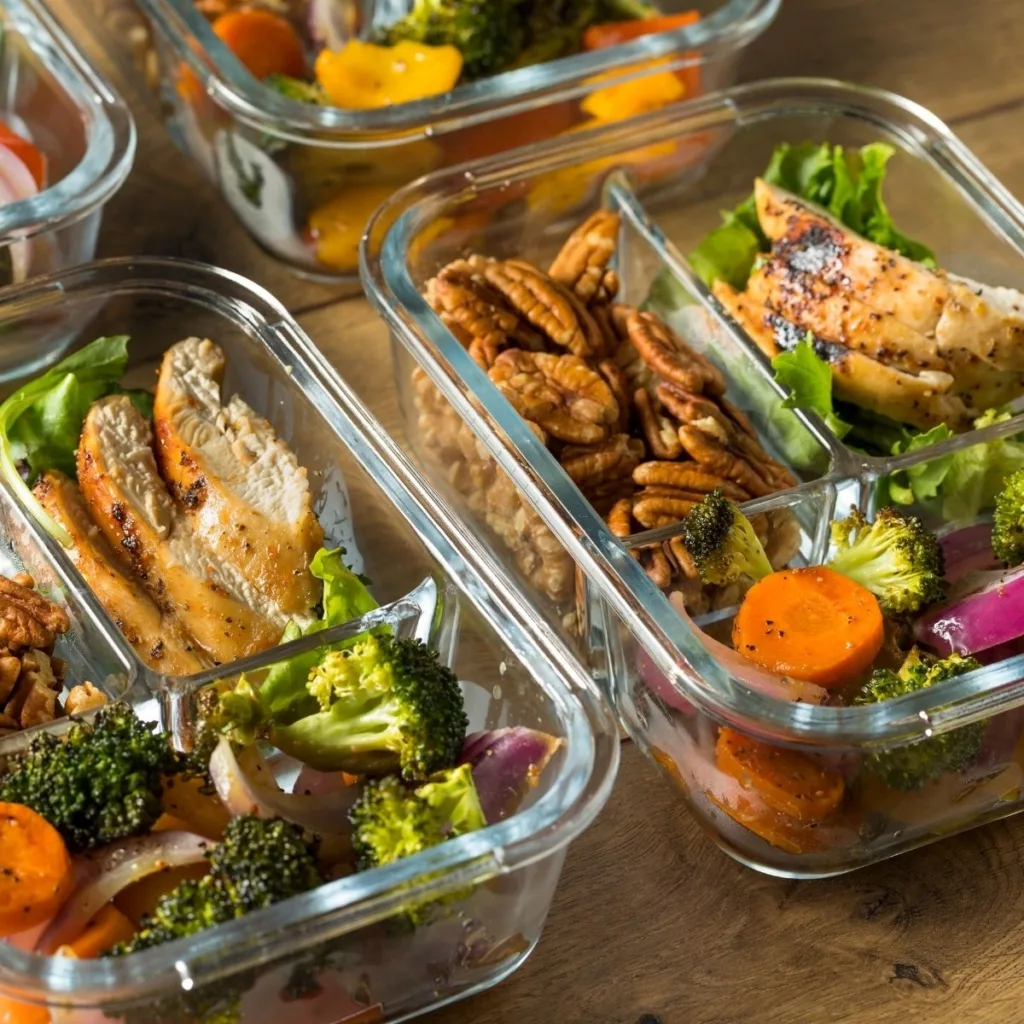 RELATED: How to Make Mornings Less Hectic
Lunches that reheat well
If you have access to a microwave, you can get some glass lunch containers (I'm always so iffy about plastic in the microwave, even if it says microwave-safe!) and simply reheat your dinner leftovers or your favorite meal prep recipes.
Some of our favorites that reheat well are:
Soups (pack some crackers or keep them at your desk!)
Dinner (the whole meat + potatoes + veggies dish! Just make extra portions and put the leftovers right into the lunch containers)
You can also get a really good thermos and simply heat up your food in the morning. It should stay night and hot until lunch time!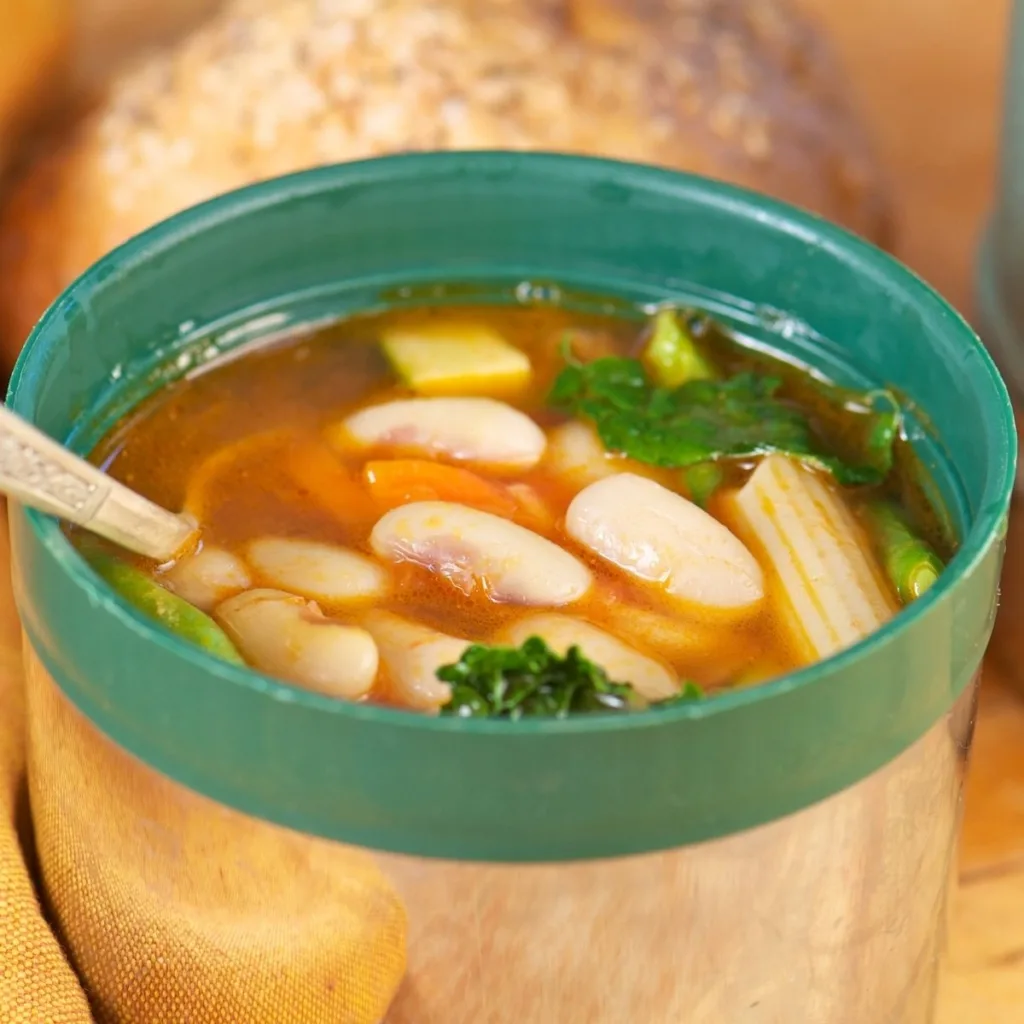 RELATED: Toddler Breakfast Ideas
Store-bought lunches that can be heated up in the microwave
If you are not feeling like a lunch-packing ninja every day, that's OK! There are so many great store-bought options for ready-made lunches that are both cheaper than getting takeout for lunch AND much faster, since all you have to do is warm them up and eat.
Canned soup has come a LONG way since 20-30 years ago. Heck, it's not even in cans anymore, but sold in microwaveable containers! And there is so much more variety nowadays in healthy, microwaveable lunch entrees.
This is a perfect solution if you don't have time to go out for lunch at work, or if your child is in a daycare or school where they are able to heat up their food.
Here are a few options that don't need to be kept frozen before heating:
RELATED: Back to School Hacks for Busy Moms
Snacks
Snacks are life, right?? Whether you're supplementing your lunch or bringing a 3pm pick-me-up snack, here are a few "healthier" ideas that will (hopefully) stop you from going to the vending machine:
Fruit – sliced or whole apples, bananas, grapes (cut in half if for preschool), strawberries, and Cuties clementines are a favorite!
Fruit cup
Applesauce
Muffins (here are a ton of muffin ideas)
Nuts (if allowed in the work place or school)
Dried fruit
Trail mix
Banana chips or apple chips (try these cinnamon apple chips, they are my FAVORITE)
Roasted chickpeas (I absolutely LOVE all the flavors from Good Bean, and they're pretty low in sodium as far as packaged snacks go)
Hummus with veggies
Yogurt
Cheese sticks or baby bel cheese
Rice cakes (there are organic brown rice ones!!)
Meat sticks and Slim Jims – there are a ton of healthier options nowadays!
Bonus Lunch Idea
This might seem like another cop-out, but have you tried putting your favorite sandwich ingredients into panini bread, pressed pita bread, or grilling/pressing your favorite sandwich??
I know, I know, it's still a sandwich, but something about a pressed/grilled sandwich tastes SO MUCH BETTER than a dry, cold sandwich. Even if you can't reheat it the next day, a pre-grilled or pre-pressed sandwich is worlds above a regular sandwich. Give it a try!!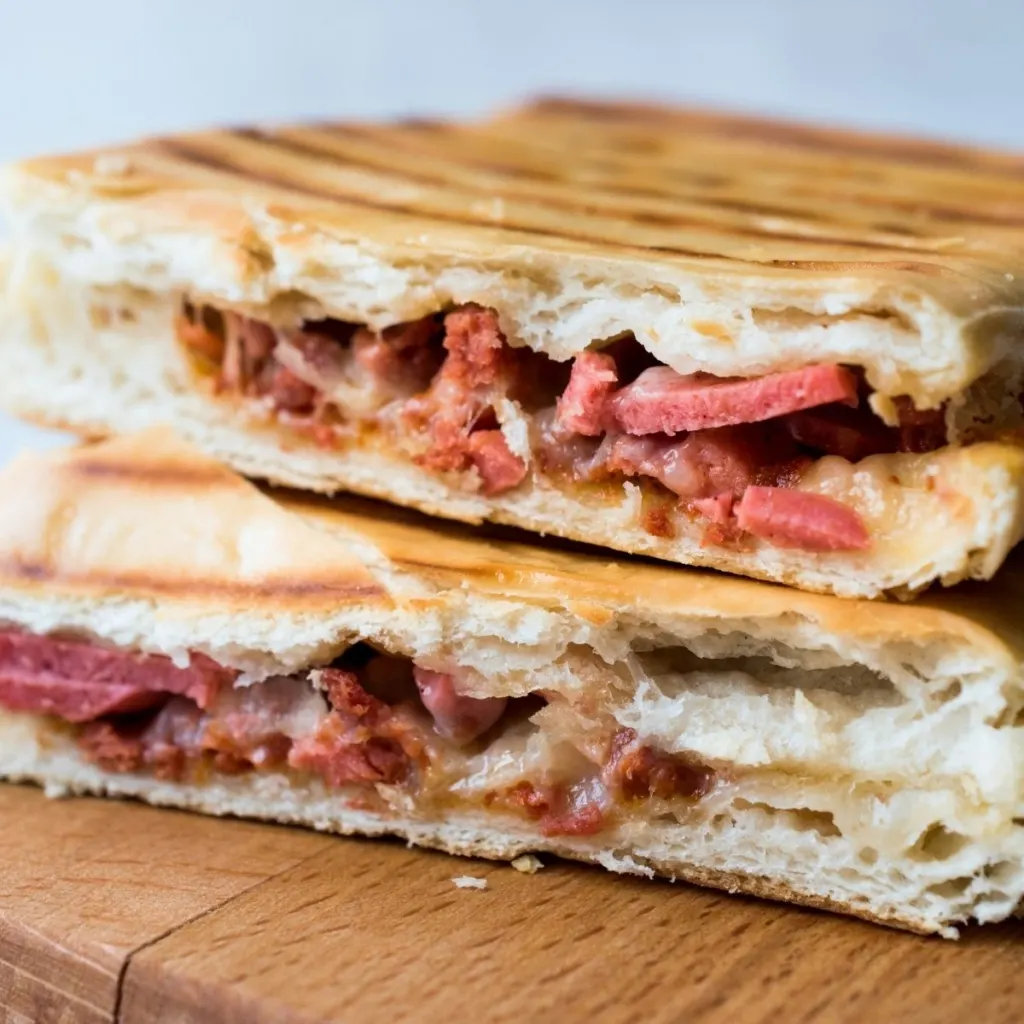 I hope you found something you like on this list! And I hope that planning and packing lunches becomes less stressful with time.
If you thought this list was helpful, please SHARE it with a friend who might want to see it, and save it for later on Pinterest!