This shop has been compensated by Inmar Intelligence and its advertiser. All opinions are mine alone. #SeasonofMinis
It's finally Fall Y'all!
There is nothing like the crisp weather, comfy blankets, and yummy treats that Fall ushers in. This adorable Mummy crumb cake is an easy Halloween snack idea that is kid-friendly to make, moist and delicious to eat, and fun to have around for any of your fall celebrations!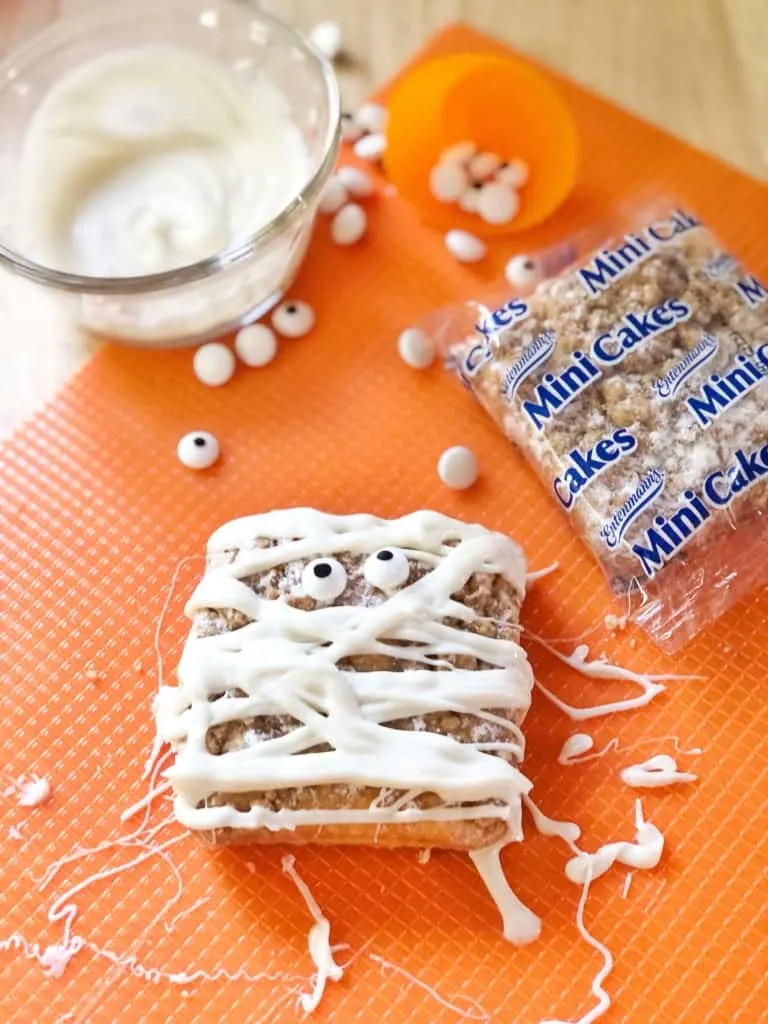 And be sure to scroll down to see the other fun Halloween characters you can make too to go along with these cute mini mummies.
Fun Fall Family Snack
We love a good snack idea, and anytime we can find one that the whole family is asking for, we know we have a winner!
What makes these Mini Mummy Cakes even better, is that you can put them together in less than 5 minutes, even if the kids decide to help!
It's a great way to get them involved, whether it is for some quality family time or making treats for a socially distant Halloween party. Plus it gives kids something exciting to do to when Halloween feels a bit different this year.
Make the snack decorating a fun afternoon activity and print out these cute Halloween coloring sheets as well for a spooky time!
Mummy Crumb Cake Ingredients
This is a super simple fall snack that can be easily prepared whenever the craving hits.
To make this snack/dessert, you will need: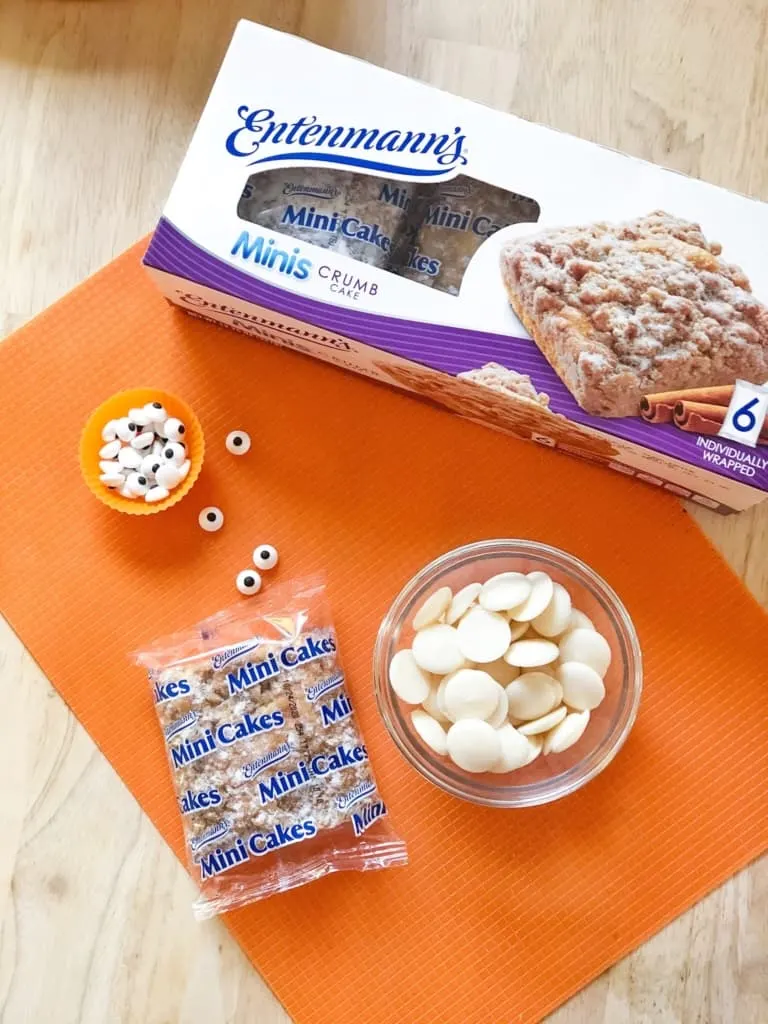 Entenmann's® Minis Crumb Cake 6ct

Right now earn $.50 on Entenmann's® Minis products on Ibotta, click here for the offer.

White or Cream Candy Melts (1 package)
Candy Eyeballs (sold in the baking aisle)
These Entenmann's® Minis Crumb Cake portions are perfect for this snack since they are individually packaged and you can make exactly how many you want or need.
The individual packs make it so easy to enjoy favorite classics like Entenmann's® Crumb Cake anytime in the ideal sized portion, even on the go. The packaging keeps them moist and delicious until you are ready to break into it, and it is something that the entire family will enjoy.
They are perfect for grabbing as you head out the door with your coffee, or as a snack after school. Any of the different varieties in the Entenmann's® Minis line (available nationwide) make for a tasty snack break!
We love the Entenmann's® Minis Crumb Cake for this fall treat as a spinoff of other mummy snacks, because the Entenmann's® Minis are the perfect size and shape, plus the crumb topping makes a cute layer under the icing.
How to make this Mummy Halloween Snack Idea
You can make these by following just a few simple steps:
Step One: Unwrap the individually portioned Entenmann's® Minis Crumb Cakes. Set on a plate, cutting board, or another clean surface.
Step Two: Place half of the candy melts into a microwave-safe bowl and follow the direction to melt the candy until smooth.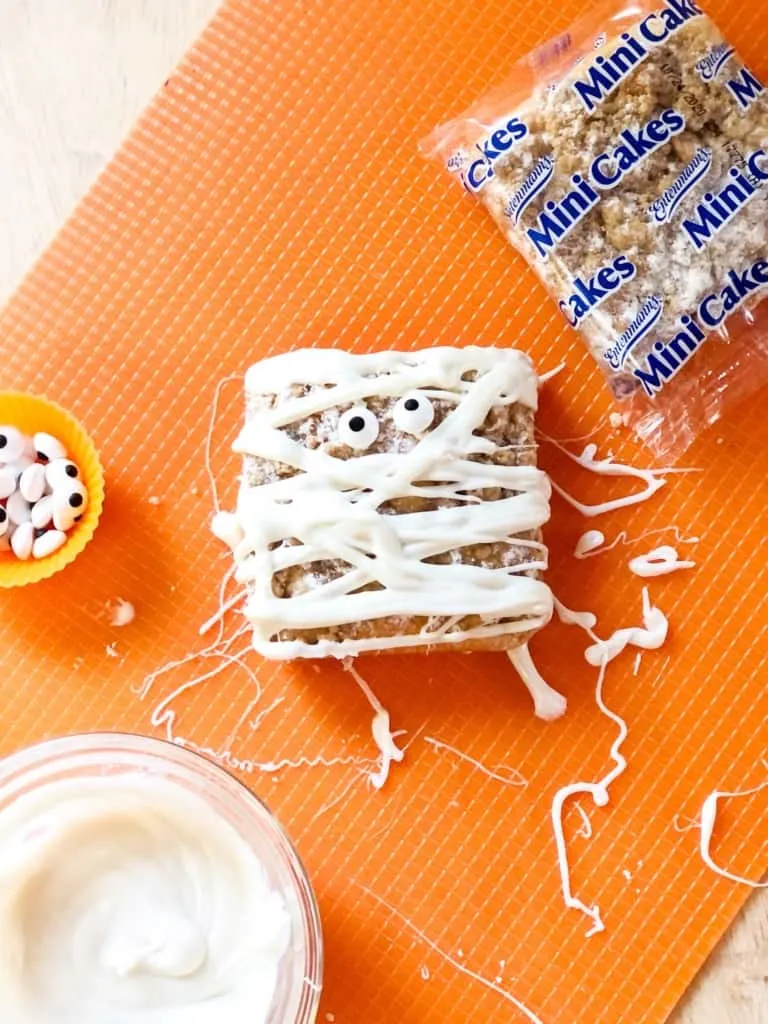 Step Three: Put a small dot of melted candy on the back of each of the candy eyeballs. Press down gently in place. Once the candy cools it will harden, securing the candy eyes.
Step Four: It's time to create the mummy's wraps! If you have a piping bag, add the heated candy melts and create thick random lines across the body of the mummy.
No piping bag? No problem! Just spoon the melted candy into a gallon-size plastic bag, and snip off a small section of the bottom corner of the bag. Twist to push the candy melts out through the edge of the bag, either just as it is or sticking an icing tip on it.
You can also use a spoon to drizzle the lines on the cake, which is a great option if the kids are helping.
This is one treat where it is ok to have uneven lines, it makes each one unique!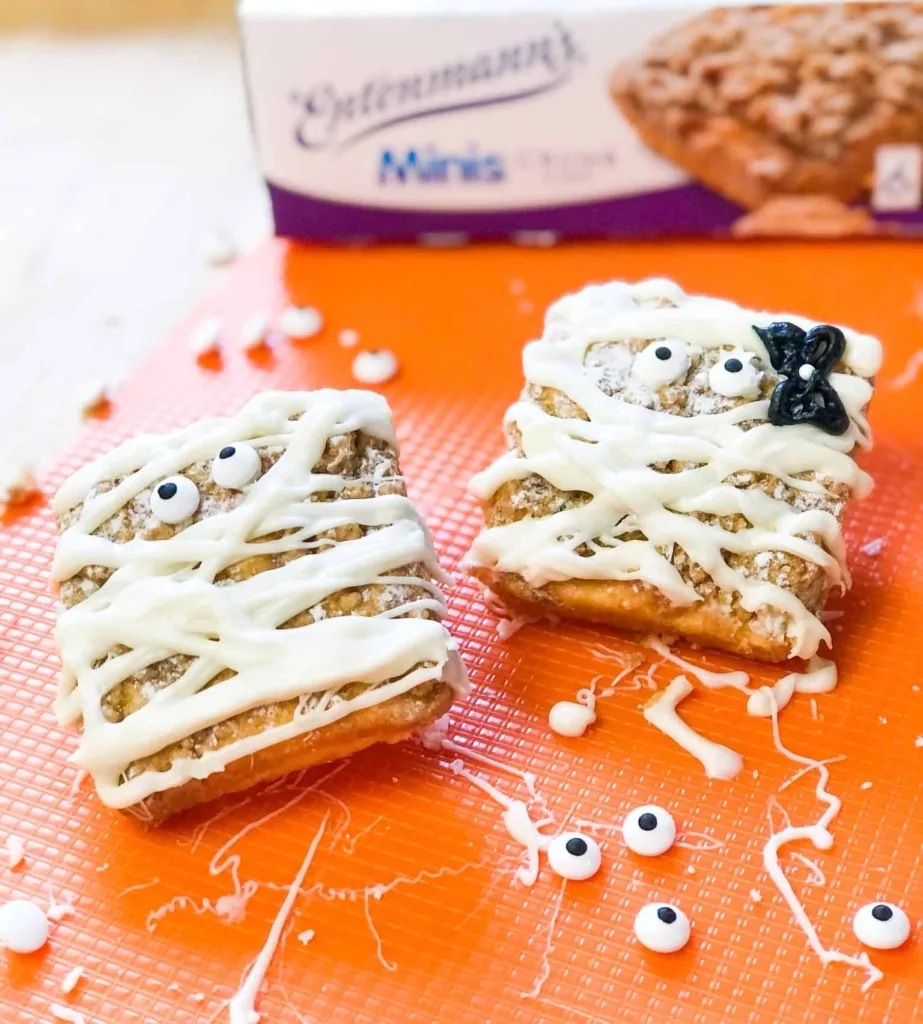 We used some decorating icing and pearl sprinkles we had at home to add a little flair to the girl mummy, but you and the kids can get creative with how they dress up their treats!
These can be enjoyed right away or prepped ahead of time for a Halloween family fun night or party. Find more creative ideas using Entenman's® Minis snack cakes here.
While picking up a box of the Entenmann's® Minis Crumb Cake at Walmart, be sure to grab the Entenmann's® Minis Pound Cake 6ct as well for another adorable Halloween snack idea—I found both on an end cap display near the snacks aisle. Click the image above to add these products right to your Walmart online grocery cart.
Right now earn $.50 on Entenmann's® Minis products on Ibotta, click here for the offer.

Cute Decorated Halloween Treats made with Pound Cake
Here are some spooky characters we made into fun mini Halloween cakes using the individually wrapped packages of Entenmann's® Minis Pound Cakes as well!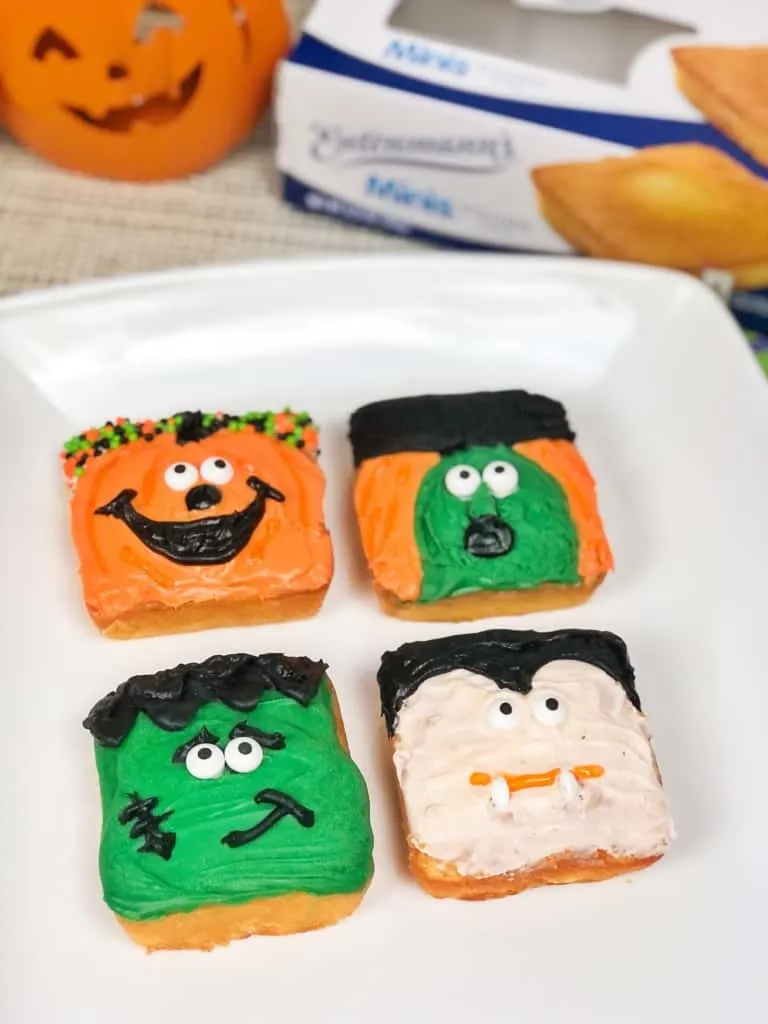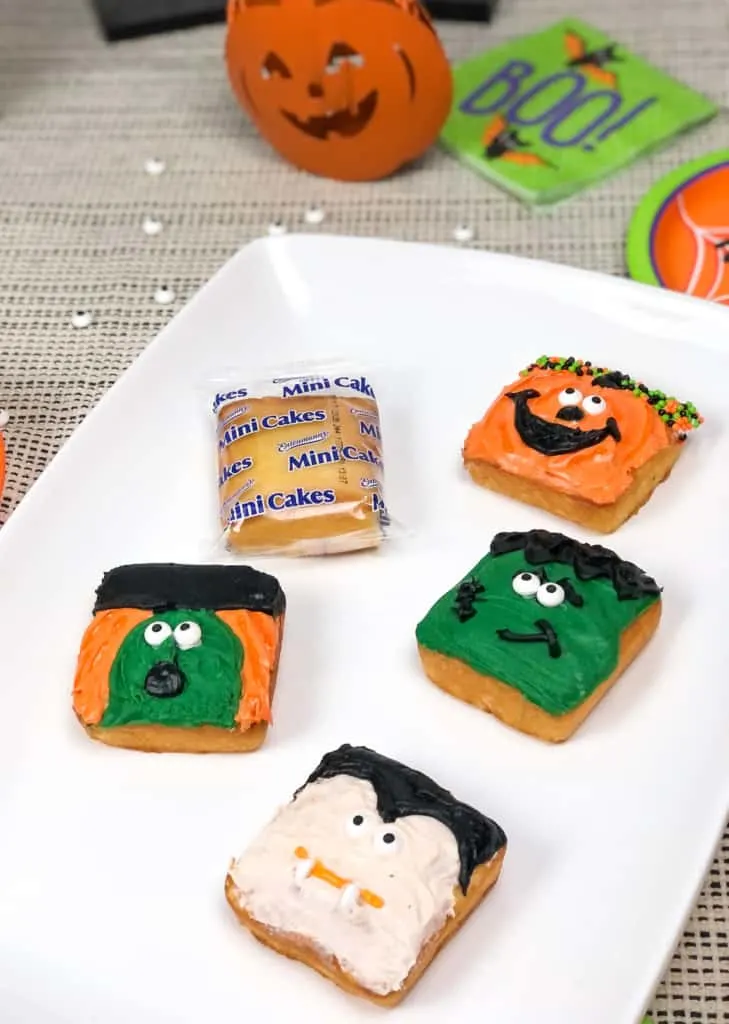 For this group of spooky snacks, we used a mix of green candy melts and candy eyeballs, as well as regular frosting (and food coloring to get the other different colors, as well as decorating icing, and sprinkles.
The Entenmann's® Minis Pound Cake squares are perfect for decorating, and you could do any character or fall-themed design on them as well. Try making colored leaves, turkeys, and pumpkin pies for a festive fall snack or even as a Thanksgiving dessert.
The mummies and other friends, make a great spread for whatever socially distant Halloween activity or costume party you are taking part in this year, resulting in high-quality treats that come together in a flash.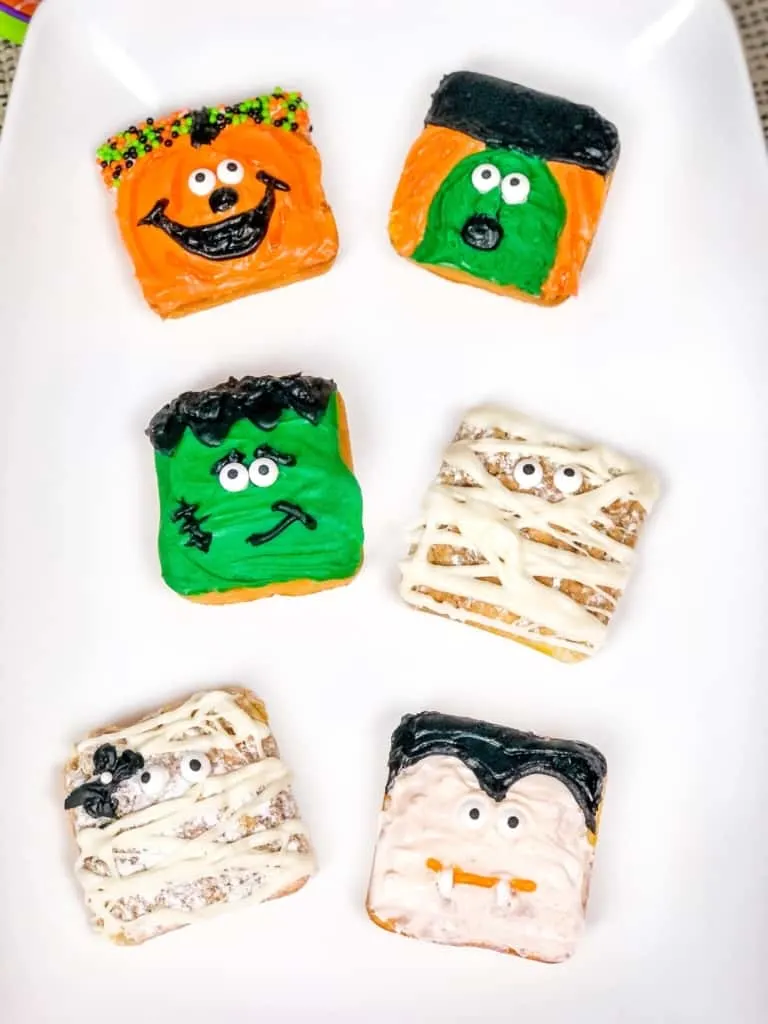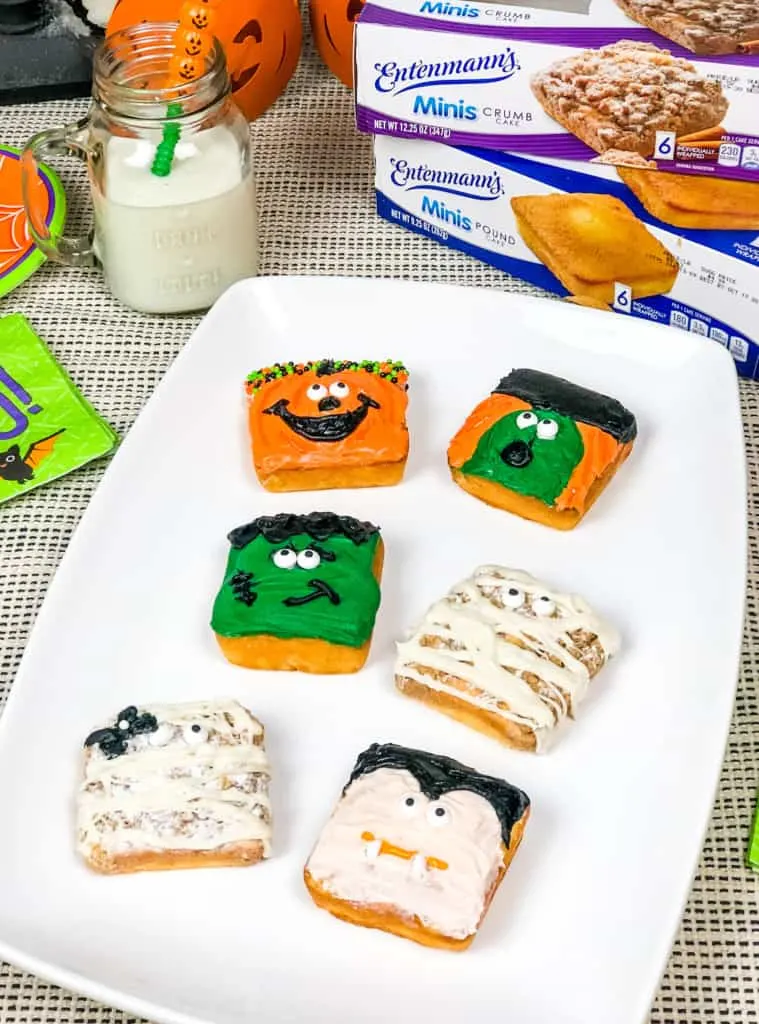 The Entenmann's® Minis would also be perfect for a kid's decorating activity any time of year—that is if your family can hold off eating them before it is time!
Other Posts you'll Love