This post is sponsored by Inmar Intelligence and its advertiser Church & Dwight Co, Inc. All opinions are mine alone. #MaxForceStainsOut #MyOxiClean
I've put together a great list of easy Christmas arts and crafts that would be fun to make all season long, and I'm also including the materials you need to make both crafting—and cleanup—much easier!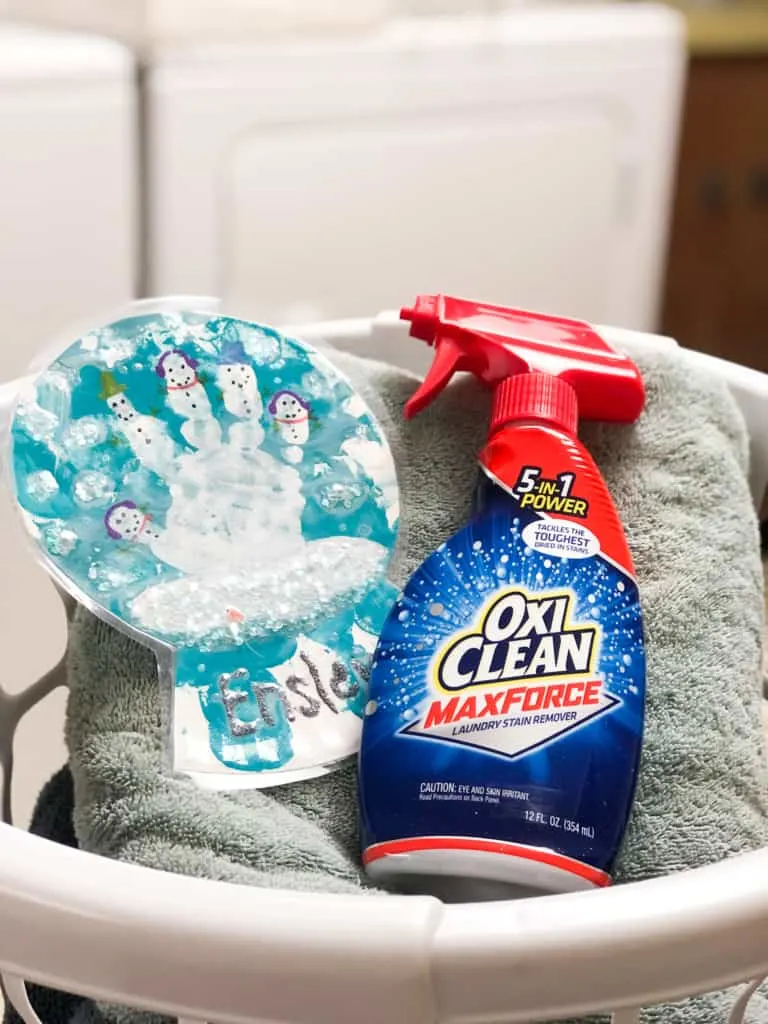 Christmas crafts are not just a way to give your kids something to do to pass the time with during the holidays while exploring their creativity.
They can be a seasonal staple, a great way to spend special time with your children or to start new traditions, and they give you the opportunity as a parent, teacher or caregiver to teach all about the holiday season and giving in a personal, homemade way.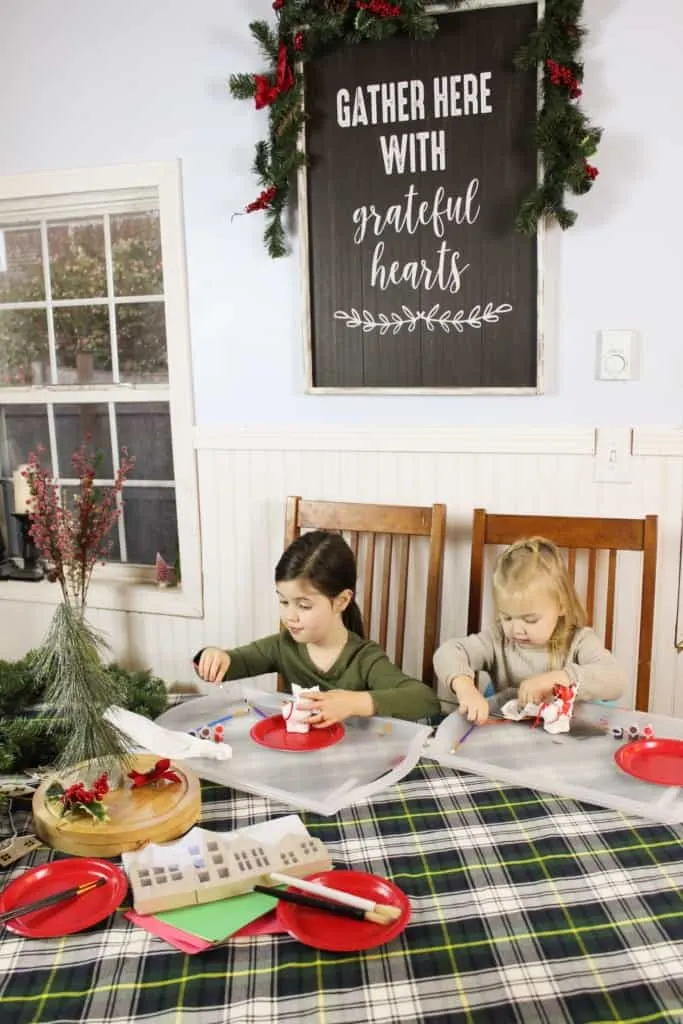 After all, homemade decorations and gifts that come from the heart and hand can often be more meaningful than gifts bought at a store!
These are just a few simple holiday craft projects you can do as a family—the options are endless!
I am happy to partner with OxiClean™ Max Force™ Spray for this post because if there is one thing I know, it's that holiday messes and stains happen—no matter what precautions you take in the setup!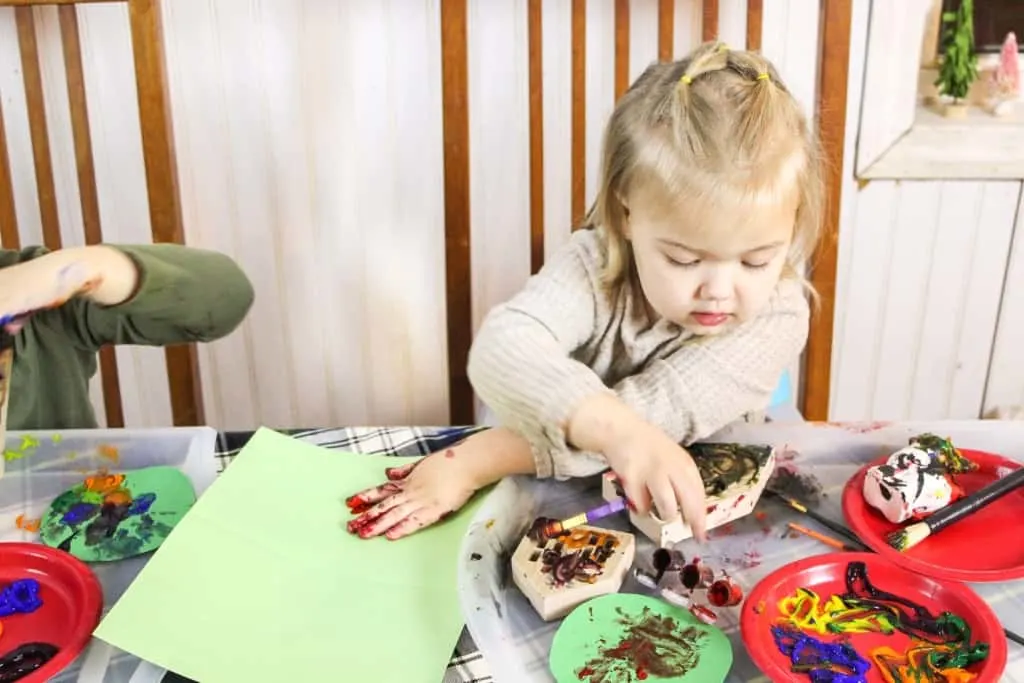 In fact, one of the things that can make crafting with kids less stressful (because it definitely can be) is having an arsenal of things that you can trust to protect your home during the making session, and get rid of stains after the fact!
Holiday Crafting Essentials
There are two categories of things to have on hand for successful crafting: Craft Supplies and Prep/Cleanup Supplies.
Favorite Craft Supplies:
markers,
crayons,
paint,
glitter,
cotton balls,
pipe cleaners,
foil,
construction paper,
scissors,
holiday sparkly confetti,
q-tips,
painted rice or noodles,
pom poms
tissue paper squares
stamp/stamp pad
You can really use anything you have on hand! When you are putting out your holiday decorations, try giving them pieces of wreaths or floral stems that fall off arrangements to add to their designs, or let them go hunting for leaves and acorns to add to the natural look of their art.
Also keep an eye out for simple crafts in the dollar section or clearance bins, they are fun to decorate as well—though the paint that comes with them are often not as washable as regular kids paint!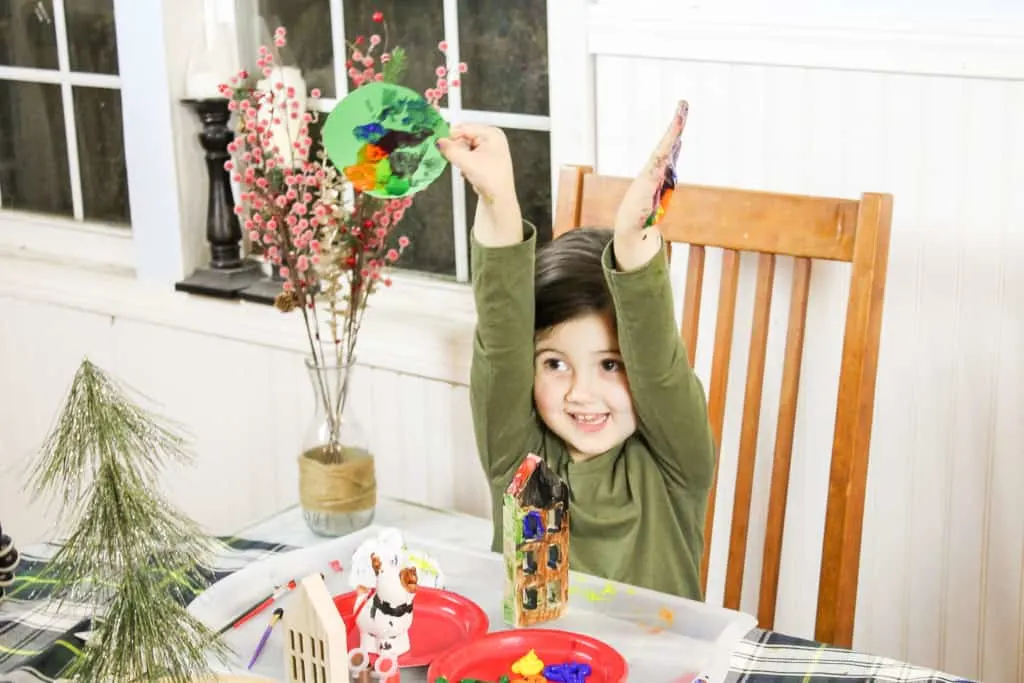 Favorite Prep/Cleaning Supplies:
Wipeable tablecloth (such as the cheap after holiday sale ones), shower curtains from a discount store, or plastic/acrylic art trays to keep tables a bit cleaner and easy to clean up.
Paper towels and baby wipes for cleaning up sticky fingers and spilled paint.
Disposable tablecloth or plastic sheeting for large messy art that can be rolled up with all the scraps and tossed.
OxiClean™ Max Force™ Spray—for tackling the toughest dried-in stains!
Stains are basically a given with kids around, but especially when it comes to arts and crafts! While there is plenty you can do to try to prevent them in the first place, it's important to have a good stain remover on hand.
Not only will OxiClean™ Max Force™ Spray get stains out the first time, thanks to a combination of 5 types of stain fighters, but is quick and easy to use. In fact, one of the best parts is that you spray it on a stain, and then wash it with laundry detergent, but you can let it sit for UP TO 7 DAYS!
As a mom who is constantly putting things aside with plans of doing a load of laundry later—which never seems to come—I really appreciate that aspect!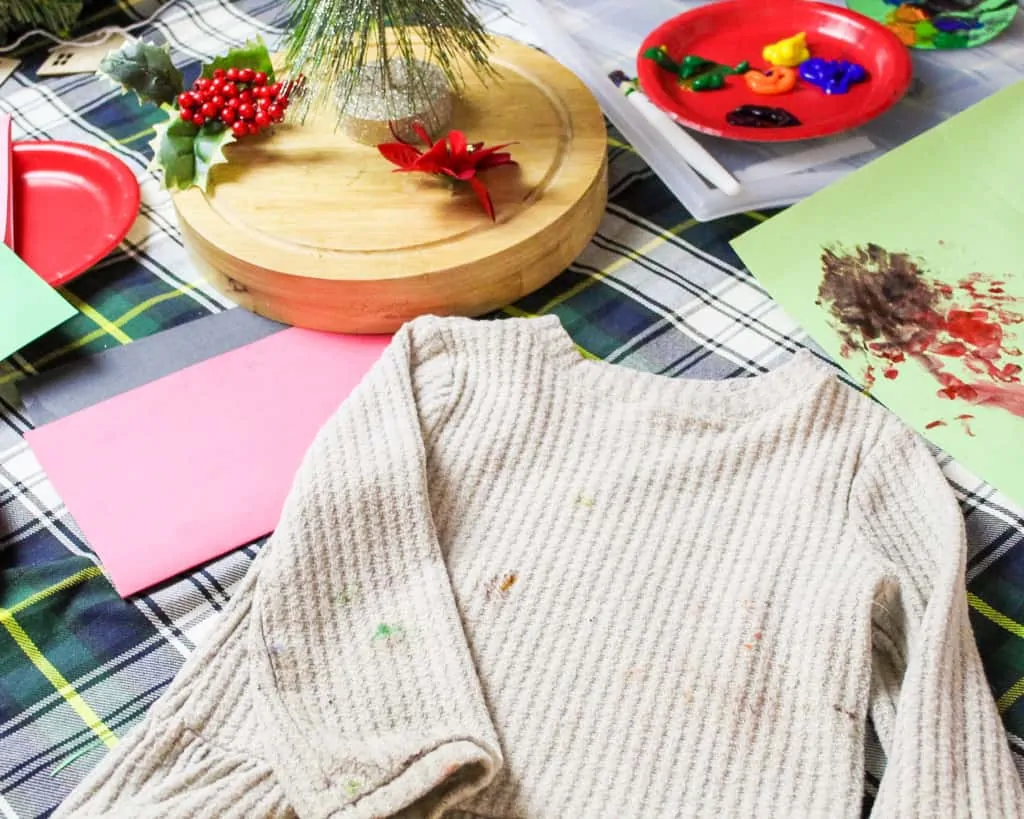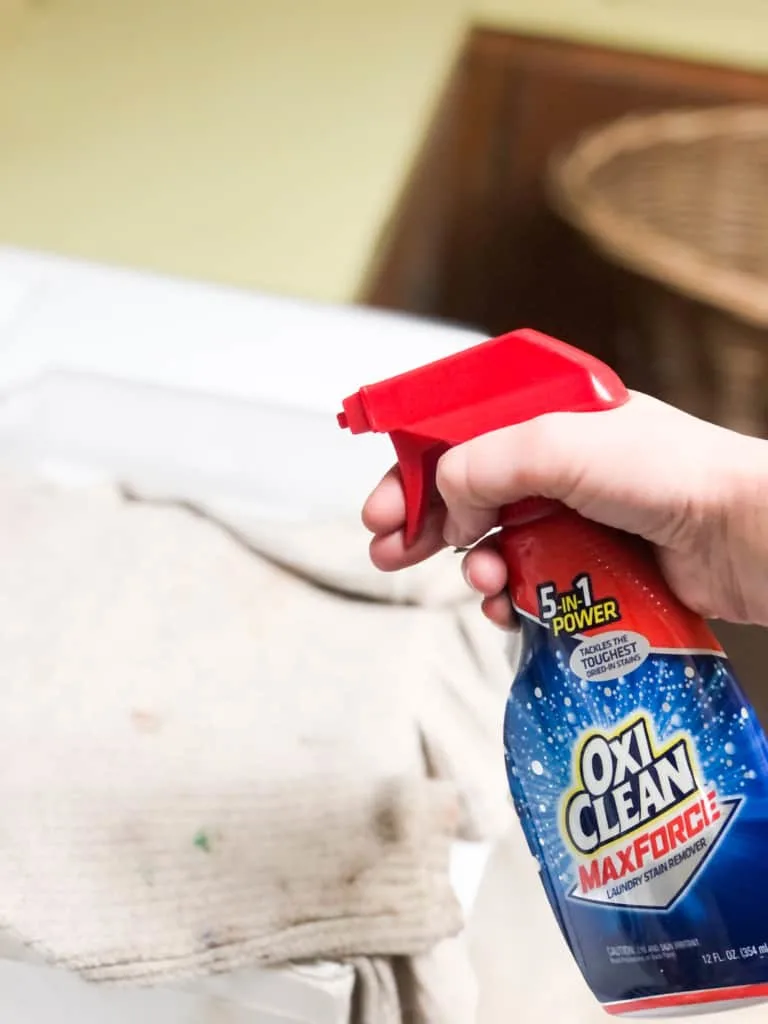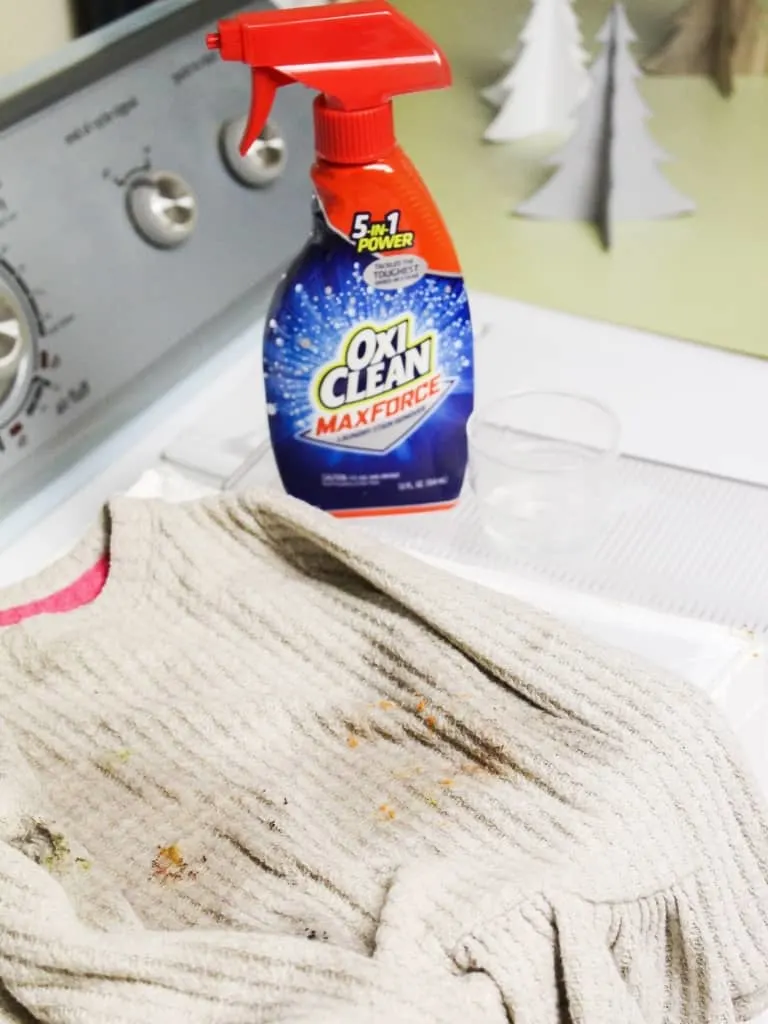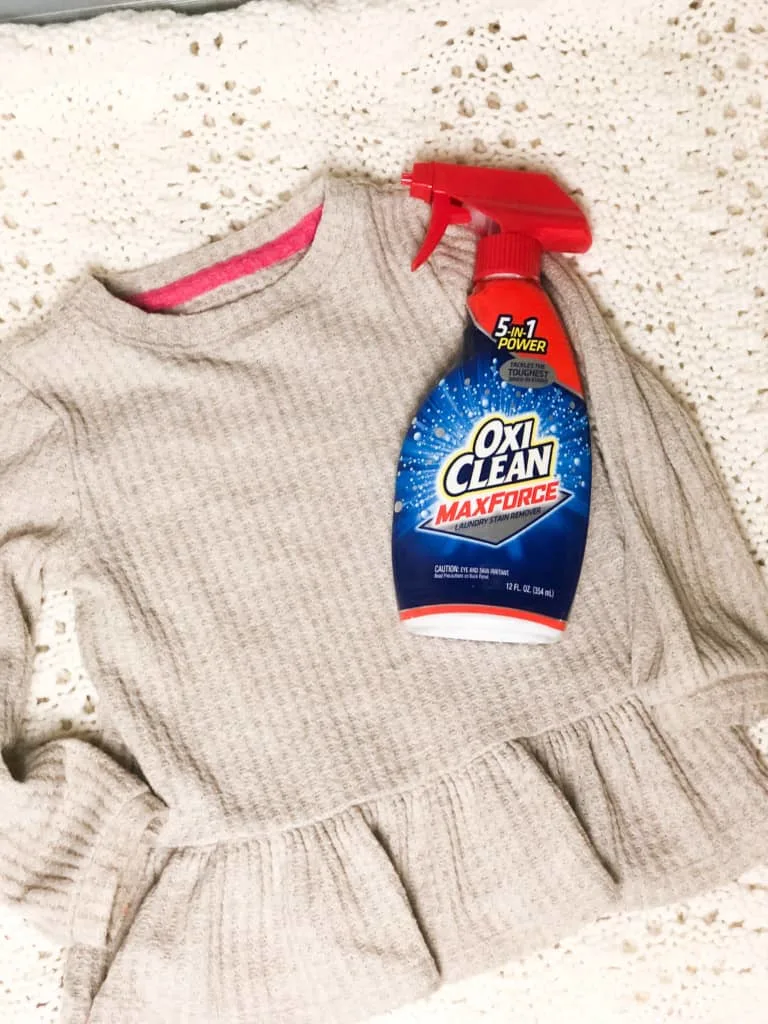 Grab some on your next trip to Target (or order online like I did) when you pick up your holiday decorations and craft supplies!

Click on this photo to add it right to your cart!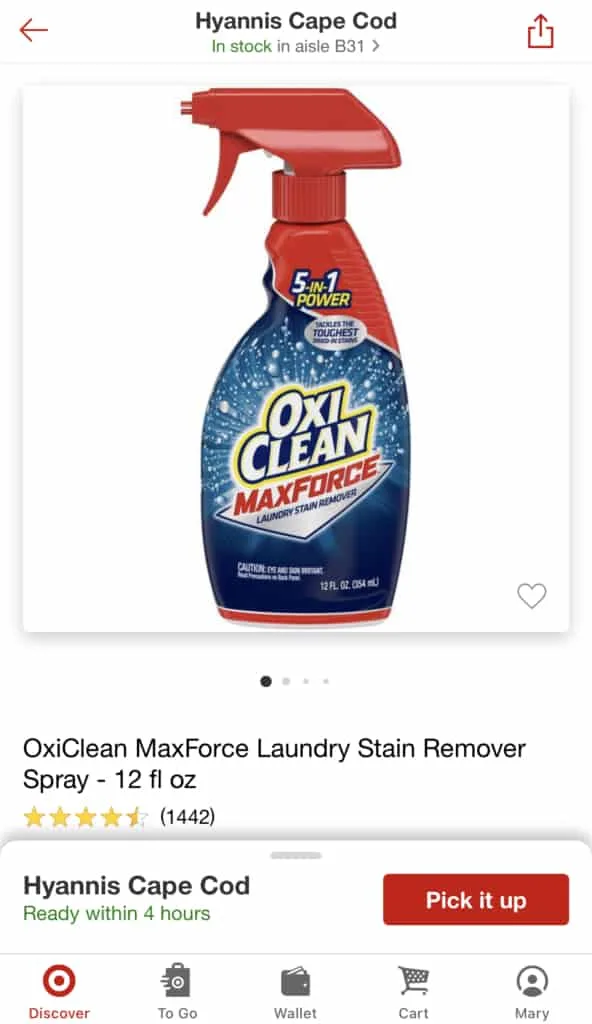 Okay, now that we have the essentials taken care of, here are a few simple yet fun activities you can do with your kids to make quality holiday memories and decorate while you are at it!
Easy Christmas Arts and Crafts Ideas
Here are some of go-to arts and crafts activities for the holiday season. Use them to decorate around the house, make gifts for others, or just to fill up some time before bed!
Winter Scene
This fun, engaging activity can occupy a child's time for quite a while if given lots of materials and creativity. This craft requires a white poster board and the rest is up to you on what you wish to provide your child.
With the supplies out for easy use, lay out the poster board and tell your child to think up of a fun wintery scene to create.
A snowman in the snow with Christmas trees is one that lots of kids have loved before. They get to choose what materials they want to use and design their very own canvas art on the poster.
Q-tips are great with white paint to dab snow flakes. Cotton is great for a 3 dimensional snowman, foil is great for stars are ornaments on Christmas trees (and can be colored with marker), black beans and painted rice or noodles are great to texturize the snowman (coal, scarf, arms).
Construction paper is good for the moon or Christmas trees. The great thing is, this activity gives your child boundless room for creativity.
Be sure to display their artwork proudly when they are finished so family and friends can see.

Kids Christmas Ornaments
Using this Craft Clay Recipe, let your child mold her ornament as desired. Some simple DIY Christmas ornament ideas are below.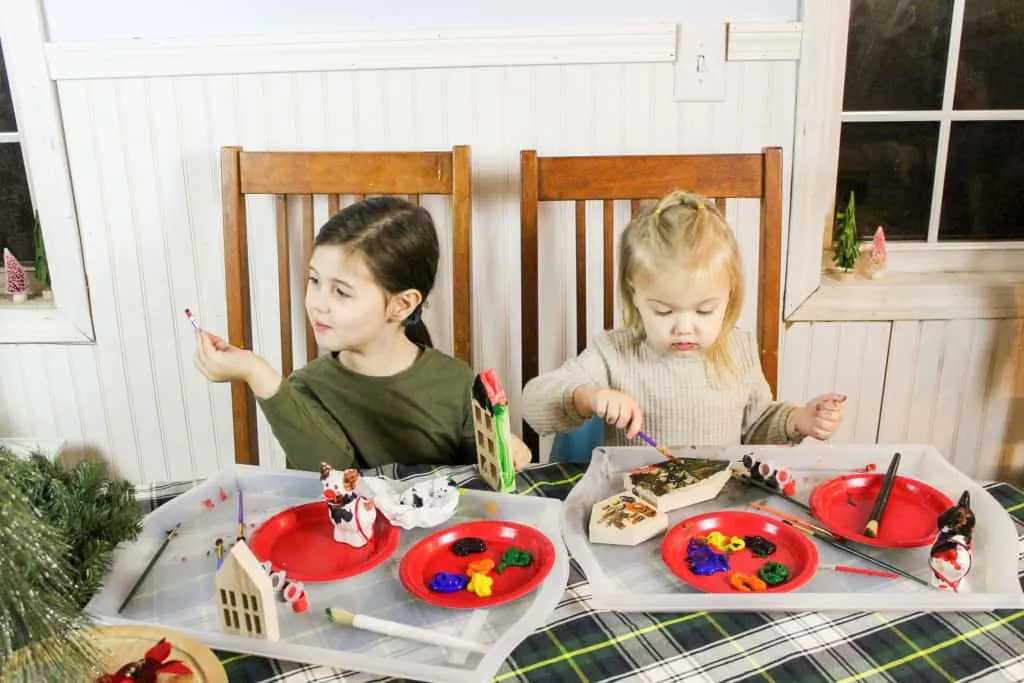 Traditional Hand Print
Let your child decide a shape for her ornament. An oval works good, but Christmas shapes can work too. Make sure it is molded to be big enough for a hand impression.
Once it's molded, have her imprint her hand and stick a pencil all the way through the top to make a hole for the ribbon to hang it when it's dried.
After it dries, your child can paint it and run a ribbon through to hang on the tree.

Christmas Shapes Ornament
Using cookie cutters, rubber stamps or creative hands, press the clay into a Christmas shape. Have a pencil on hand to poke a hole through the top to string the ribbon through.
After it dries, your child can paint, add glitter, sequins, or other small decorations, string the ribbon through, and her masterpiece is created!
Remember to date the back for treasured Christmas memorabilia.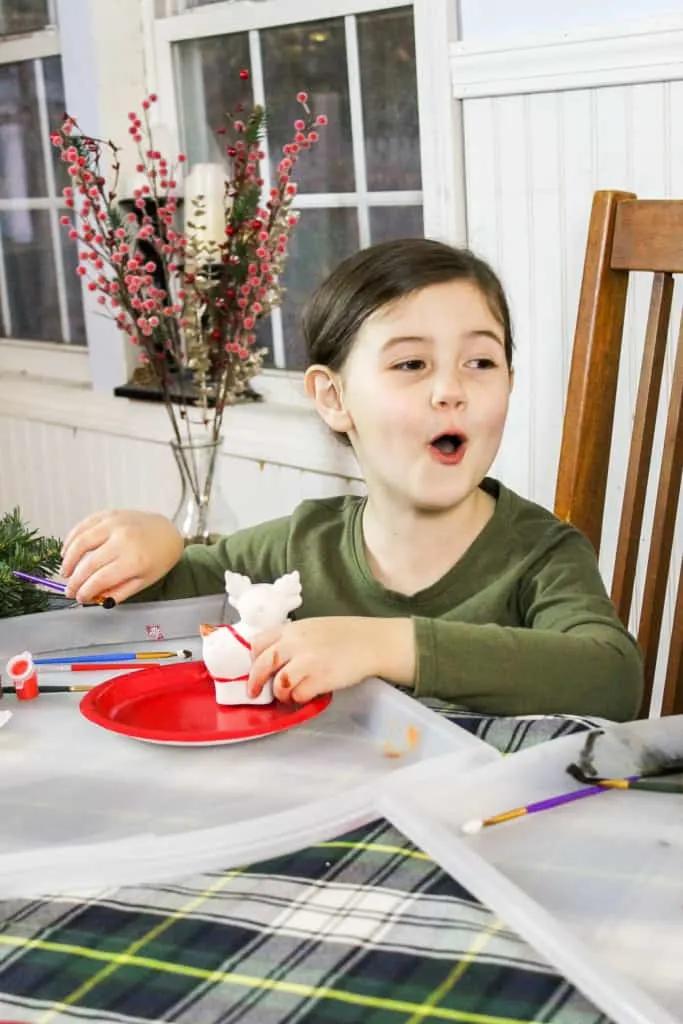 Realistic Gingerbread Man
This craft is a great sensory exploration activity for younger kids, but still entertaining for older kids. Have some shaving cream, ginger, cinnamon and brown paint on hand along with a gingerbread man pattern.

Make sure to use sturdy paper for the pattern, poster board or paper plates are recommended. After cutting out the pattern, mix equal parts of shaving cream with the brown paint (something the child can do) and let them finger paint the gingerbread man.
Encourage them to use as much as they want for a 3-dimensional effect.
Once it is complete, let your child sprinkle the spices and, if desired, add small touches like buttons for the eyes and curled ribbon for the mouth.
Once it's dry, you can add string to hang on the tree or display it somewhere else in the house.
Not only does it look pretty, it smells great too!
Other festive craft ideas for your child include:
Make their very own Snow Globe (using mason jars, clear plastic ornaments, or even just Tupperware;
Dipping their hands in paint and making handprint wreaths using a cardboard ring;
Creating popscile stick reindeer or star ornaments; and
Creating a DIY nativity by painting peg dolls to represent the different individuals and animals at the First Nativity.
Crafts and art are great for kids of all ages to participate in. They encourage fine motor skills, sensory exploration, thinking skills, and best of all, create opportunities for parent/child bonding through creativity and artistic expression.
Crafting with kids can seem overwhelming sometimes—especially if you are trying to capture the holiday spirit by doing lots of activities.
Being prepared with a variety of craft supplies and prep/cleanup supplies like OxiClean™ Max Force™ Spray will make it easier to relax and enjoy the process—and not freak out as much about the mess!