We've got the best inspiration and advice to make Christmas with a new baby fun and stress-free! Try these 9 tips to celebrate baby's first Christmas!
A baby's first Christmas holiday celebration is a big deal for many parents, particularly if it's their first child. And rightly so! A baby is a joy to treasure, and Christmas is the perfect time to celebrate the beautiful gift of life and joy he/she has brought to your family.
We love everything about Christmas, and have gathered up some of the best ideas for celebrating your baby's first Christmas as a family in the list below and the other posts that are linked throughout.
1. Plan Ahead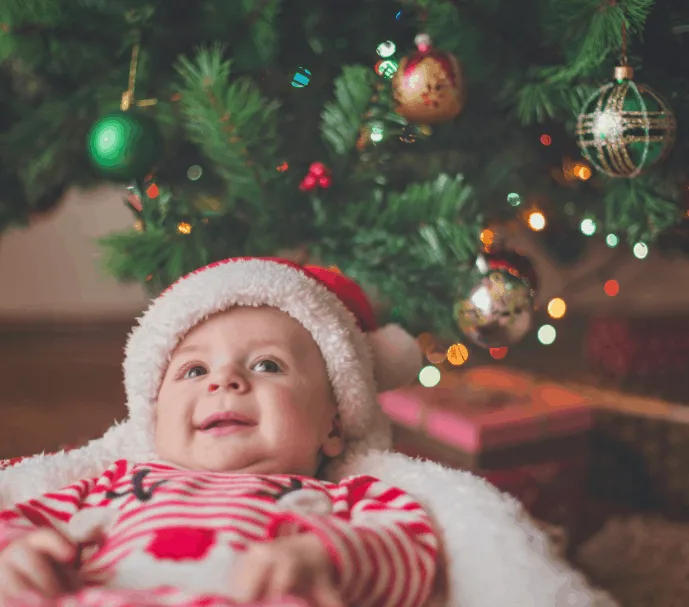 It all starts with a plan. What do you want your baby to experience? What do you want the whole family to remember about this day?
To make sure things go as smoothly as possible, try to have all the supplies you need well in advance. No one wants to run out of diapers and wipes in the middle of a Christmas celebration. Stock up on essentials for baby a week or so in advance so there are no last minute grocery store runs.
If you're traveling to spend the holiday with others, be sure to pack appropriately in advance as well. You can find all of our favorite baby gear, here, to help you get underway.
Remember to pack extra clothing and a well-stocked emergency kit. The more prepared you are, the better, because things will likely go wrong at some point with a new baby!
As part of your planning, you may decide to purchase some special gifts for baby. Here are some awesome gift ideas for a 0-1 year old. You can choose a sentimental gift for baby (even if it won't be used right away) or items that they will want, need, wear or read!
2. Take a Family Photoshoot
Whether it's a mini shoot with a photographer or a family selfie in pjs, plan to take a family picture each year, starting with baby's first Christmas.
This is a great way to keep a record as your family and children grow. It's easy for parents to get lost in some of the chaos of Christmas and forget about those special, magical moments. A Christmas photo shoot is a great way to remind us what's really important and to make sure there's at least one documented moment to look back on in the future.
Here are some adorable family Christmas picture ideas from Pinterest!
3. Make Christmas Crafts
Baby's tiny hands and feet are prefect for fun Christmas crafts. You can create DIY ornaments and other craft ideas for baby's first Christmas and beyond. You can even make this a family tradition where every family member creates a new ornament or craft for each new year.
Here are some great Christmas craft ideas from Pinterest:
4. Allow Others to Help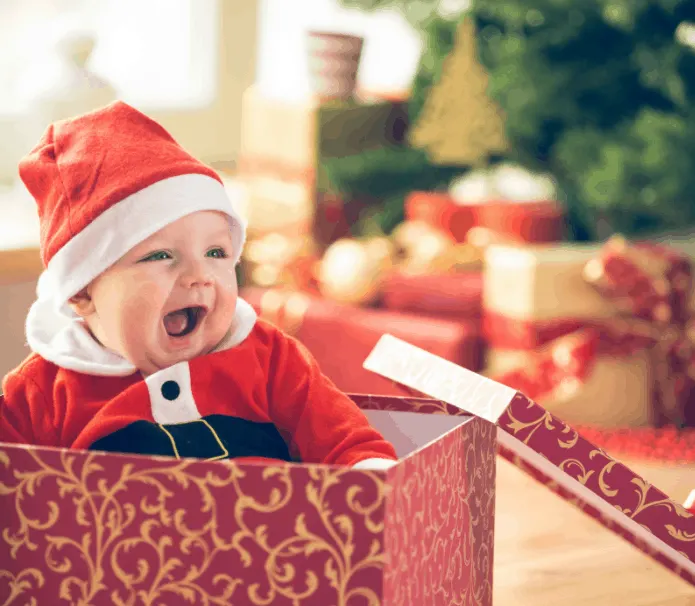 Don't try to do everything yourself. Lean on friends and family to help create those magical memories.
Christmas might feel a little different with a new baby in good ways and some less than great ways. This is a time to delegate duties to others so you can concentrate on what is important.
By allowing other family members to chip in, you will be able to focus on your baby and how to make the most of this special experience.
5. Take Baby to See Santa
Baby's first Christmas wouldn't be complete without a picture with Santa. Your baby won't remember it, but it's still a fun and easy outing to plan with your family. If you don't want to venture out to a mall or other community setting, you can have someone you know dress as Santa for pictures in your home or another fun location.
This year the Santa visit might not include sitting on his lap, but there's no doubt there will still be fun ways to capture that first visit.
6. Start a New Family Tradition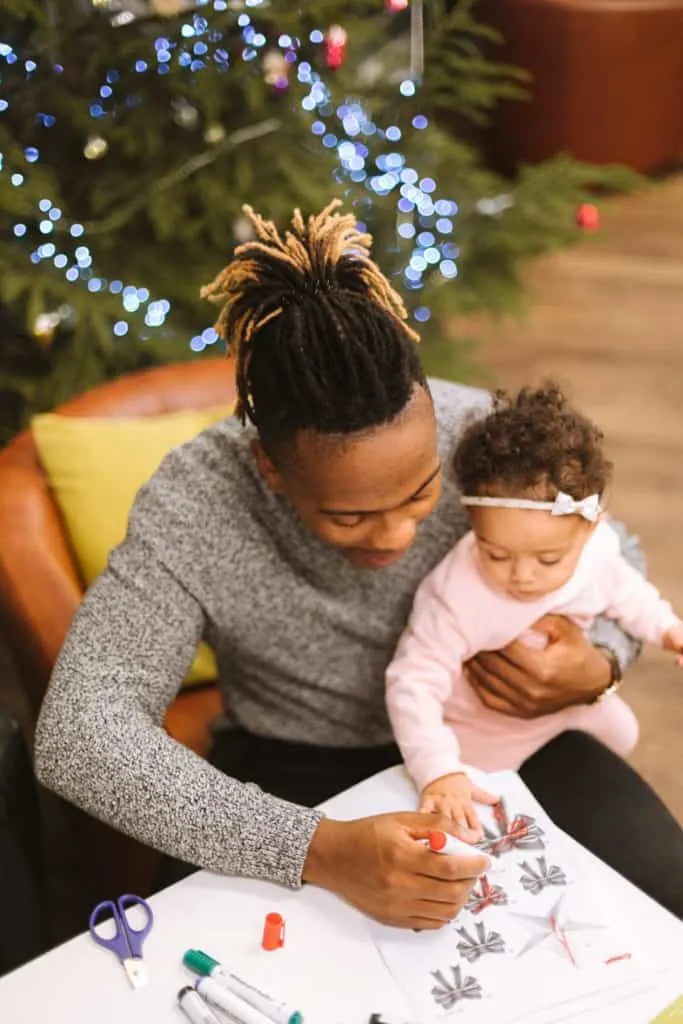 Most families enjoy at least one tradition they uphold every Christmas.
Find fun ways to incorporate your new baby into existing family Christmas traditions or come up with a new idea to start.
Here are some easy, Christmas Tradition ideas:
Make Christmas Cookies
Decorate a Gingerbread House
Create Christmas Ornaments
Try Fun Christmas Crafts
Go see the Christmas Lights
Watch a Nostalgic Christmas Movie
Reenact the Story of Christmas
You can also take this time to give back to your community through volunteer projects, helping the elderly or fulfilling the holiday wishlist of those less fortunate.
It could also be something as simple as coloring a picture together on Christmas Eve or wearing matching family pajamas.
Your baby might not be an active participant in each of these ideas, but they can still be a part of it, even if it's just to experience the sights and sounds of things around them.
8. Invite Your Friends and Family
Let there be joy as the baby celebrates their first holiday surrounded by friends and family members.
Christmas brings such cheer and provides a great opportunity to make memories with family and friends. With a break from work and more time to focus on each other, this is the perfect time to allow your loved ones to get to know your new baby.
If your family can't physically visit, you can still have a creative celebration—whether that be over Zoom, at a socially distanced outdoor event, or all heading for a drive down the best lit street in town for some Christmas lights hunting.
9. Don't Have too Many Expectations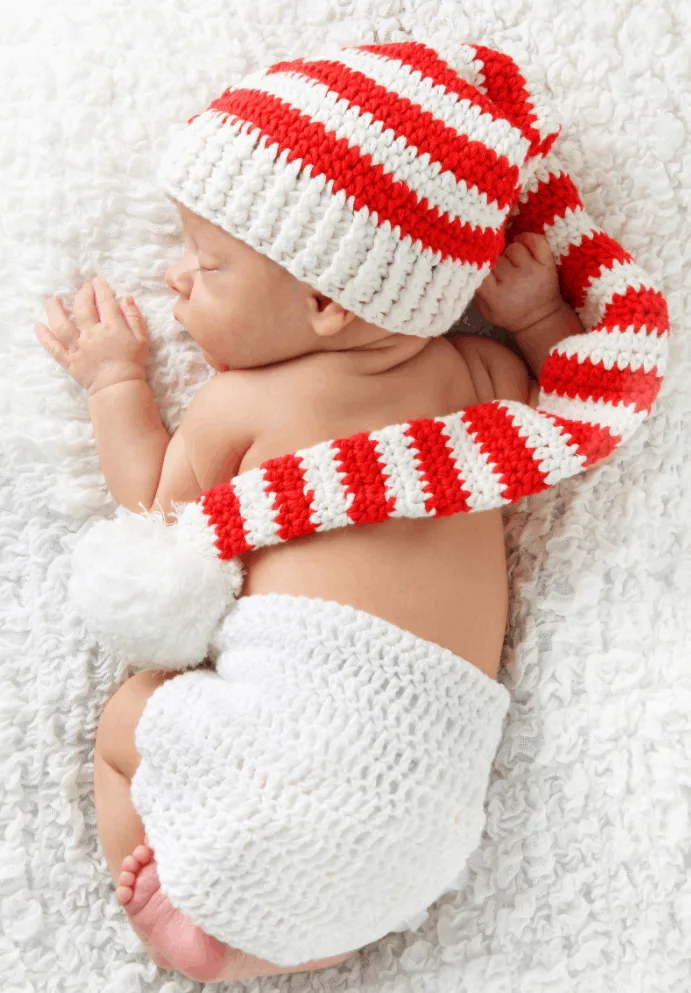 Try not to have too many expectations. Everything with a new baby is unpredictable. If things don't work perfectly, just laugh and let it go! Being a mom is not easy, so the added stress of planning and preparing is tough to take on. Sometimes it's good to keep things simple.
Even if you just bundle up and take a night walk around the neighborhood to let baby see the lights, that's a memorable, special experience that's free and an easy way to celebrate together.
Final Thoughts on Baby's First Christmas
We hope you have the BEST holiday season and enjoy making memories with your baby. Let us know how you plan to celebrate baby's first Christmas and which ideas are your favorite!
If you want more fun Christmas ideas, you'll love these:
The holiday season is filled with special ways to cherish baby's first Christmas. What will you decide to do?