This post was sponsored by Noggin as part of an Influencer Activation for Influence Central and all opinions expressed in my post are my own.

Can we talk for a second about how hard it is to be a working mom and to have your 4 year-old preschooler home with you??
Because it's hard. There's no such thing as work-life balance, and it feels like I'm juggling and spinning plates all at once. Except instead of plates and juggling balls, it's constant requests for snacks and the sweetest little voice saying "play with me, mama" and "mama, can you read me this book?" and "color with me" when I need to focus on emails and deadlines.
And the mom guilt is real.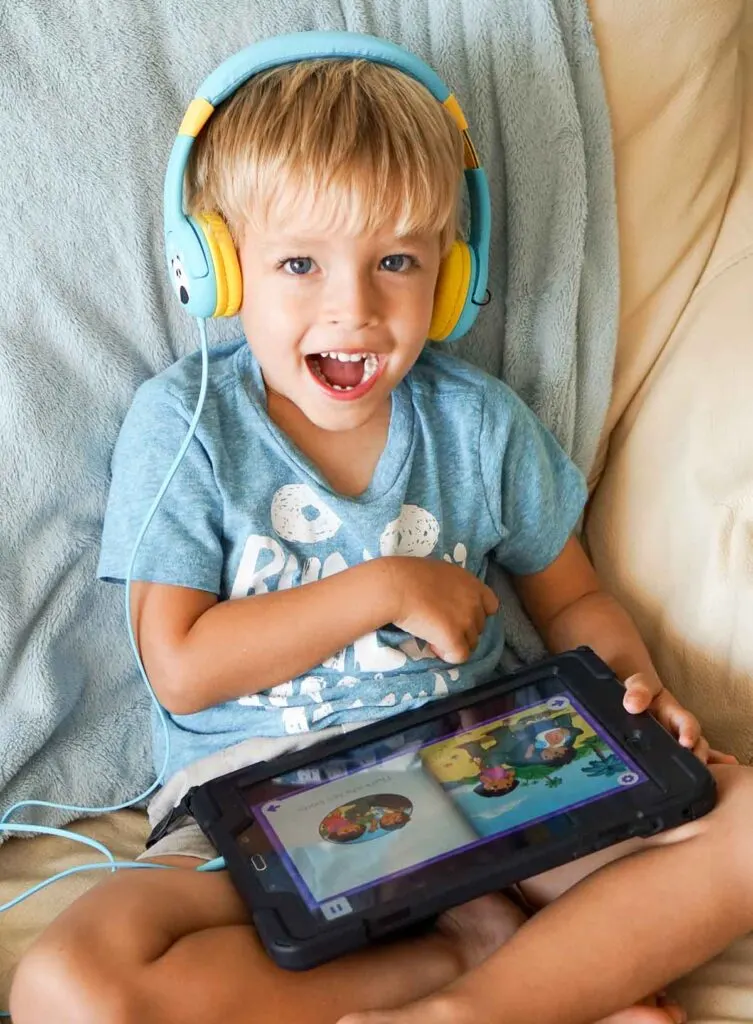 Finding Noggin
When I discovered Noggin, it was a life saver for me and such a great find for my son!
Noggin features preschool learning games, ebooks, and activities led by my son's favorite characters. We are huge fans of PAW Patrol, Dora the Explorer, Santiago of the Seas, and monster trucks of all kinds over here, so any activity that has those characters is always a win for us.
I love the variety of read-along eBooks and interactive games and physical activities that my son can do with Noggin – so much better than other platforms where kids just zone out and don't learn much.
Try Noggin with their extended 60-day Free Trial! The extended 60-day trial is available if you sign up by 06/30/2021. Give it a try over the summer and you'll see why I am such a huge fan!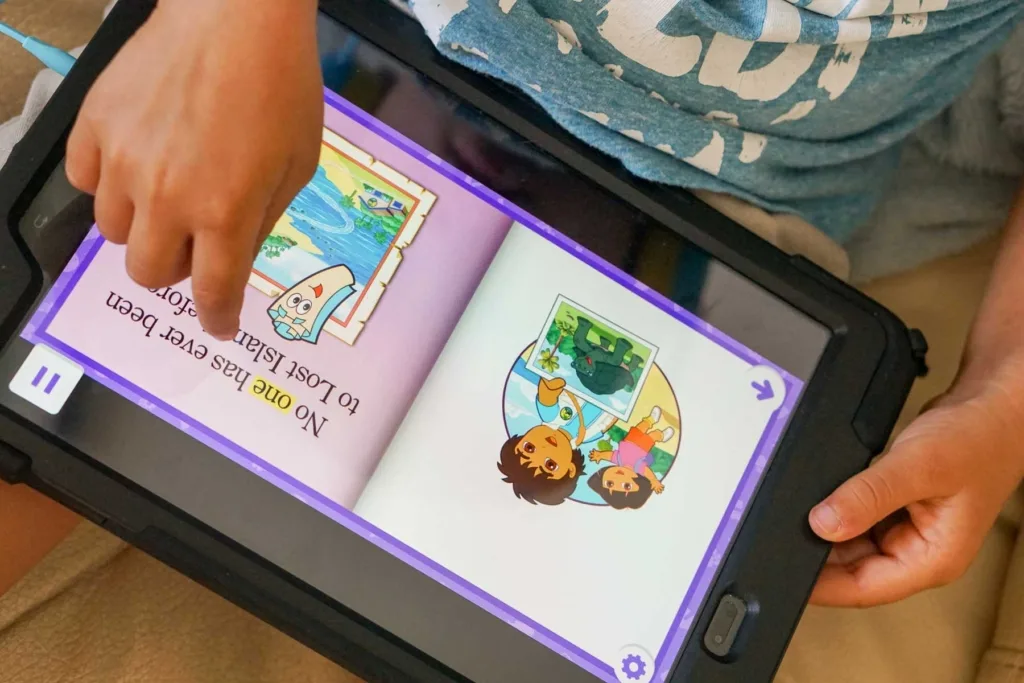 Related: Summer Camp at Home
Noggin ebooks
My FAVORITE part about the Noggin app are the eBooks!! We have a lot of kids' books, but we've read each one at least 100 times by now, so I love the fact that my son can access dozens of new eBooks.
I love being able to put on an eBook on Noggin for my son and have the app read a book to him while I get 15 uninterrupted minutes to focus on work (phew!). The words in the book are highlighted as the book is read, and it's such a great way for preschoolers to learn to recognize more words.
My son loves books and I am so glad I have a way for him to read books with his favorite characters since I am not able to read to him all day.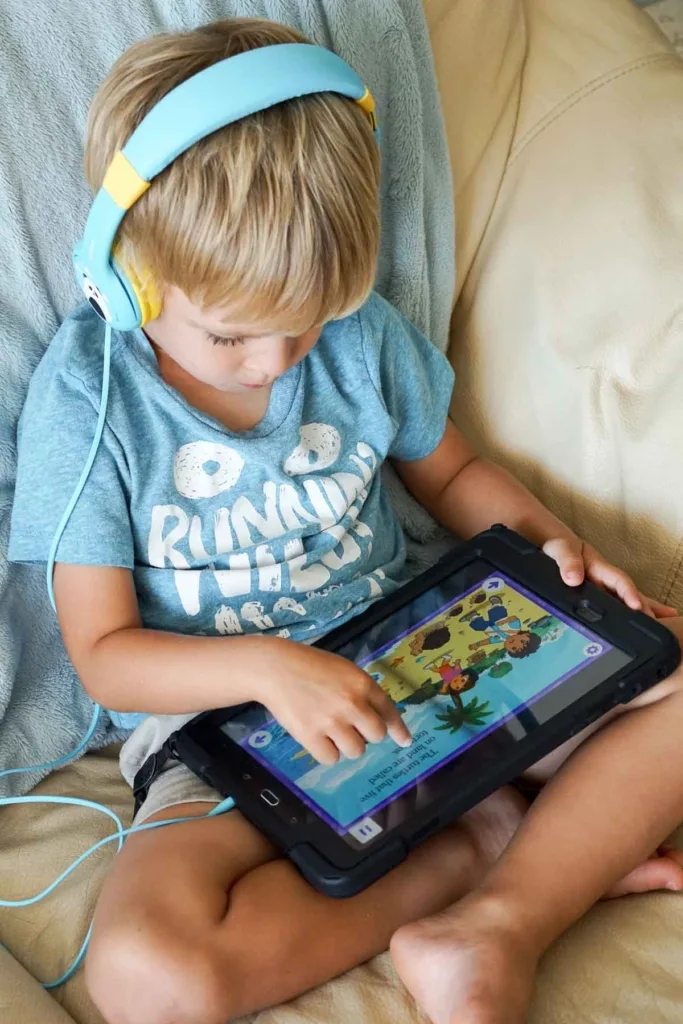 Noggin for travel
All the downloaded eBooks are available offline, which is such a great feature for travel with kids. We are hoping to travel more this summer and we have Noggin loaded on our phones and on the tablet to take with us and keep our son sitting quietly on a plane with offline eBooks.
Related: Family Camping Hacks
Noggin learning games for preschoolers
Noggin also has simple learning games that are just right for preschoolers and young kids. Noggin has reading games, math games, sing-along videos and dances to follow, and interactive coloring books.
Can we talk about how amazing it is to have coloring books on a tablet, so we don't have to bring broken crayons with us (that we eventually lose) when we travel??
Related: Neighborhood Bear Hunt – Free Printable
More Noggin features
A few other favorite features on Noggin:
Hola! section – videos and ebooks in Spanish. We are raising our son trilingual, so we try to expose him to as much Spanish as we can!
Podcasts – short and sweet learning-oriented podcasts, for example, a 7-minute podcast about the letter F. Our son knows that we listen to podcasts, so he LOVES having "his own podcasts!"
Big Heart – a section with videos, ebooks, and games that teach about feelings and emotions. I'm sure every mom can appreciate any extra resources for helping our little ones manage their big feelings.
Noggin has a free trial so you can try out ALL the features for yourself to see whether your kids will love it as much as we do. The free trial is extended to 60-days, if you sign up before 06/30/2021! So definitely give a try over the summer and you'll see why we are so happy that we found Noggin!