If you are seeing furry friends pop up in your neighbor's windows, it's for a great (and totally adorable) reason.
In an effort to provide some joy for kids who are currently homebound, neighborhoods across the U.S. and UK have jumped on the sweetest trend: creating a fun Bear Hunt activity that fully complies with social distancing best practices!
I came up with a free printable to take with you on your bear hunt to help kids keep track of their findings, and you can make it even more educational after the hunt as well! Scroll down to download your bear hunt tracker.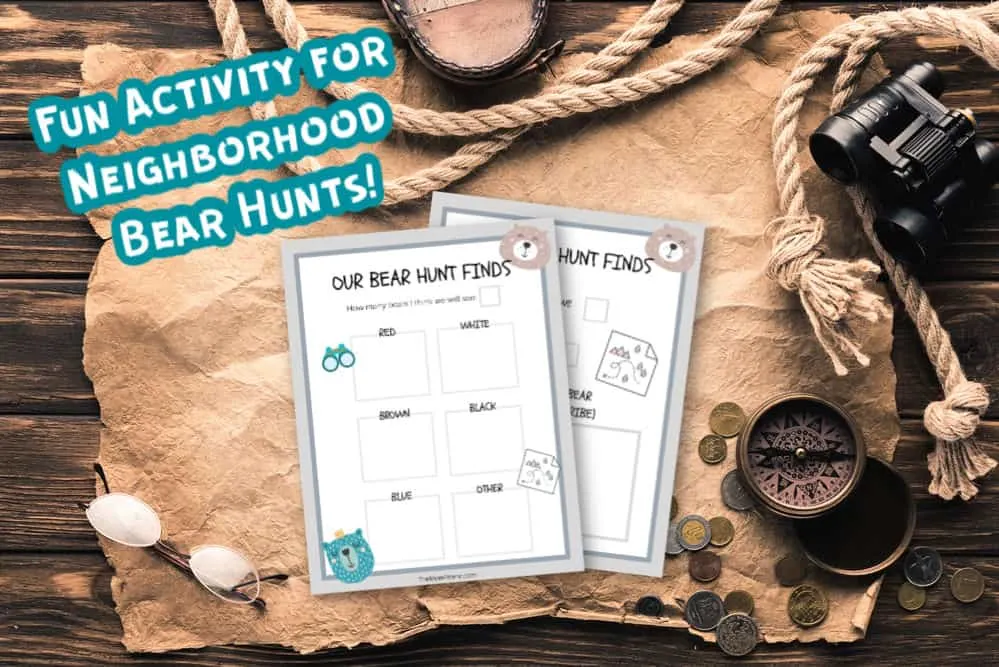 This post contains affiliate links. As an Amazon Associate, I earn from qualifying purchases.
What is a Neighborhood Bear Hunt?
The idea is simple: Put a stuffed teddy bear somewhere in your home that would be visible from the sidewalk outside (such as window, front door, or on the porch) and encourage your friends and neighbors to do the same.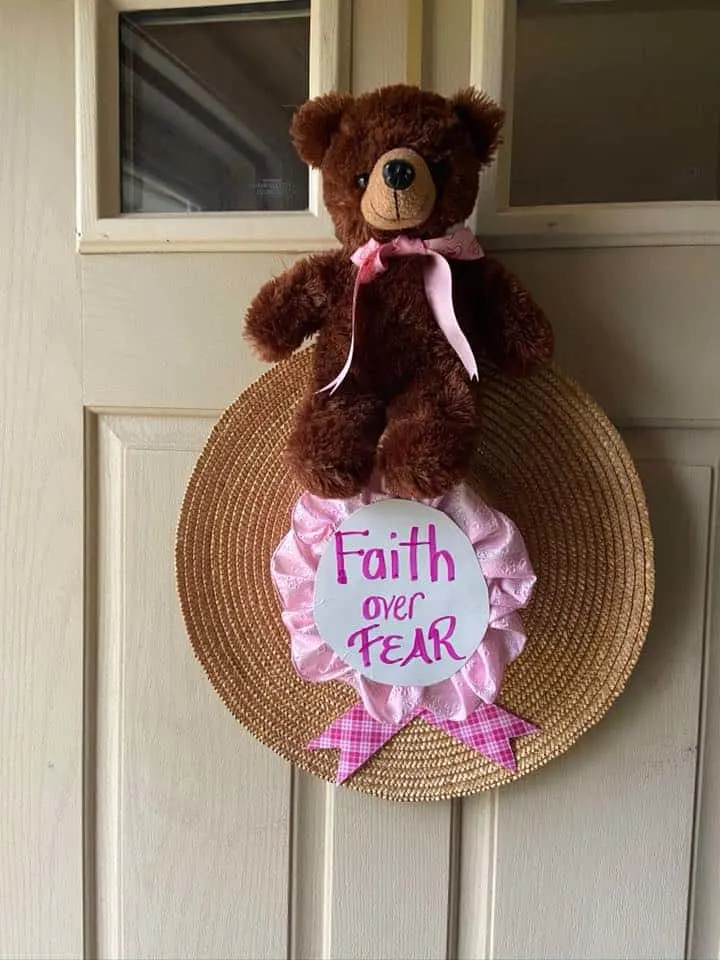 While families are out for a walk to get a break from being in the house, or are out for a drive to do the same, kids can search for bears like they are going on a real bear hunt like that in the children's book Going on a Bear Hunt by Michael Rosen.
If you are familiar with the book, there are quite a few obstacles in the way. Luckily, we don't have to cross any rivers, mud, or tall grass to catch a glimpse of these bears!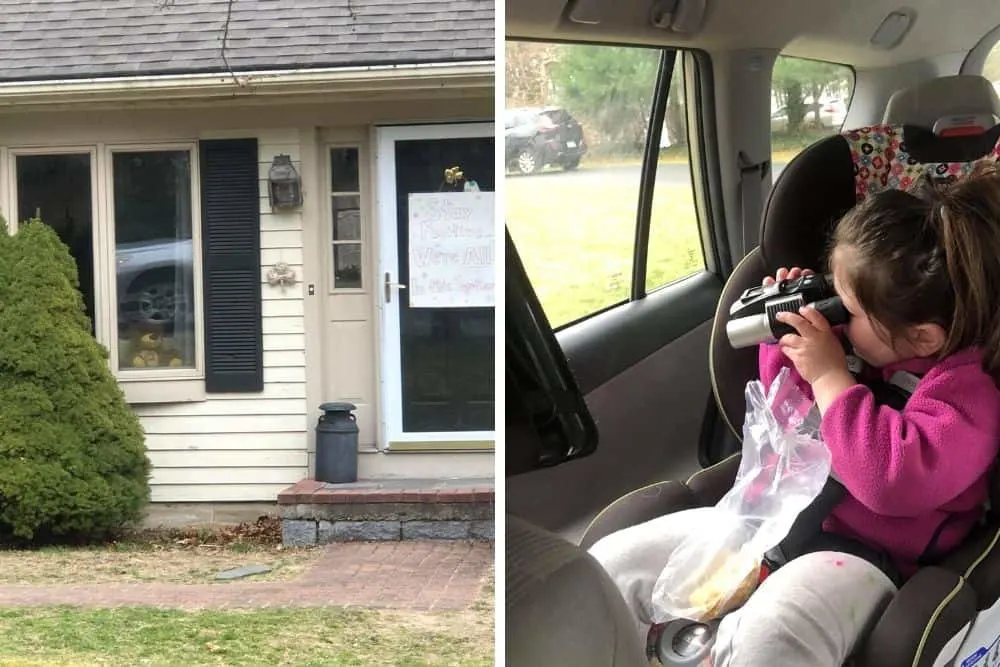 Why you should get involved
Apart from the obvious reasons of adding another activity to your list of options to fill these seemingly never-ending days, neighborhood bear hunts are are a simple yet effective way to maintain a sense of community and belonging for kids and adults alike.
Whether it is providing entertainment and joy for others, or getting to go on a hunt, this type of activity provides a sense of purpose during a time where people might have a tendency to feel lonely and a bit lost.
Teachers, grandparents, and community members alike can enjoy keeping a lookout for kids to light up when they spot the elusive bears in the windows, and parents can relax in knowing they are providing a fun form of safe entertainment for their kids.
Liz C. from Cape Cod says "My son was so excited to "spy" the bears in the windows! It was such a fun little adventure, got us out of the house (safely), with a change of scenery, and he loved every second of it!"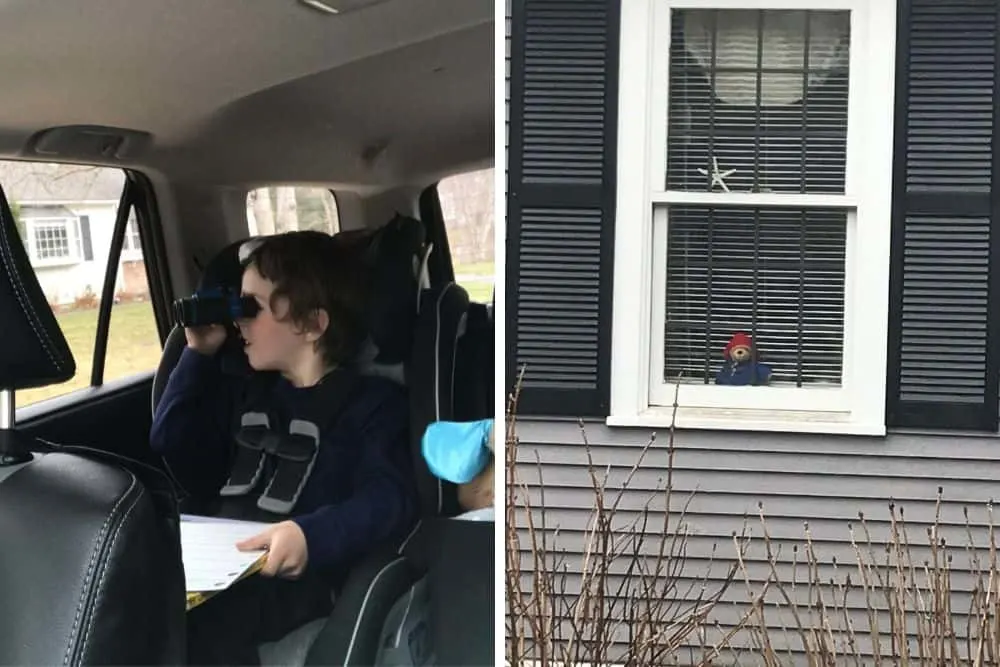 Her community on Cape Cod is one of the places across the US that has embraced this idea wholeheartedly- kids can find close to 50 bears within just a few blocks and adults are having fun coming up with creating cute scenes for their bears or finding unique ways to hide them.
She had a great idea and made a tracking sheet, which I loved and used as an inspiration for the printable you can download for your hunt!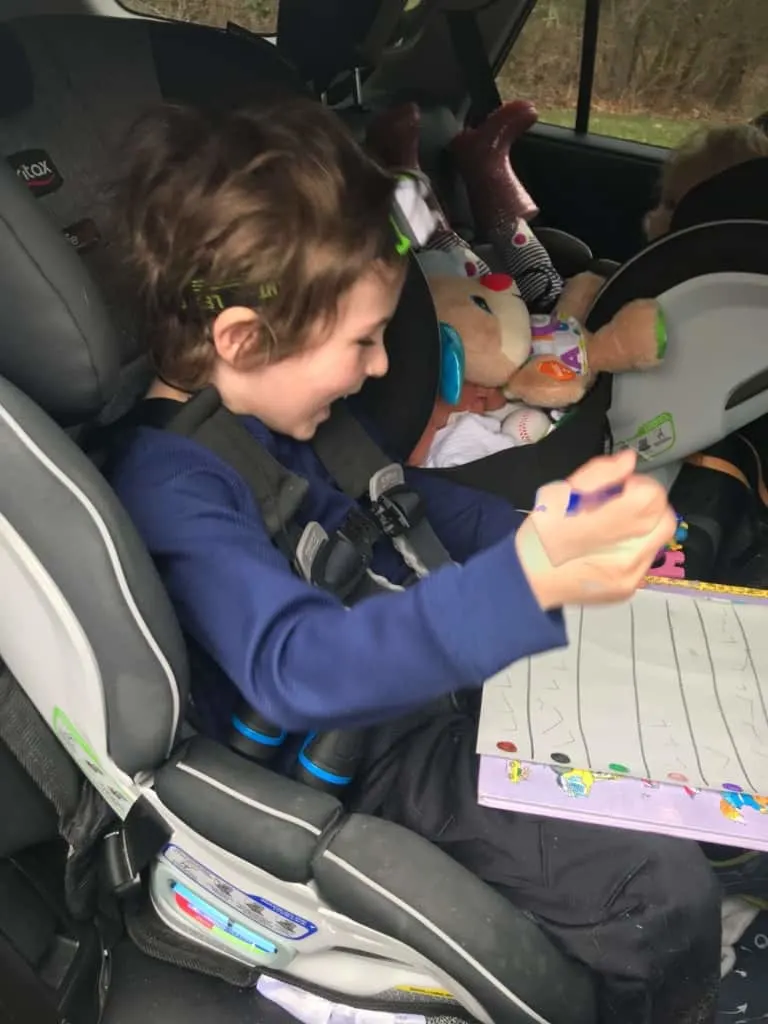 How to Find or Participate in a Bear Hunt
To find out if your community has already started a Bear Hunt, your best bet is to head to Facebook. Most hunts are started through communities sharing a viral post discussing the idea (though we are not sure who the original idea came from, if you know please tell us so we can give them credit!)
Some towns have started Facebook groups where people can list their location so families know where to look, but lots of these hunts have started by word-of-mouth and are being shared with community pages, neighborhood associations, and PTA groups.
If you aren't sure if one exists in your area, or can't find any evidence of one, just start one yourself! Put a bear in and send out a message to friends and family and ask them to participate.
Just make sure you follow the best practices for social distancing, including staying 6 feet away from others and abiding to any state or community requirements regarding remaining at home.
Educational Extensions for Bear Hunts + Free Printable to Take on the Hunt
Educational Ideas to Extend Learning at Home
Going on the actual bear hunt doesn't have to be the end of the adventure, and you can tie in many educational activities for various ages as well! Here are some ideas to further extend the learning:
Use the free printable to make a prediction and to track how many bears of different colors your child can find. After you are finished, tally the different colors and find out how many bears were spotted in total and discuss how it compared to their original prediction (Math).
Read the book "Going on a Bear Hunt" by Michael Rosen before heading out, or even better yet, watch the author himself perform a reading of it on YouTube. He is so animated! (ELA)
Have your child draw a map of the bear hunt. (Art, Geography)
Get active with Cosmic Kids Yoga "We're Going on a Bear Hunt"
Sing along with the Kidboomers in their catchy rendition of the book. (Music)
Bear Hunt Tracking Page To Print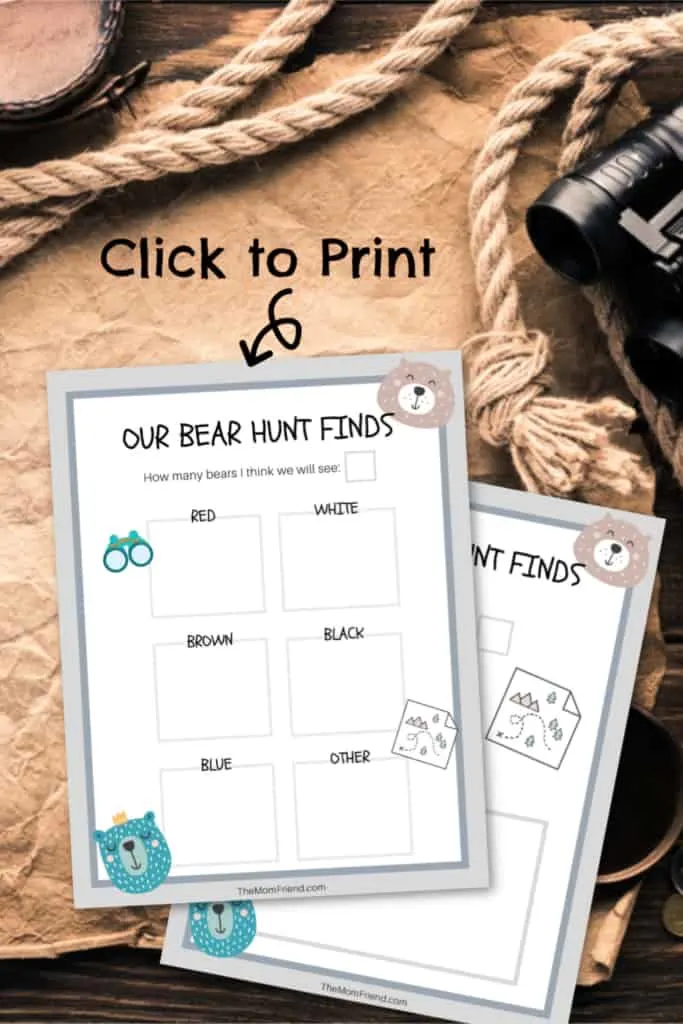 To use, have kids guess how many bears they will find on the hunt. Have them write down (or write for them) what their prediction is in the first box at the top of the printable.
Bring the first page on the walk or in the car, and have your child put a tally or checkmark in the correct color box every time they spot a bear. If you have a preschooler or younger, use a marker to put an example of each color by its name.
Have fun on the hunt! When you get home, tally up all of the bears and talk about how it compares to their prediction.
Be sure to also talk about how they were feeling on the hunt, and how nice it was of the community to do that together. It is important to discuss the social-emotional side of things as well during this time!
Finish off by having them draw or describe their favorite bear from the hunt (if you would like to continue the activity!
Thanks so much for stopping by! If you think your friends and community would enjoy using this fun tracker, please share it on Facebook or Pinterest to help other parents entertain their children.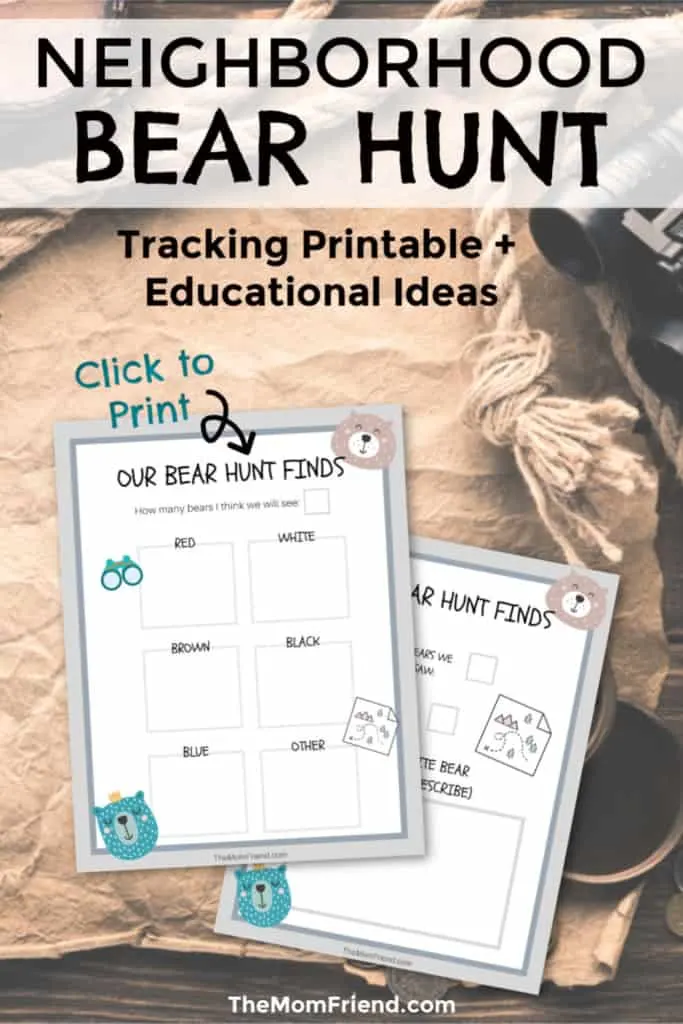 We are all in this together!