Check out these 8 Best Gifts for 1 Year Olds! Each of these gifts will keep them entertained AND help them learn. Try these gifts for Christmas or birthdays. They are sure to be a hit!
Your 1 Year Old is just shy of being a toddler but not a baby anymore either. If you're struggling to figure out what gifts are best for this transitional stage, this list is a must-read! There are so many gifts out there for 1-year-old children that encourage education, alertness, and fun.
Keep scrolling for 8 Awesome ideas!
The Best Gifts for 1 Year Olds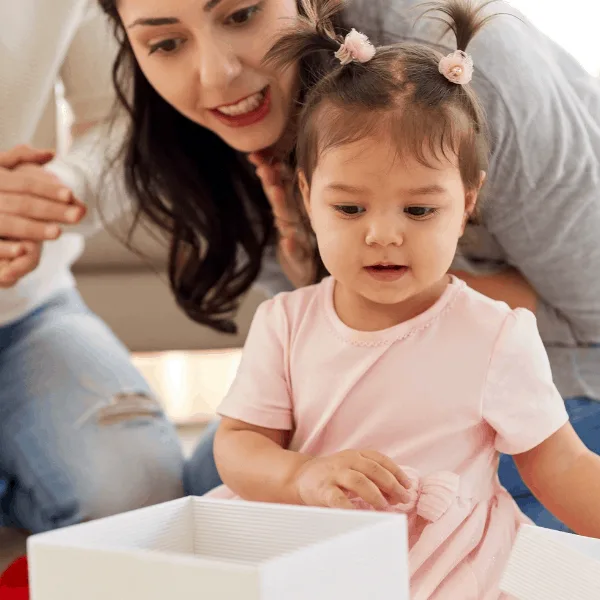 Vtech Magic Star Learning Table
This learning table has 6 different activities in both English and Spanish that helps encourage children to explore and learn. The table has a turning steering wheel that drives the little bear around the table as children learn about the different colors. The pretend phone allows children to call their animal friends. Full of lights and sounds, children will have a blast playing with the learning table. https://www.amazon.com/VTech-Magic-Learning-Frustration-Packaging/dp/B01COSFGEK
2. Musical Electronic Keyboard and Drum Set
Children will love this fun learning toy that has 3 main musical instruments (piano keyboard, drum set, electronic Xylophone) all built into one toy. Kids will love learning music and sounds plus a little extra fun to help with hand-eye coordination playing What-A-Mole game. https://www.amazon.com/dp/B07M8L637V/
3. Vtech Wiggle and Crawl Ball
The interactive ball helps children learn to crawl as they chase after it and the toy includes more than 40 songs, sounds, happy phrases, and flashing lights so their attention is kept on the ball. Along the sides are animal themed buttons to help with fine motor stills, colors and numbers. https://www.amazon.com/VTech-Wiggle-and-Crawl-Ball/dp/B01D2TC31Y
4. Fisher-Price Sooth and Glow Seahorse
This cute little guy will help sooth your child with the 8 different lullabies and soothing ocean sounds it plays by pressing his stomach. The seahorse is soft which makes it great for comfort and the belly has a light glow to it that will also help soothe. For mom's sanity, the toy does have power and volume control buttons. https://www.amazon.com/Fisher-Price-Soothe-Glow-Seahorse-Blue/dp/B00P4CEV5Y
5. Bath Toy Sprinkler
Keeping kids entertained during bathtime can be a hard. With this little bath sprinkler, you can simply place it in the water and as it floats you get a light show and a fun water fountain sprinkler. When it's not in the bathtub, you can place it on the floor, and it will move around on its universal wheel device as it plays music and lights up. https://www.amazon.com/ZHENDUO-Electric-Induction-Sprinkler-Amphibious/dp/B07VCC5SWY
6. Play Brainy Easy Number Game
A fun STEM learning toy that's ideal for helping teach numbers and practice motor skills as well as hand-eye coordination. The toy comes with a hedgehog board and 10 different cones that children can match with the corresponding numbers. https://www.amazon.com/Play-Brainy-Kid-Friendly-Educational-Game-Toddler/dp/B07L9LBY67
7. Sit-to-Stand Learning Walker
An interactive learning walker that has different piano keys that play music and encourage creativity. Kids can use it as a learning method for walking as they play with the shape sorters and light-up buttons. https://www.amazon.com/VTech-Stand-Learning-Frustration-Packaging/dp/B07CRX1BDG
8. Wooden Activity Cube
An activity cube can entertain children for hours and this cube has so many different activities that will keep a child's focus. Activities include a spinning animal alphabet, a wooden bead roller coaster, and a section where the animal tiles can be moved up and down. https://www.amazon.com/dp/B07BF1V8K8
Did You Love These Gifts for 1 Year Olds?
We had so much putting together this list for you and hope you found some great ideas for Christmas or baby's next birthday! Let us know which gifts for 1 year olds are your favorite or any you plan to purchase!
If you liked this list, you should also try these awesome Gifts for Dad, this Ultimate Holiday Gift Guide and these amazing Christmas Gifts for Babies!